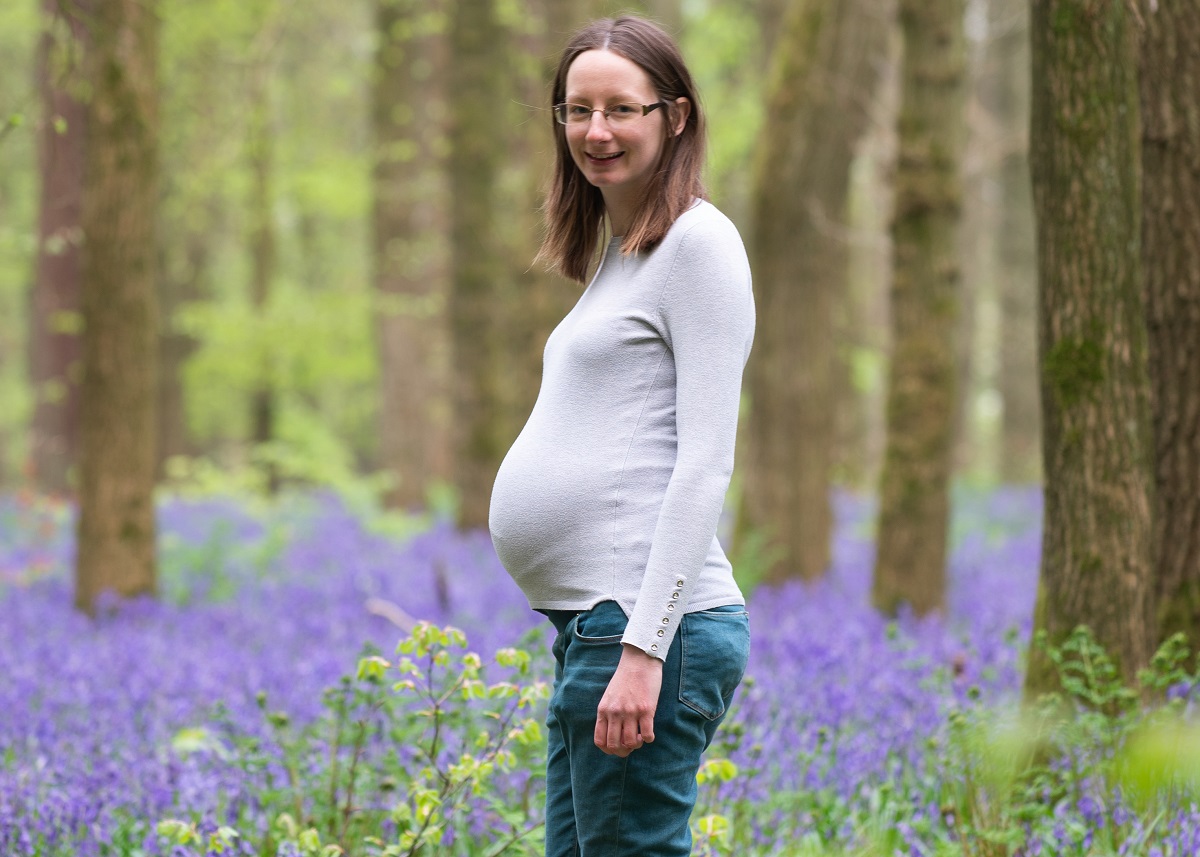 We love being outdoors and there is no better way to get close to nature than camping. We did a mountain theme nursery for our son, which shows how much we enjoy going on adventures. Luckily I discovered that I can continue going on camping trips even during my pregnancy. We had to make a few adjustments to our regular setup to ensure I was comfortable. We would often try and pack light and use our wild camping gear. But on our pregnant camping trips, we packed some luxurious items. 
I've actually done many different types of camping while pregnant. At a very early stage, we went wild camping on a hilltop. We also slept in the car some nights. In my second trimester, I started to need more comfort items, so we stayed at a campsite in our tent. We also did glamping in a little pod. As my pregnancy progressed I wanted more and more convenience. But I still enjoyed the atmosphere that camping provided. So we decided to use a Milton Keynes campervan hire company and try out vanlife for a few days.  
This post may contain affiliate links. If you make a purchase through one of these links, I may receive a small commission at no extra cost to you. As an Amazon Associate, I earn from qualifying purchases.
This will also depend on how far along in your pregnancy you are and what symptoms you have. Although I did some wild camping in my first trimester, I wouldn't advise you do this. But we went only a few days after I found out I was pregnant and we took all precautions. We only went for a night, our car was about an hour's hike away and we also ad an emergency GPS device for peace of mind.
In general camping pregnant is not the time to find new wild locations. I would suggest you stick to an area you know well and isn't too remote. You want the reassurance that a doctor's surgery, pharmacy, shop and a hospital are nearby. You also want to make sure, that there are suitable activities for you to do at your chosen location. Climbing on the Trinnacle or doing a sketchy ridge hike is probably not a good idea.
When I was camping in my third trimester we decided to visit a familiar territory, the Peak District, as it wasn't too far from our home (2,5 hours). We've explored the national park many times before and it never disappointed us! It has some great easy walks, like Padley Gorge, the Roaches or Stanage Edge. They offered nice views and kept me active, but I didn't find them too challenging or exhausting.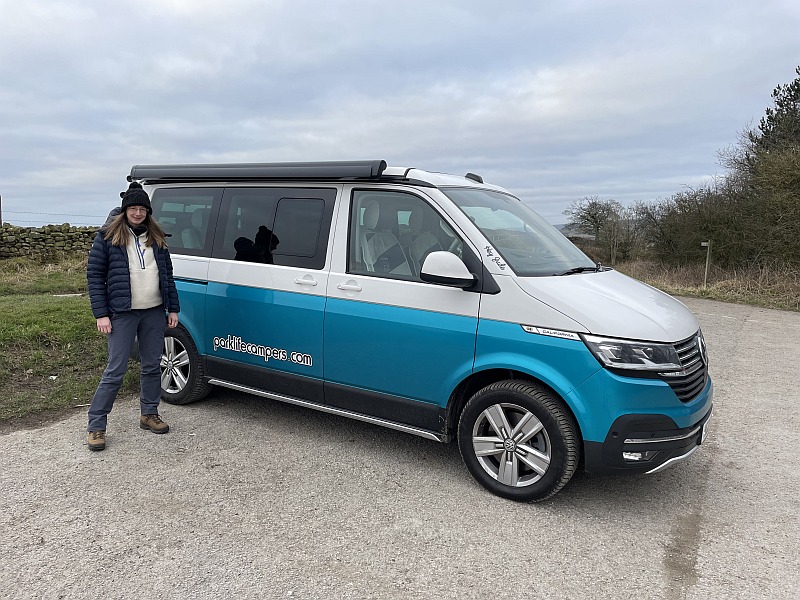 Is it safe to do go camping when pregnant?
Each pregnancy is different. You will need to discuss this with your midwife or doctor. Some high-risk pregnancies for example require bed rest. But in most low-risk pregnancies expecting mothers can stick with activities that they already do. Keeping active and being in fresh air is important. Camping has many mental health benefits. Use common sense, keep your trip short and prioritize your comfort when you are planning your camping adventure.  
Tips for camping while pregnant
Make your sleep setup comfortable
Bring a pregnancy pillow
As your baby gets bigger, you carry a lot of extra weight. This puts more pressure on your back, hips, legs and pubic bone. A good pregnancy pillow gives you extra support while you sleep. It can help you ease backaches and pelvic pain. It also allows you to maintain your sleeping position, making it less likely that you wake up on your back. My pregnancy pillow was an essential item from my second trimester. 
Use a duvet instead of a sleeping bag
Getting out of a sleeping bag can be an exhausting task at the best of times. When you are pregnant you just want to be able to get out of bed with ease. So take a duvet. I wrote a review about our Fine Bedding duvet. They are great for camping, as they are lightweight and pack up small. They are also coverless, which makes washing easy.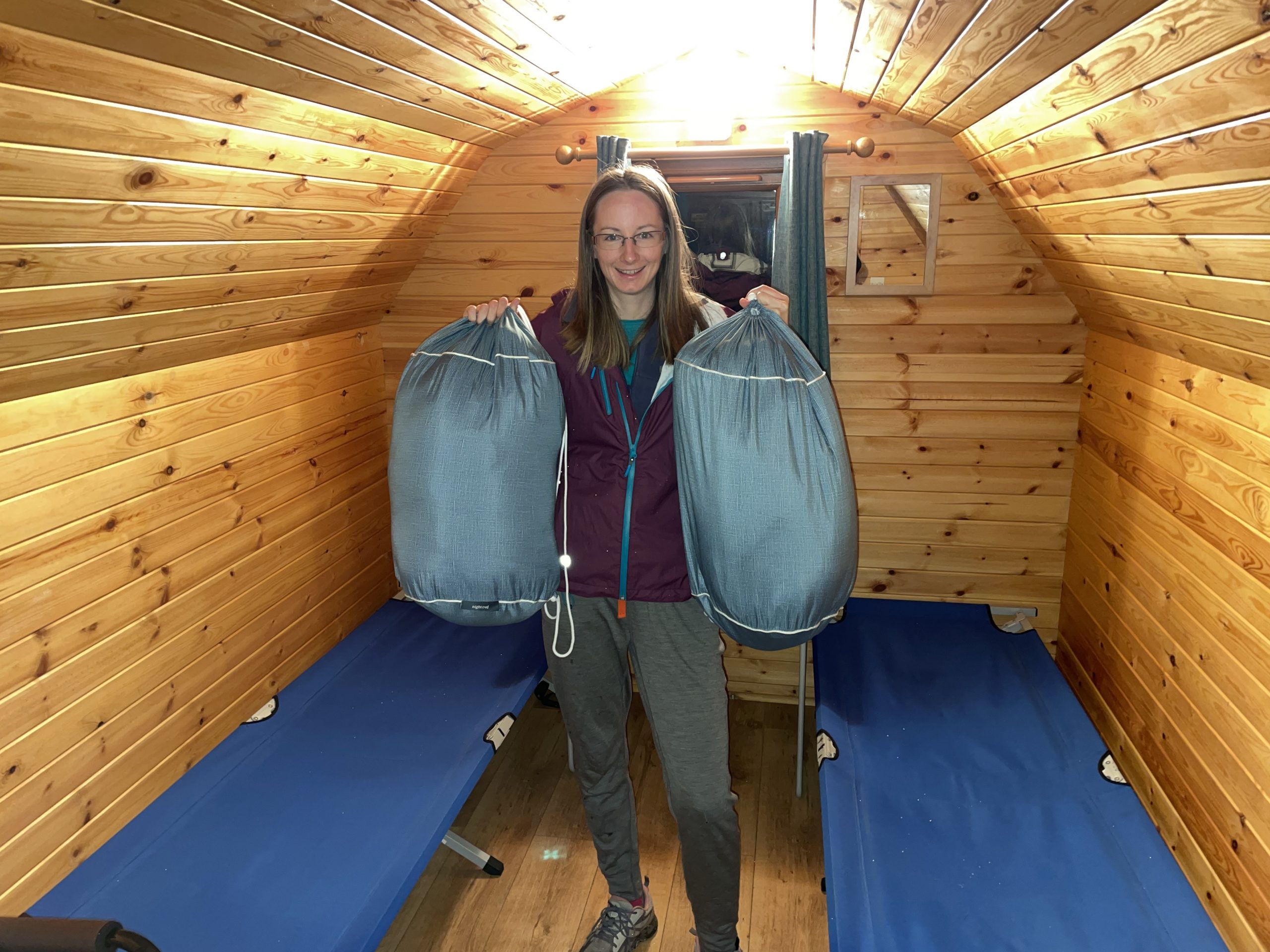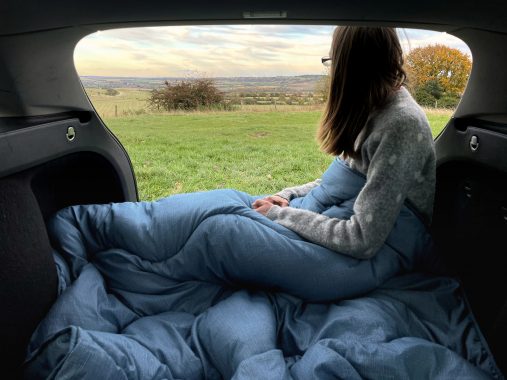 Use a comfortable air mattress
The best air mattress for camping while pregnant is a raised air bed or a folding camp bed. An elevated surface will make it much easier to get in and out of bed. Of course, you will need a big and tall tent to accommodate this. Alternatively, you can just go with a regular air mattress. These will still be more comfortable, than just a thin sleeping mat.
Have a meal plan
Food hygiene is very important during pregnancy. It is essential that all fruit and vegetables are washed thoroughly before you consume them, to avoid the risk of toxoplasmosis and listeria. You also need to make sure that the meat you eat is well-cooked with no trace of pink or blood. The NHS website is a good resource to tell you what food you should avoid during pregnancy.
Having a meal plan for your camping trip will make things much easier. Here are a few ideas about pregnancy safe food, that are easy to prepare while camping.
Breakfast Ideas
Porridge
Eggs
Pastries
Muesli
Yoghurt with seeds and nuts
Lunch Ideas
Hummus with wholemeal pitta bread and falafel
Tuna sandwich
Avocado sandwich
Cheese sandwich
Soups
Dinner ideas
If you want to make your life easier, then you could cook food ahead of time at home and just heat it up at the campsite using a JetBoil camping stove.
Some great options for this area are chilli con carne, fajitas, bolognese and curry. You can serve them with some ready rice. An even simpler solution is to eat expedition food packets.
Camping Snacks
Fruits
Snack bars: Nature Valley, Wild Trail and KIND bars are my favourite
Trail Mix
Crackers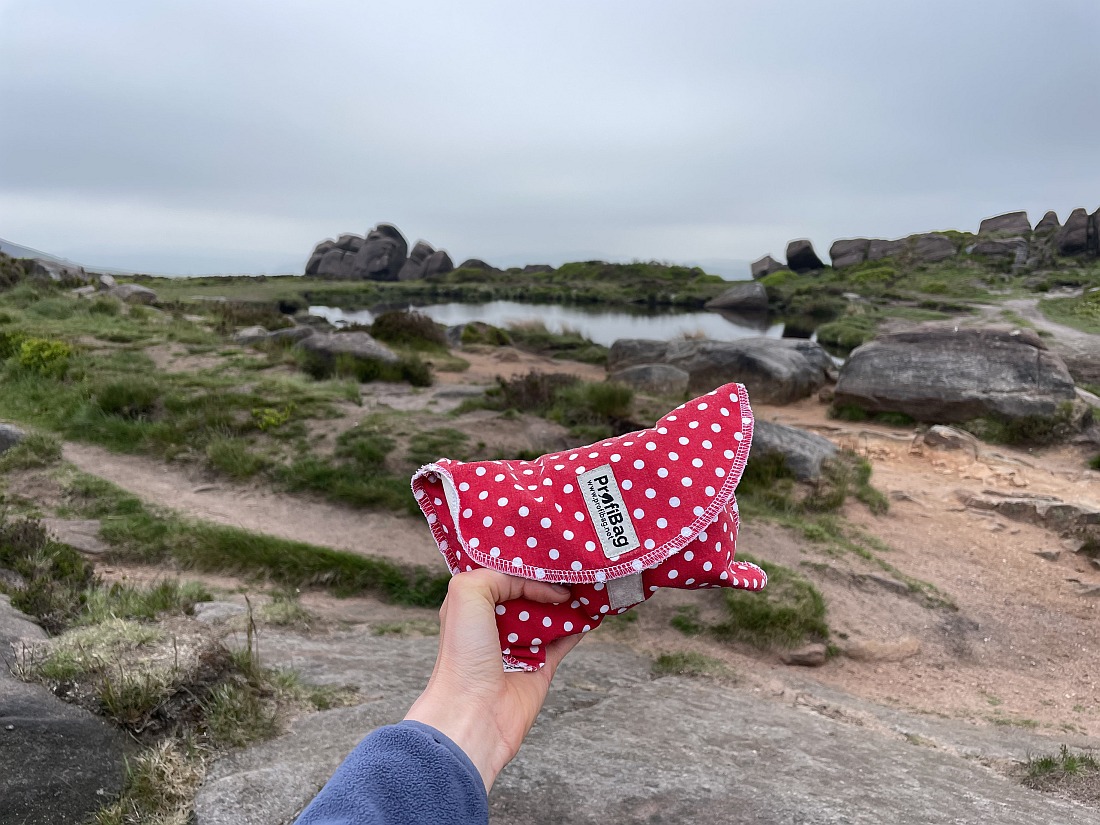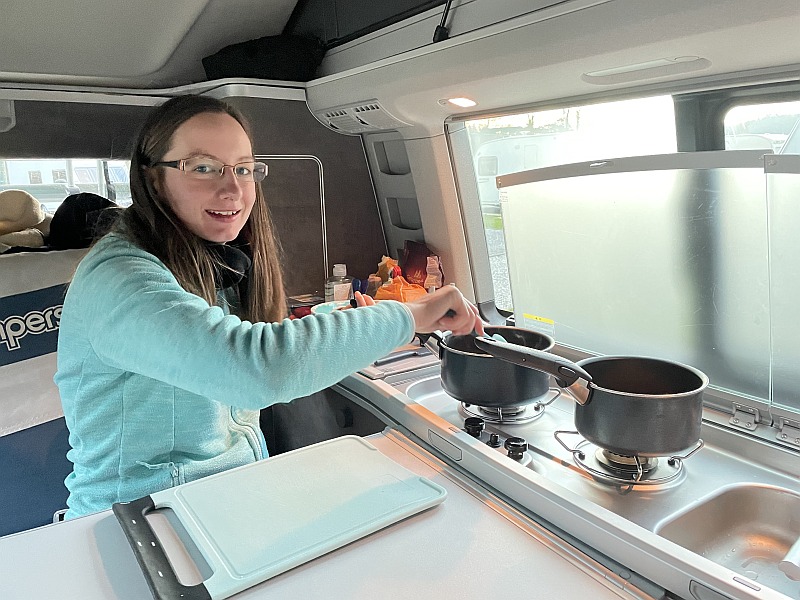 Bring a camping fridge
To make sure that your food doesn't grow any bacteria you need to keep it chilled. Food poisoning can be dangerous while pregnant so pay extra attention that any meat, dairy products, etc are kept at a cool temperature. I wrote a post about the best camping fridges. It can help you decide which one to buy if you don't have one yet.
Skip the campfire
I know many people consider a campfire an essential part of camping. However, for your and baby's safety, it is best to avoid it while you are pregnant. Expectant women are particularly vulnerable to negative health effects from smoke inhalation. High levels of smoke can lead to birth defects, issues with the unborn baby's nervous system, or even miscarriages. If you want to cook some meat, use a Cadac Safari Chef instead. This will also have a special atmosphere. My Cadac Safari Chef 2 Review can show you some amazing BBQ dishes that we cooked on it.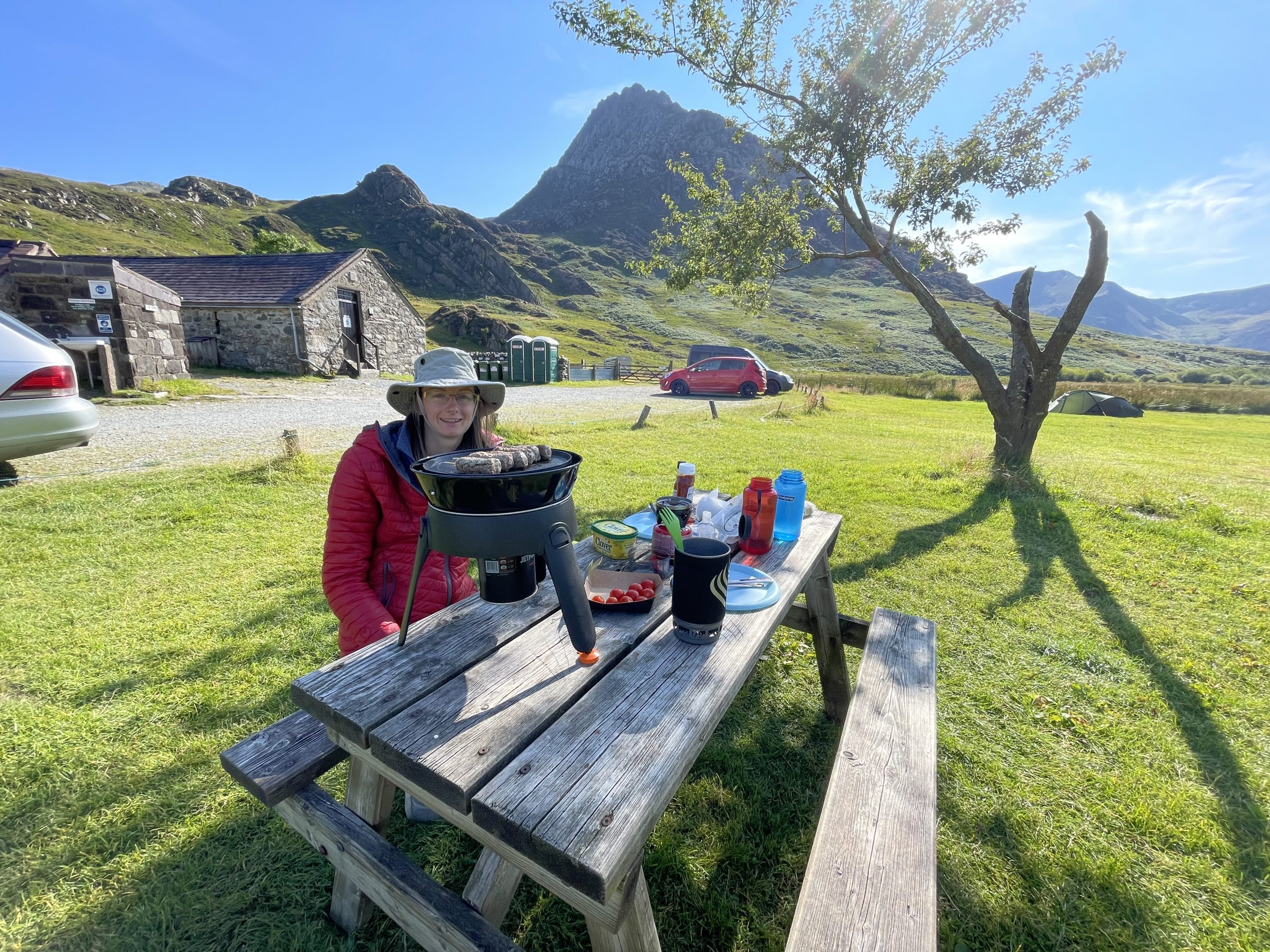 Wear comfortable clothes
As your bump grows you will probably find that your regular hiking clothes don't fit you anymore. Don't try and force yourself into something, that is too tight. Wear loose and comfortable clothes. There are many great maternity clothes on the market. Alternatively, you can just size up or nick your partner's clothes. 
Merino tops: they are temperature regulating. This can be great if you get unpleasant temperature swings during your pregnancy.
Comfortable socks: merino wool is my favourite for these as well
Maternity leggings
Maternity/Nursing bra
Sneakers or slippers for around camp
Period pants: provide protection against incontinence and discharge.
Maternity belt: I often used a maternity belt for walking. They help with back, hip and pelvic pain.
Think about your toilet needs
Plan regular stops for the journey
You'll need to use the toilet more often when you're pregnant. Make sure you stop regularly at motorway services to use the facilities.
Take a camping toilet
If you are like me and hate walking to the bathroom at night when you are at a campsite, then invest in a camping toilet. You can keep this in your tent or campervan and use it when needed. A slightly cheaper option is to use a portable urinal bottle. These can also be useful when out and about, as they don't take up much space. 
Buy some period pants
If you have a lot of discharge period pants can offer great comfort. They can also be used for urine leakage (incontinence), which is common during pregnancy. I used them before I got pregnant for my period and then throughout my pregnancy. They are way more comfortable than disposable pads.
Stay hydrated
Dehydration during pregnancy can lead to neural tube defects, low amniotic fluid, inadequate breast milk production, and even premature labour. So staying hydrated is key! Water is best for you, as it will keep your blood sugar levels in check, which can help reduce your risk for gestational diabetes. But your fluid intake includes more than just water: milk, juice, soup, fruit and vegetables all help you stay hydrated. Watermelons and cucumbers are great choices in the summer.
Bring some luxury items
Prioritize safety and comfort on your trip. You are there to enjoy yourself, so don't feel embarrassed by bringing some deluxe items with you.
Camping Chair: If you want to be extra comfortable you can bring one that can recline as well.
Portable power station: This can help to keep your electronics charged. Depending on its performance it could even power a hairdryer, toaster, fan etc. I have a guide about the best portable power stations, which compares performance, prices, etc.
Battery-powered fan: A lifesaver on a hot day. They are lightweight and easy to carry around. It can also be useful in labour.
Upgrade your tent
We used to do a lot of wild camping and had a small lightweight tent. But if you go tent camping while pregnant, then it is worth upgrading to a bigger tent. It's not just for one trip. Remember, your family is growing. You will want to continue your adventures with your children as well. So you will need the extra space once the baby is here. You probably don't want to have to crawl into your tent with a bump. Tall tents, that allow you to stand up are particularly convenient. There are also tents that attach to cars, which could work well, as they give some extra protection from the elements.
Take your hospital notes and medicine kit
Each stage of the pregnancy comes with some weird symtons, and it is hard to know what will come next. Don't forget to pack any medication and vitamins that you take regularly. It is also a must to bring your hospital notes, which have all your medical history related to your pregnancy and the contact details for your midwife and doctor. Hygyne is also important, so you will want to pack some hand sanitiser and wet wipes.
Heartburn medicine, suncream, insect repellent, paracetamol and blisters can also be useful to have on hand in case they are needed. 
Enikő
Hey, I'm Enikő! I'm currently an au pair and I want to share my experiences with you. I've travelled a lot in the past years. I'm gonna teach you how to settle in to a new country and get free accommodation anywhere in the world. Circle Enikő on Google+!