Padley Gorge is such a magical place, that it quickly became one of our favourite spots in the Peak District. We in fact returned here twice on our short babymoon vanlife road trip and I have no doubt we will be back again in the future. The Padley Gorge walk is a paradise for photographers, families, dog walkers, bird watchers and hikers alike. A popular place for a good reason! It is part of the Yarncliff Wood, Padley Site of Special Scientific Interest (SSSI). Padley Gorge is a deep but narrow valley in the Peak District, Derbyshire between the village of Grindleford and the A6187 road. Despite its location right next to a main road and a train station, it feels like stepping into a little wonderland. There is something mystical about this gorge. I often felt like walking through an enchanted forest and I really enjoyed exploring the area.  
This post may contain affiliate links. If you make a purchase through one of these links, I may receive a small commission at no extra cost to you. As an Amazon Associate, I earn from qualifying purchases.
Guide book suggestions for the area
I love the Wild Guide books and have the whole collection. This one focuses on hidden gems, wild swimming spots, cute cafes and unique accommodation in Central England.
This is another favourite book. If you are into photography then it's an absolute must. Gives great suggestion about compositions and best time to visit during the day/year.
How to get to Padley Gorge
Padley Gorge Parking
There are several different Padley Gorge walks you could choose. Depending on which one you want to do there are various parking options. All of them tend to fill up quickly, as this is a very popular place. See the description for each one to decide which Padley Gorge car park is best for you.
Grindleford Station car park: This is located at the bottom of the gorge. You will have to pay through an app. This is where we parked and started our walk from. There is a cafe and toilet at the station. In the evenings you can also find a pizza van.
Longshaw Estate car park: There is a good circular walk from here. Parking is free for National Trust members, otherwise, you will have to pay through an app. There is a cafe, toilet, picnic tables and used book shop.
Surprise View Car Park: A good starting point if you want to combine your walk with Owler Tor. You will have to pay for parking at the machine. There is often an ice cream van here.
B6521 road car park: This is FREE parking at a long layby on the top of the gorge. A good place to park for families, as it's next to Burbage Brook, a popular picnic and paddle spot. There is also an ice-cream van here.
Haywood car park: A bit further from the gorge, but there is a nice woodland walk to Grindleford Station, where the Padley Gorge trail starts. Free parking for National Trust members, otherwise you have to pay. 
Public Transport
Train: Grindleford Train Station is right at the start of the Padley Gorge hike. There is frequent service from Manchester and Sheffield. There are some other walks from Grindleford station as well, eg to Froggatt Edge or Owler Tor.
Bus: You can take bus 65 from destinations such as Buxton, Meadowhall, Tideswell or Sheffield. It stops along road B6521, not far from the gorge. 
By Bike
The Peak District is a great place for road cycling and mountain biking. It is not possible to cycle along the gorge, but there are bike stands at Grindleford train station, where you can lock your bike.
Padley Gorge Circular Walk
Padley Gorge walking route
Our hike started at Grindleford Station car park. There is a path on either side of the brook and there are three bridges along the way to cross over. One around the bottom, one near the middle and another one at the top. We followed the path up on the right side of the brook and came back down on the left side. But it doesn't really make a difference which way you go first. 
The trail is beautiful throughout. There are rocks and boulders covered in moss all over the area. My favourite sight was the moss-covered gnarled trees. We also spotted some ancient millstones, which are famous in the Peak District. We saw many on our walk at Stanage Edge as well.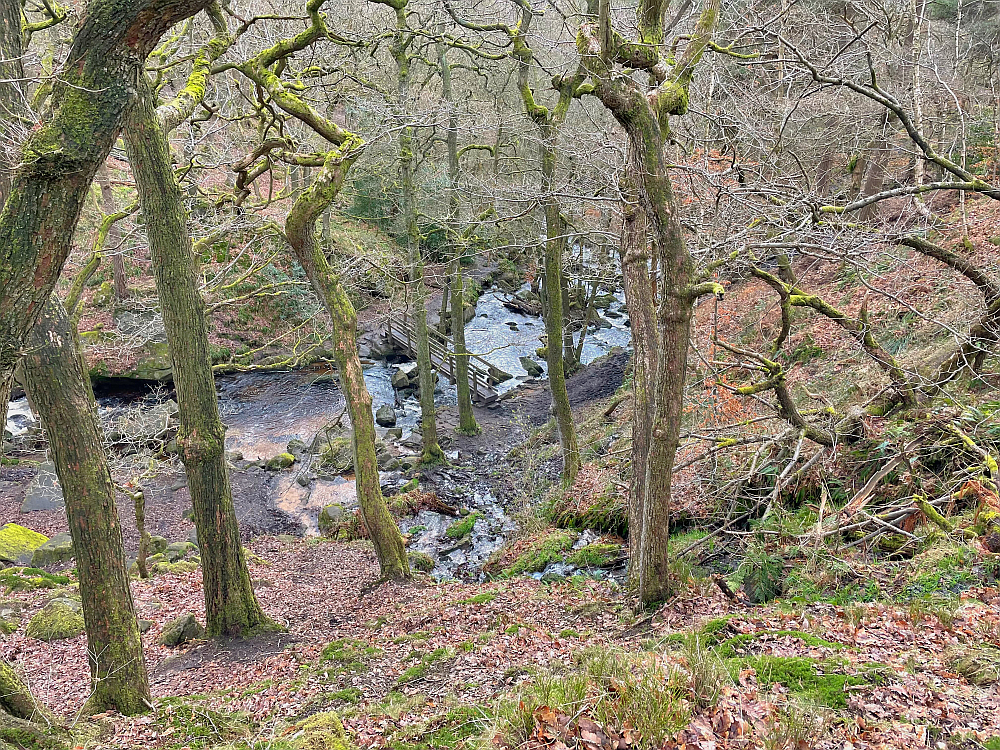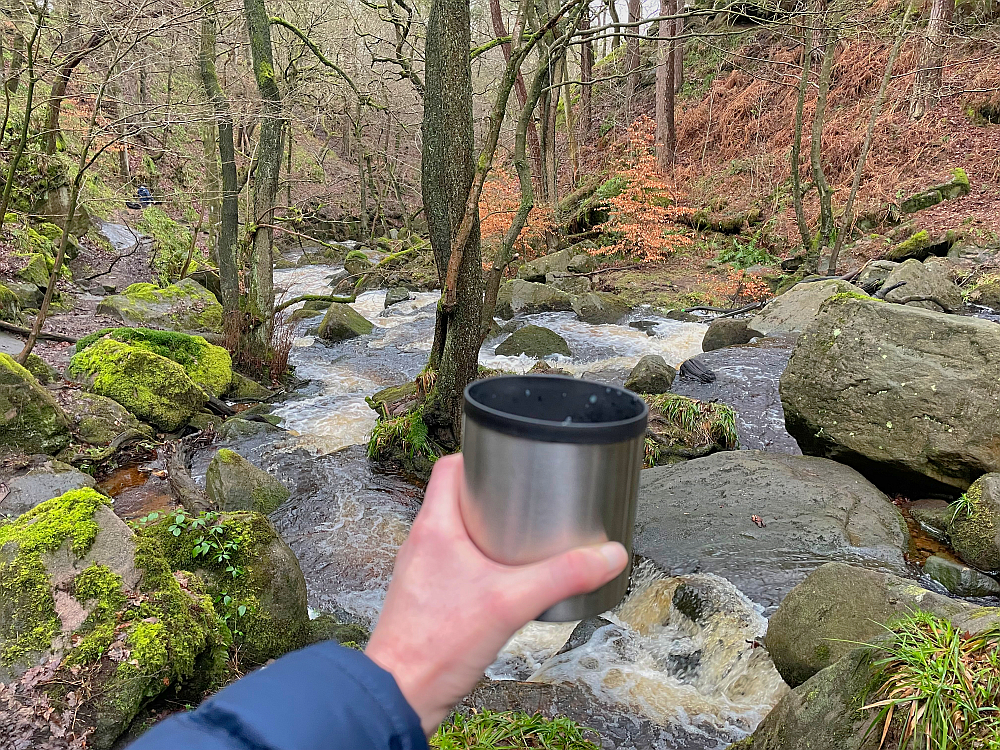 Difficulty
This hike is considered easy. Some parts of the trail are steep. These areas can become quite slippery/muddy after rain, so have suitable footwear. The path isn't really ideal with a pushchair. Longshaw Estate isn't far away and that has some pram-friendly walks. We did a 7 km circular walk with 180 m elevation gain.
Padley Gorge waterfall
The Peak District has several hidden little waterfalls. The Padley Gorge trail runs along the Burbage Brook with its pretty waterfalls. Some are really small, others are bigger depending on the weather. We visited the place twice. One of these occasions was right after some rain, so the waterflow was quite heavy. You can also expect the water to be murkier after a rainfall. Tom enjoyed getting down to the water and photographing the mini waterfalls.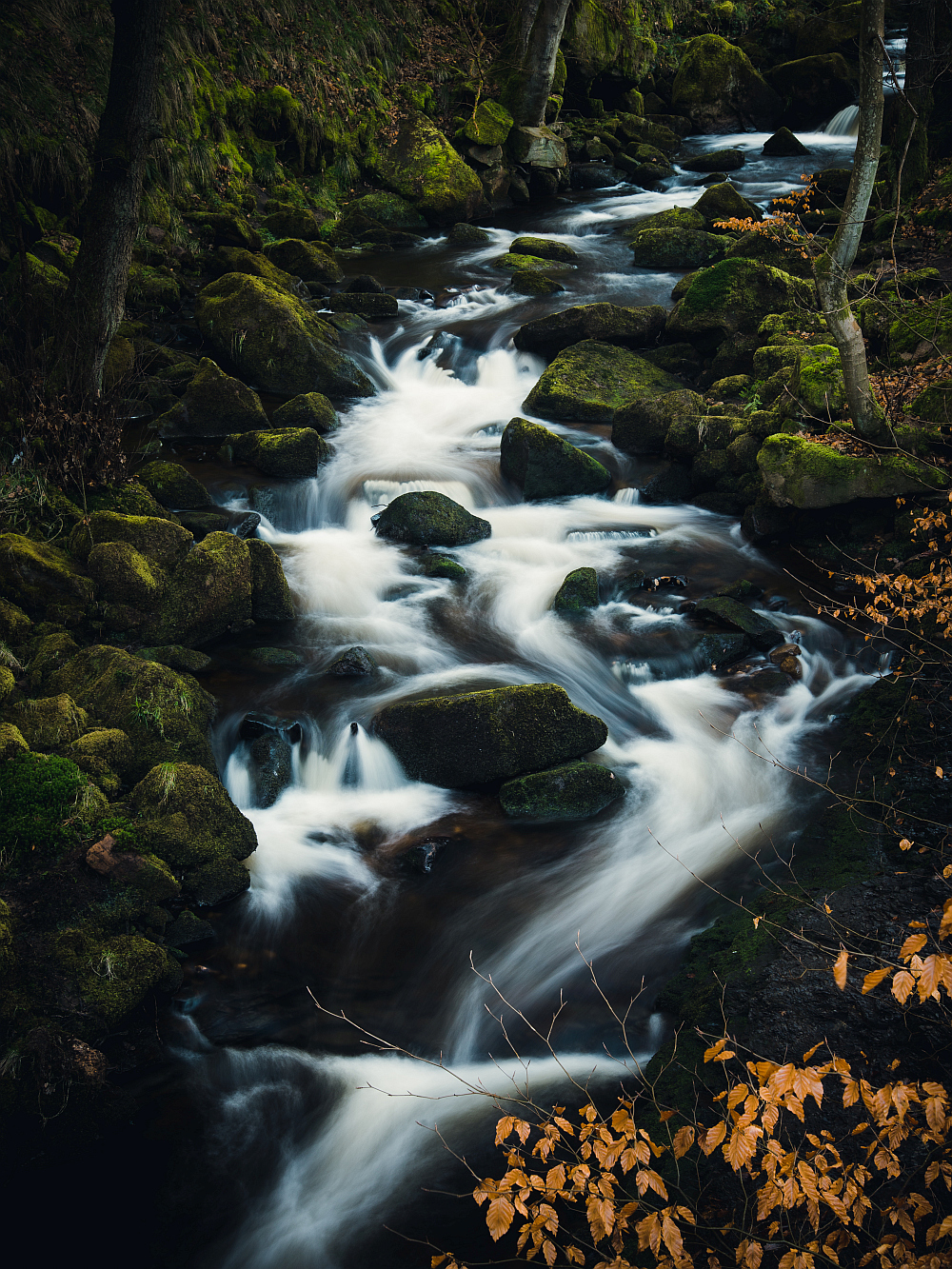 Padley Gorge swimming
The top of the gorge has a lovely grassy area with lots of space for a picnic. Families love setting up here and the children enjoy a paddle in the pools created by the stream. It's not deep enough for a swim, but perfect for children to wade in the water safely. Ideal location, as it is right next to the layby parking, which often has the ice cream van as well.
Best time to visit
There is something magical about this place all year round. In the winter misty mornings can make the woodland seem like an enchanted forest. In springtime Yarncliffe wood is covered in a beautiful blanket of bluebells. Summer is a great time to visit if you want to combine your walk with a paddle in the water. The autumn brings out the magical colours of the leaves.
I created a Padley Gorge map below and marked all the car parks, cafes, toilets and pubs in the vicinity, that are mentioned in my blog post. You can also find this section in the OS Explorer Active Map OL24 (White Peak).
Campsites near Padley Gorge
Bring your wild camping equipment if you are planning to spend the night along Burbage Brook. However, I don't really suggest doing this, as the council has started to track down wild campers and move them on. Padley Gorge is easily accessible, so a warden can find you quite quickly. Try a more remote area if you want to do wild camping. 
We stayed at Swallowholme Camping & Caravan Park in the Hope Valley. This is probably the closest campsite to the gorge. They have place for campervans, tents and caravans. It is only 10-minutes drive from Padley Gorge car park. 
North Lees Campsite is another great option. It has a beautiful secluded location. It can accommodate tents and a few campervans. They don't provide hard-standing or electric hook-ups and it is not allowed to go on the grass with any vehicle. Anyone sleeping in a van on site must park in one of the car parking spaces. The site also has some lovely glamping pods.
Padley Gorge ice cream van
There is an ice-cream van parked at the layby car park on road B6521. It is even marked on Google Maps. They serve ice cream and other refreshments.
There is also another ice cream van at the Surprise View car park. 
Pubs near Padley Gorge
The Fox House: A country pub with a picturesque garden and well-stocked bar near Woodcroft Car Park in Longshaw. They serve pub classics, hot drinks and cakes. Dog-friendly place and wheelchair accessible. 
The Grouse Inn: A family-owned pub with home made food near Haywood Car Park. A dog-friendly place with friendly atmosphere. They have a big terrace and patio with scenic views.
The Maynard: A fine restaurant/pub with a bar near Grindleford Station. The food is cooked fresh on site, so can be completely adapted to requests. They also serve afternoon tea and seating is available in their scenic garden.  
Padley Gorge cafe
Grindleford Station Cafe: Great food, big portions and good value for money. Cash only! It has limited seating and can get quite busy.
Longshaw Cafe: Nice cafe with lots of outdoor seating and a view.
Padley Gorge toilets
There are public toilets at the Longshaw Estate car park. At Grindleford Station there is a cafe, which has toilets. This is free to customers. Walkers are encouraged to leave a small donation. 
Most of the area is a woodland, so you might think there are plenty of opportunities to go for a wee. But keep in mind, that it can be really busy, so finding a secluded spot can sometimes be tricky.
We love observing the fauna and flora on our outdoor adventures. One of the reasons we often set off so early in the morning is to avoid people and increase our chances of spotting wildlife. Our Padley Gorge bird sightings included a heron, a green woodpecker and some  mallards. We were a bit early to see the Pied Flycatchers. These rare migratory birds arrive back to the UK from West Africa every April.
Other Peak District Hikes
Enikő
Hey, I'm Enikő! I'm currently an au pair and I want to share my experiences with you. I've travelled a lot in the past years. I'm gonna teach you how to settle in to a new country and get free accommodation anywhere in the world. Circle Enikő on Google+!