Whorneyside Waterfall is a lovely hidden gem, which we had all to ourselves on our recent trip to the Lake District. It was a lucky find for us, as we learned about the location from a local guy. He saw us hiking on a trail with Peter and we started chatting. He explained that this Whorneyside Force Waterfall Walk is easy to reach with a little one, as there isn't much elevation gain. He mentioned how beautifully green the water color is, and a perfect spot for wild swimming on a hot day. We were sold and after doing some research we decided to embark on a hike to find the waterfall.
This post may contain affiliate links. If you make a purchase through one of these links, I may receive a small commission at no extra cost to you.
Guide book suggestions for the area
The Lake District has many spots for wild swimming. Some of them are well-known, but there are also many hidden gems. This book can give you some great suggestions.
I love the Wild Guide books and have the whole collection. This one focuses on hidden gems, wild swimming spots, cute cafes and unique accommodation in the Lakes and Dales.
About the Langdale Valley
It splits into two valleys, Great Langdale and Little Langdale. The valley was formed by fire and ice. It offers some easy low-level walks through meadows and also more adventurous expeditions on the fells. There are also some nice cycle paths around. Most of the area is under the care of the National Trust. 
By car
Old Dungeon Ghyll car park 
This is the closest car park to the waterfall run by the National Trust. Free for members, otherwise it's pay and display. There is also a smaller car park here, which is only for pub customers, so make sure you park at the right place. 
Stickle Ghyll car park
You can find this on the map as National Trust – Sticklebarn and The Langdales car park. It's about 800 m from the Old Dungeon car park. It is much bigger and has toilet facilities as well. Free to members, otherwise pay and display. The walk between the two car parks is quite nice. You can either walk through the field on flat terrain or choose the upper path, which is more rugged. 
New Dungeon Ghyll car park
It is located on the opposite side of the road from the Sticklebarn National Trust car park. This is a pay and display car park. 
Public Transport
You can take bus #516 from Windermere, or Ambleside. You will need to get off at the Old Dungeon Ghyll Hotel bus stop.
By bike
The Langdale Valley cycle trail finishes at the Stickle Ghyll car park. It's a nice route to take from Skelwith Bridge and part of the National Cycle route #637. There are possibilities to lock your bike at the car park or at the pub and campsite further down the road.
Whorneyside Force waterfall walk
Route
We parked at the New Dungeon Ghyll car park and bought a ticket for 4 hours. Even though this walk can be done under 2 hours, we wanted plenty of time to take photos, have a picnic and attend to Peter's needs, should he want to get out of the carrier.
We started the walk by walking through the fields all the way to Old Dungeon Ghyll Hotel. The path was flat and there were lots of sheep grazing. Once we got to the hotel we went through a large metal gate and continued our way on a tarmac path. It was a beautiful section as we were surrounded by majestic fells on all sides. The area reminded us to Glencoe. We haven't even made it to our destination, but we already agreed to return here some other time as well, as it looked like there are many different trails to be explored. After a while we reached a cattle grid, which lead us to a local farm.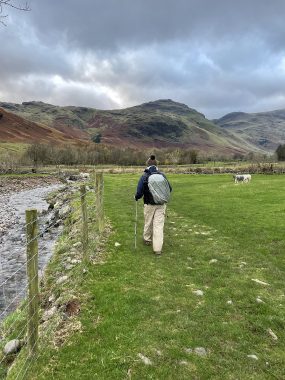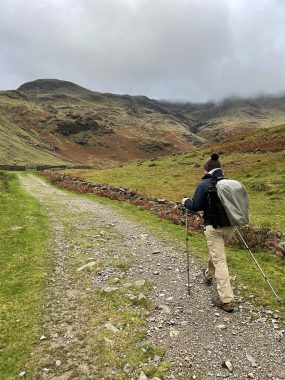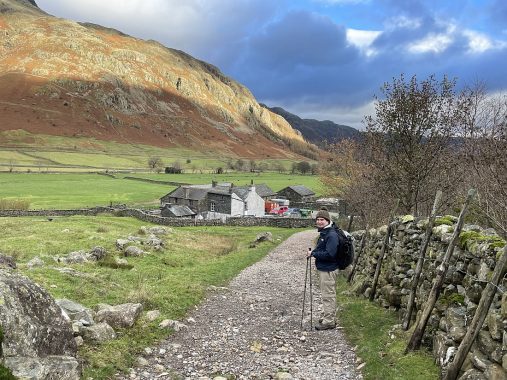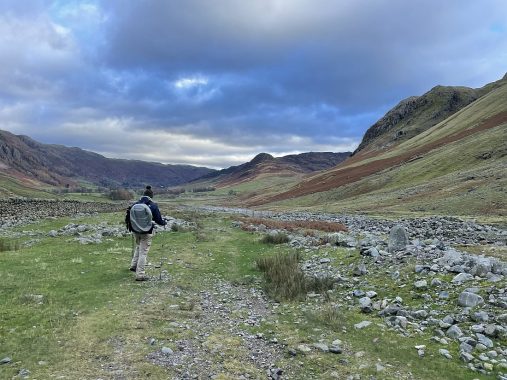 Just follow the signs, which say "path" and then you will soon start a walk on a gravel track. Once you walk through two kissing gates you will arrive to a wooden bridge. Don't cross this. You keep to the right side of the bridge following the drystone wall. 
On our visit, we witnessed sheep herding by border collies. It was really interesting to see all the sheep walking on the path next to us and we could see them coming down from the hillsides in the distance. 
The path starts to go uphill, but it is very gradual and not very strenuous. The trail does get narrower, but it is quite well-trodden. Once you reach another wooden bridge you are really close to your final destination. Cross the bridge and then take the path on the right parallel to the stream. 
After about 300 m you will reach the base of Whorneyside Force.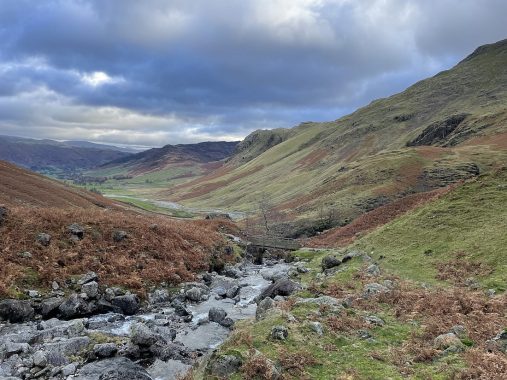 The water flow will very much depend on the weather. After a dry spell, you might only get a little trickle. But it still looks quite impressive thanks to the tall rock walls. We visited the waterfall in November after a rainy day, so we had quite a good water flow. 
In hot weather, you might be tempted to go for a wild swim here, as the water looks so clear. The emerald color looked very inviting even on the gloomy day we visited. I imagine it is even more beautiful on a sunny day. We skipped going for a paddle this time but had a nice picnic at the base of the waterfall. We probably spent around 2 hours here just taking photos, having lunch, and relaxing. The only person we met was the local farmer who was instructing the border collie to herd the sheep.
We took a slightly different route back to the car. We followed the same track back all the way to the Old Dungeon Ghyll car park. Then instead of choosing the flat route through the fields, we walked up to the upper path, which runs parallel. This is more rugged and has a bit of elevation gain. Both routes are equally scenic. The upper path gives you the opportunity to visit two other waterfalls. The Stickle Ghyll waterfall and Dungeon Ghyll waterfall are just a short detour. Unfortunately, we had to get back to the car, because our parking ticket was about to expire. But I am sure we will be back sometime to explore more of the area, as it has so much to offer.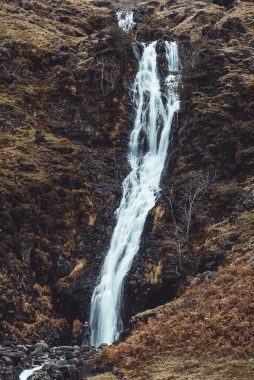 Difficulty 
Easy
6km return from the Old Dungeon Ghyll car park with 180 m elevation gain. 
10 km return from New Dungeon Ghyll car park making a loop by walking the flat field path one way and the upper walker's path the other way. About 400 m elevation gain.
Map
Feel free to download my GPX file to help you find the waterfall.
Co-ordinates: 54.4382245, -3.1401110
What3Words: others.shadowing.wide
Toilets
There are toilet facilities at the Stickle Ghyll National Trust car park.
Pubs
Hiker's Bar
A traditional pub at the Old Dungeon Ghyll Hotel. They serve a wide array of ales and proper British local beer. The food portions are huge and the service is nice. The inside has lots of photos of local hikes. They have an open fire in the colder months to warm up after a hike.
Sticklebarn Pub
It is run by the National Trust and is located right next to the Stickle Ghyll car park. There is lots of seating indoors and outdoors. They serve pub food, cakes, coffee, and ice cream.
Walkers Bar
This belongs to the New Dungeon Ghyll Hotel, but anyone is welcome at the restaurant. All their meat, fish, fruit and vegetables are locally sourced. The tables offer breathtaking views.
Enikő
Hey, I'm Enikő! I'm currently an au pair and I want to share my experiences with you. I've travelled a lot in the past years. I'm gonna teach you how to settle in to a new country and get free accommodation anywhere in the world. Circle Enikő on Google+!