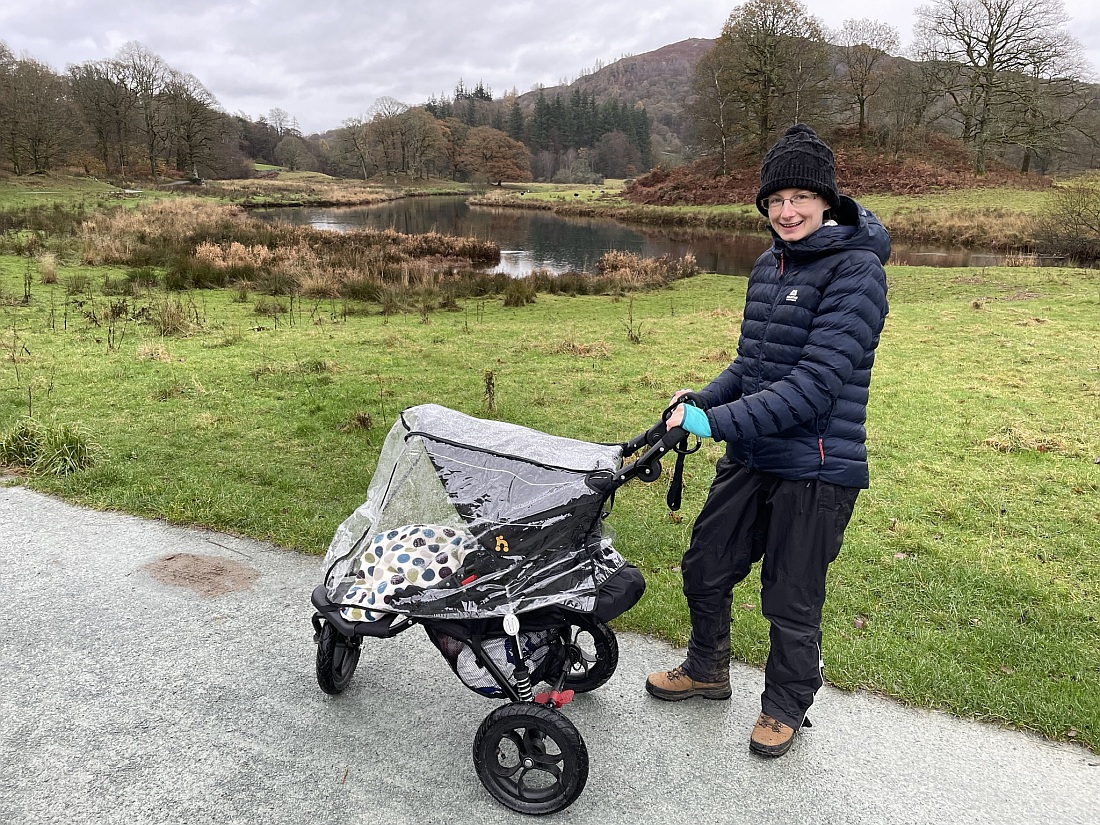 After researching the best all-terrain prams in the UK we decided to purchase the Out n About Nipper V4 Single Pushchair for our newborn baby. As you can probably tell from his mountain theme nursery, we love exploring the countryside. So we really wanted a buggy, that suits an active lifestyle. We've been using this pram on a daily basis ever since he was born and can say that we are very happy with it. My Out n About Nipper Review covers everything you need to know about this pushchair. 
This post may contain affiliate links. If you make a purchase through one of these links, I may receive a small commission at no extra cost to you.
Around town
I live about 30 minutes from the town centre and I don't drive. So if I need to get something from the town I would walk with the pram. We also visit baby groups regularly. The Out n About pram works great on bumpy pavements. It rides very smoothly and without effort. I can easily push it with just one hand. It also performs well when trying to get up a couple of steps. I can usually do this on my own, as the wheels are quite big and robust. The only problem I ran into was navigating it in some of the smaller shops. This buggy is quite big. This is of course great in many scenarios, but if you want to get in tight doors and into small shops, and cafes then this can be awkward. I had no problem in bigger supermarkets though. The Out 'n' About GT version is more aimed at city use, as it is slightly smaller.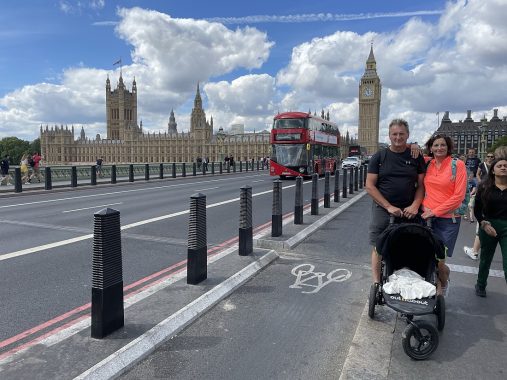 On public transport
We actually took our Out n About pushchair on the tube and train. It worked fine on the train, we just pulled into the bike/buggy/wheelchair area. On the tube, however, we found it easier to just fold it up and carry the baby in a hand/carrier. This of course required two adults. Carrying the buggy wasn't super convenient, as it is bulky. There are other prams out there, that work better for travel.
At the countryside
This is where this pushchair beats its competitors. We have used it on some rough terrain (parks, woodlands, hills…) and it is absolutely amazing! Easy to push: it goes through mud, snow, grass, and sand without any issue. We used it in the Lake District, Peak District, and many other beautiful off-road locations.
At the beach
Pushing a pram at a sandy beach is never going to be easy, but it is very much manageable with the Out n About buggy. 
In the snow
We actually had a couple of snowy days in our town, when the pavements became ice rinks. I walked with a couple of mum friends to our local baby group and they struggled with their pushchairs. Their tyres weren't quite big enough to push it comfortably on the snow and they also didn't have much traction on icy patches. My Out n About however performed fantastically.
Out n About stroller features:
Wrist strap
I find myself using these straps regularly, when we go downhill or even next to busy roads. They are easy to put on and give me an extra sense of security.
Foam covered handles
The handle is very comfortable to hold and it is easily adjustable for different heights.
Storage basket
It has a drawstring bag shopping basket attached to the back of the seat. I use the basket regularly to put my shopping here. When the seat is at a fully flat position, then it can be a bit awkward to get in the basket, but still manageable. This set up of course works great off-road, as it gives an increased ground clearance over tussocks and mud. However, you can buy a detachable basket if you need one.
All round suspension
The suspension works great and provides a smooth ride on all terrain. 
Robust Air filled tyres/wheels
The tyres have good tread and they work well in snowy conditions as well. The air tyres of course have many advantages, as they provide a smoother ride. However, there is a risk of getting a puncture. This hasn't happened to us yet. If you want to avoid a puncture you can either buy the EVA wheels or get them slimed in a shop like Halfords. Or you can fix a punctured tyre by patching it or simply get a new set of inner tubes.
Pedal brake
The brake is easy to operate with one leg and works great.
Five-point fully adjustable harness
It took me a while to get used to this harness. I found it very fiddly to begin with and thought a 3-way harness would be more convenient. However, after a few weeks, I got used to this system and find it easy to operate.
Peek-a-boo window on the hood
Since Peter travelled in the outfacing position from a young age, it was important to me to keep an eye on him. The see-through window on the hood helped me to achieve this. I can spy on him this way and see when he has fallen asleep. 
Squeeze toggle slider to recline the seat
To adjust the seat you need to use the toggle slider at the back by squeezing it together. This pretty much requires 3 hands if the baby is in the pram. However we don't really adjust the seat very often. Also, it can be done with just one hand if we want to recline the seat. It is only getting it to an upright position that is tricky.
Pros
– Easy to push with one hand
– Big enough storage at the bottom
– Can be used from newborn to 22 kg
– Tyres work great on all terrain
– Many colour options
– Affordable
– Comes with a raincover
– Out n About double buggy and a sport version is also available
Cons
– Air-filled tyres may get a puncture
– Sunshade doesn't go down low enough. Needed to buy an additional sun cover
– Sunshade makes a clicking noise when opening/closing, which can wake up a light sleeper
– Not ideal for travelling and in small shops, as it's bulky 
– 5 point safety harness is fiddly to operate
Out n About Buggy Accessories
UV cover
The sunshade on the buggy doesn't go down quite low enough to give full protection from the sun. So an additional UV cover is needed for those sunny days. The company sells this UV cover, but there are other options as well. We bought a SnoozeShade, which worked well with the carry cot and then later without the carrycot as well.
Footmuff
A must in cold weather. They work great to keep babies warm and dry. You can also get a universal footmuff for out n about if you want a cheaper option.
Stroller cup holder
These are easy to attach and so useful to hold a water bottle (and a phone) while you are on the go. I use this model and it works great. 
Out n About newborn carrycot
Although it is not strictly necessary to get a carrycot for a newborn, we decided to get one. The main reason for this is that I wanted my baby to face me, while he was tiny. Peter was in the carrycot until 6 months. In my opinion, it was worth the extra money. A cheaper alternative is to get a newborn insert for the buggy.
Out'n'About Hand Muffs
A great addition to your buggy for the winter months. It saves you from removing your gloves. They are also compatible with most other pushchairs.
Clips
I use buggy clips regularly to carry my shopping. They are super useful to attach varies things to your pushchair.
Out n About buggy board
Buggy boards are a great option if you have an older child, who can walk, but sometimes want to rest and be carried. This Lascal buggy board is compatible with the Out n About and it is great quality.
Rockit portable stroller rocker
Ok, this has nothing to do with this particular pram, but I find this a lifesaver if your baby loves motion. I was hesitant to buy this because of the hefty price tag, but I am so glad I did because it gives me so much more time to get things done around the house, as it keeps Peter asleep for longer. 
Out'n'About is a UK based business, so it is a fantastic way to support the Brittish economy.y  The company has become one of the UK's leading pushchair suppliers. There are some well-known celebrities who also use their pushchair. Even Duchess of Cambridge was spotted with an Out n About buggy!
Enikő
Hey, I'm Enikő! I'm currently an au pair and I want to share my experiences with you. I've travelled a lot in the past years. I'm gonna teach you how to settle in to a new country and get free accommodation anywhere in the world. Circle Enikő on Google+!