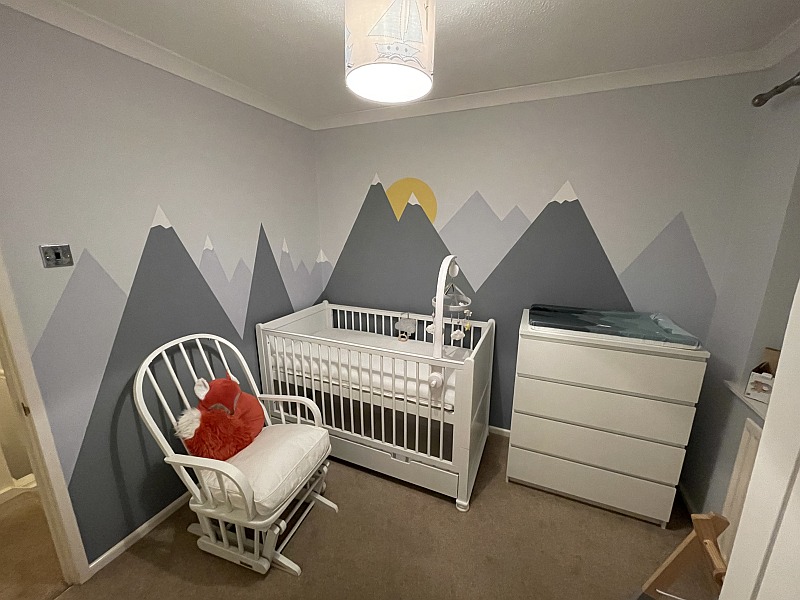 I am so happy to finally share our mountain theme nursery with you! Many years ago I saw a DIY mountain mural on Instagram and I knew, that I wanted to have one when we would have a baby. When we bought the house, this bedroom had a rather ugly shade of pink and it probably hasn't been painted for many years. So a renovation was really needed. As we love the outdoors it made sense for us to go for an outdoor themed nursery. We would like to foster the love for nature in our baby too. As a couple we went on many canoe trips, sailing adventures, car camping holidays, multi-day bike trips and hiked countless of mountains. Hopefully, we will also have many similar adventures with our baby as well. 
We started planning the nursery mountain mural when I was around 20 weeks pregnant. You don't need any previous experience to paint a geometric mountain mural on the walls. It is quite simple, but does require some time and effort. This mountain mural painting took us 3 days to comlete. This is mostly because we had to the jobs in stages. Some day we only did an hour work, but then had to wait a long time for paint to dry. My blog post should help you with step by step instructions, colour schemes and mountain nursery decor ideas, so that your can also create a beautiful mountain theme nursery for your little one. Our room is quite a small (2,6 m x 2,6 m), which added some extra difficulty, but I am very happy with the result. 
This post may contain affiliate links. If you make a purchase through one of these links, I may receive a small commission at no extra cost to you. As an Amazon Associate, I earn from qualifying purchases.
How to paint a mountain mural
Planning your mountain mural
Do a sketch
This step isn't strictly necessary. You can just wing it if you want. However, for us, it was useful to have a drawing of what we wanted to achieve. This helped us to imagine what the room would look like when it was ready. I actually spent many hours looking at ideas on the Internet for different designs and outlays. I did some sketches on the computer in Paint and also on an A4 paper. I measured our bedroom and cut an A4 paper to the right ratio. I planned how many layers of mountains I wanted, where exactly position the peaks and decided to add a sun as well. I also had an idea at this point where all the furniture would go. Because we have a small room, most of the wall surface would have furniture in front of it. So I also considered how tall each piece of furniture would be and planned to have the mountains come up to a certain height so that it would still be visible with the furniture in front of it. You can see some of my sketches here. I experimented with having 2 and 3 layers of mountains. If you want to keep it super simple you can also just do one layer.
Tips for choosing the colours
This was actually the most difficult part for us. We considered many different options and looked at other mountain wall murals online for inspiration. We considered green and even blue mountains. However in the end decided to go with grey. 
But even after this, we had to choose the exact shades. 
If you look at colours online or even in a booklet, the colour will depend on your screen or the type of paper used for the booklet. So I suggest trying out different options on your wall with small tester pots. Depending on the size of the tester pot, you might not even have to buy a bigger one to paint your mountains, as if you only do a wall or two, then you will only need a small amount. 
Main wall: lighter than the mountains, but darker than the peaks.
Background mountains: lighter than the front mountains, but darker than the main wall
Mountain peaks (optional): Lightest colour. We used pure white. 
Foreground mountains: darkest colour.
Our mountain mural colours:
Main wall: Dulux Cornflower White
Background mountains: Dulux Mineral Haze 2 (We had to get this mixed at Homebase. They bought a 250 ml tester pot, which was enough for our mountains)
Foreground mountains: Dulux Mineral Haze 1 (We had to get this mixed at Homebase. We bought 2 x 250 ml  tester pots to cover our mountains. )
Snowy peaks: Pure white
Sun: Homebase Yellow Brick Road (We used a small 90 ml tester pot.)
What you'll need for this nursery mountain mural
To prepare the walls for painting:
Dust sheet: to protect your carpet/floor from dust and paint. We just used old cardboard boxes and bedding.
Sandpaper 100-120 grit: to smooth wall before painting
Multipurpose Polyfilla: to fill the holes on the wall
Snap-off Knife: to cut masking tape to do small touches
Putty knife: to use with the polyfilla to cover holes in the wall
How to paint a mural on a wall?

Step 1: Prepare the room and walls
When we moved into the house, these walls were in a bit of a state. It hasn't been renovated for many years and there were a few rough patches of paint. Also, there were a few holes remaining where they drilled into the wall to secure shelves and furniture. So our first job was to tidy up the walls a bit.
– Put down on your flooring some dust sheet to protect it from getting dirty. You can also cover any furniture in the room with it, if you don't empty the whole room. 
– Cover up any holes in the wall with Multipurpose Polyfilla. 
– Using a sandpaper smooth the walls
– This will create a lot of dust. Make sure to hoover up properly afterwards. Also suggest cleaning the walls with a sligthly damp cloth. You will need dust-free wall surfaces before the painting can begin.
– Put masking tape around the windowsills, skirting boards, doors, electric sockets and switches.
Step 2: Paint the background
– We used 2 layers of our base colour for the background and waited a whole night between application to make sure it was completely dry.
Step 3: Paint the background mountains
– Put the masking tape up for the background mountains. Also consider if you want to add snowy peaks and if yes, then add the masking tape for that as well. 
– Paint the background mountains. You won't have to paint all the way to the bottom of the wall, as you will have your forground mountains there anyways. 
– Take masking tape off. We waited until the paint got a bit dry. (but not completely)
Step 4: Paint the foreground mountains. 
– Put the masking tape up for the foreground mountains and snowy peaks. 
– Paint the mountains.
– Take masking tape off. We waited until the paint was quite dry (but not completely). We also left the masking tape on the peaks, as this section still needed painting. 
Step 5: Paint the peaks
– You will have to reapply the masking tape for the zig-zag snowy section. Try and line up the masking tape neatly on top of your mountain. Make sure you only put masking tape on top of paint, that is fully dry!
– Paint the peaks white. 
– Take off masking tape, once dry.
Step 6: Add a sun
– Draw the sun ligtly with a pencil to your chosen location. We used a string and pencil to make it a nice circular shape. 
– Put small bits of masking tape 1 mm under your drawn sun.
– Use a rubber to get rid of your pencil mark. Do this gently.
– Paint the sun.
– Take off masking tape once the paint is dry. 
Instead of a DIY mountain mural, we also considered using decals. But this limits your options in terms of design and colour. A mountain mural wallpaper or decal also tends to be more expensive than painting it yourself. But nursery wall decals are a good option if you are renting a house and the landlord doesn't allow you to paint the walls.
Our adventure theme nursery decor
I try and be environmentally conscious, so most things I bought second hand for the nursery. eBay and Marketplace are great places to look for pre-loved items. I also joined some Facebook groups, which focus on giving away free things in my local area. This saved us so much money and I have a better conscious, that we are keeping things out of landfills. I also collected most of the things from my town on my bike, so no extra carbon emission for transport. You would be surprised by the things I collected on two wheels: bags of clothes, a play rug, bouncer, walker, bathtub, bath seat and even a baby gate! 🙂 A good pannier rack can help to store smaller things and the bigger items I put in an IKEA bag on my handlebar. Alternatively, a kids bike trailer can be a good solution as well.
Of course, my desire to source items second hand limited us with our choices and it was also time-consuming to look for and collect the items I wanted/needed. Luckily I had the energy and time to do it, but I understand this might not be the case for everyone. While I encourage you to have a look in your area, what items you might be able to source second-hand, I am aware that this might not be your cup of tea. So I also include some baby room decorating ideas you can buy new online. Just click on the photo and it will take you to Amazon. 
You will find baby room decor for different themes including:
Mountain themed nursery
Woodland themed nursery
Sea theme nursery
Cloud theme nursery
These all work together nicely. Some of the accessories we considered for our mountain theme nursery included: changing mat, cushion, crib mobile, play gym, rug, bookends, bookcase, laundry basket, storage baskets, lampshade, night light, hooks, hangers, mirror, garland, blanket, prints, shelves, curtain, blind, door/wardrobe knobs, doorstop, toddler chair.
Enikő
Hey, I'm Enikő! I'm currently an au pair and I want to share my experiences with you. I've travelled a lot in the past years. I'm gonna teach you how to settle in to a new country and get free accommodation anywhere in the world. Circle Enikő on Google+!