With the lockdown and travel restrictions, car camping in the UK became incredibly popular. Many people purchased or converted their own van. You can often see people stealth camping in a van at national park laybys and car parks. However, a van can be very expensive, and it is not affordable for many. There are several different types of cars you can sleep in at the back. We have a Volkswagen Estate and it works great for car sleeping. This is a cheap, simple and spontaneous way to explore new places and with the different types of car camping accessories available, you can make it quite comfy. A DIY sleep pod or car camping tent are both great options to make your stealth car camping experience more enjoyable. Sleeping in your car requires less planning and equipment, than pitching up a tent. A car is also typically much warmer than a tent, so it works great on those rainy and cold nights, that are ever so common in the UK.
This post may contain affiliate links. If you make a purchase through one of these links, I may receive a small commission at no extra cost to you.

Is it legal to sleep in your car in the UK?
The same rules apply for sleeping in your car, as for wild camping. It is legal in Scotland and some parts of Dartmoor. However, if you are respectful and use common sense, then it is generally tolerated at other places as well. A car camping awning or rooftop tent will get you a lot of unwanted attention, so I would stay away from these unless you are in a very remote area. Also worth noting, that an average car parked up for the night, is less likely to raise questions, than a camper van. So, you are more likely to get away with it. Please follow the "leave no trace" principle if you decide to wild camp. Remember to arrive late, leave early and take your rubbish with you. Car camping in Scotland is quite common and a great place to get started to gain some experience and confidence for this type of travel. 
There are many cars you can sleep in the back of. We specifically bought a Volkswagen Golf Estate, as it has a long boot, making it ideal for a car camping setup. Some people sleep in cars with big hatchbacks. While this is of course possible, there are some better options out there. 
Estate car camper
The great thing about estate cars is that they are quite long and the seats can be folded.  A flat floor makes it very convenient to put down an inflatable car camping mattress and have a good night's sleep.
Citroen Xsara Picasso
Volkswagen Passat Estate
Volkswagen Golf Estate
Volvo v70
Ford Mondeo Estate
Honda Civic Tourer
Skoda Superb Estate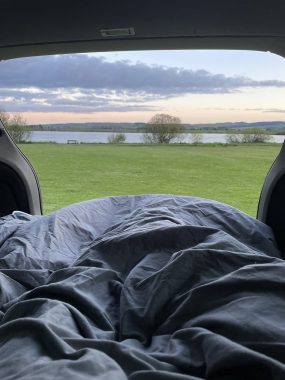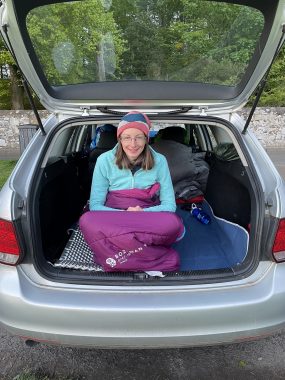 Multi-Purpose vehicles (MPV)
Multi Purposes vehicles are a good halfway house between an estate and a van.
Ford Galaxy
Toyota Previa
Toyota Verso
Renault Grand Espace 
SUV car camping
Camping in the back of an SUV has some advantages over an estate. Because the vehicle is taller, you can make your own sleeping pod from storage boxes or diy bed platform using plywood. This is great as it gives you some extra space to store your other essentials for car camping.  
Seat Ateca
Volvo xc90
Mercedes ML320 CDI 
Toyota RAV4
Volkswagen Touareg
Honda Passport
Ford Expedition
Land Rover Defender
Subaru Outback
Any car with a rooftop tent
You can turn any car into a camper by adding a rooftop tent to the top. They mount easily on your vehicle's roof racks and can be set up really quickly. With some practise you can have it all pitched in a few minutes. These car roof tents are waterproof as well, which is essential in the UK weather. The mattress is built-in, so no need to pack it extra. 
Car Camping Mattress Ideas
If you are only spending a night or two in your car and don't suffer from back pain, then you might just want to keep things simple and use a regular camping mat. Thermarest mats pack up really small and have a great R-value rating. We use one for our tent wild camping trips. An even simpler and cheaper solution is a regular camping folding mat. 
However, if you want some more comfort, then there are some fantastic inflatable mattresses out there, that comes with an electric pump. So you can blow it up using your car's 12V socket.
This mattress works great as a bed for a car primarily for children. You simply inflate the mattress and place it on your back seat. As it only uses the backseats, it menas you can keep the boot as a storage area. It is a universal fit, so would be suitable for most cars.
The great thing about this model, that it is divided into two pieces. So you can fold one part in a non-inflated state. This can give you some extra space next to you for storage.
This mattress will fit at the back of most cars. You will need to fold the back seats down to form a flat surface and then inflate the mattress. This makes a very comfortable double bed for your road trip. It goes at the rear space of your car and can also be folded up to lean on. A great option for couples adventuring together.
Car awnings for camping
Awnings are a great way to get some shelter from the sun or rain on your outdoor adventures. I have a full blog post about the best car awnings and tailgate tents.
This awning is very quick and easy to set up. You can use it at the back or side of your vehicle. The large space creates enough room for the whole family to eat and relax.  It works great for various outdoor activities.
The unique feature of this car awning is that the side wings can extend making the width to 4 m. A great solution to add extra shade and protection from the elements. The installation is easy but ideally requires two people. The whole structure is quite sturdy. It should have no problem to withhold a storm.
This one acts as an awning and also a tent at the back of your car.  It slips over the raised boot of the vehicle. Great for hot nights, as the free airflow protects you from stuffiness and bugs.
Car rooftop camping tent
If you want to keep the space inside your car for storage or you want to go car camping with four people, then you could install a roof tent. This way two adults can sleep inside the car with the backseats folded down and an additional two adults can go and sleep in the roof tent. This is also a great setup for families with children. TentBox is a reputable brand in the UK.
Car Camping Storage Ideas
Chances are you will have a lot of stuff on your road trip. You can put your luggage and bags on the front seats for the night if you are using the back of your vehicle to sleep. But there are some additional little tricks, that helps you to keep your belongings organised.
Roof box
Roof boxes add a ton of extra storage space to your adventure. Depending on the model, you can even fit a bike or two up, next to the box. They are a must on all our camping trips. 
These headrest hooks, storage nettings, back-of-the seat hanging storage and packing cubes are all fantastic car camping storage hacks.
Car Camping Toilet
In order to really abide by the "leave no trace" principle, we need to think about our toilet needs. Wees are less of a problem if we are out in nature. But how do you poop while car camping? When you are wild camping at remote areas, then you can dig a whole with a trowel and poop in there. Remember to do this far from any water source and then cover up the hole. This method might not always be possible and it is certainly not the most convenient, especially when you have children with you. You can buy a camping toilet, which is really easy to use. For some added privacy you can even set up a toilet tent. If you want a simple solution for wees, then a urinal bottle is a great choice!
Car Camping Fridge/Cooler
If you are planning to cook your own food while camping with a car, then a cooler is essential, especially in the warm summer months. We always take one with us, as it keeps the costs down, by not having to eat out all the time. We also tend to go on trips to remote places, where we enjoy hiking, canoeing and cycling. Shops and restaurants are often scarce at these locations, so having sandwiches, yoghurt, milk, fruit, etc with us in the cooler is essential. We normally have it plugged into our 12V socket while we are driving and then unplug it when we are stopped. A portable power station can keep it going even when we are not driving. If you are only going for a short trip, then you can get away with an insulated cooler box, that works with ice cubes or freezer packs.
I also have a guide about the best camping fridges in the UK, so read that for more information. 
My blog post compares the best portable power stations on the UK market. Although, they are quite pricey, but if you go on multi-day car camping trips regularly, then they are definitely worth the investment. They are great at keeping your devices like laptop, phone, cooler etc charged for longer. Some can even operate a hair dryer or TV!
If you are only away for a few nights, then you can probably get away with not having a proper shower. But with children and after a dip in the salty sea, I am often desperate to wash myself. So for some trips adding a portable shower to your camping car setup is a good idea. 
Car camping window covers
For me the most comfortable way to sleep in a car is to have total darkness. Some car window shades for camping can help me achieve this. There are several different types out on the market, so you will have to decide which works best for your needs and vehicle. We personally like to use a front windscreen sunshade and black curtains for the sides. An eye mask can also work wonders, but it won't give you any privacy.
Our cooking equipment includes a JetBoil and a Cadac Safari Chef 2. You can read my full Cadac cooker review on my blog.
For a quick meal we love eating "boil in the bag" packets using our JetBoil. These are especially useful on rainy days, when we just want something quick with minimal washing up. When the weather is nice, we often make a bigger effort and fry some sausages, burgers or make fajitas or chilli on our Cadac. 
I wrote a whole blog post about expedition food, so give it a read, if you are lacking ideas for your road trip. It has a lot of suggestions for breakfasts, lunches, dinner and snacks as well. 
Good places to sleep in your car in the UK
There are several free camping apps available in the UK, that can help you plan your road trip and give you some ideas about where to stop for the night. These apps can be lifesavers for adventure lovers, who are on the lookout for quiet roadside stops and off the beaten track camping spots. 
Park4night – This is our favourite and most used app when we are looking for a place for car sleeping. Users regularly update the information with photos and provide feedback.
iOverlander – We use this app regularly as well. It also shows some regular campsites.
WikiCamps UK – A UK specific app with a lot of good places to sleep in your car.
Brit Stops – This is actually a book, not an app. We don't have experience with it, as it is mosty for converted vans, which have some form of chemical toilet on board. The places listed in the book don't allow any camping-type activities outside the vehicle (cooking, chairs, tables, pup/toilet tents, etc.).
Some of the places we stayed for the night thanks to these apps:
Enikő
Hey, I'm Enikő! I'm currently an au pair and I want to share my experiences with you. I've travelled a lot in the past years. I'm gonna teach you how to settle in to a new country and get free accommodation anywhere in the world. Circle Enikő on Google+!