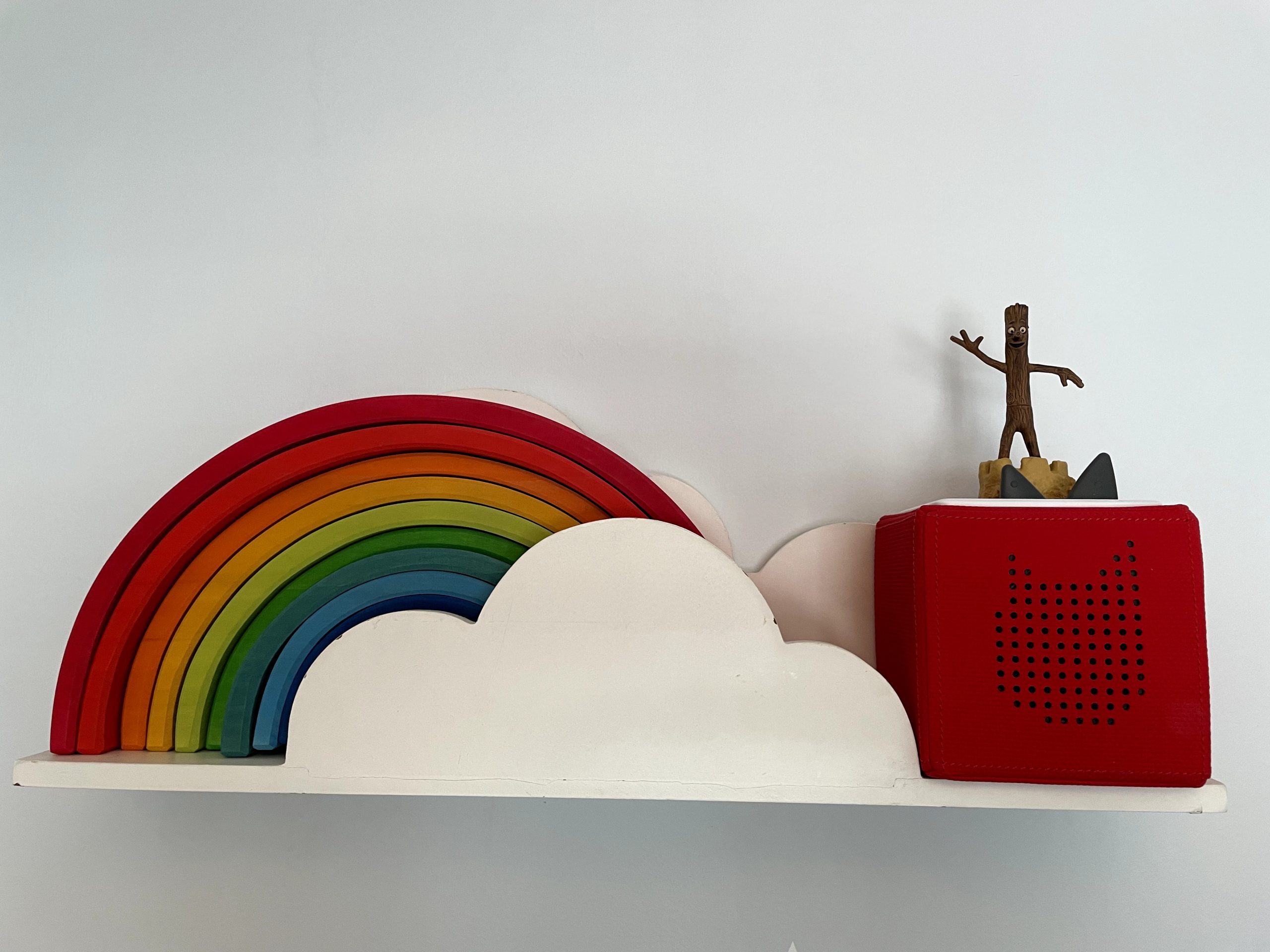 As we are an outdoorsy family with some Montessori values, we aim to minimize screen time as much as possible. In fact, we don't even have a TV. Peter is still very young, so it is easy at this age to keep him away from such electronics. However, I have no doubt, that our Toniebox will help us to keep him entertained instead of a TV, even when he is older. My Toniebox Review is based on using it on a daily basis for the last 5 months. It was actually the perfect Christmas gift for him. He was only 6 months old, but it is a present that will grow with him and he can use it for many years to come. It's a great addition to our mountain theme nursery, but we of course also take it with us traveling and camping.
This post may contain affiliate links. If you make a purchase through one of these links, I may receive a small commission at no extra cost to you.
The Toniebox is a digital audio player for children. It is a padded cube, designed to be robust to withstand drops by toddlers. It is fairly simple to use, so small children can play with it independently. It has two ears on the top, which control the volume and you tap the side of the box to skip to the next song/story section. The Toniebox works with tonies characters, which have to be purchased separately. There are many different types. You place the tonie on top of the box, which will stick to it, as they are magnetic. Then you will hear a pre-recorded song or story.  You can use the audio box for travel, in the car, plane, camping… When fully charged they last up to 7 hours. The set comes with a toniebox charger and it can also operate while on the charger.
The Toniebox gets the most use for bedtime and naptime in our house. We use it instead of a white noise machine. We have several of the sleep aid tonie figures and love them all. My personal favourite is the white cat (white noise) for the night and the sheep and rabbit for naptimes during the day. 
The Stickman and The Gruffalo are also firm favorites here. They keep my baby's attention, as they also have some music as well. And of course, the nursery songs are on a lot as well. 
Tonies vary in length, but they all cost the same amount. So it often feels like you don't get the same value for the figures, as some are only 15 minutes long, while others are 2 hours. It can certainly feel like an expensive toy if you start adding up the cost of the figures and you have a big collection. It is worth getting the figures in the 4 for 3 sales. Many websites often have this offer. The company releases new tonies regularly, so there is always something to look forward to.
If you are struggling with ideas about which tonie to get or want to hear other people's opinions, then there are great Toniebox communities on Facebook. They often share which are the best tonies in their household and which ones don't get much love. You can also swap unwanted figures. These are two useful groups to join:
"Everything Tonies UK"
"Tonie Box & Tonies UK buy, sell & swap"
The Creative tonies are a great educational tool. I think we will use them a lot to help raise Peter bilingual. We will put some Hungarian content on these. As we live far from the grandparents, it is also a lovely way to make them feel closer. Grandma can read a story or record a message for him.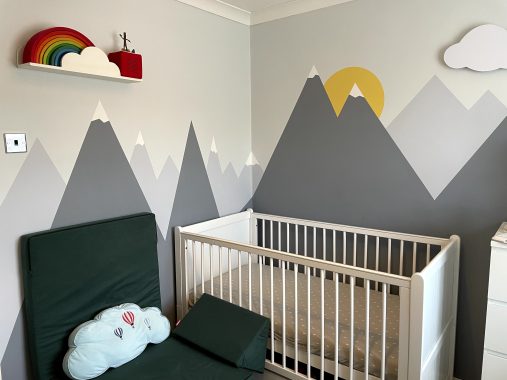 I also enjoy using the mytonies app. It shows all my tonie figures in one place and when I click on the character it shows the playlist. So there is no need to keep the packaging leaflet, as you can always look up the tracks in the app. It is also very simple to record in the app onto a creative tonie or to download free content that Tonies releases.
Tonies for a baby and toddler
The Tonibox is marketed for children over the age of 3. This is mostly because of choking hazards, as there is a risk, that a small part would break off a tonie figure. However, I know many families who introduced it to much younger children. We started using it when Peter was 6 months old. We used it instead of a white noise machine or playing songs on our phone/Alexa. My 2-year-old niece also had a lot of fun with it and quickly learned how the box worked. So I think it is a suitable toy for any age, as long as they are supervised carefully, while they are younger.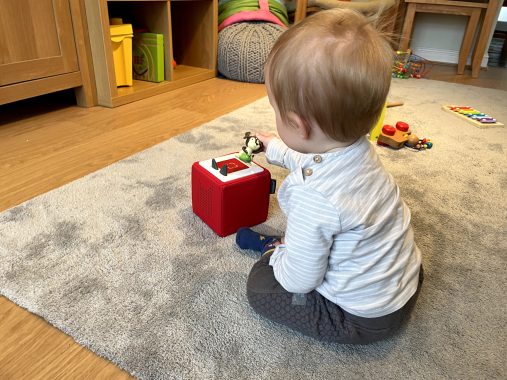 Tonies for children
Young children can play with the box independently. There is no upper limit for suitability. Adults can equally enjoy the wide range of content, that they offer. In fact, I think many times it is the parents who get addicted to purchasing all the different types of characters. Having said that, if your child is over 8 years old, a Yoto player might be more suitable for them, as they have content that is aimed at that age group. They are also less likely to care about playing with the cute tonie figures.
There are over 140 types of toniebox characters. Here are some of the main categories to give you an idea what type of content is available.
Disney
Eg: Moana, Frozen, The Jungle Book, The Lion King, The Little Mermaid, Cinderella, Toy Story, Winnie the Pooh, 
Educational
Eg: National Geographic content, Horrible Histories
Tonies for sleep
Eg: White noise, nature sounds, lullabies, classical music, instrumental music
Tonies based on books
Eg: Julia Donaldson books, Matilda, The Famous Five, Paddington, We are going on a Bear Hunt, Peter Rabbit
TV show character Tonies
Eg: Paw Patrol, Peppa Pig, Cocomelon, Bing, Fireman Sam, Octonauts, PJ Masks, Bob the Builder
Music
Eg: Nursery rhymes, lullabies, European songs, children songs, classical music
Creatives
If you would like to add your own content, then that is also possible with a creative tonie. What is a creative tonie? – you wonder… well they are also figures, but without any added content. You can record yourself or a family member reading a story or add your child's favorite music to it. There is also free content that Tonies release each month, that can be loaded onto your creative tonie. One figure can hold 90 minutes of content.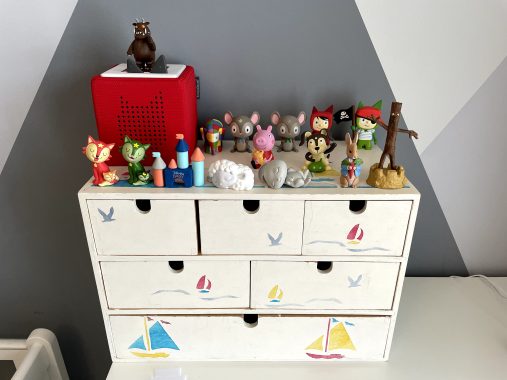 Headphones
If you would like the children to have some quiet time at home, or you are on a plane and would like to keep the volume down, then the headphones are a great addition to your set. They are durable and have a kid-safe, volume-limit. You can also adjust the headband and earpads, so it grows with your child.  
Toniebox cover
The Toniebox comes in 6 different colours, but sometimes the company release some special edition boxes with different colours. If you would like to mix things up and give your music box a new look, then you can purchase a cover. Many people make and sell them on Etsy. They are mostly for decorative purposes. You can get some cute prints and even personalize them with their name.
Tonies Topper
These can also be added for decor, but they also have another function: to protect the top from dirt and scratches. The tonie characters are handpainted, which means they can leave a mark on the white top, if they aren't placed gently there. And as we know children aren't always gentle. Our box actually has some paint marks on the top surface. This could be probably wiped off with some cleaning product, but we haven't bothered. Nevertheless, if you want to avoid scratches, get a tonies Topper. You can also buy similar protective films from Etsy if you want a wider range of designs.
Toniebox carrying case
These are really useful for travelling. You can get many different types. Some only fits the box, have additional space for headphones, charging station and some characters. A toniebox case is also a great way to transport the box and tonies around the house from one room to another. 
Tonies Shelves
People can get addictive to buying new tonie characters. Some have huge collections. So naturally they need to be stored somewhere. A shelf is a great way to display them. It looks good and it also makes it easier to see them all and choose which one you would like to play. You can get a Tonies shelf from the official website, but they only hold about 20 figures. So there are other options as well. Some people buy metal tape and add that to their chosen surface. As the tonies are magnetic they stick to it nicely. Buying an oven splashback is another great option.
Which are the best tonie characters?
This really depends on the age and interests of your children. If you want to get recommendations I suggest you ask the Facebook community as they can advise you what might be suitable. 
Yoto player vs toniebox?
I only have experience with the Toniebox, but read a couple of tonies vs yoto blog posts, before deciding which one to go for. My understanding is, that a yoto player can be a better value for money, as the cards are cheaper, than the Toniebox characters. Yoto cards have content, which are aimed at older children. But if you have young children, then they will probably have more fun with a Toniebox.
Are tonies worth the money?
I admit if you start buying a bunch of tonies, it can be quite expensive. Parents tend to go overboard and buy a lot of tonies characters. But the reality is that kids get overwhelmed with too many choices. Most of the time they have a couple of favorites and play those over and over again. So I think having a Toniebox is totally worth it, but try and be mindful about which characters you get.
Can you use a Tonie without Wi-Fi?
You will need wifi the first time you set up the box and when you add a new toniebox figure. But once it downloads onto the box, then you can use it without wifi. It is also possible to load new tonies onto the box while they are in their packaging. This is great if you want to set up the box before you give it, as a present.  
Enikő
Hey, I'm Enikő! I'm currently an au pair and I want to share my experiences with you. I've travelled a lot in the past years. I'm gonna teach you how to settle in to a new country and get free accommodation anywhere in the world. Circle Enikő on Google+!