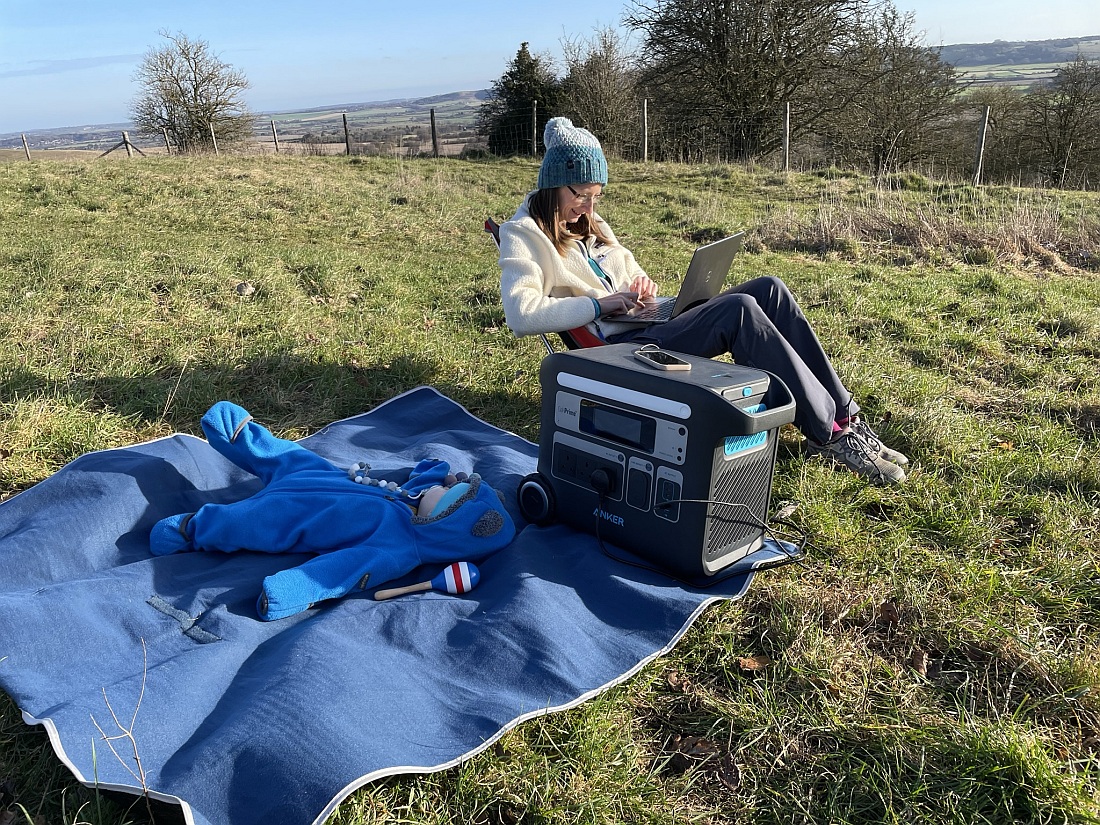 This Anker PowerHouse 767 Review should help you to make a decision on whether it is the best portable power station for your needs. We received this unit before it was launched and I spent time testing it in various conditions. We will take it with us on all our car camping adventures, but it can be also perfect for van life, emergency power cuts or if you are a tradesman, who needs to power work tools in his van.
This post may contain affiliate links. If you make a purchase through one of these links, I may receive a small commission at no extra cost to you. We were gifted this power station, but as always all opinion are my own.
Anker PowerHouse 767 Review
Battery
The unit comes with EV-Class LiFePO4 Batteries, which are the longest-lasting batteries you'll find in a portable power station. They have a 10-year life expectancy and can reliably recharge over 3000 times. Although it already has amazing power capacity, there is a possibility to double it to 4096Wh by purchasing an expansion battery. This would allow you to be off-grid for even longer.
In-built LED light
The unit has an in-built LED, which has 3 levels of brightness. It works great on a dark evening around the campfire or eating around a table. You can also set it to SOS mode, which will make it flash. This light pulls 5 wh from the unit when turned on the brightest setting. 
Solar panels
The most sustainable way to recharge your Anker PowerHouse 767 is by using solar panels. It can take a maximum of 1000W of solar input. Anker sells solar panels separately and the best compatibility is with their Anker 625 Solar Panel (100W).
Recharge
Thanks to the amazing technology of HyperFlash™ the unit can recharge to 80% in 1 hour. To reach a 100% it takes 1.4 hours. The first time we charged our Anker PowerHouse 767 we got a bit worried about how noisy it was. However, when looking at how much power it pulled from the socket, it made complete sense. The noise came from the fans, which are there to keep the battery cool and healthy. This ensures an extended lifespan. It is completely normal and we got used to the noise quickly.
Portability 
As you can imagine the unit itself is very heavy due to the battery. It weighs 30 kg. This can be expected if you think about the performance it can provide. Despite its weight, it is relatively easy to transport thanks to its wheels and in-built extendable suitcase handle. The rugged wheels are quite big and travel well on different terrain. Anker also designed the power station to withstand heavy usage: it is impact-resistant, shock-proof, anti-UV, and flame retardant. I was able to move the unit easily myself once on the ground, even on an uneven path. But due to its weight, I found it challenging to lift it on my own eg. up to the car boot. This shouldn't be a problem either if two people lift it at the handles.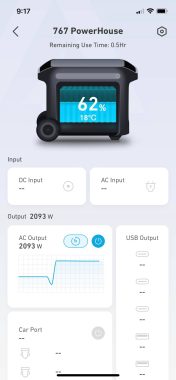 Smartphone app
A great feature is that you can download a smartphone app and control the unit through that. It makes it possible to look at the charging time, the remaining battery and you can even customize your power usage. As it is intended for off-grid adventures you don't need any Wi-Fi to use this feature. I found the app quite self-explanatory and easy to download and use.
Frequently Asked Questions
What devices can the new Anker PowerHouse 767 power?
With a huge 2048Wh capacity and 2300W AC output, the unit can power most of your devices. You need to check on the appliance you are intending to use how much W they use. We tested the unit with a variety of devices (kettle, fridge, hair dryer, drill, toaster, laptop, heater, fan) and they all worked well. But don't be fooled that you can use them all at the same time and operate them for many days without recharging the power station. These appliances run well individually and the unit will tell you how long they can run for. Some appliances can easily run at the same time. Eg you can charge your phone, laptop, and drone all at the same time. But you would probably struggle to dry your hair while also boiling water in a kettle.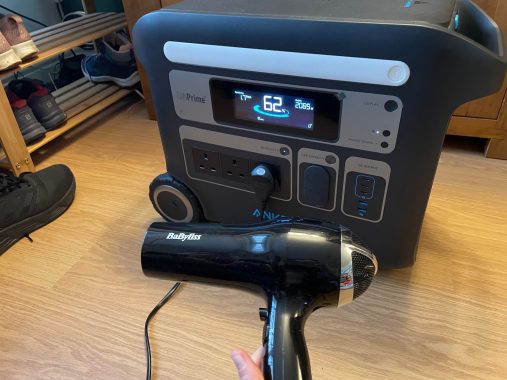 What is the new GaNPrime technology?
This new technology is amazing at saving energy. It allows the system to not heat up too much inside, which protects the battery from degrading and it's also better for the devices that you plug into the power station. Anker claims that the new PowerHouse 767 has the longest battery lifespan on the market. The amount of power it loses when pulling and charging is minimal. Hence this new technology is also very sustainable and a green choice to power your electronics on your adventures.
To summarize my Anker PowerHouse 767 Review I think the unit is one of the best portable power stations on the market. It is a big investment, but definitely worth the money if you want some luxury items on your off-grid adventures. It will be able to run a fridge, TV, and mini heater and you can also keep your laptop and phone charged. In addition, it can give you great peace of mind, that you have a backup power supply in your home in case of an emergency. 
Enikő
Hey, I'm Enikő! I'm currently an au pair and I want to share my experiences with you. I've travelled a lot in the past years. I'm gonna teach you how to settle in to a new country and get free accommodation anywhere in the world. Circle Enikő on Google+!