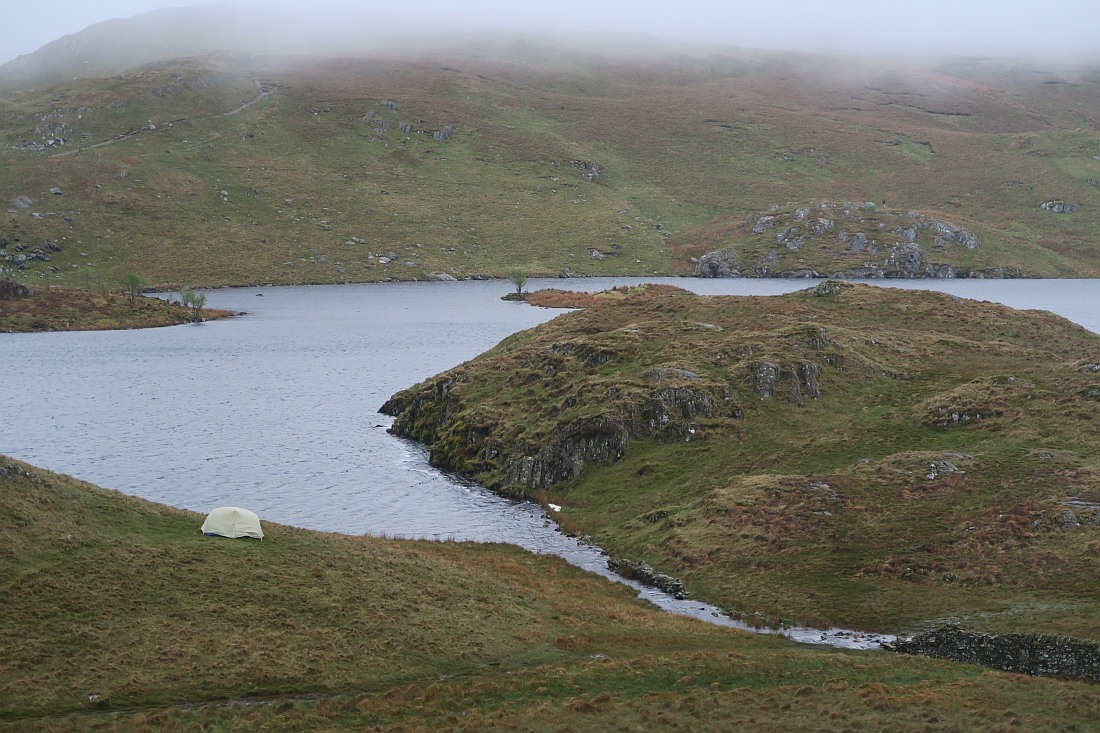 When we were just starting out our wild camping adventures I preferred places that weren't off the beaten path. Having other people at the same place somehow reassured me that I was safe and not in the wrong. But we were never the type of campers, who would just pitch a tent a few hundred meters from a car park, right next to a trail. We came across a few of these people on our hiking trips, and it really annoyed us, mostly because they would often leave a mess, blast music and not vacate their pitch early in the morning. 
An Angle Tarn wild camping adventure seemed like a great option for us. It is relatively easy to reach for regular hikers. But the location is tucked in the mountains and requires some effort to get to, which means we wouldn't disturb the locals and fellow hikers. I was aware that Angle Tarn was a popular location, as it is often described as one of the best wild camping spots in the Lake District. You can see why: fairly easy to get to, it has a scenic location, a tarn for a swim and great photo opportunities.
Regular and experienced wild campers often joke about how it is just like a campsite, as there are so many tents pitched up next to the tarn. And perhaps they are right. But it is a lovely spot for those who are new to wild camping and want to get into it. We actually managed to get a lot of solitude on our Angle Tarn wild camp. In fact, we only saw one other tent on the other side of the tarn. This was probably due to the rainy weather. But with the right wild camping equipment,  some rain shouldn't deter you from having an outdoor adventure. 
This post may contain affiliate links. If you make a purchase through one of these links, I may receive a small commission at no extra cost to you. As an Amazon Associate, I earn from qualifying purchases.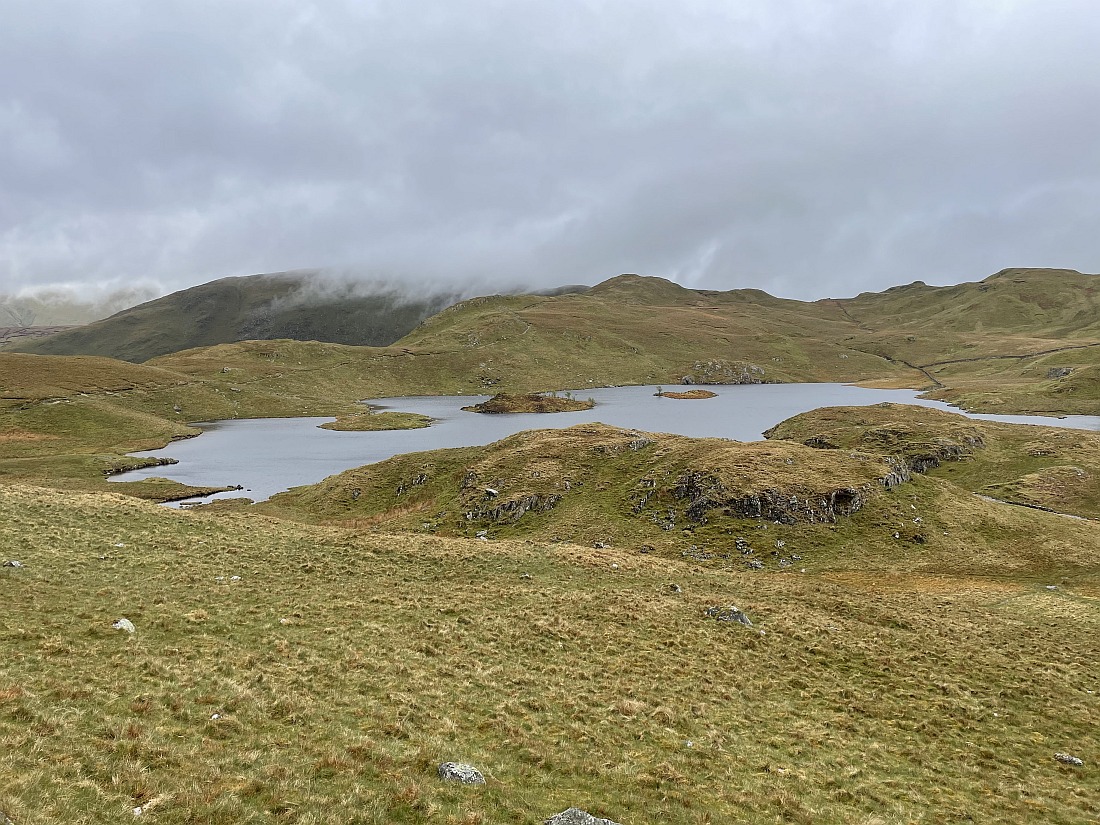 There are actually two Angle Tarns in the Lake District. One of them is a small lake about 18 km north of Bowfell. This article is about the one near Patterdale located at an altitude of 479 m. It lies within the Angletarn Pikes. The lake has a distinctive fish hook shape and there are two little islands in the middle. It also has a small peninsula, where people love to pitch their tent. 
Guide book suggestions for wild camping
The photos in this book gave me some real desire to go wild camping. It also has many good tips, useful maps and fun stories about wild camping.
I love the Wild Guide books and have the whole collection. This one focuses on hidden gems and wild swimming spots in the Lake District and Yorkshire Dales.
Wild camping in the Lake District
Although technically it is not permitted to go wild camping in the Lake District without prior consent of the landowner, people do it anyways. In fact it is very common to see wild campers on the fells and in general it is tolarated by the local authority if it is done responsibly. Remember to obey by the 7 principles of wild camping and leave no trace. There are several lovely spots above the highest fell wall with stunning views overlooking lakes. They are well away from dwellings, so you shouldn't disturb anyone if you keep a low profile. 
In general the national park has many streams and lakes, that are great water source. A water filtration system is essential on all wild camping trips. This can save you from carrying a lot of weight. 
For your own safety I also suggest having a satellite communicator which can help you keep in touch with family even without reception. It can also notify emergency services in case you are in trouble. 
Angle Tarn Walk
We planned this trip for a Friday night in May. We were on our way up to Scotland and wanted to break up the drive. The weather wasn't really on our side, as it was raining, but we had good waterproof gear, so decided to go for it anyways. 
We managed to secure a free parking spot at the layby in Patterdale early in the afternoon. Even though we only went for a night, I am not a super-light packer. I tend to get cold, so had many layers in my bag. We also had heavy camera gear with us. So the start of the hike felt quite strenuous, as we were ascending up to Boredale Hause mountain pass. However, the scenery made up for it and we had a little dry spell. Looking back towards Patterdale and Lake Ullswater we took many photos. 
Then the trail flattened out a bit and we could start enjoying the views towards Brothers Water. This was interesting to see as well because we just went for a walk there earlier that day. 
It took us about 2 hours to reach the tarn at a leisurely pace.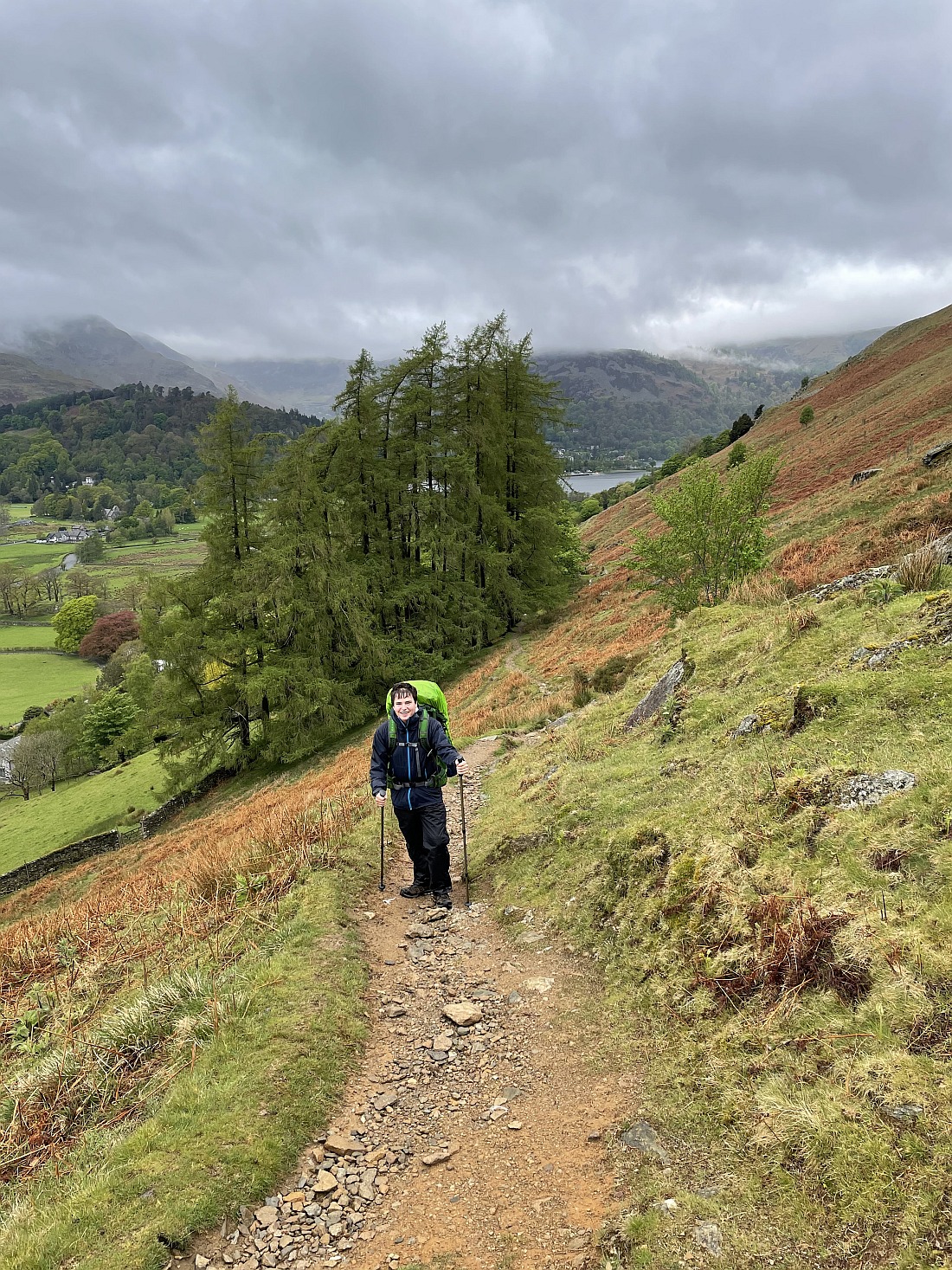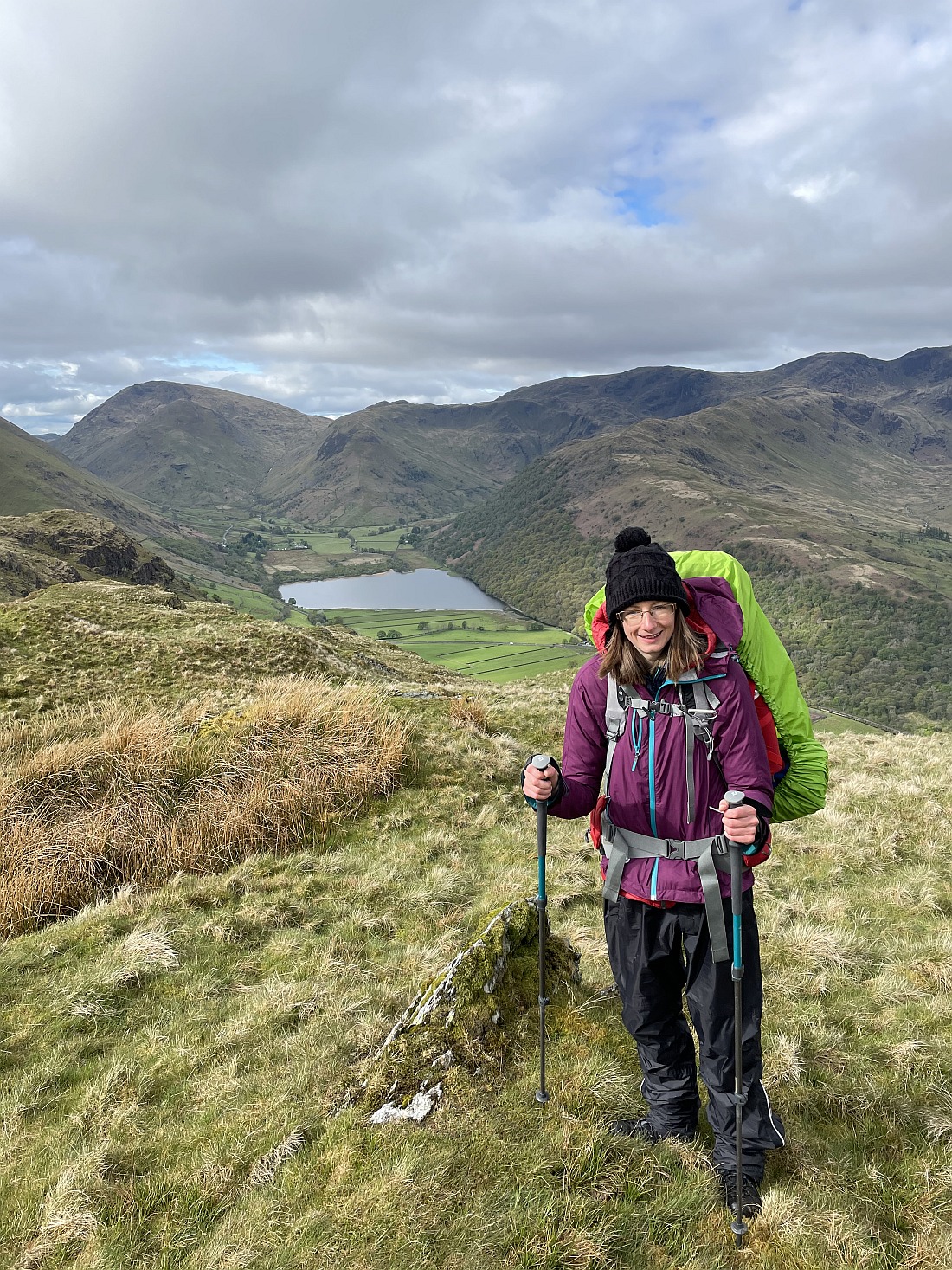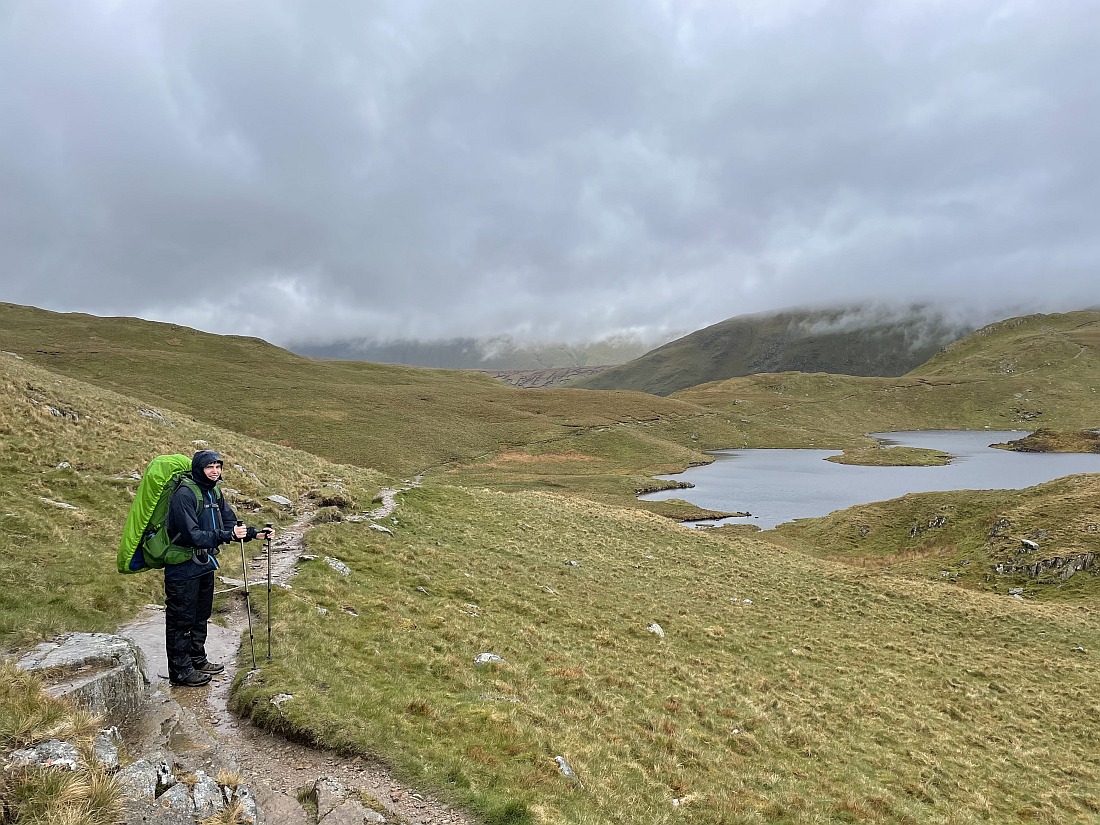 It was raining by this point, so we didn't scope the area for very long. The terrain was quite boggy and we just wanted to find a spot, that was less likely to get flooded. We pitched up the tent quickly when the rain calmed down a bit. 
We had our JetBoil with us to cook dinner. It was some quick expedition meals, that we ate in the tent. The rain was on and off, so I ventured out of the tent occasionally. I walked up to the cliffs at the side of the tarn. There weren't any people around, except for one other tent in the distance on the other side of the lake. 
There was no reception at the tarn, which is often the case at these remote locations. But before we nodded off we sent a message to our family using our Garmin satellite communicator. It gave them a peace of mind, that we were safe.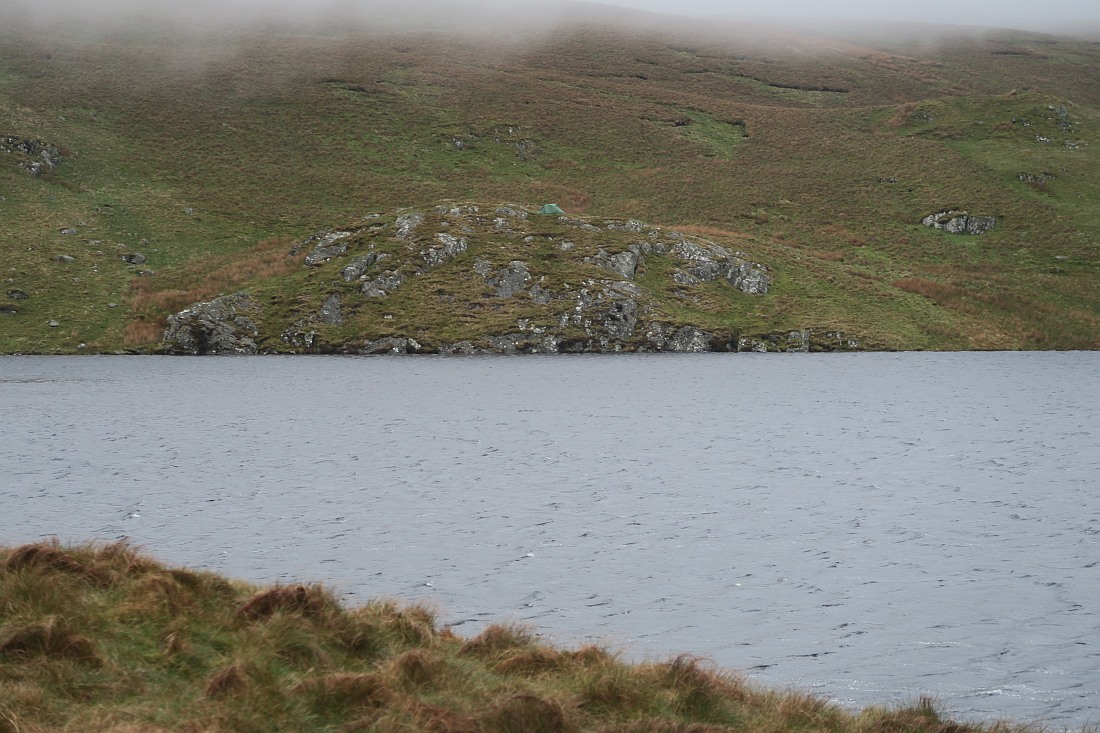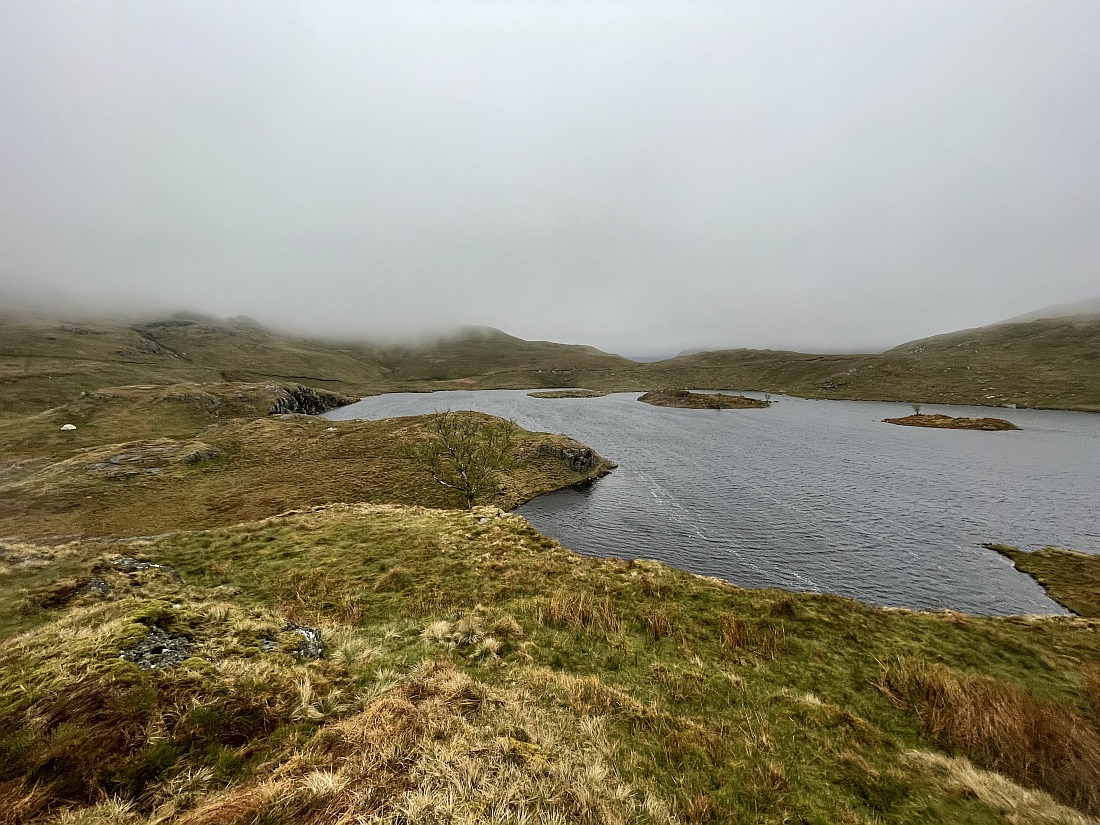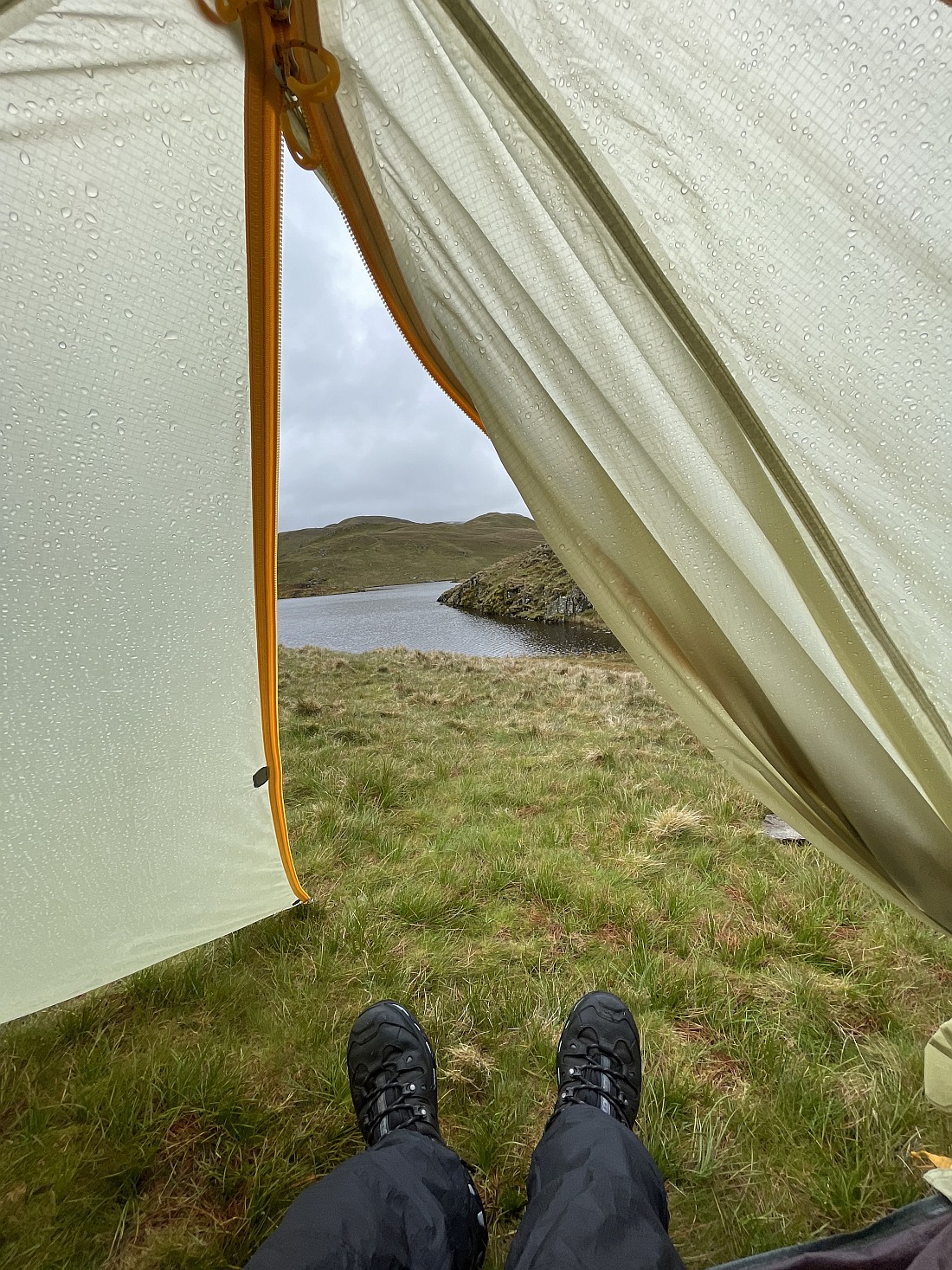 The next morning was luckily dry, but still overcast. We had breakfast and then packed up our gear. We made sure not to leave any trace. We took the same route back to the car, but if you are feeling energetic, you could make a circular loop and head down via Hayeswater and Hartsop. Our walk back to the car was quite enjoyable. We spotted some wild campers on a hillside not far from Boredale Hause. It took us 1 hour to get back to the car.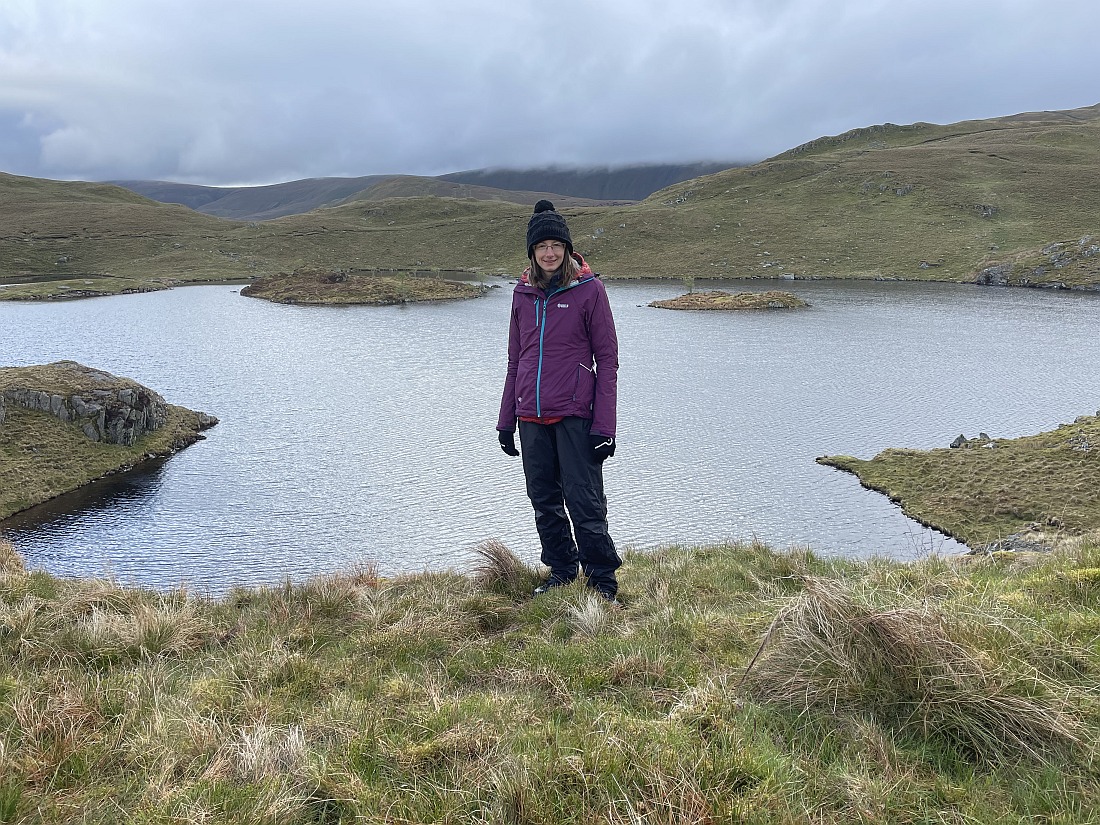 Distance: 7 km return hike with about 390 m elevation gain. If you plan to spend the night at the tarn, then calculate about 1.5-2 hours to reach it from Patterdale. 
Angle Tarn Map
The OS Explorer Map OL5 covers this section of the Lake District. 
You can also use my GPX files to navigate.
Angle Tarn Swimming
The tarn is popular for wild swimming not just among campers who decide to spend the night here, but also among day hikers. Several paths cross here, so people enjoy going for a quick dip on a hot, summer day. The lake reaches 9 m (30 ft) in depth at some places. As always be mindful of the weather and use common sense. A tow float is recommended for open water swimming.
Angle Tarn Parking:
A592 roadside layby: This is the best option if there is space. You can park here for free without any restrictions, but the layby only fits about 4 cars. We were lucky enough to secure a spot, but had some backup options as well in case parking here was full.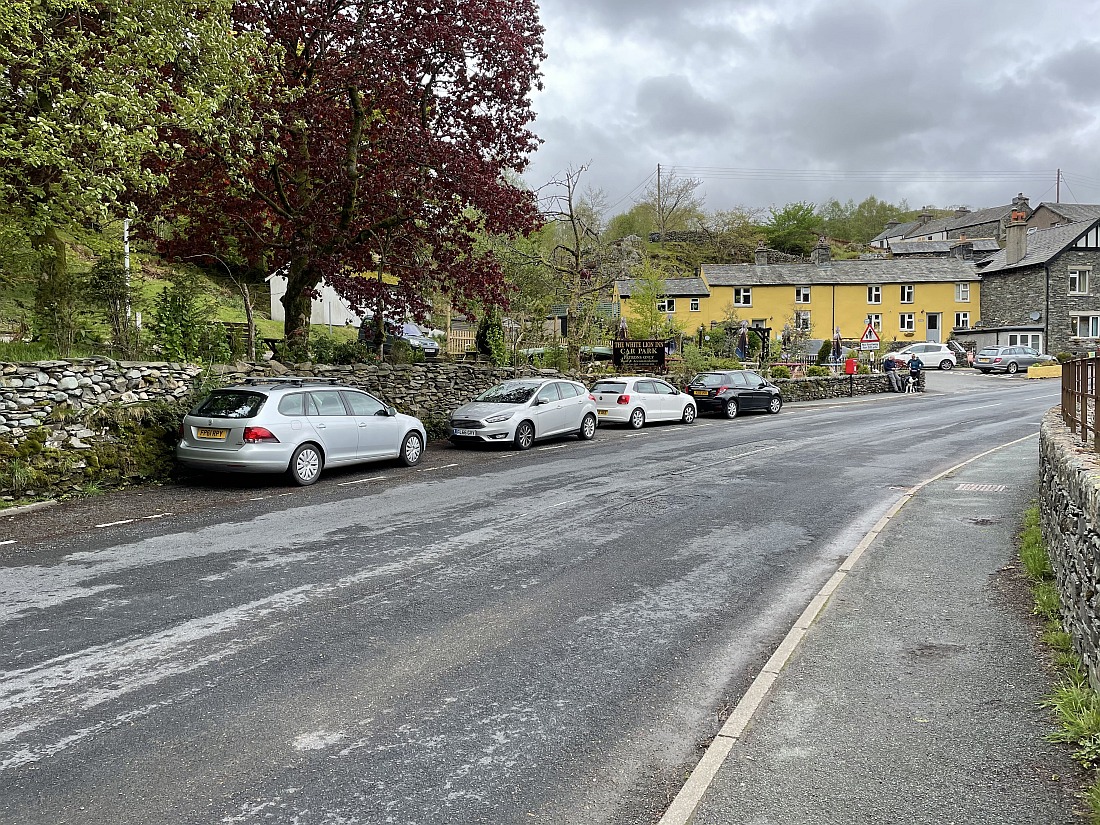 Pay and display opposite Patterdale Hotel: This is probably the second-best option. Fairly big pay and display car park. (54°32'05.9″N 2°56'05.6″W)
White Lion Inn Car Park: This is not really recommended, as the car park is only for patrons. However, you can possibly talk to the owner and seek permission. 
YHA Patterdale:  The hostel has a big car park and they might let you to leave the car there overnight if you seek their permission.
Public Transport:
By train: Take the train to Penrith and then change to bus #508. Get off at Patterdale Hotel. 
By bus: You can take the local bus #508 from Windermere or Penrith.
White Lion Inn: A great place to stop for a pub grub after an exhausting hike. Interesting decor with many amusing signs. Sit inside on chilly days by the fireplace or outside overlooking the hills in good weather. Dog-friendly pub and parking is available on site. 
Other Wild Camping Adventures
Enikő
Hey, I'm Enikő! I'm currently an au pair and I want to share my experiences with you. I've travelled a lot in the past years. I'm gonna teach you how to settle in to a new country and get free accommodation anywhere in the world. Circle Enikő on Google+!