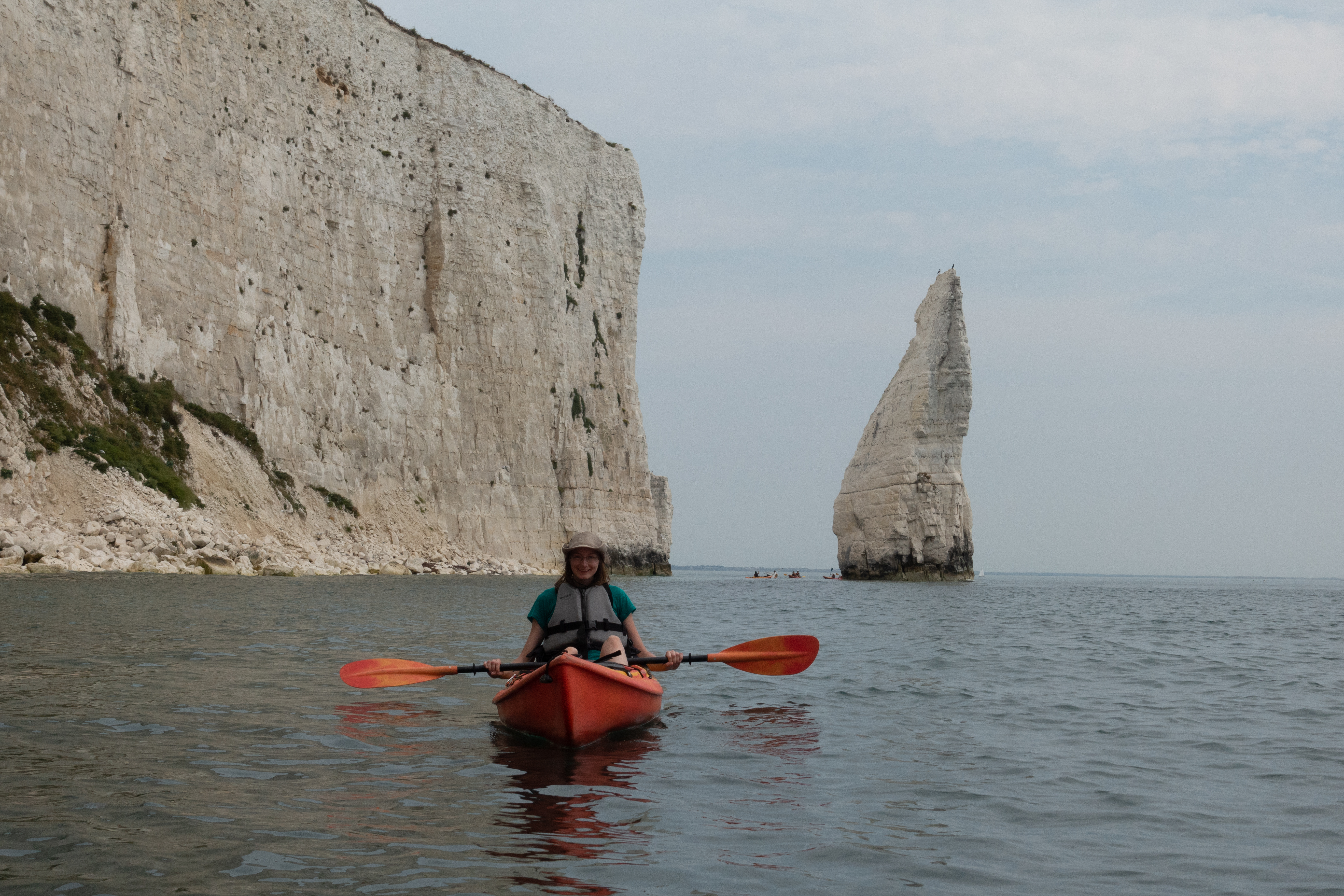 I am back from one of the best kayak trips in the UK! It was only a weekend, but it felt like I was on holiday! A wild camping kayak trip in Dorset was probably the best way to survive the heatwave that hit the UK.
I previously went on an eco-seal colony kayak trip with Nomad Sea Kayaking, which I really enjoyed, so I knew I was in the right hands on this multi-day trip.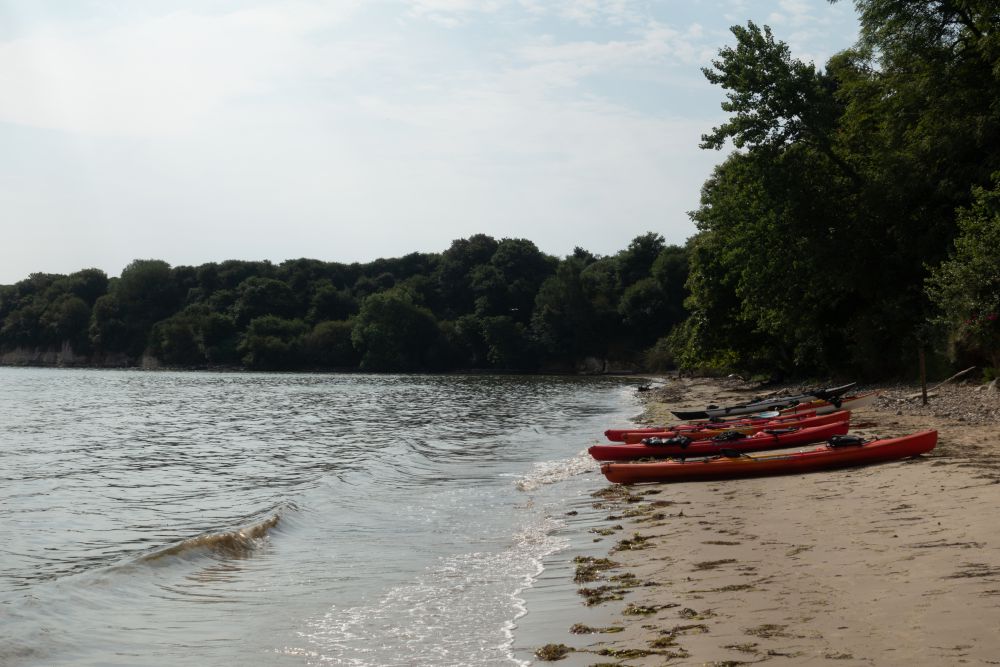 Starting Point: Launch was from Swanage Beach. We were told we aim to launch at 11 am but don't worry if we were late as they were quite flexible. I personally hate being late, so we set up really early from London and arrived shortly after 10 even though we stood 1 hour in a traffic jam! My advice is to leave plenty of time to get there especially if you are travelling from far away. It is nice to arrive at Swanage early as that will leave you time to find correct parking, pack your kayak, do some last minute shopping for your trip or just relax. Swanage is quite nice itself with its pier and beach.
Day 1: Our guide Kurt told us the plan for the day and then we set off to Studland Bay. Today was a bit windy, so the water was a little choppy, but it wasn't too challenging to paddle! It was really amazing to paddle next to the gorgeous chalk cliffs, paddle inside a cave, but the highlight was passing Old Harry Rocks. It was just surreal to get up so close to this famous landmark and to do it by kayaking there just added to my excitement! We paddled about 6 km when we arrived at Studland Bay. Hot, summer day at a weekend it was understandably busy! However, we managed to find places for our kayaks. We all headed straight to the pub where we had the chance to drink and eat. The pub had great views of the sea and lots of tables were available. I had a tasty beef dish for lunch. After we filled our bellies and had some fun banter I went on a walk with my boyfriend along the beach. There was no set time we had to meet, we were just told it is free activity for a few hours and we will set off towards Poole Harbour when we were all ready. I am from Hungary so I didn't grow up having traditional British beach holidays. In fact, this was my first time at a beach in the UK in actual beach weather and I loved the atmosphere. We spotted a kite in the air and so we were determined to walk all the way to it. On the way, we came across small caves and multi-coloured cliff rocks with some faces carved into them. We soon reached the kite, which was attached to a long rope at one of the many beach huts. We bought an ice cream and slowly made our way back to the rest of the group. This time we didn't walk along the beach, but we found a path up the cliff, which offered some nice views.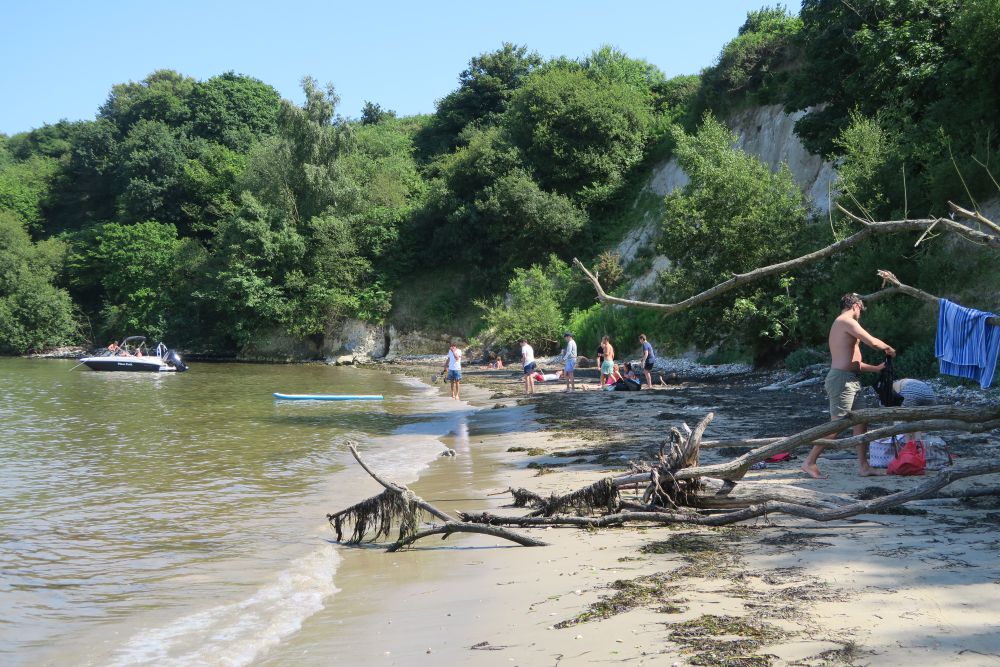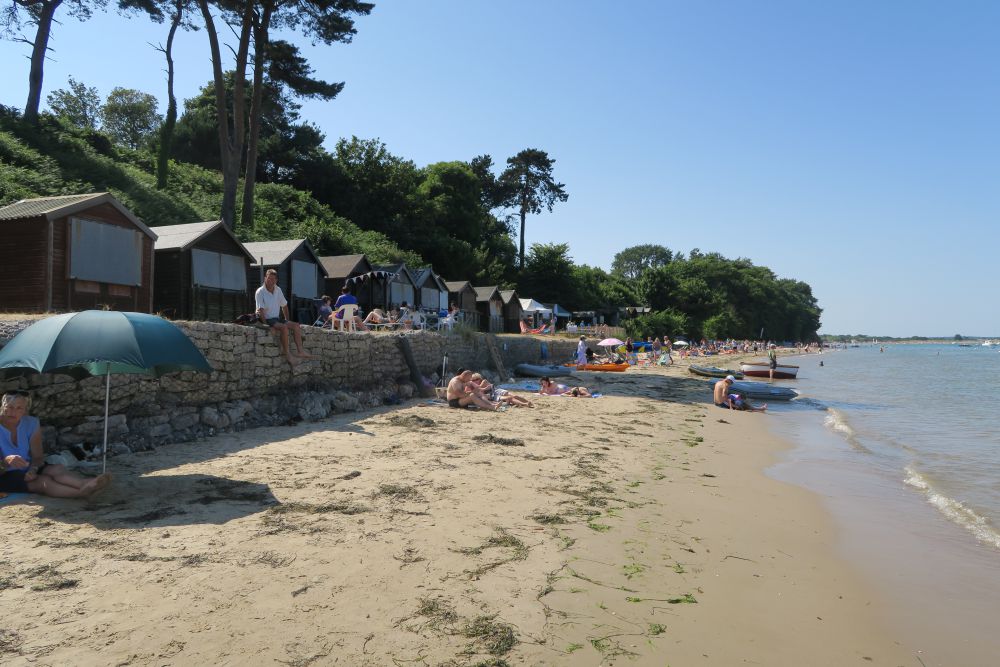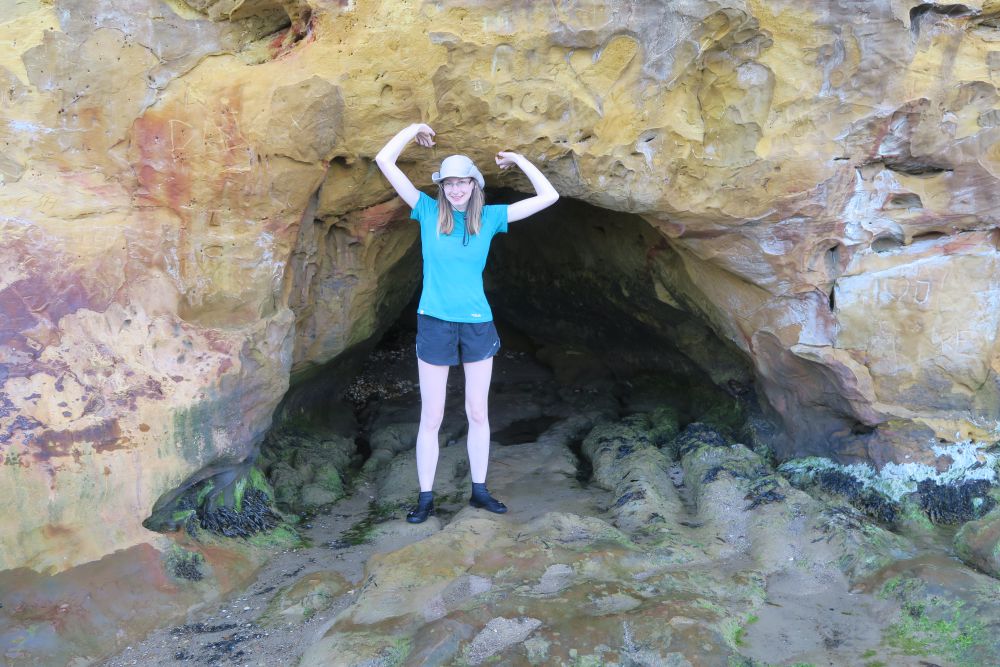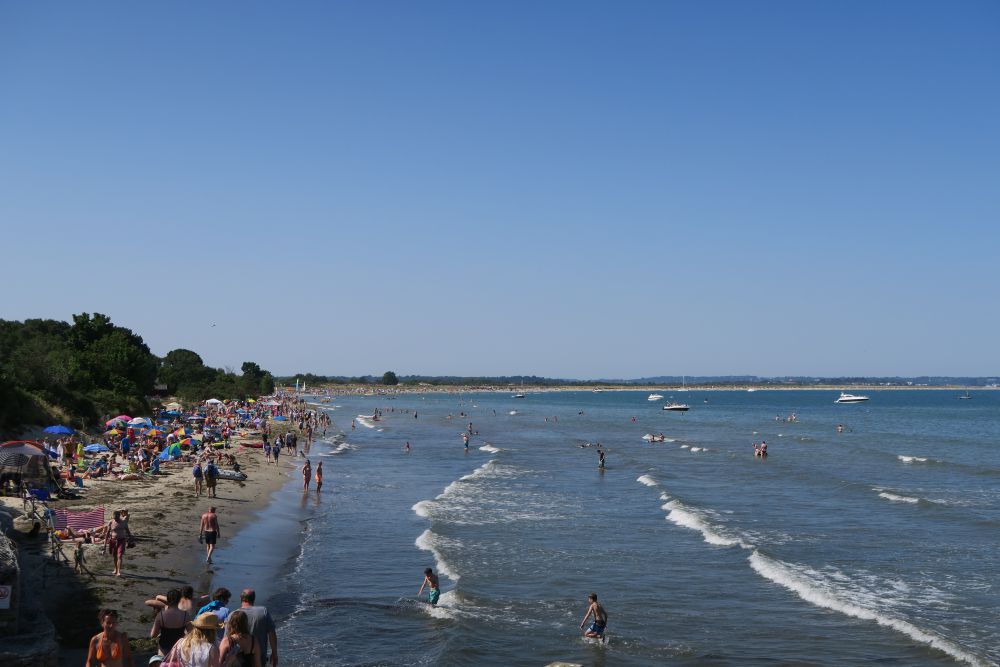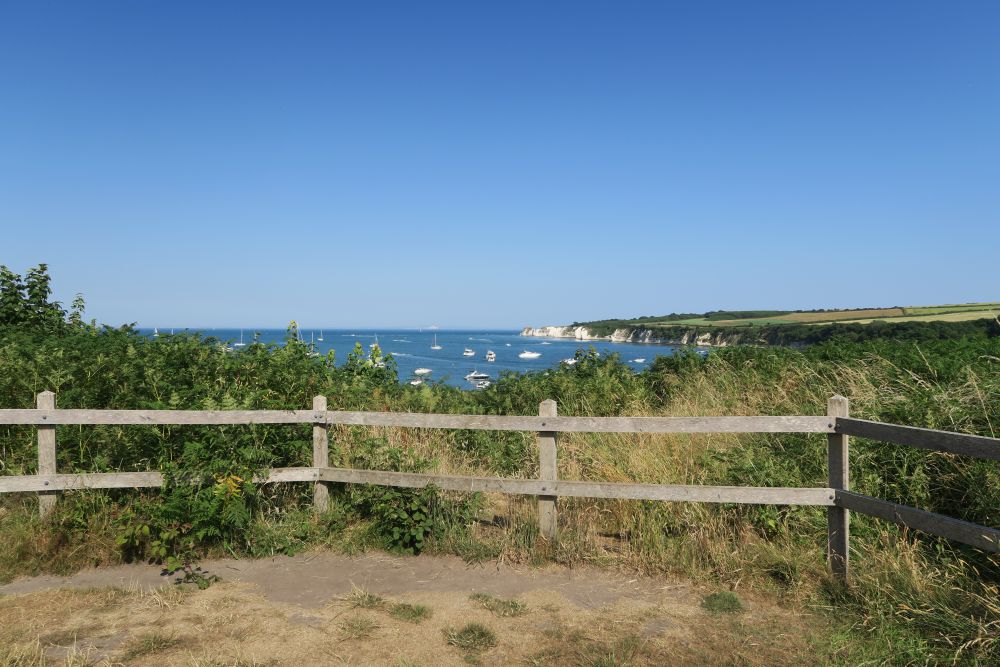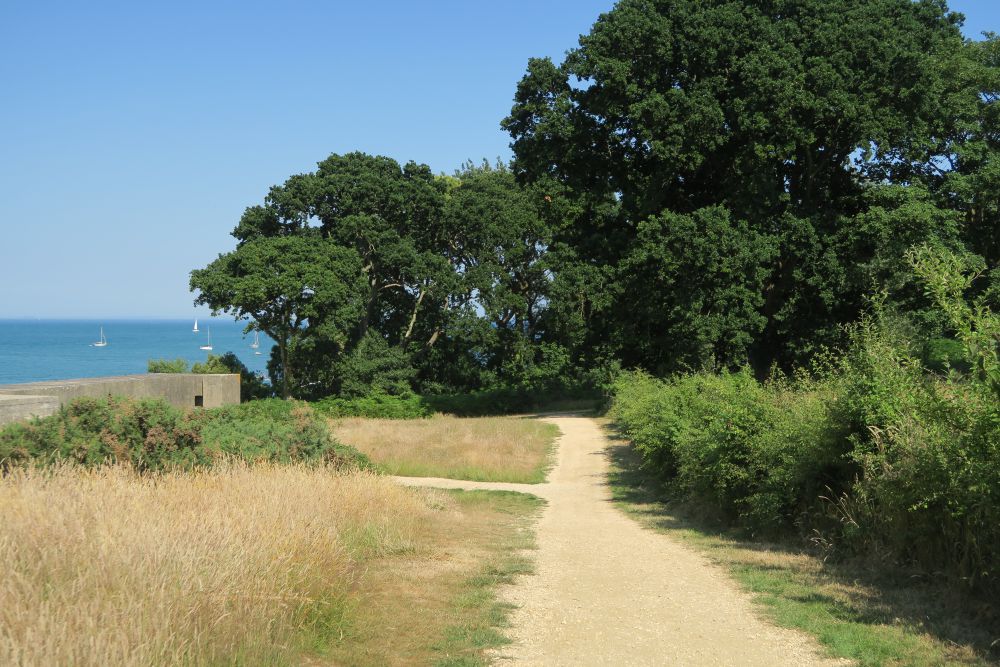 When we got back to the group we decided to set off to find our campsite for the night. If you paddled close to the shore like me you could see lots of naked people. We obviously stumbled upon a nudist beach. After 4 km of paddling, we stopped near Poole Harbour. We walked about 100 m over some sand dunes when we found our spot! It was a nice sheltered sandy area, big enough to have space for all of our tents. Now the challenge came to carry the kayaks out of the eye's sight. We didn't end up carrying them all the way to the campsite, just far enough to hide them. Our guide Kurt, then locked them up as well. After 10 km paddling and carrying the kayaks from the shore we were all exhausted and it was nice to have some quiet time, just resting and enjoying the views. We then decided we wanted a campfire so we all chipped in and went looking for wood. As it got late we had our dinner. Me and Tom like to have these Ready Meals that we can just heat up with some boiling water on our Jet Boil. It is often the simplest, quickest and tastiest solution.
We enjoyed our meal while chatting with the rest of the group next to the campfire. It was a lovely way to end the day.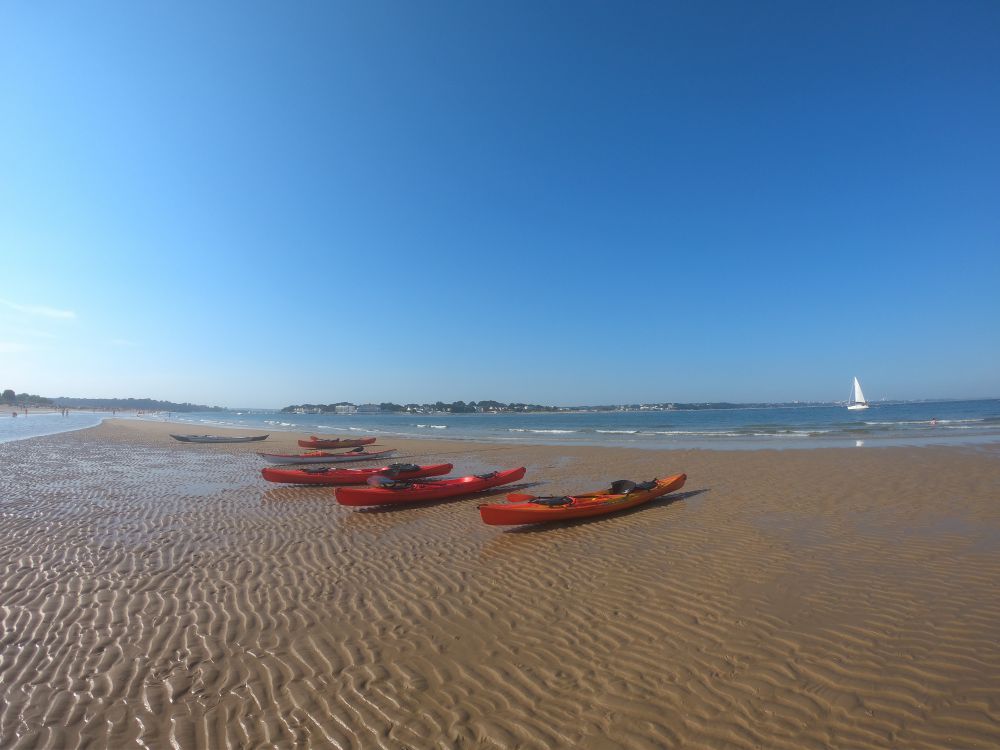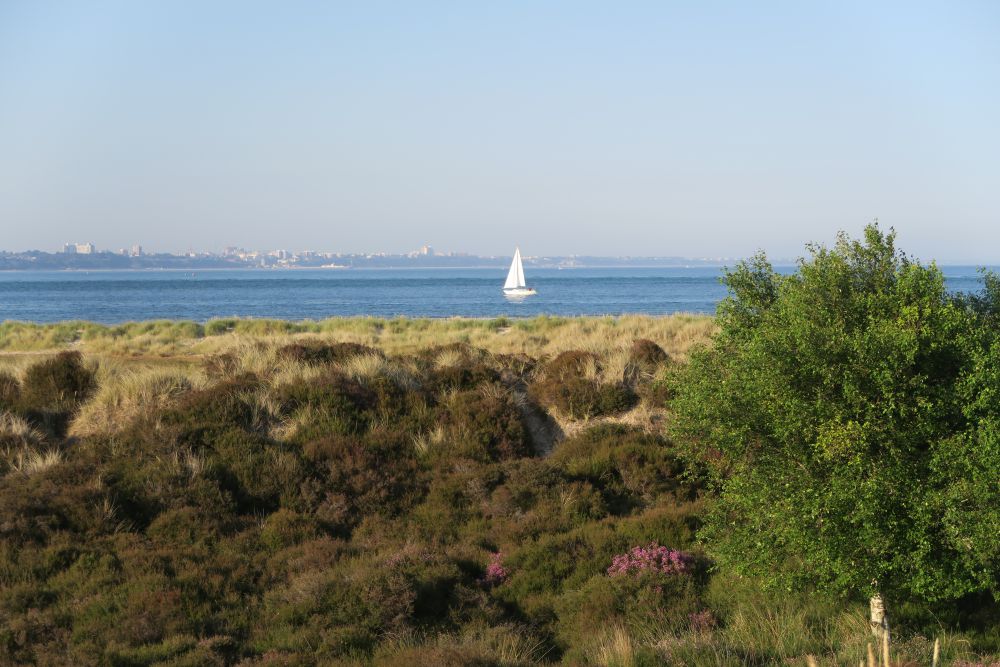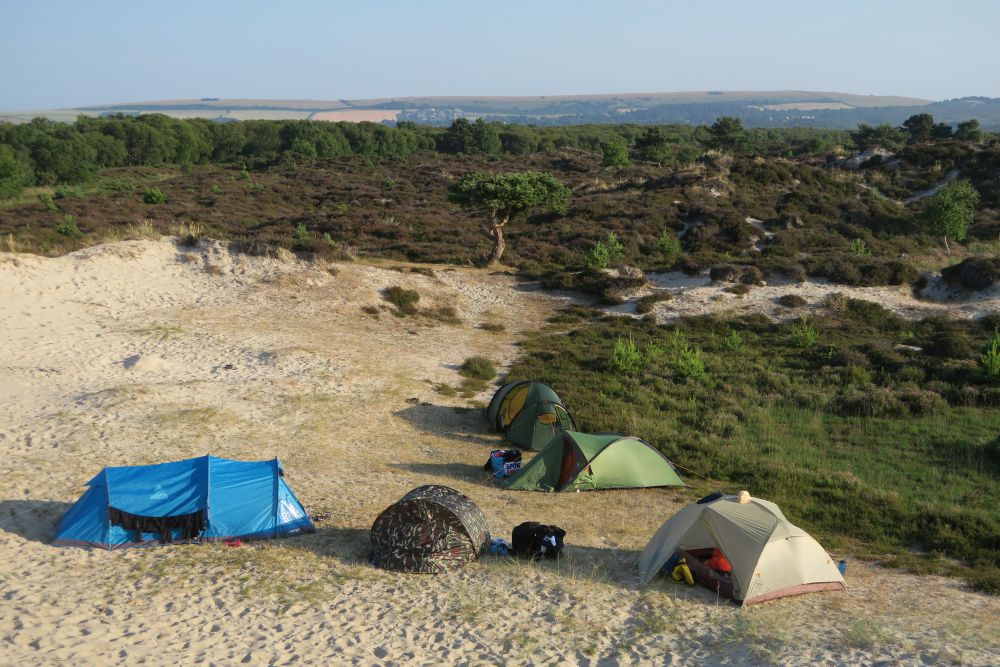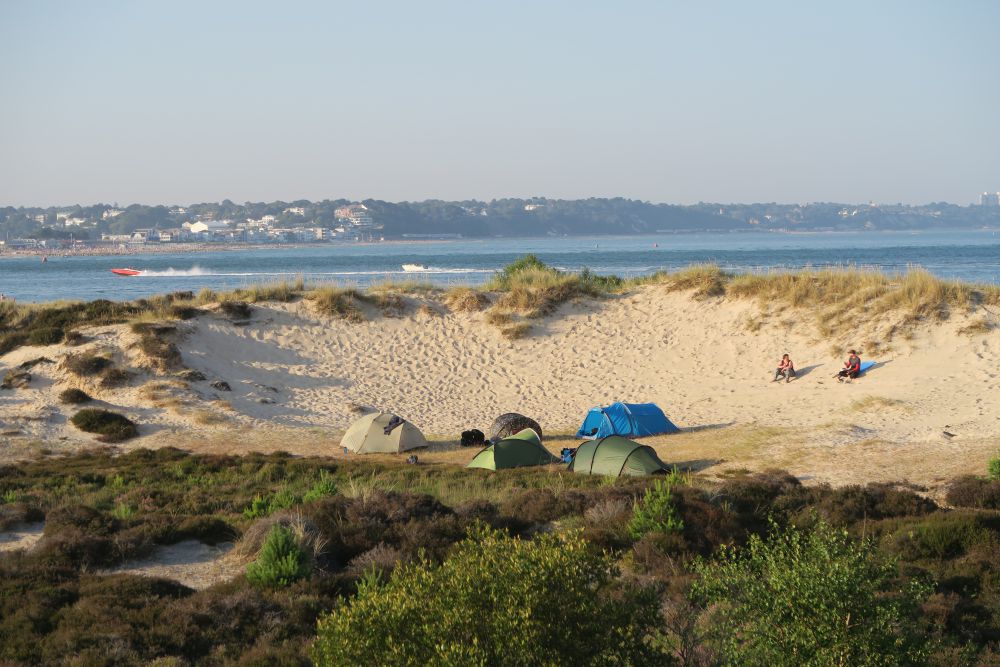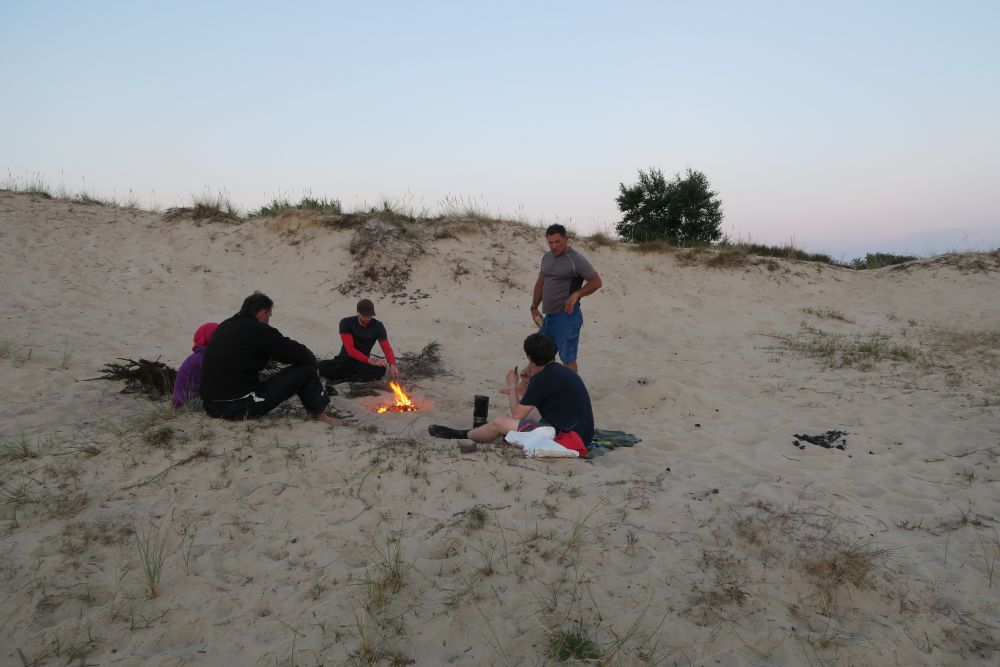 Day 2: The group decided together to get an early start on the second day, as we all had a long way to go home after the trip. So we agreed to be in the kayaks ready to go at 8 am. I woke up early at 5 am as needed a wee. I didn't go back to sleep after, as I just enjoyed a walk on the beach and managed to catch the sunrise as well. It was lovely and quiet. There were surprisingly a lot of wild campers out in the open at the beach. A bit later Tom also woke up and we had a Wayfarer All Day Breakfast. Slowly everyone came out of the tent and packed up. We tidied up the campsite, scattered the leftover of the campfire, so we left the place as we found it. Well not completely. We left it cleaner! There was some time for a quick beach clean before we launched in the morning. We paddled back to Studland Bay. It was still early so was less busy this time. The little cafe on the beach was open, so we could have breakfast and coffee there.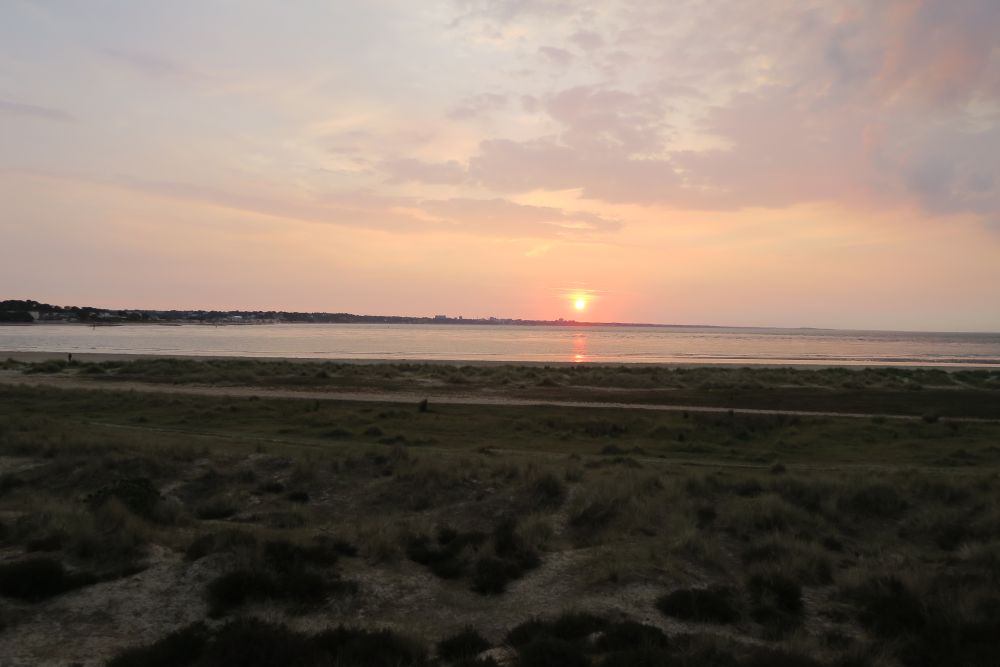 Once we all finished we were ready to head back to Swanage. We took it easy and paddled at a slower pace today. There was no wind at all so the water was very flat. This gave us the chance to explore more of the coastline and have some fun paddling under arches and into some caves. We even stopped for a swim and snorkelling close to Old Harry Rocks. We had another quick stop at a beach, where we could have some snack (no facilities just food we brought with us) or go for a swim. At about 1:30 pm we arrived back to Swanage.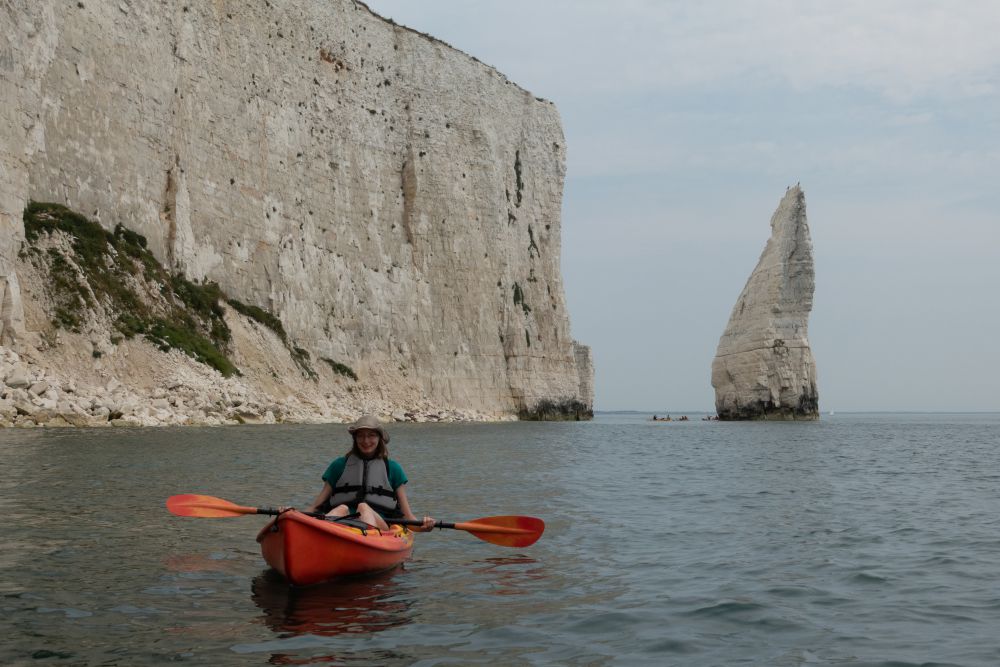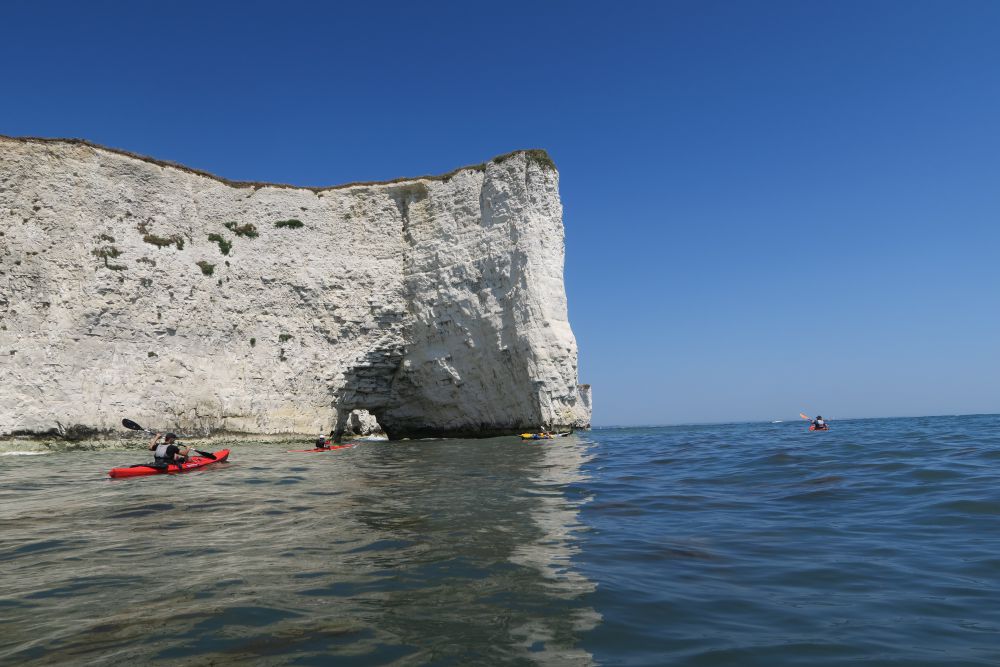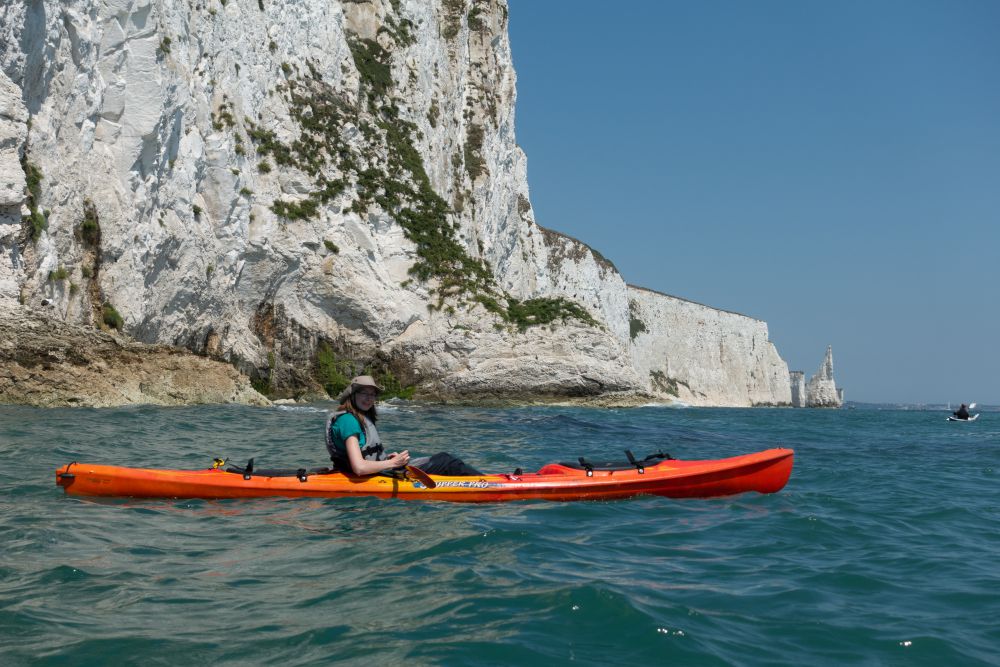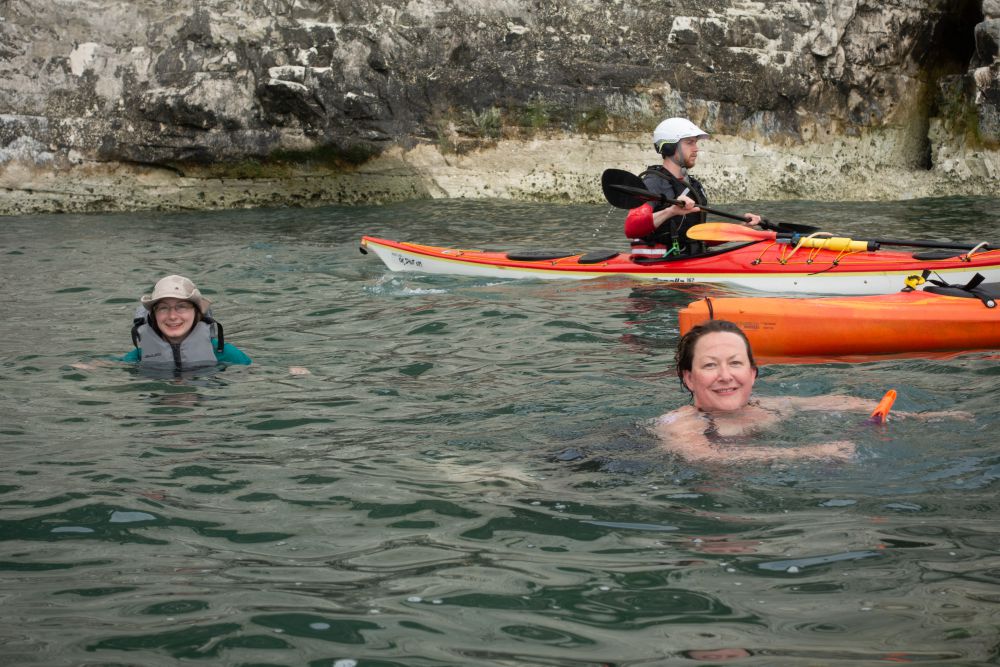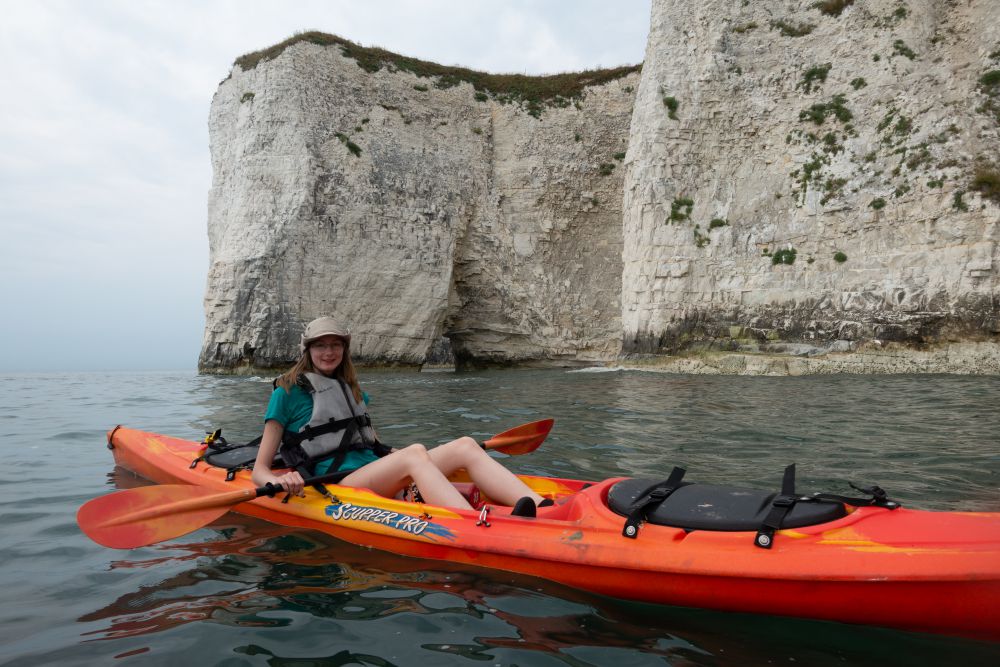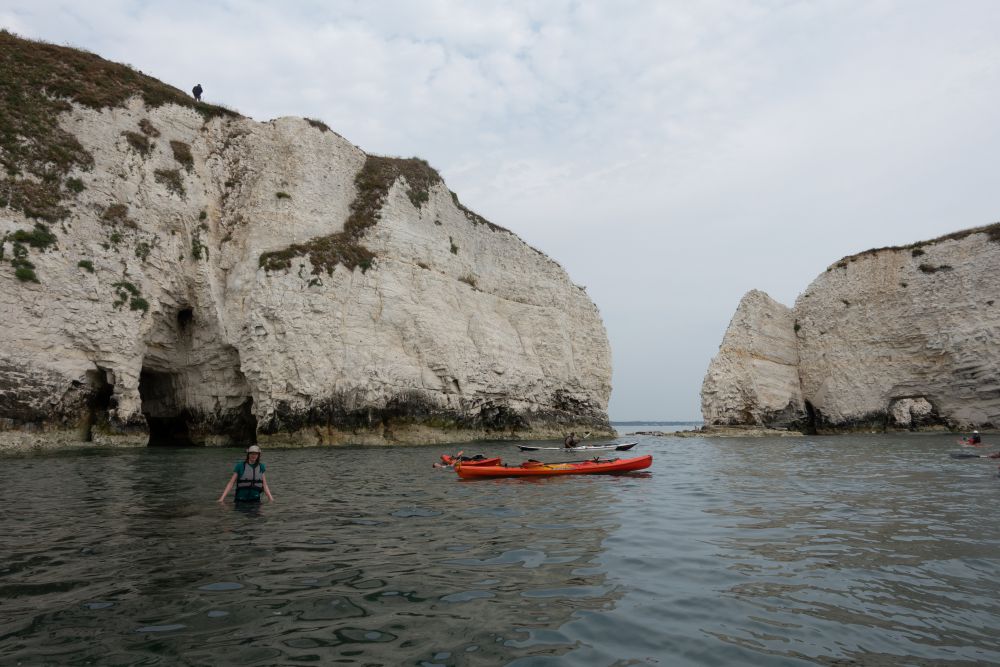 What to pack: There is an excessive packing list on the company's website, which talks about everything you need to take with you in detail, including some eco-friendly travel products.
The company will provide you with kayaks, bouncy aid and paddles, but you will need to take your own wild camping equipment and expedition food with you. This was a guided tour, however if you go and paddle on the sea on your own, I highly suggest carrying a personal locator beacon for emergencies.
Price: The trip costs £149.99 per person. When you consider that this is a 2 day trip with a professional guide, you will find it very reasonable. For your safety, I wouldn't recommend doing this trip without a professional guide unless you have the necessary kayaking experience. Especially on the sea, there is a lot that you need to be aware of including tides, wind, waves and more. 
Who do I recommend this trip: You will need to be quite fit in order to keep up with the group, but previous kayaking experience is not that necessary. We had a first timer on this trip who did very well. Although our trip was pretty much perfect, on a trip like this things often don't go as planned. You might get soaked due to rain or if you capsize, you can get sunburnt or you might have to cut the trip short if it is too windy and dangerous to paddle. This is why an adventurous spirit and a positive attitude is a must! This trip is great for outdoor and wildlife lovers as well! There is a lot of banter going on during these trips, so hopefully, you have a sense of humour and won't take everything too seriously!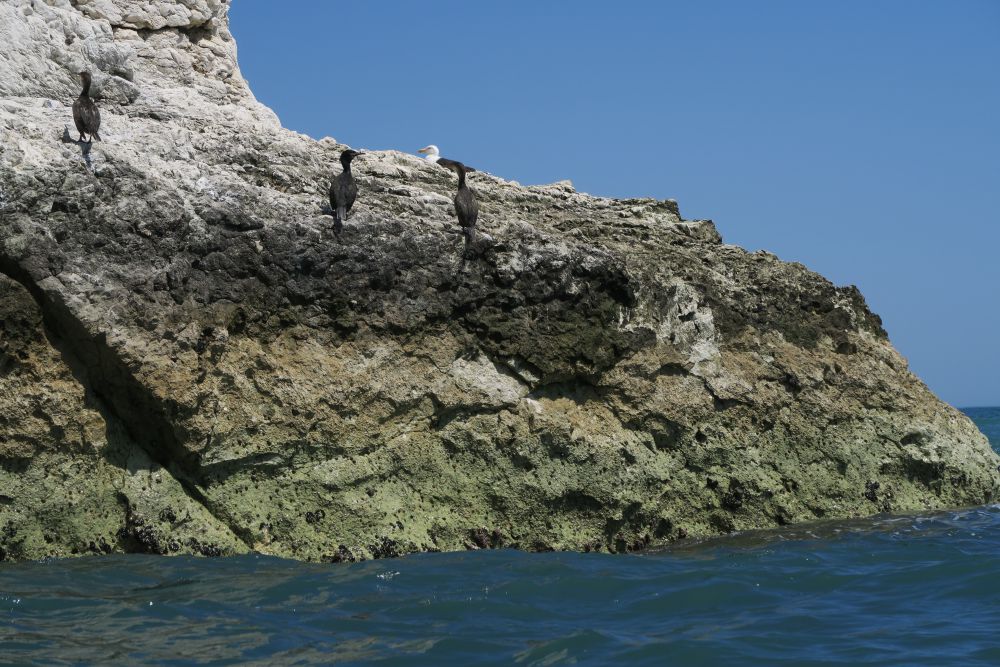 About the company: The company founder Kurt who was also our guide on our trips is a very laid back, fun guy who made us feel welcome from the very first minute. He was always very helpful and quick to reply to e-mails. He is very passionate about nature and encourages beach cleans on the kayaking trips. There is a possibility to get a membership with the company which means you can take part in the kayaking trips and courses at a very reasonable price. This is something me and Tom would love to do one day, when we have a car and find it easier to get to the launching sites. The company also organises hiking trips and events for families.
Did you enjoy this post? PIN it for later!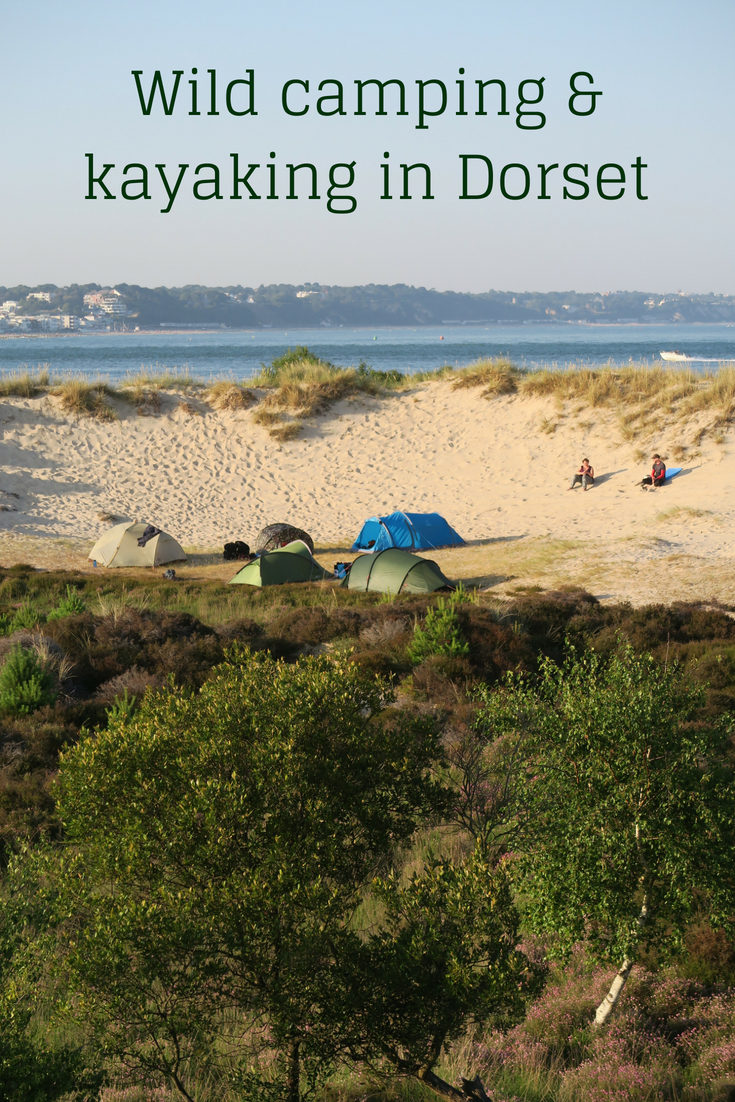 Disclosure: We were guests of Nomad Sea Kayaking, but as always all opinion is my own.
Enikő
Hey, I'm Enikő! I'm currently an au pair and I want to share my experiences with you. I've travelled a lot in the past years. I'm gonna teach you how to settle in to a new country and get free accommodation anywhere in the world. Circle Enikő on Google+!