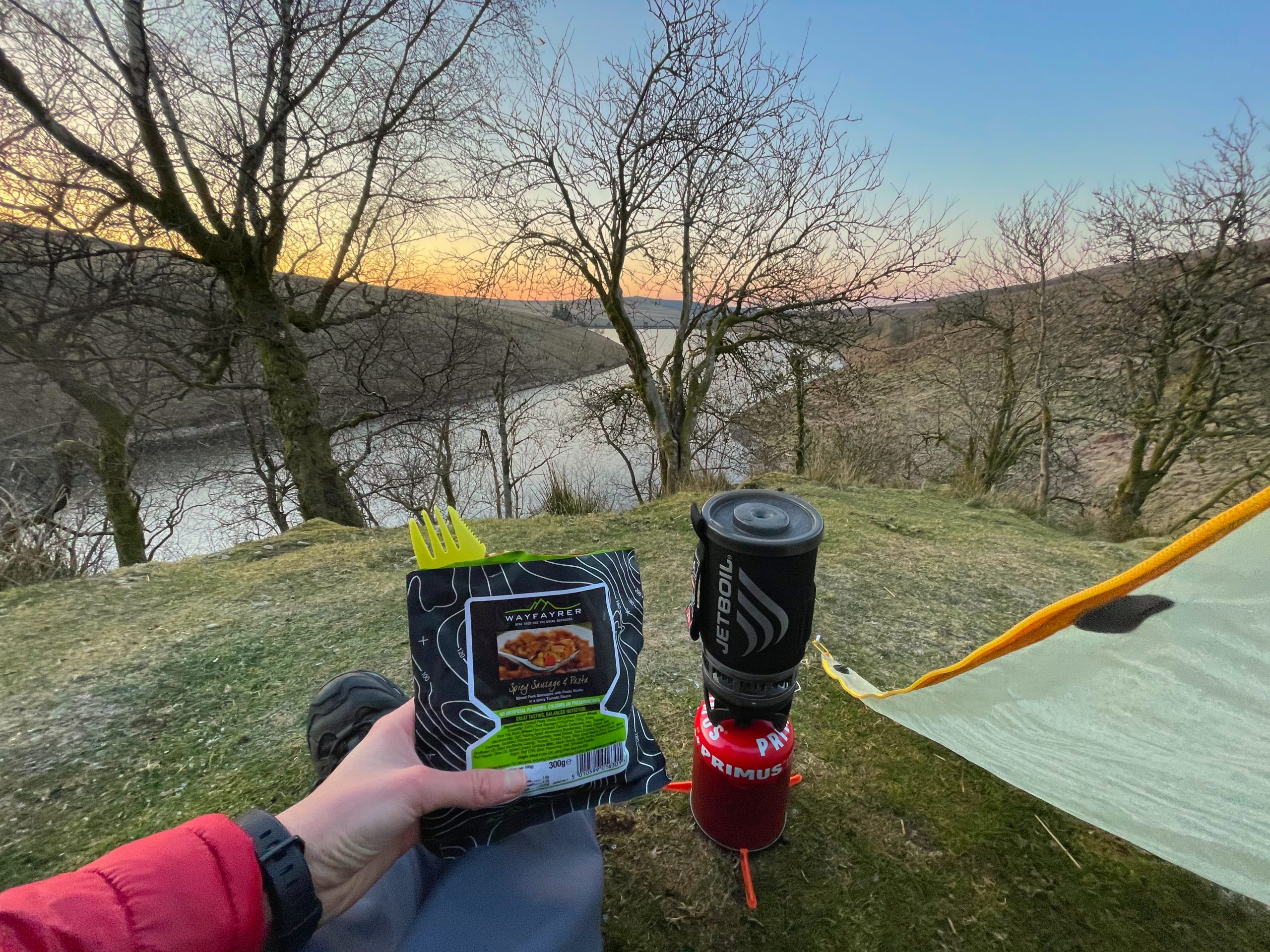 This post may contain affiliate links. If you make a purchase through one of these links, I may receive a small commission at no extra cost to you.
While we did many camping trips during the years in several countries, we put off wild camping for a long time. But when we finally decided to give it a go, we were hooked immediately. For a pleasant experience, it is important to have the right wild camping equipment. The weather in the UK can be so unpredictable, that it can be tricky to pack for an overnight adventure outdoors. Wild camping for beginners can be especially daunting at first. I will provide you with a wild camping kit list, that should help you with your planning.
Of course, wild camping for motorhomes will require different gear, than if you are a backpacker. I will provide useful tips and a wild camping checklist for both scenarios.
"Is wild camping legal?"- was often the question from people, when I told them about our experience. Wild camping in the UK is only legal in Scotland and some parts of Dartmoor. However, if you are respectful and follow the wild camping etiquette it is unlikely, that you will run into any trouble.
Wild camping essentials

Best wild camping tent
MSR Hubba Hubba NX 2 Review
This tent is a great lightweight option for 2 people. (It also has a one-person version)
Pros:
-Lightweight (1.8 kg)
-Quick and easy to assembe
-Freestanding without a top sheet for those warm summer nights
-Green colour option for discreet wild camping
-Extra space for gear on the side vestibules.
Cons:
-Not suitable for winter use
-Footprint needs to be purchased separately. I would highly advise this to protect the groundsheet from sharp objects and for extra insulation from wet ground.
I personally like the comfort and space that a tent provides. But if you are hardcore and want to go super lightweight you could try a wild camping hammock or bivy bag. They are also more budget-friendly than a tent.
Wild camping cooking equipment
Strictly speaking, a stove is not an essential wild camping gear. You could easily eat/drink cold pre-prepared food. However, I can't imagine a trip without eating something warm for dinner or drinking a hot cup of coffee in the morning. We've used a JetBoil for many years and I think it is the best wild camping stove out there!
JetBoil Review
Pros:
-Lightweight (400 Grams) and compact. Easy to assemble.
-Very efficient. Boils water super fast. Because of this it uses less gas, than other camping stoves.
-Great customer service
-Durable
Cons:
-The ignition is not always reliable. Sometimes a lighter is needed to get it started.
-Quite expensive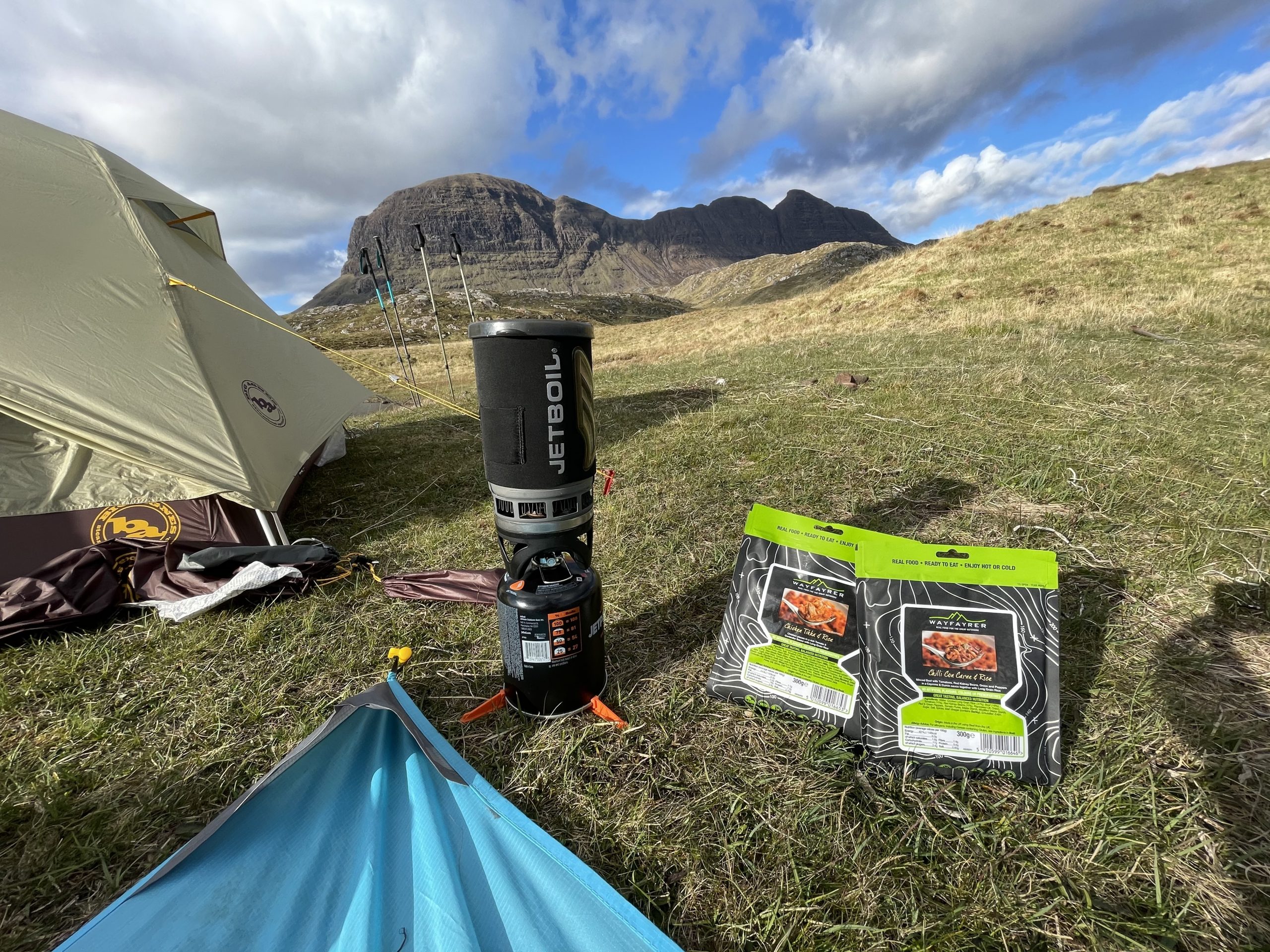 Wild Camping Meals
You can find many different wild camping food ideas online, but we like to keep things simple. We mostly use expedition meals, as they are quick, tasty and lightweight. Our favourite brand for wet food is Wayfayrer and for dehydrated one is Turmat. We've tried many different flavours from both brands and loved them all. For breakfast, we normally eat porridge or Wayfayrer All Day breakfast. We of course also have many snack bars in our backpack.
Wayfarer wet food review
Pros:
– Ready to eat either hot or cold. You can boil it in some water and then use the water for a hot drink
– Budget-friendly
Cons:
-Not super filling
-Heavier than dehídrated food
Turmet dehydrated food review
Pros:
-Very filling, big portions
– Super lightweight
Cons:
-Needs water to prepare
-Expensive
Wild camping sleeping bag
Down or synthetic is the biggest question. Down is much lighter and more compact, but it doesn't insulate when wet. This can be easily avoided by keeping it in a dry bag.
For most people, a budget-friendly synthetic option is probably sufficient in the UK for spring/summer. However, if you are like me, and get cold very easily, then a toasty sleeping bag is an absolute must!
You will spend a good chunk of your time in your sleeping bag, and sleep is essential for reenergizing for the next day's big hike. So it is not something you will want to skimp on.
Thermarest Questar 32 Review
Pros:
-Down insulated, super warm. (EN Limit 0 °C, Comfort 5 °C)
-Super lightweight (1.02 kg) and packs up small
-You can connect it to your sleeping mat for optimal comfort and thermal efficiency
– Very soft, nice to touch

Cons:
-Comes with a hefty price tag
Sleeping mat
A good sleeping mat doesn't do much without a good sleeping mat. The bottom of your sleeping bag is compressed when you lie on it, so it doesn't do much in terms of insulation. You end up losing a lot of heat this way. Essentially the sleeping mat is what separates you from the cold ground.
Therm-a-Rest NeoAir Xlite Review
Pros:
– Super lightweight (340 Grams)
– Packs up small
– Really comfortable
– Great 3-season mat with R.Value 4.2
Cons:
-The material is a bit noisy when you move around on it
Best wild camping backpack
You will of course need a backpack to carry all your wild camping equipment. We've been long time fans of the Osprey. Me and Tom both use them on a regular basis. Between the two of us we have 5 Osprey backpacks of different sizes. For multi-day trips, I use the Osprey Ariel 65 and Tom uses the male version Atmos 65 ag.
Osprey Ariel 65 Review
Pros:
It comes with an integrated rain cover
-It is compatible with a hydration system
-Lots of handy straps and pockets
-Comfy padding on hip belt
-You can front-load the backpack with the front J zip
Cons:
– The backpack itself is quite heavy, but the way it's built means it carries heavy load really well.
Backpacking first aid kit
A first aid kit must be on your wild camping packing list. It can save you in case of an emergency. The contents of a first aid kit should also include tick tweezers, painkillers, plasters and antiseptic wipes. These are the most common things I had to use on my previous adventures.
Satellite communicator
Before our wild camping trip to Suilven, we decided to buy a satellite communicator for peace of mind. We explored some very remote areas without any phone signal. We wanted a way to let our family know we were safe or to notify emergency services in case of an accident. Although these devices are not cheap, we were happy we made the investment. We used it every day to get weather updates, as this was essential to plan our journey in the wilderness.
Garmin inReach Mini Review
Pros:
-Waterproof making it also ideal for canoe and sailing trips.
– SOS button can notify emergency services
– You can send messages to family members to their phone/e-mail
-Great battery life
-It can work as a tracker, so people know where you are on your adventure
Cons:
-Need a monthly subscription in order to use it, but this can be done on a month by month basis.
– Small screen. You need to download the app for your phone to use certain features like GPS navigation and ad hoc messaging.
Water filtration system
Having access to safe, drinking water is very important to avoid sickness. There are several types of filters out in the market. A very simple and lightweight option is the SAWYER Mini Water Filtration System. You can filter water directly into your water bottle or sip through the straw. You can also attach it to a hydration pack.
Clothes for camping
Try and select clothes with lightweight and quick-drying material. Cotton and jeans are a big no. Instead, I suggest merino wool or polyester. Wild camping in the UK can be challenging because of the unpredictable weather and rain. But with the right gear, it shouldn't be an issue. I take waterproof kit with me on all my adventures, so that if the heaven opens, I can stay dry. Add these items to your checklist:
Baselayers
Gore-Tex waterproof jacket
Waterproof trousers
Down jacket
Hat and gloves
Hiking socks and underwear
Power bank – Even out in nature your phone has several functions. You can use it to keep in touch with family, contact emergency services, check the weather, record your route, take photos and plan your route. I always carry a power bank with me, so that I don't need to be worried about it dying on me.
Pots and cutlery – If you are only going to eat expedition meals, then you won't need any pots and pans. But don't forget a spork and mug. This foldable cup is excellent to save space.
Walking poles – I used to think hiking poles were only for old people. How wrong I was! I started using them 3 years ago, when I was 25. Since then I converted my boyfriend as well, and he agrees that poles make hiking so much easier. They take some of the load off your lower back, hips and knees. This can avoid injuries. Hiking poles also can increase balance and stability. They come especially handy at river crossings or on narrow ridge walk like the hardergrat trail or Arnigrat.
Headtorch – While your phone's built-in torch is probably sufficient to pop out for a midnight wee, you will need something more for pitching up a tent in the dark or to navigate a trail. Ideally, you will want to have your tent set up before it gets dark, but it's good to be prepared for all scenarios, so a good headtorch is highly recommended.
Toiletry bag – Don't forget your toothbrush, hand sanitiser, toilet paper, trowel (to dig your poop), suncream, midge repellent and deodorant. I love these toothpaste tablets. They are actually better for the environment than toothpaste in a plastic tub and they also save you weight and space.
Wild camping for motorhomes
Wild camping campervan trips became very popular recently. It's more convenient than sleeping in a tent but still can offer epic views and a lot of freedom. Wild camping apps, like park4night, iOverlander or WikiCamps can help you find good overnight stops. And wild camping forums offer a lot of tips about van conversion and wild camping food ideas on the go.
I will give you a few ideas about what you need to add to your wild camping equipment list to make your van self-sufficient.
Cadac safari chef 2 – We love using this stove when we are car camping. Our favourite meals to cook on it include fajitas, sausages and full English breakfast. But it also has a pizza stone accessory, that we love. Read my full review here.
Jump start kit – This will start flat batteries in seconds. Great for those unexpected emergencies, that could potentially ruin your holiday.
Toilet – A chemical toilet means you don't have to look for a suitable spot outdoors for a wee or poo. It also saves you the unpleasant experience of digging a hole for your poop. The toilet is easy to set up and very convenient to use in the middle of the night.
Hand held hoover – This can help to keep your campervan or motorhome clean. Especially handy if you are travelling with kids or dogs.
Portable shower – This works from a 12v socket. Very compact and easy to use. I often feel desperate to wash the suncream or salty water off me at the end of the day, so having a shower like this is priceless.
Camping table – When the weather is nice it is way better to enjoy our meal outside, than in the van.
Wild Camping Tips
If you are wild camping on a human-powered adventure (hike, cycle, canoe) then you will want to go lightweight. This can be your long term goal. I know swapping your gear to the super lightweight alternatives is not always a priority, as they tend to be very expensive. So here are a few extra tips, how to save weight and space on your next adventure.
Put your clothes into your sleeping bag sack and use it as a pillow. This way you don't need to carry an inflatbale pillow with you.

If you are going for a short trip, then don't take a full gas canister with you to save some weight. Use a half-empty one instead.

Put your food in special containers and bin the packaging before your trip. This way you carry less disposable packaging and save on space/weight.

Water is heavy! Take a water filter with you and use it!
Wild camping gifts
Do you have someone in your life who loves the outdoors? If you are struggling with gift ideas, then look no further. These make great presents for birthdays, Christmas or any occasion. You can even buy it for yourself. You know you want to.
Wild Camping books 
These books are great to get inspiration and plan your next trip.
Fun gifts for outdoor lovers
There are some fun novelty mugs, mats, boards, birthday cards etc out there. 
Wild camping gift ideas for children
If you are trying to get your children into camping, then these toys and books might help you.
Download my Wild Camping Checklist here:
Enikő
Hey, I'm Enikő! I'm currently an au pair and I want to share my experiences with you. I've travelled a lot in the past years. I'm gonna teach you how to settle in to a new country and get free accommodation anywhere in the world. Circle Enikő on Google+!