Uncategorized
Hiking the hardergrat trail between Suggiture and Augstmatthorn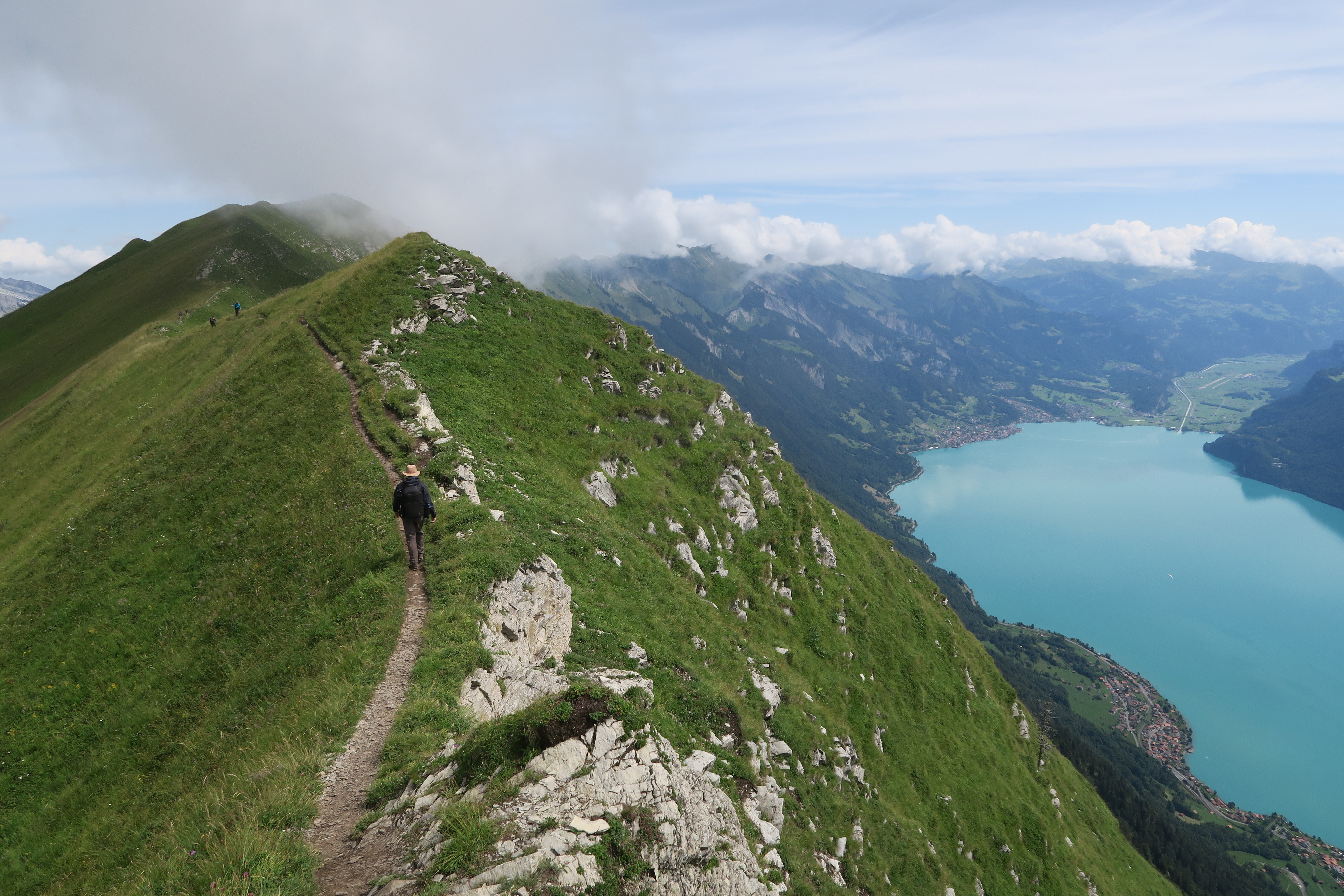 Hiking the hardergrat trail in Switzerland is a great challenge for hiking enthusiasts. It covers one of the most beautiful parts of the country and has gorgeous views to Lake Brienz along the way. However we have never done such a big hike, especially not on a ridge, so we decided to only do a short section of it. Augstmatthorn is one of the most beautiful vantage points in the Lake Brienz area, so we decided to make that our destination.
This post may contain affiliate links. If you make a purchase through one of these links, I may receive a small commission at no extra cost to you.

This is a long, exhausting hike, so you will want to stay in Interlaken in order to get an early start. This will also allow you to use public transport without any issue when you want to get back from Brienz at the end of the day.
What is the hardergrat trail?
The hardergrat trail is a 24 km ridge hike, starting from Interlaken. You will need to make your way up to Harder Klum, where the ridge starts. It is an extremely difficult and exposed trail with 3000 m elevation gain, only the really fit can finish it. Hardergrat is also popular for trail running. It is not for people with vertigo as the path is narrow with 1500 m drops on both sides. Trekking poles are highly recommended. To complete the trail you will need at least 10 hours, so setting off before the sun rises is key in order to make it on time to Brienzer Rothorn's last train down to Brienz. If you miss the train you will be forced to descend 1700 m after an already exhausting day. Do not underestimate this hike! It is a huge accomplishment to finish it.
The scenery from the hardergrat trail is just stunning! You can enjoy the best views to Lake Brienz. Jungfrau Region's highest peaks; the Eiger, Mönch, Jungfrau are all visible. I wanted to experience those views, but I knew I wasn't ready to do the whole journey. Luckily it is possible to do only a short section of the trail, which isn't so dangerous, but still offers fantastic views. This hike is basically a triangle. We decided to ascend to Suggiture from Lombachalp, then walk along the ridge to Augstmatthorn and then descend from there back to the parking lot. You can do it the other way around as well, it makes no difference. We saw people do it either way.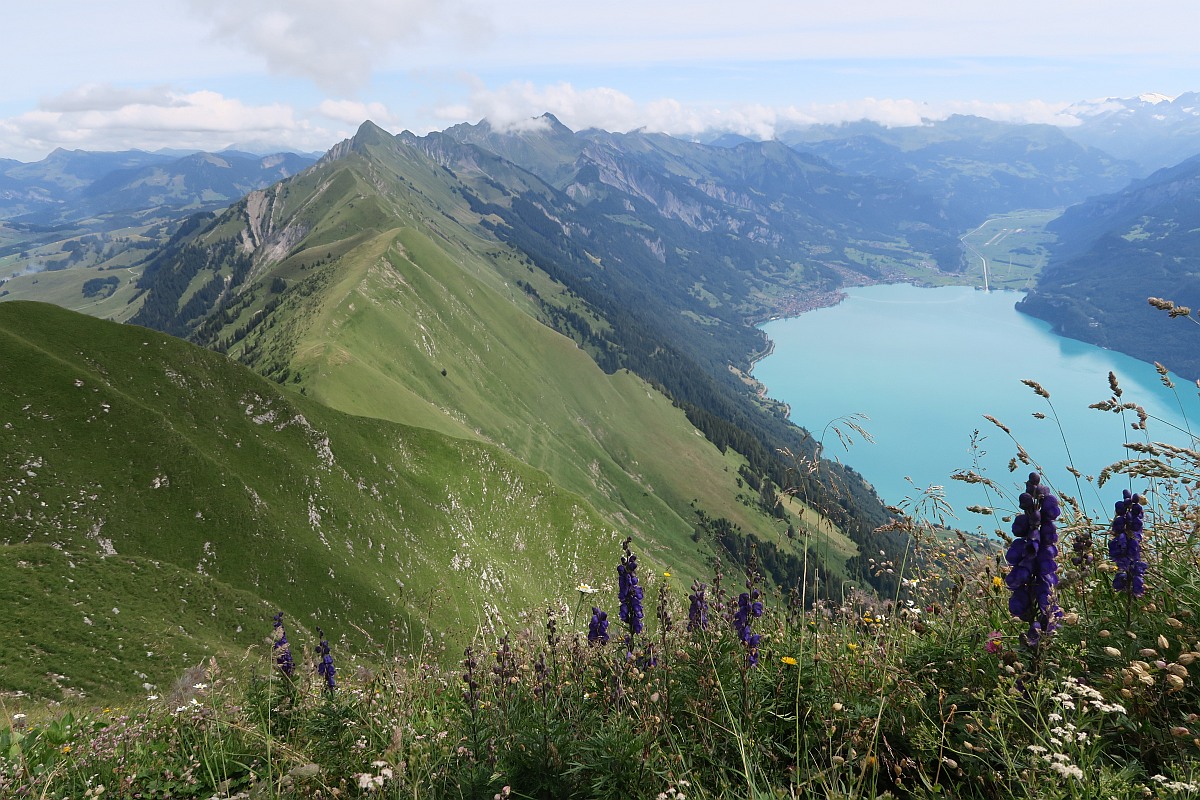 Hike from Lombachalp to Suggiture and Augstmatthorn
How to get to Lombachalp
By car: It takes 30 minutes to get to the parking lot from Interlaken. The road is windy and single-track most of the way, but there were enough passing places to make things run smoothly. A regular car can easily make the journey in the summer months.
Parking: There is quite a big parking area at the restaurant Jägerstübli. It is not just for restaurant guests, but there is a fee to pay. You will need change to operate the parking machine.
4 hours CHF 5
12 hours CHF 7
24 hours CHF 10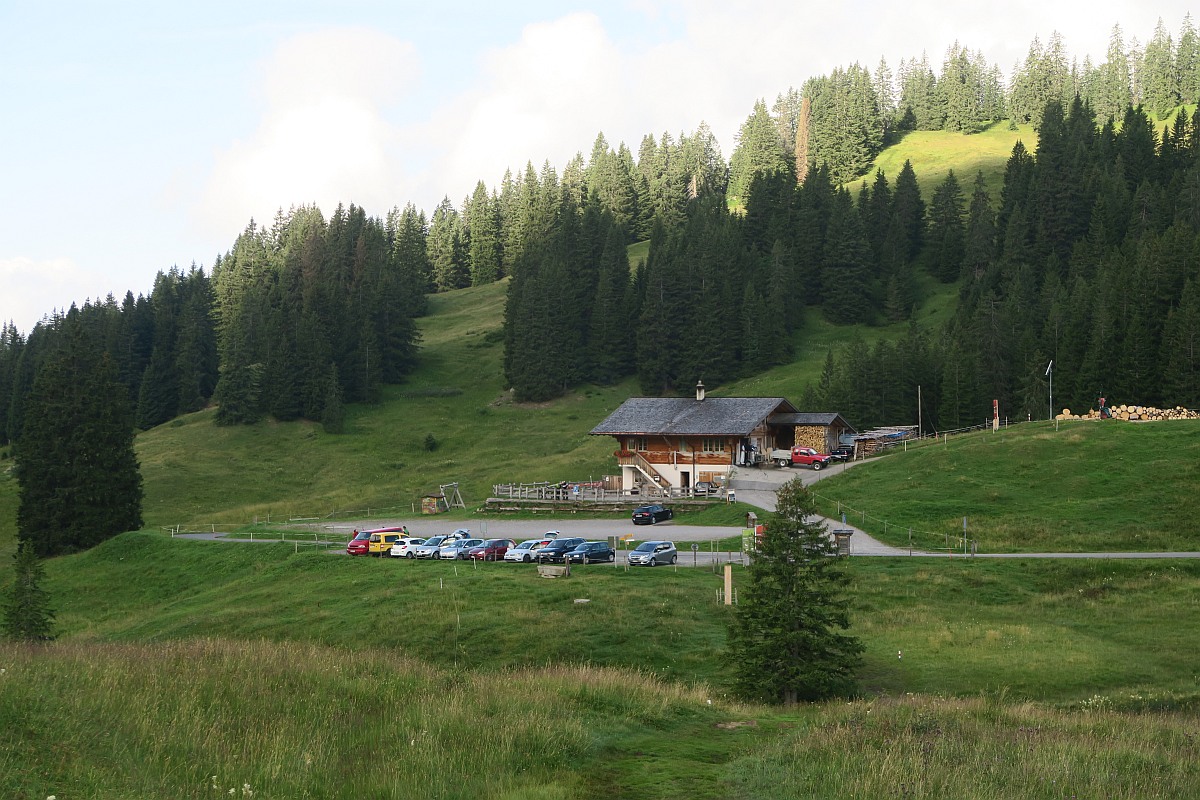 By public transport: You can take the post bus 106 from Interlaken to Habkern. You can start your hike from here adding about 6 km (1h 30min) extra one-way to your journey. The trail goes through nice Alpine meadows and rivers. To save hiking this section you can change to take bus 107 to Jägerstübli restaurant in Lombachalp.
The ascend from Lombachalp to Suggiture
We arrived around 8 am to the parking lot on a weekday in August. It wasn't too busy yet, but we could already spot hikers up the top and there were about 8 cars in the parking lot.  It takes about one hour to reach the hardergrat. The ascend was really nice. We spotted several mountain goats and of course cows as well. This area is famous for its ibex colony. We saw some of them in the distance. If you set off really early, you can get quite close to them. When we reached hardergrat it was still quite misty and we didn't see much of Lake Brienz. However the clouds were constantly moving, so every now and then we got a glimpse of what was under us. This created a nice, spooky atmosphere. We started the climb to Suggiture, which was further than we originally thought. The trail up is steep, but not too exposed. There are ropes along the way to provide security. In about 30 minutes we reached the top. It was all covered in a cloud, so we didn't have a great view. We sat down to eat our lunch and within a few minutes the clouds disappeared and we could see all the lovely spots where we went kayaking on Lake Brienz a few days ago.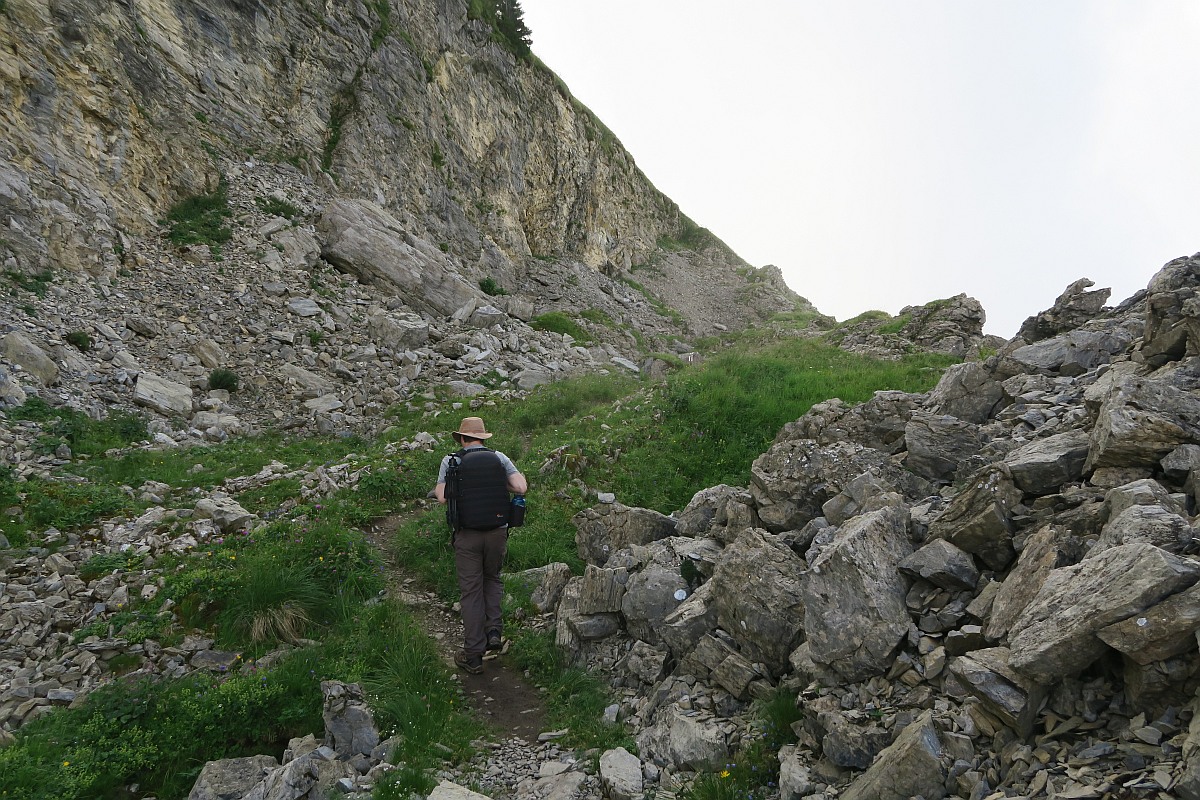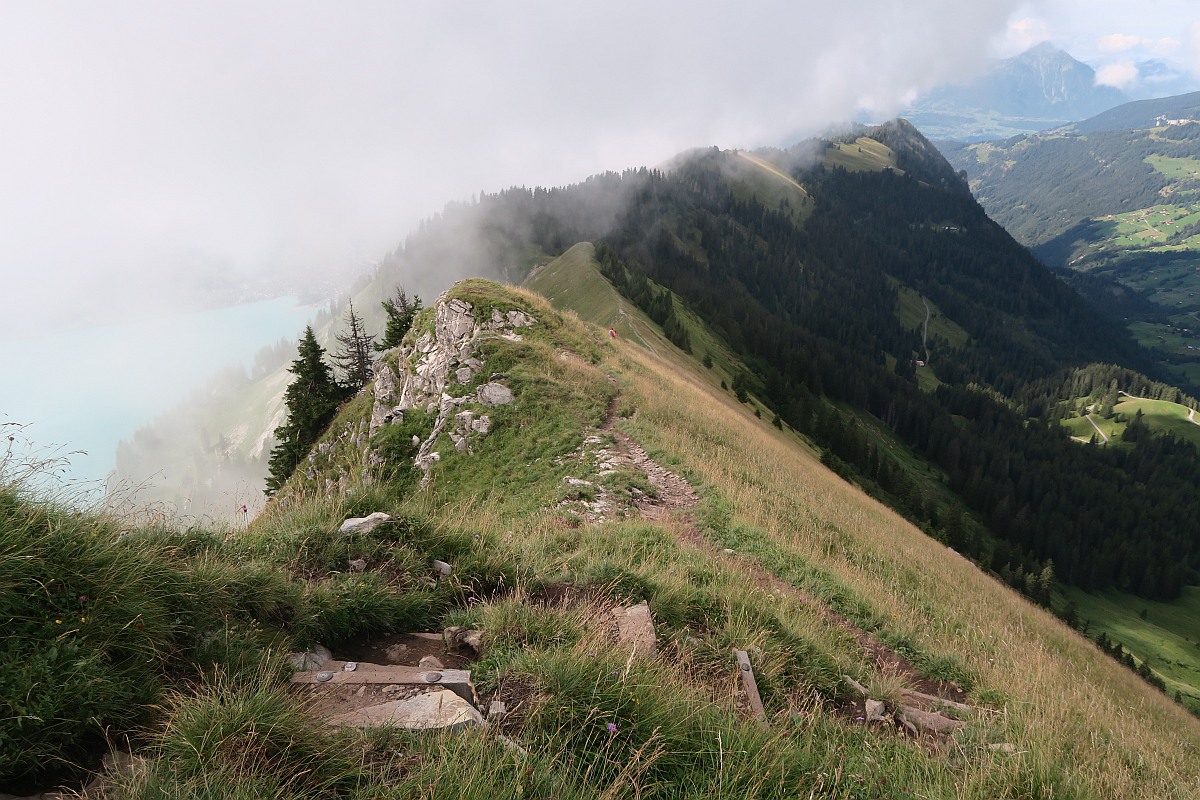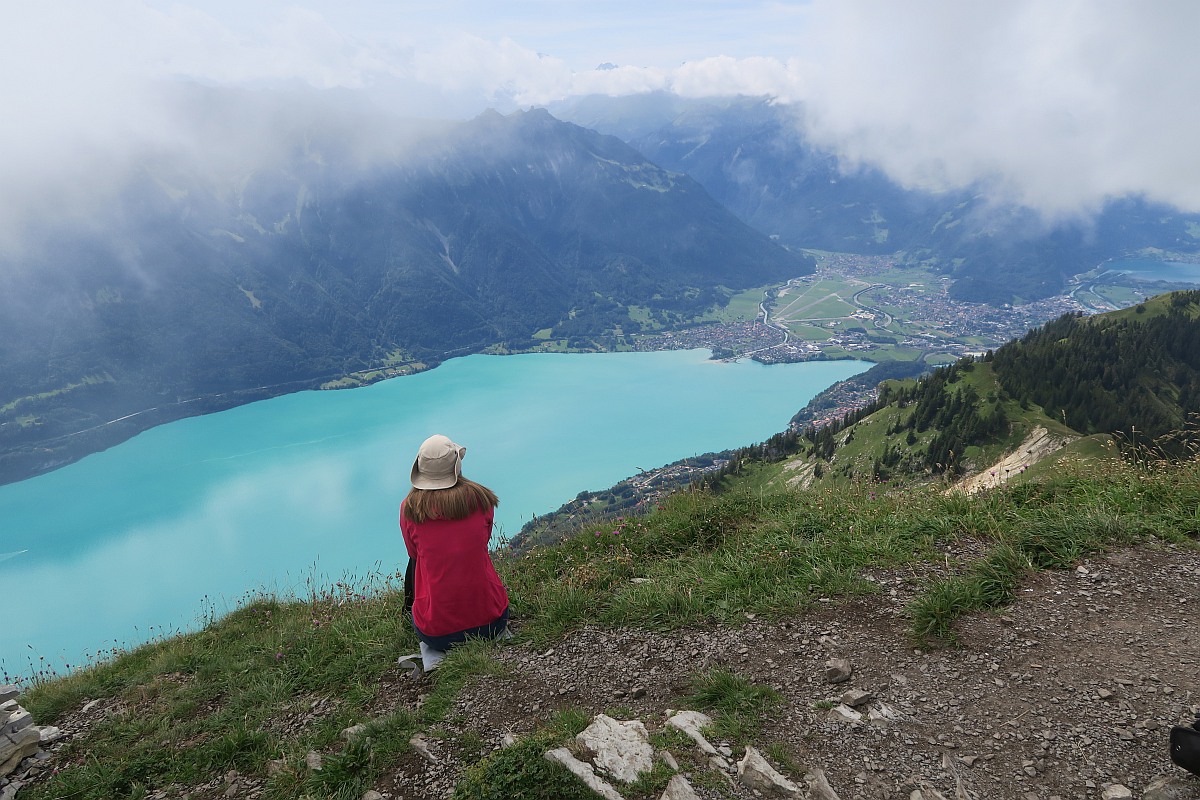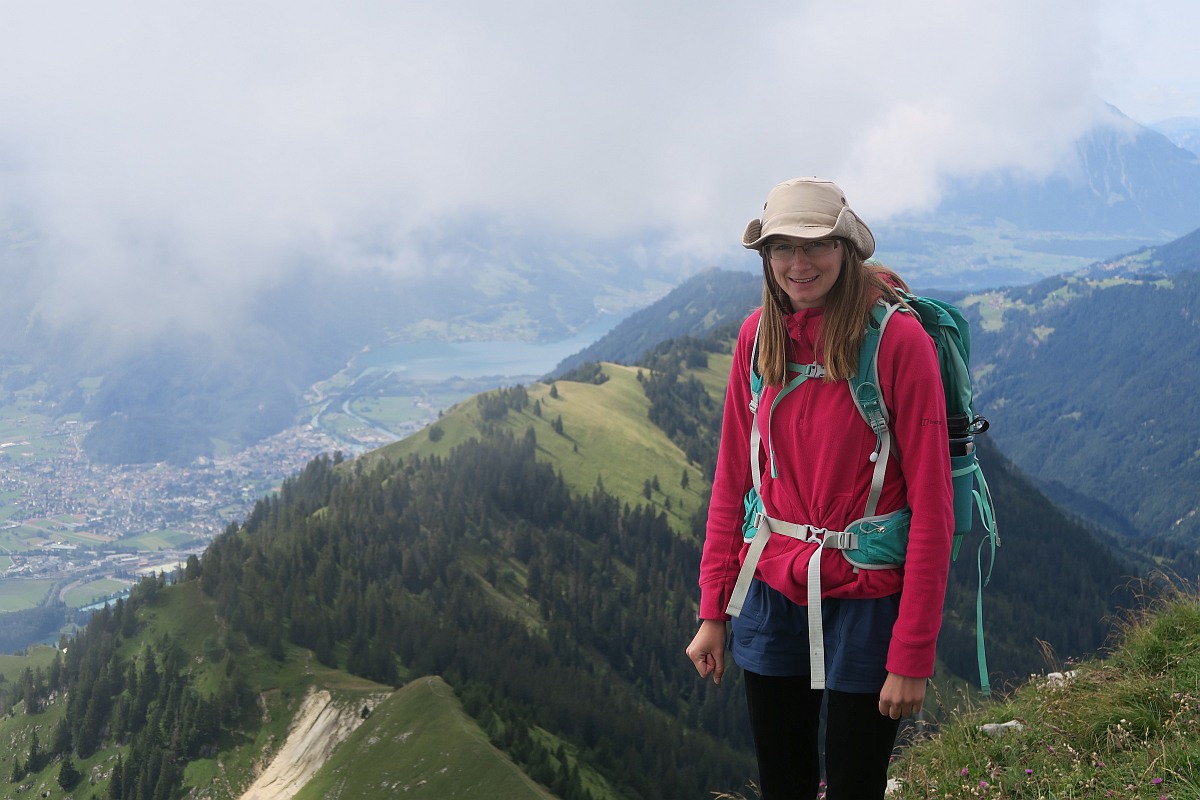 The ridge from Suggiture to Augstmatthorn
Soon we continued our way. The ridge looked really cool, but it wasn't nearly as scary as hiking Arnigrat. This is another reason this section of the trail is great, as it is reachable for more people. Other parts of the hardergrat trail can be way more dangerous. However it is still a ridge, so if you have vertigo, I wouldn't recommend doing this hike. For me hiking the ridge was quite enjoyable and it wasn't too strenuous compared to the ascend to Suggiture. With its 2137 m Augstmatthorn is the second-highest point of the hardergrat trail. (The first one is Brienzer Rothorn 2351 m) By the time we got to the top, there were no more clouds blocking our view and we could see the whole ridge!  We sat on the top for a while just enjoying the views.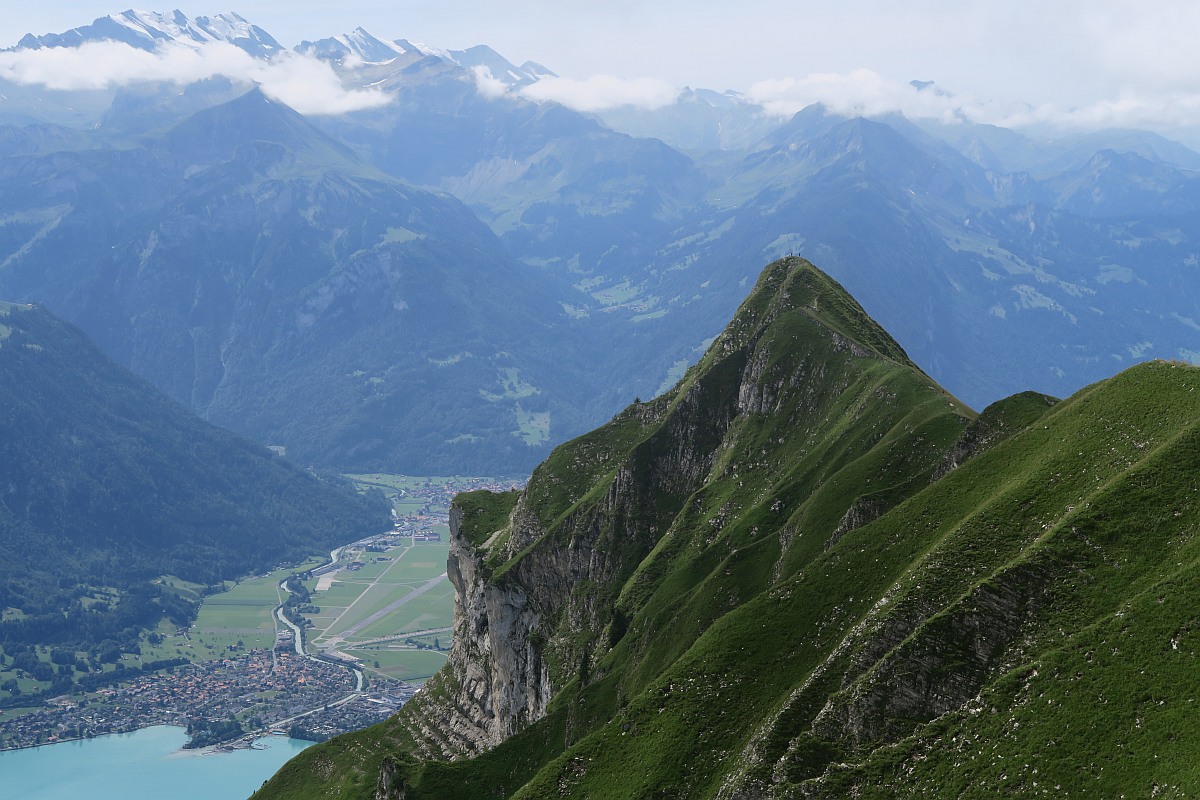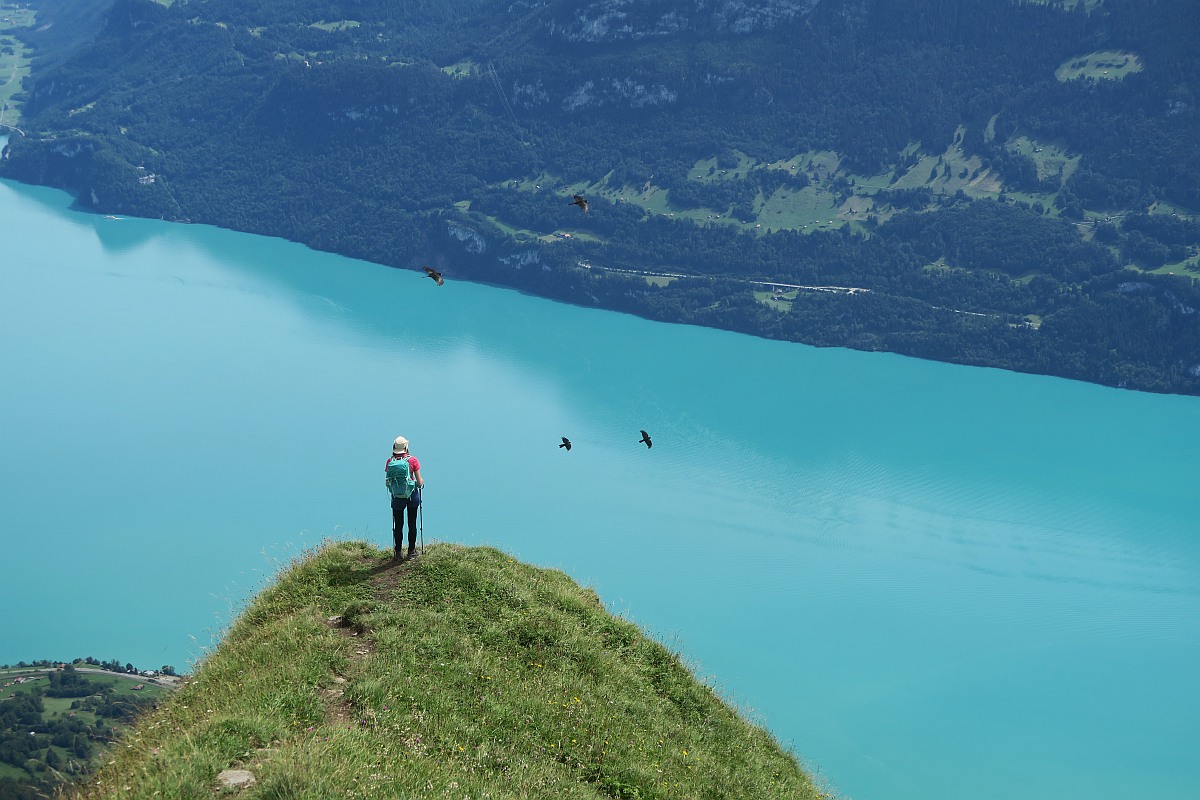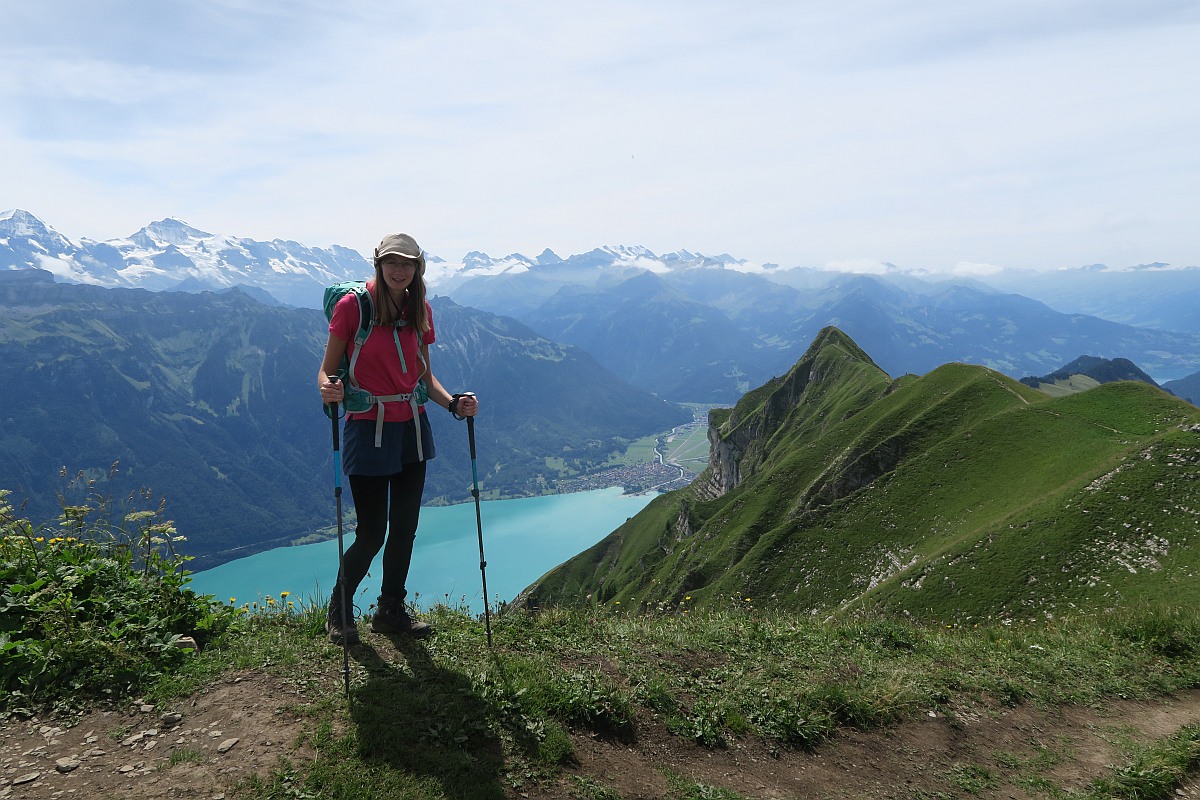 The descend from Augstmatthorn to Lombachalp
We descended from Augstmatthorn. The trail is quite steep at places, so I suggest bringing hiking poles to save your knees. As we were getting closer to Lombachalp, we could see there were way more cars parking, but the parking lot wasn't full. However, I can imagine it gets full on a weekend.
How long is the hike?
This hike is 7 km long with 680 m elevation gain. It took us 5,5 hours total with lots of stops to enjoy the scenery and have lunch.


What to bring with you?
There is no restaurant on the top, so you will need to bring your own food or you can visit Jägerstübli restaurant at the beginning or end of your journey, where the parking lot is. Make sure to take lots of water with you. Weather can change quickly in the mountains, so be prepared for rain and sunshine! I also suggest good, sturdy hiking boots, but many experienced people use trail running shoes instead. The route is quite obvious and well sign-posted. Carrying an emergency satellite communicator is highly suggested on such an exposed hike.
Did you like this post? Why not PIN it for later?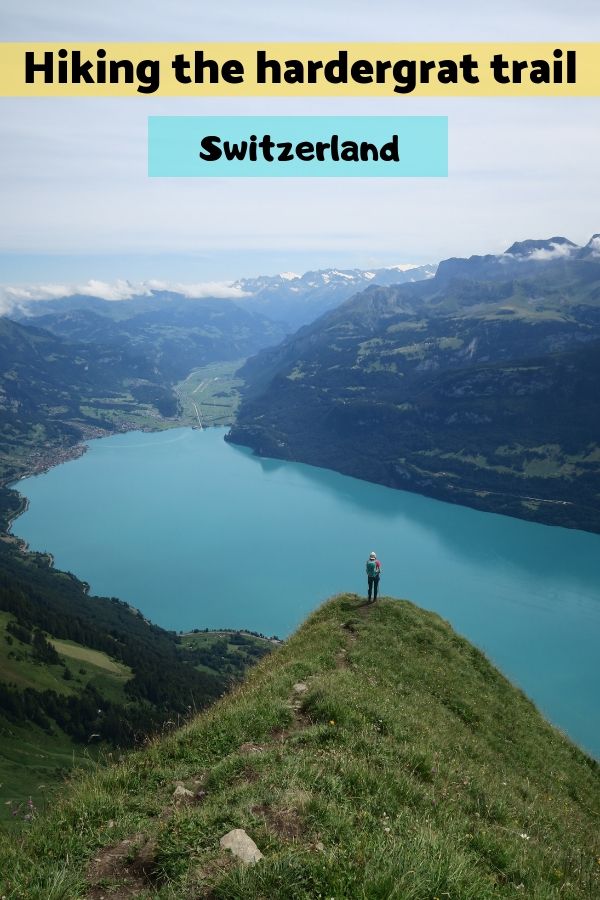 Don't miss out on these adventures if you are in the Interlaken area!
Enikő
Hey, I'm Enikő! I'm currently an au pair and I want to share my experiences with you. I've travelled a lot in the past years. I'm gonna teach you how to settle in to a new country and get free accommodation anywhere in the world. Circle Enikő on Google+!