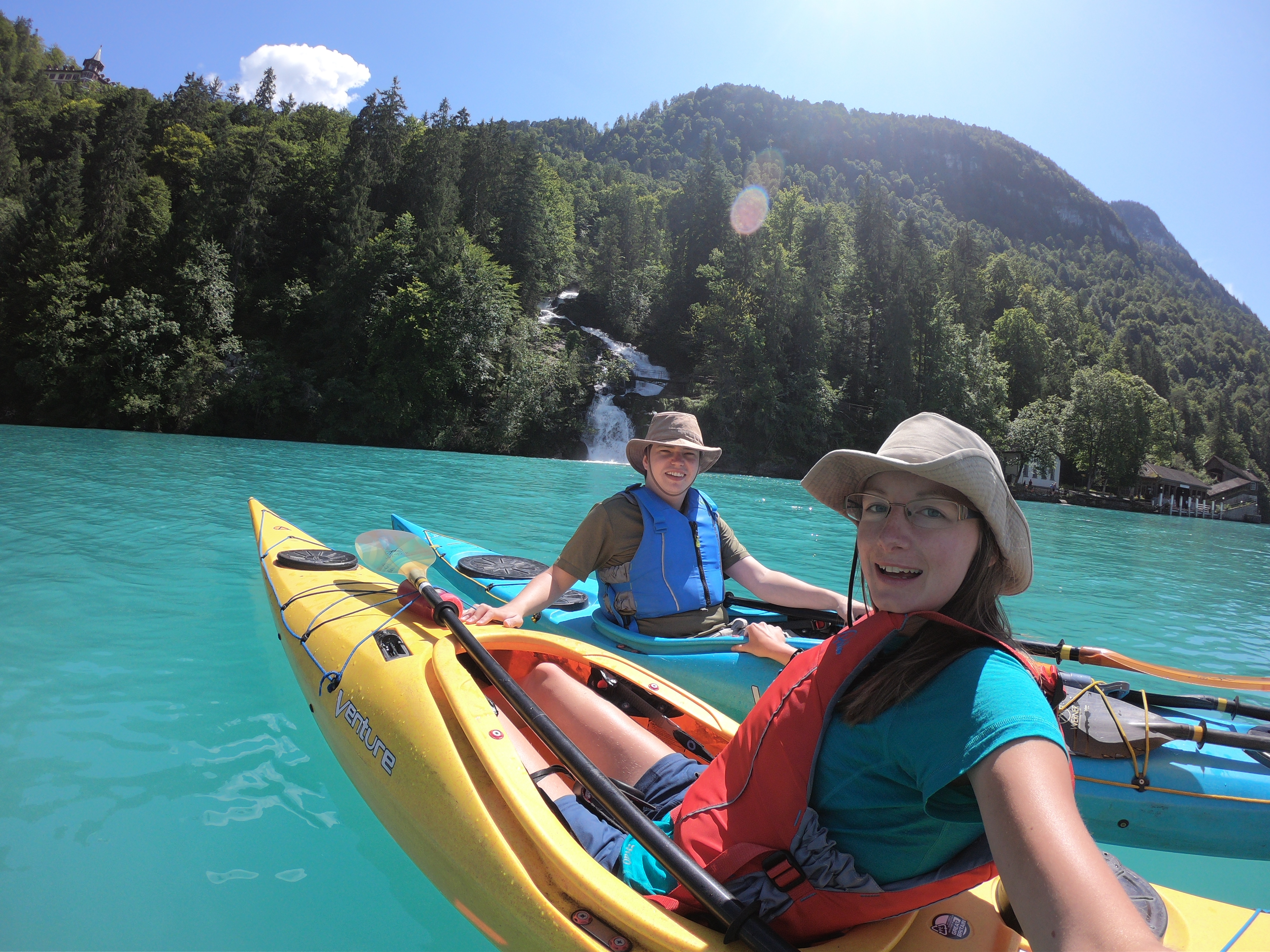 After completing some of the best UK kayak and canoe trips, we wanted to try paddling in Switzerland as well. There are so many things to do in Interlaken, that you can easily spend weeks there. One of my favourite activity was kayaking in Interlaken. Hightide Kayak School offers kayak rental and guided tours on Lake Brienz, which is the perfect way to see the Iseltwald Cliffs towering above the lake. You can also explore hidden beaches, wander in cute lakeside towns, but the highlight for me was paddling under the gorgeous Giessbach Falls.
9 Reasons to kayak lake Brienz
-Giessbach Falls
Waterfall chasing is one of my favourite activities. Switzerland certainly has some really impressive ones. The most fun way to explore them is from the water. The Giessbach Falls is 391m high, so you can imagine what a unique experience it is to be in a kayak at the bottom of it. There are also some nice views to the Grandhotel Giessbach and the charming historical funicular dating back to 1879. Alternatively, this could also make a nice hike from Interlaken.
-Iseltwald cliffs
The impressive Iseltwald cliffs are best observed from the water. When you paddle under them, don't forget to look up to admire the cliffs.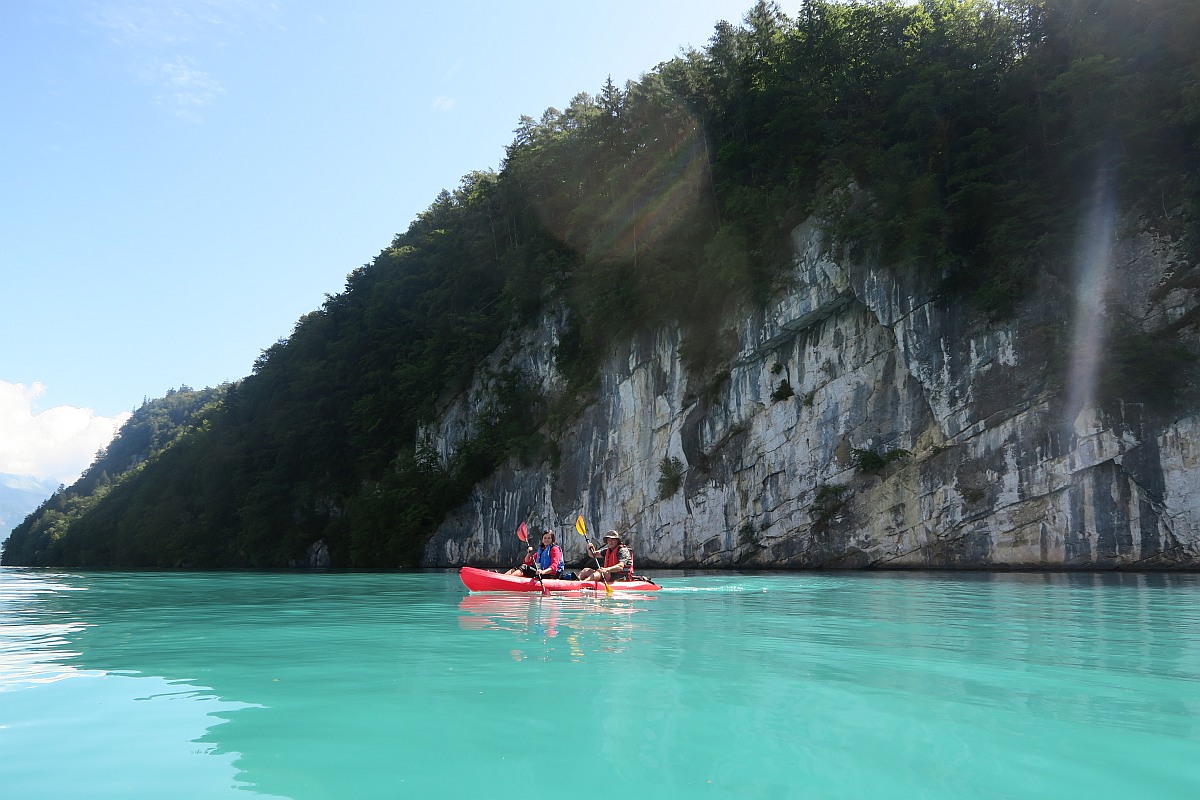 -Gorgeous turquoise water colour
Lake Brienz is famous for its stunning turquoise water colour. I mean how can you not want to paddle on such water?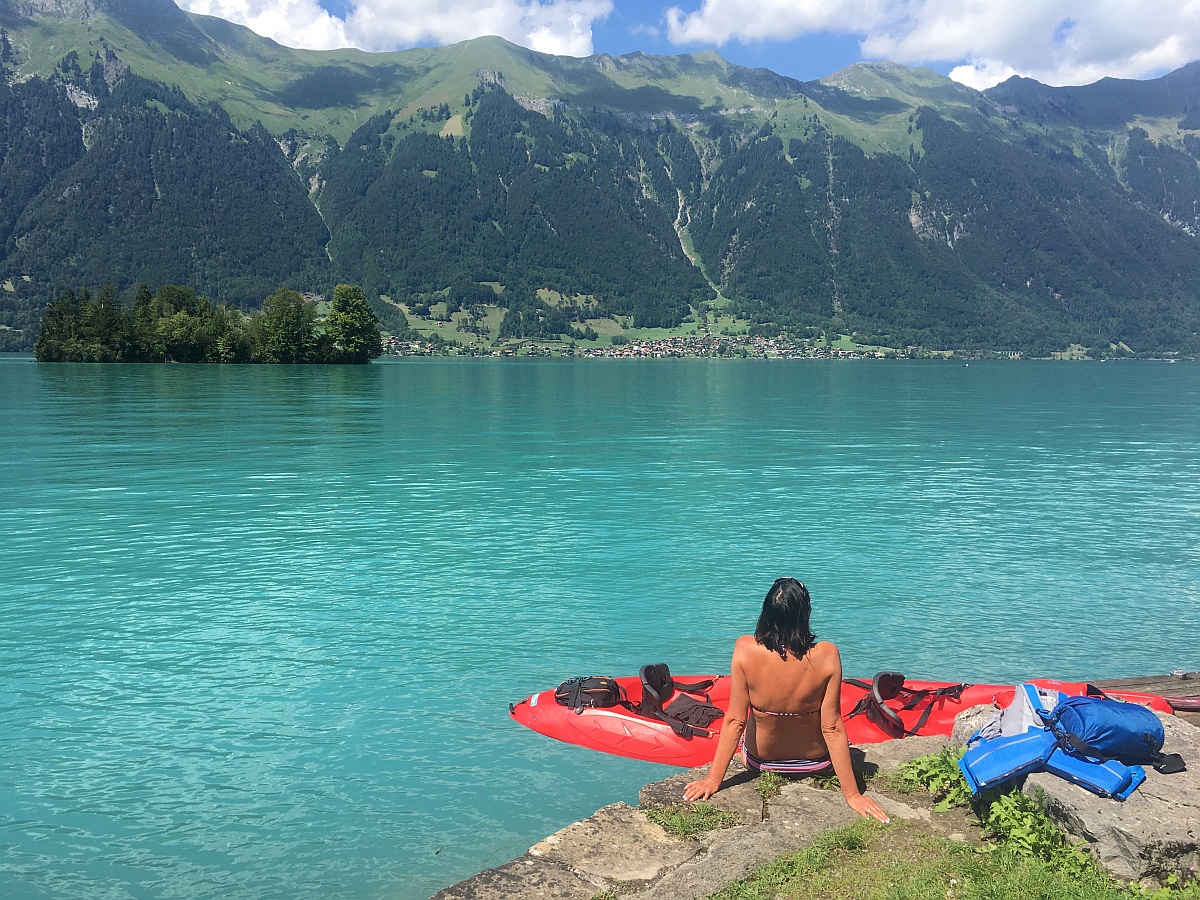 -Stunning mountain views
Lake Brienz is surrounded by mountains. It was great fun to point out different mountain peaks from the water and plan a hike there. We, in fact, hiked part of the Hardergrat trail a few days later when we looked at where we kayaked from above.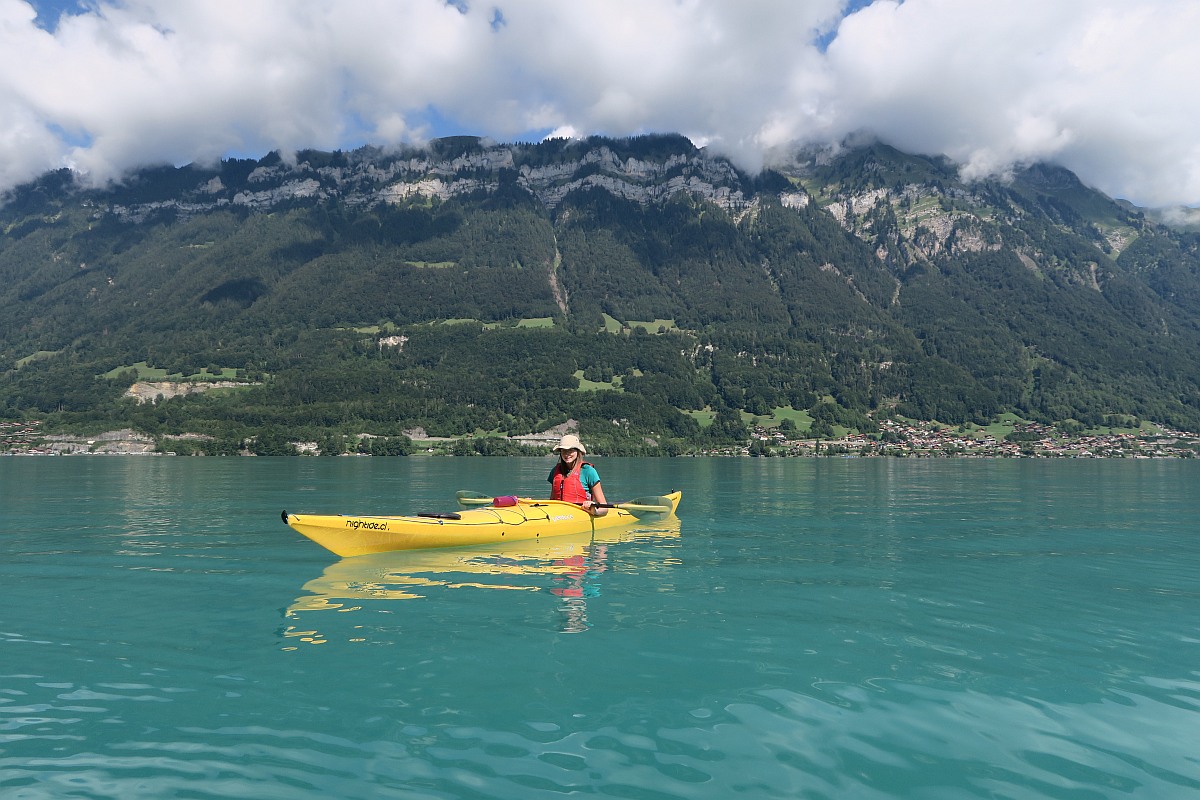 -Solitude
If you want to get away from all the hustle and bustle of everyday life and traffic and just be deep into your own thoughts at a beautiful place, kayaking on Lake Brienz is for you. You can find solitude there and enjoy a peaceful paddle without any worry.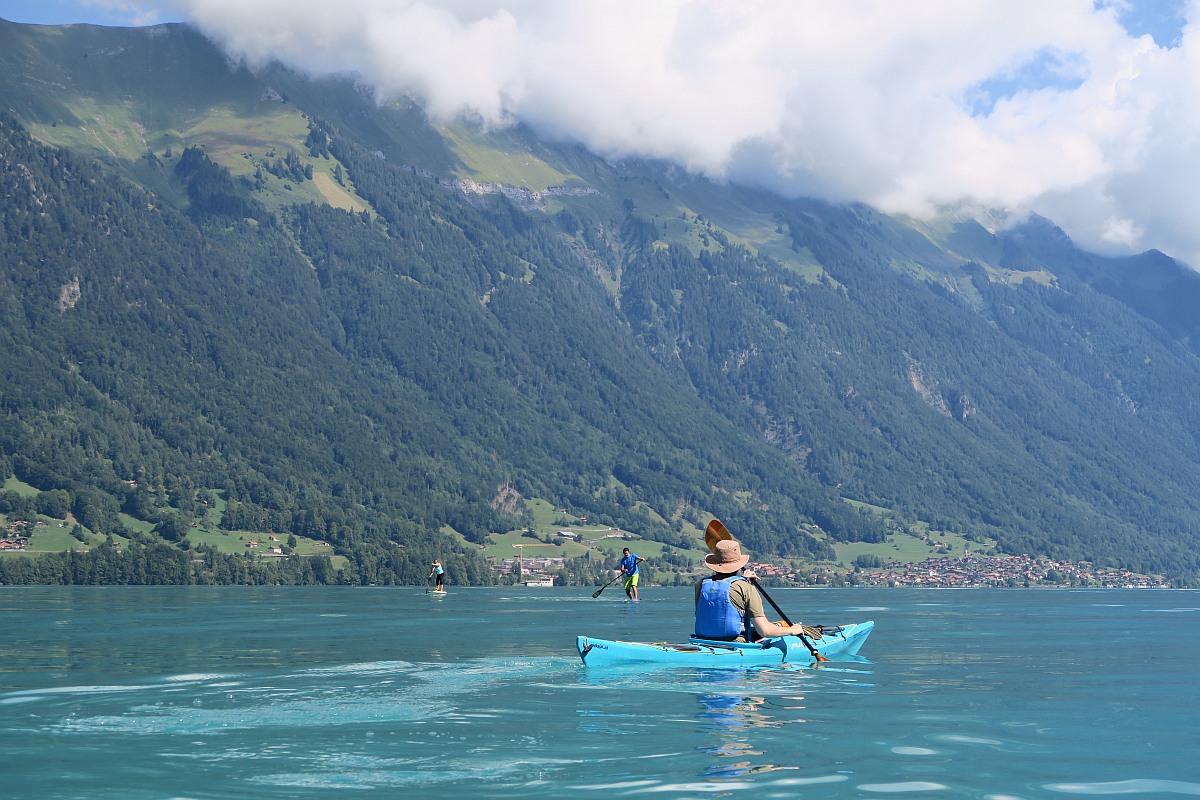 -Take a close look at Snail Island
Schnäggeninseli (Snail Island) is the only island in the lake and among the largest in the Bernese Oberland. The island is private property and belongs to the Schloss Seeburg. You can't land on the island, but you can paddle around it have a good look.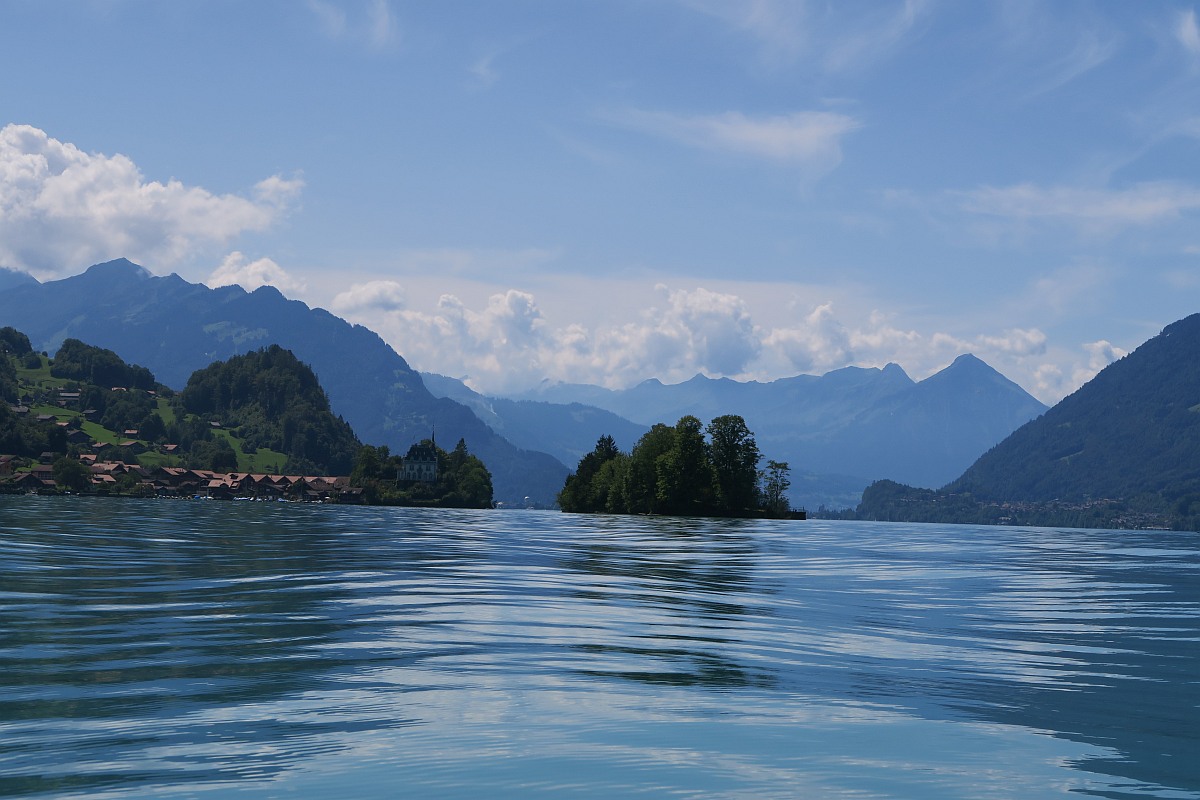 -Hidden beaches
Fancy a swim on a hot summer day? Lake Brienz has several nice beaches where you can do that! Be aware the water is cold (around 15 degrees) even on hot summer days. But who can resist going for a quick dip in this beautiful lake?
-Exploring cute lakeside towns
Lake Brienz has so many charming towns and cafes. Many of the towns have a landing place so you can explore them on foot as well.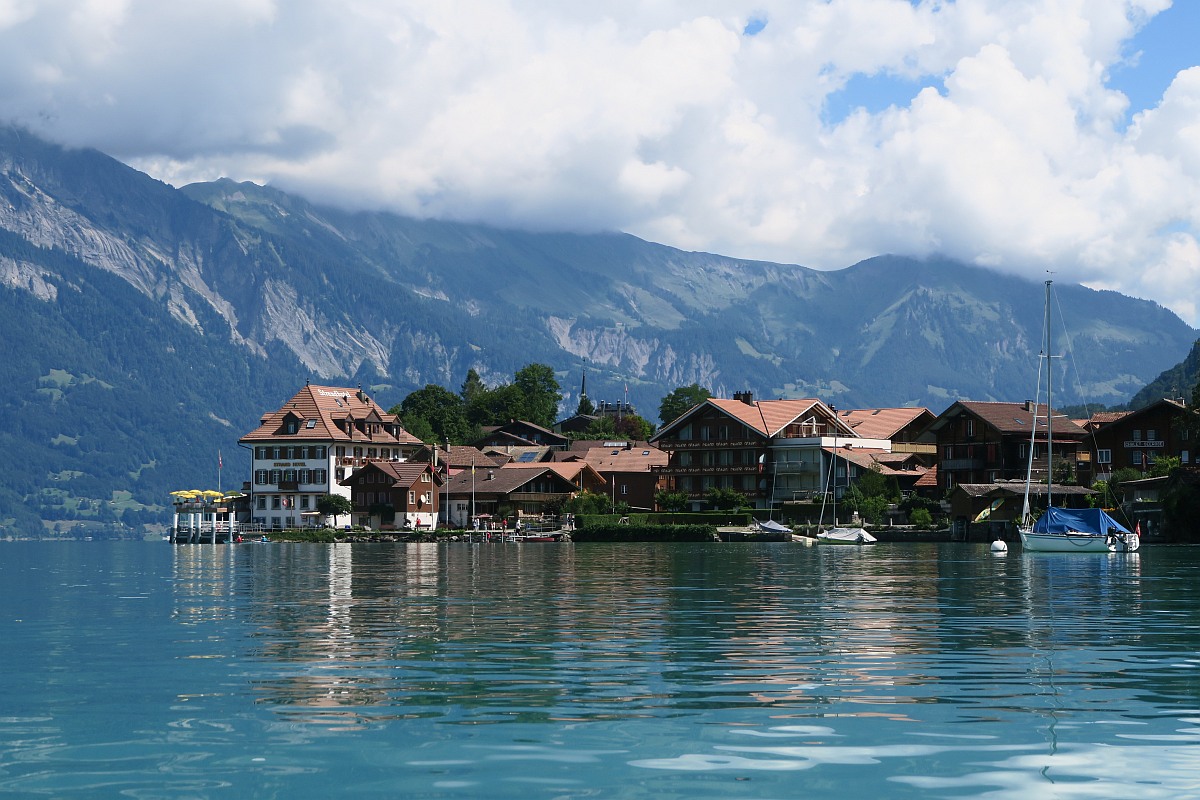 -Ringgenberg castle
Ringgenberg castle is a Swiss heritage site of national significance and one of the best views to it are from the water.
Kayak rental in Interlaken
Hightide Kayak School is a small business based in Interlaken on Lake Brienz. They offer kayak rental, guided tours, training sessions and coaching. You can even go on a trip with them at night or in the winter. They also organise trips to other parts of Switzerland and even abroad.
Location: Lütschinenstrasse 24, 3806 Bönigen, Switzerland
They are on the site of Strandbad Bönigen, so kayaking can be a nice extra activity besides enjoying all that the beach has to offer.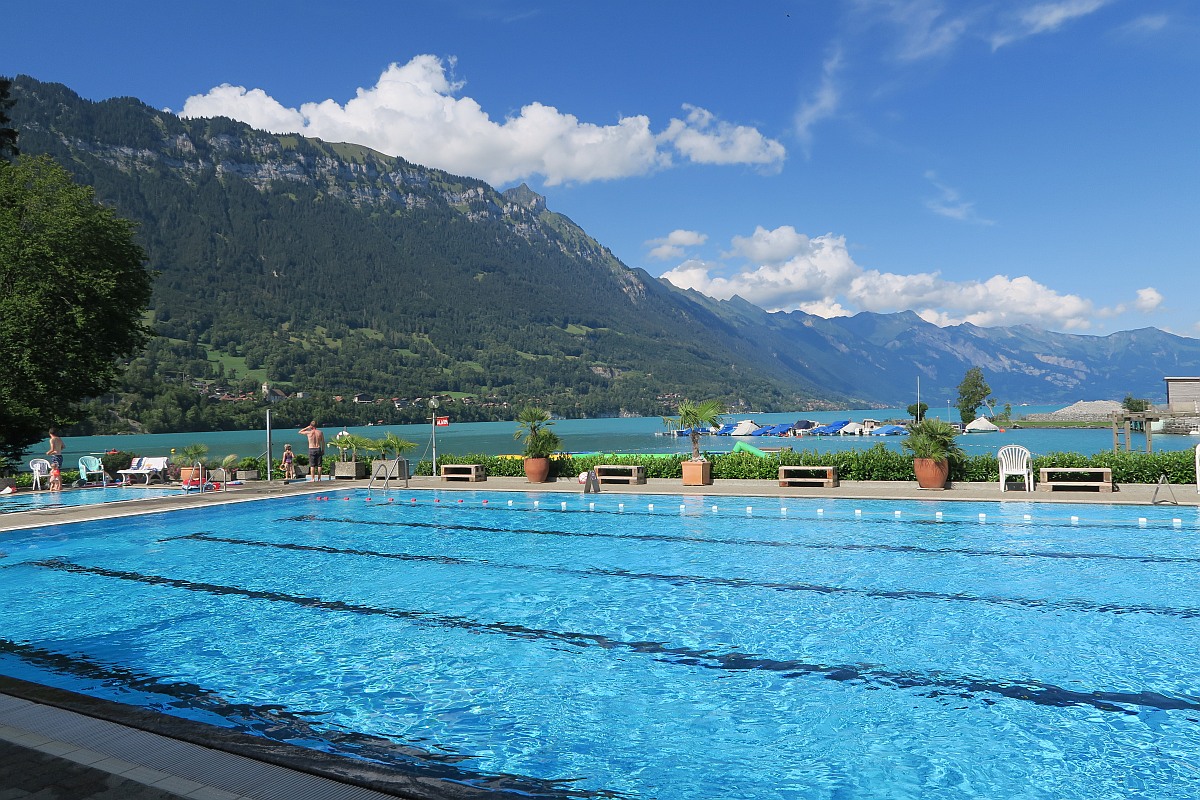 Price: Please see their website for price details, as they offer many different types of kayaks and SUP.
The price for the single sea kayaks we used were CHF70 for 7 hours and my parents' double sit-on-top was CHF80.
In order to rent a sea kayak, you will need prior experience and knowledge of what to do in case of a capsize.
BOOK a guided kayak tour here!
Duration: Kayaking in Interlaken is fun no matter how long you do it for. If you want to paddle all the way to Giesbach Falls, as we did I suggest renting the kayaks for 7 hours. It was an exhausting 23 km paddle total but was well worth it for us. I suggest renting a sea kayak to do it, as I think sit-on-tops, are just not fast enough for the journey. If you don't have kayaking expericne I think your best option is to do it as an organised tour, as they offer transport back to Interlaken after the paddle, so it won't be that tiring. Alternatively, you can pay an extra charge and leave your rented kayak in Brienz.
But there are so many other cool places to check out other than the waterfall. Here is an indication of how long it takes to reach certain locations from Interlaken.
Ringgenberg 2km – 30 mins
Iseltwald Cliffs 4km – 1h
Iseltwald 6.5km – 1.5h
Snail Island 8.5 km – 2h
Giessbach Falls 11.5km – 3h
Brienz –14.5km – 3.5h
What to bring with you: Swimming costume, sunglasses, hat, sun cream, suitable footwear eg wet boots, change of clothes, lots of water to drink
Hightide Kayak School can provide dry bags, wet suits and dry suits if needed.
Child-friendly: The double sit-on-top kayaks that are available for rental are perfect for families with kids as well. Guaranteed fun for the whole family!
Is it safe to kayak Lake Brienz?
Hightide Kayak School was very good as pointing out possible safety hazards and explained what to look out for on the water. They keep a close eye on the weather forecast and also let us know where to look for signals for a possible storm while we are out.
In general, it is quite safe to kayak Lake Brienz. The most important thing to keep an eye on are the boats. It was always very obvious where they were headed and they used their honk to signal as well. We just tried to stay away from them, which was not an issue. If you have some experience, then you could also paddle here using your own boat. Inflatable kayaks are a great way to get started.
BOOK your kayak tour here! They even do them in the winter!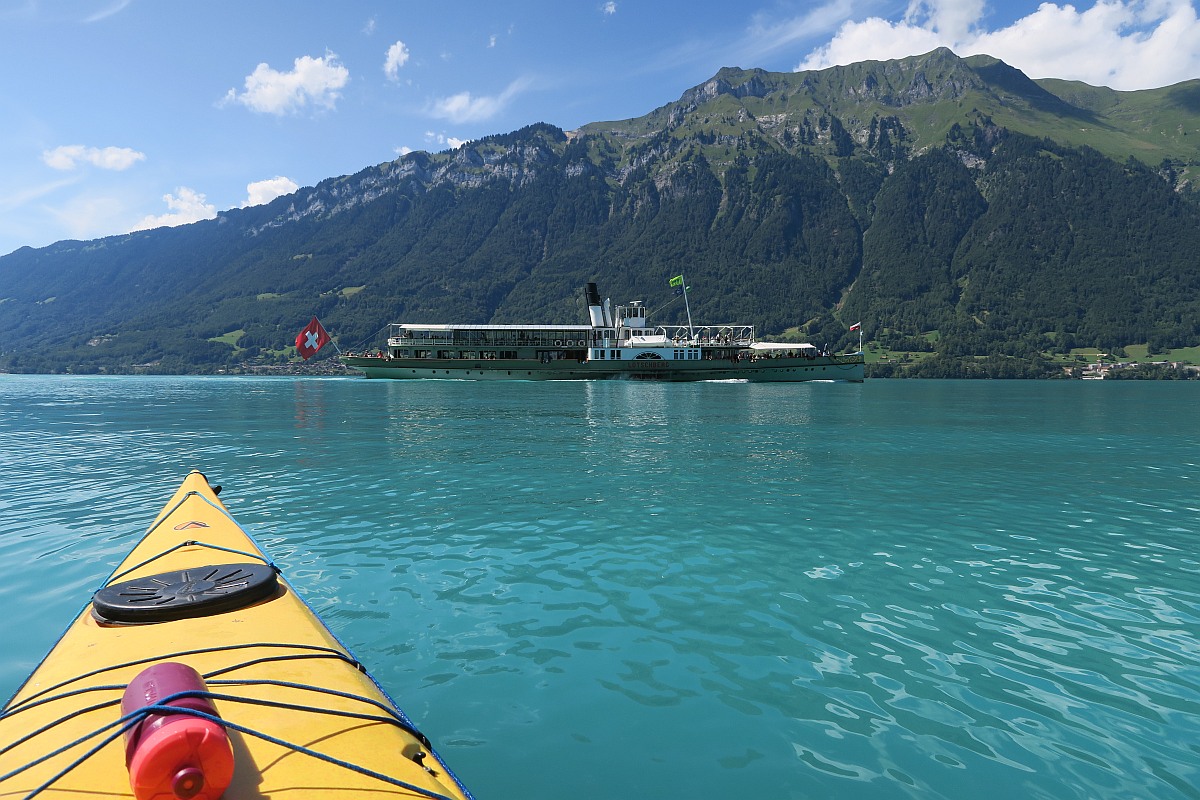 Watch my video about our kayak trip!
Disclaimer: Please note, this is a sponsored post. We were guests of Hightide Kayak School, but as always all opinion is my own.
Did you like this post? Why not PIN it?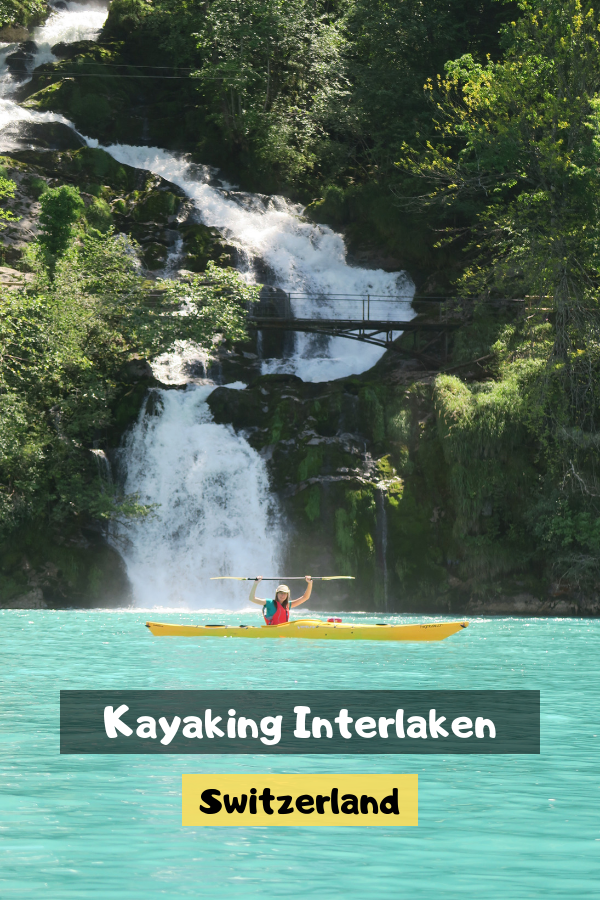 Enikő
Hey, I'm Enikő! I'm currently an au pair and I want to share my experiences with you. I've travelled a lot in the past years. I'm gonna teach you how to settle in to a new country and get free accommodation anywhere in the world. Circle Enikő on Google+!