Vanlife became incredibly popular in recent years. We've also been on a couple of campervan trips, but we stuck to smaller vehicles, as we didn't have much experience driving yet. Then we bought our first car and we went on many car camping adventures since. But we always wanted to try a proper van. Recently we got the opportunity to go on a road trip in a luxury VW campervan thanks to winning an Instagram giveaway organised by Parklife Campers and the Van Life Family.  Winning a prize from a campervan hire in Milton Keynes was really suitable for us, as we only live 30-minutes away. We decided to go on a road trip to one of our favourite national parks: the Peak District. Last year we celebrated my birthday there and I climbed the Trinnacle. But there is still a lot more to explore, so we return regularly to discover new places. We loved experiencing vanlife. It is very convenient to have such a fantastic campervan hire near me. This means we can go on many more similar adventures without too much hassle. 
This post may contain affiliate links. If you make a purchase through one of these links, I may receive a small commission at no extra cost to you. As an Amazon Associate, I earn from qualifying purchases.
Struggling for inspiration what to cook while on the road? This book has some great suggestions!
If you are considering buying and converting your own van, then this book has a lot of useful information and tips.
I previously shared why we often choose a campervan over a hotel room. We love the flexibility and atmosphere a van provides. We might even get our own van sometime in the future. But investing in one is a big expense, so we want to get it right. In order to do that, it is inevitable to rent a campervan, before buying one. You might even want to do this a couple of times, maybe during different seasons or try out a few different setups. This will really allow you to experience what is life like on the road in a van. It will also let you decide what setup suits your needs the best. There are so many different conversions and specs, that it is hard to know what works for you best, without trying it out.  
Campervan hire in Milton Keynes
For us the location was perfect. We live in Leighton Buzzard, so only a 30-minutes drive away. But a Milton Keynes hire company can be ideal for many other people as well. It is within reasonable driving distance from London or alternatively, you can take the train. Milton Keynes Central currently has high-speed links from London (35 mins), Birmingham (55 mins) & Manchester (1 hr 35 mins.) Parklife Campers make the hiring process super simple. They are able to assist with arranging travel from the station to collect your campervan. As the vans are well equipped, you don't need to bring the kitchen sink, as most things are provided with the van.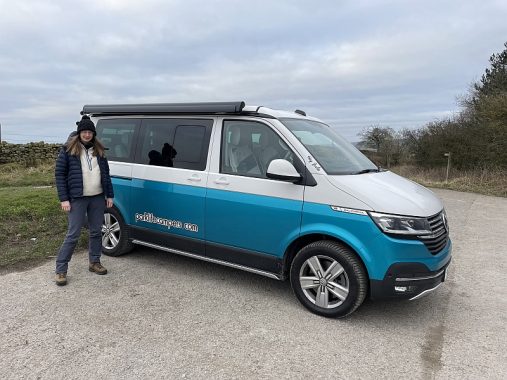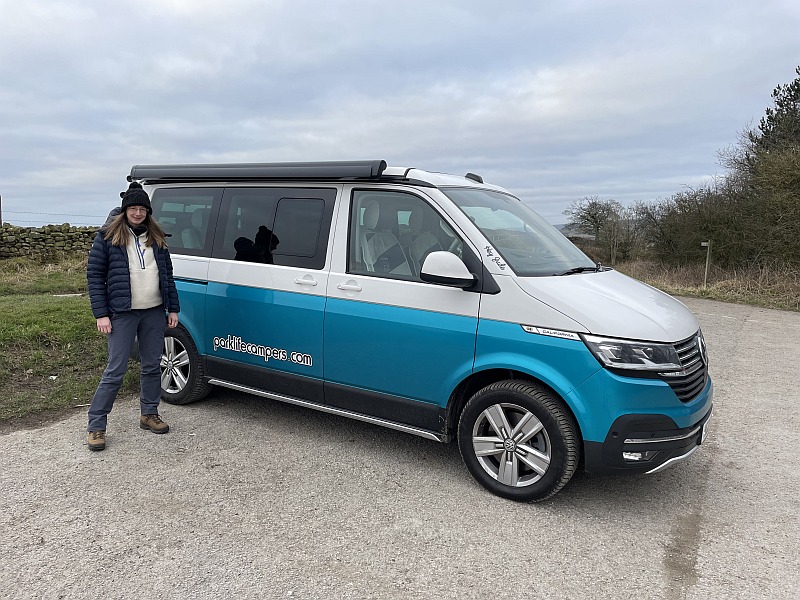 One of the many things I really like about Parklife Campers is that it is a family-owned business. The owners (Katie and Ali) are passionate about vanlife and always happy to share their knowledge let that be about packing, locations or meal planning. They also have two children (Euan & Jude), so they have plenty of experience with travelling with kids. Because they are a small business the whole experience is more personal. They really take the time to help you when needed and answer any questions you might have. At the same time, they are really professional. The booking system on the website is great and they even have video tutorials about how the vans work. This makes renting a campervan stress-free, as you are able to prepare better for the trip. You can also re-watch these videos if you get stuck with something while you are on the road. It is also super helpful to have a handover, where they show you how things work in person and you can ask any questions you might have. They have two campervans to choose from. One of them allows pets, but you wouldn't know as they are cleaned to a high standard. 
Both vans are luxurious 2021 VW California Ocean.
Driving:
We were originally quite worried about it, as Tom has never driven a bigger vehicle before. But he actually really enjoyed it, and that is thanks to all the modern features the van comes with.
– 4 Motion (all-wheel drive)
– 2.0 BiTDI (204bhp),
– 7 Speed DSG Automatics
– Fully adjustable and elevated driving position
– Digital dash and entertainment system
– Cruise Control
– Driver Assist (Brake Assist, City Emergency Braking, Park Assist, Lane Change Assist)
– Rear View Camera and side scan
The Kitchen:
When we are tent camping we often choose to eat expedition food packets to make our life easier. Cooking or heating up meals on the dual burner hob in the van was very simple. Alternatively, if the weather is nice you can include a Cadac Safari Chef in your rental and cook outside. 
Your food will stay cool, thanks to the inbuilt 42l fridge. It is not easy to find the best camping fridge on the market, but these vans come with a temperature-controlled fridge, that will fit a lot of food and drinks inside. 
There is also a 60l fresh water tank & separate waste tank built-in. This is great to use water for cooking or brushing teeth etc. But ideally, you would still do your washing up at campsite facilities. We managed to last 4 days without filling up the tank, but we only used the water for morning coffee, tea during the day and washing fruit and brushing our teeth. If you are a bigger family or want to use it more frequently then I suggest filling up the tank at every possibility you get at sites.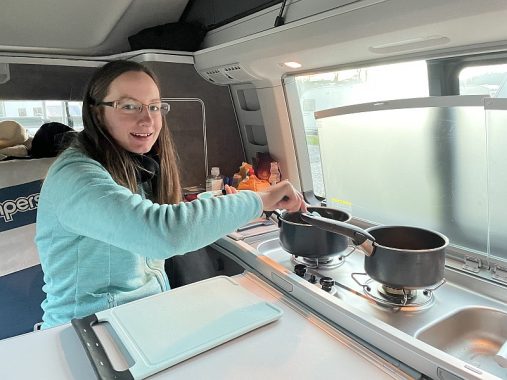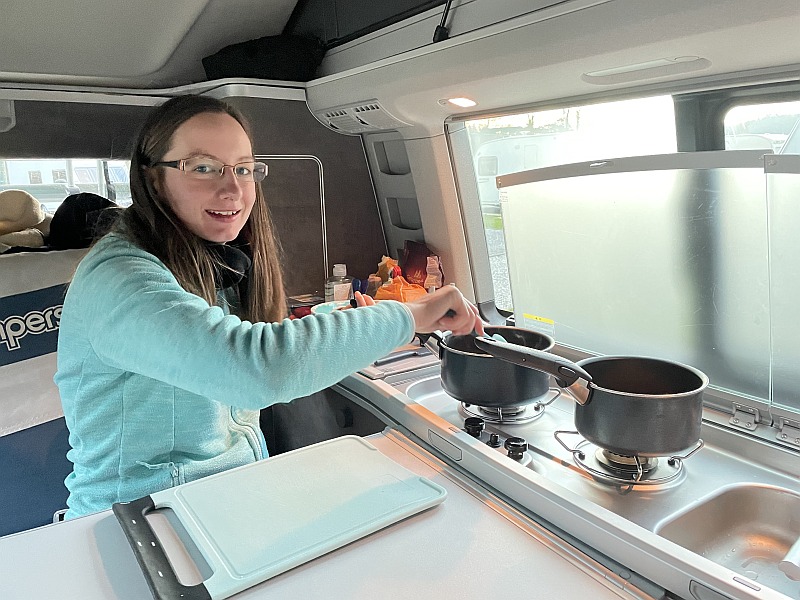 The Bedroom:
The campervan has a sleeping arrangement for 4 adults. The mattress on the top (in the pop-up roof) is more comfortable and spacious 150 x 200cm. The seats at the bottom can also convert into a double bed (122 x 200cm). We decided to use the bed at the top, which worked great for us. 
Storage: 
The campervan has a lot of very clever storage solutions. I was really impressed with some of the in-built features, like having an extra (outdoor) table hidden in the sliding door panel and chairs inside the boot lid. These clever storage hacks enable the van to leave plenty of space for your other belongings as well.
Power: 
When we go camping in a tent we often take a portable power station with us. This wasn't needed on our camper road trip. We didn't pay extra for electricity at our campsite but had no power issues. We drove enough during the day to recharge the leisure batteries. The van had plenty of access points to charge our electrical devices and they were all conveniently located, so we could use them while driving/in bed, etc. 
Heating: 
I get cold so easily, so I was super happy to learn the camper had a gas heater. We went on our trip in early March, when the nights were still very cold. Thanks to our Fine Bedding Duvet, Isobaa merino layers and the heating system we managed to keep warm. But I imagine in the middle of winter, sleeping downstairs is probably a more economical and better solution, as when the pop-up roof is open a lot of the heat escapes. We used the heater in the evenings while having dinner and sometimes I put it on for a little while in the night if I got cold. 
Extras:
The van also has bike racks. We didn't use it this time, but I imagine we would give it a go on an extended trip. We also didn't end up using the awning, as it just wasn't warm enough for us to sit outside. You could also ask Katie to include a movie projector in the rental, which could be great fun in the evenings. Parklife Campers is also planning to launch an outdoor kit hire in the future when you will be able to rent paddleboards, inflatable kayaks and beach toys. 
Our Parklife Campers Road Trip
We went away for four days and managed to see quite a lot. We decided that we probably prefer the Peak District in other seasons, as the scenery in early March wasn't particularly special. There weren't any leaves on the trees, flowers on the ground or snow on the hill tops. We of course still had a lot of fun and enjoyed recharging, getting fresh air and seeing new places. But from a photography perspective, other seasons might be more interesting. 
Padley Gorge: Our favourite place on this trip was Padley Gorge. We in fact visited it twice, as there was some mist in the forecast, which would have been interesting from a landscape photography perspective. The trail from the bottom to the top and back can be around 90 minutes and you could make it a circular walk. It can get quite busy at the weekends. At the top, there is lots of green space to have a picnic next to the stream. We parked at Grindleford Stn. You have to pay here. Free parking is available at the top on road B6521.
Stanage Edge: A very popular place, for both hikers and boulders. We arrived early and enjoyed the peace and quiet in the morning. It can be really windy on the top. In fact, I had to put on several layers, a hat and a hoody to keep toasty, even though it was a nice sunny day. We parked at Hooks Carr Car Park, which was free.
Mother Cap: A short walk from Surprise View Car Park- You will have to pay at the machine. Some sections of the path can be muddy after rain. It is a nice walk, and climbing on the rock formations always adds an extra bit of fun. A well-suited walk for all ages.

Curbar Edge and Froggatt Edge: We walked this section on our last day before heading home. The terrain was hilly, but not too steep. There are some really nice views from here. Climbers also enjoy this place. Parking is free, but it can fill up quickly! 
Enikő
Hey, I'm Enikő! I'm currently an au pair and I want to share my experiences with you. I've travelled a lot in the past years. I'm gonna teach you how to settle in to a new country and get free accommodation anywhere in the world. Circle Enikő on Google+!