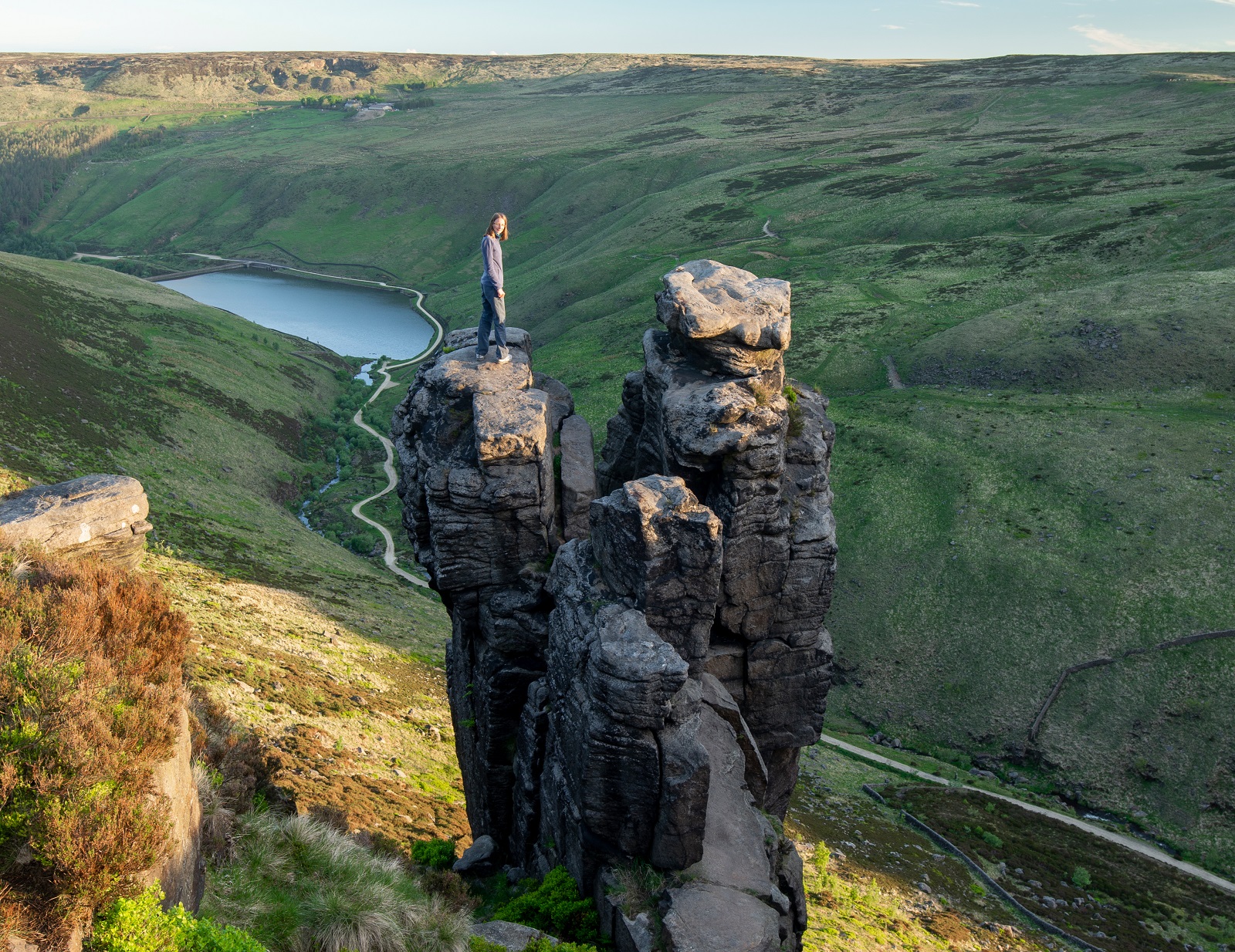 I love an Instagram-Worthy Photo Spot and the Trinnacle in the Peak District is definitely that! Luckily this place hasn't been overrun by visitors yet. As the national park is very popular, you can expect to see other hikers, especially at the weekends. But The Trinnacle isn't as busy as some other Instagram-Worthy Rocks I came across. Kjeragbolten, Trolltunga, Bamford Edge, the Cannon, Adam & Eve and The Cantilever all receive more tourists. It is not uncommon there, that you have to wait in line to get your picture taken. Luckily the Trinnacle trail is relatively quiet compared to that. I would still suggest arriving early if you want to secure a parking spot and have the place all to yourself.
This circular walk is great fun and very scenic. It is ideal for landscape photographers, as there are many locations along the way, that could provide a nice subject. Casual hikers can also enjoy this scenic walk, as it is not too strenuous or exposed. Standing on top of the Trinnacle is of course taking a risk, but it is not mandatory. You can simply enjoy a nice walk if you are not the super adventurous type.
This post may contain affiliate links. If you make a purchase through one of these links, I may receive a small commission at no extra cost to you. As an Amazon Associate, I earn from qualifying purchases.

Guide book suggestions for the area
I love the Wild Guide books and have the whole collection. This one focuses on hidden gems, wild swimming spots, cute cafes and unique accommodation in Central England.
This is another favourite book. If you are into photography then it's an absolute must. Gives great suggestion about compositions and best time to visit during the day/year.
Parking: Binn Green Car Park is quite big, but it gets full quickly on weekends and during holidays. Parking here is free. You might notice some toilets, but these are unfortunately closed permanently.
Alternatively, you can also park at Dovestone Car Park, but the walk will be longer from this location.
By Public Transport: Take the train to Greenfield stn. (regular service from Manchester and Huddersfield). Then you can either walk all the way to the start of the walk to Binn Green Car Park (2 miles) or take bus 350 to Clarence Hotel. This will shorten your walk by half.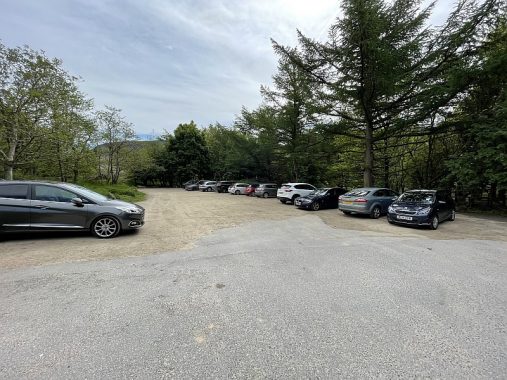 Duration: This 8 km circular walk with 380 m elevation gain should take about 3-4 hours.
Difficulty: Moderate. The trail up to Saddleworth Moor is quite steep. On your way back you will have to watch your step when you are walking next to Greenfield Brook. At this section, the rocks can get quite slippery and after rain, the terrain can be boggy. 
The Route: We wanted to catch the sunrise at the Trinnacle, so left really early. We started our walk from Binn Green Car Park. We walked across the dam and then headed up the path to Saddleworth Moor. This section is quite steep, but it will get easier. You will come across many cool rock formations on the top. This area has heather in August, which adds a nice touch to the scenery. Walking along the ridge was quite relaxing and it offered some nice views. Soon we noticed the highlight of our walk.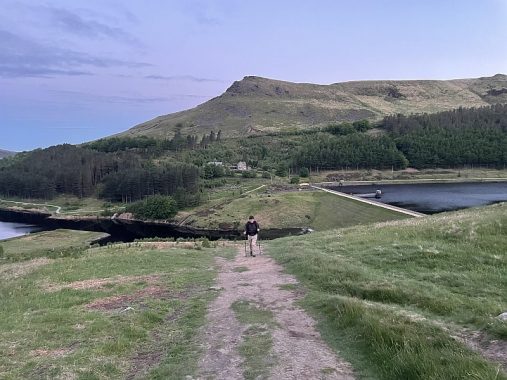 The Trinnacle coordinates: 53.539814, -1.945383
The sun was coming up. We didn't have an amazing sunrise with pretty colours, but the place was quiet and peaceful. We enjoyed having these stone pillars all to ourselves.
I decided to climb up to the left side of the Trinnacle. The weather conditions were right, as it was dry and there was no wind. I didn't find this challenging or too nerve-wracking. However, you have to be very careful as it is a sheer drop on both sides once you are on the top. Some people jump onto the right side of the Trinnacle. I didn't risk this. I thought the photos look just as cool if I stood on the left side and I didn't personally feel comfortable taking that leap of faith. You should use your own judgment on the day to see what you feel comfortable with and don't take any unnecessary risks!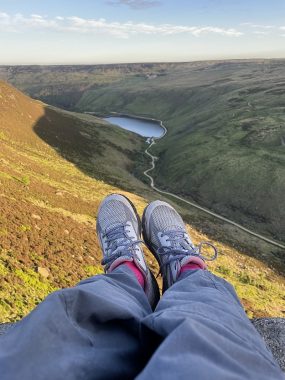 We also had breakfast at the Trinnacle and just appreciate the views. Then we started our descent. We actually stopped for photos on our way back as well. Greenfield Brook has many lovely photo opportunities for eager landscape photographers. Stop at the waterfall to take in the views. Be careful on the trail along the brook. This section is steep and often muddy/slippery. Hiking poles and suitable footwear will make the descent less challenging. You will have to cross the brook at the bottom of the trail. There are some big rocks in the water, that will make it easy, so keep an eye out for them.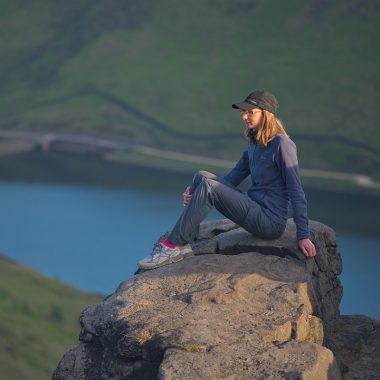 Follow the trail past Greenfield Reservoir and Yeoman Hey Reservoir. The path here is wide and flat with some lovely views. You can look back and see the Trinnacle above you in the distance. 
We made our way back to the car and were back at the campsite for lunch. However, if you want to extend your hike, then you can walk along Dovestone Reservoir too. At the other end of it, you can find the Dovestone Sailing Club.
In the summer months, wildflowers will make the landscape more colourful. The area is full of heather in August. This is also the time to see different species of butterflies and bumblebees.
You should also keep your eyes peeled for birdlife. Red grouses, ravens and peregrine falcons are a common sight. If you are lucky you might even spot curlews.


The closest facilities are at Greenfield village. You can find many cafes, restaurants and shops there. It is also a good place to find accommodation if you are planning to stay in the area for a few nights. The toilets at Binn Green Car Park are sadly permanently closed.
This hike will require good hiking boots. I also suggest hiking poles, as this came useful in many sections for us.
It can get quite windy on the top, even on a sunny day, so having backup layers in your backpack is highly recommended. We also tend to take an emergency GPS tracker on all our hikes. This gives us peace of mind.
Also, pack plenty of snacks and water!
Enikő
Hey, I'm Enikő! I'm currently an au pair and I want to share my experiences with you. I've travelled a lot in the past years. I'm gonna teach you how to settle in to a new country and get free accommodation anywhere in the world. Circle Enikő on Google+!