We decided to go on a little getaway, just the two of us when I was 23 weeks pregnant. We didn't want to go too far, as I needed regular toilet breaks and really just wanted to spend some quality time together. We've been camping in the Peak District many times before, but I wanted something more comfortable for this trip. So we used a campervan hire in Milton Keynes and enjoyed vanlife for four days.
We wanted to do the Stanage Edge walk for a long time. It has some of the best views in the Peak District National Park. The terrain wasn't too challenging so it was perfect for me even being pregnant. We are quite familiar with the Dark Peaks and found it interesting to try and spot some of the nearby places, like Bamford Edge, Mam Tor or Win Hill. Stanage Edge is a 6.4 km (4 miles) long gritstone escarpment. A fantastic place to explore for hikers, trail runners, rock climbers and mountain bike riders. It was recently featured in the classic film 'Pride & Prejudice'.
This post may contain affiliate links. If you make a purchase through one of these links, I may receive a small commission at no extra cost to you. As an Amazon Associate, I earn from qualifying purchases.
Guide book suggestions for the area
I love the Wild Guide books and have the whole collection. This one focuses on hidden gems, wild swimming spots, cute cafes and unique accommodation in Central England.
This is another favourite book. If you are into photography then it's an absolute must. Gives great suggestion about compositions and best time to visit during the day/year.
How to get to Stanage Edge
Stanage Edge car park
There are many possibilities. Your easiest option is to park at Hooks Carr Car Park. It is free and the closest to the top. This is where we parked. Your next best option is the Hollin Bank Car Park. This is run by the Peak District NP and you will have to pay at the machine. (£4.75 for a full day or £2.5 up to 2 hours). A bonus is that there are public toilets here. This car park is also really close to the top. Alternatively park at Upper Burbage Bridge Car Park. This is 1 miles from the top.
If you want a bigger hike, then the Hathersage to Stanage Edge is a classic option. For this park at the Hathersage Village Car Park just off Oddfellows Road. Parking fee here is £6 for all day. This Stanage Edge circular walk is 9 km (6 miles) on relatively easy terrain with 350 m elevation gain.
So there are many options available, but Stanage Edge is a popular place and can get busy. So all of the car parks tend to fill up quite quickly, especially on a sunny day.
By Public Transport
Bus: Nearby towns have good bus connections to Hathersage Village Centre. Bus #257, 271, 272 and 772 provide service from Bakewell, Castleton and Hope. To make your walk shorter you can then take bus #258 to Burbage Bridge and hike from there.
Train: Take the train to Hathersage. Good connection from Manchester or Sheffield. Then you can either do the Hathersage to Stanage Edge walking route or take bus #258 to Burbage Bridge and hike from there.
Stanage Edge MTB route

There are some bike stands/locking points at Hook's Car Park. The area has many road cyclists. If you are on a mountain biker there is also bridleway access to Stanage Edge. As you can imagine the trail is steep and rocky. But a great place to cycle, we saw a few MTB riders on the top. 
Route
We wanted to take things easy, so opted to do the Stanage Edge short walk. This means we parked at Hooks Carr Car Park and walked up to the ridge from there. It only took about 10 minutes to reach the top and we had dramatic views ahead of us straight away. The route is very straight forward. Just walk along the ridge and turn back when you want. 
We actually ended up walking quite a way, even past the Trig Point (High Neb), which is the highest point along the edge at 458m. We wanted to see the Ladybower Reservoir. So our hike ended up being not so short in the end. But it was absolutely worth it for the scenic views. We turned back just after the Sighting Tower Remains. 
Difficulty
The Stanage Edge walk difficulty is rated as easy from the nearby car parks like Hooks Carr Car Park, Hollin Bank Car Park or Upper Burbage Bridge Car Park. If you are coming from Hathersage, then expect a moderate walk, as you will have to tackle a bigger elevation gain. 
The section as you are ascending to Stanage Edge is quite steep and the path can be slippery and muddy when wet. But the terrain is relatively flat once you are on the ridge. You could use an all-terrain pushchair along the top, but you would probably need an extra hand to tackle the beginning to get up there. A child carrier would be a better option with little one.
Duration: We saw some people who only walked to the top, took some photos and then walked straight back down to the car. You can spend anything from 30 minutes to a whole day exploring the area. It is up to you, how long you want your walk to be.
Stanage Pole
You can find this landmark high on the moors behind Stanage Edge. The pole stood there for hundreds of years. It marks the border of Derbyshire and South Yorkshire.
Robin Hood's Cave
This location is marked on Google Maps, but it can still be quite tricky to find, because it is part way down the cliff face. There is a rocky trail to follow down to it, but it looked quite intense. I am not normally one to miss out on an opportunity to climb onto some cool rocks. I even climbed onto the Trinnacle. But being pregnant, I don't move quite as nimble and didn't want to risk it. So we didn't end up going inside. 
The coordinates: 53.34734, -1.64804
Stanage Edge Millstones
On our walk, we came across many millstones. We found these very interesting and ended up doing some research about them. Turns out that there are more than a thousand abandoned millstones in Derbyshire. No wonder millstone features as the logo for the Peak District National Park Authority!
Many of the edges in this part of the Peak District are all made up of coarse gritstone. This made it an ideal place to produce millstones. Many of them were used to grind grain and others to quarry for grindstone. However the industry died out very quickly, which is why there are so many half-finished stones on the moors.
Long Causeway
This road was a medieval packhorse route, which ran between Sheffield and Hathersage. The Long Causeway still exists as an unsurfaced track. The most extensive section is an 80-metre stretch just to the west of Stanage Pole. See if you can spot some of the remains of this ancient Roman Road while exploring the area. 🙂
It is normally very windy along the ridge, so don't stand too close to the edge! Also keep in mind, that weather conditions can change quickly, so be prepared and bring suitable clothing. See up to date weather forecast here. We visited on a beautiful sunny day in March, but the wind was really strong on the top. There are a few rocks along the way, where you can find some shelter for a snack/tea break, but not many. 
The Peak District is a paradise for rock climbing. The Stanage Edge bouldering location is one of the most well-known in the UK. There are thousands of routes with different grades, so plenty to choose from for any climber at any level.  
Campsites near Stanage Edge
Bring your wild camping equipment if you are planning to spend the night on the top. However, I don't really suggest doing this, as it is such an exposed and windy place. But the area has many campsites.
North Lees Campsite is the closest at a beautiful secluded location. It can accommodate tents and a few campervans. They don't provide hard-standing or electric hook-ups and it is not allowed to go on the grass with any vehicle. Anyone sleeping in a van on site must park in one of the car parking spaces. The site also has some lovely glamping pods.
We stayed at Swallowholme Camping & Caravan Park in the Hope Valley. They have place for campervans, tents and caravans. It is only 10-minutes drive from Stanage Edge Car Park. But if you want a big hike, you could even walk.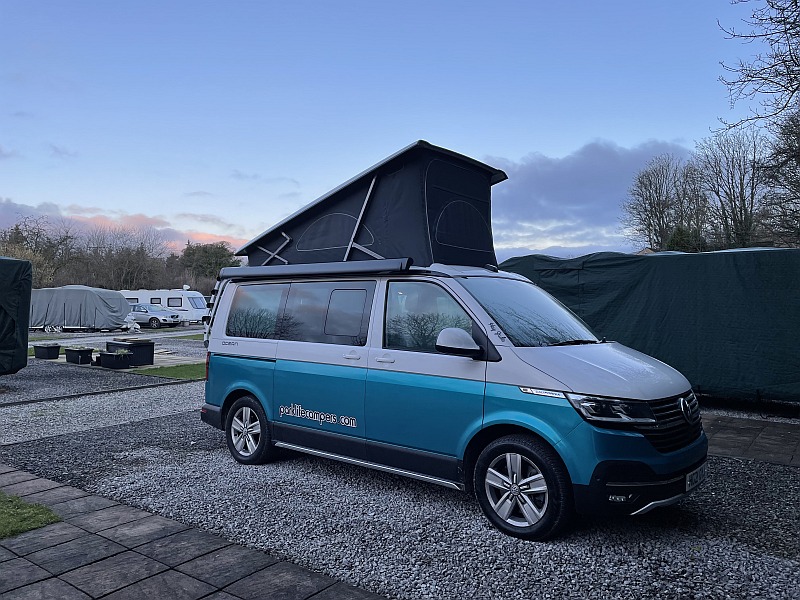 This walk is relatively easy and popular, but I still suggest taking a personal locator beacon on every hike. This can be really useful in case of an accident. 
As always, plenty of snacks, water and layers of clothes are also essential. 
Facilities at Stanage Edge
Toilets
There are free public toilets in Hathersage village and at Hollin Bank Car Park. You can also find toilets at many local pubs, cafes and outdoor shops.
Pubs near Stanage Edge
The Scotsman's Pack is a traditional country pub in Hathersage. They are dog-friendly, have welcoming staff and good sized portions of tasty food. They also have accommodation available with en-suite bedrooms.
The Anglers Rest in Bamford is another good option, although a bit further away. It is a lovely community-owned pub and cafe with a selection of sandwiches, wraps and traditional pub food like fish and chips, pies and burgers.
Enikő
Hey, I'm Enikő! I'm currently an au pair and I want to share my experiences with you. I've travelled a lot in the past years. I'm gonna teach you how to settle in to a new country and get free accommodation anywhere in the world. Circle Enikő on Google+!