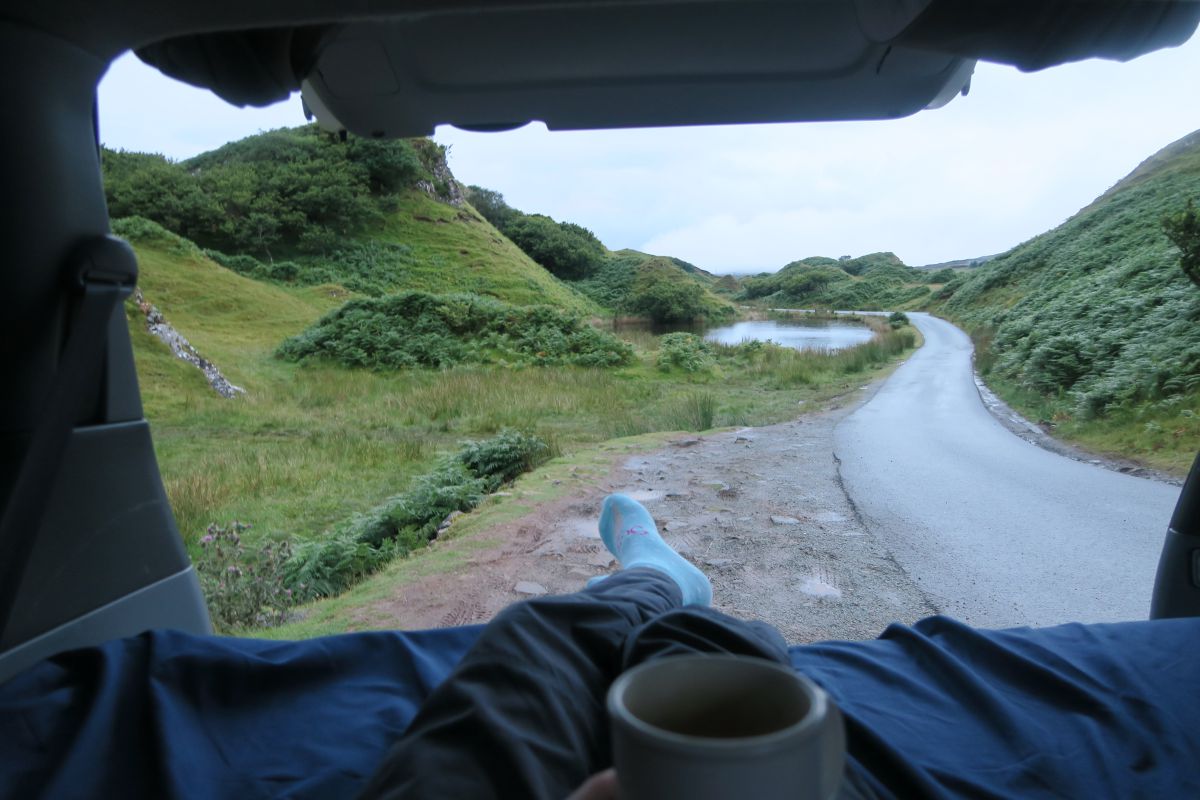 We wanted to discover Scotland for a while. It seemed like the perfect destination for us as we love the outdoors and there are countless of opportunities for hiking, cycling, canoeing and taking in great views. We decided to embark on our adventure in a camper van, as it worked out so well last year around Iceland. We teamed up with Spaceships, who rent camper vans in the UK, Europe, Australia and New Zealand. We wanted a slightly bigger van than what we had last year in Iceland, to make it more comfortable to pack our stuff, yet we didn't want a too big one, as that can be tricky to park and drive, especially on all those Scottish single track roads. The Beta 2-berth seemed like the perfect choice for us. We had an amazing time exploring Loch Lomond, the Scottish Highlands and the Isle of Skye.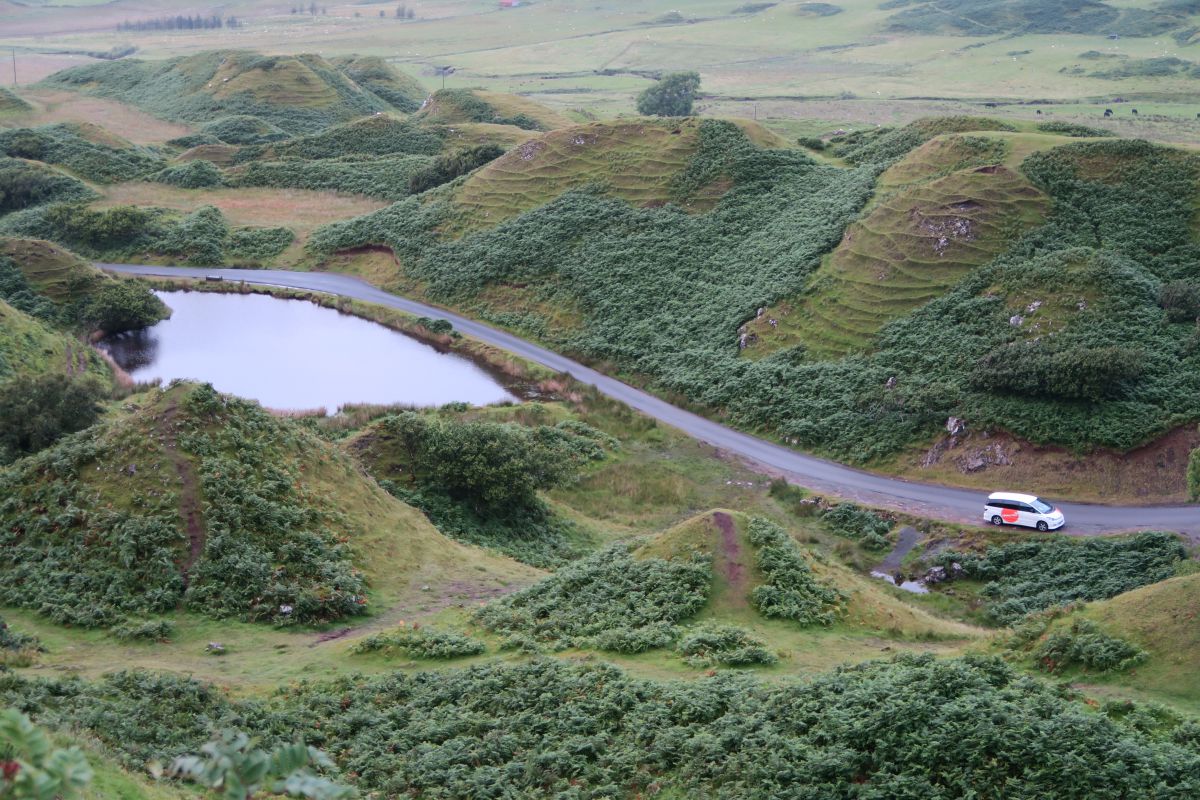 It gives us freedom
The main reason we preferred renting a camper van over booking hotel rooms is that we wanted to have a lot of flexibility. We wanted to explore different parts of Scotland. Hotel rooms need to be booked ahead of time and then we have no way of changing our mind. The camper van gave us lot of flexibility. If the weather was on our side we could stick around longer, plan an extra hike in the area. On the other hand if it was all wet, we could easily just move on to our next destination. We spent every night at a different location. Camp sites don't normally need to be booked ahead of time and wild camping is allowed in the country.
This travel quote sums up perfectly why I love travelling by a campervan.
"It is good to have an end to journey toward, but it is the journey that matters in the end." – Ursula K. Le Guin
It comes with all the vanlife essentials
The van has all the essentials we would need, so we didn't have to carry things like a sleeping bag or a stove. The car came with bedding, cooking stove, free cannister of gas, plates, cups, bowls and cutlery, water container, fridge and a side awning.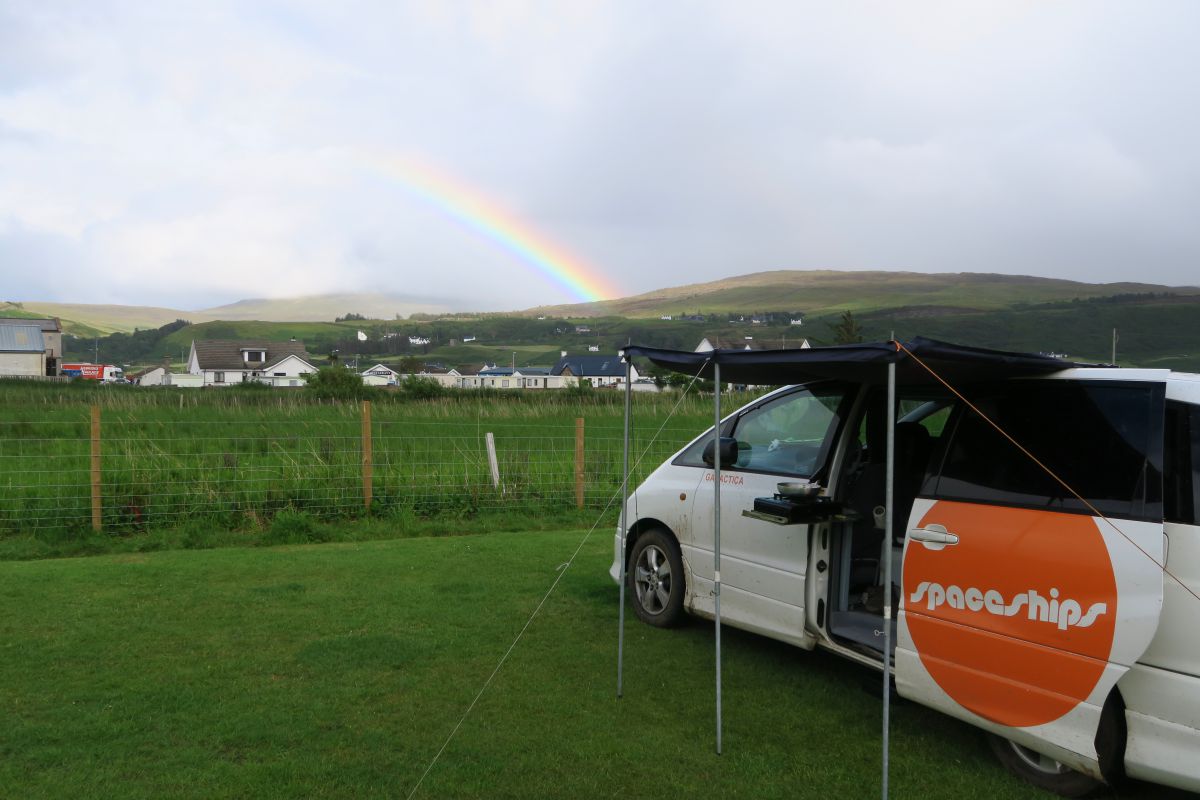 It's inexpensive
Renting a camper van is relatively cheap. As we don't have our own car, we normally need to rent one if we are going on holiday. A camper van is like a hotel room and car at the same time.
It's more comfortable than a tent
I love camping and sleeping in a tent. I go quite often for a weekend, when the weather is nice. However it could be exhausting and time consuming to pitch up a tent every single night at a new location. Not to mention it often rains especially in the UK and things would take a long time to actually dry properly. A van is also warmer, gives the possibility to charge my phone while I'm asleep and it's more spacious.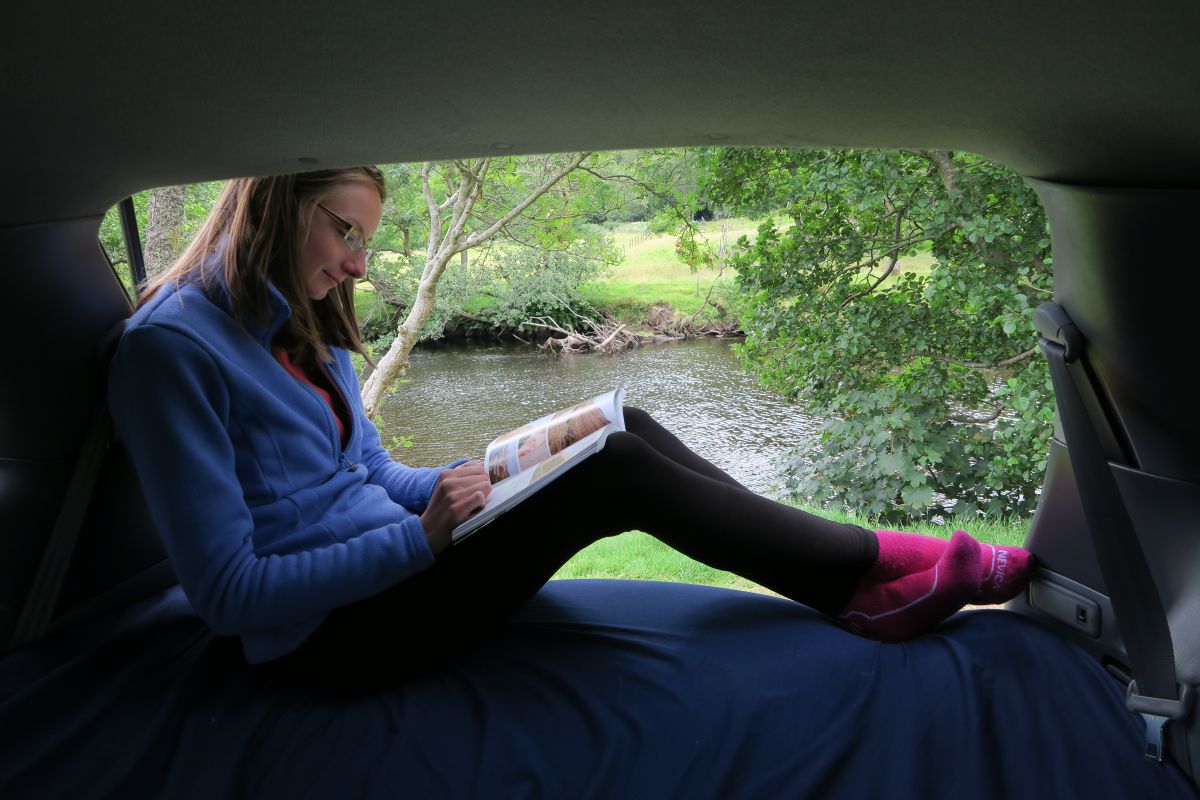 We are close to nature
Travelling with a van is a unique experience. We were constantly close to nature. We could see and hear beautiful wildlife. I loved drinking my coffee and eating my porridge in the mornings overlooking mountains and rivers, while listening to the birds. It was so relaxing and peaceful.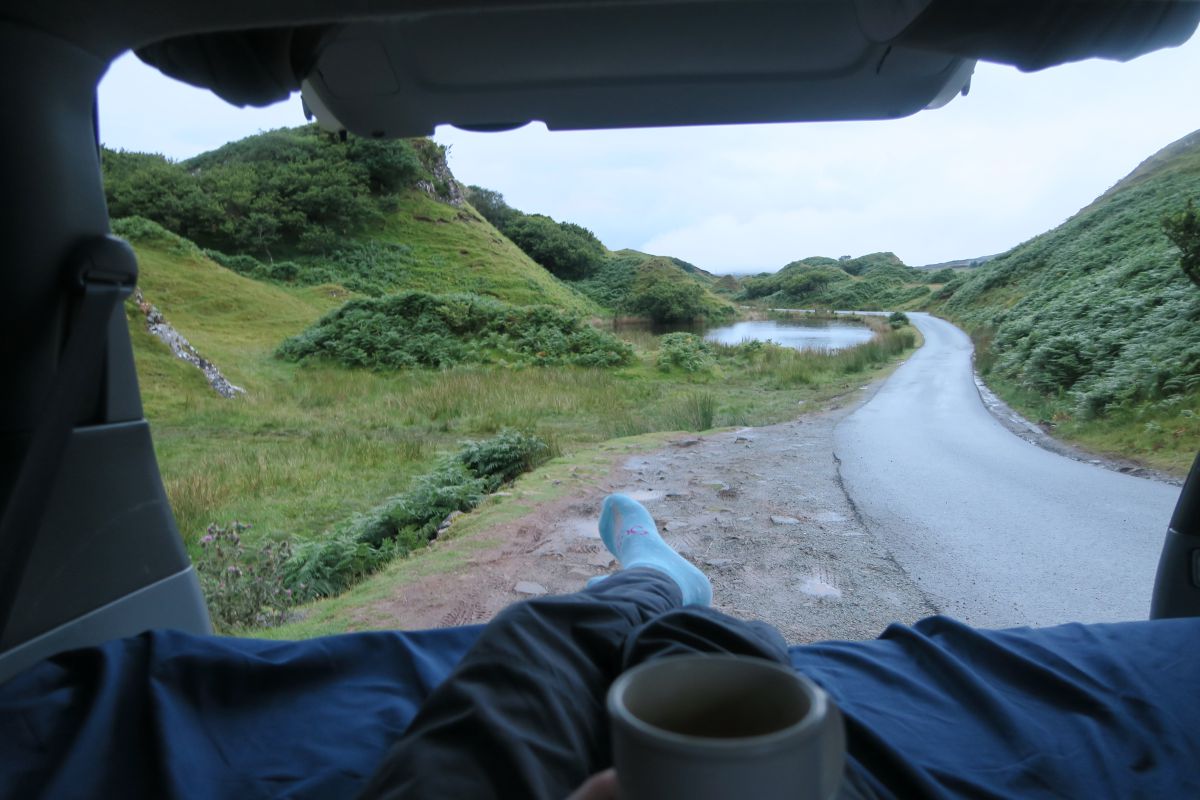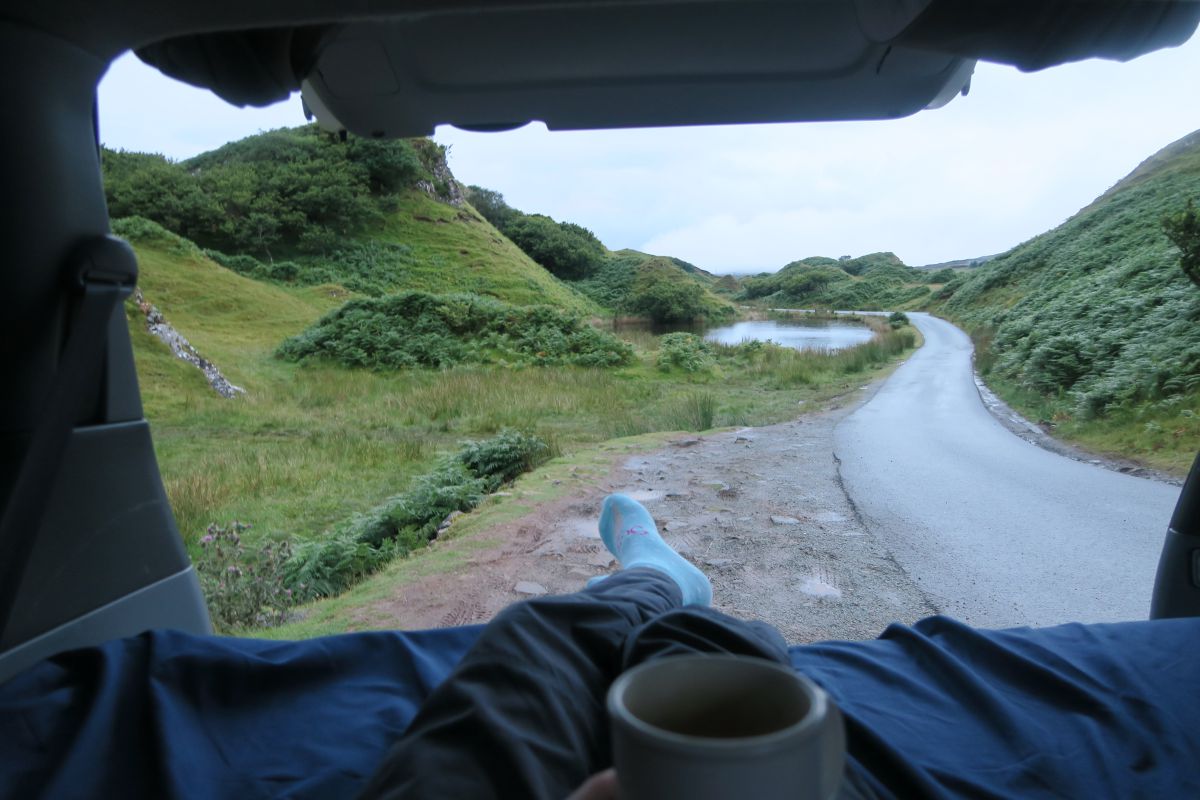 Kitchen and adventure kit with us all the time
Our van was our bedroom and kitchen at the same time. We had everything we needed with us in the van all the time. All our clothing items, cooking and adventure kit. You can carry bikes or kayaks/canoe with you as well and if you see a good spot to launch off you go on your water adventure. If you are hungry and there aren't any restaurants and shops nearby you can just stop by the road and cook something on your stove. Let's assume you just found a great spot for a swim by the road. As everything you have is on you, you can easily just put your swimming costume on and cool yourself down.
Spaceships is a great company to rent from
They offer 24-hour roadside assistance and unlimited mileage. Their London depot is easy to reach. It's really close to Heathrow Airport and Hayes & Harlington train station if you are coming from the city centre. The depot has a big supermarket close by, so you can stock up on food before your big adventure and there is also a petrol station, so you can fill up before returning the vehicle. They are open 7 days a week, so you can pick up and drop off your vehicle any day.
During our 16 day rental period our van didn't start on one occasion when we got back into it after a hike at Neist Point. We called the number Spaceships provided and a friendly man explained to us what to do through the phone. The issue got sorted in less than 5 minutes.
The car comes with UK and European insurance (Excess of £1500) You have the chance getting an all-inclusive insurance, which would make your holiday worry-free.
Why did we choose to stay at camp sites?
We chose to stay at camp sites during our holiday even though wild camping is legal in Scotland. We enjoyed the facilities of camp sites, such as toilets, showers, dishwashing areas. Many of the camp sites have washing machines and dryers. Unlike hotel rooms, camp sites don't normally need to be booked ahead. There is normally lots of space (weekends are exceptions), so we could just show up without planning much ahead. Campsites cost around £20 per night on average for the campervan and two adult, without electricity.
For finding camp sites I suggest WikiCamps app. They also list many free, wild camping spots as well.
Wild camping also have its own advantages. It is free and you probably have more privacy. However if you choose to wild camp you should follow the rules as to arrive late and leave early. Leave nothing but footprints!
At some places like Loch Lomond you need a permit to do wild camping. You can get one HERE. It cost £3 per tent or motorhome/campervan per night.
This was our second time travelling by a small camper van and we were very happy with our experience. We think it's a great way to explore new countries. We would love to buy a campervan or DIY campervan.
This is a sponsored post, but as always all opinion are my own!
Did you like this post? Why not PIN it?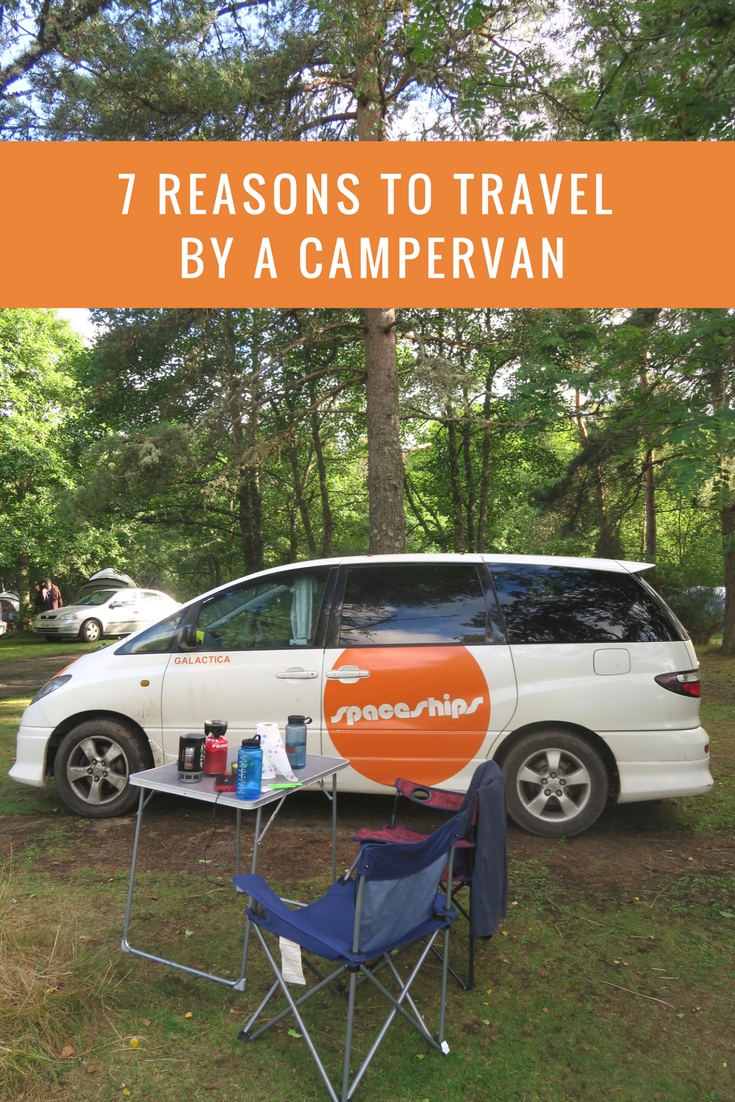 Enikő
Hey, I'm Enikő! I'm currently an au pair and I want to share my experiences with you. I've travelled a lot in the past years. I'm gonna teach you how to settle in to a new country and get free accommodation anywhere in the world. Circle Enikő on Google+!