Scotland road trip – must see on the Isle of Skye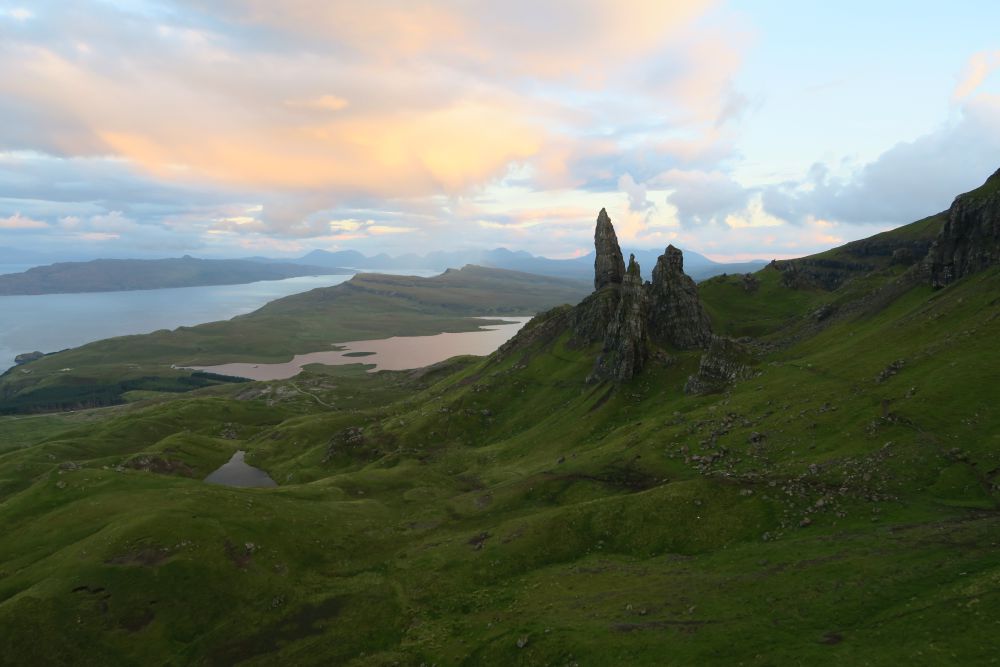 During our 16 days road trip through Scotland my favourite part was the Isle of Skye. There are so many cool and unique places on this island. The weather wasn't always great which is expected in Scotland, so you must be prepared for rain. It is possible to enjoy a hike even if it is wet, but it requires waterproof boots, trousers, coat and a map holder! Very often these showers only last about 15 minutes, so don't let rain deterrent you if you are on a hike, as the sun might come and say hi in a bit.
If you are planning hiking in Scotland I highly recommend the walkinghighlands website. It has all the information you would need to plan a hike!
Old Man of Storr
This almost seems like a must see for everyone in Scotland. We wanted to make our visit to the Storr special and visit it either at sunrise or sunset. Most days we didn't get any sort of sunset, as it was too cloudy, but one day the forecast was on our side. We predicted sunset to be at 9:30 in beginning of August. We arrived to the parking lot shortly after 8 and we hiked up in about 45 minutes without stopping. We met a few people who were coming down and saw a tent on the way up, but there was no one on the top. We had it all to ourselves. It was so peaceful. Only sound we heard were sheep and birds. The weather was gorgeous, not a raindrop and we did get some orange sky as well. I was surprised and also grateful, that no one else had the same idea to come and visit this place at sunset. We even saw the moon make an appearance and it shone beautifully on our way down.
Allow 1,5-2 hours to do this 4.5km hike.
Parking: There is a small car park on the left side of the A855 heading from Portree. It gets full pretty quickly during the summer months and then people park at the verge of the road, which causes great issue on the island. This place gets really busy, so I suggest either arrive really early or late evening!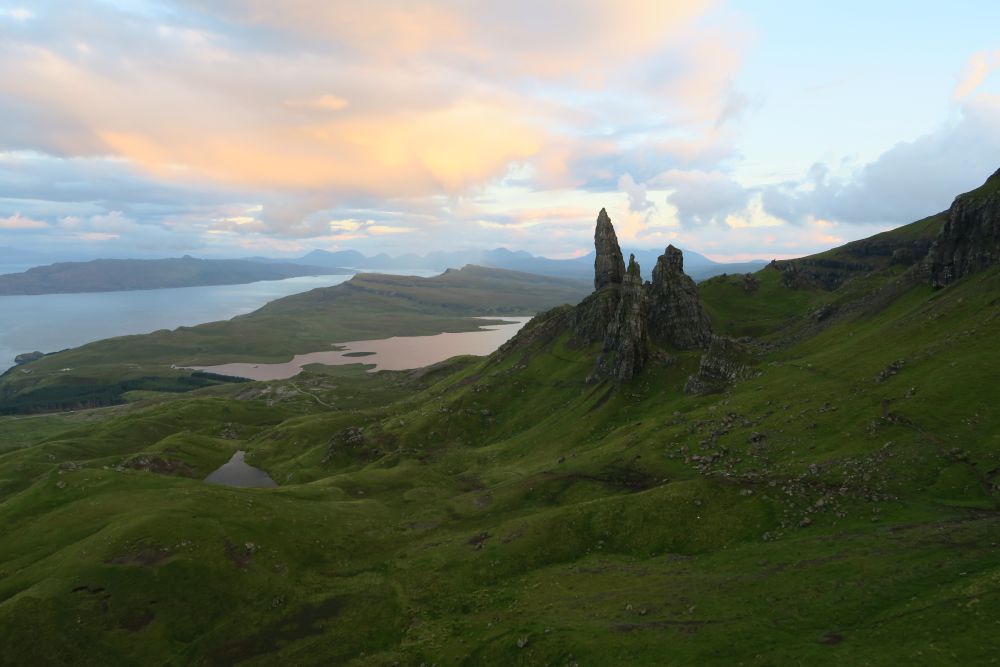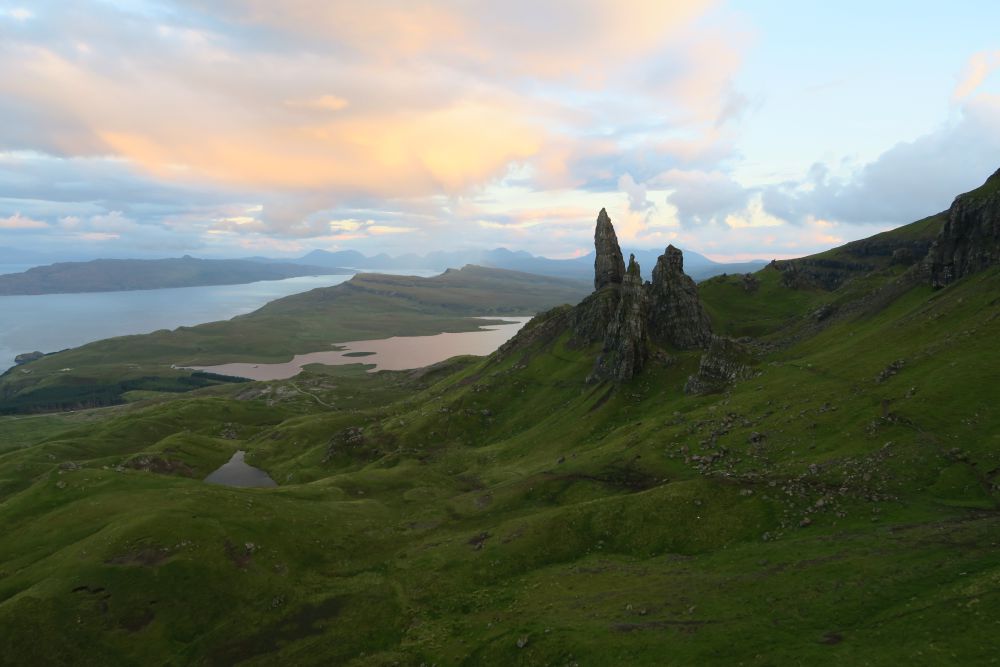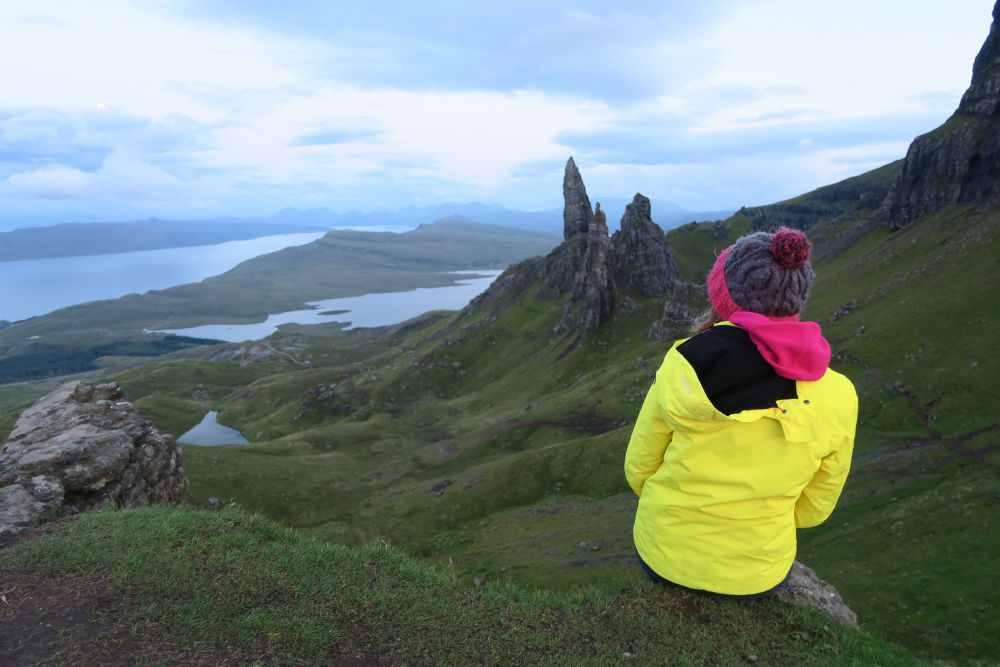 Fairy Glen
This is a truly unique place. I really enjoyed the atmosphere of the whole area. We decided to visit the place for a sunset, to get some nice pictures, get easy parking and avoid the crowd. Unfortunately there wasn't much of a sunset due to all the clouds, but at least it was dry and there weren't many people around. We managed to get the whole place to ourselves for a while. Well apart from all the sheep. There isn't a marked path you should take. This area is there to explore, so enjoy!
Parking: There is no official parking. Best thing to do is either park in Uig and walk up or there is a cattle grid halfway up with some space to park.
Allow about an hour to explore the area.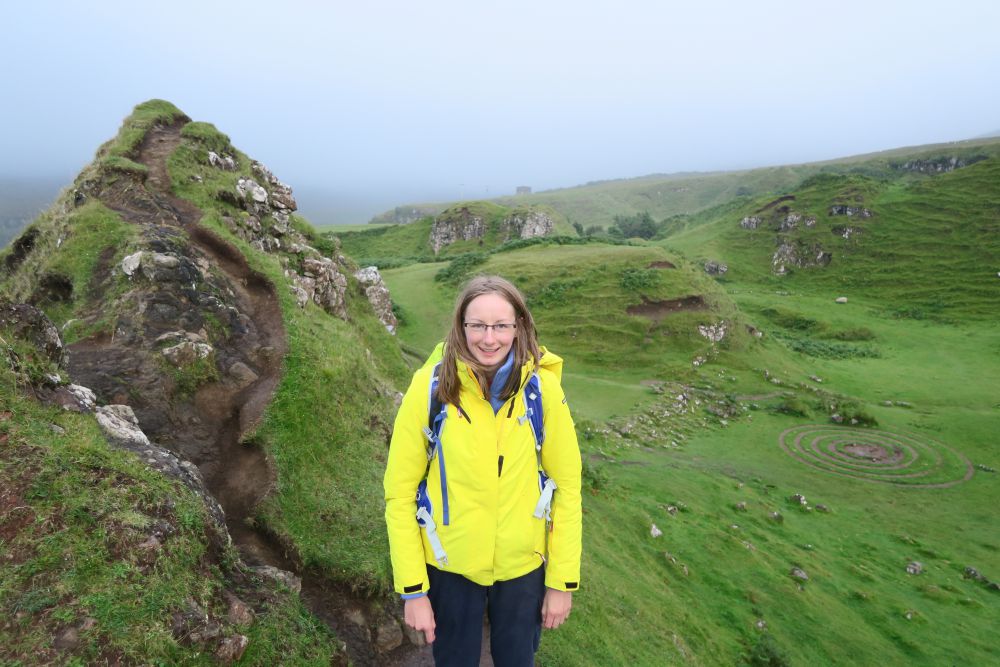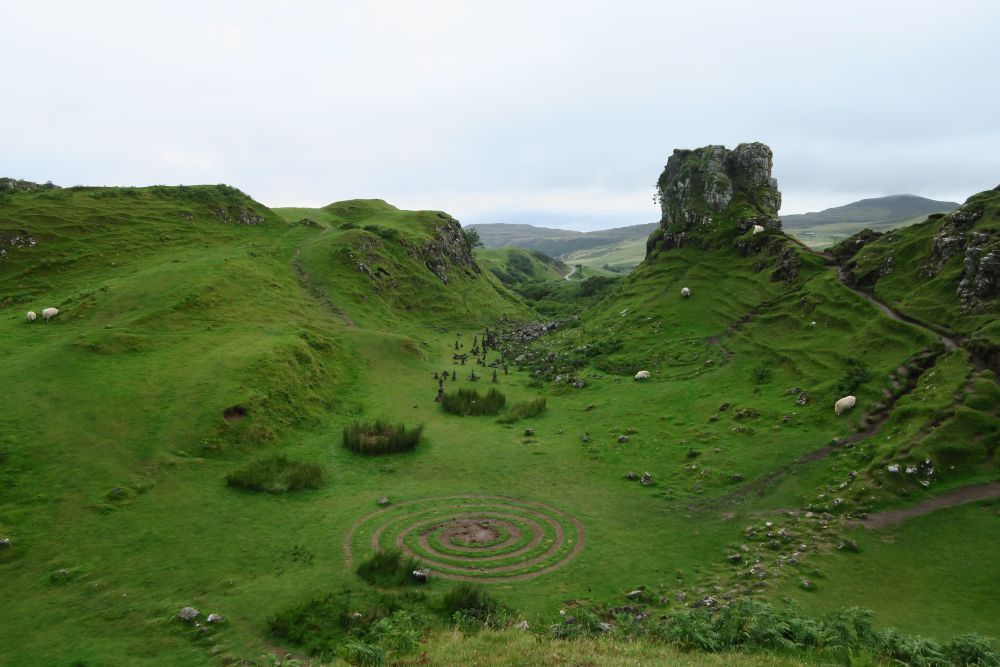 Brother's Point (Rubha nam Brathairean)
I highly recommend exploring Brother's Point. It is the easternmost point of Trotternish. It is a nice, short hike and not busy at all. We were the first in the small parking area at 11 am. To get to the path, cross the street and walk south approximately 100 meters. Look for the sign pointing to Rubha nam Brathairean. We only saw a couple while hiking to Brother's Point. We enjoyed the peace and quiet. Great area for bird lovers, we spotted lots of cormorants. The highlight of the walk for me wasn't so much reaching Brother's Point, but seeing Kilt Rock in the distance.
Parking: Lay-by on A855 at Culnacnoc – 40m north of The Glenview hotel. It is suitable for about 5 cars, but this place isn't normally busy.
Allow 1-2 hours to do this 3.5km hike.
Portree
Portree is a cute fishing town. It is the biggest on the island. You can find supermarkets, restaurants, outdoor shops and a post office here, so it's a good place to stop if you need to stock up on anything. The harbor with its colorful houses makes a cute picture and a nice place for a stroll.
Parking: Lot of parking opportunities in the town centre.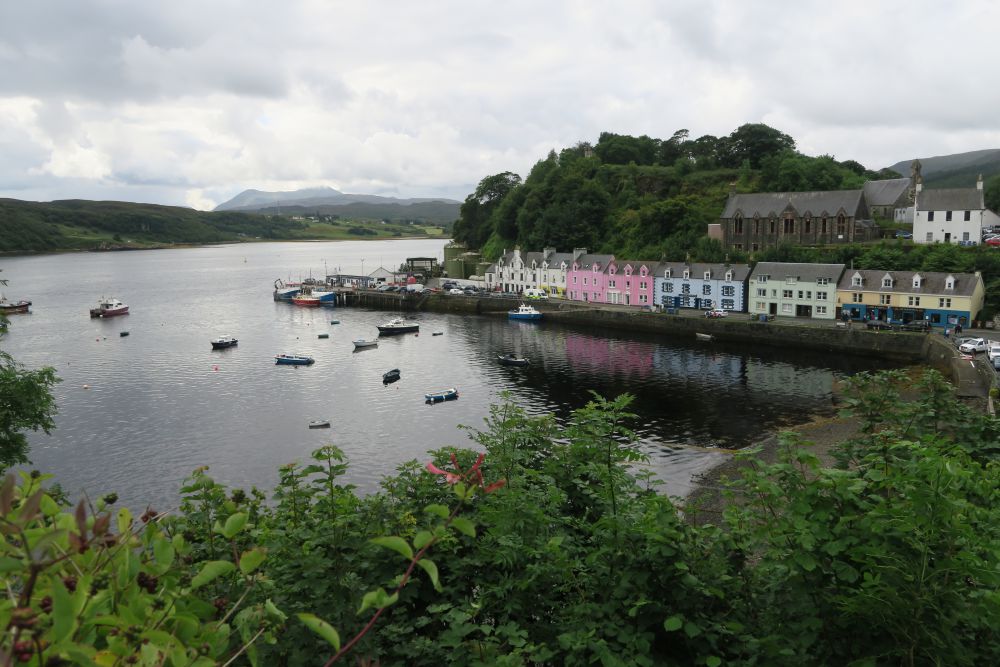 Kilt Rock and Mealt Waterfall
There is a viewpoint at Kilt Rock. It was just a quick stop for us. In my opinion the viewpoint is too close to the waterfall to see it properly. I much preferred the view we got from Brother's Point. If you are in the area you should give it a quick photo stop, but I didn't find this place amazing.
Parking: There is a parking area, which gets busy, but people come and go, so you should be able to find a spot fairly quickly.
Allow about 15 minutes for your stay.
Neist Point
We had a lovely sunny day when we visited Neist Point. First we wandered along the cliffs opposite the lighthouse, to get some pictures of the whole headland. Then we made our way down to the headland. We got some lovely views towards Waterstein Head and the Hoe. If you feel brave and energetic you can walk up An t-Aigeach. Be careful at the cliff edge! You can get some nice shots of the lighthouse from the top. We walked all the way to the lighthouse until there was no more land. Apparently this is a good place to spot whales and dolphins, but we weren't lucky enough. After we had enough we walked back to the car, which was rather exhausting on the long staircase back up the hill.
Parking: The official parking area is really small, so I suggest arriving early to guarantee a spot!
Allow about 2 hours to explore the area!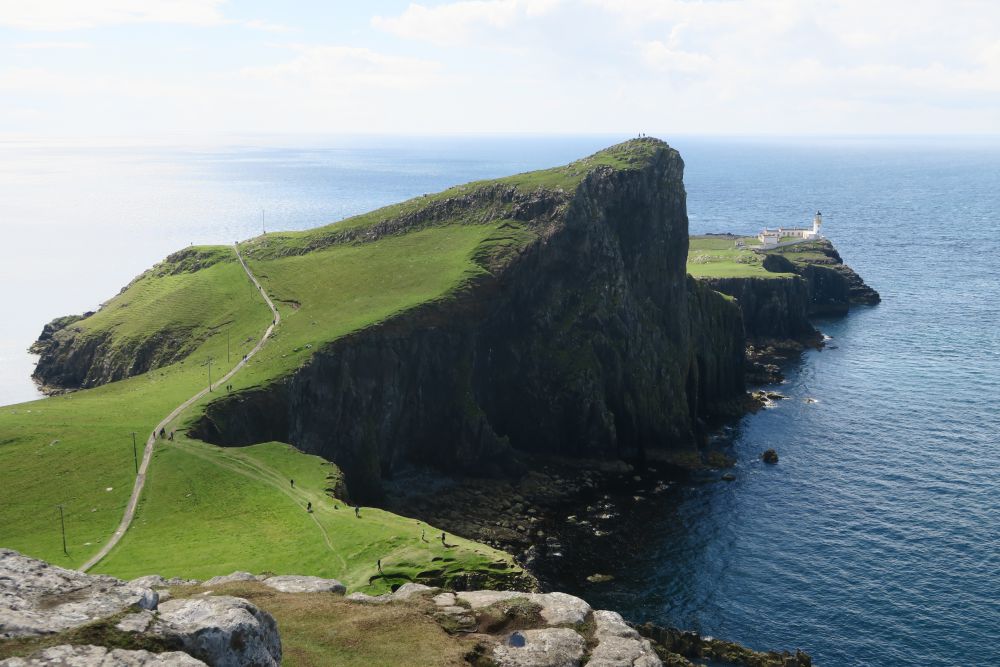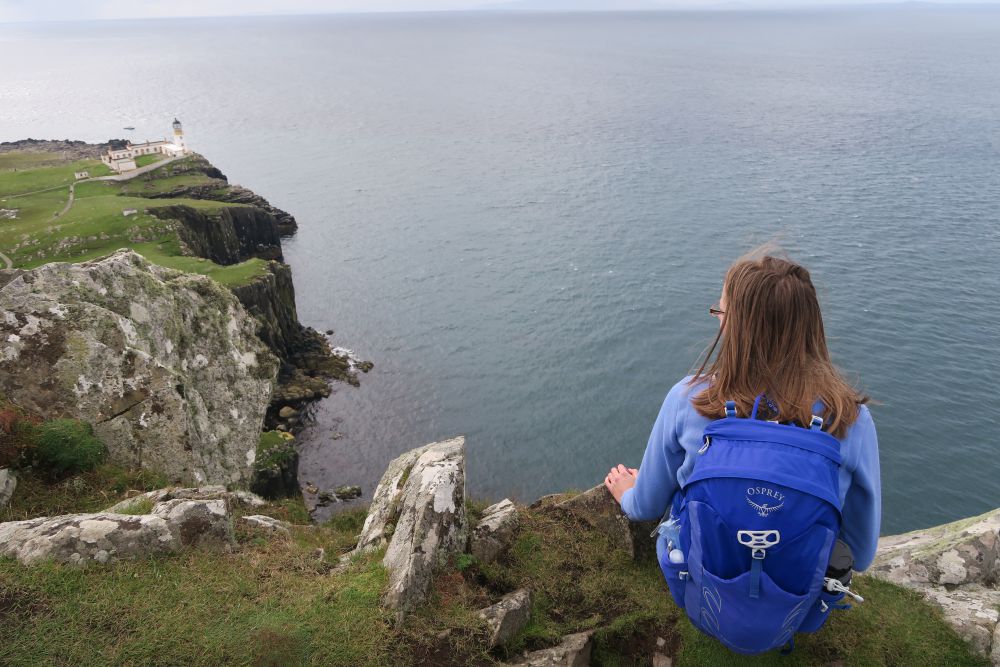 Fairy Pools
This is on many people's UK bucket list and I was looking forward to my visit, but unfortunately was a bit disappointed. We got to the parking area at 8:15 am. There were already a few hikers around, but it wasn't too busy just yet. We walked all the way to the sign which said there were no more fairy pools left. I was surprised to see this as I didn't recognize the place which I saw on most postcard which mentioned the Fairy Pools. We decided to go and explore a bit more beyond the sign. The path is relatively easy with only a few tricky bits crossing the water on rocks. On sunny days you could even go for a dip in one of the many pools. Our way back to the car we saw way more people. When we left at 11:00 am it was really busy on the path and parking area as well. It was great to explore the area, but I think most pictures on the Internet are a bit deceptive of the place. It is nice, but there are more special places on Skye in my opinion.
Parking: Small parking area and it gets busy during summer months forcing people to park on the verge of the road. This is not acceptable an causes great problem on the island.
Allow about 1,5-2 hours to explore the area.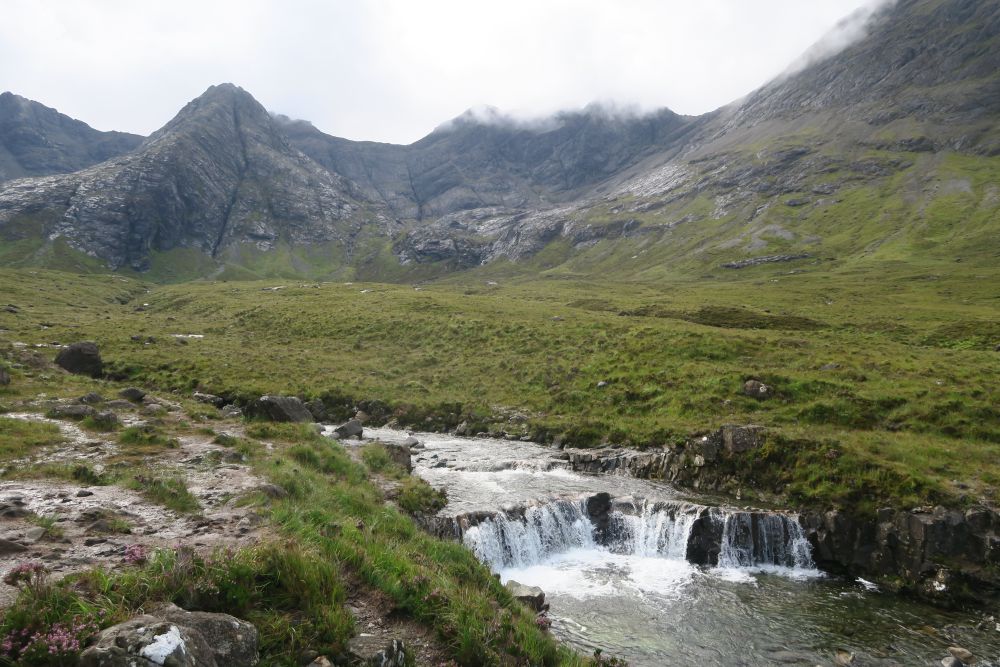 Parking issues on the island: Scotland and particularly the Isle of Skye has a big parking issue. The island became really popular in the recent years especially in the summer months. The island is unable to cater parking spaces for all the visitors. Lots of people park on the verge of the road. It destroys not only the verge but the road as well as it starts to break away. Parking on the verges also narrows the road and can block it so that locals can't get about, delivery vehicles and farm machinery cannot pass safely. Please be considarate when you park!
Where to stay?
We were road tripping Scotland in our Spaceships campervan and stayed at camp sites for the night. Having a campervan gave us lots of freedom. You can read about this more HERE. We spent 3 nights on the island. WikiCamps app was great for finding camp sites all over Scotland.
Torvaig Caravan and Campsite: Ideally located just north of Portree, close to the Old Man of Storr. My favourite camp site on the Isle of Skye. It had all the essentials: washing machine, dryer, washing up facilities, clean shower and toilet blocks. A huge bonus was the charging point at reception, where visitors could charge their phone, batteries, etc. The host of the place was very kind and helpful. Wifi cost £3.00 for 24 hours. The gate closes at 11 pm and opens at 7 am. This gave us plenty of time to get back after our sunset hike at the Old Man of Storr. We paid £20 for 2 adults and campervan and we got an allocated space on a hard stand.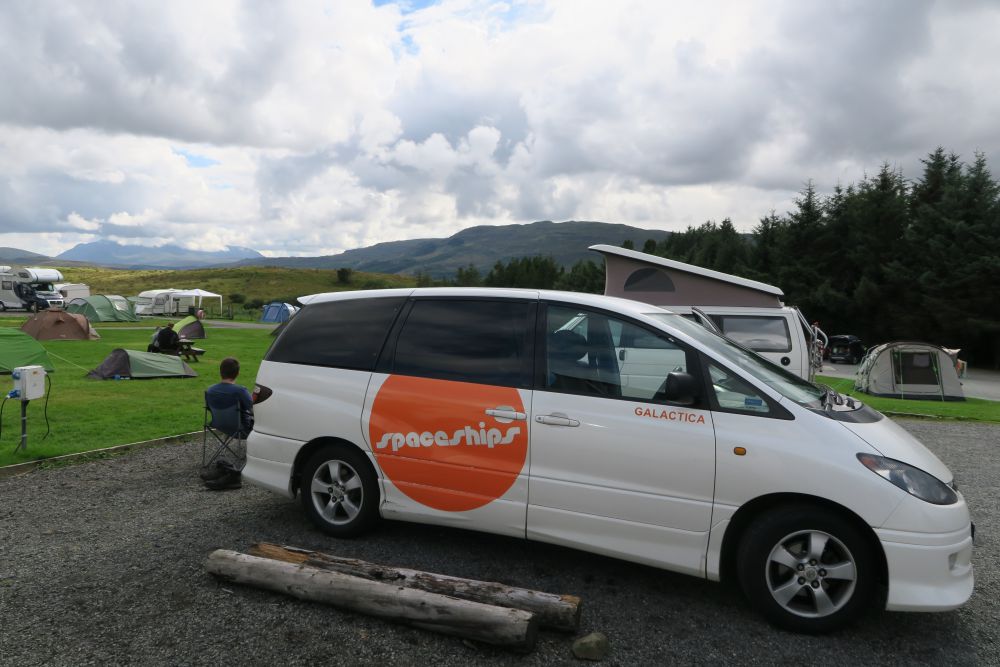 Uig Bay Campsite: This is a very basic camp site. You get what you pay for. The toilets and showers weren't very modern, but mostly clean. There are also washing up facilities and you can rent bikes as well. Wifi cost £5 for 24 hours. The camp site costs £7.50 per person, per night. We were told to just park on the grass, there wasn't an allocated space for us. So if we come and go we might not end up at the same space, as someone else might take the space in the meantime. There is no gate at this camp site, so we could just come and go whenever we liked.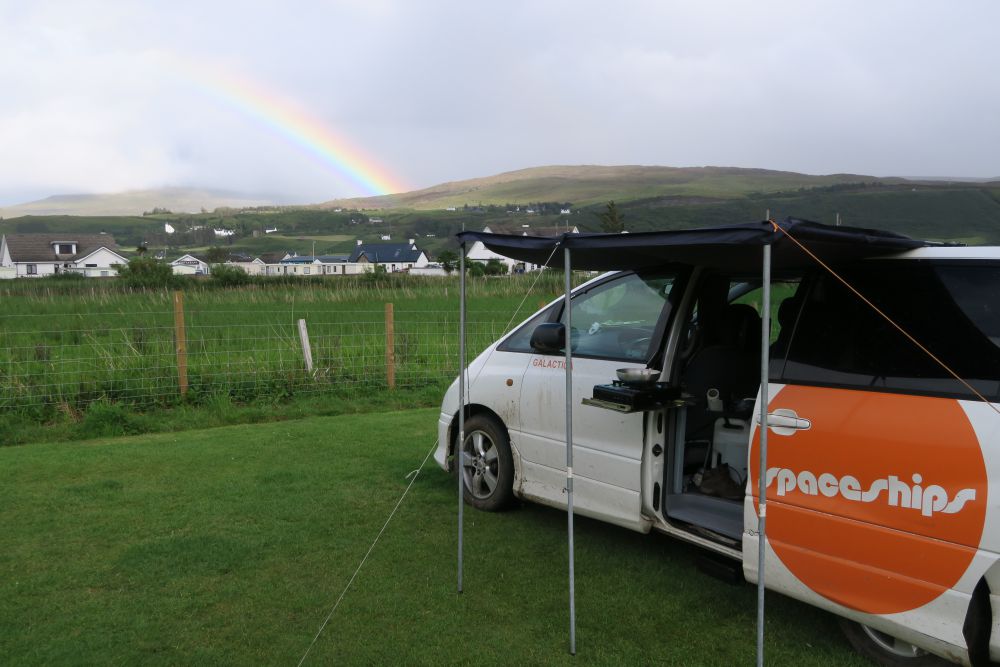 Glenbrittle Campsite: It has a lovely location right by the coast, so perfect for the water sport enthusiasts. We had a little kite flying session on the beach. The camp site is really big, plenty of space for everyone. My issue was that there was only one shower/toilet block and it was a long walk every time I needed the toilet. There are washing up facilities as well and a cafe/shop where they sell freshly baked bread. This camp site has no wifi and there is no mobile reception either! It is a great location if you want to visit the Fairy Pools. It costs £9 per person, per night. There are no allocated pithces, but at reception we could get an "occupied" sign. (£5 deposit) No gate at this camp site so we could come and go when we liked.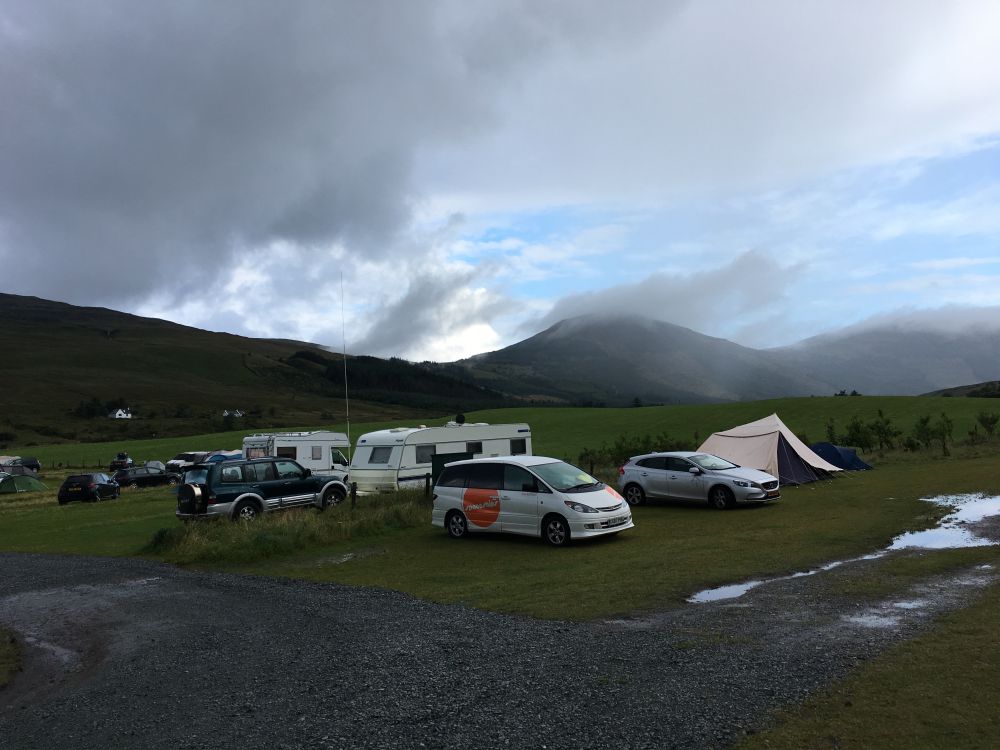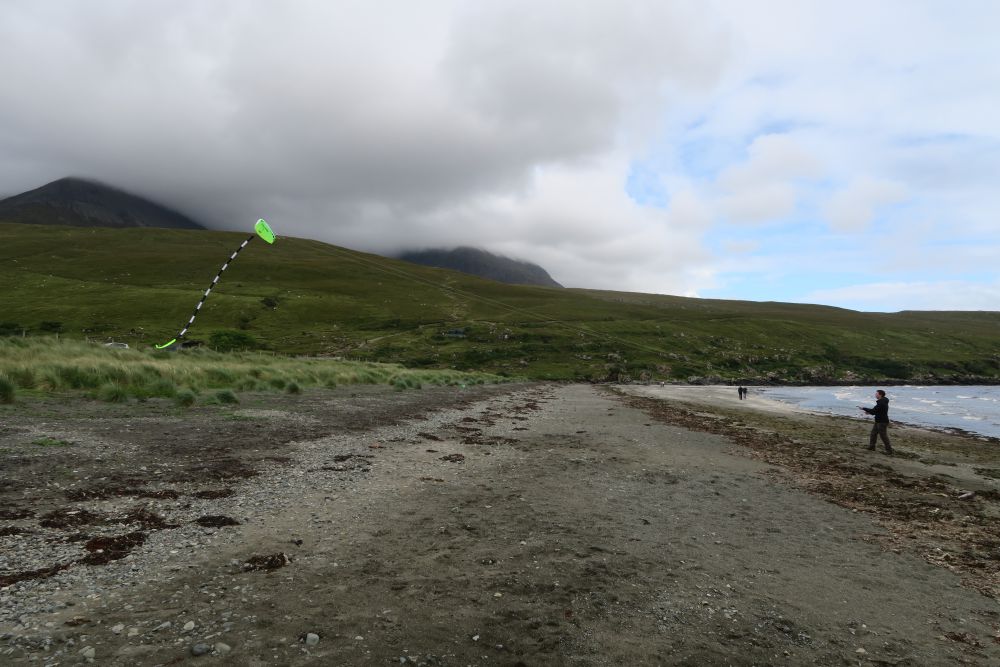 Did you like this post? Why not PIN it?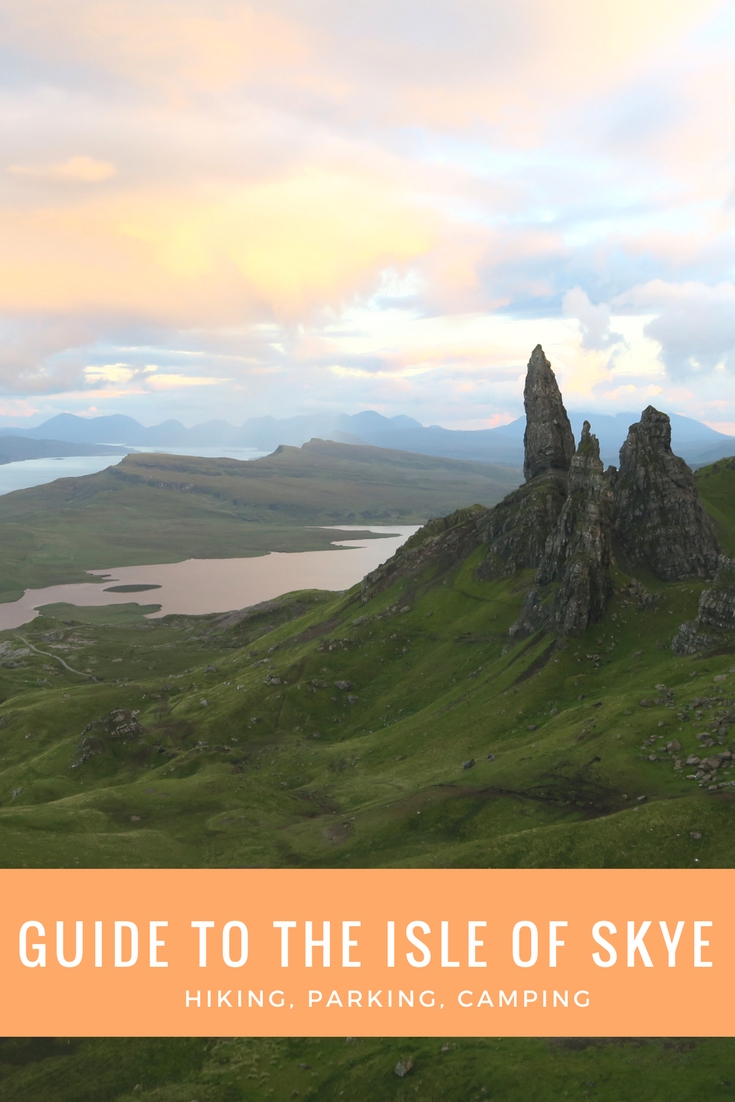 Read more about our Scotland roadtrip and why we decided to travel by a small campervan, and things to do in Loch Lomond and the Scottish Highlands.
Enikő
Hey, I'm Enikő! I'm currently an au pair and I want to share my experiences with you. I've travelled a lot in the past years. I'm gonna teach you how to settle in to a new country and get free accommodation anywhere in the world. Circle Enikő on Google+!