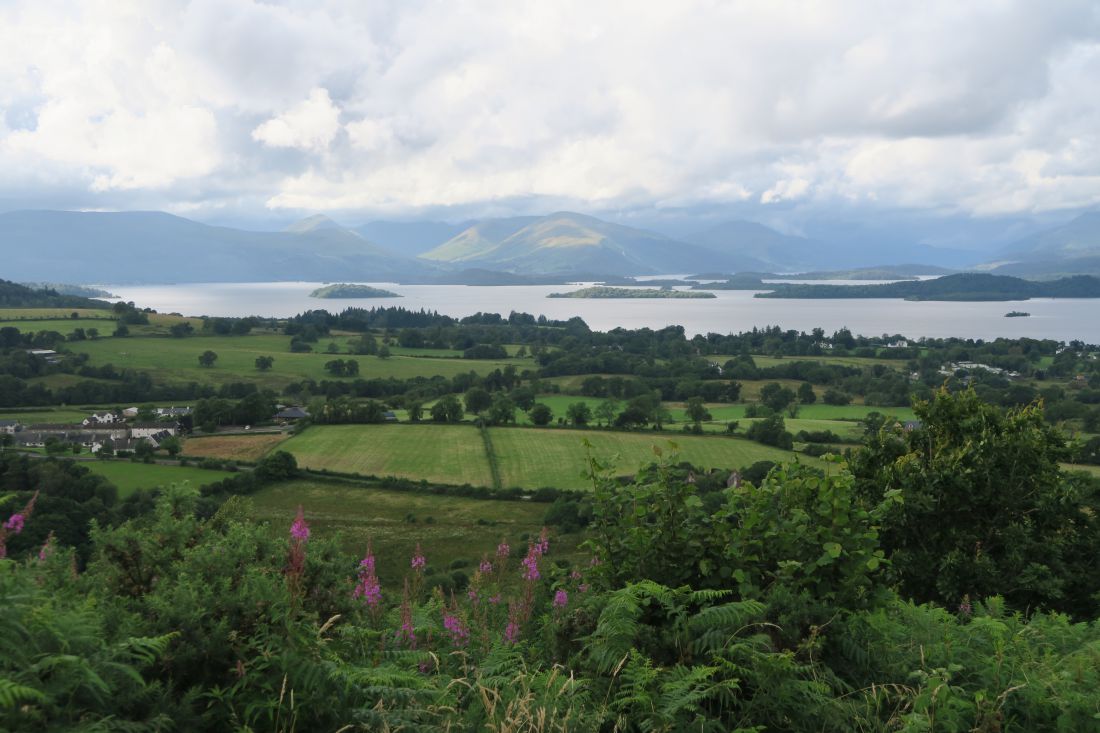 There are a lot of things to do in Loch Lomond & the Trossach National Park. It is a paradise for outdoor enthusiast like me. You can go camping, cycling, hiking, or you can try different watersports, like kayaking, jet skiing or canoeing.
Loch Lomond walks
You can enjoy many beautiful walks by the coast of the loch.
Duck Bay
At Duck Bay you can walk down to the shore. It is a great spot for jet skiing. There were many people showing off their skills when we were there. It is also a lovely area for a picnic. There are several tables and BBQ areas.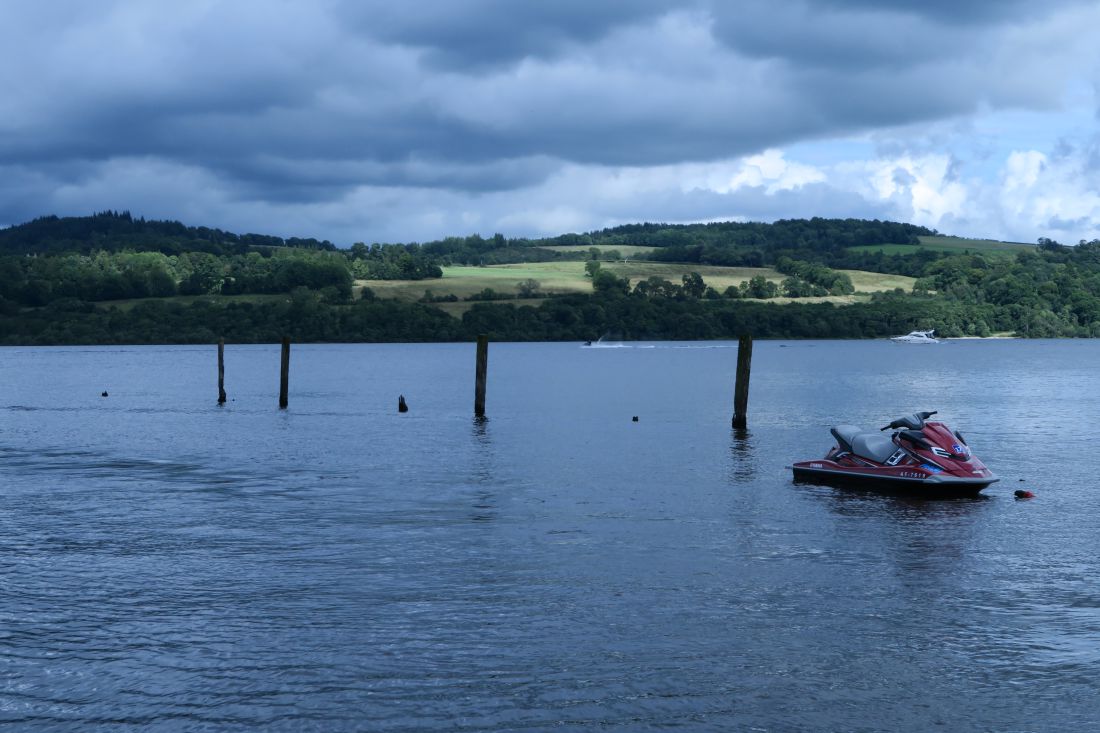 Duncryne hill
Probably the best Loch Lomond view with minimal effort. The locals call it The Dumpling, because of its shape. You can find parking in Gartocharn then walk up on Duncryne road until you find the entrance (probably around 0,5 mile) The entrance is very obvious, as it has a sign post. To walk up to the hill from the gate it takes about 15 minutes. For such a small hill, you get a very impressive view. We were lucky to get the whole hill to ourselves and enjoy the scenery. Lovely views to Loch Lomond and the islands.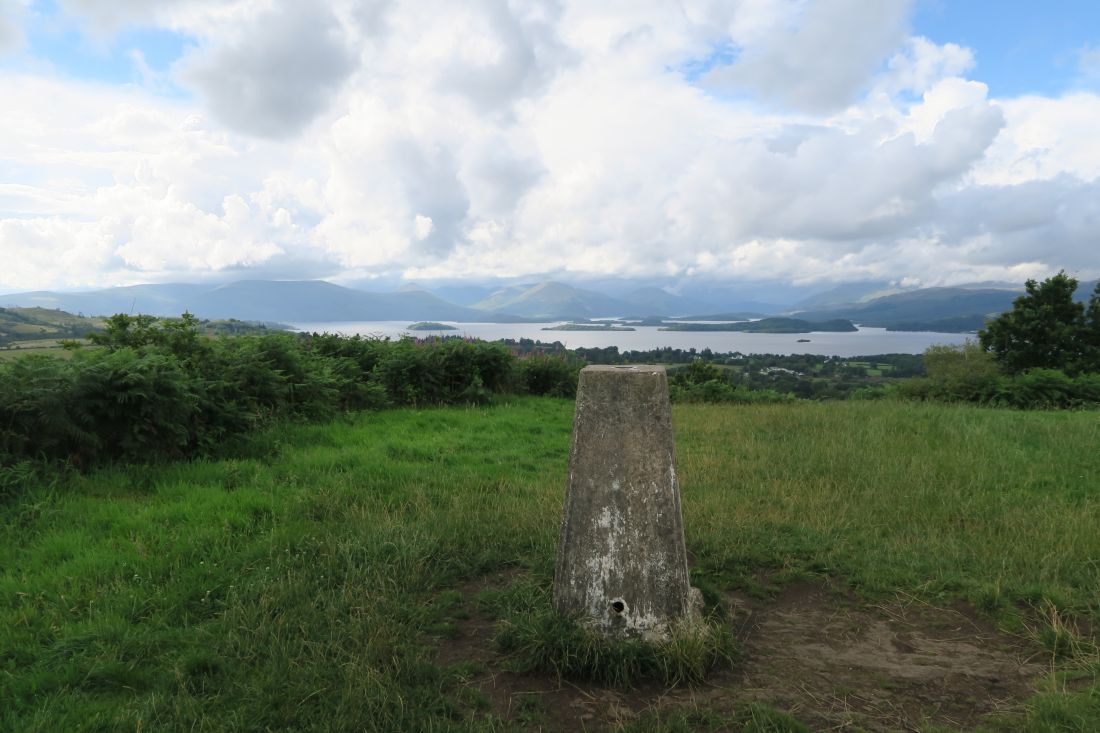 Balloch:
The town has great rail links, which makes it a popular destination and a great getaway. You can easily spend one day in Glasgow and then take the train to Balloch for a change of scenery. The town has a lot to offer for everyone. The adventure seekers can conquer the TreeZone, families can enjoy exploring the Loch Lomond Sea Life Aquarium, and wildlife enthusiast can visit Loch Lomond Bird of Prey Centre. The town has also some outdoor shops. I bought a light raincoat here, as my ski jacket proved too warm in this country. So be prepared, a light raincoat must be on your Scotland packing list! There are many restaurants and shops in town. Our favourite one was The Queen of the Loch pub where we enjoyed a lovely Sunday roast.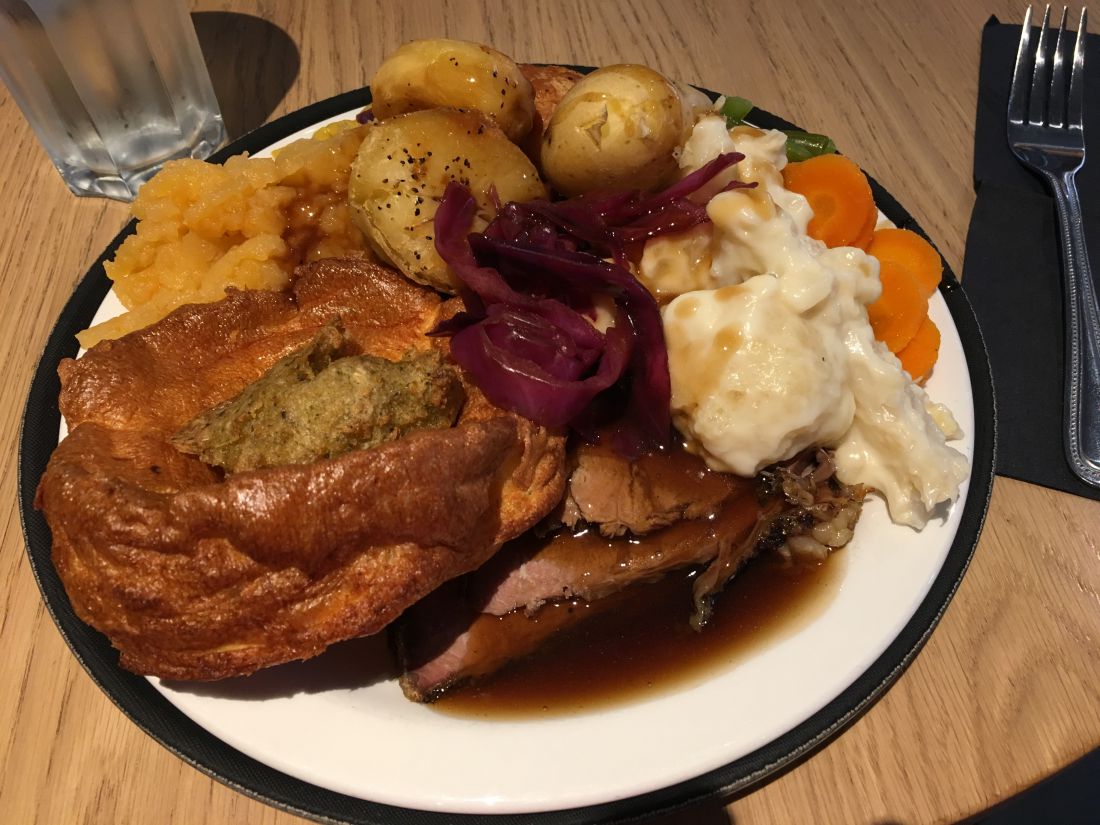 The Cobbler Arrochar
After I saw a picture of someone standing on the Cobbler on Instagram I was determined to get a shot like that myself. Remember when I went to Norway just to stand on a rock 1000 m above the water? Standing on Kjeragbolten was a major bucket list item, and I was hoping to get a similar experience.
The hike: Park in Succoth car park, then cross the road. This is where the hike starts. At the beginning it is quite a boring zig zag through a forest, but after this it becomes more enjoyable. Unfortunately the day we did this hike the weather wasn't on our side. We conquered the mountain nevertheless. It was an exhausting hike, mostly in rain, but we didn't give up. I can't say we were rewarded with amazing views as it was mostly foggy. In this weather it would have made no sense for me to attempt to climb on Ben Arthur. Despite the poor weather I am still glad we finished the hike as it gives me a sense of achievement and I could have a peek what it would be like to climb up to Ben Arthur. Not going to lie it looks tricky and dangerous. Maybe one day I will return in better weather and get an epic shot on top of it.
On the way down the fog started to disappear and we managed to get some nice views in the end.
It is an 11km round trip which takes about 4 – 6 hours.
Luss
Luss is a great base if you want to do some water sport activities, such as, canoeing, sailing or kayaking. I also spotted some bike rental places.
Balloch
On our walk in Balloch we came across a canoe rental place and decided to go for it, since we enjoyed our last canoe trip on the Thames so much. Luckily at 11 am they had plenty of canoes available and they didn't require booking. For £18.00 we had the canoe for an hour. It was enough time to explore the area a bit. We had lovely views over Balloch Castle Country Park and the Maid of The Loch. You can also rent bikes, kayaks and segways at THIS company.
Loch Lomond Camping:
If you want to do wildcamping in the area you most obtain a Loch Lomond camping permit. They are very reasonably priced.
Firkin Point
This is one of the places you can do wild camping with your permit. We visited briefly this place and saw a few tents. I am sure they all get some instagram worthy pictures from their tent. You can find public toilets and picnic tables as well, so it is quite a nice place for a night or two.
If you are looking for more and cleaner facilities I suggest one of the many campsites in the area.
Glenloin House campsite in Succoth
For £10 for two people with a campervan this was the cheapest campsites in Scotland we came across. We could choose our own pitch. The site has a cafe, which is the reception. We got a key to the toilet. As we wanted to leave super early the next morning for a hike I asked what to do with the key knowing reception would be closed. They suggested me a place to hide it and there was no issue. Toilets were clean, but there was only one shower which cost 1£. It looked ok, but I didn't use it myself. There are no dishwashing facilities, which is not ideal. No wifi or mobile reception. I think it's a nice place for a night, especially if you are planning to do the Cobbler as the start of the hike is within walking distance.
Lomond Woods Holiday Campsites in Balloch
This was the nicest and most expensive campsite we stayed at for £28. We had an allocated hard standing pitch. The campsite had really nice and clean showers and toilets. There were dishwashing facilities, washing machine, dryer and a game room. There's also a nice playground, which the children seemed to enjoy a lot. The campsite is ideally located to explore Balloch on foot. There is wifi and mobile reception also worked well.
Immervoulin Caravan and Camping in Strathyre
This campsite is located right next to a river, which makes a great setting. Ideal for fishing, canoeing and kayaking. For £20.50 it is reasonably priced. Toilets and showers were clean and there are dishwashing facilities. The reception to this place is also a shop, so you can stock up if you need anything. There is a gate to the campsite, so you need to be aware of that as they close it for the night.
No mobile reception on this campsite, but there is free wifi, which only works next to the shop.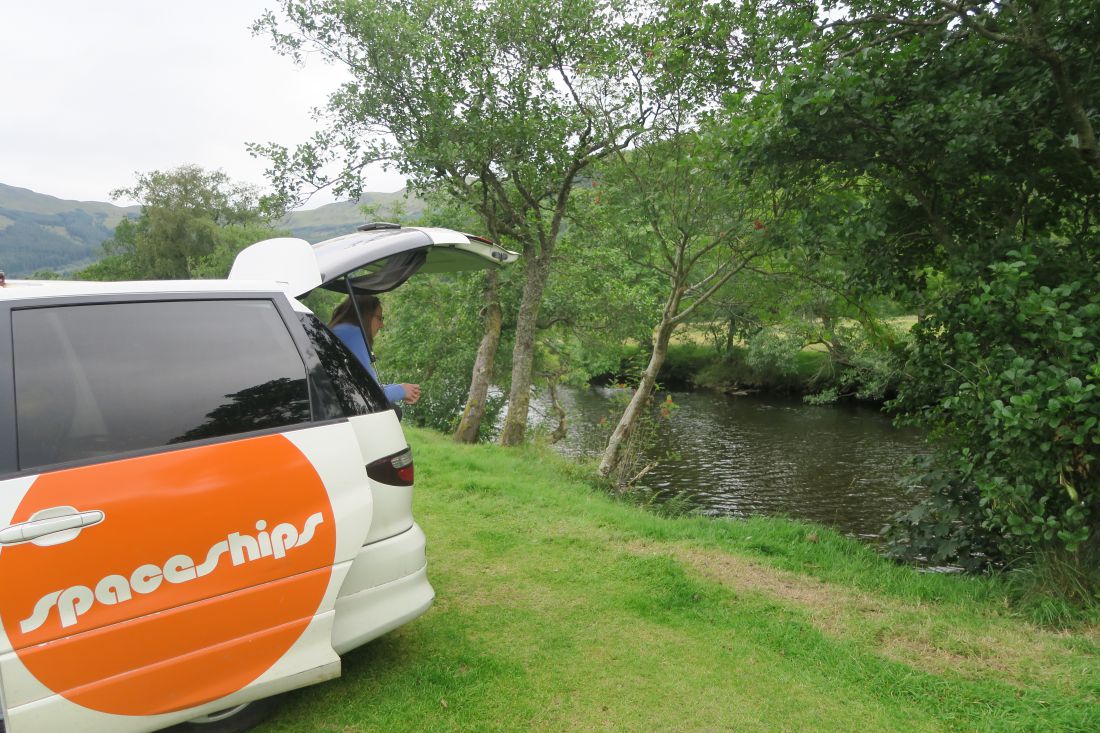 Did you like this post? Why not PIN it?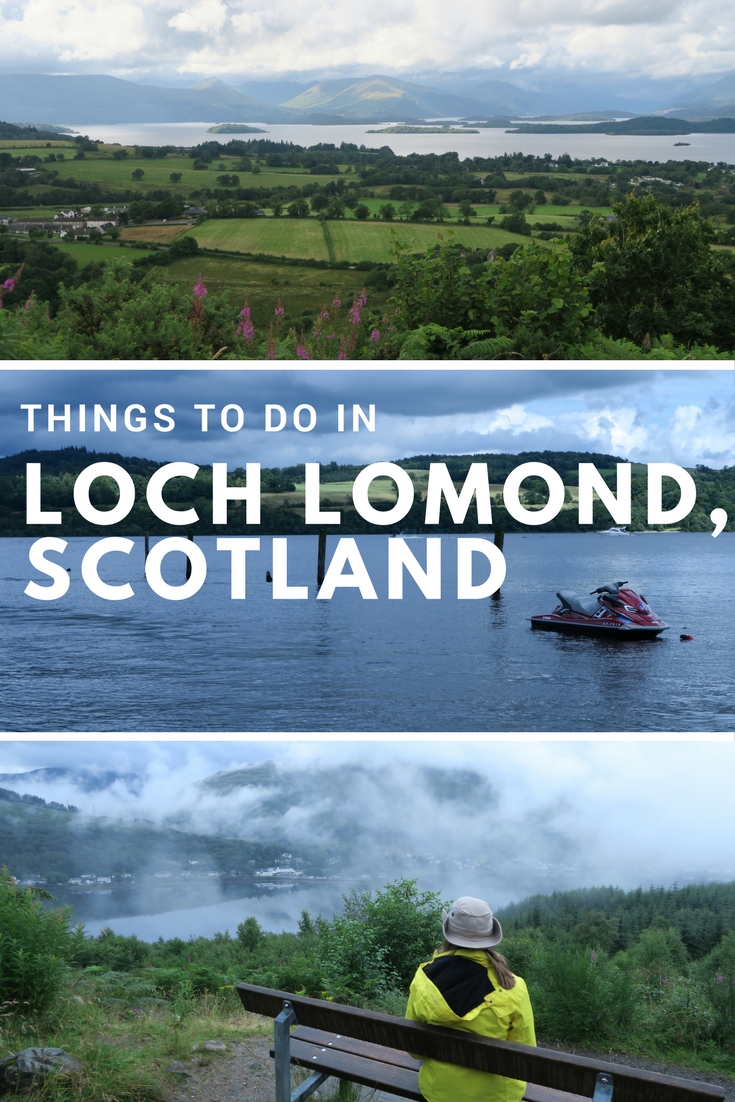 Read more about our Scotland roadtrip: why we decided to travel by a small campervan and a guide to the Isle of Skye and the Scottish Highlands.

Enikő
Hey, I'm Enikő! I'm currently an au pair and I want to share my experiences with you. I've travelled a lot in the past years. I'm gonna teach you how to settle in to a new country and get free accommodation anywhere in the world. Circle Enikő on Google+!