The Scottish Highlands is a huge area and there are many things you could do. We focused on exploring the Isle of Skye, Lochaber, Loch Ness & Glen Affric. Adventure Travel in Scotland is very popular, so if you like a little bit of adrenaline rush you will have lots of opportunities for that here!
Things to do in Glencoe
Glencoe is a very pictureous part of Scotland. No wonder it is the location of so many movies. Parts of James Bond Skyfall, Harry Potter and Highlander were shot in the area or you might recognise this place from the Outlander opening scene. Driving through Glencoe is an experience in itself. You have mountains, rivers and waterfalls on the side of the road. You will want to stop by the road many times to take pictures. Luckily there were quite a lot of areas to stop.
If you have some time in Glencoe I highly recommend going on a few walks, as that way you can truly immerse yourself in the beauty the area has to offer.
Glencoe Walks:
The Lost Valley: One of my favourite walks was The Lost Valley. It is considered as one of the best hikes in Europe. You will have a great view of the Three Sisters from the parking lot. The hiking trail is quite obvious apart from one section when you have to cross a stream. There were several other hikers around us who were just as confused as us. We missed the proper spot where we should have crossed it an ended up just crossing at a different place which was quite challenging. The walk is not too difficult, but it involves some scrambling. On your hike you will pass two waterfalls. This is a scenic hike to the Lost Valley. Clan Macdonald used the valley to hide cattle and other livestock. Later during the massacre of Glencoe, many of the Macdonald clansfolk fled here from the soldiers.
Despite the trail being quite popular we had the Valley to ourselves for a few minutes and enjoyed how peaceful it was. One day it could be nice to return and wild camp there. It is possible to continue the way to a waterfall which you could see from the valley. However the weather wasn't great and it wasn't really something that we planned on doing so we headed back. On the way back we found the proper place to cross the stream. It was quite tricky to cross stepping on the stones. Walking sticks would have probably made the crossing way easier! Some people took their boots off and walked across barefoot, which is probably a good way of doing it. It is a 5 km round trip hike which takes about 2-4 hours.
Parking: There is a big car park at NN170569. It fills up quickly, so I would suggest arriving early. There is also a smaller car park not too far down the road.
Glencoe Lochan: This is a lovely walk in the area, that you can do even if you are short on time or have kids or disabled in your party. There are 3 walks you can choose from. The lochside path is accessible to wheelchairs as well. We choose the Lochan trail as it seemed the most interesting to us and after walking the Lost Valley we just wanted something easy. We got great views towards Beinna Bheithir. It was a relaxing 30 minutes walk around the lochan. There were many picnic tables and BBQ areas along the way. You can combine different trails if you would like to explore some more.
Pap of Glencoe: Another hike you could do in the area is the Pap of Glencoe. We passed the start of this hike on our way to Glencoe Lochan. It is 7 km hike which should take 4-5 hours. We decided to do the Lost Valley hike instead, but judging by the pictures on a clear day you could get some great views from the top. You can read about this hike HERE.
Glencoe Camping
We were travelling through Scotland in our campervan and stayed at a different campsite each night. There are many campsites located in Glencoe.
Red Squirrel Campsite: It was one of my favourite campsites during our trip. The facilities weren't the best I admit, they were a bit old I suppose, but everything was clean. We had washing up facilities and there was a small hut, which was the wifi room. The reason I loved this campsite so much was the setting. We were surrounded by mountains and the River Coe ran just by the campsite as well. The brave can go for a morning dip here. The campsite is 22 acres, so there is lots of space for everyone. You can set up your tent or campervan wherever you like it. It is also a great place if you are camping with a hammock, as there are lots of trees you can use. You can spend the night at this really scenic location for £12.00 per night per adult. I got up early and had a lovely walk around the campsite enjoying the views and I even so some deer walking around.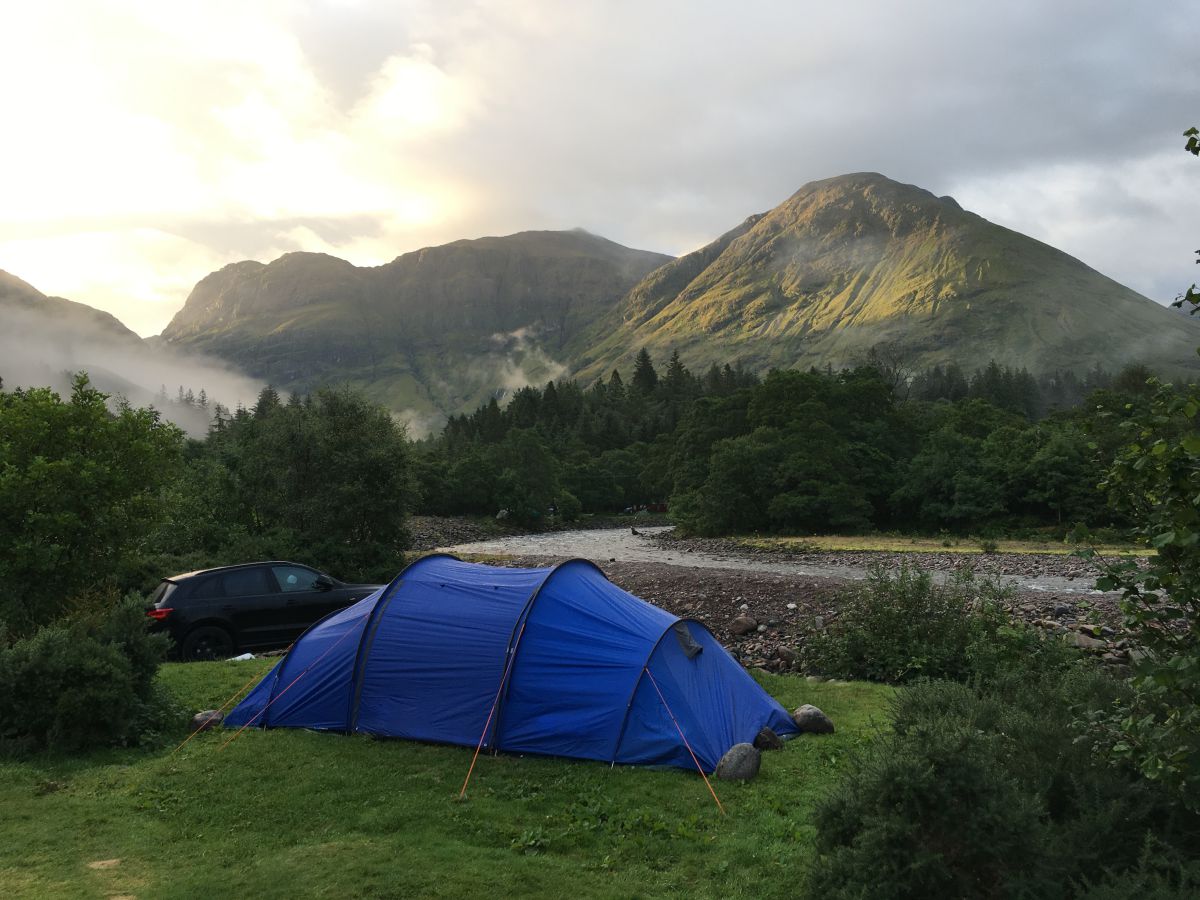 Other things to do in Lochaber
Fort William: It is the second biggest town in the Highlands. It is quite popular due to it being so close to Ben Nevis, Glencoe and Glenfinnan. It is a great place to stock up on food or buy outdoor equipment. My knees started to hurt during some of the hikes so i decided to buy some walking poles in Cotswold.
Climbing Ben Nevis: Ben Nevis is the highest mountain in Britain. Climbing it can take 7-9 hours. It is a tough hike and should only be climbed with proper preparation. You need to have the right gear (waterproofs, sturdy hiking boots, map, compass, food and water). In addition you need to check the weather forecast and only set off if the conditions are right. During our stay in the area the conditions for hiking Ben Nevis weren't great. We decided not to risk it and skip hiking it this time. You can read Kate's story about climbing Ben Nevis if you are interested.
Glenfinnan Viaduct: A must see for any Harry Potter fans. It is often referred to as the Harry Potter bridge, as it made an appearance in some of the Harry Potter movies. We wanted to see the Harry Potter train crossing the bridge to get the whole experience. The Jacobite train crosses the bridge every day at 10: 50 and 15:15. In order to get a good spot and parking space you will need to arrive early! There are two parking places close to each other. The main parking is at the National Trust Visitor Centre. A smaller car park is located really close just after crossing the bridge. When we arrived around 10:10 both parking were full. It took us a long time to find another parking place and it was quite a long way from the viewpoint. We had to rush to make it on time!
There are two viewpoints you could watch the train cross the bridge. We visited both places. The first one is just a quick 10-minute walk up the hill from the main parking lot. You get a nice view of the Viaduct and Glenfinnan Monument without too much effort. However I think the other viewpoint is better, but it involves more walking. The hike starts from a tarred track at the back of the smaller car park. You will soon see the Viaduct opposite you. You will walk under it as you follow the signpost for Station Museum and Sleeping car. The track will turn left and goes up a hill. Soon you will have a great view to the Viaduct. You can turn back anytime and return to your car or you can do a whole loop. This would give you a nice view to Loch Shiel and you would end up at the train station.
I would also suggest going for a short walk to the bank of Loch Shiel, where you can see the Glenfinnan Monument up close.
Camusdarach Beach: On the day we visited this beach it was rainy and windy, yet we found a crazy guy going for a swim in his wetsuit. We just had a quick kite flying session on the beach, then escaped back to the car as the rain got heavier. On a sunny day I am sure this area looks even more beautiful. There are some lovely secluded little islands and bays, which would be a lot of fun to explore in a kayak.
Eilean Donan Castle: Definitely a Scottish icon. It is possible to just stop at the parking area and take a few pictures of the castle from the outside without paying. We were really impressed by the look of the castle standing on its own island. Tickets to get in cost £7.50, which is very reasonable, but we were mostly just interested in the outside.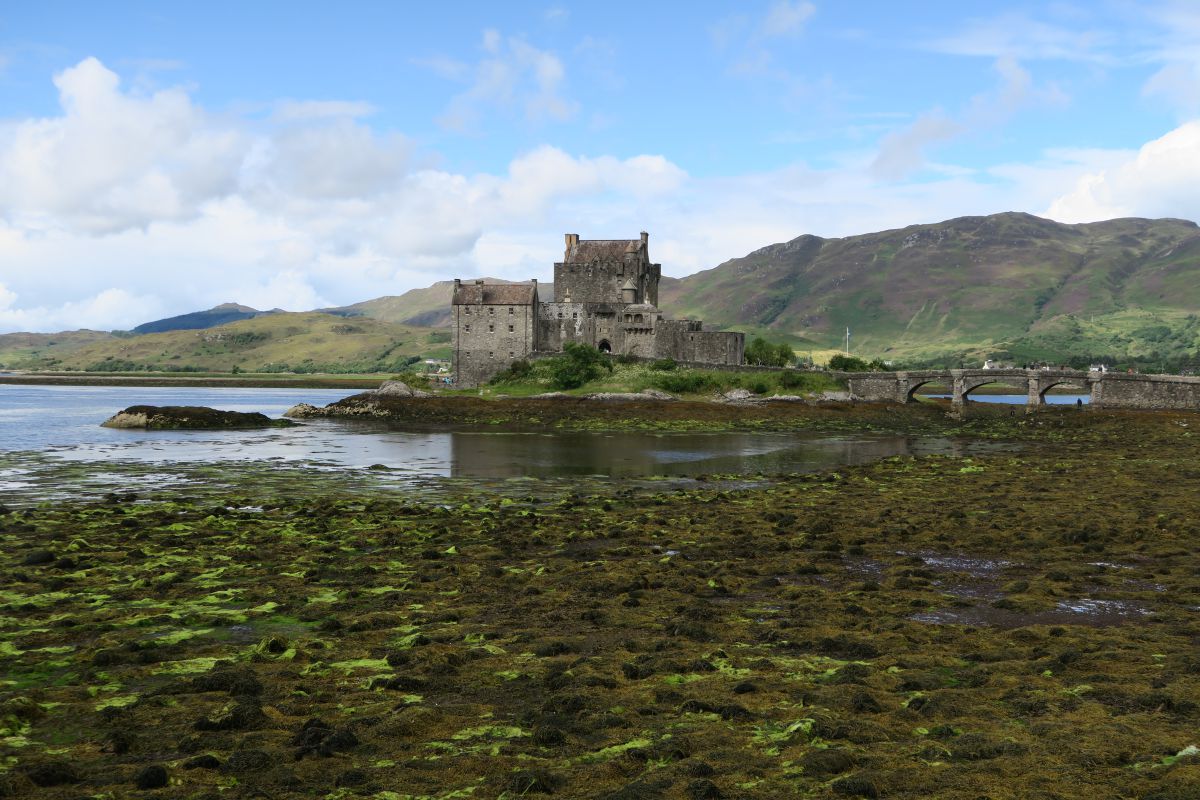 Camping in Fort William
Glen Nevis campsite: We stayed for 2 nights. It is a really big campsite with plenty of space for tents and campervans. We could choose our own hard stand pitch. The campsite has a shop, washing up facilities, washing machines and dryers. Wifi can be purchased for £5.00 per day. This campsite is ideal if you are planning to climb Ben Nevis as the Visitor Centre and start of the hike is a short walk away.
Things to do in Loch Ness & Glen Affric
Urquhart Castle: When we arrived early afternoon in August the parking area was full. We decided to spend the night in the nearby campsite and walk to the castle. We bought tickets on the spot. They cost £9.00 for adults and valid all day during opening hours.
It is a great place to get a glimpse of medieval life and the views of Loch Ness are beautiful. There is also a souvenir shop and cafe. The terrace has a lovely view over the loch and castle. You can also take a boat trip to the castle, although all the boats we saw were saw packed they didn't look very inviting.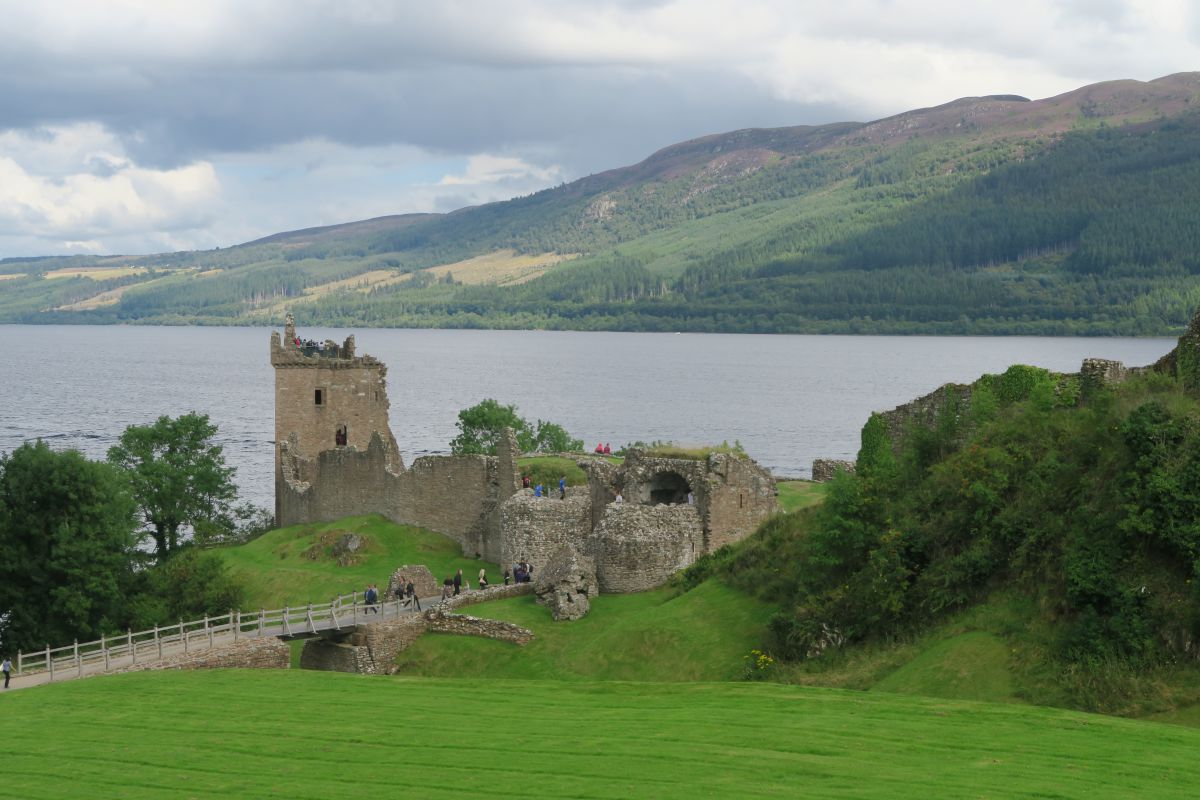 Dog Falls: We combined the Dog Falls and Viewpoint Trail. It was a 4 km hike which took us a bit over an hour. I enjoyed walking in pinewoods. I wasn't really impressed with this trail I even forgot to take a picture of the Dog Falls as we have come across way better falls even just by the roadside. From the viewpoint there is a nice view to Glen Affric, but it wasn't particularly memorable. I would suggest this hike to families and someone short on time in the area as it is an easy, well-marked trail.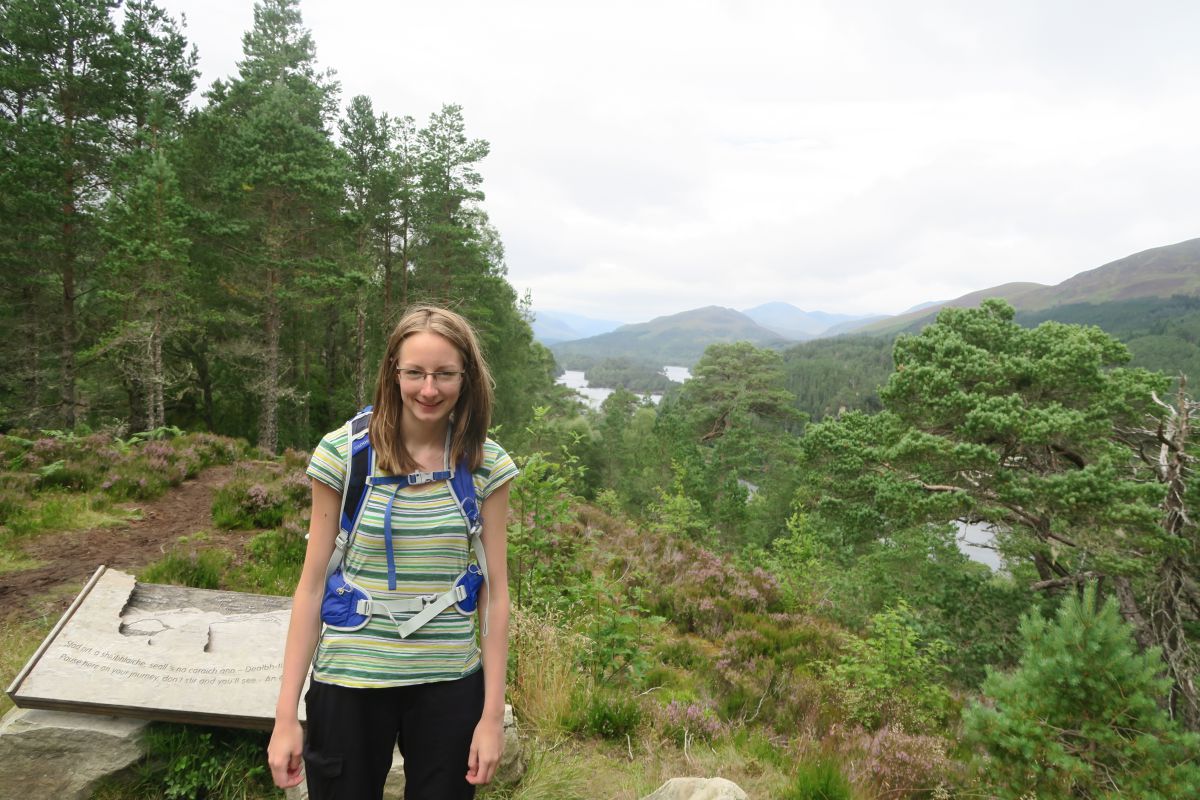 Wild Swimming in Scotland
Plodda Falls: This was another highlight of our Scotland road trip. I came across this hidden gem in the WILD Guide book series, which proved really useful during our holiday. In the book there was a girl skinny dipping in the pool opposite the falls and I wanted a similarly epic shot for my Instagram feed. I have tried wild swimming before in Austria and really enjoyed it. Scotland is notorious for its rainy and cold weather so I was expecting the water to be freezing. Luckily the day we visited the falls was a warm, sunny day and the water was more pleasant than I anticipated. We had to cross the stream in order to get a good viewpoint of the falls and access the pool. This would have been way easier if I had my walking poles on me. Going for a wild swim at Plodda Falls was great fun. The background was simply gorgeous. I will be honest though and say the water is not very inviting. You can't really see the bottom of it, which makes it quite intimidating for someone who is terrified of the thought of getting in touch with any sort of animal underneath. Hence I didn't take long splashing around, but it was a great experience nevertheless. The parking area is about 10 minutes walk from the falls, so you don't need to worry about getting changed or being wet and cold for long.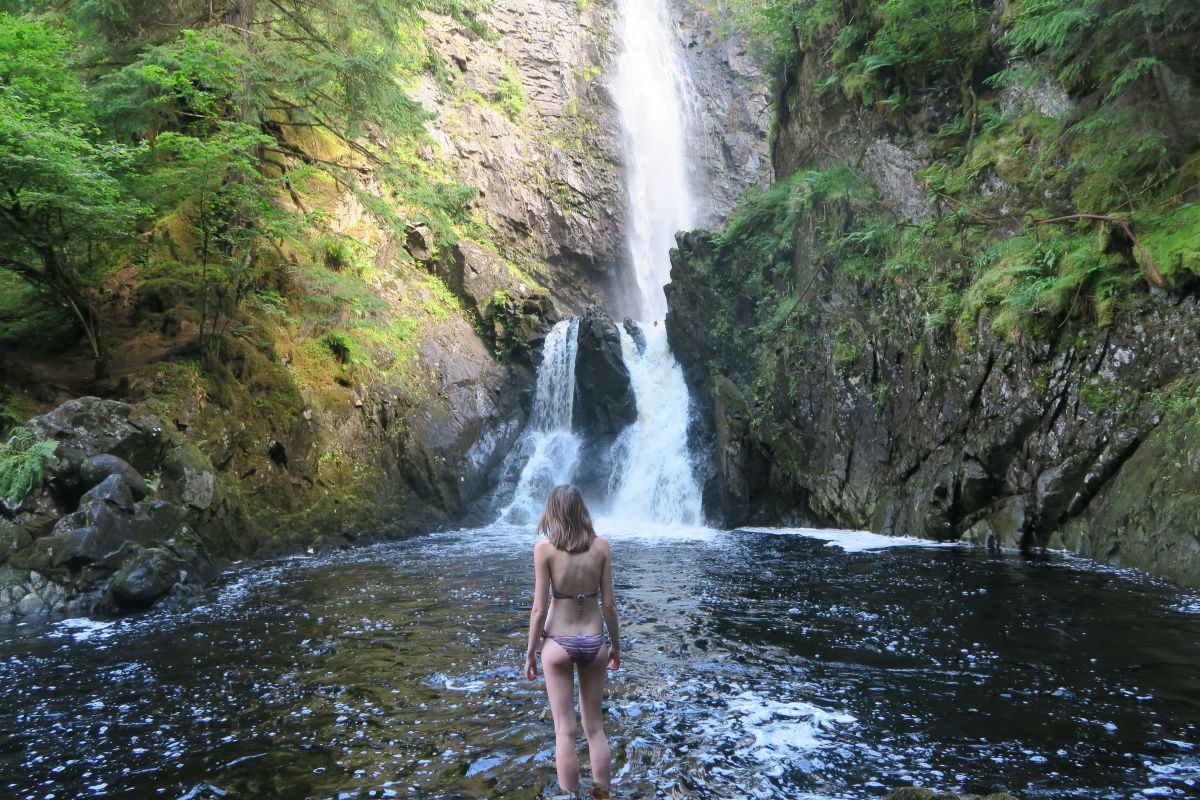 Camping Loch Ness & Glen Affric
Borlum Farm Caravan & Camping Park: This campsite is located within walking distance to Urquhart Castle. We could choose our own place on a designated grassy area. We paid £20.00 for the night. We were satisfied with the facilities. There is free wifi on site. Also great place if you are into horseriding, as it's right next to the Highland Riding Centre.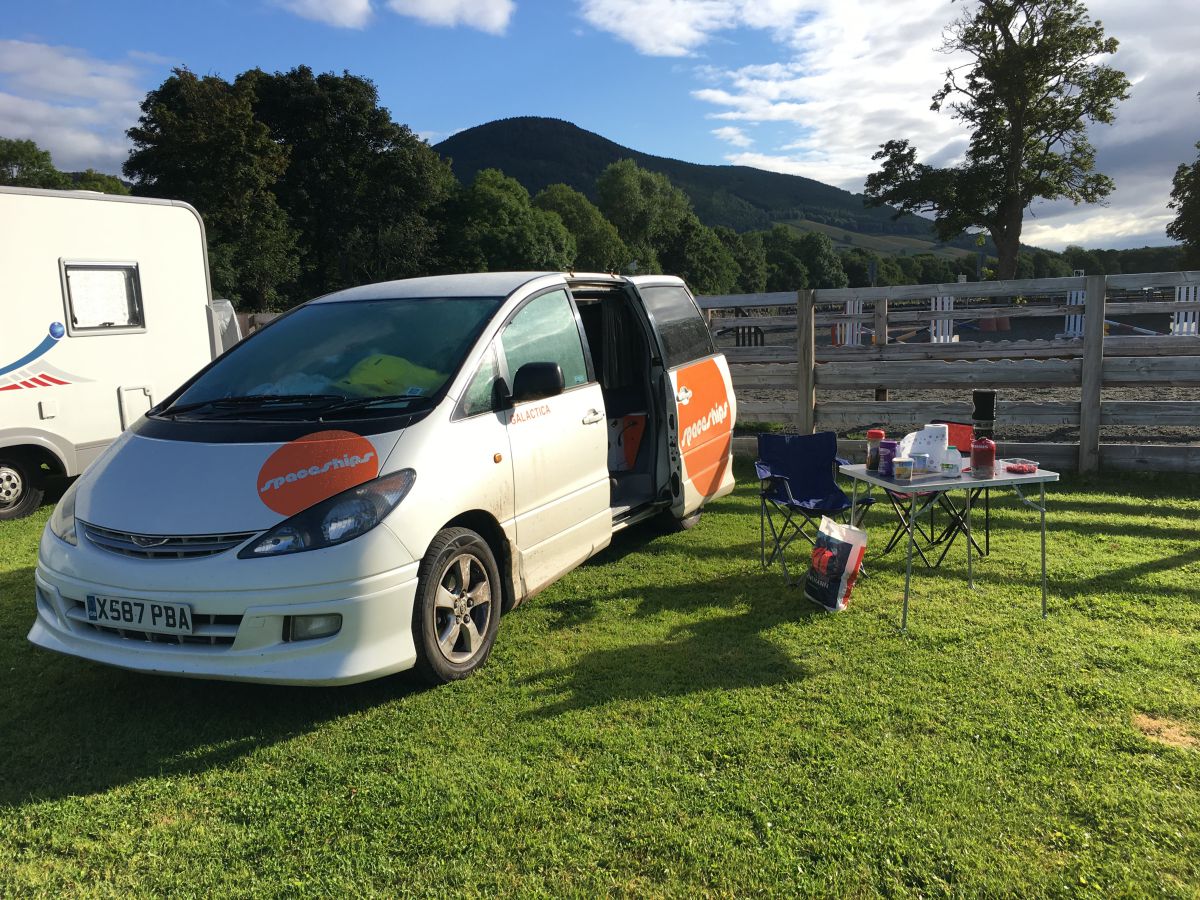 Cannich Caravan & Camping Park: This campsite is another one of my favourites, mostly because of its settings. You can choose your own pitch. We parked under a big tree. The facilities were clean. They also have washing machines, dryers and dishwashing facilities. There is a big sitting room with TV, books and board games. There is free wifi, which mostly just works around reception. The owner was really nice. You can rent bikes here as well. There is also a playground and cafe on site. For £8.50/per adults/per night it is very reasonably priced.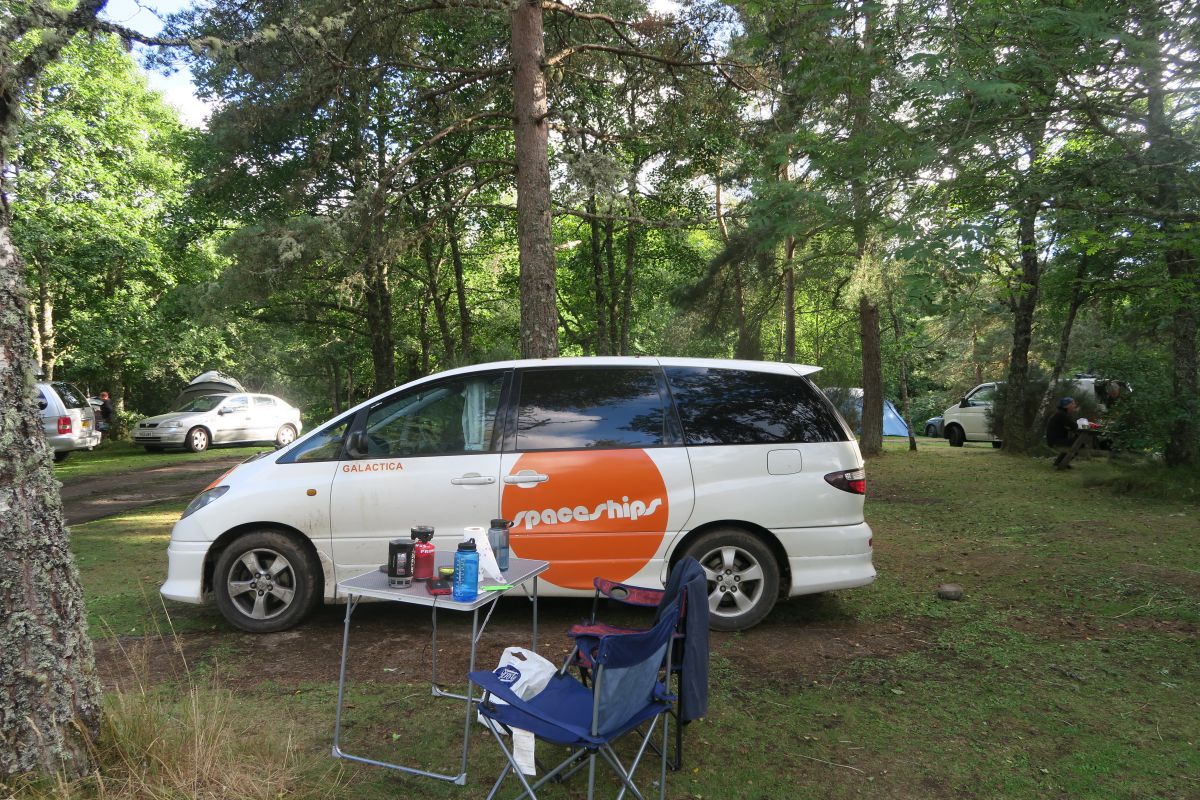 Hope you enjoy this video I made about our trip!
Did you like this post? Why not PIN it?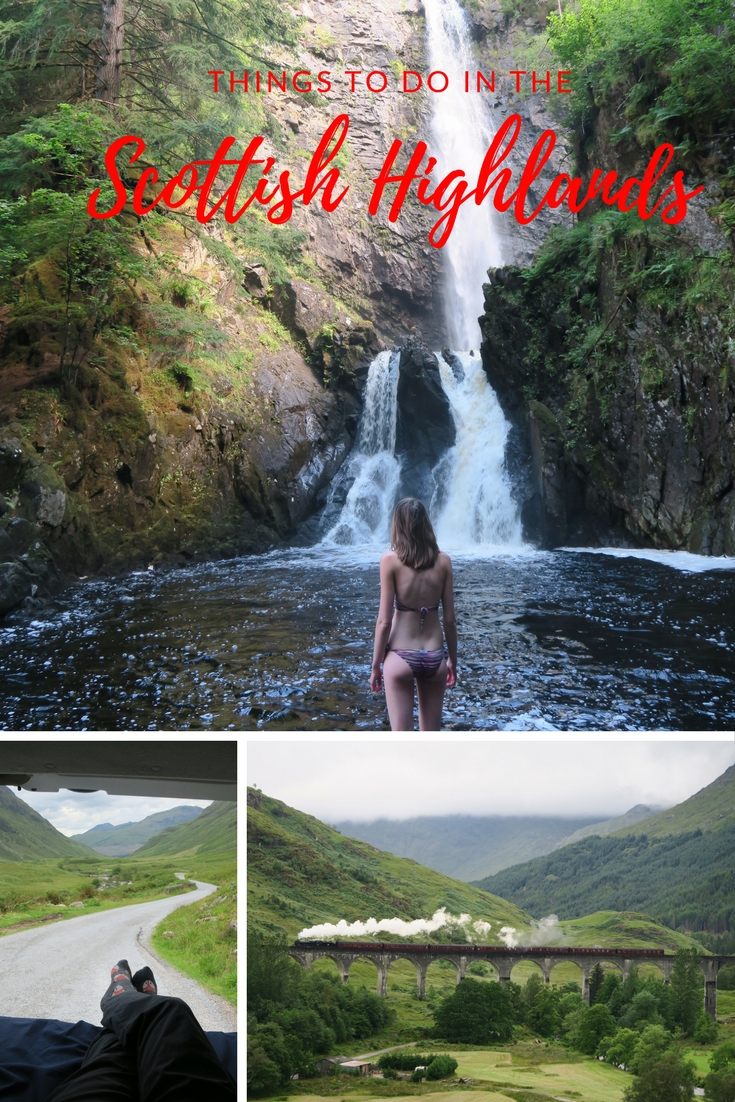 Read more about our Scotland roadtrip: why we decided to travel by a small campervan, guide to the Isle of Skye and Loch Lomond.
Enikő
Hey, I'm Enikő! I'm currently an au pair and I want to share my experiences with you. I've travelled a lot in the past years. I'm gonna teach you how to settle in to a new country and get free accommodation anywhere in the world. Circle Enikő on Google+!