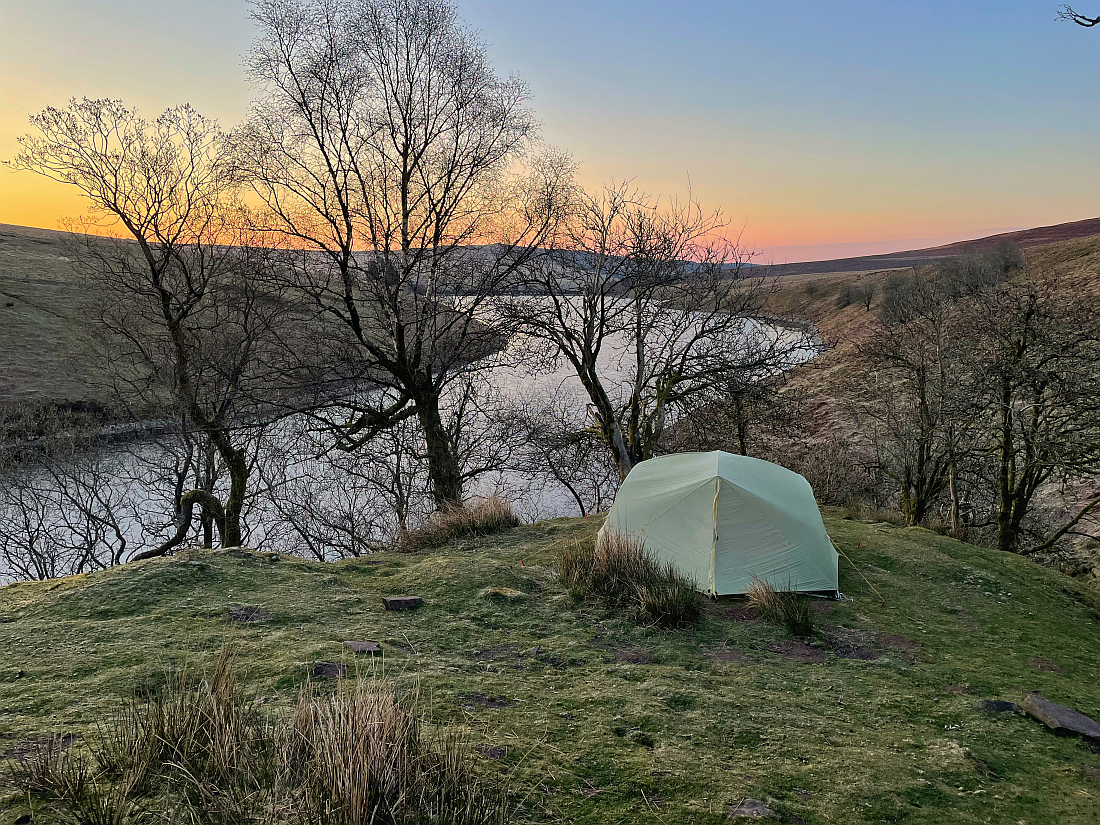 A bank holiday weekend is always a great time to go on a mini getaway. Of course, many other people think the same, so you can expect places to be more crowded. Booking is essential at campsites and they tend to fill up quickly. Not so great, if you want some flexibility about your location. We recently found a great campervan hire in Milton Keynes, which is only a short drive from our house. This is a great way to go on a road trip with flexibility about the destination. 
But on this occasion, we had something else in mind. We wanted to go wild camping in the Brecon Beacons with a tent. We previously visited the national park very briefly before we embarked on our River Wye canoe trip. We hiked to Lord Hereford's Knob and were stunned by the scenery. We realized how beautiful the Black Mountains were and agreed to come back another time to explore it more. 
The weather forecast looked promising (no rain) for the April bank holiday weekend. We packed our wild camping equipment and headed off early in the morning to go wild camping in the Black Mountains. I previously heard about Grwyne Fawr bothy, and we decided to have a look on this trip. It lies at a scenic location, right next to the Grwyne Fawr reservoir. Bothies are more common in Scotland, but you can find a few in Wales as well. We never stayed in one before, but we used Arenig Fawr bothy briefly as a shelter from the wind on a hike. 
This post may contain affiliate links. If you make a purchase through one of these links, I may receive a small commission at no extra cost to you. As an Amazon Associate, I earn from qualifying purchases.
Guide book suggestions for wild camping
The short answer is: no! Wild camping in not legal in Wales. In the UK it is only allowed to wild camp in Scotland and certain parts of Dartmoor in England. However wild camping is often tolerated if done responsibly and away from settlements. 
A surge in irresponsible camping
With the travel restrictions to Europe, most people were "forced" to holiday in the UK. So naturally, all types of accommodation prices increased and filled up. This meant, that there was a big increase in campers during the pandemic. Many people bought a van and gave vanlife a try. Others decided to do some small adjustments to their vehicle and then sleep in their car. Other adventure lovers stuck to the old fashion way of wild camping and used a tent.
The problem with the increasing number of campers was, that many of them did it irresponsibly. Not all of these people decided on a wild camping trip for the sake of adventure or their love for the outdoors. Many of them simply wanted a cheap place where they could party with friends. This meant they chose easily accessible places to pitch up their tent. They disregarded everything about the leave no trace principles. Many times, they left fire unattended, showed anti-social behaviour through alcohol consumption and parked at inappropriate places. Fly-tipping became another big issue. They didn't vacate their ground early in the morning and very often would leave a huge mess behind: often even their tents.
Many Facebook groups specializing in wild camping locations grew in size. This made certain places well-known for being an easy wild camping spot. Authorities and locals started to become upset by the irresponsible behaviour many campers showed. So they started to put up "no overnight parking" signs to popular places. Wardens and rangers visited these spots in the evenings to check the area. They would often offer guidance on how to be a responsible camper. In many cases, they would let people stay if they didn't see any issue. But on other occasions, they moved people on or in extreme cases reported to police, who would then charge people with irresponsible camping. 
Now that travel restriction are lifted things are getting better, as people will be able to fly abroad to go on party holidays. But the damage is done. There is often general negativity towards wild campers. 
This of course doesn't mean you shouldn't do it. Those who enjoyed this form of holiday before were responsible and left no trace. Outdoor lover people understand why wild camping is so important for mental health and how much joy it can bring to one's life. 
But now it is more important than ever to practise the leave no trace principles and raise awareness about how to be a responsible camper.
You can read the 7 Leave no trace principles here.
The main takeaway is to be considerate. Try not to disturb wildlife or people with your presence. Pitch your tent up far away from settlements. Avoid easy locations only a few minutes walk away from a car park. Pitch up late and leave early in the morning. When you vacate your pitch, there should be no trace that you spent the night there: no litter, no remains of a fire, etc.
Toilet paper should be carried out with you and any poo should be dug in the ground at least 100 m away from any water source.
Wild Camping in the Brecon Beacons​
Waun Fach Walk
Despite being a 4-hour drive, we arrived to the Brecon Beacons by 9 am. The Black Mountain (Mynydd Du) Car Park had some vans parked up. They still had the shades down, so obviously spent the night there. A warden was chatting to one of them, but it all seemed like a friendly conversation. 
We didn't waste any time, but headed straight to the mountains. The plan was to do a circular day hike and scope the area for a wild camping spot near the reservoir. Then we would go back to the car for a rest, gather our camping gear and head back for the night. 
Only about 200 m from the car park we noticed some wild campers. Huge, family tent pitched up next to a stream in an open space. Not even trying to blend in.
We saw the warden was heading towards them, but didn't wait to see how that interaction went. It seemed like he was there to monitor the area and make sure people didn't leave a mess. It didn't look like his aim was to move people on or to fine them. 
The hike up to Pen y Gadair Fawr was very peaceful. We were shocked to find some snow near the trig point! I knew we were in for a cold night, but I wasn't expecting snow. We continued our hike to the top and it didn't take long to reach Waun Fach. The area seemed quite peaceful, despite being a bank holiday weekend. I suppose other parts of the Brecon Beacons are more popular.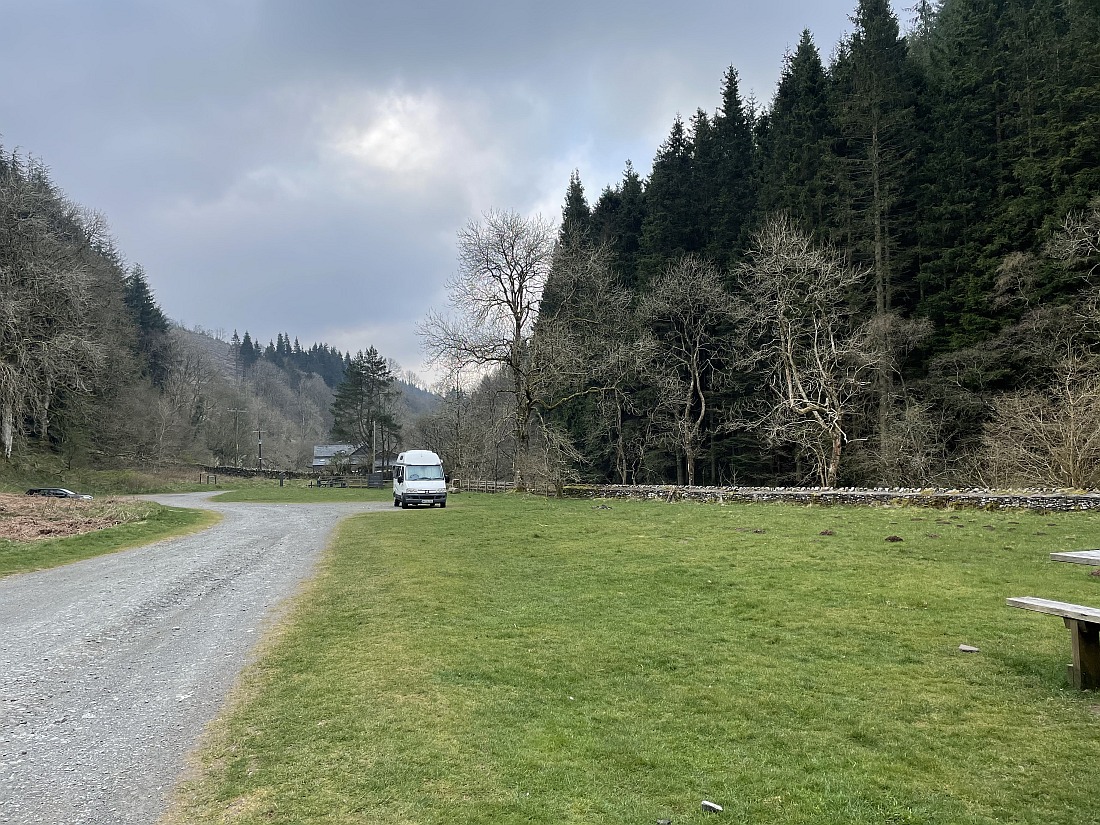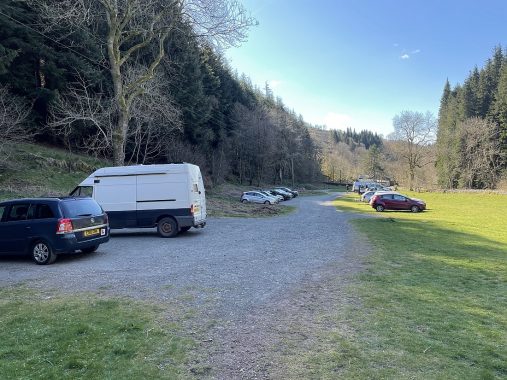 We followed the path around and slowly started to descend towards Grwyne Fawr Reservoir. The trail went along the Grwyne Fawr stream. We wanted to have a picnic at the reservoir, but it was still quite a long way. So we ended up just sitting next to the stream and had our lunch there. This time it was some sausage rolls, that I bought the day before. We spotted quite a few places next to the water, that looked suitable for pitching a tent. 
After lunch, we continued our way. Soon we spotted Grwyne Fawr bothy. There were no other people around, so we could have a peek inside. 
Grwyne Fawr bothy
Bothies often creep me out for some reason. I much rather spend the night in a tent pitched up near a bothy. But it is always interesting to have a look inside. This one was quite small. There was a table with two chair at the bottom. The sleeping area can be reached the a ladder and there is space for two adults. If you ever decide to sleep in a bothy, then please follow the bothy code.
We returned to the car for a bit and had a little rest. 
Distance: This Waun Fach circular walk was 16.5 km with 740 m elevation gain. It took us 6 hours to complete with plenty of stops to rest, take photos and explore.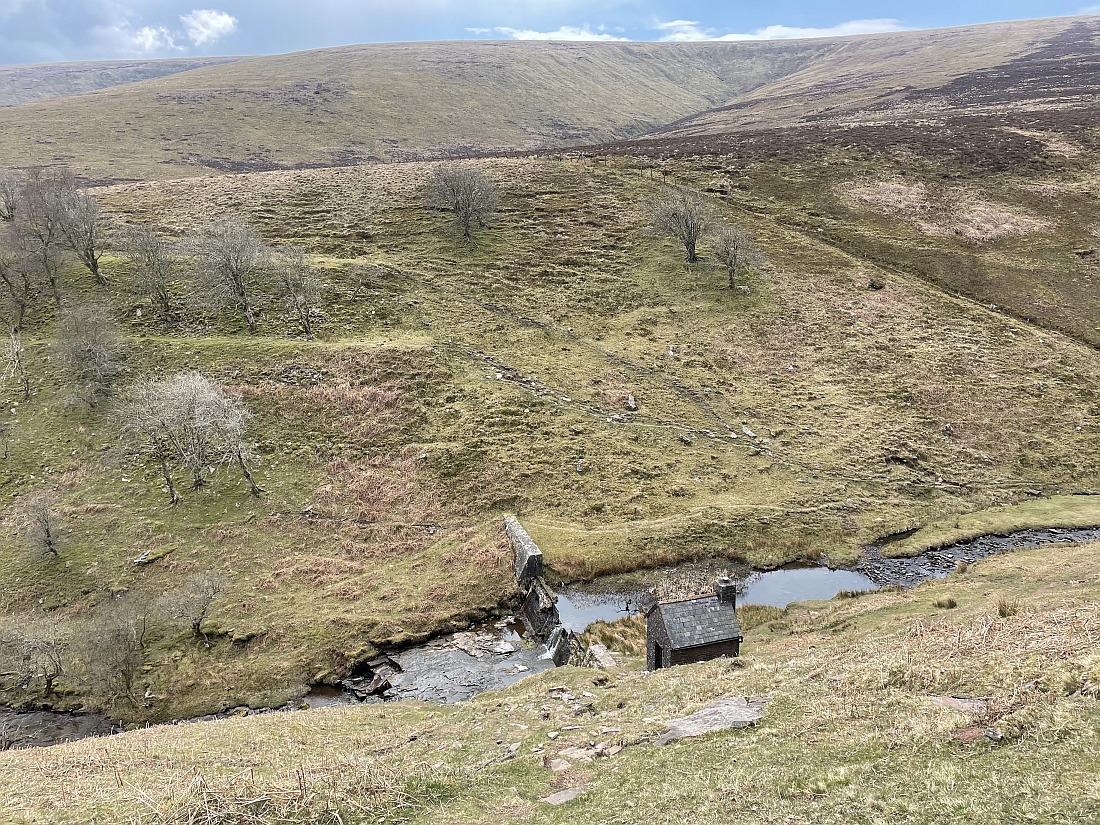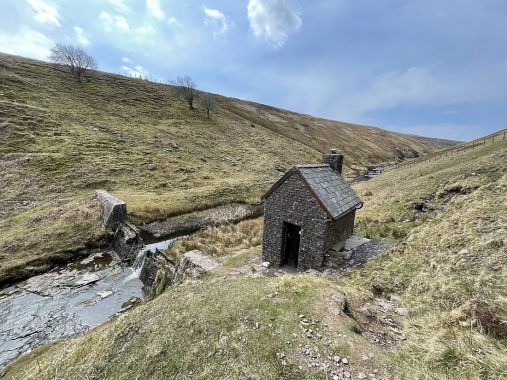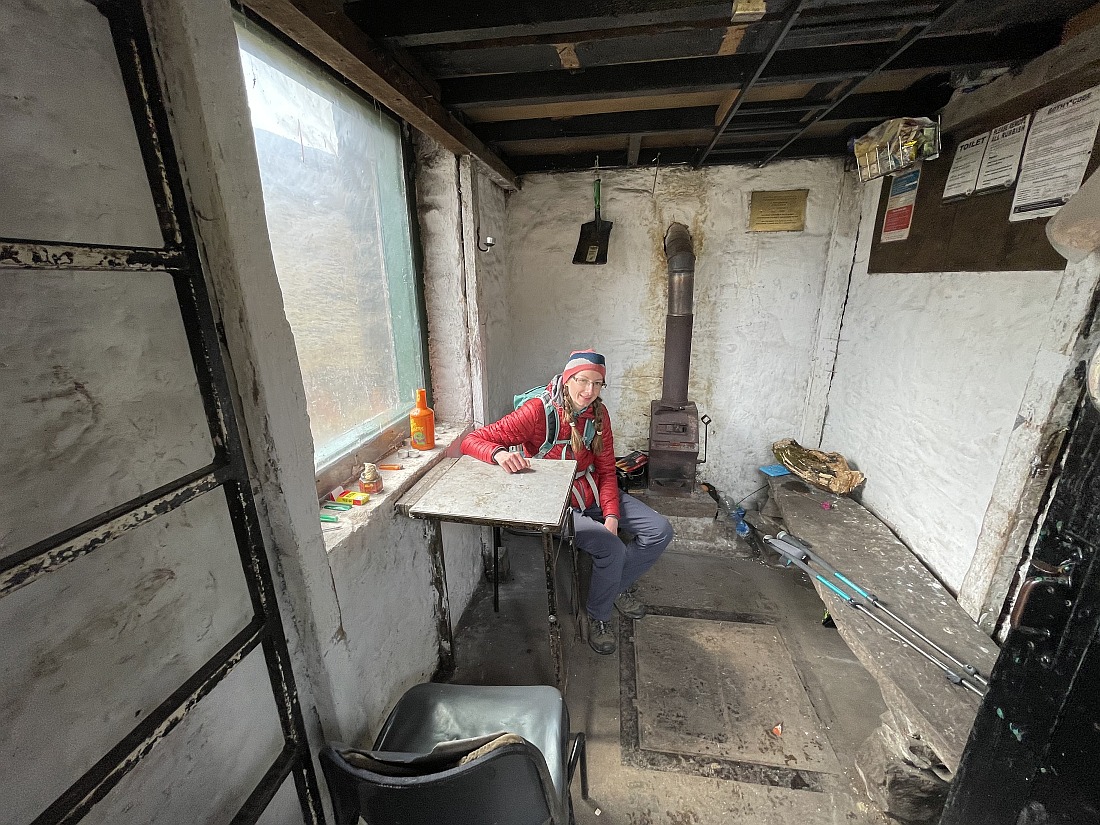 Grwyne Fawr reservoir wild camping
Distance: Our chosen spot was 4.5 km from the parking lot with 240 m elevation gain. So it is not a massive hike, but far enough to not bother people. As we were still quite beginners at wild camping it was also good reassurance, that the car wasn't super far away. 
I could feel, that we already covered over 16 km that day, as we started our walk to the reservoir. We had our bags packed with our camping gear and I could feel it. We took it easy and went at a slow pace. We came across the first wild camper set up next to the reservoir only a few meters from the path. He already had his tent up and was getting wood ready for a firepit. We had a good chat. He seemed like a nice lad, although we are not a fan of people having a fire going or pitching up so early. (it was around 4 pm)
Soon we reached the other end of the reservoir. We were the first one to arrive. We sat on the cliff edge on a picnic mat for a long time enjoying the weather and the view. Then we scoped the area and decided on a camping spot. We decided not to pitch directly on the cliff, but go a bit deeper for some more privacy. We still had a nice view to the reservoir, but at the same time we were sheltered my some trees as well.
Soon more people started to arrive and the cliff filled up with wild campers. If you are looking for complete solidarity, then you probably shouldn't come wild camping to this spot on a bank holiday weekend. But as we were still quite beginners, we didn't mind having others around. Also our spot was also a bit more out of the way, so they couldn't see us from their tent. 
There were six tents total and the bothy was occupied as well. Just as we pitched up the tent, it started to rain. It came out of nowhere, but only lasted half an hour. We had our dinner during this time. To keep things simple and lightweight we had expedition food packets. 
Luckily we had a nice evening with a pretty sunset. A great way to end the day.
The next morning we woke up early. It was really cold. Our tent and the ground was covered in frost! We heated up some water on our JetBoil and had coffee and porridge for breakfast. As we started to pack up the tent we got company from a lamb. It was super cute. We of course had to pause to take pictures of him. 
We were the first campers to vacate the area. The others just started to wake up, when we left. Of course, we carried out all our rubbish. At the parking lot, we had a second breakfast, as I was craving some beans and sausage Wayfarer food. We sat at a picnic bench and discussed our plans for the day. 
I had quite a bad knee pain from all the walking and carrying my heavy gear. So we decided to take it easy. The Sugarloaf walk seemed like a good option. It wasn't very far from us and the trail was described as family-friendly and easy. We managed to secure a parking space and headed up the hill. The path was rather busy. This is a very popular walk, as it is accessible for so many types of people. We got to the top around noon and had a picnic there. 
We decided to take a slightly longer route back to the car park, which actually was a lot quieter. 
Distance: A return hike from the car park to Sugarloaf is about 6 km. There are various routes you can take, but they are all run next to each other. We did a 7.5 km circular walk with 375 m elevation gain. This route also covers the nearby woods. 
Overnight parking in the Brecon Beacons
As there was another cold night in the forecast and I had knee pain, we decided to try and find a quiet park up to spend the night in the car. We used the app Park4night for some suggestions. Most places had a sign up saying no overnight camping. But we thought if we followed common sense and behaved responsibly then we won't get into any trouble. 
We waited for the sunset at the National Trust – Sugarloaf car park. There is a fantastic view from here and it would be lovely to wake up here. I know people sometimes spend the night here in their vans. But we wanted a more secluded location. So we drove in the dark to our chosen car park. We didn't mess about, tried not to make much noise and just went to sleep.
The next morning we drove over to Parc Lodge Car Park, just to scope that one as well for a possible future trip. This one also had a lovely view, but unfortunately, no overnight parking signs were up, and there are also some houses nearby. So perhaps not the best option. We had our breakfast in the car overlooking the green hills and then headed home.
A fantastic weekend of wild camping in the Black Mountains. We will be back again for sure!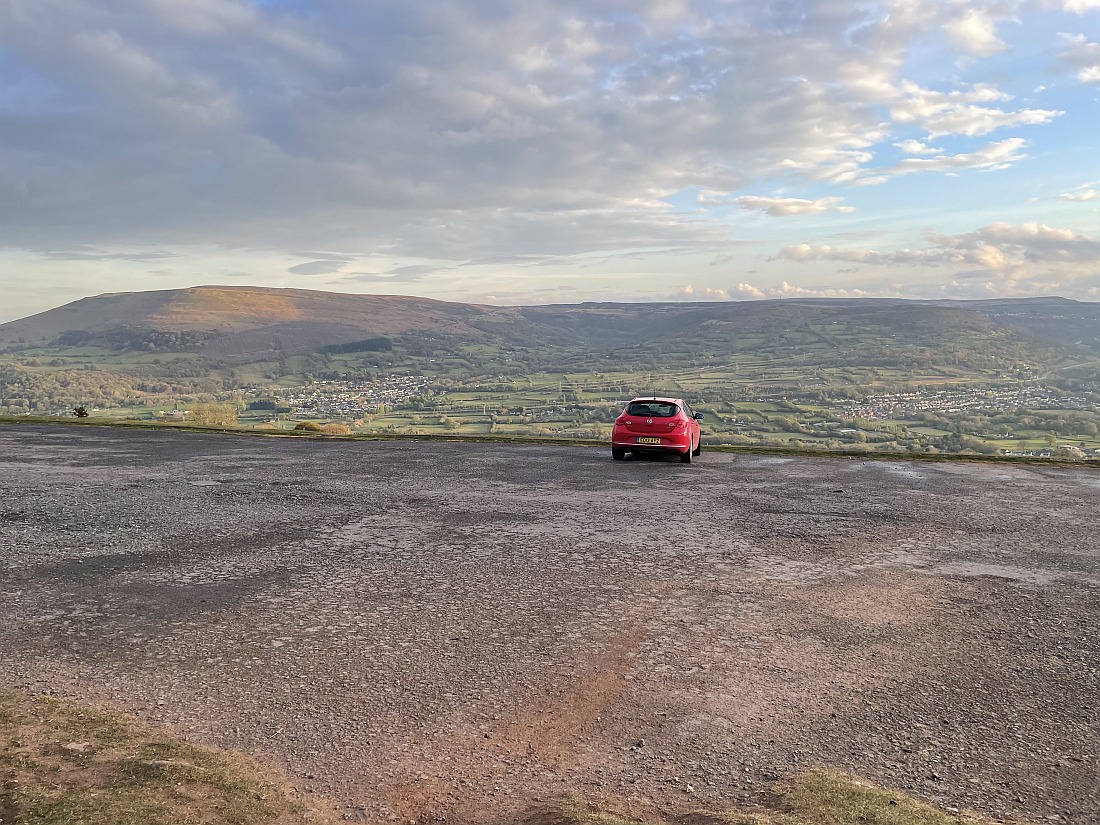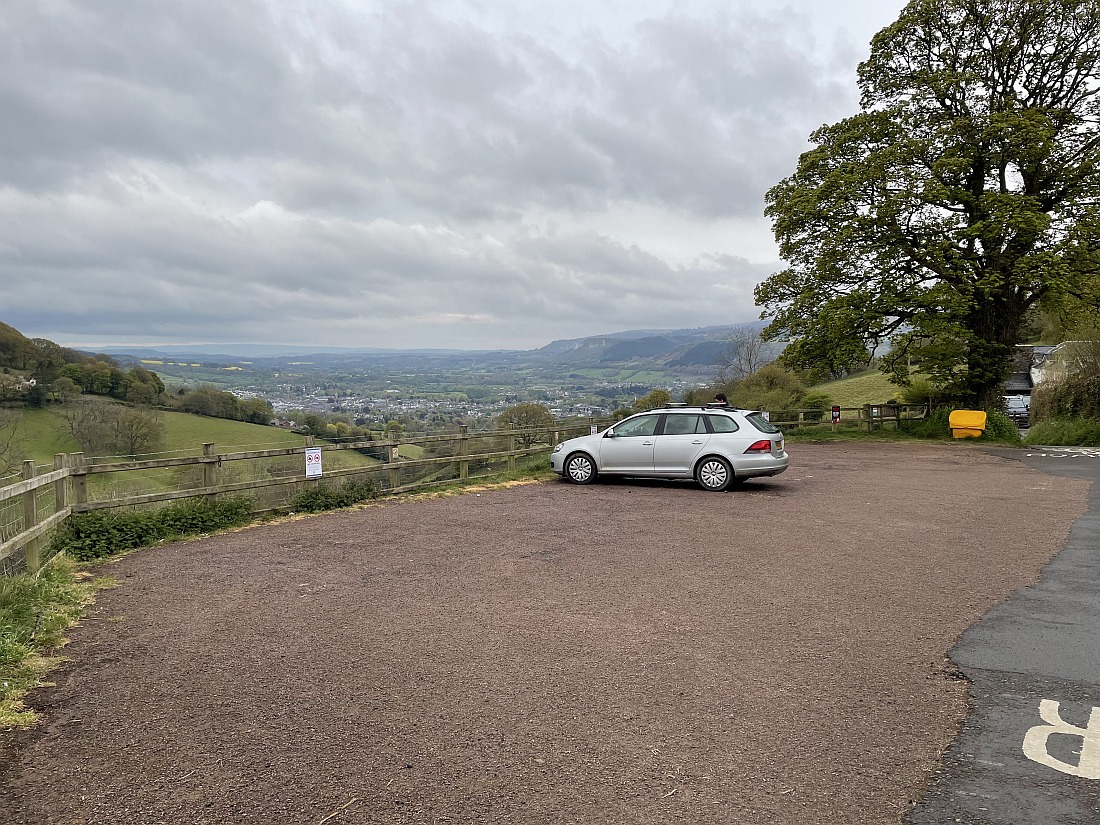 Enikő
Hey, I'm Enikő! I'm currently an au pair and I want to share my experiences with you. I've travelled a lot in the past years. I'm gonna teach you how to settle in to a new country and get free accommodation anywhere in the world. Circle Enikő on Google+!