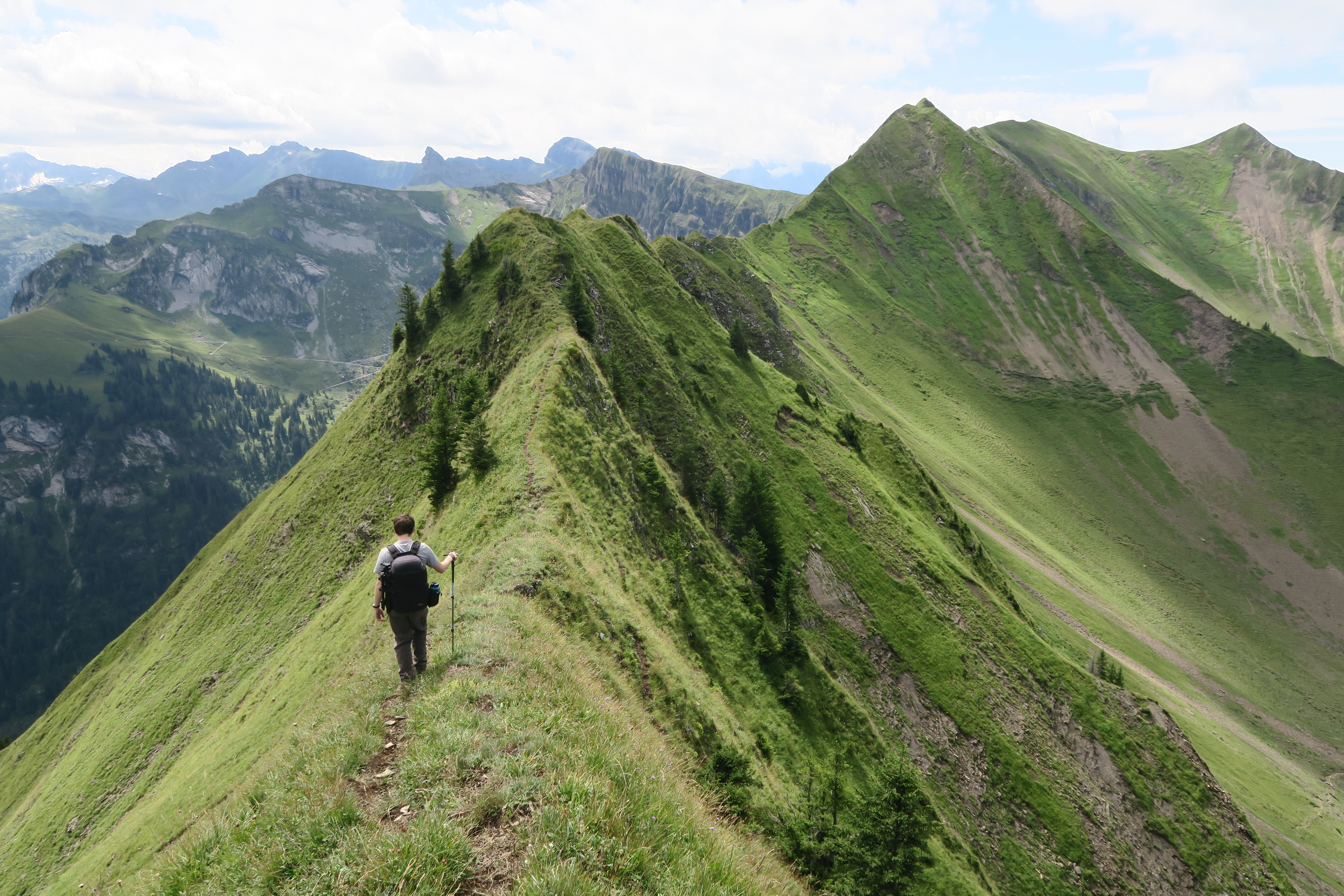 Hiking Arnigrat was one of the most interesting hikes I've ever done. There are several ridge hikes in Switzerland, some more dangerous than others. We tried part of the hardergrat trail, which is very popular among hikers. Arnigrat is a less known ridge hike, making it ideal for people who enjoy peace and quiet. We did the hike on a national holiday and only met 4 other hikers along the way! It is a really scenic hike with views to lakes, cities, mountains, glaciers and valleys. It also makes a great day trip from Lucerne.
Hiking Arnigrat – ridge hike in Switzerland
Parking: There are different options regarding parking. Melchtal or Sachseln could both work but will make the hike quite strenuous with a big elevation gain. So we drove up a mountain road and parked our car there. There is a parking place free of charge. It is big enough for about 12 cars, which is plenty considering this area isn't very well known yet. Parking place coordinates:  46.837328, 8.238810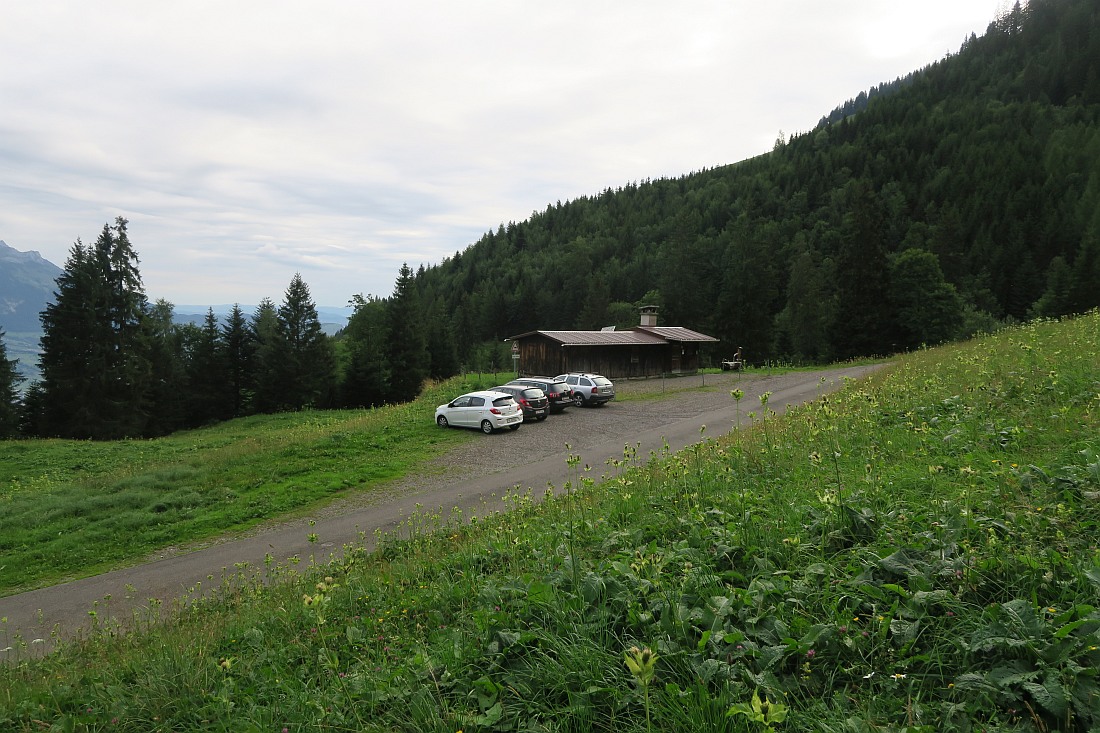 Hiking Stuckli Kreuz
As we left the parking lot, we followed the road up. This road is only for the farmers who live up the mountain, so you shouldn't attempt to drive any further than the parking area. After a 20-minute boring section, we arrived to a signpost. Our plan was to do a circular hike. We decided to first hike up to Stuckli Kreuz and then hike the Arnigrat ridge to Wandelen. We saw a couple who did the hike the other way around. The path to Stuckli Kreuz was quite interesting. We walked through a farm, saw some Swiss cows, picked some wild berries and enjoyed the views around us. It took about 1 hour to reach Stuckli Kreuz (1800 m) from the signpost. I really wanted to visit this place as it offers gorgeous views to Sarnersee and the surrounding area. This was particularly interesting for us, as our home exchange accommodation was next to the lake, so it was fun to try and spot it.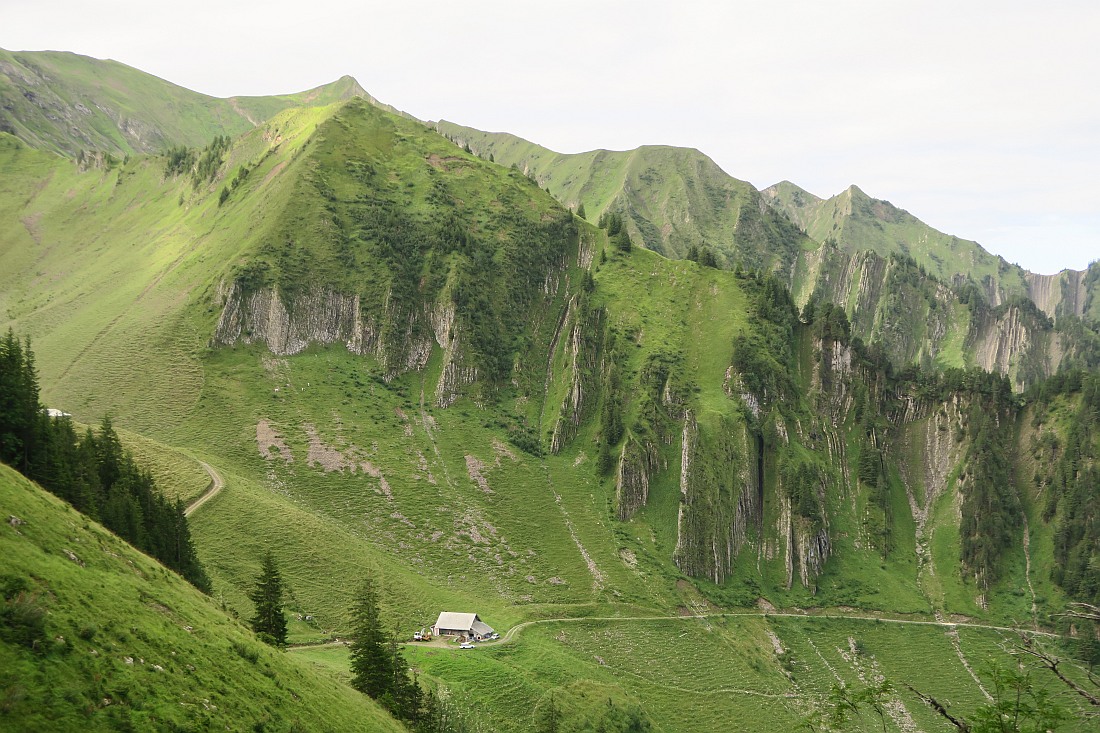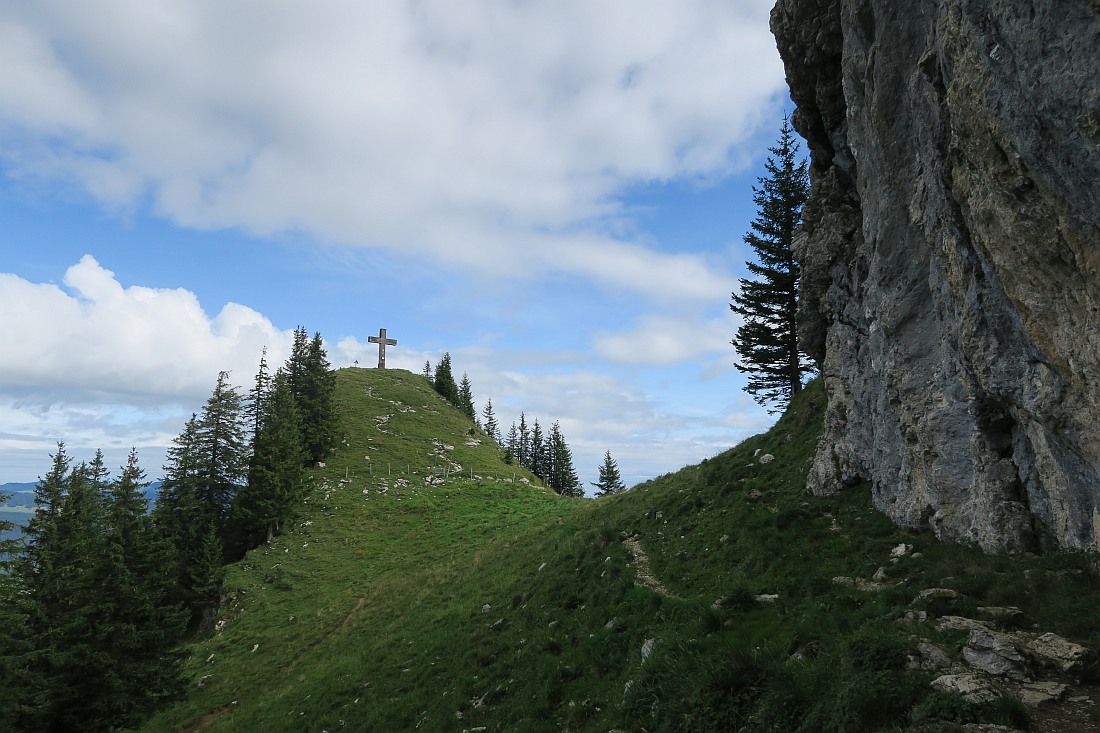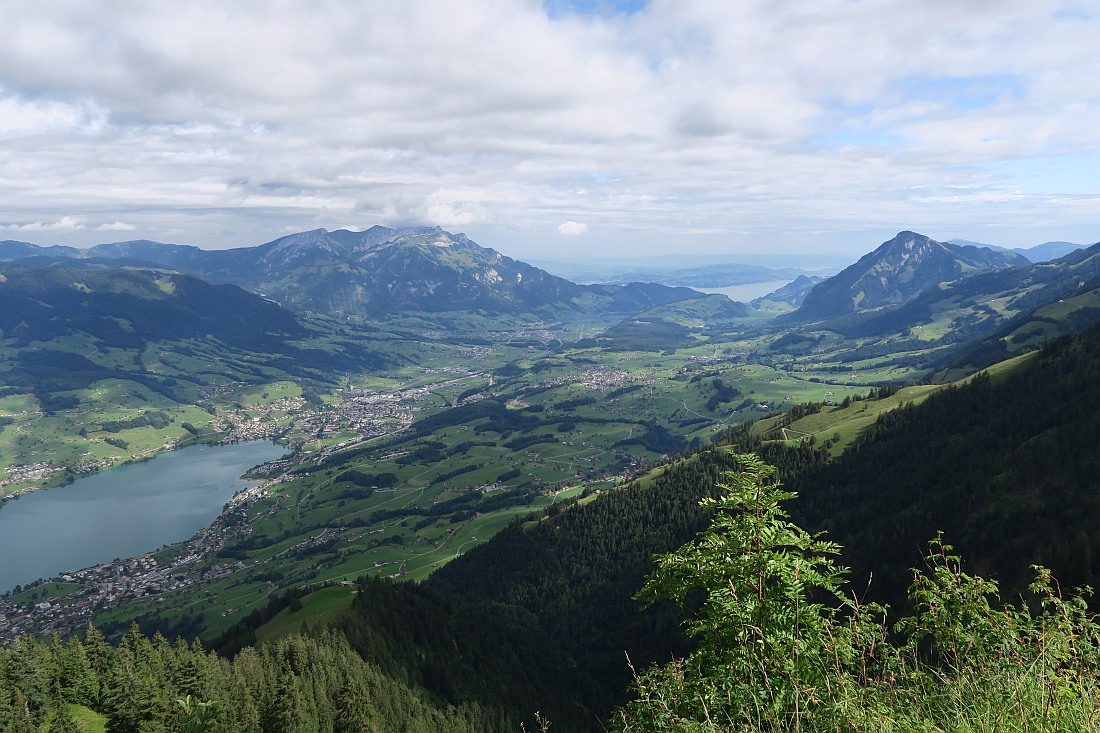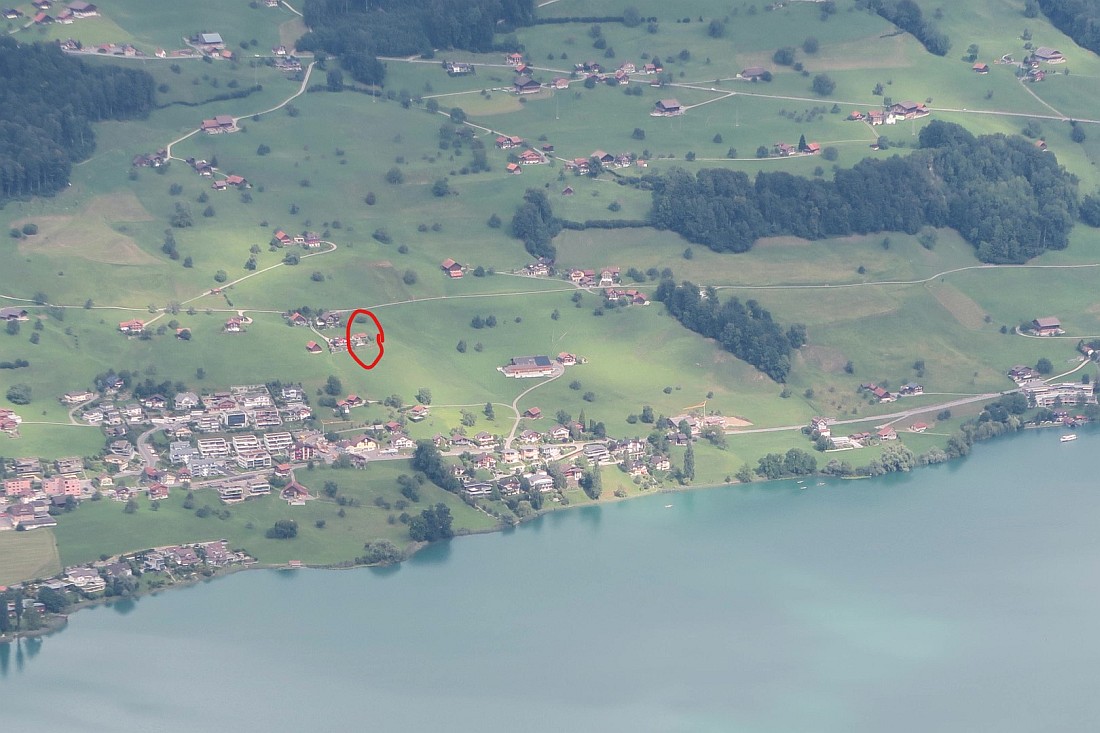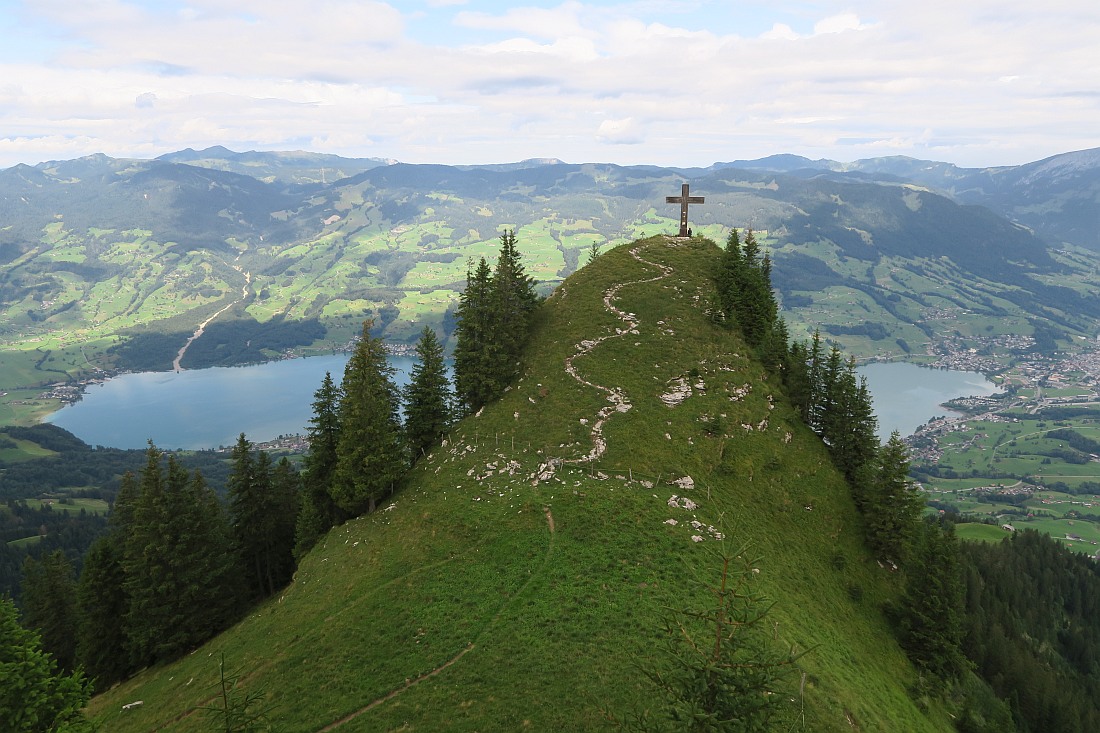 Hiking Arnigrat
After leaving Stuckli Kreuz we began our way up to Arnigrat. The signpost suggested 1h50min to reach Wandelen. The path went down briefly and then it went past a little house. We spotted several alpine marmots here and then walked through a herd of cows. After 15 minutes we arrived at another signpost, which warned us about the potential dangers of this trail. The Arnigrat is classified as an alpine trail. This means only experienced hikers should attempt it without vertigo. Keep a close eye of the weather forecast and don't continue if rain is in the forecast as the wet, slippery trail can be very dangerous. We continued our way up and soon we found ourselves on a short ridge. This led to Arnigrat – Nord. It is relatively easy to reach this point. The views from here are really pretty. You can see several glaciers and the whole ridge to Wandelen. This is a really cool and fun ridge in Switzerland. However, it can be scary for people with vertigo. If you have vertigo I suggest not to continue your way from here. The view from this spot is very similar to Wandelen anyways. We decided to give the ridge a go, as we could always turn back if things got too sketchy. The trail was really narrow with a sharp drop on each side. We used a hiking pole, which gave me a lot of security. Hiking the ridge is very much doable, but it requires constant focus on your step. There aren't many trail markers on this stretch, but the path is always very obvious. Ascend and continue up and down via several small summits. As we passed the summit of Astelhorn (2084m) the weather started to turn bad and the temperature dropped. It went from sunny to being overcast. We had some small clouds that covered us for a few minutes. We took it very slowly and soon we reached Wandelen (2105 m). Wandelen is the highest and most often ascended summit of Arnigrat. We took lots of pictures and enjoyed the views for a bit, but soon the first raindrops appeared and we started to make our way down.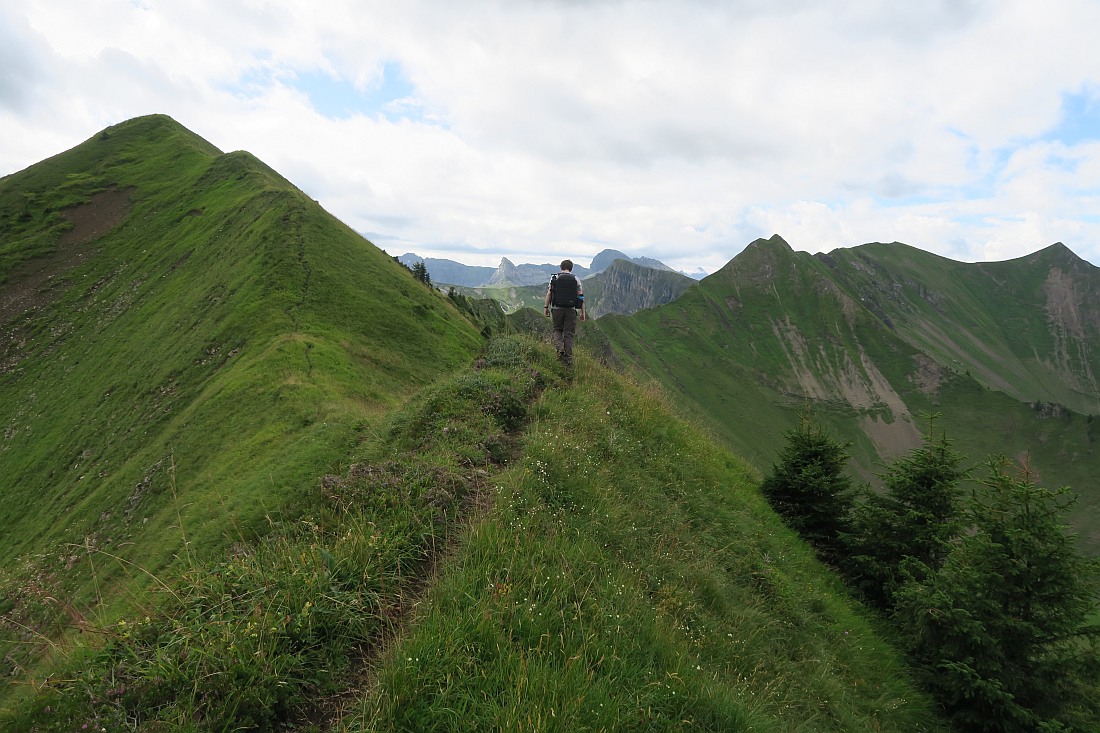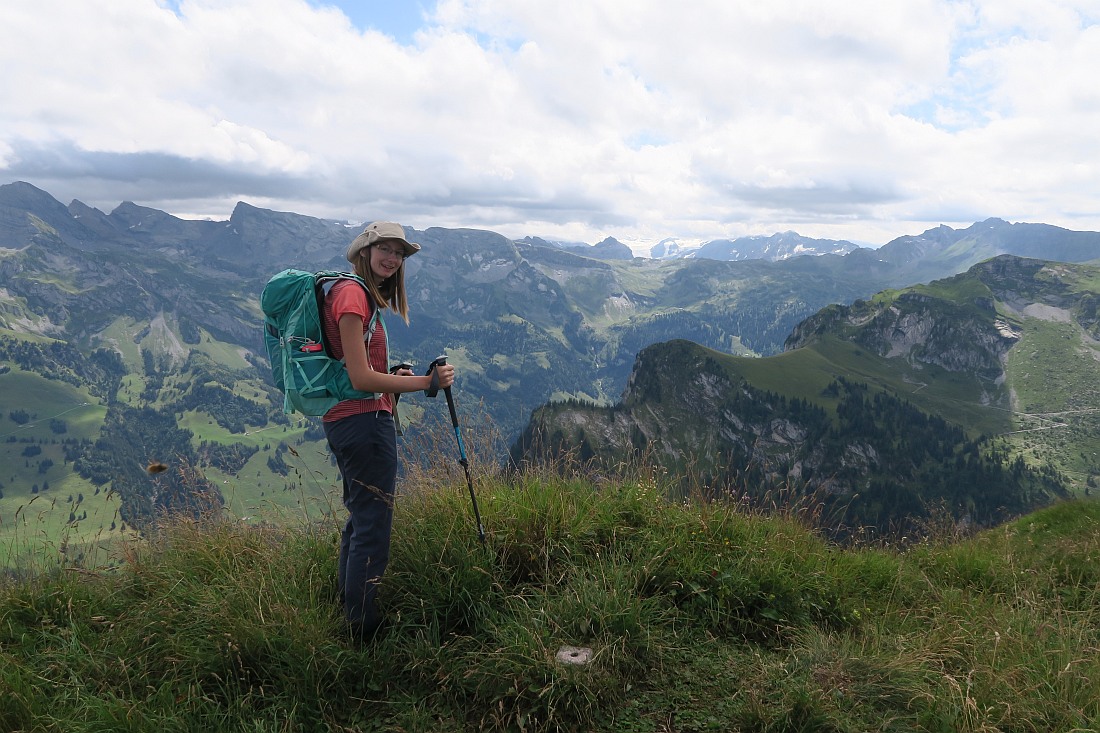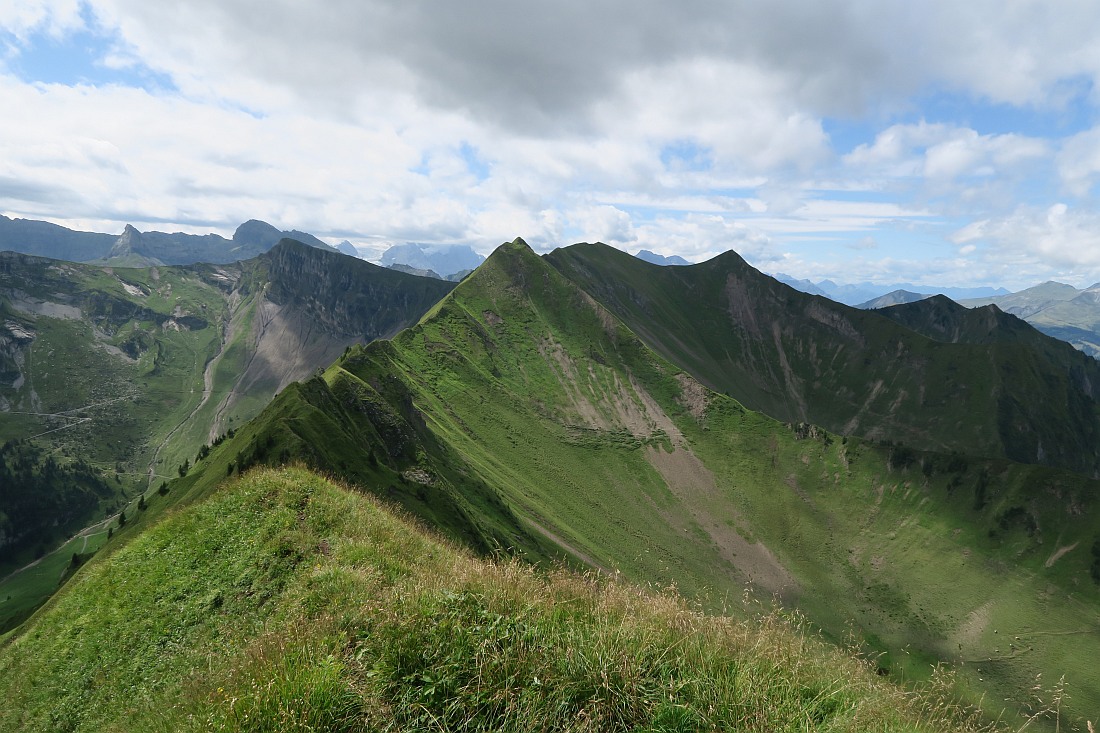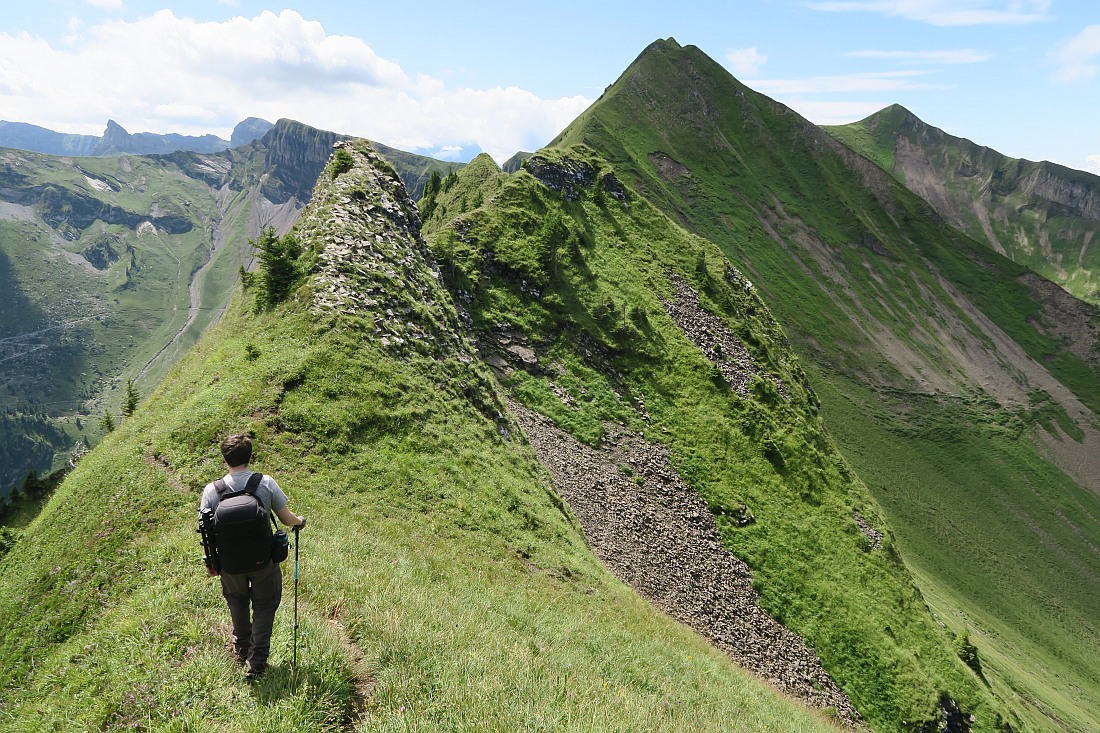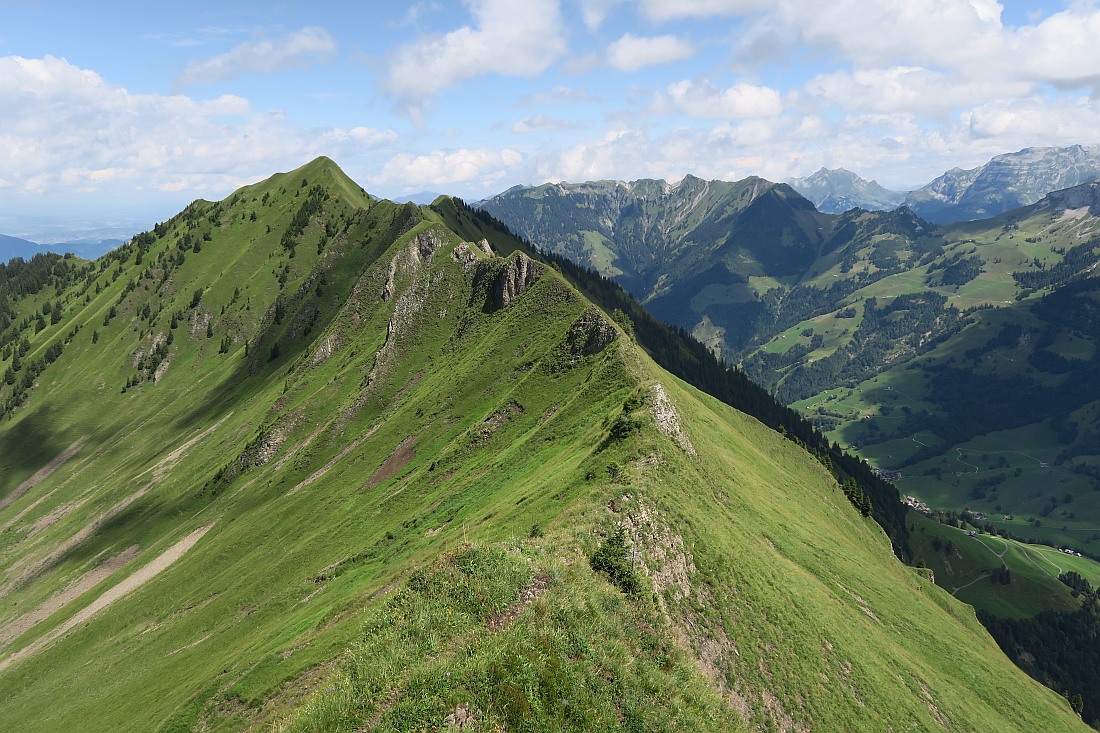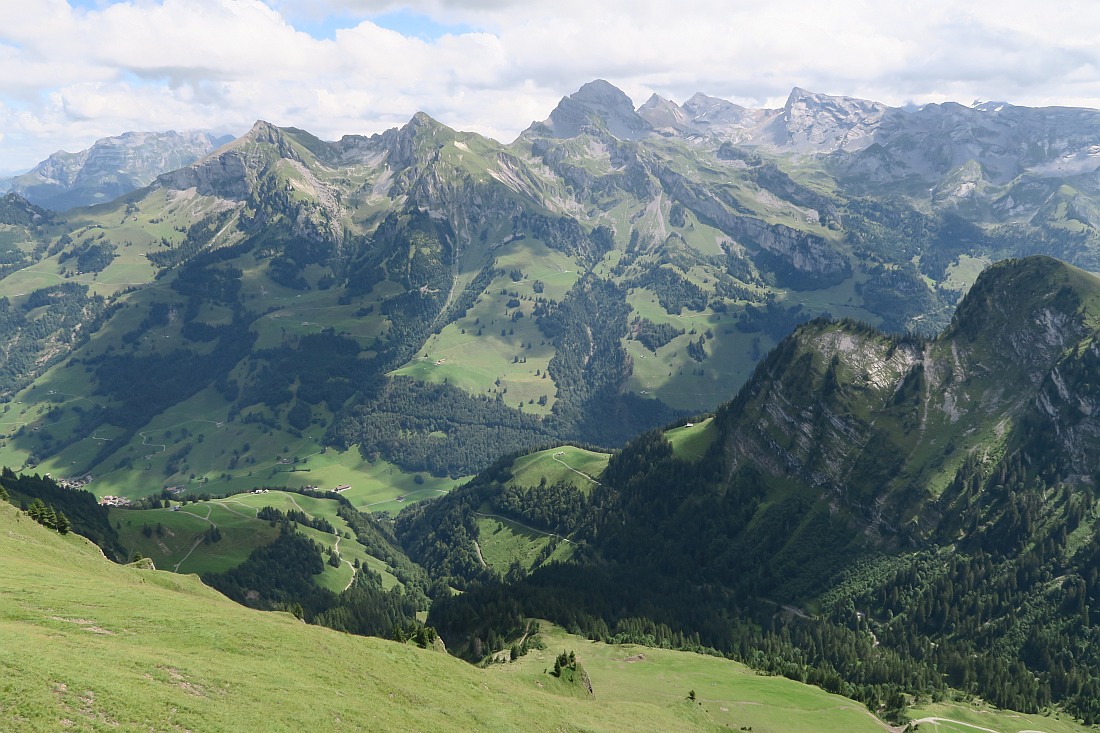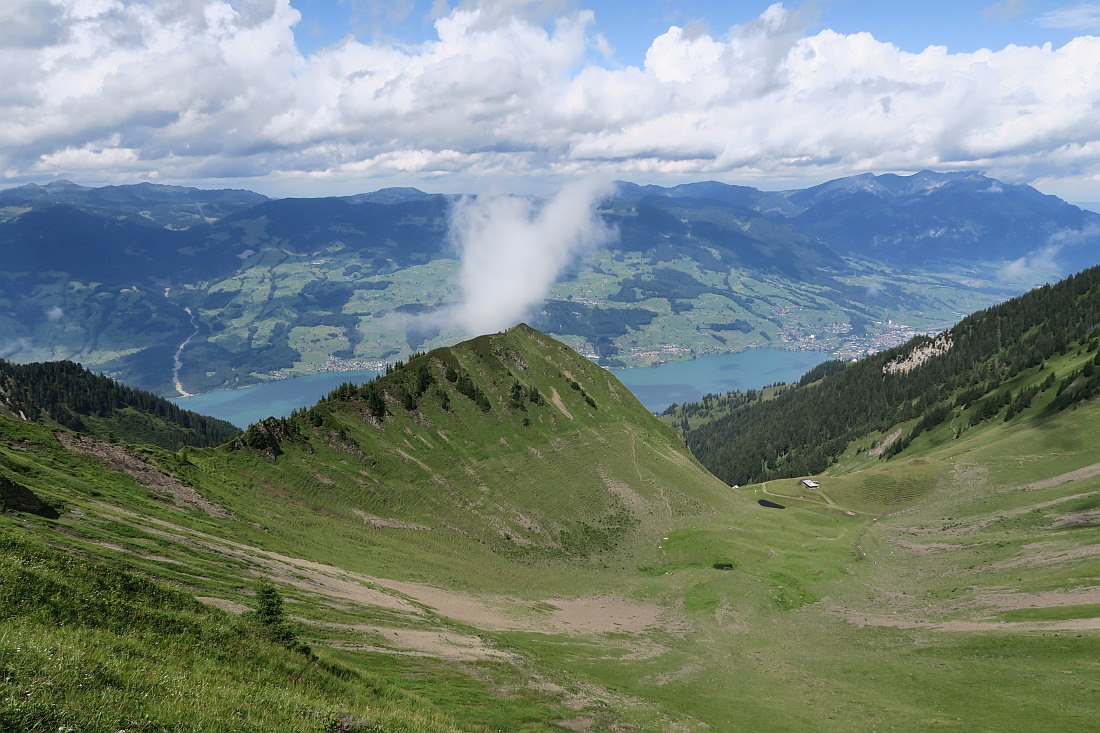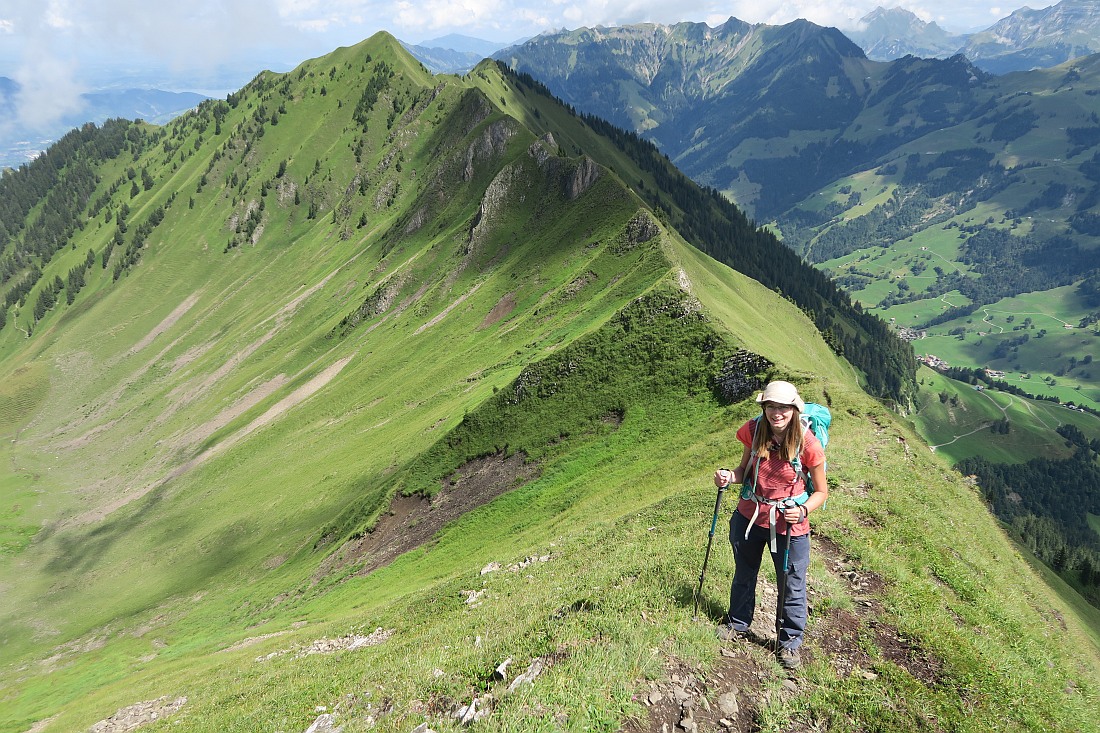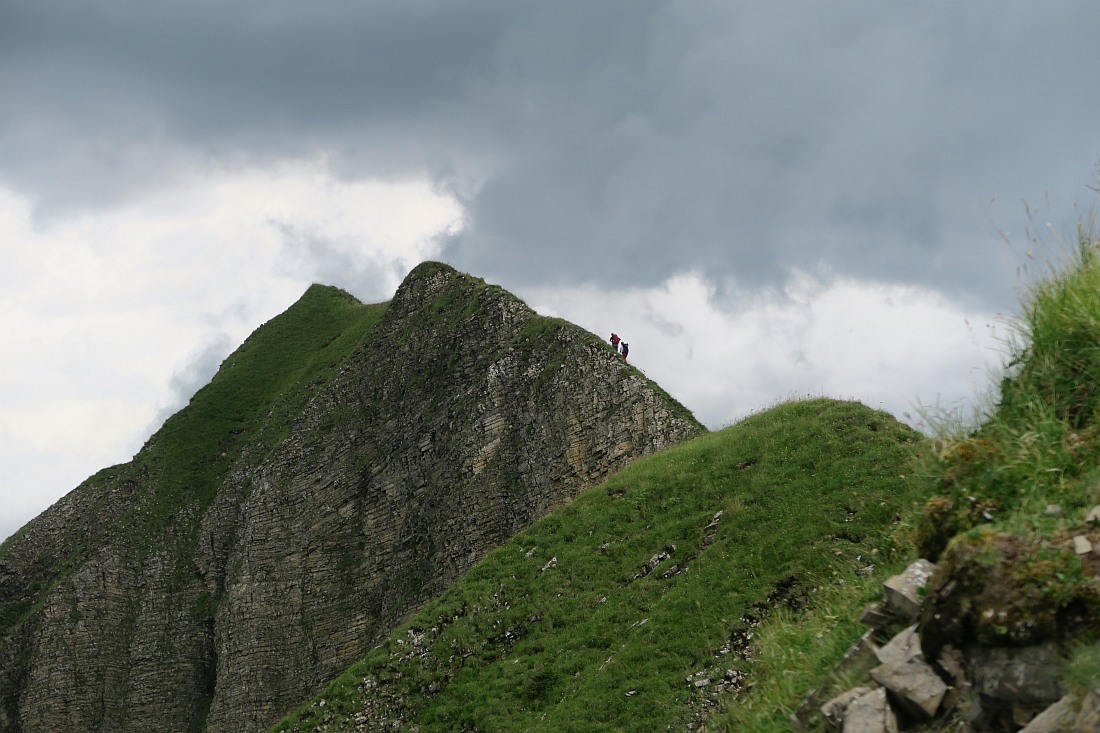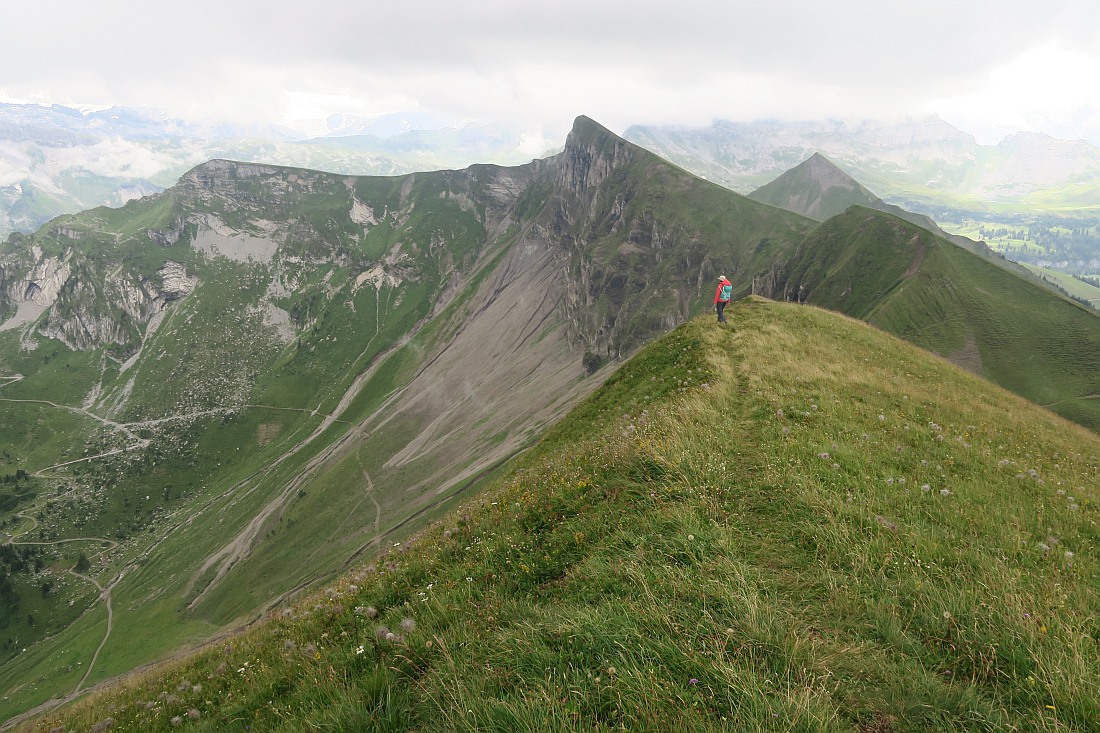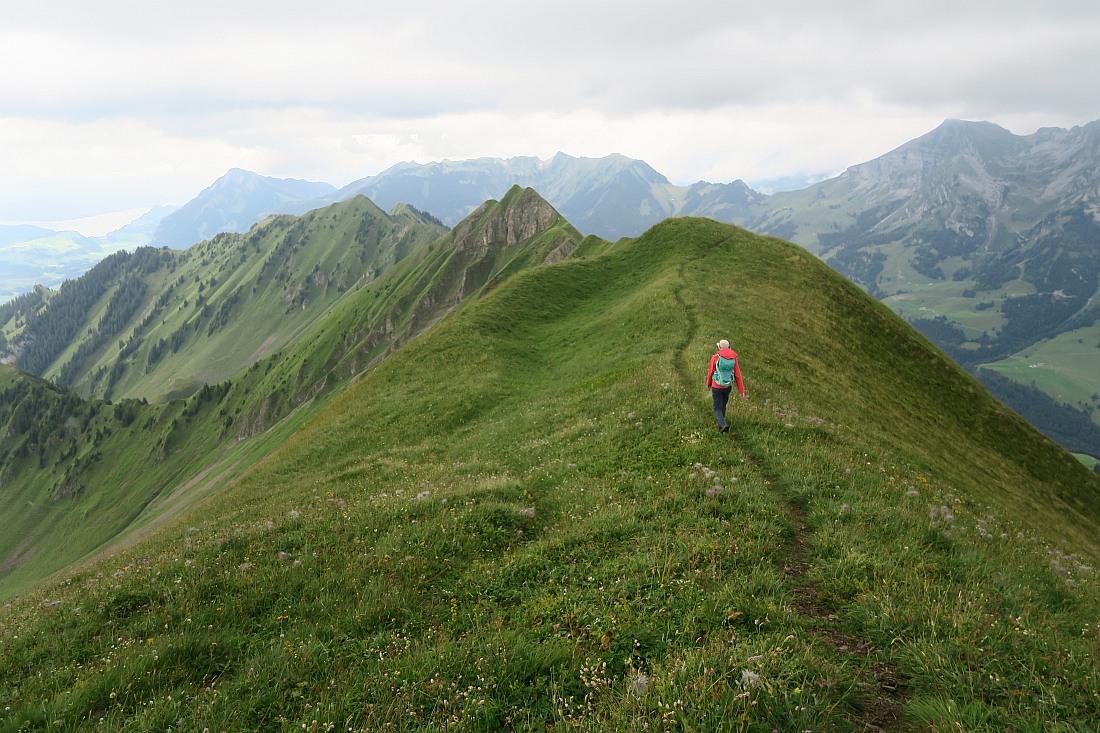 Hiking down from Wandelen
As we were hiking down it rained for a while and we were covered in fog. Luckily this didn't last very long and as we got closer to the bottom the weather improved. The hike down can be hard on the knees, so I suggest using hiking poles. We passed Mettental (1605 m), where we were greeted again with nice views to Sarnersee. Soon we arrived to our car very content, that we found such a beautiful ridge hike in Switzerland without the crowds.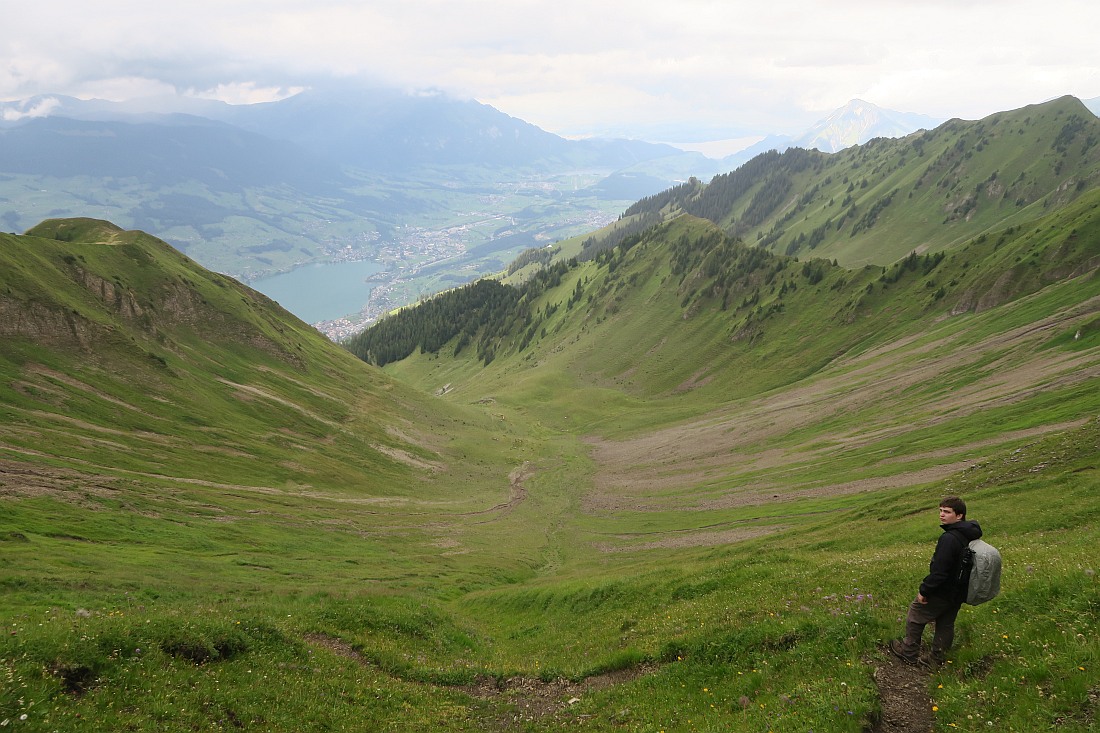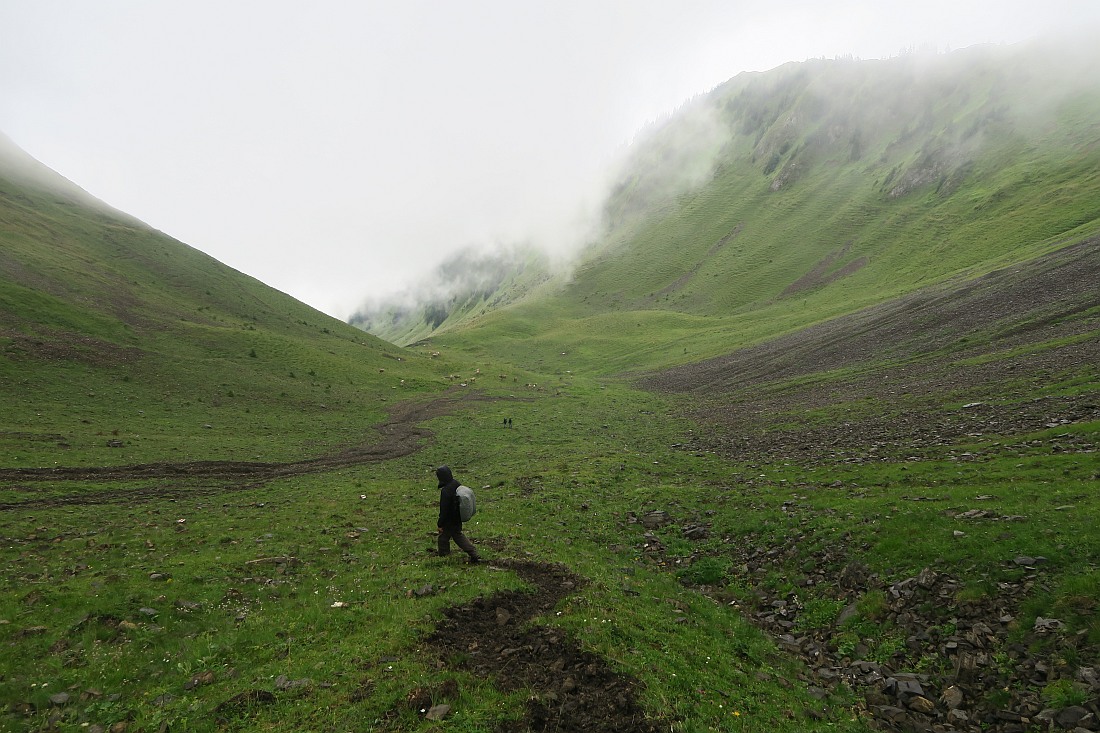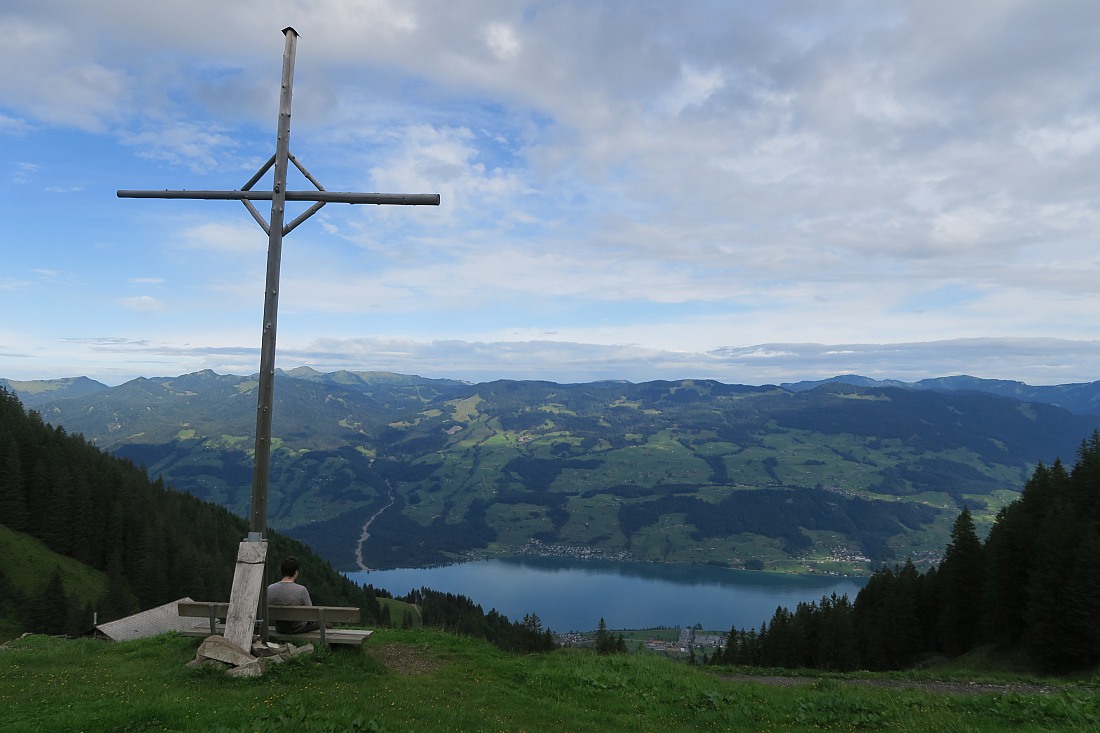 Arnigrat Difficulty
Swiss hiking grading: T4 – High-level Alpine hike
This ridge hike in Switzerland has several exposed parts. Only experienced hikers without vertigo should do this hike and always carry proper equipment with you. An emergency GPS device is highly suggested on an exposed and remote hike like this.
This circular hike is 12 km with 900 m elevation gain. It took us 7.5 hours to complete, but we took several long breaks to take pictures, have lunch and enjoy the views. Our moving time was 4.5 hours.


What equipment do I need for Arnigrat?
We did this hike in August, so there was no snow on the trail and the temperature was nice. However, as you can see the weather changed quickly for us, as it often does in the mountains.
The equipment we carried in the summer: rainproof trousers, rainproof jacket, fleece, summer hat, sun cream, map, mobile phone, power bank to charge phone, hiking poles. Of course, having sturdy hiking boots is also essential! Also make sure you have plenty of water and food with you, as there are no mountain huts or restaurants along the way.

I also had AllTrails app on my phone, which I use on all my hikes and find it very helpful. 
During autumn, spring and winter, when the trail can be covered in snow mountaineering equipment is also essential. 
Did you like this post? Why not PIN it for later?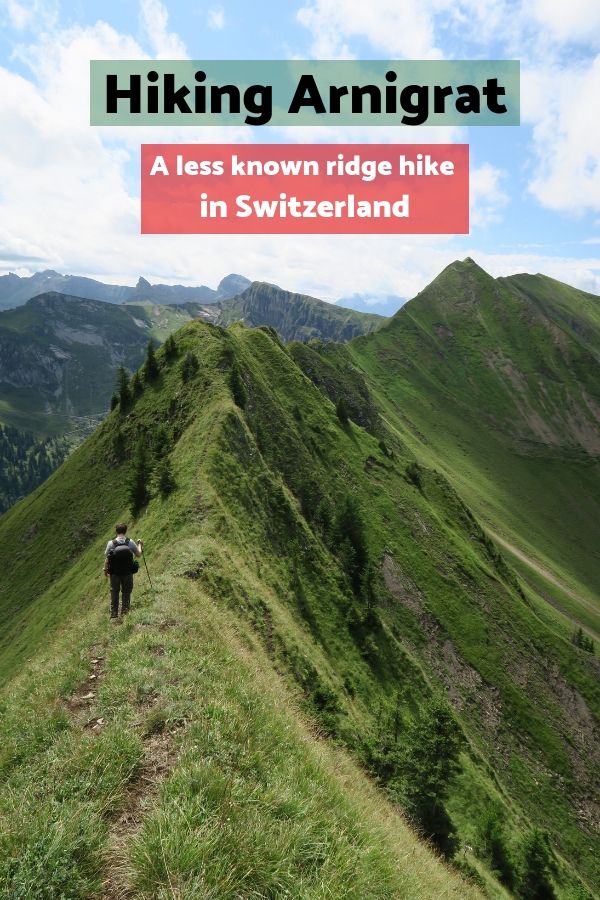 Enikő
Hey, I'm Enikő! I'm currently an au pair and I want to share my experiences with you. I've travelled a lot in the past years. I'm gonna teach you how to settle in to a new country and get free accommodation anywhere in the world. Circle Enikő on Google+!