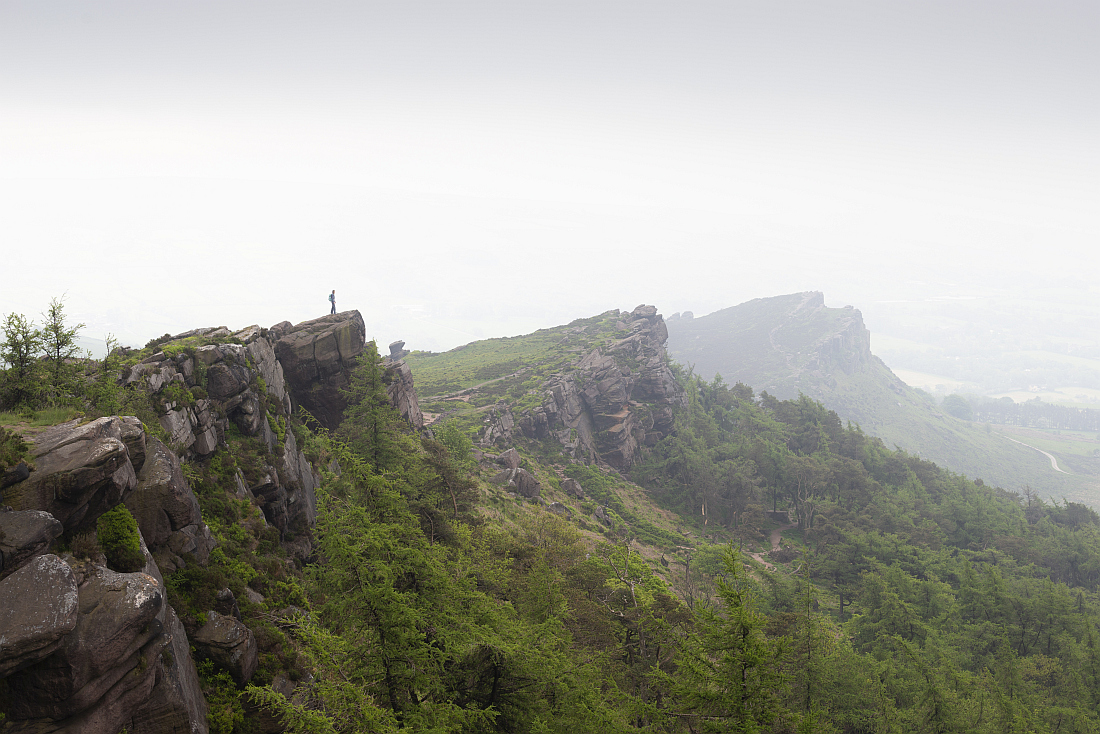 When we arrived at Lud's Church it felt like we just stepped inside a fairy tale. Walking through the gorge with its narrow sides covered in moss was a really special experience. I loved the mythical atmosphere and enjoyed exploring this place on my car camping birthday trip. It was actually Tom's idea to visit this place, as there are so many great photo opportunities here. A Lud's Church photography trip is a dream for many content creators. This place is so unique. You won't find anything similar in the Peak District, so definitely worth a visit, if you are in the area. 
We arrived early in the morning at the national park as we wanted to do the Roaches and Lud's Church walk, which we knew can get quite busy at the weekends. There are several routes to Lud's Church, but we decided on this one, as the Roaches walk also really appealed to us and we wanted to combine the two. In addition, the Roaches car park seemed like a good starting point with plenty of space and the well-liked Roaches tea room was nearby for refreshments after our hike.  
This post may contain affiliate links. If you make a purchase through one of these links, I may receive a small commission at no extra cost to you. As an Amazon Associate, I earn from qualifying purchases.
Guide book suggestions for the area
The Roaches is an iconic Peak District destination, which forms a gritstone escarpment along with Ramshaw Rocks and Hen Cloud. The rocky ridge reaches 505 m and offers stunning views of the nearby Tittesworth Reservoir. On a clear day, you can even see as far as Snowdon! The name 'Roaches' comes from the French word 'roches', meaning 'rocks'. It is a very fitting name for this place, as it is full of unusual rocks and crags. No wonder the place is so popular among climbers and boulders as well. 
Despite the name, Lud's Church is actually a deep chasm in the Dark Peaks. The place was probably named after Walter de Ludank or Walter de Lud-Auk. He was a church reformer, who used the place as a secret place of worship. According to the legend he was captured here at one of their meetings. 
Lud's church history is very fascinating. It has several stories associated with it. Some say it was once a hideout spot for Robin Hood. Another myth claims, that the place was created by the devil!
Lud's Church stretches only for 100 m, but you can easily spend an hour exploring it! The moss-covered walls reach up to 18 m on each side. I also found some hidden sections, that were so narrow that I could barely squeeze through. A fantastic place to discover. 
There is a car park at each end of this walk.
The Roaches Car Park
The Roaches UKC Parking: There is designated FREE roadside parking along Roach Road. There is quite a lot of space here, but it is a popular spot, so you need to arrive early to avoid disappointment. Do not park on the grass verges. This place is regularly monitored and people who park at inconsiderate places will end up with a ticket! It is an ideal place to park for climbers as well, as it is so close to the rocks. There is often an ice cream van parked here for refreshments.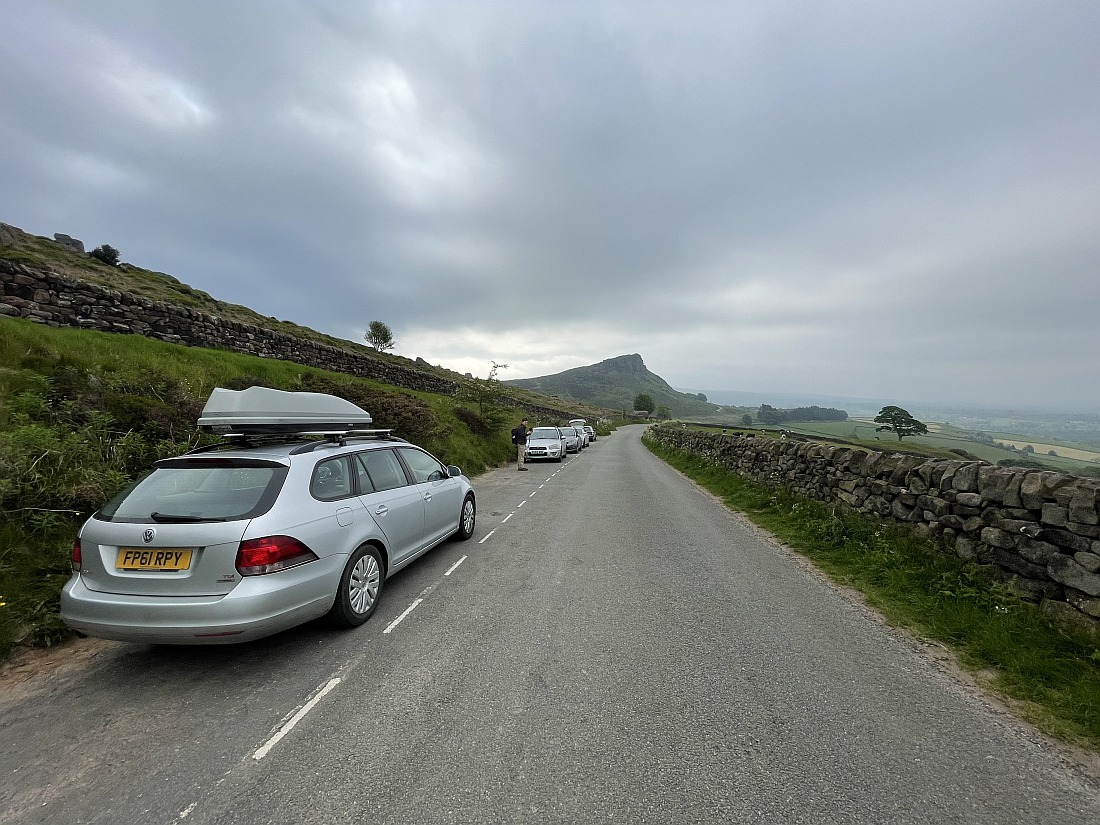 The Roaches Tea Room field: They often open up the field for parking. You will have to enquire before you park, that it is ok to do so if you are not a tea room customer. They are normally ok with it, but you will have to pay a parking fee.
Ramshaw Rocks layby: A less known parking spot, so you might have more luck securing a spot here despite only having space for about 8 cars. Parking here is free. Access to the Roaches is through farmland via dedicated paths.
Lud's Church Car Park
Gradbach Car Park: Only a short walk away from Lud's church. It is a FREE car park, but quite small and it tends to fill up quickly, so arrive early. Parking can be an issue during busy periods. Some local residents saw a business opportunity and they rent their drive out on their farm. They charge £10 for the day.
Public Transport
Train: The nearest train station is in Buxton, but it is 10 miles away so you will either have to take a taxi or bus from there. Bus 16 and 108 take you to Old Buxton Road, which is a 20-minute walk from the trailhead.
Bus: You can take bus 108 or 16 from Leek, Buxton or Stoke on Trent. Get off at Old Buxton Road. Then it is a 20-minute walk to get to the trailhead for the Roaches.
By Bike
You can't cycle on the Roaches or at Lud's Church, but the Peak District MTB has several alternative routes for the area.
The Roaches and Lud's Church Walk
Route
There was still lots of space at the Roaches parking when we arrived at 8:30 am on a Saturday. A sign directed us in the right direction at the trailhead and we set off. The start of the walk was very interesting. 
The Roaches climbing area
The path leads through the iconic Roaches gritstone rocks. This area is one of the best gritstone crags in the country. No wonder it is such a popular place for climbers and boulders. We saw many of them on our way back. There were even families with young children trying out some of the easier sections. There are several routes up to 30m long at all grades.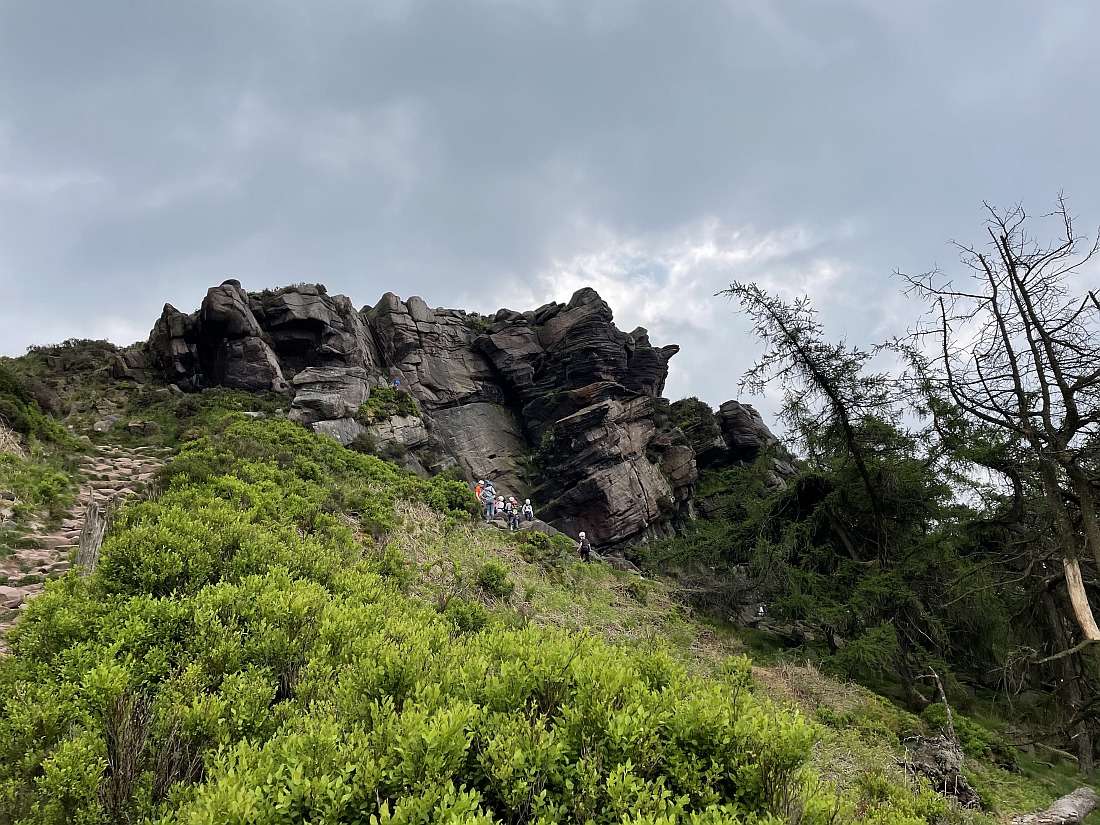 The Roaches edge
We soon turned right and entered a little woodland. We ascended the steps to the ridge of the Roaches. It was a warm, dry day, but quite hazy, so visibility wasn't the best. But the scenery still impressed us a lot. We could see Hen Cloud and Tittesworth Reservoir, which would both make a good destination if you wanted to extend your hike. There were lots of interesting rock formations all along the edge. They all have different shapes, some of them were quite strange, which were fun to spot.
Doxey Pool
We stopped at Doxey Pool to have a little picnic. According to legend a mermaid called Jenny Greenteeth lives in the pond and she haunts passersby into the pool. The place definitely has a sinister atmosphere, particularly on a moody day. Looking into the murky water on a quiet day you can see how this legend appeared.
We had the place to ourselves while having breakfast. Luckily we were not lurked into the water by any mermaid and could continue our walk.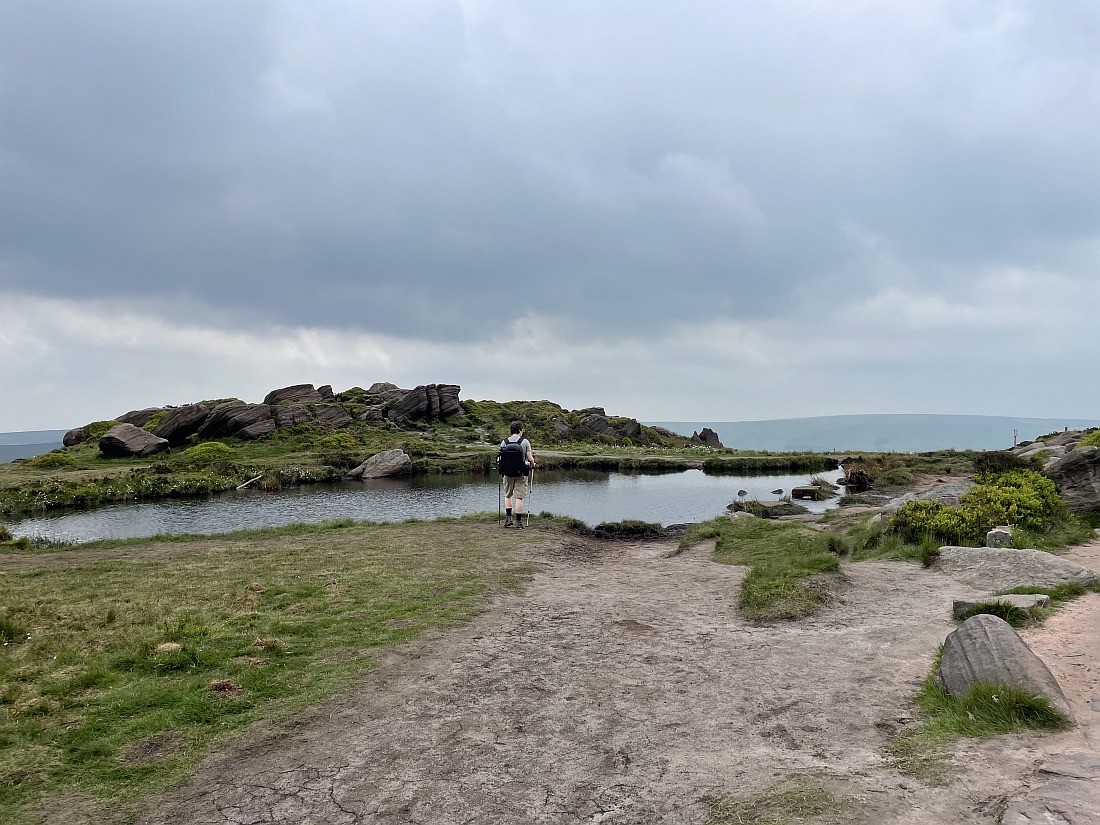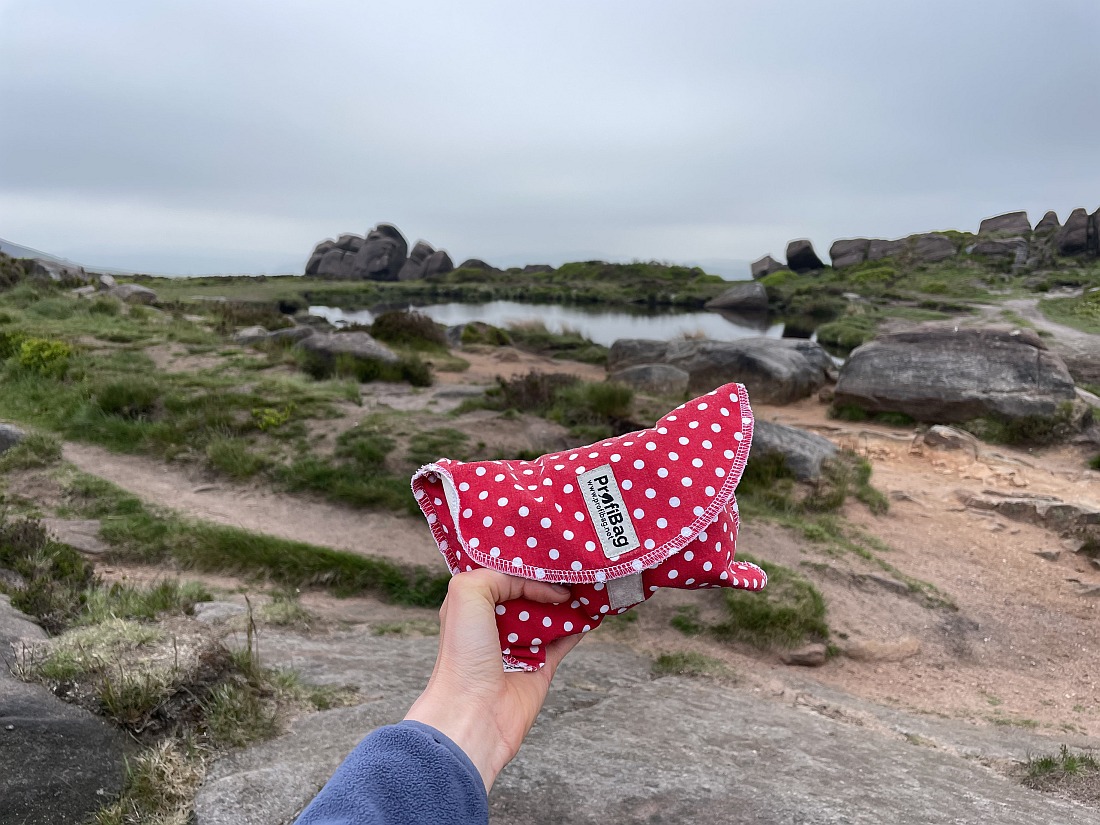 Trig point
The Roaches trig point stand at 505 m. It is a good opportunity to stop and admire the views around you. We didn't spend much time here.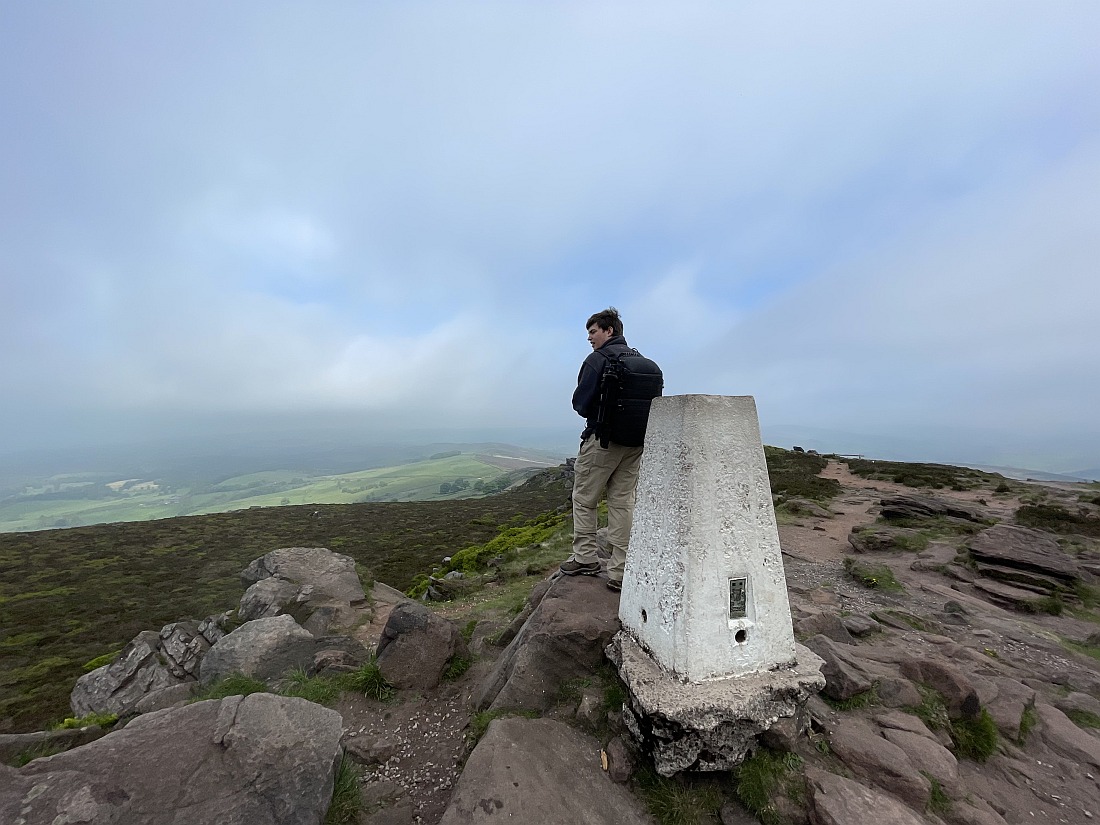 The Roaches to Lud's Church
The path started to go downhill afterwards and we had to cross a small road. There is often an ice cream van parked here, so you could stop for a little break.  The path is quite obvious and there will be a sign which will point you in the right direction when you need to turn right to reach Lud's Church. The scenery starts to change gradually. You will walk through a forest on boardwalks until you reach the chasm. There are some steep steps, that will lead you down to Lud's Church.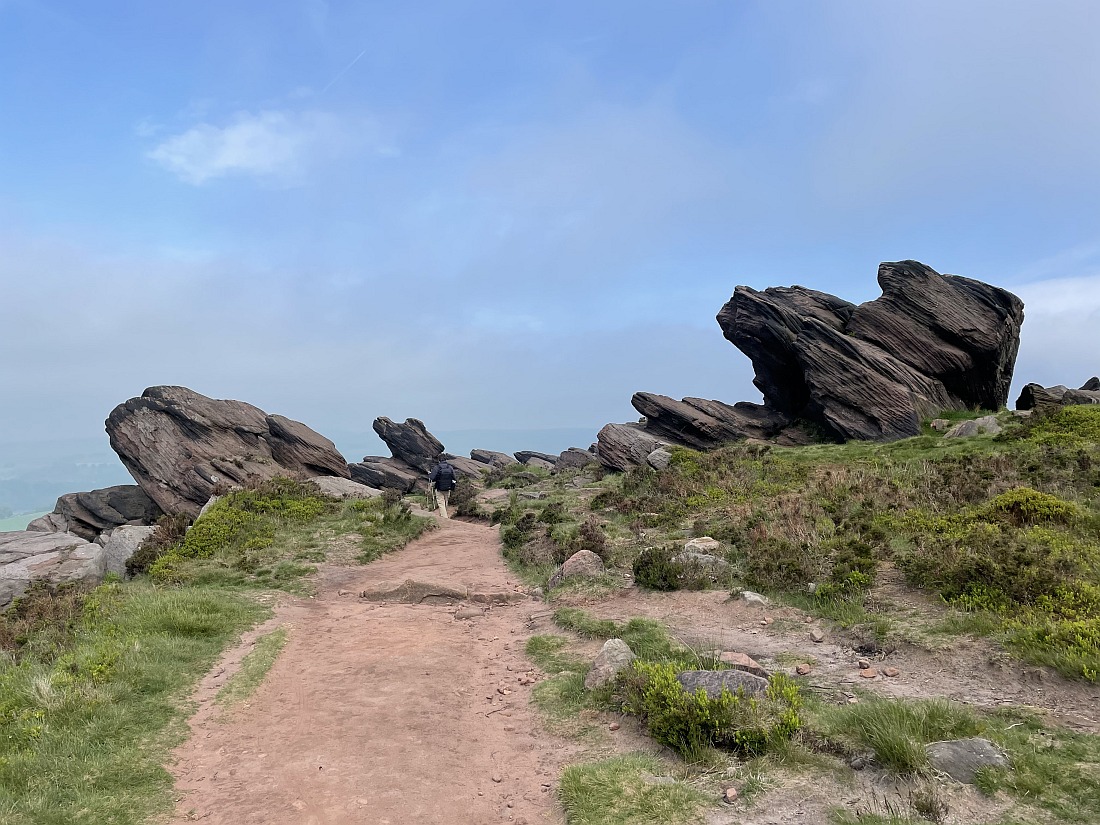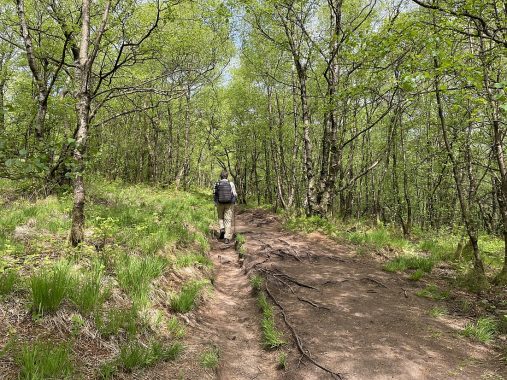 Lud's Church Walk
The gorge is only 100 m, but there is a lot to explore and you can easily spend an hour here just discovering the place and taking photos. I loved seeing the trees cling on at the top. There are also many narrow hiding places between the rock walls. The chasm can be quite dark and cold even on a sunny, warm day, so prepare to have an extra layer with you. The whole place can feel quite damp and the ground is often really muddy.
We decided to take the same route back along the ridge to the car, but you could also do the Roaches and Lud's Church circular walk instead.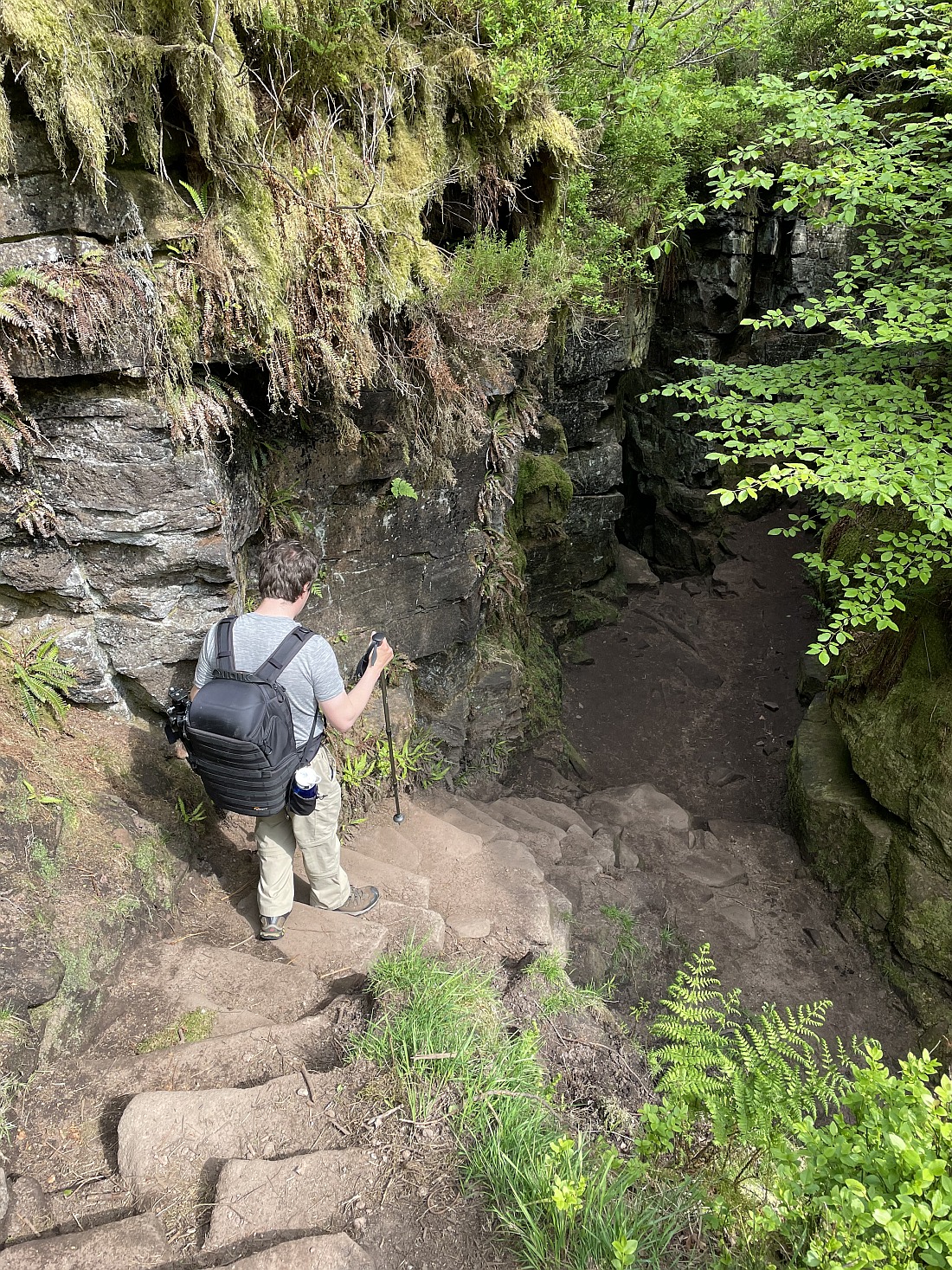 Difficulty
Relatively easy. Also suitable for families, just keep a close eye on children when walking along the ridge, so they don't go too close to the edge.
Duration: This return hike was 13 km with about 460 m elevation gain. It can take 3-5 hours.
Terrain: The ridge itself is relatively flat, but expect a rocky path. You could probably use an all-terrain pushchair. Inside Lud's Church, it is often muddy and the rocks can be slippery, especially after rainfall. Opt for a child carrier, instead of a pushchair.
You are exposed to the elements along the Roaches. Sometimes it can get windy on the top. Lud's Church is a chasm so it can feel cold there. Pack extra layers. You can see up to date weather forecast here.
The Roaches Tea Room
The Roaches Tea Rooms is a well-liked place by the locals and walkers as well. Friendly staff, affordable prices and a wide range of delicious food on the menu. There is outside seating on the terrace, which overlooks a spectacular scenery. But even from inside you will get a nice view thanks to the huge windows. They also have holiday cottages on site, which can accommodate up to six people.
Toilets
There are toilets in the tea room for customers.
Roaches Camping
You won't need your wild camping equipment, as there were several signs up reminding people that camping is prohibited in the area. Luckily there are plenty of official campsites near the Roaches.
Hazel Barrow Farm Camping and Holiday Cottage: A lovely remote campsite with clean facilities and friendly owners. You can pitch up a tent or book a room with beds. It is a 10-minute drive from the Roaches trailhead. But you can even walk from the campsite to reach the edge.
Gradbach Scout Camp: Lovely site next to the River Dane. They accommodate mostly scout groups, but also take individual bookings. You can pitch up a tent or book a room in the cottage. The site is very close to Lud's Church and the Roaches, so makes a great base to explore the area on foot.
Berry Bank Farm: A very basic campsite with on-site toilets and washroom facilities. It has a beautiful location and friendly owners. They take booking for tents and campervans. They have a huge field, so plenty of privacy for all. Gradbach Car Park is only a 10-minute drive away.
Blackshaw Moor Caravan and Motorhome Club Campsite: A modern site with nice facilities, like a playground for the kids. They have electric hookups available for tents, motorhomes and campervans. 6-minutes drive from the Roaches car park.
Camping at The Hollies: A basic Roaches campsite with a field that has plenty of space to pitch. Clean toilets and nice owners. A 10-minute drive from the Roaches car park.
Other Peak District Hikes
Enikő
Hey, I'm Enikő! I'm currently an au pair and I want to share my experiences with you. I've travelled a lot in the past years. I'm gonna teach you how to settle in to a new country and get free accommodation anywhere in the world. Circle Enikő on Google+!