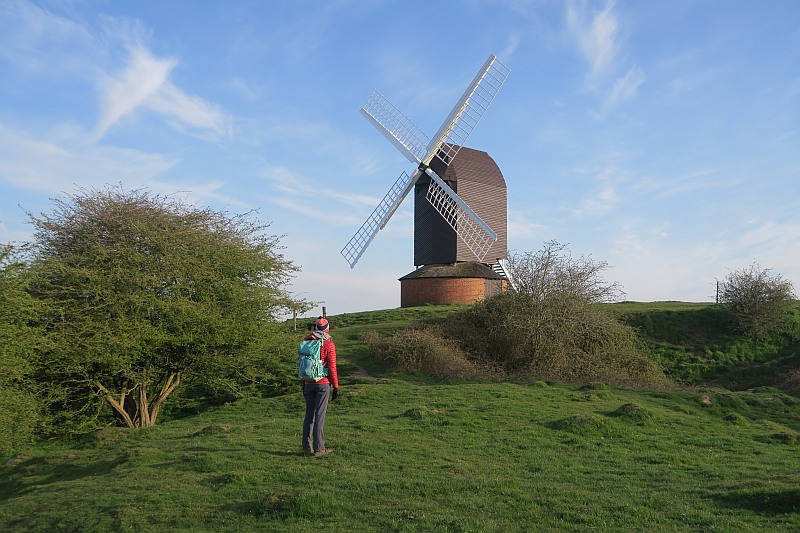 When we are not on a big camping or canoeing adventure, then we love exploring our local area. We often spend our weekends discovering what the countryside on our doorstep has to offer. We chose a sunny Sunday morning to visit Brill Windmill on the Buckinghamshire/Oxfordshire border. I saw some photos of it on Instagram and saved the location for my never-ending "list of places I want to visit" list. It is an iconic landmark loved by the locals and visitors as well. We opted to do the Brill Windmill Circular Walk, as it allowed us to also see the nearby hills and woodland. Before we went home we also walked around the charming Brill village for a while, which has some lovely independent shops, cafes and pubs.
It is a Grade II* listed post mill with 17th-century origins. It is owned by Brill Parish Council and managed by The Brill Society. Most people just visit the windmill from the outside and wander around it to see the scenic views from the hill-top. But the windmill is open to the public Sunday afternoons, Easter to September. It's a great opportunity to see what it looks like inside and learn more about the history of this place.
Brill Windmill Circular Walk
We arrived early in the morning to an empty parking lot. It was nice to have the place to ourselves and enjoyed a peaceful walk around the windmill. There were only a few road cyclists passing by. The windmill is on a hilltop and there are dozens of other hills, of differing sizes, right next to each other. This interesting landscape is left over from being used as a clay quarry. This green area is great fun for children to run around, have a picnic or to fly a kite.
Once we explored Brill Common, we decided to go on a circular walk. The first thing we noticed was how loud it was from all the birds singing. This is the type of noise I enjoy listening to. We walked through some fields where the sheep were grazing. Soon we reached the main road. We crossed over to have a little wander in Boarstall Wood on the other side. It had a little stream running through it, which reminded me of the levada walks in Madeira. 
We walked back to the windmill through a different route up some fields. It was a lovely 6.7 km hike with about 180 m elevations gain. You can download my GPX track if you want to do the same walk.
In the summer months, you are likely to see lots of colourful butterflies. Birds also love flying over Brill Common and the local news board has an information leaflet up about the various bird sightings. Red kites, jackdaws, crows and ravens are pretty common. You can also see sheep, horses and cows grazing, as they help to conserve the common. 
Parking
There is free parking next to Brill Windmill. It is a small car park, but there is a quick turnaround, as most don't stay for very long.
Public Transport
The closest train station with a bus link is Haddenham & Thame Parkway. There is a direct train there from London Marylebone. Then you can change on to bus 111 towards Oakley. You will want to get off at Church street bus stop.
Alternatively, you can take the train to Bicester North, Bicester Village, Aylesbury Vale Parkway or Oxford and then a 20-30 minute taxi ride.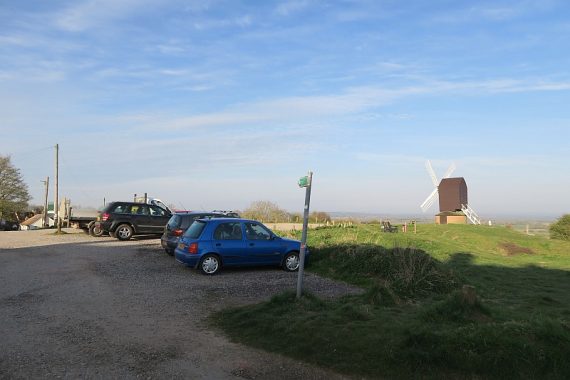 There is a lovely country pub overlooking Brill Windmill. The Pheasant offers real ales and delicious home-cooked food. It is also a B&B, so you can book a room if you want to stay for a few nights in the area.
The Pointer is another pub with rooms on the other side of the village. 
If you are on a low budget, you could plan to have a picnic on the common next to the windmill. There is plenty of green space and the hills are fun for children to run up and down or fly a kite.
If you love the sight of a windmill, then you could also visit Great Haseley Windmill, Quainton Windmill and Pitstone Windmill. They are all within a 45-minutes drive.
For another cultural experience, the Waddesdon Manor can offer a nice day out.
If you are more into active day outs, then the nearby Chiltern Hills has several hiking trails for you to discover. Ivinghoe Beacon is a good place to see the sunset. Rushmere Country Park is fun for the whole family to explore or mountain biking. Barton Springs is lovely to cool off on a hot summer day. Children love paddling in the water when the weather is nice, but the stepping stones are fun all year round.
Road cycling is also popular in the area.
If you love adventure, then you could stay at Daly Meadows Campsite, which is only a 5-minute drive from Brill Windmill. Remember to bring your camping equipment and have fun.
Enikő
Hey, I'm Enikő! I'm currently an au pair and I want to share my experiences with you. I've travelled a lot in the past years. I'm gonna teach you how to settle in to a new country and get free accommodation anywhere in the world. Circle Enikő on Google+!