Hiking in Madeira – Which levada walk to choose?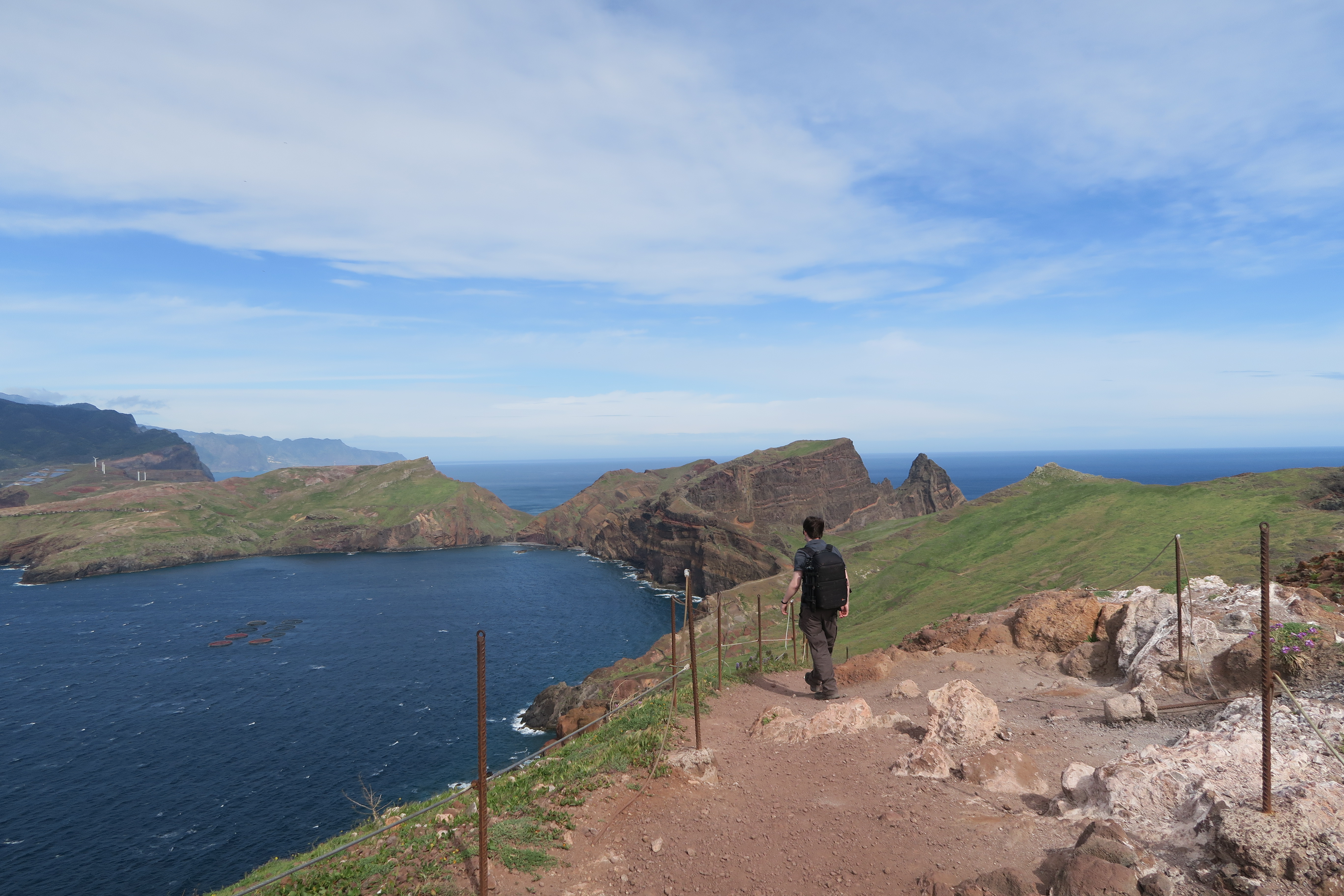 The main reasons we visited Madeira was because I heard it has some great hiking trails and lovely weather all year around. I learned Madeira's hiking trails are actually called Levada walks. The little canals, (levadas) are the island's irrigation system. They are used to distribute water on the island. With time people realised that the maintenance path next to the levadas could also be used for a great recreational activity: hiking. While these levadas were originally built for agricultural and industrial use, now they are important for the outdoor lovers as well. These walks are normally quite narrow and lead through beautiful scenery, so they attract a lot of tourist to the island.
We only spent 5 days on the island, but we managed to see quite a lot during our short stay. We decided to hike the 3 most popular levada walks and we didn't regret our decision. We visited Madeira in April during Easter, which is not peak season, but these hikes can get quite busy, since a lot of tour buses stop here. To avoid the crowd I suggest an early start for all of them!
Pico do Arieiro – Pico Ruivo (PR1)
Route:  We wanted to set off early on the Vereda do Areeiro (PR1) to avoid the crowd. We checked the weather forecast the day before and it said glorious sunshine. We drove up the mountain on Madeira's challenging roads, only to find ourselves surrounded by a very foggy scenery. So we achieved getting there early before the tourists, but there was no point doing the hike when we couldn't see anything. We decided to wait a bit in the hope it would clear up. If you want to avoid this I suggest checking the webcam online to see how is the visibility on top of the mountain. In about 40 minutes we were greeted with sunshine, just as the first tour bus appeared at 9:45 am. Luckily these tourists didn't come to do the hike, only to take pictures from the viewpoint.
So off we went on the hike I was most looking forward to on this entire trip! This hike exceeded all my expectations and became one of my favourite along with hiking Kjeragbolten in Norway. During our hike, we had all sorts of weather, so dress in layers and have waterproof jacket and trousers with you. You will also need good hiking boots if it's waterproof that's a bonus. The terrain can be tricky at parts, there are lots of steep steps to climb, which will surely exhaust you! You will walk through 5 tunnels on your hike, so it is advised to bring a torch with you. Many places the trail is very narrow and goes right next to the cliff edge! There is a small fence to keep you safe from falling, but I wouldn't recommend this hike for people with vertigo or for families with small children! Bird lovers will be delighted to hear that we came across many partridges, chaffinches and zino's petrel. After a long hike, we arrived to Casa de Abrigo do Pico Ruivo, which is a mountain hut, and you need to ask for permission from the Regional Office for the Environment to spend the night here. This place was a good spot to sit down, have our lunch and use the toilet facilities before we set off on the last stage of our hike.
The last ascent was short but very challenging. Our reward was glorious views from Pico Ruivo. We enjoyed the beautiful sunshine and took lots of pictures.
After you finished at the top you will have two choices. Either hike back to Pico do Ariero or walk down to the parking lot Achado do Teixeira, which is about 30 minutes from the top. You can take a taxi from there.
We decided to hike back to Pico do Ariero. We rewarded ourselves with cold drinks at the cafe, then drove back to our accommodation.
The highlight of the hike: Walking above the clouds and the narrow path with the cliff edge right next to us.
Distance: 14 km return
Duration: 6-8 hours.
How to get there: There is no bus service available here, so you will need to rent a car to get here or alternatively book an organised tour.
Parking: You can park at Achado do Teixeira or Pico do Arieiro. From Achado do Teixeira it is a 1-hour hike to the top of Pico Ruivo. From Pico do Arieiro the parking is right on the top.
Difficulty: Difficult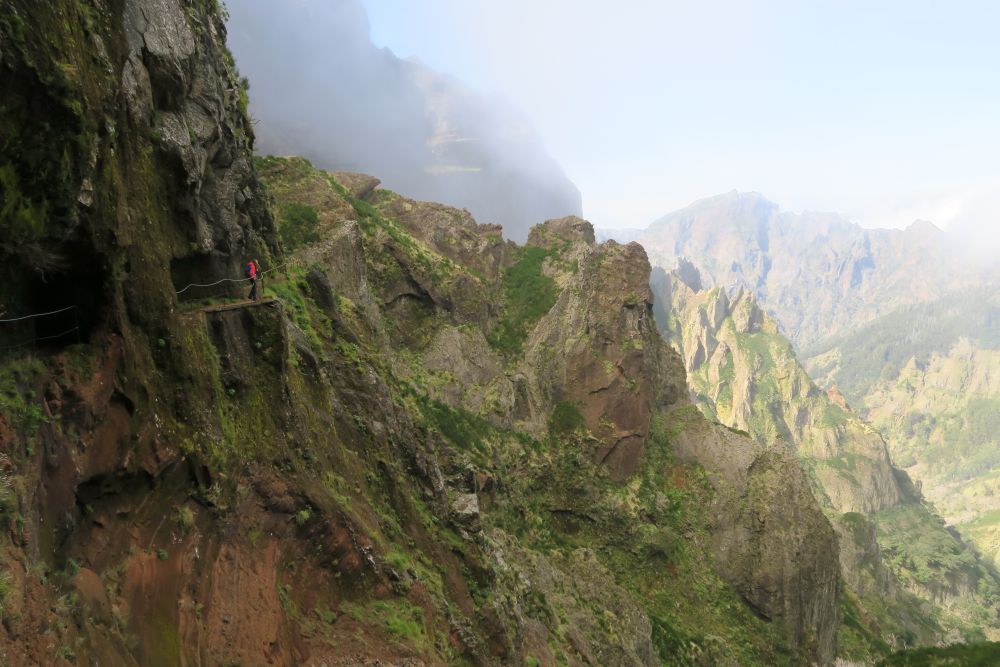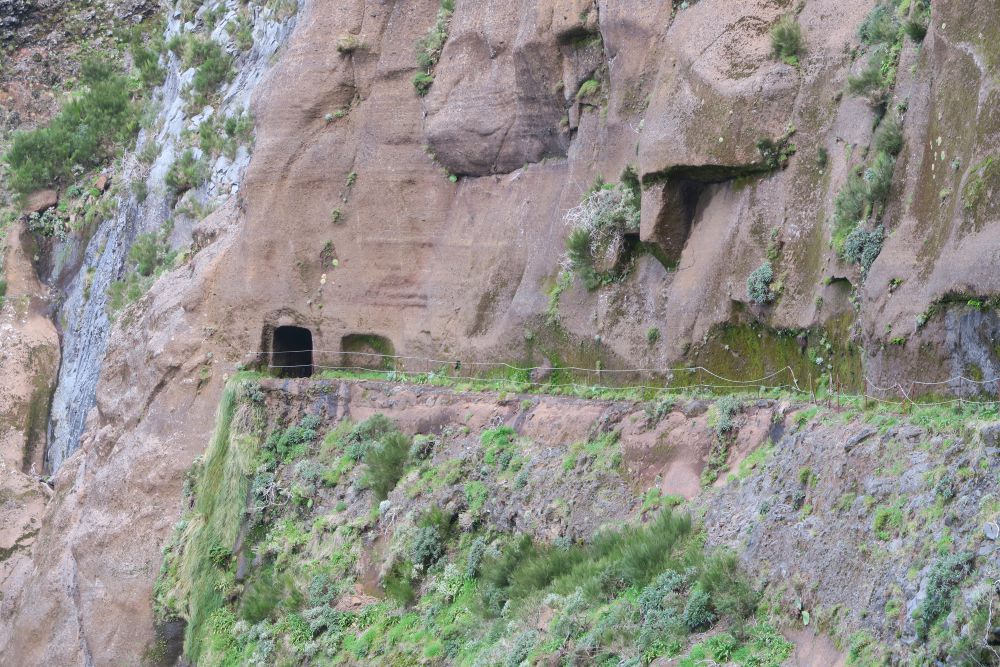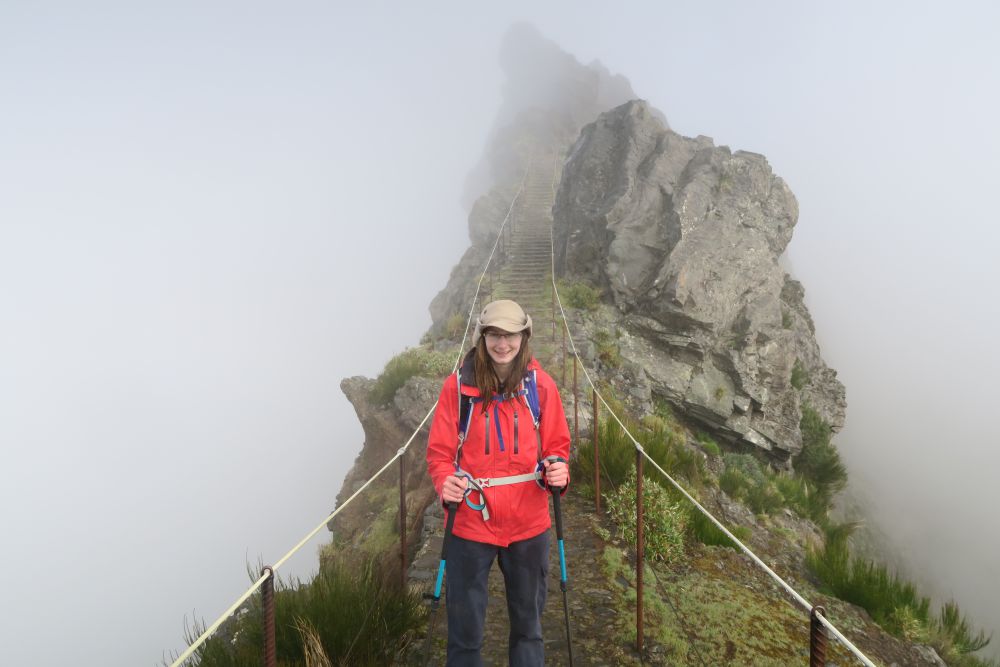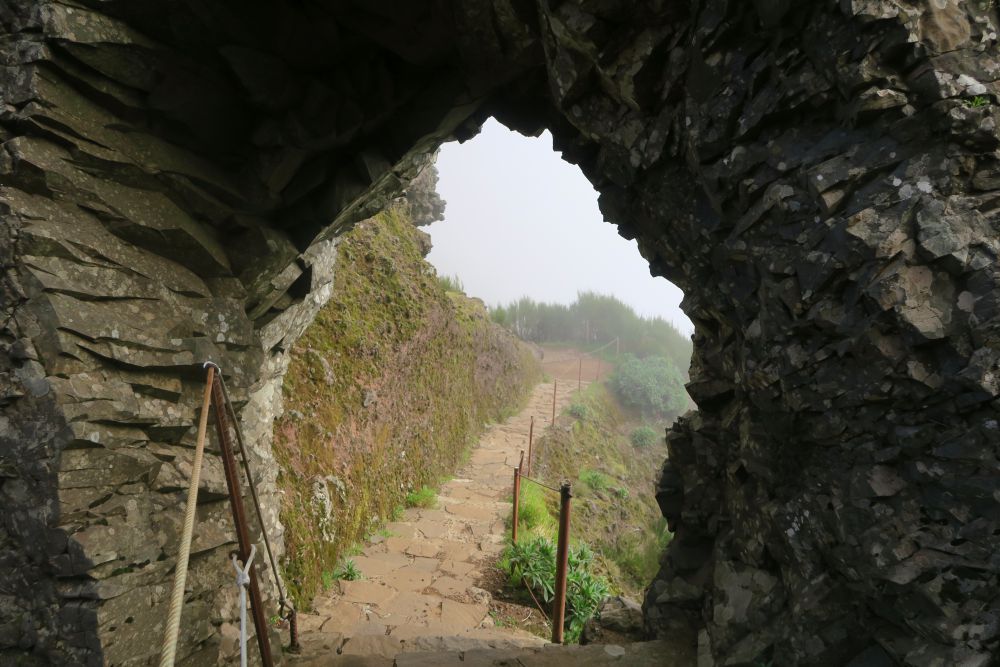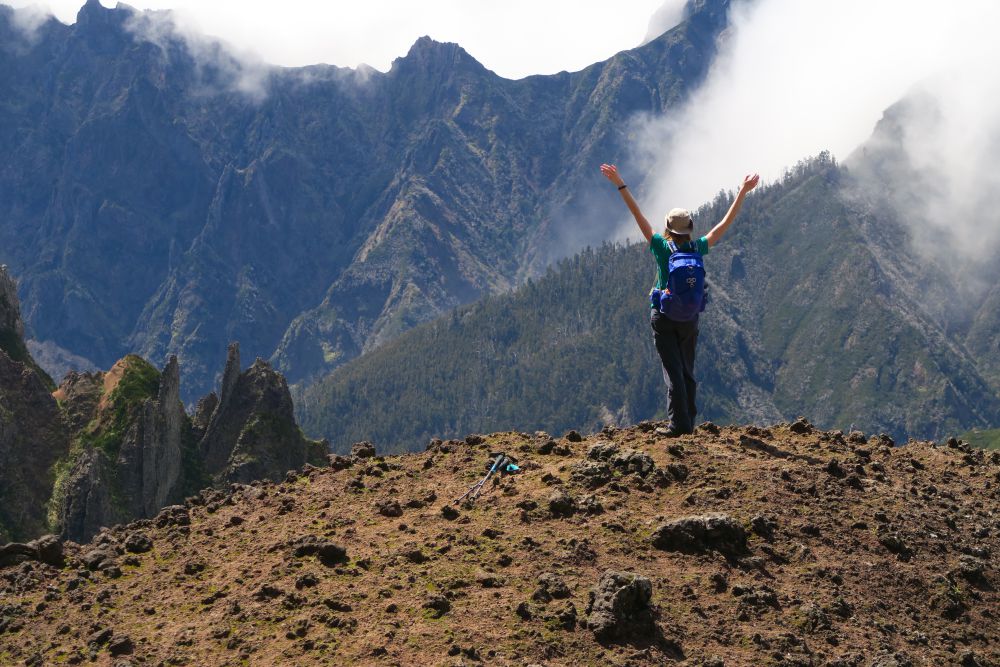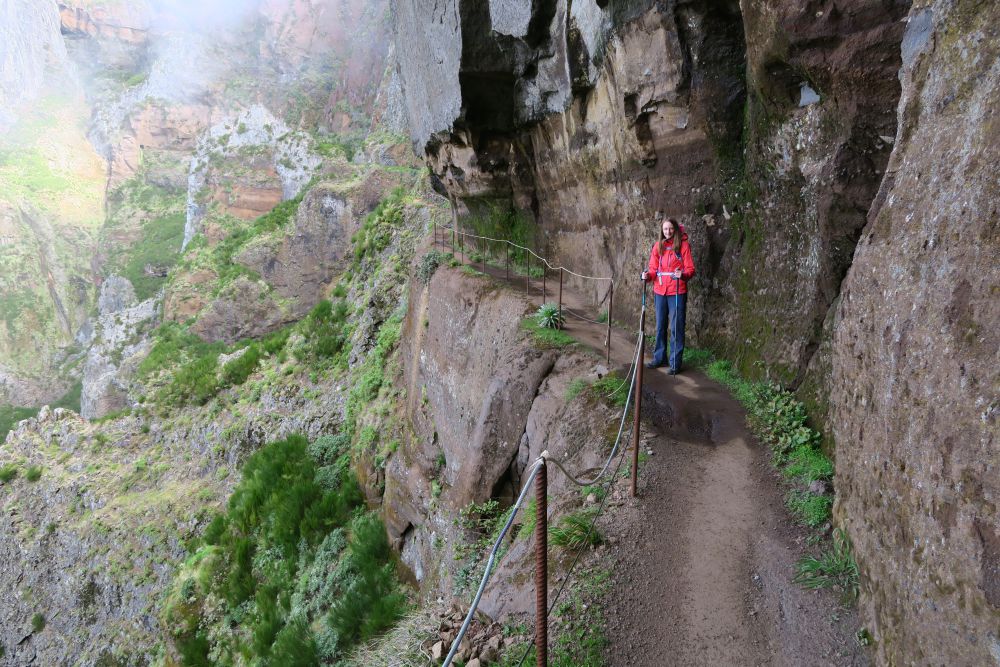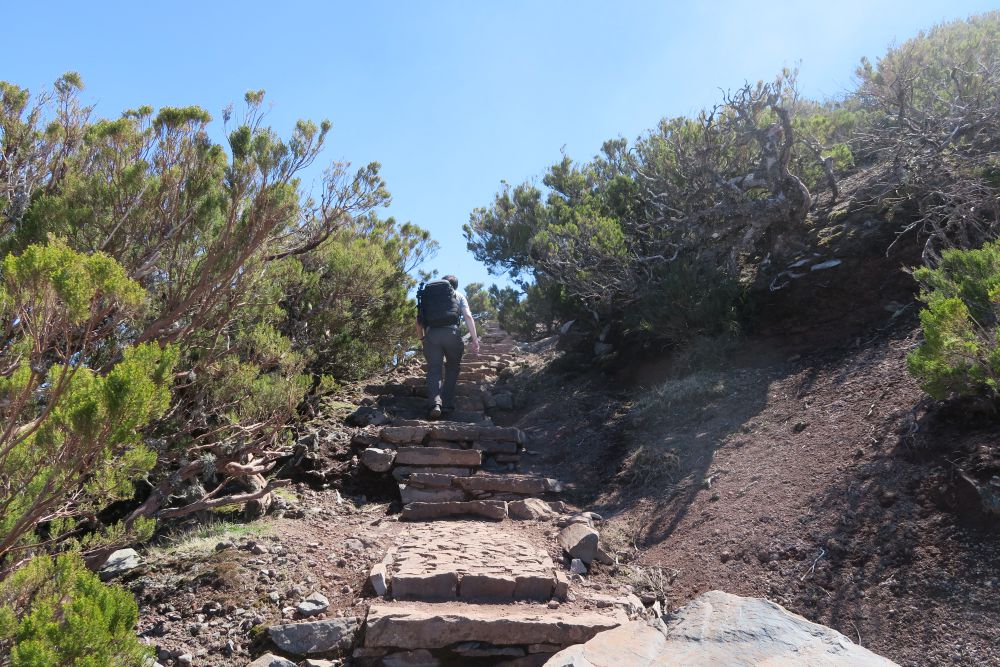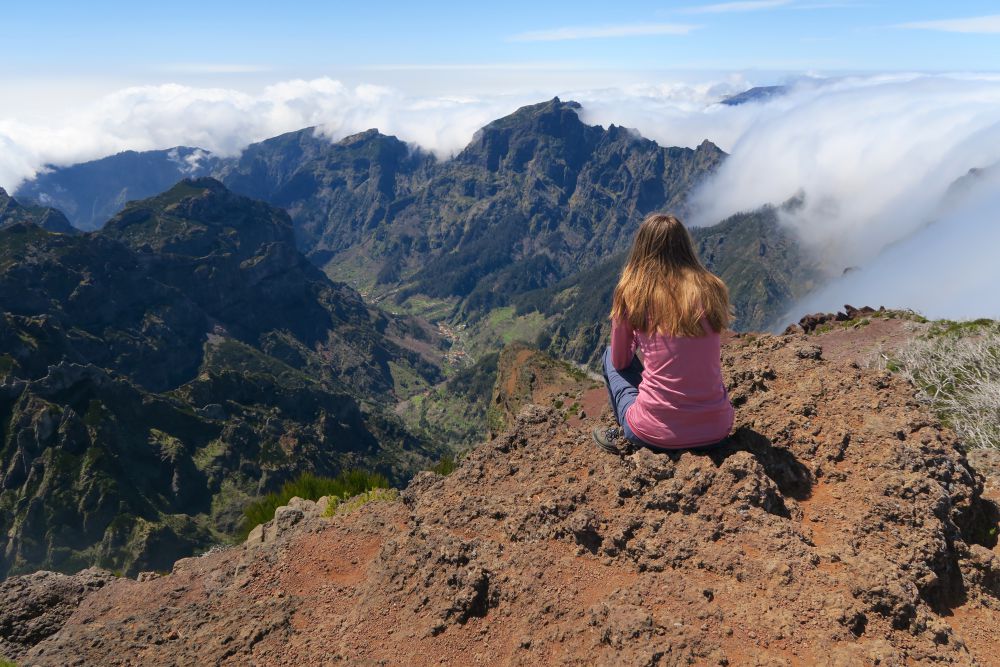 25 Fontes – Cascada de Risco (PR 6 – PR 6.1)
Route: We arrived at the parking lot at 8:45, which meant we beat the crowd to do the Vereda das 25 Fontes – Levada do Risco. One disadvantage arriving early is that the shuttle bus to the start of the hike is not in operation yet. The first shuttle bus leaves at 10 am. However, this is not a huge issue, as the path to the starting point is easy going downhill and should only take about 20 minutes. There is one point, where you will have to cross a small stream. In order to do that you should probably take your socks off and cross that way, or if you are lucky like we were there will be some stepping stones, which make it easy to cross without removing your boots. We decided to visit 25 Fontes first. The path there is pretty obvious as there are signs. Getting there is not particularly difficult as you will mostly just hike down. It gets very narrow at parts with the Levada on one side and the cliff edge on the other, with a fence for safety. When it is busy, it can get quite annoying being stuck behind a big group, or waiting to let people pass who come from the opposite way. Another advantage of going early is not having to deal with that! When we arrived to 25 Fontes there was only one other couple there, who passed us on the way, when we stopped taking pictures. We enjoyed the peaceful environment. A fun little game is to try and count all the little waterfalls. We had a snack sitting down on a rock, then started to make our way back towards the intersection to Risco waterfall. The hike back is more strenuous, as it is going up. From the intersection to Risco waterfall you will have to hike 1 km, but this is on flat terrain, so I really recommend expanding your hike to include Risco waterfall, as it is quite magnificent! We had our packed lunch here, then walked back to Rascal. There is a cute cafe here with lots of seating and toilet facilities. We rewarded ourselves with cold drinks and cake. Best way to end the hike. You can decide to walk back to the parking lot or take the shuttle bus from in front of the cafe. We decided to take the bus, as it would have been a long boring walk up in the sun otherwise. The shuttle bus costs 5 Euro two ways or 3 Euro one way. There is no set timetable, it goes when the bus fills up. This means you might have to wait a long time. Luckily we arrived at the right time and didn't have to wait at all.
The highlight of the hike: The atmosphere of walking along the cute levadas
Distance: 9 km return (not including the walk down and back from the parking lot to the start of the hike in Rascal)
Duration: 3-5 hours
How to get there: There is no bus service available here, so you will need to rent a car to get here or alternatively book an organised tour.
Parking: Parking lot along road E.R. 110 near Rabaçal. (32.7548350,-17.1336340)
Difficulty: Moderate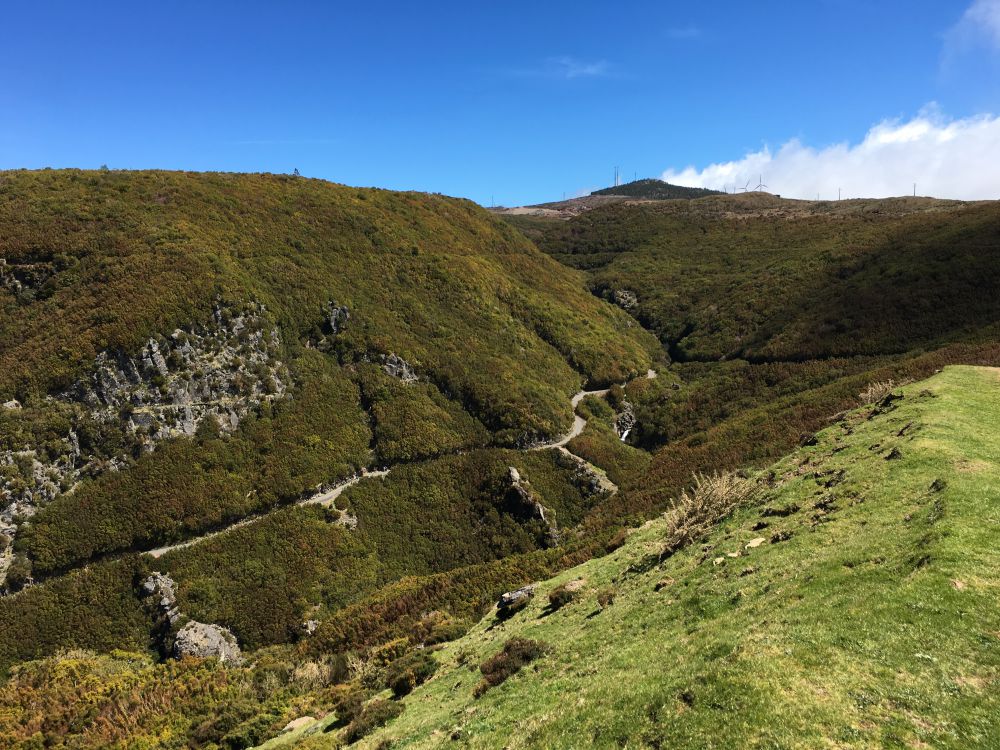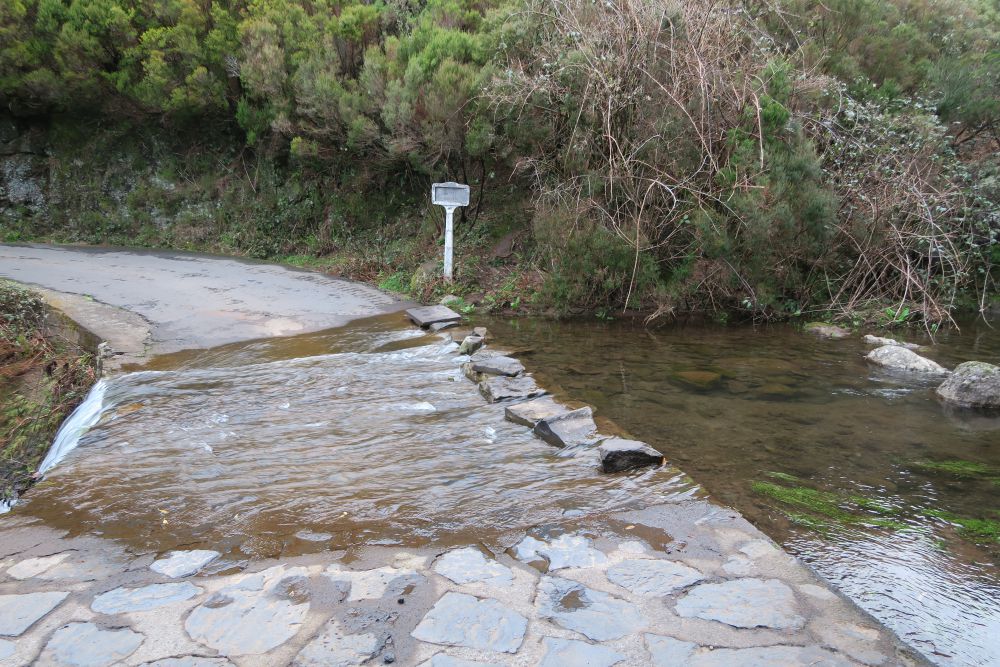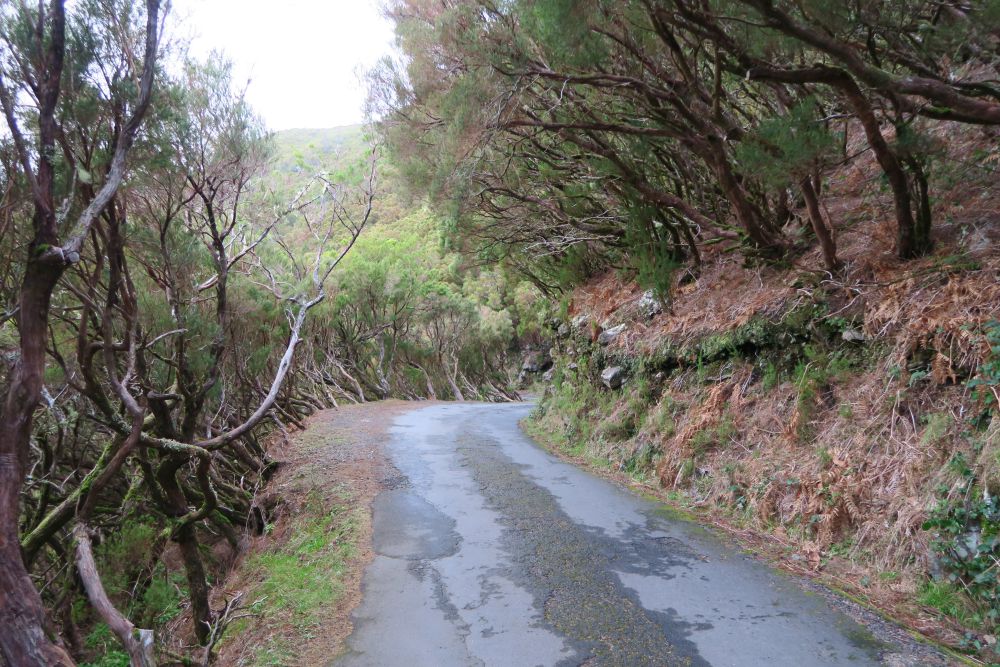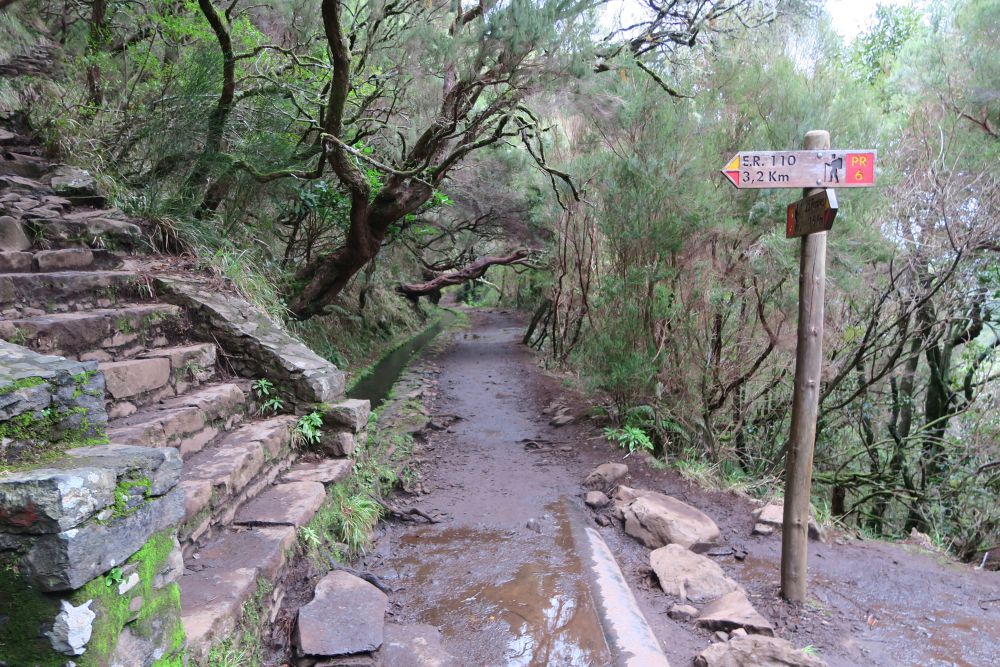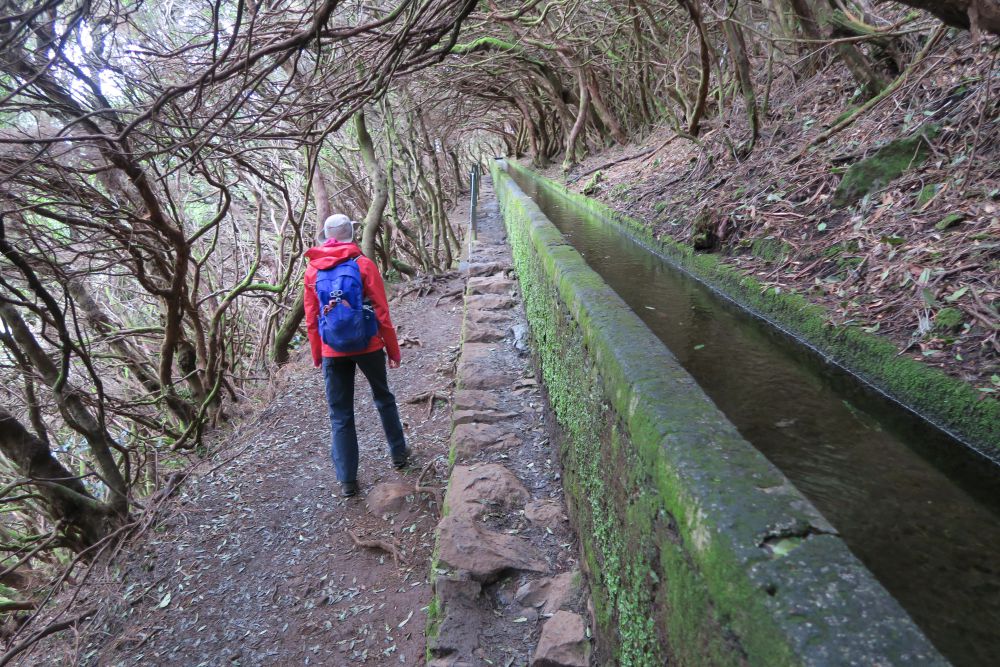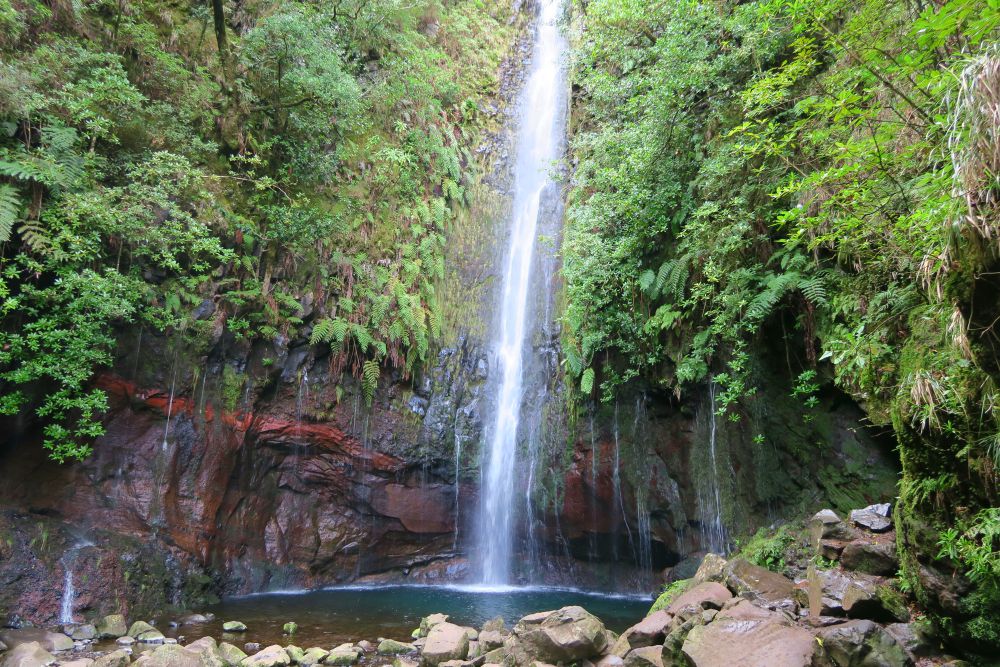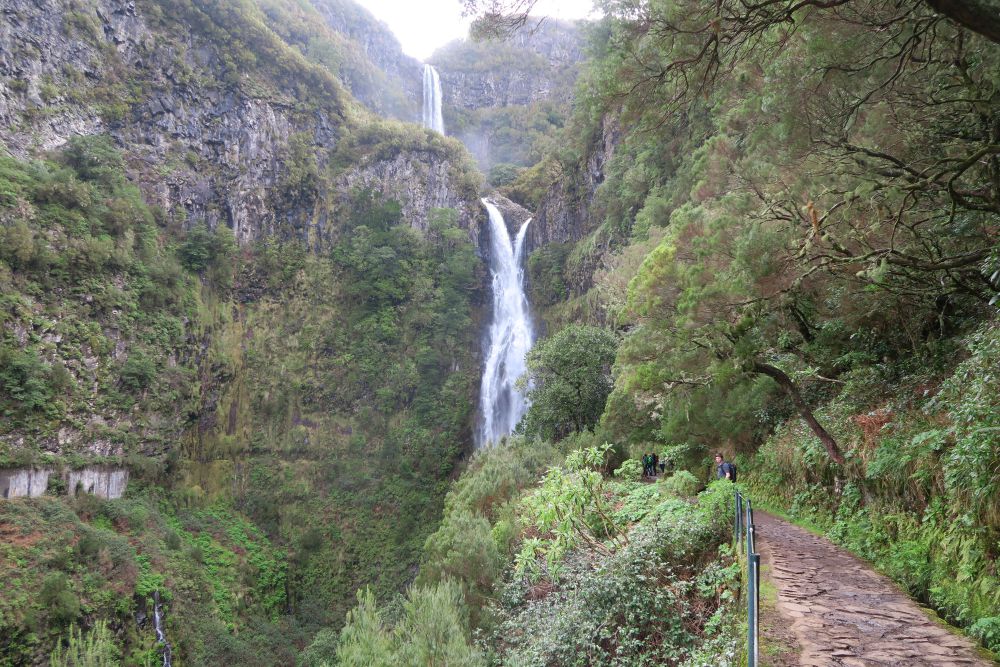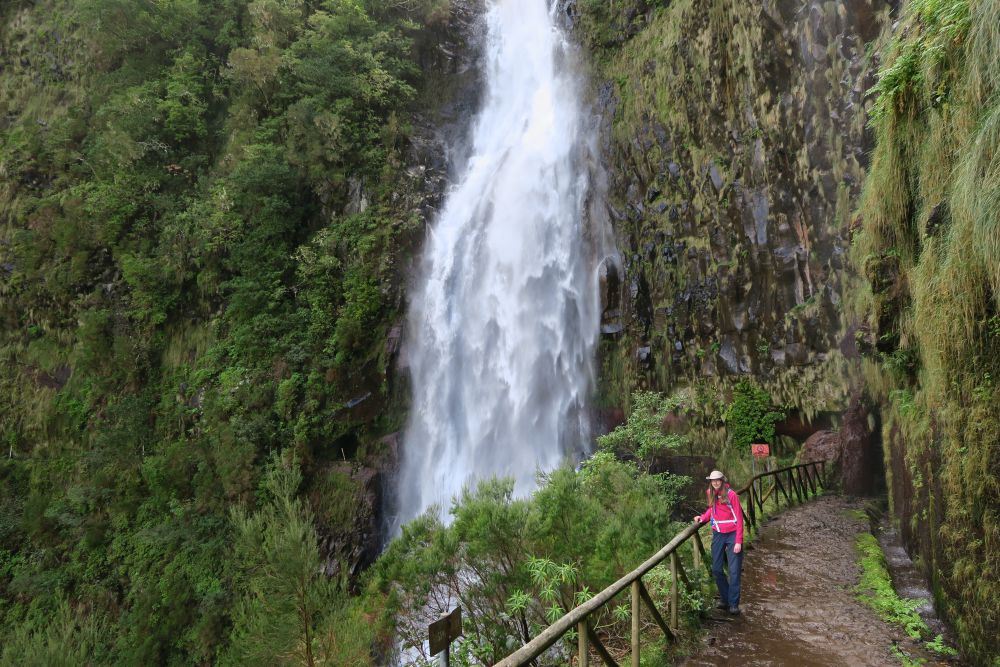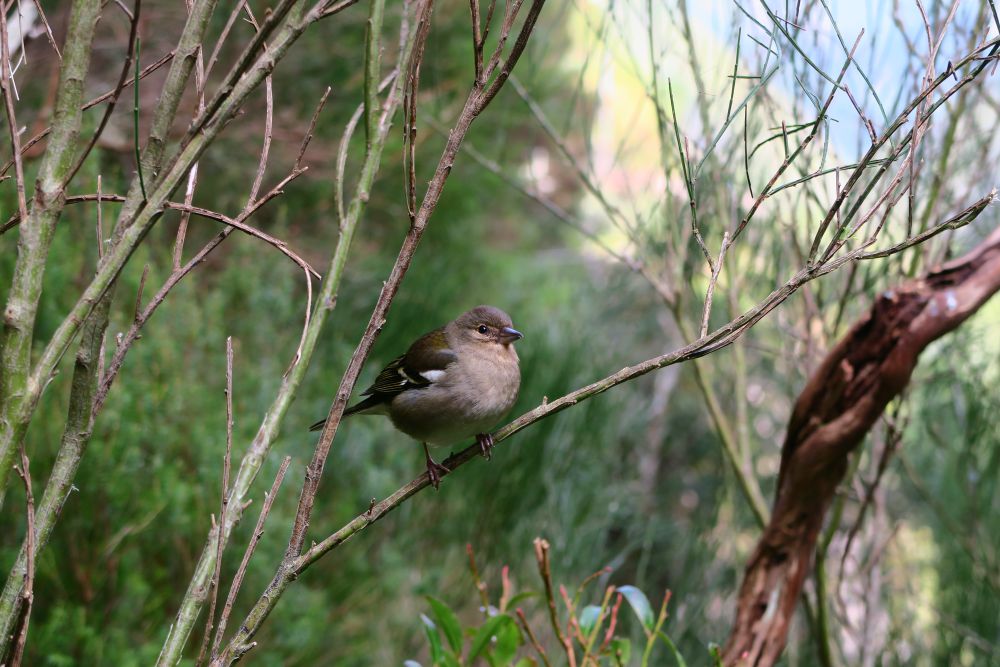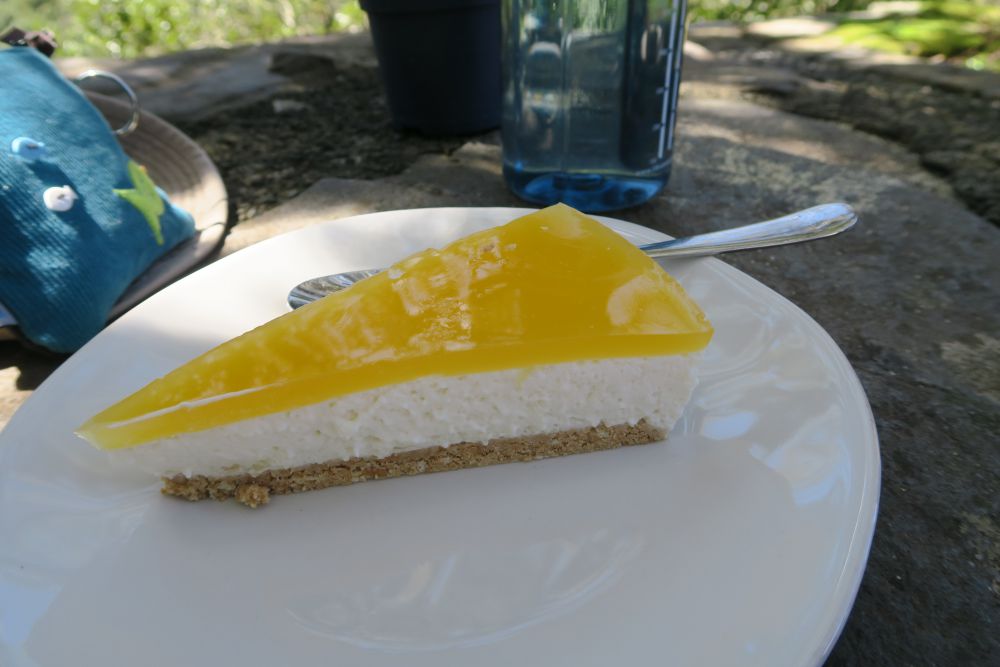 Ponta São Lourenço Peninsula  (PR 8)
Route: We arrived at the parking lot 9:30 am, just as a tour bus turned up. They were walking slower than us and didn't do the full hike, so we still managed to enjoy the place and get some nice shots without tourists in them. Our host at our accommodation called Vereda da Ponta de São Lourenco the "perfume trail", because it gets so busy with tour bus tourists that every time you pass someone you can smell a different perfume. Her statement reflected the reality very well as on our way back around noon the trail got really busy with people who were not really dressed for hiking. This path is not particularly difficult, but I would still suggest wearing hiking boots. The peninsula is famous for its nice weather. Often when it is raining on other parts of the island, you will be greeted with sunshine here, so sun cream and a hat is suggested! I really enjoyed this hike. It had many nice viewpoints. Apart from the last section which was a steep ascent in strong wind, the terrain wasn't too difficult. On the summit at Morro do Furado you can enjoy the panorama! We didn't spend too long here, as it was rather windy on the top. On the way back we stopped at Casa do Sardinha, which is a tiny Visitor Centre with lovely palm trees. The building was closed when we got there, unfortunately, which is a shame as this is the only place with toilets. Since the area is pretty flat without woods or many plants it is difficult to relieve yourself elsewhere. There are many picnic benches outside, so we had a nice snack here, then headed back to the car.
The highlight of the hike: Crossing the land bridge, which is the narrowest part of São Lourenço.
Distance: 7 km return
Duration: 3-4 hours
How to get there:  You can take bus #113from Funchal to Baia D'Abra. The journey should take around 1hour 15 minutes. Check the timetable before you go. For more flexibility, you can rent a car and drive there.
Parking: There is parking at Ponta de São Lourenço
Difficulty: Easy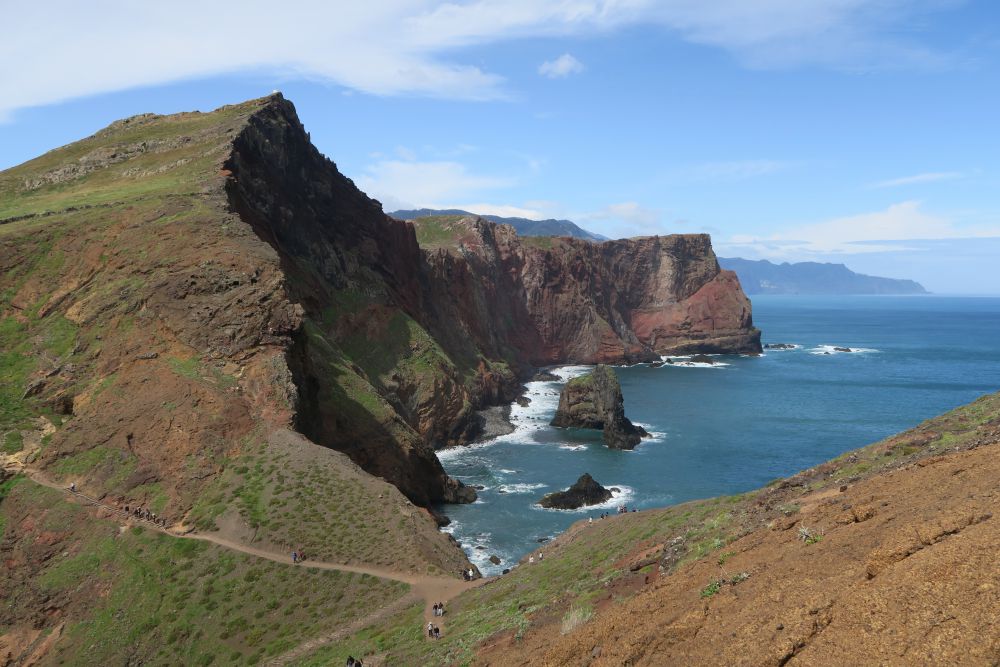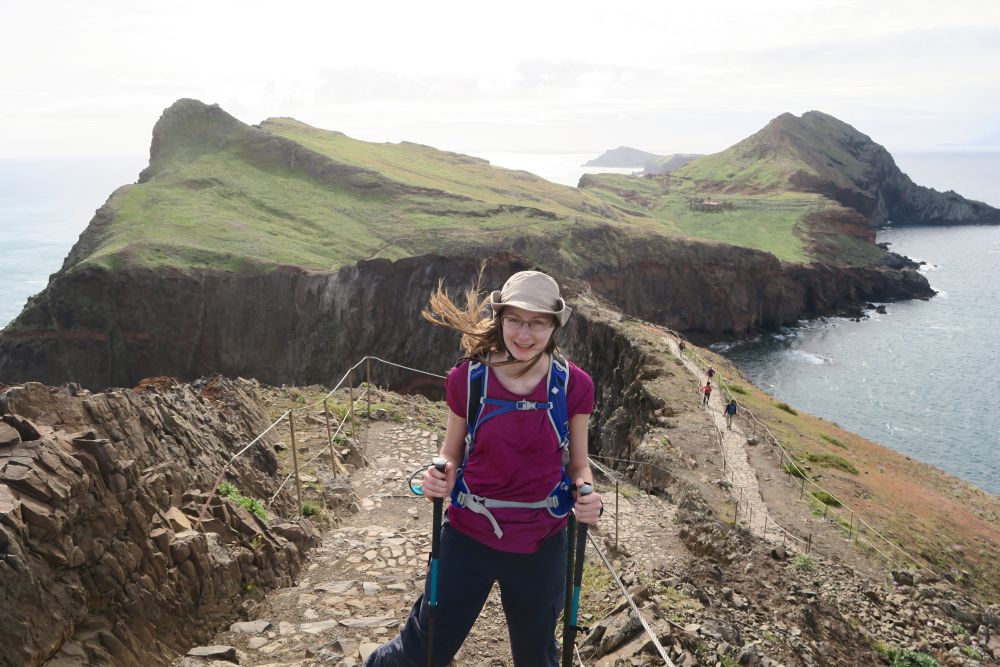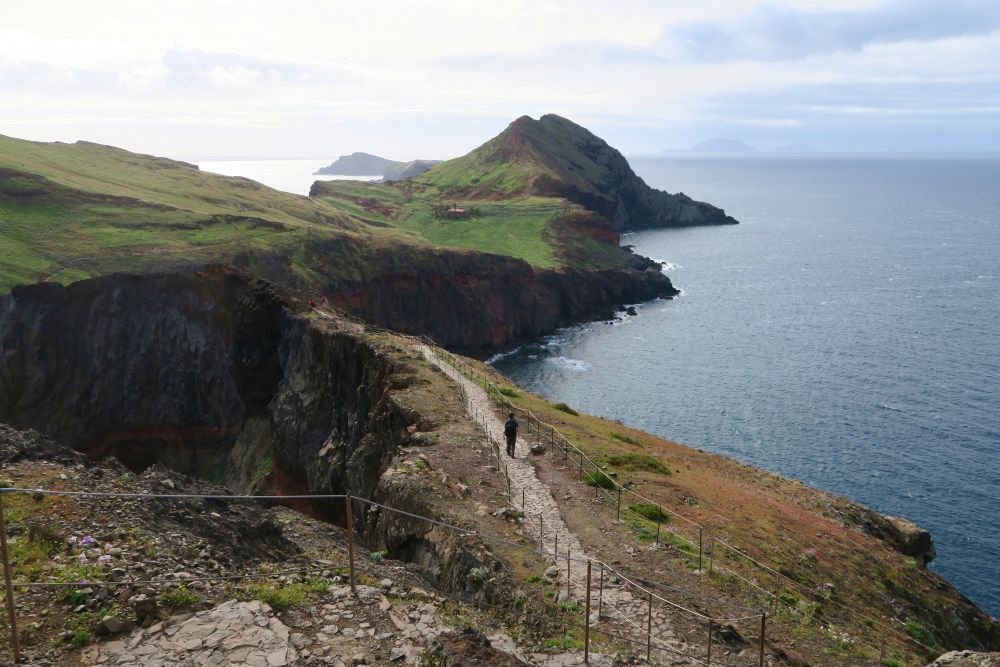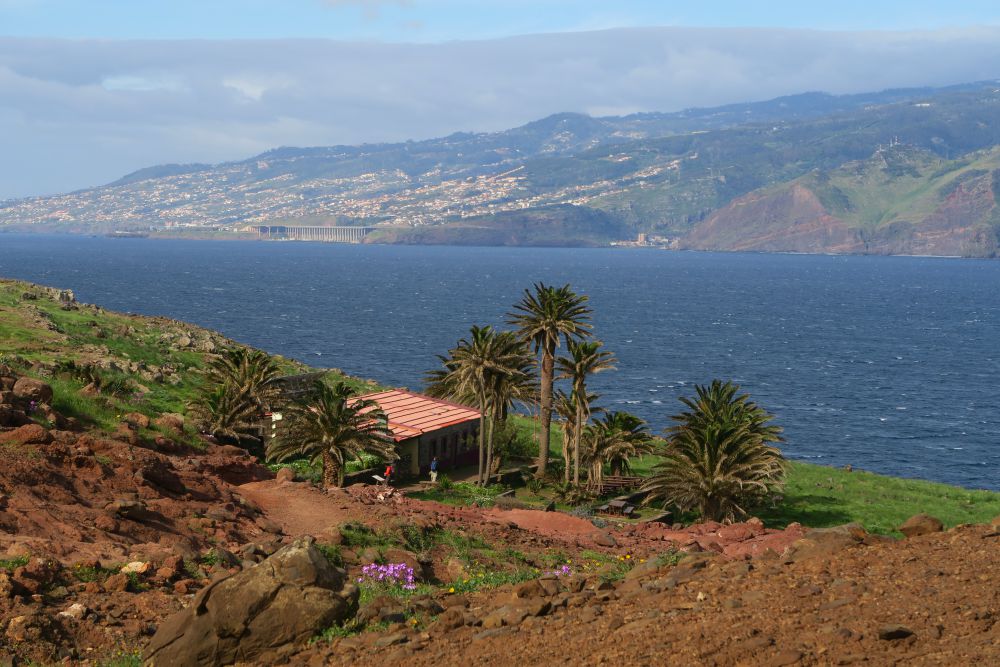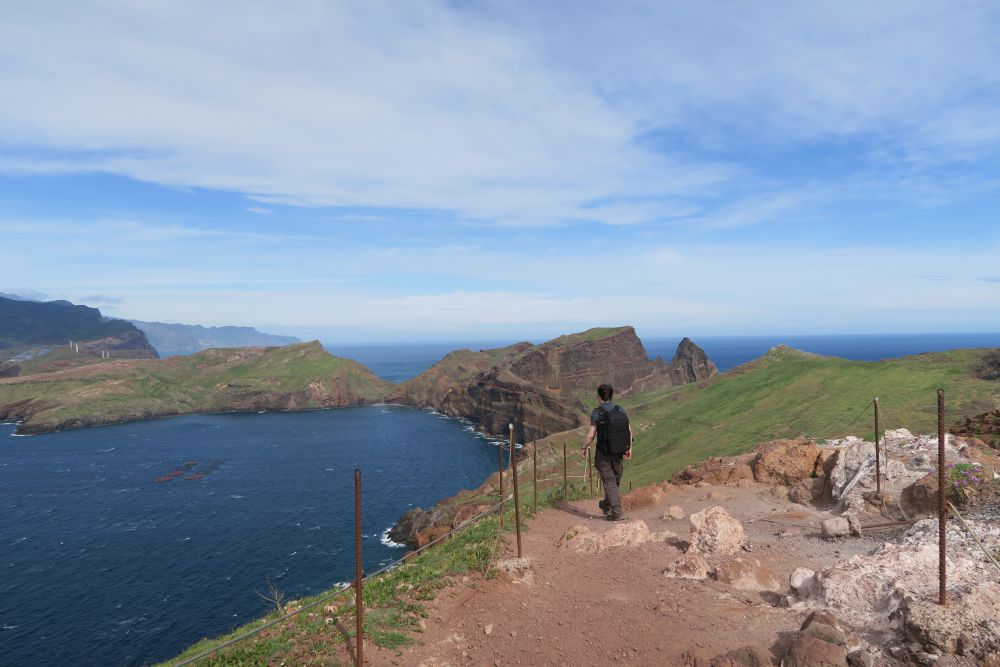 All of these hikes offer very different scenery and terrain! These trails are great if you only have a short stay on the island and want to put the emphasis on hiking. The island has many more other trails, which we sadly didn't have time to explore, but perhaps a reason to come back! We bought the Rother Walking Guide. Although the route was mostly pretty obvious thanks to the signs, it would suggest getting this book, as it has lots of good information and other walks as well, so you can pick the ones you like the best.
Did you enjoy this post? Why not PIN it?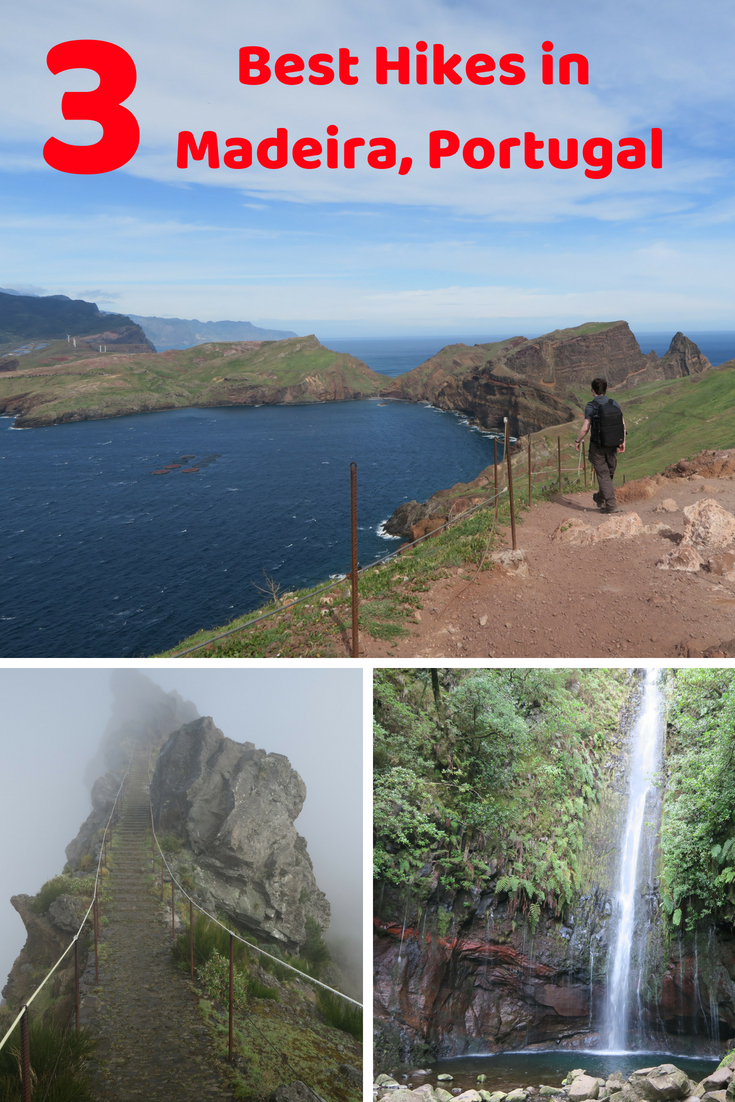 Enikő
Hey, I'm Enikő! I'm currently an au pair and I want to share my experiences with you. I've travelled a lot in the past years. I'm gonna teach you how to settle in to a new country and get free accommodation anywhere in the world. Circle Enikő on Google+!