New Forest Camping and Cycling holiday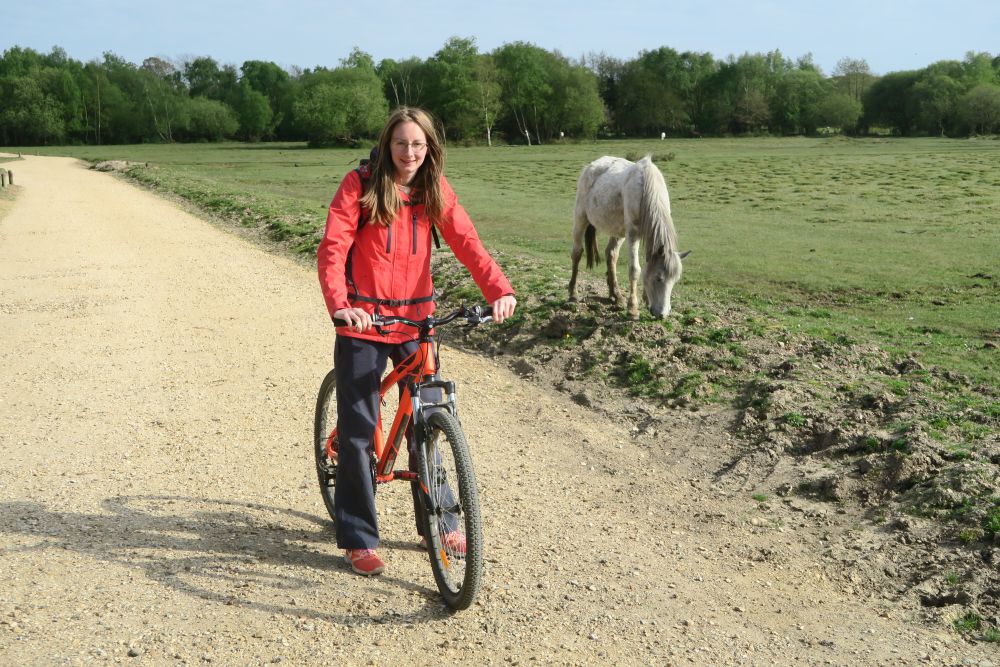 As an avid cyclist I was very excited about going cycling in the UK for the first time. It's been a long time since I rode a bike, as London is not the safest city for cyclists. The New Forest seemed like a great and safe place to hit the cycle path again!
New Forest cycle hire: Cyclexperience hooked us up with two mountain bikes. They were great to explore the area. Their office is located next to Brockenhurst train station, so super convenient for anyone travelling by train. They also deliver bikes locally, so you don't have to worry about getting to the rental location if you are too far to walk there.  They provide a repair kit, breakdown cover, helmet, lock and a map about the route that could be attached to the bike, making it easy to tell directions, while on the go. If you don't want to worry about planning your getaway yourself you can also book pre-planned day trips that include voucher for ferry ride or for pub food and afternoon tea.
How to get there: We took a train from Waterloo to Brockenhurst, which only took 1 hour 36 minutes. We then headed to Hollands Wood camp site, which was 1 mile from the train station, so accessible by foot. However there is also a bus that could take you there.
Camping in the New Forest: We checked in at 12 at Hollands Wood camp site and pitched up our tent. We were very satisfied with the campsite and we will definitely be back as the facilities were very clean and the site is huge, so you can have plenty of space from other people's tents. We stayed during the May bank holiday and it wasn't busy at all.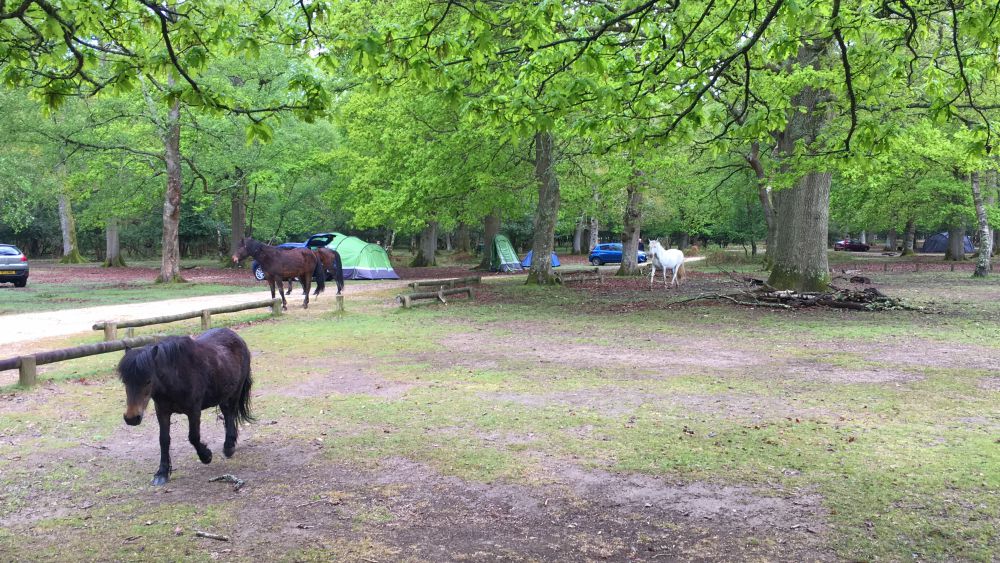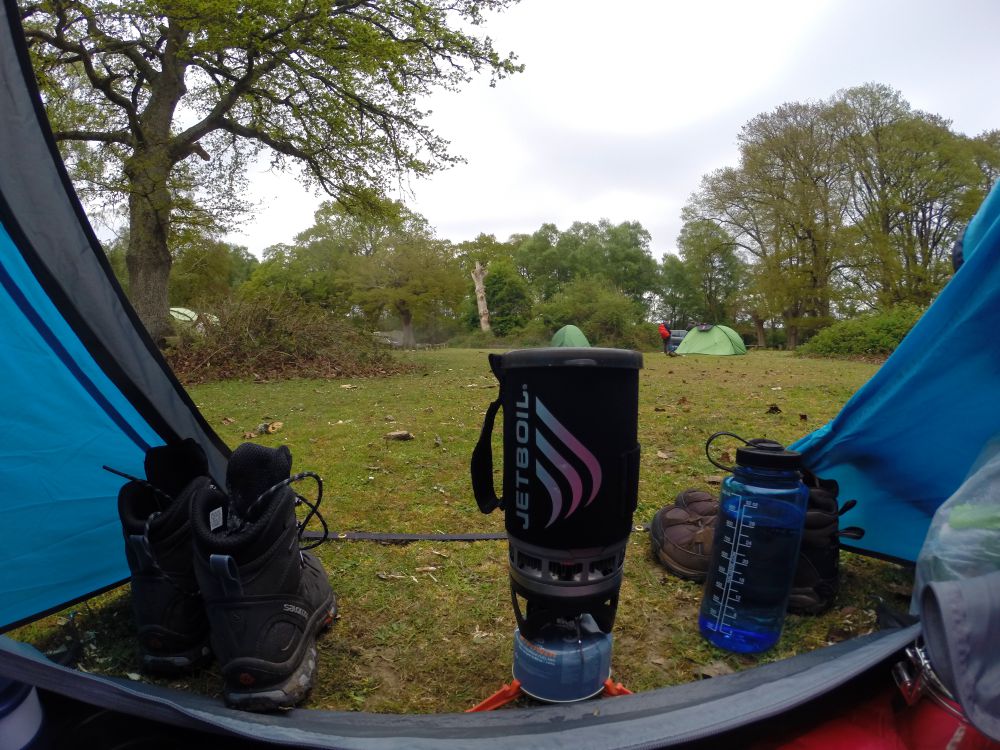 Cycling in the New Forest:  There are several cycling routes in the area including trails to Lymington, where you can take a ferry to the Isle of Wight.
Day 1:  At 1 pm we were ready to set off on our bikes. We explored the Ornamental Woods. We had lovely weather and stopped for a while next to a little stream. It was very popular with families as there was a rope swing over the water (there are loads of these in the New Forest) and 2 trees were leaning over the stream creating a bridge. It was great fun trying to get from one side to the other, however, it can be slippery. We witnessed a boy falling into the water. He seemed to enjoy this and had fun splashing around afterwards.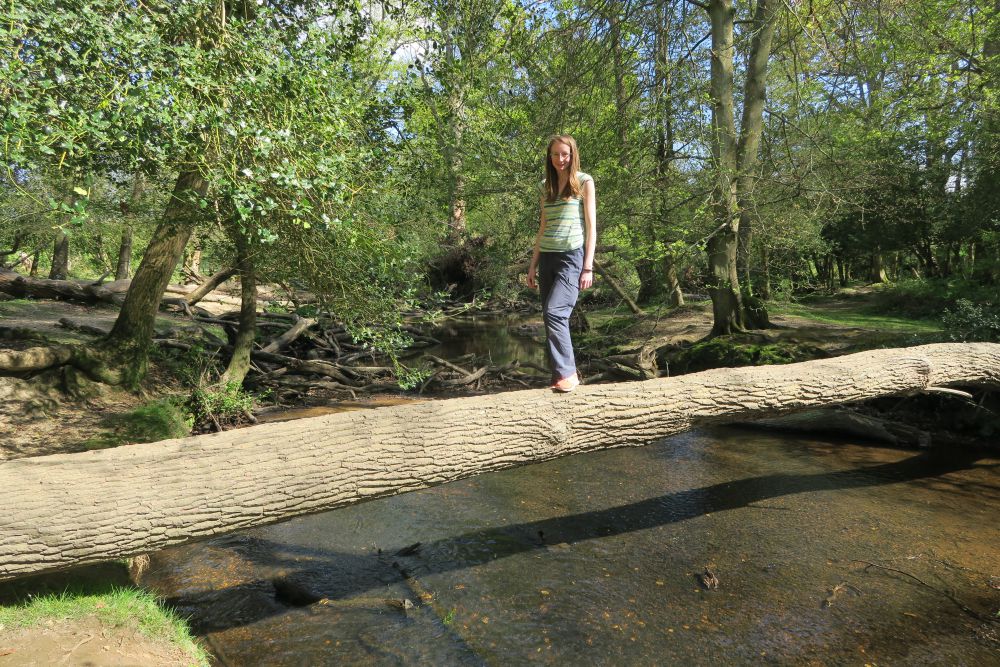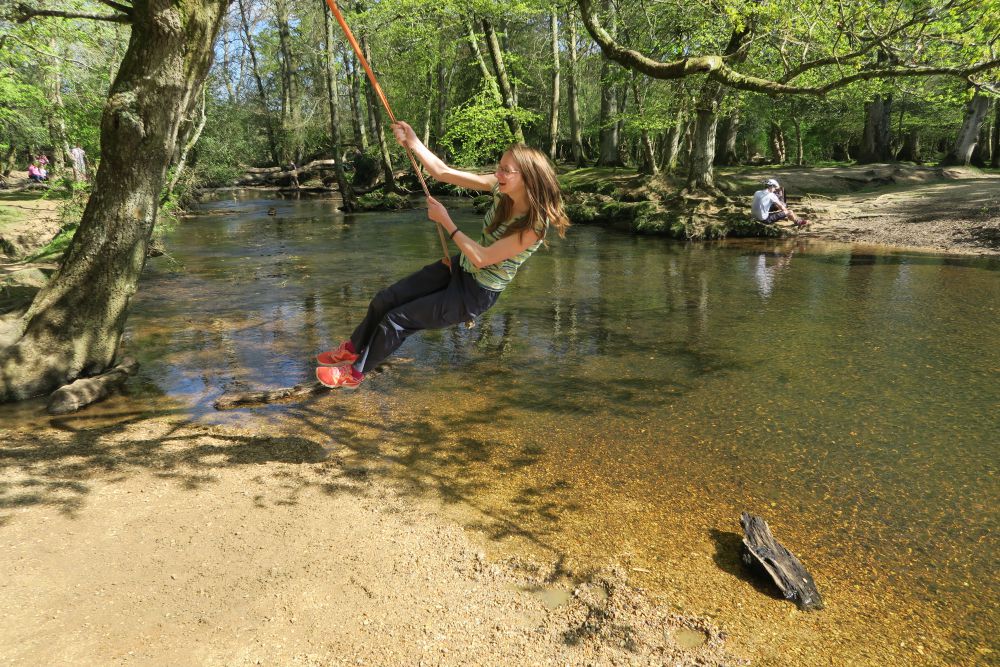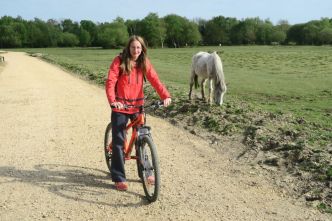 Day 2: The following day we had rain in the forecast, but we had raincoats and rain trousers, so it wasn't really an issue. Also it wasn't until 1 pm that it started to rain. We managed to make our way to Beaulieu by noon. We called a few local pubs to see if they have any table for lunch, however being a bank holiday, we had no luck with this. We then stumbled upon Steff's Kitchen, which was a lovely place. They have bike racks to lock the bikes and lots of seats both inside and outside. We had a really tasty Sunday roast. Coming from Hungary I don't eat this very often, but it's always a treat when I get to, so naturally, it was one of the highlights of my weekend.
We cycled down to Buckler's Hard, where we had a really quick walk, as it's not so accessible for cyclists if you are not a visitor of the Maritime Museum. (we, unfortunately, forgot to start our tracker again, so no trace of this section on our journey, but the pictures are proof we did it.
On our way back we passed Hatched Pond, where we saw some ducks. We returned the bikes around 4 pm, although day rental is until 5:30, but we were pretty tired at this point. We went back to the campsite and made dinner with the Jetboil. Wayfayrer food is really tasty.
The next morning we had a lie in, then set off around 12 back to London.
The New Forest is a lovely destination for cycling and walking as well. We saw a lot of nice birds, cows, horses and deer.
A super getaway from London, even just for a day as well as it's not super far.

What are some of your favourite cycling destinations in the UK?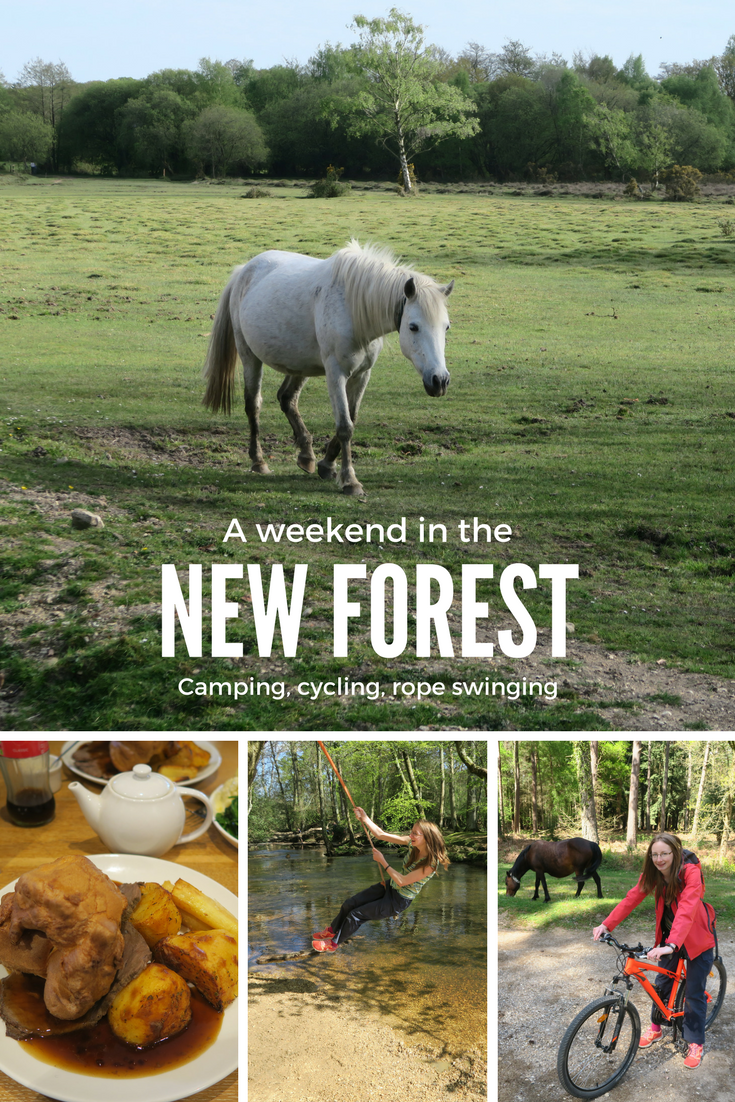 We were guest of Cyclexperience, but all opinions are my own. #sponsored
Enikő
Hey, I'm Enikő! I'm currently an au pair and I want to share my experiences with you. I've travelled a lot in the past years. I'm gonna teach you how to settle in to a new country and get free accommodation anywhere in the world. Circle Enikő on Google+!