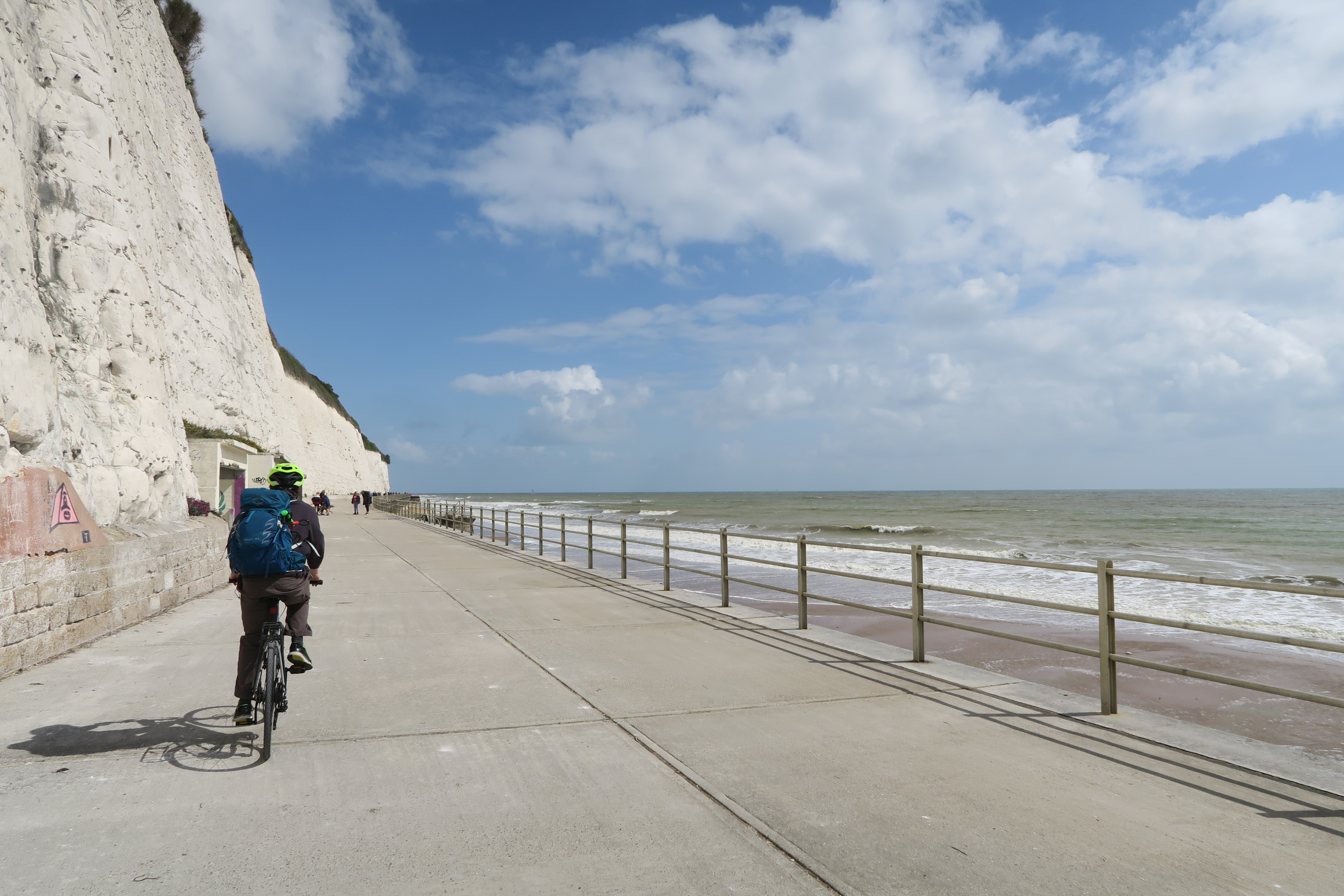 Cycling the Viking Coastal Trail in Kent is a great way to explore the Isle of Thanet at your own pace. The 32 mile (51.4km) circular route goes through beautiful scenery. You will discover cute seaside towns, secluded bays, quaint villages and if you are lucky you will even see some amazing wildlife along the way. The route can be easily done in a day, but you can also divide it into smaller sections if you want to spend more time to experience each place, as there is a lot to do!
This post may contain affiliate links. If you make a purchase through one of these links, I may receive a small commission at no extra cost to you.
Guide book suggestions for the area
I love the Wild Guide books and have the whole collection. This one focuses on hidden gems, beaches, unique accommodation and canoe/kayak trips within easy reach from London.
This is another favourite book. If you are into photography then it's an absolute must. Gives great suggestion about compositions and best time to visit during the day/year.
Where is the Viking Coastal Trail?
It is located on the Isle of Thanet, which is the most easterly point of Kent in England. In the past Isle of Thanet was separated from the mainland by the 600-metre-wide Wantsum Channel. The Isle of Thanet is not an island anymore. It is a popular tourist destination, because of the Blue Flag beaches.
Who is the Viking Coastal Trail for?
The trail is well signposted along the way. The route varies. In some sections you will have to go on the road, but traffic is normally light on them. The trail is suitable for families if the children are quite confident cyclists. Alternatively, you could also use a kids bike trailer. If you are worried about safety I suggest the 9-mile traffic-free stretch that follows the sea wall from Margate to Reculver. This section is really safe and pretty with lots of possibilities to stop for refreshments and public toilets are also available along the way.
Some of the trails are off-road and some sections have a lot of small rocks and shells on the cycle path as it goes right next to the sea. Therefore a road bike with narrow tyres might not be the best option for the Viking Coastal Trail. However, if you are a keen road cyclist, you can avoid the bumpy sections and just cycle on the road where the cars go. This will mean a less scenic journey.
Many coastal towns have a good range of accommodation. Margate, Kingsgate and Broadstairs are all great options.
Camping on the Isle of Thanet
We brought our camping gear on our pannier racks and stayed at Nethercourt Touring Park for 2 nights. The lady owner was really friendly and helpful. She gave us a map about the Viking Coastal Trail, then showed us where to pitch our tent. It started to rain just as we started to pitch the tent and it even turned into a hail storm. A guy came up to us in the heavy rain (assuming another owner) and asked us to move the tent a few metres and then decided to "help" by pulling our tent, making the inner sheet wet. Thanks a lot, just what we needed in an already stressful situation! The campsite only had a few guests, as it was quite a chilly weekend and no new guests arrived after us, so why we needed to move 2 metres to the side is unclear to me, when there was loads of space and the lady previously said it was fine there! In any case, the campsite was nice and had everything we needed: showers, toilets, washing up facilities, game room and drinking water station. Ramsgate train station is only a 5-minute bike ride away and Tesco and different takeaway places can be reached by walking in 5 minutes. Ramsgate Beach is a 10-minute bike ride away. So it has a convenient location, which is why I decided on this campsite. We paid £22/night for a backpacker/cycle pitch (no car) which is a bit pricey. Next time I think I would choose Hawk Place Campsite instead.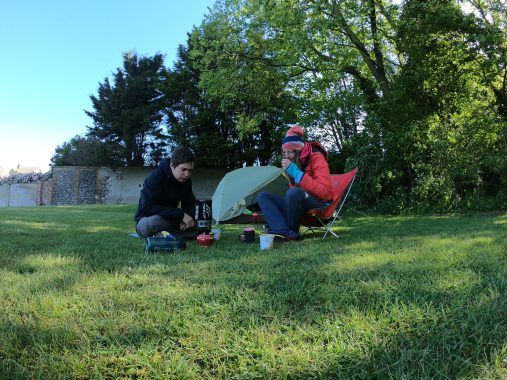 I didn't stay here personally, but we saw this campsite from the cycle path. It is conveniently located to access the Viking Coastal Trail. Birchington-on-Sea train station, Sainsbury's, restaurants and cafes are all a 10-minute bike ride away. Minnis Bay with its lovely beach is only a 5-minute bike ride away. You can also rent bikes there. Facilities seem more modest, but there are toilets and showers and at £14/night it is more affordable.
Highlights of the Viking Coastal Trail
As the majority of the trail goes next to the sea, you will have the chance to stop at many beaches. In nice weather, you can go for a swim, or on windy days fly a kite.
Ramsgate
There are several restaurants, arcades and rides at the beach. If the weather isn't great, and you want to learn a bit about the history of the town, I suggest visiting Ramsgate Tunnels. There is a free exhibition or you can join one of the tours, which costs £7.00 for adults and £4.00 for children. Check website for timings. The 1,5-hour tour was very interesting to me. We had a great guide, who was passionate about his job. He shared some nice stories about the tunnels and how it saved thousands of lives during the Second World War. There is also a cafe with affordable prices.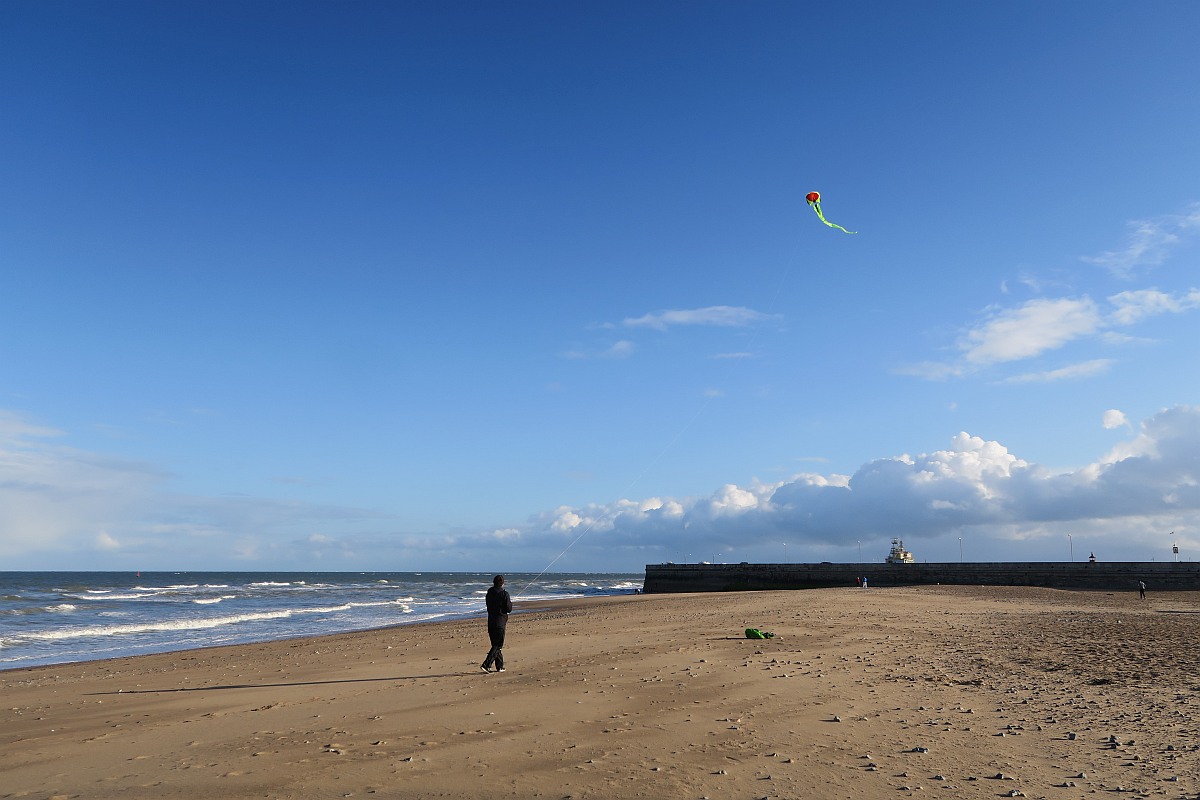 Viking Bay
Broadstairs is a cute coastal town on the Isle of Thanet. It has a sandy beach called Viking Bay. On windy days it is a paradise for surf lovers. When the sea is calm it is a popular destination for families to have a beach day. There are different rides as well including a merry go round, swings and a bouncy castle. You could also launch an inflatable kayak if you have one.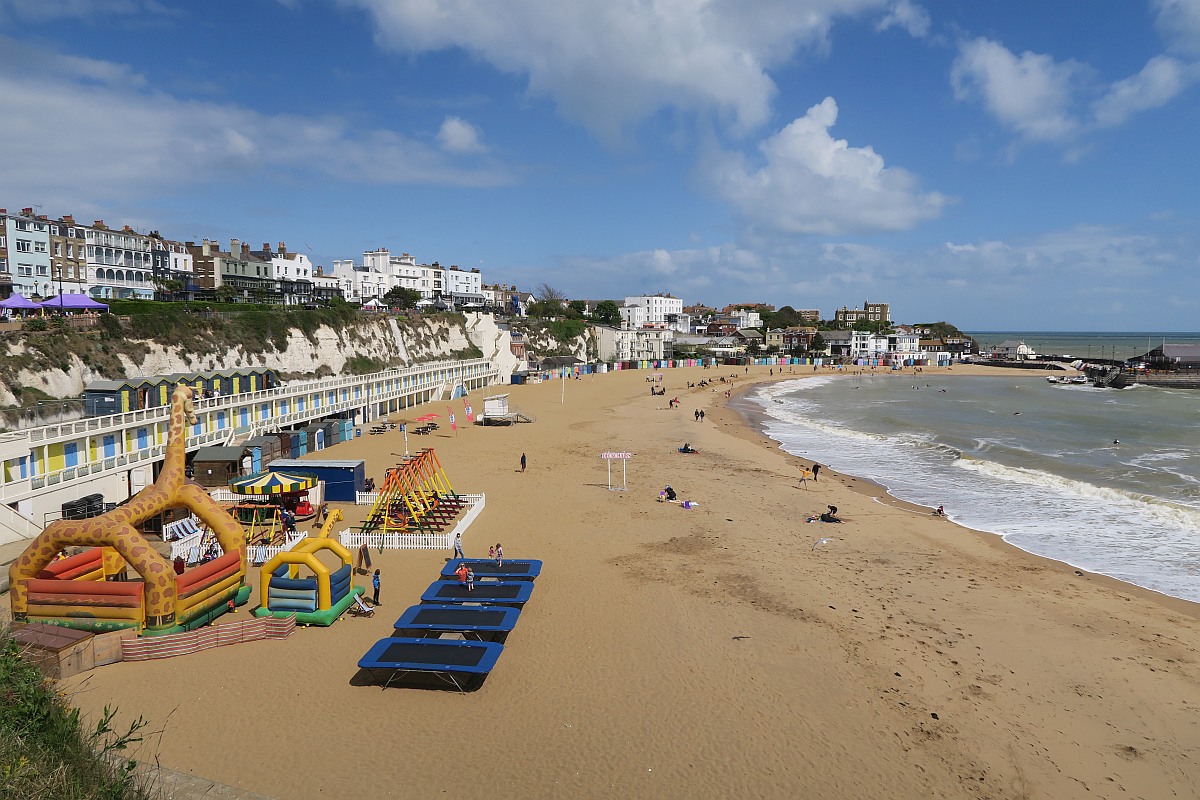 Kingsgate Bay
This beach is a dog-friendly beach all year round, which makes it popular among pet owners. The beach is well sheltered and peaceful to swim in. It is generally not very busy, this is perhaps to the fact that there are no toilet facilities or refreshments available here. However, there is a local pub called Captain Digby, which has a great view. Another option is to walk to Joss Bay when the tide is out and where you will find toilets and shops.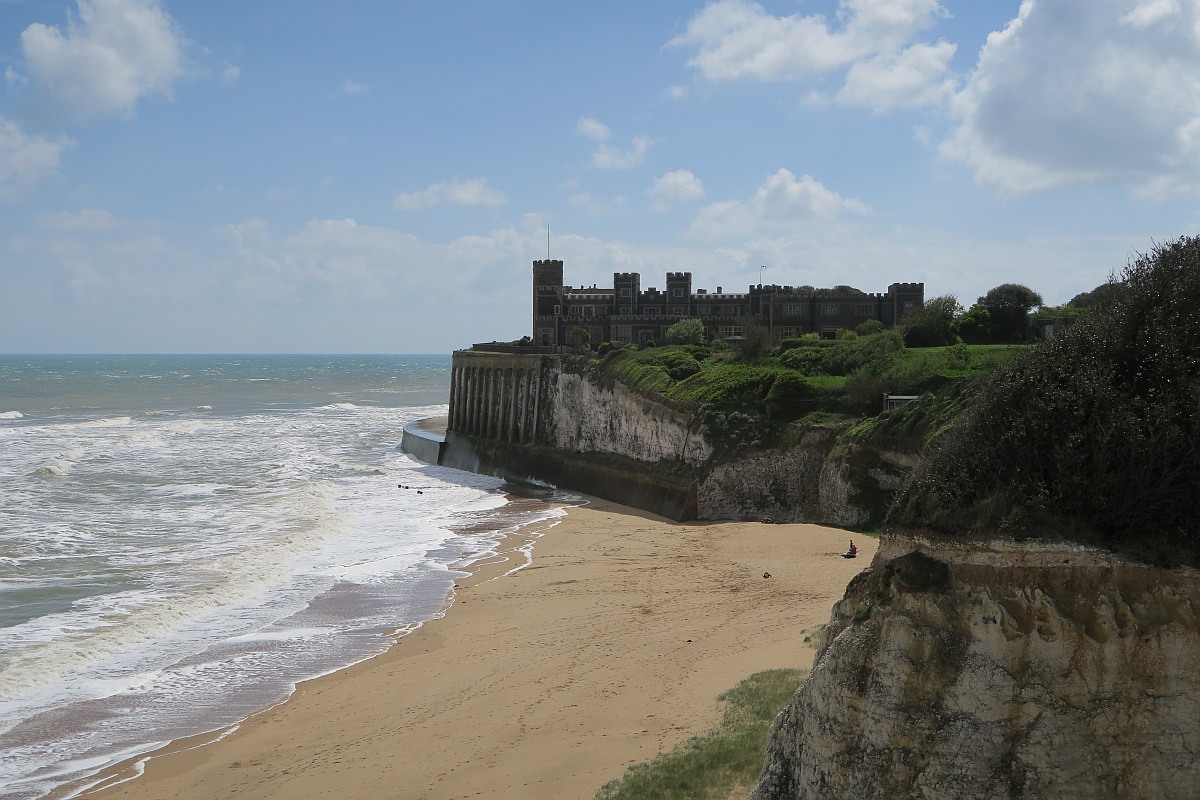 This is a real hidden gem in Kent. Beautiful sandy beach with gorgeous chalk cliffs in the background. A great place for families for a day out. Lots of little coves to explore and in the summer months, there is a lifeguard on duty.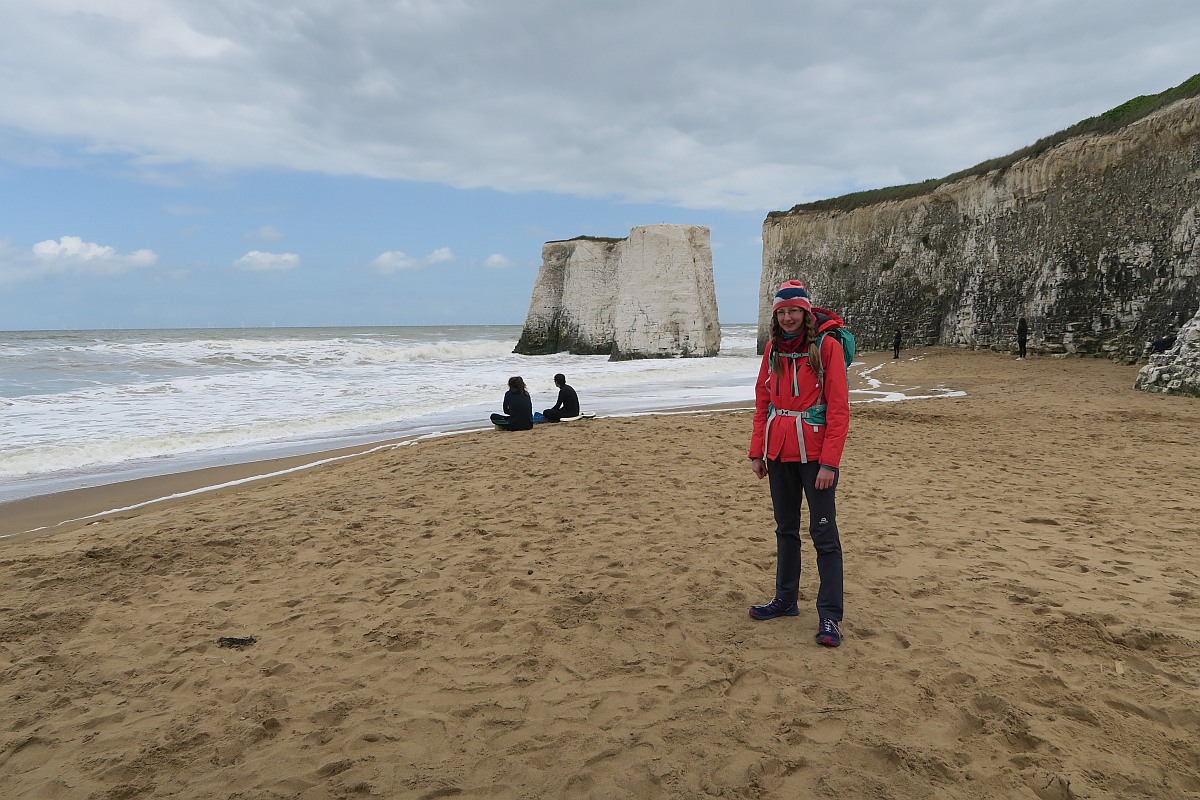 Margate
Margate is one of the bigger seaside towns on the Isle of Thanet. There is a lot to do at the beach here. The Viking Adventure Playground offers great fun for children. Dreamland is a mini theme park with different rides suitable for children, teenagers and adults as well. You will find roller coasters, mirror maze, swing boats, teacups, drop tower, dodgems and many more.
There is also an over 80-year-old tidal pool, which isn't very well kept, but people still use it today. The beach itself is lovely and sandy, making it ideal for families. You will find lots of facilities including shops, cafes, bars, restaurants and toilets.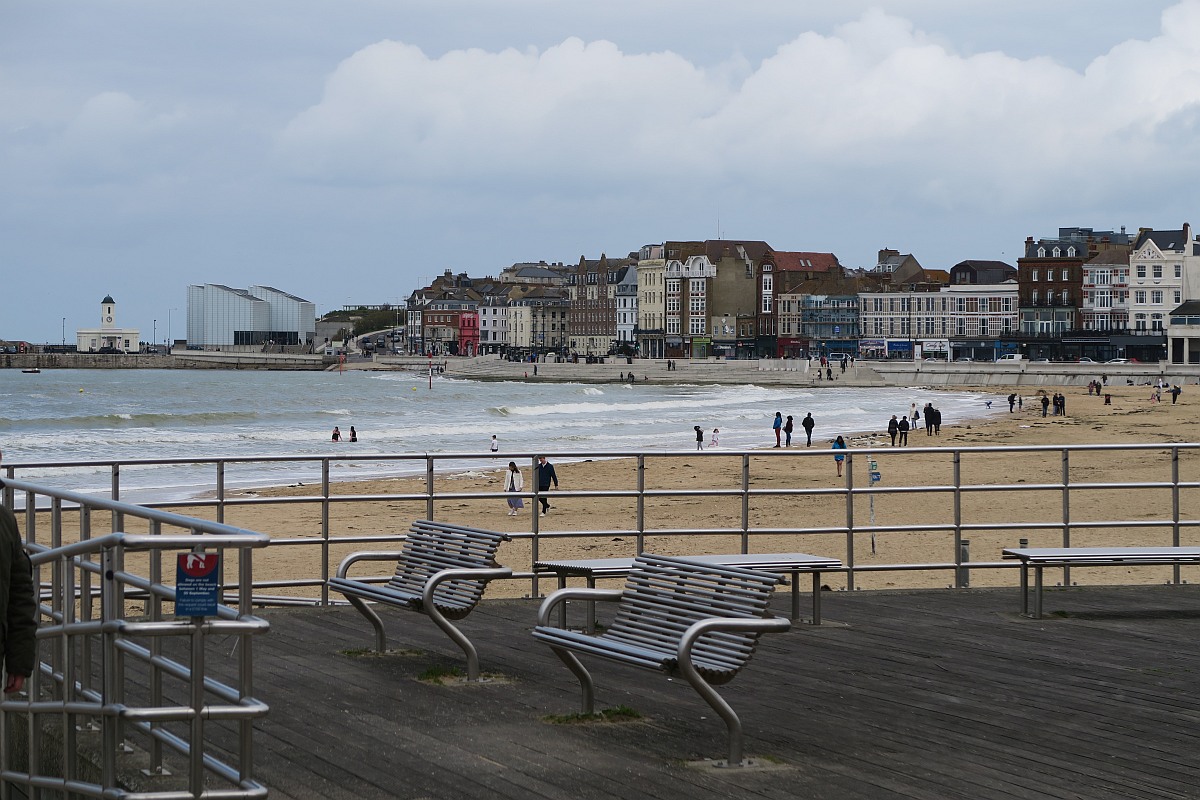 West Bay Beach
It is just a short walk from Westgate-on-Sea train station. Lovely sandy beach with a lifeguard on duty in high season. It is a dog-friendly beach and certain periods you can have them off leash to run around. There are toilet facilities and cafes around. It is a quieter beach than some of the others, as there are no arcades.
Reculver Towers and Roman Fort
Much of the site has been lost to coastal erosion, but the remains of the Roman fort is still worth a visit. This is an English Heritage site and entry is free. There are parking places, toilets, a pub, a cafe, a children's play area and a visitor centre. It is also just a short walk away from Minnis Bay, which is a nice place for a swim.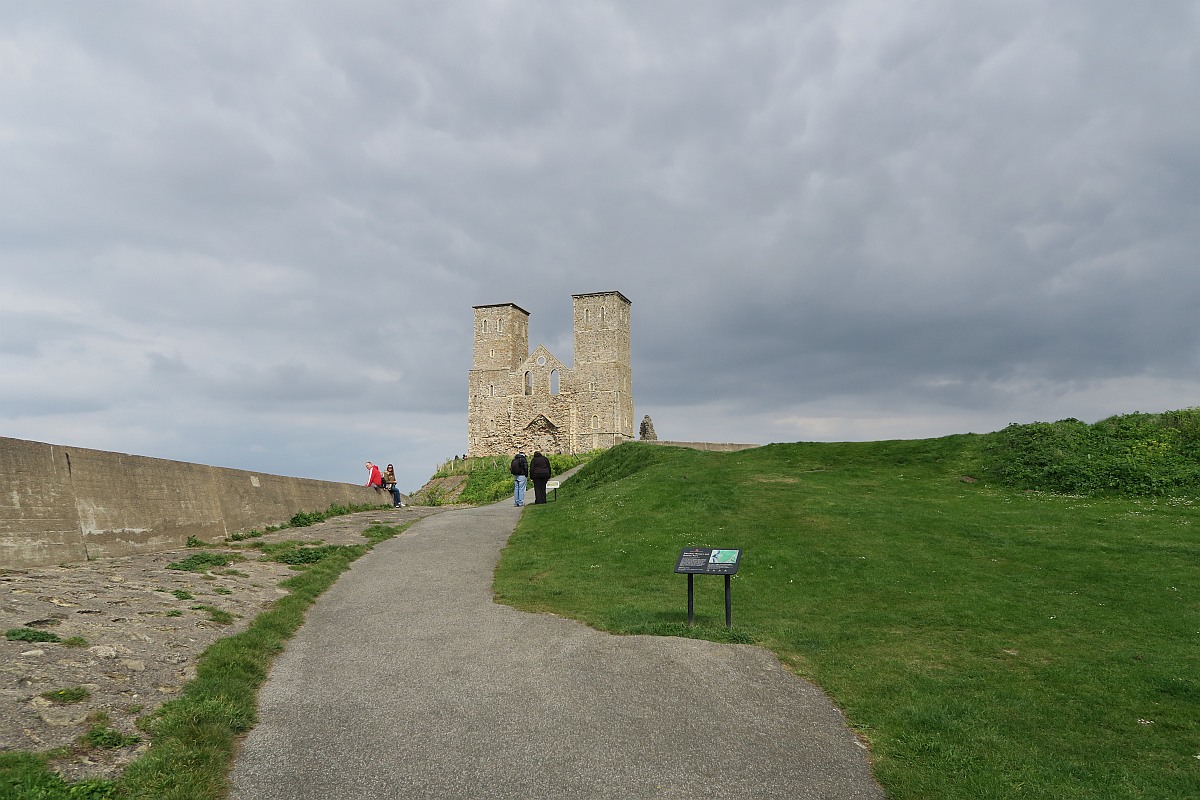 Monkton and Minster
As you leave the sea you will go through some lovely towns in the countryside. Enjoy looking at the cute house and windmills that you cycle past and admire the churches. If you have time and energy you can even take a detour to Monkton Nature Reserve.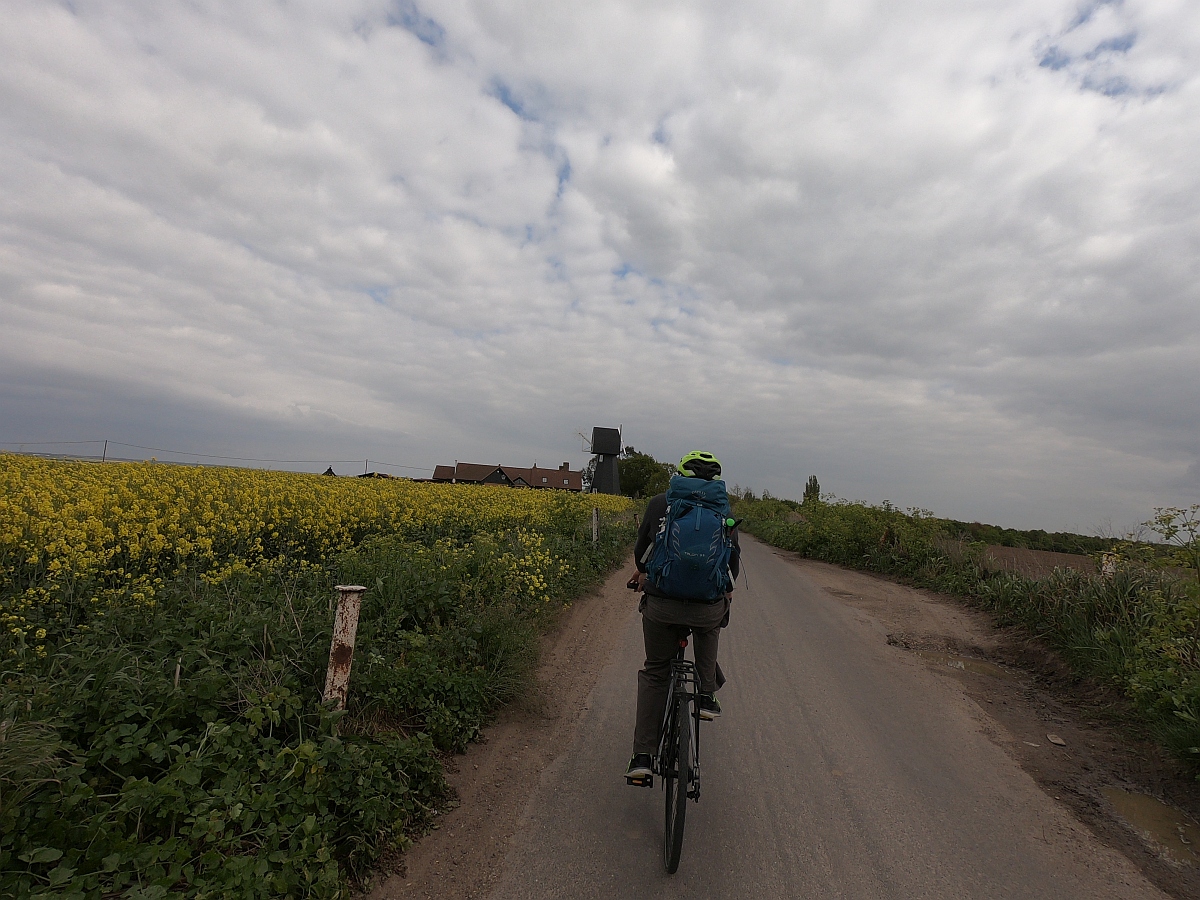 How to get there
You can start the journey at any point along the Viking Coastal Trail. We are based in London and took the train from St Pancras to Ramsgate. We decided to have Ramsgate as our base as it had a nice campsite. However, London also has direct train connections to Broadstairs, Margate and Westgate-on-Sea. The journey time is about 1 hour 45 minutes.
If you arrive by car, you can generally find parking in the seaside towns, but you will most likely have to pay.
Cycle Hire along the Viking Coastal Trail
Located in the beautiful coastal town of Minnis Bay, Birchington, Kent. £25 all day cycle hire for adult bikes.
Cycle Hire in Margate, 26 Eaton Rd. They also offer delivery for bikes to Ramsgate, Broadstairs and surrounding areas.
Conveniently located next to Margate Rail Station. All day (10 hours) cycle hire for adult bikes is £35.
Did you like this post? PIN it for later!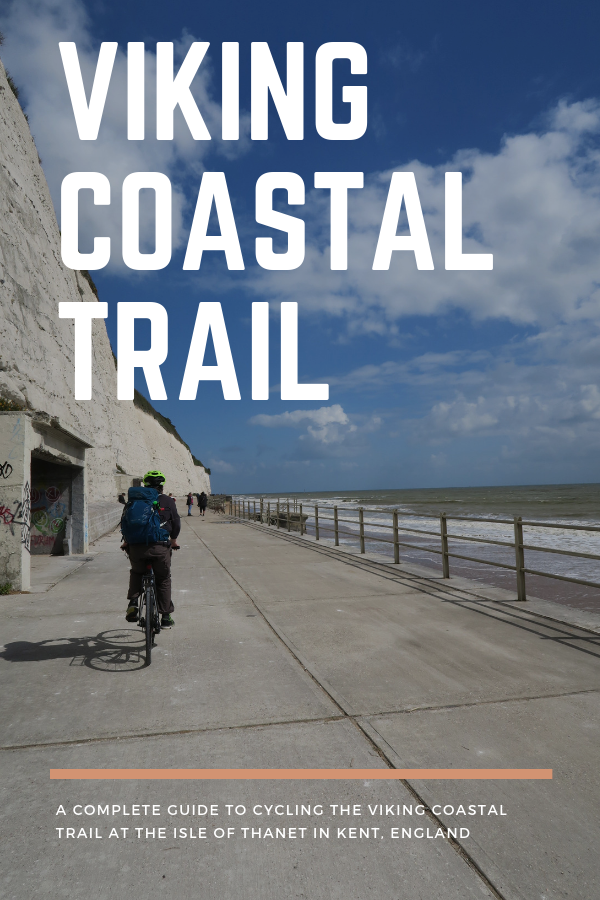 Enikő
Hey, I'm Enikő! I'm currently an au pair and I want to share my experiences with you. I've travelled a lot in the past years. I'm gonna teach you how to settle in to a new country and get free accommodation anywhere in the world. Circle Enikő on Google+!