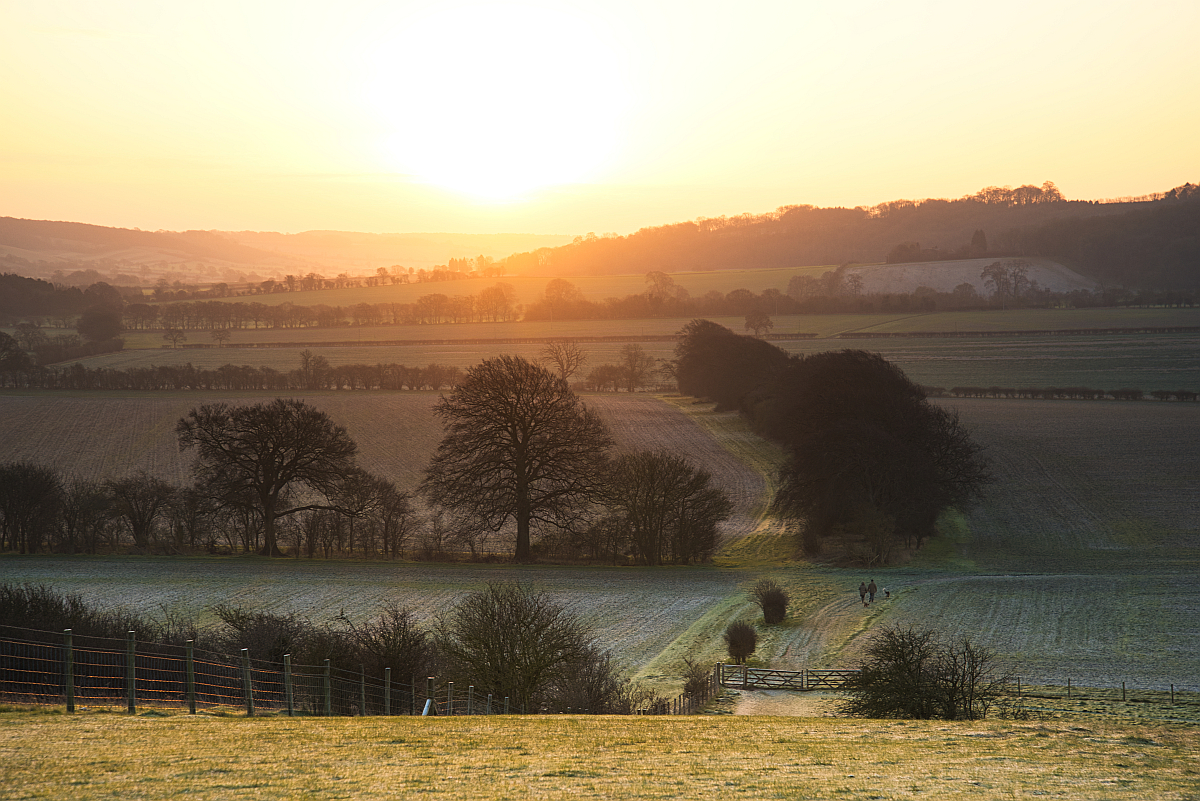 Last Updated: Sept 2021
The best way to escape the loud and busy concrete jungle is by going on country walks. Luckily there are many options for hiking near London. I love nature and adventures, so I try and spend my weekends kayaking near London, exploring local parks or going on hiking day trips outside of London. A peaceful walk in the countryside helps me to relax and it fills me up with energy! We don't have a car, and we try and avoid driving to reduce our carbon footprint. Luckily the public transport system is excellent, which lets us reach some lovely rural areas by train, tube or bus. 
I often find ideas for day trips from the Wild Guide books, which has some secret wild swimming spots, off the beaten path places and unique attractions.
I love the Wild Guide books and have the whole collection. This one focuses on hidden gems, beaches, unique accommodation and canoe/kayak trips within easy reach from London.
This edition covers interesting walks (all accessible by train) which lead to secret lakes, rivers and seaside beaches. Perfect place for a wild swim or paddle.
These are some of my favourites places for hiking near London.
Hiking in London
It can be easy to overlook something that's pretty much on your doorstep. London was officially named the world's first National Park City. It has many green areas, which can be explored, so if you are short on time or money, you don't need to travel far out of the capital.
Hampstead Heath
Hampstead Heath is technically in London, but because of its size, you will feel like you have left the busy capital behind you. It is beautiful in every season. There is a lot to explore. In the summer many people go to the field to have a picnic or enjoy sunbathing. The park is also home to three bathing ponds, where you can go wild swimming even in the winter months. There are different sports fields, but another good exercise is to walk up to Parliament Hill to enjoy views of London's skyline. If you are with children I suggest visiting the playground and walking over to Golders Hill Park to visit the free zoo.  Not far from there is The Hill Garden and Pergola, which is especially worth a visit in the spring, when all the flowers are blooming.
How to get there: The closest tube stations are Gospel Oak and Hampstead Heath.
Plan your hike: Walking routes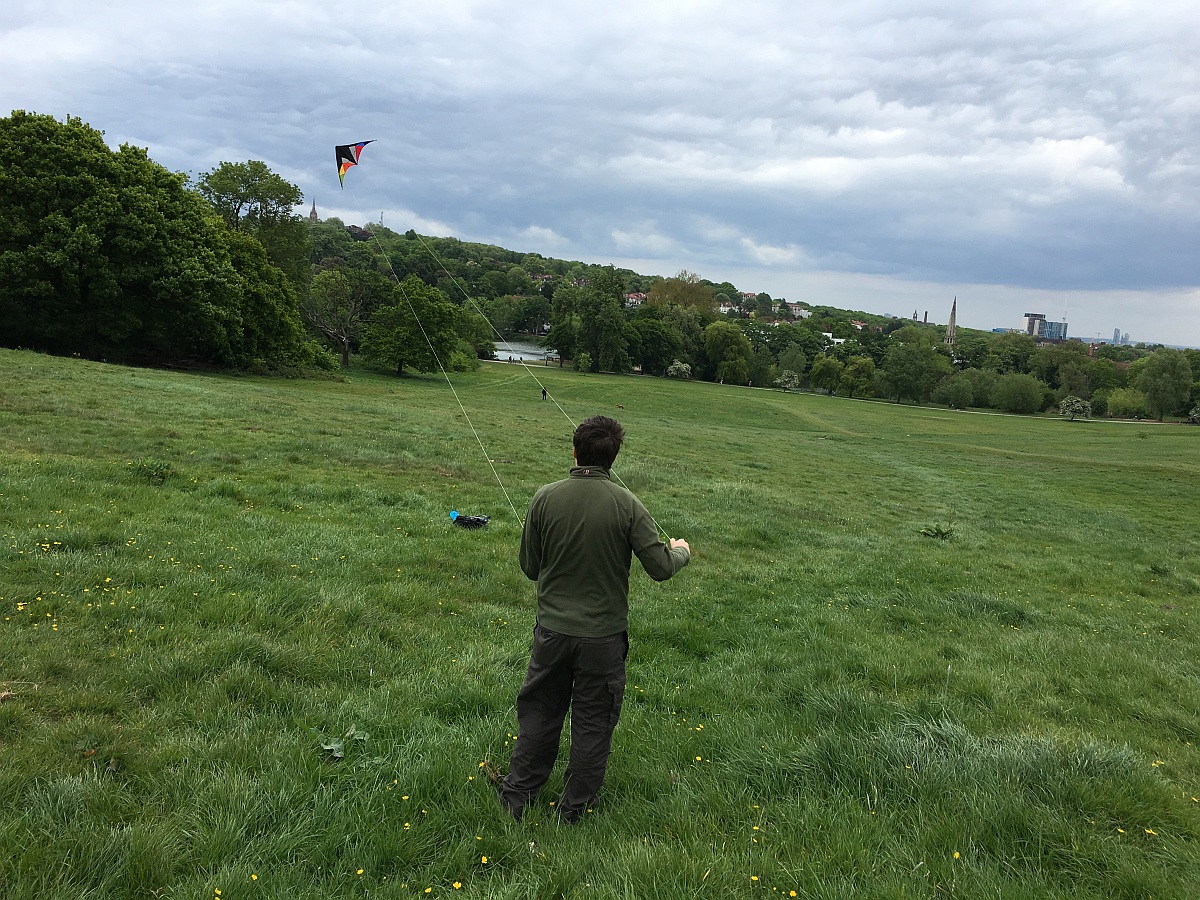 Richmond Park
One of my favourite places in London is Richmond Park. I am lucky to live quite close to it. We often go cycling or walking here and each time we see a new side of it. Most people visit the park to see the deers, which is, of course, a great experience, but the park offers so much more. It has a flying field, where you are allowed to fly drones, model planes or kites. The local parrots are another interesting sight. You can walk around Richmond Park for hours. Last time we stumbled upon Isabella Plantation. It is a botanical garden, which is especially pretty if you visit London during spring. It is also possible to go horse riding in the park or play golf.
How to get there: Take the train to Richmond Station and then catch the 371 or 65 buses to the pedestrian gate at Petersham. There are many other entrances and bus routes that stop near the park so use a journey planner to check the best route for you.
Plan your hike: Walking routes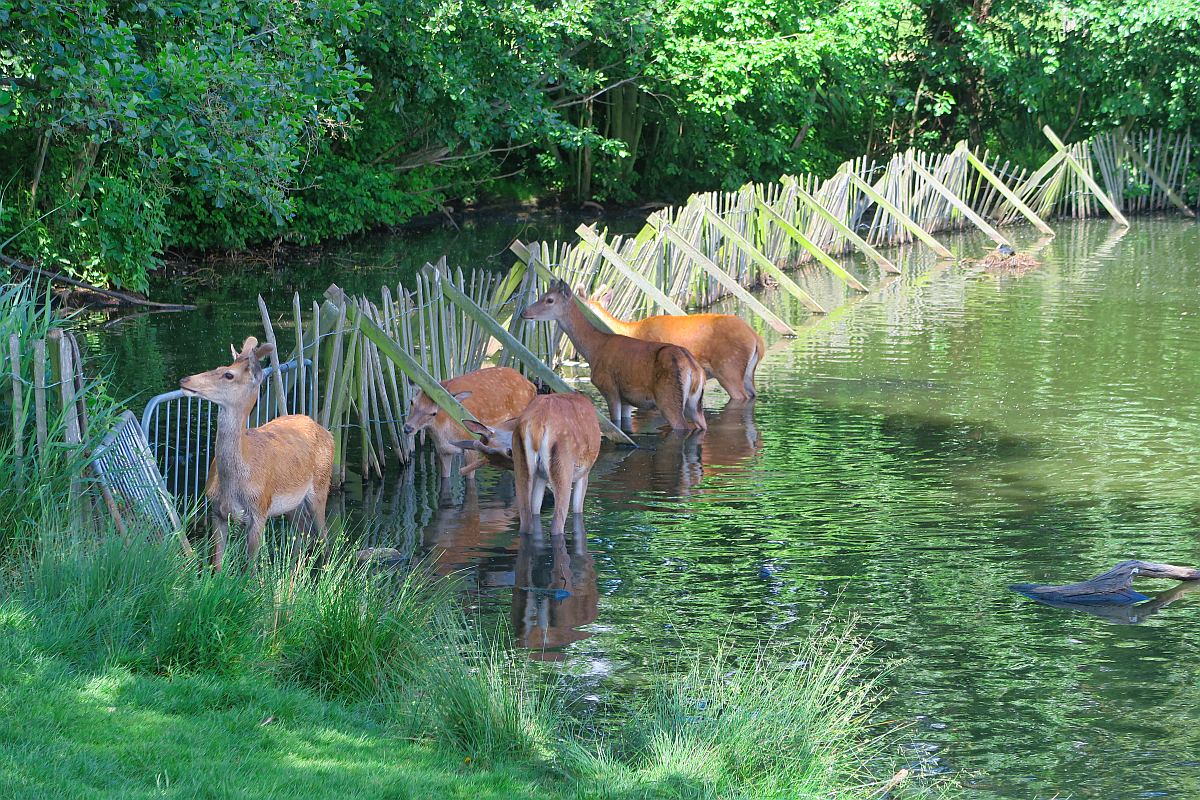 Epping Forest
The Epping Forest has over 20 miles of surfaced trails and around 6,000 acres of forest to explore on foot. There are many ponds and lakes in the area as well. It is lovely in every season, but it shows its full glory during autumn when the leaf colours change and you can see the deer rut in the deer sanctuary. There are some suggested trails you can take, but wandering around without a set route is just as fun. Epping Forest is very quiet and peaceful. It is the perfect getaway from city life. It can also be explored by bike. If you want to learn more about the history and ecology of Epping Forest visit the visitor centre.
How to get there: Take the central line to Chigwell, Roding Valley, Buckhurst Hill, Loughton, Debden, Theydon Bois or Epping.
Plan your hike: Walking routes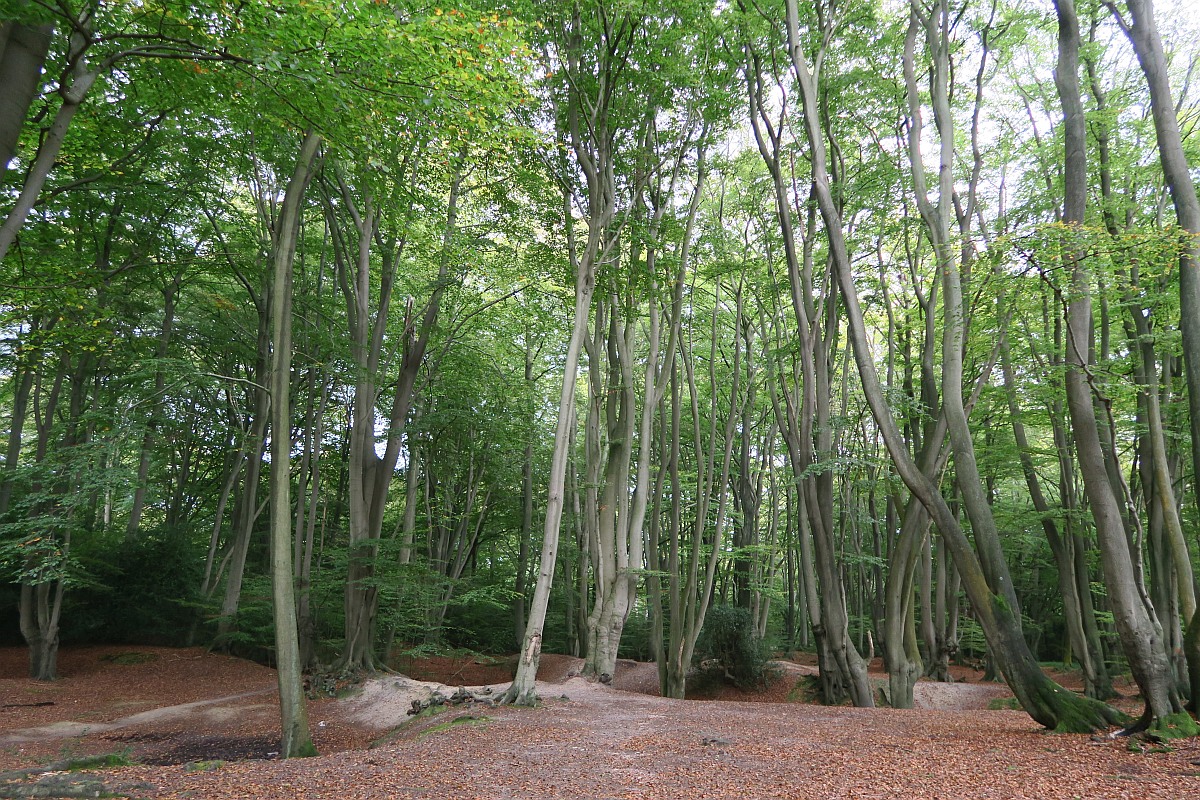 Lee Valley Park
The Lee Valley Park is Greater London's largest park. The 26 miles (42 km) long linear park extends beyond Greater London's borders into the neighbouring counties of Hertfordshire and Essex. The area has many lakes,  watercourses and open spaces. They are linked by footpaths and cycle tracks. Whether you fancy a gentle family stroll, a guided walk or a long hike the Lee Valley has a route for you. It is also home to the Lee Valley White Water Centre, the Lee Valley Camping and Caravan Park and the Lee Valley Park Farms.
How to get there: Take the train to Cheshunt or Broxbourne.
Plan your hike: Walking routes
Hiking trails near London
If you have some more time and money to spend on the train ticket you can venture out of the capital. There are many amazing hiking trails near London, that are worth exploring.
Dover White Cliffs
The White Cliffs of Dover are an iconic sight of the UK. You can spend a lot of time hiking in this area. The cliffs are approximately 8 miles (13 km) long, but the trail goes on for miles and miles along the coast. They chalk cliffs start near Folkestone and stretch all the way until around Kingsdown. Some places it reaches a height of 350 feet (110 m).
How to get there: Take the train from St Pancras International to Dover Priory. The journey time is about 1h 5 minutes. From the train station, it is 1.8 miles to reach the National Trust Visitor Centre.
Plan your hike: Walking route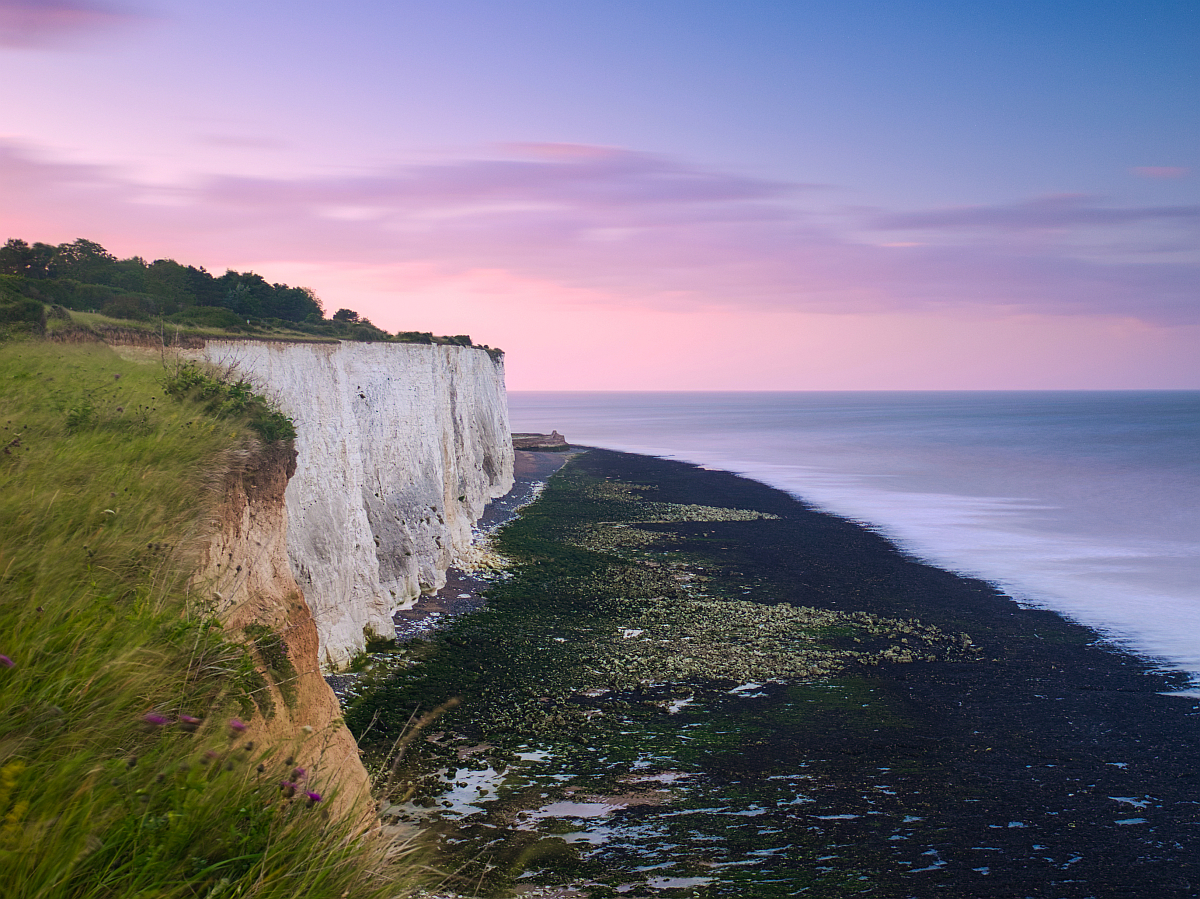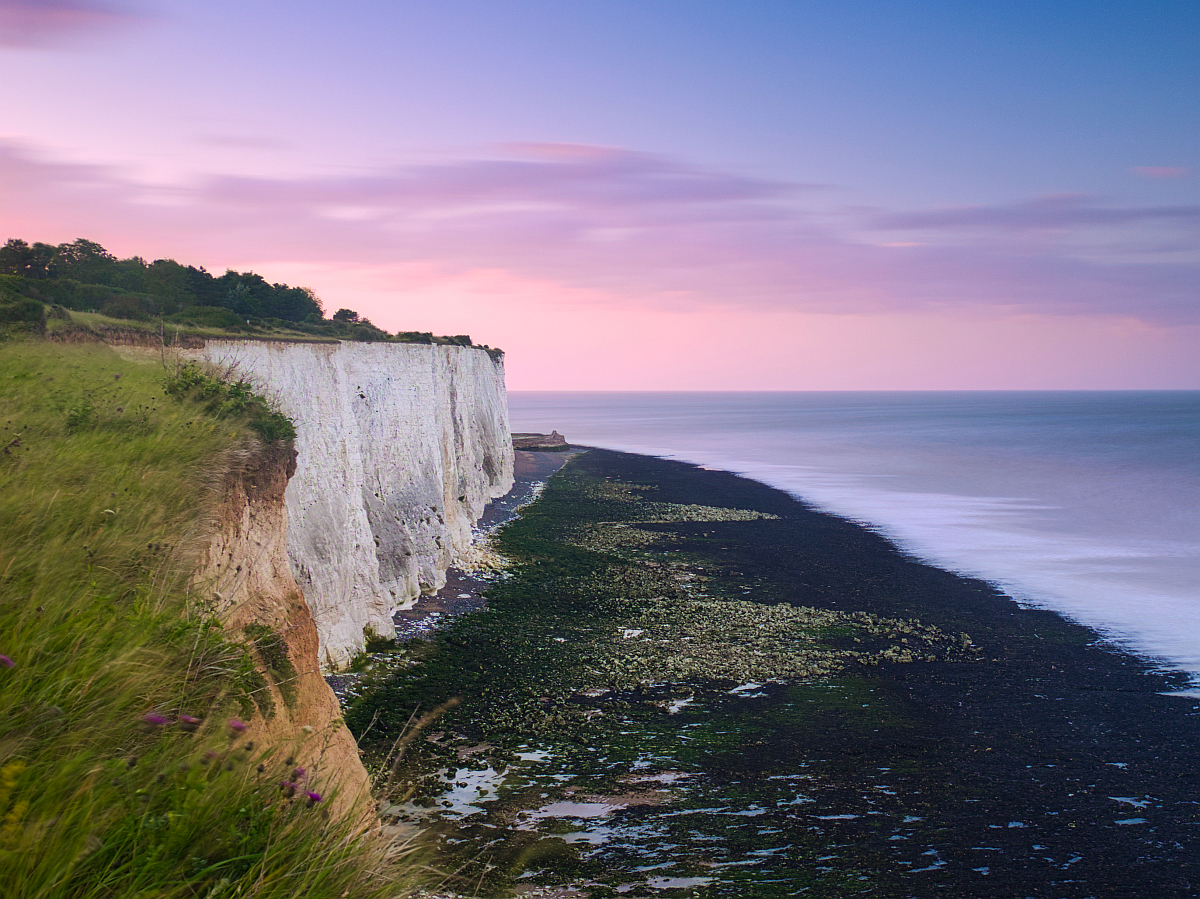 Ouse Valley Viaduct
The Ouse Valley Viaduct is a really spectacular piece of architecture. It gives you an optical illusion feeling when you stand at one end and look down the arches for 450 m. The viaduct carries the London to Brighton mainline over the Ouse River. This place became popular in recent year due to Instagram, but it is still worth a visit. You can combine your hike with the Ardingly Reservoir Walk.
How to get there: Take the train to Balcombe and then you can do a 13 km circular hike to see Ardingly Reservoir and the Ouse Valley Viaduct.
Plan your hike: Walking route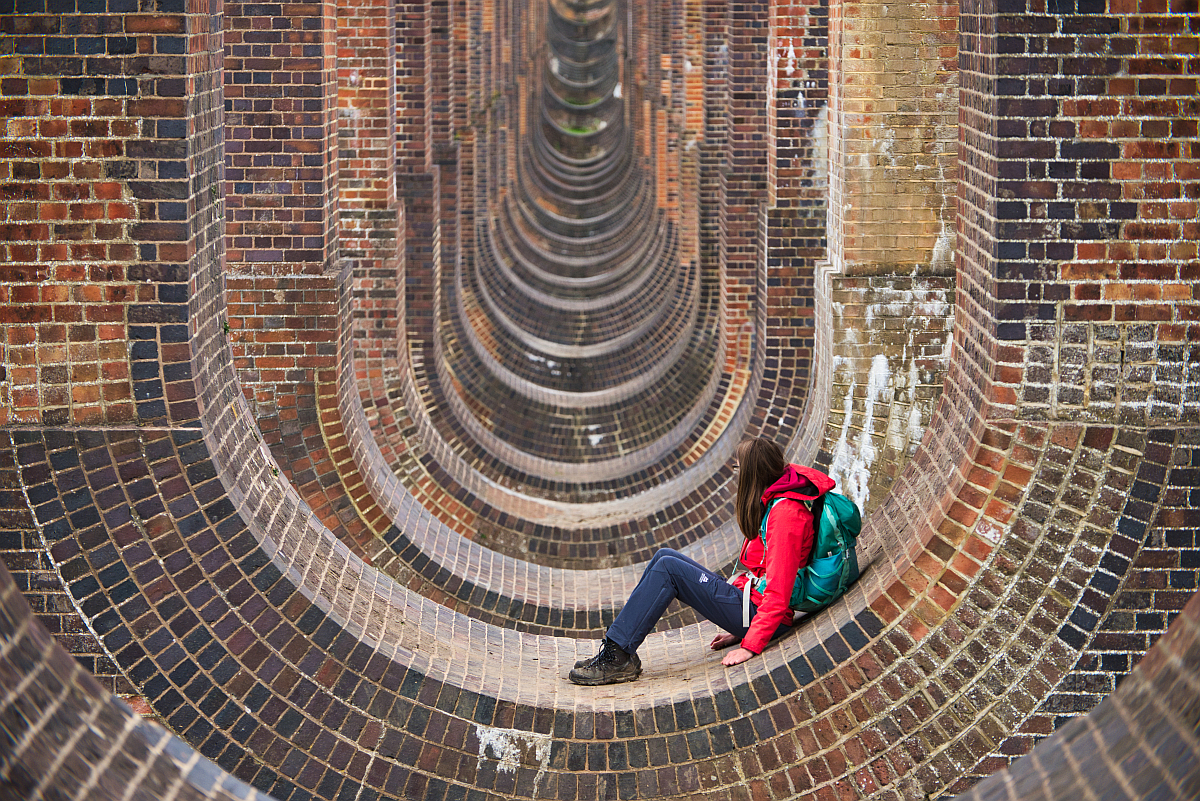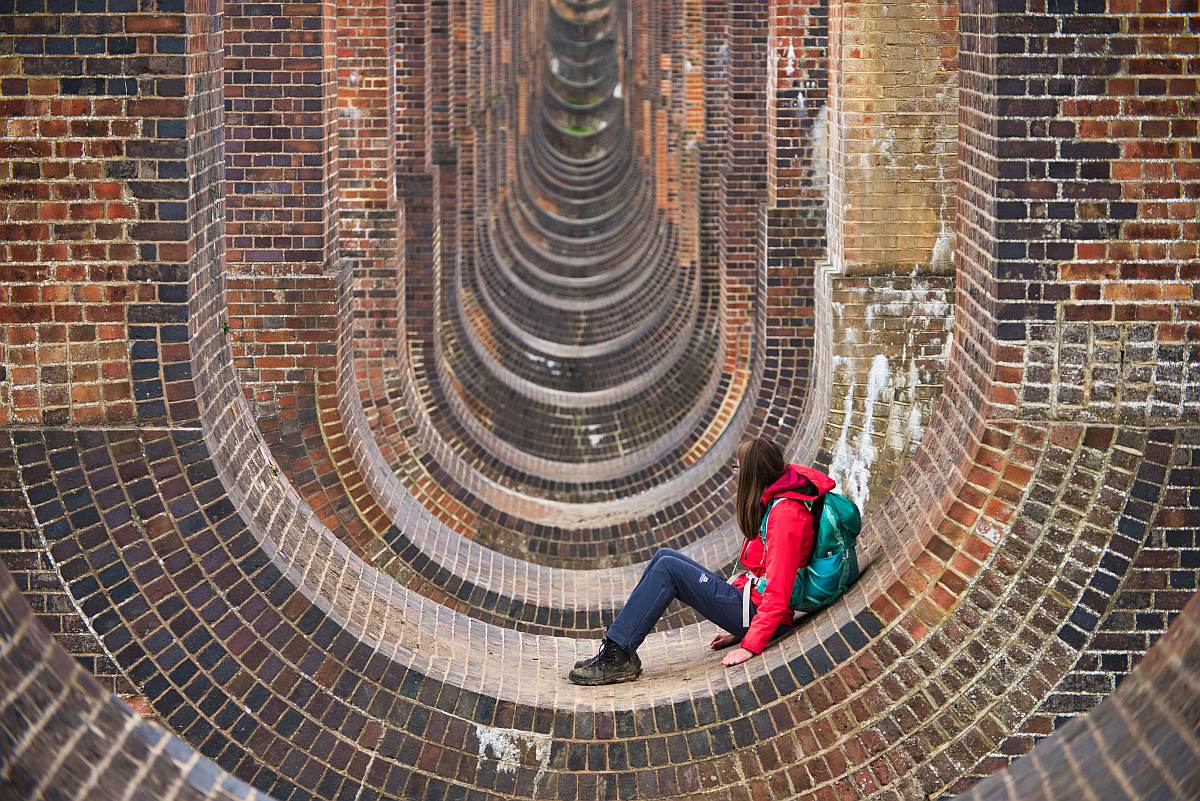 Colne Valley Regional Park
Colne Valley Regional Park is a 43 square miles area, which covers 19 nature reserves, five country parks and more than 200km of water-ways. There is a lot to explore! Along your hike, you will encounter lush green countryside, river, lake and canal-side walks, and beautiful wildlife. There are several lakes in the area, most of them are important for wildlife, but there are a few which are used for watersports. Batchworth Lake is popular among water skiers and Bury Lake is used for sailing and canoeing. If you enjoy bird watching, head to one of the bird hides next to Stocker's Lake. You can spot herons, egrets, moorhens, kingfishers, goldeneyes and smews. The park has a few cafes, pubs, picnic areas and playgrounds as well.
How to get there: Take the tube to Uxbridge or the train to Rickmansworth, Iver, Langley, Wraysbury, Sunnymeads or Denham.
Plan your hike: Walking routes
Chiltern Hills
The Chilterns is a range of hills northwest of London, which covers an area of 322 square miles. A big part of the hills are classified as the Area of Outstanding Natural Beauty. Thanks to its size, it provides many hikes that will keep you busy for months. It is worth visiting Ashridge during spring, to see the bluebells. Ivinghoe Beacon is another interesting hike, which offers spectacular views of the surrounding countryside. The Chess Valley Walk is rich in wildlife and has a fascinating history. On the Red Kite hike, you have a good chance of seeing these incredible birds.
How to get there: Take the train to Kintbury, Berkhamsted, Tring, Wendover, Marlow, Goring or Henley-on-Thames.
Plan your hike: Walking routes
Box Hill
Box Hill is the summit of the North Downs. It is a popular place among hikers and road cyclists. The local tourist office has many different routes with maps. One of the most popular ones is the Stepping Stones Walk. It is especially great fun with children, but the Natural Play Trail is also a must-visit place if you are with little ones. If you hike up to Salomon's Memorial, you will be greeted with Surrey's finest scenery.
How to get there: Take the train to Dorking or Box Hill and Westhumble.
Plan your hike: Walking routes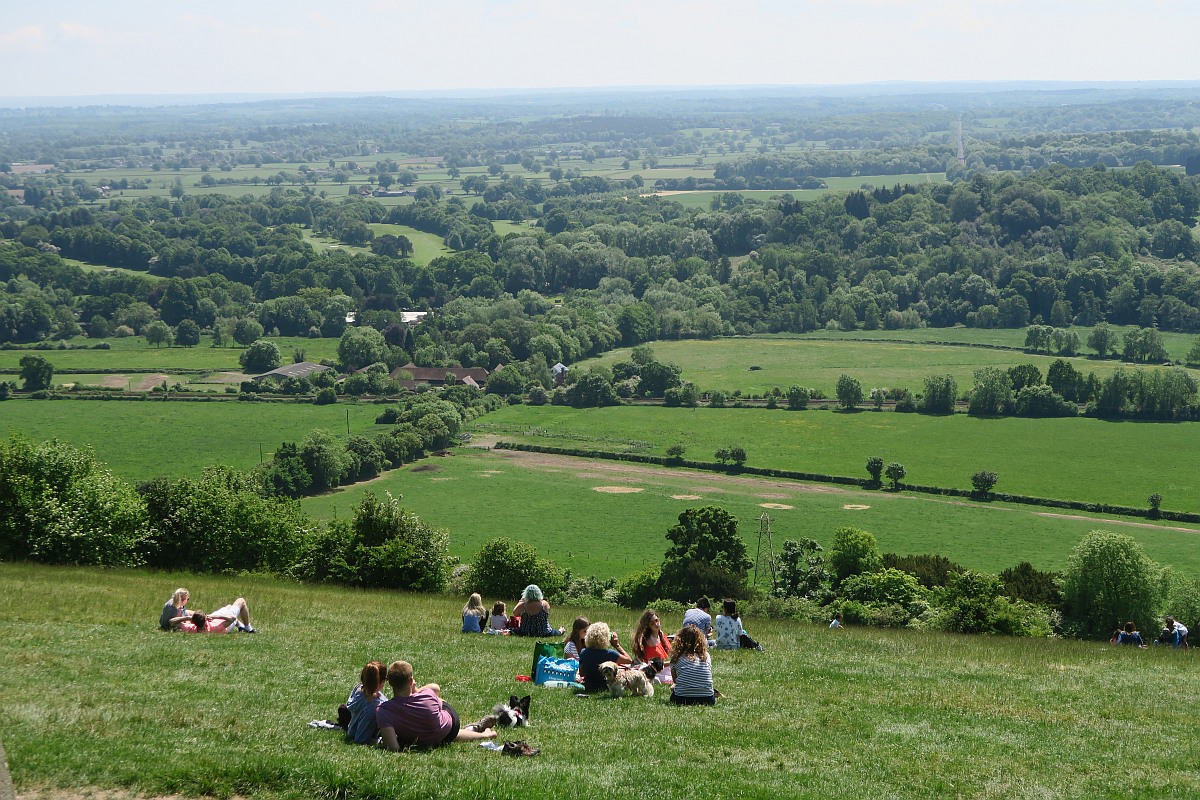 Viking Coastal Trail
The Viking Coastal Trail is a 32 mile (51.4km) circular hiking and cycling route around the Isle of Thanet. Most of the journey goes along the coast. You can just do a section of it if you want. I think Ramsgate to Margate is the prettiest part of the route. You can explore cute seaside towns, secluded bays and quaint villages. There are plenty of reasons to stop along the way. You can go for a swim, fly a kite, go on amusement park rides, play adventure golf, eat fish and chips, visit the Ramsgate Tunnels, try surfing, build sandcastles or go fossil hunting. Botany Bay is a real gem, that is definitely worth a visit. On hot summer days, it is a great place for a swim.
How to get there: Take the train to Margate, Broadstairs or Ramsgate.
Plan your hike: Walking routes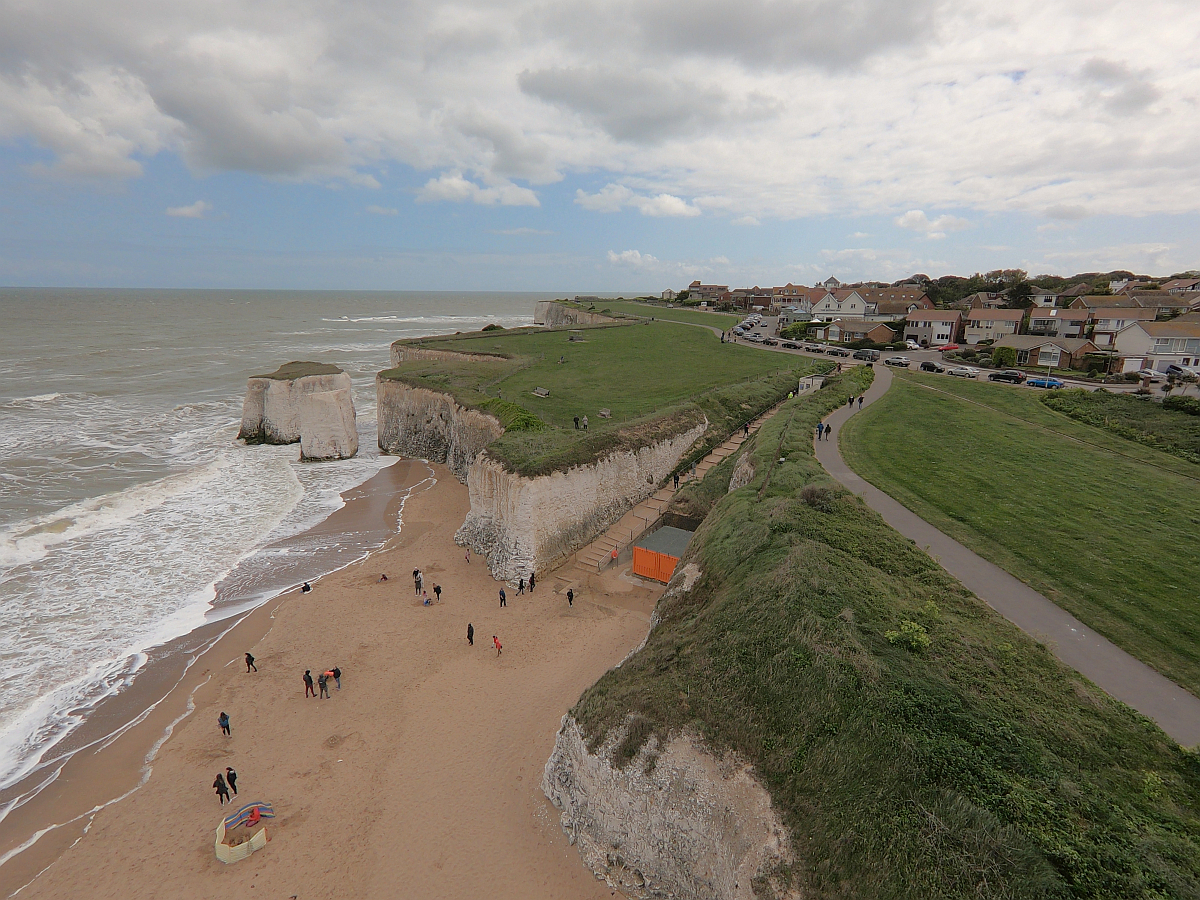 Hastings Country Park
A beautiful town by the coast is Hastings. It has all the things a typical seaside town has: a pier, skate park, promenade, adventure golf, amusement park rides, trampolines, miniature railway, restaurants and cafes. However, it is a great place to go hiking as well. You can walk up to the cliffs for some fantastic views. Alternatively, take the East Hill Cliff Railway, which is now the steepest funicular railway in the United Kingdom. You enter the Hastings Country Park, where an abundance of trees, footpaths, nature trails and picnic areas are waiting for you. The visitor centre can offer route suggestions and maps for the area.
How to get there: Take the train to Hastings.
Plan your hike: Walking routes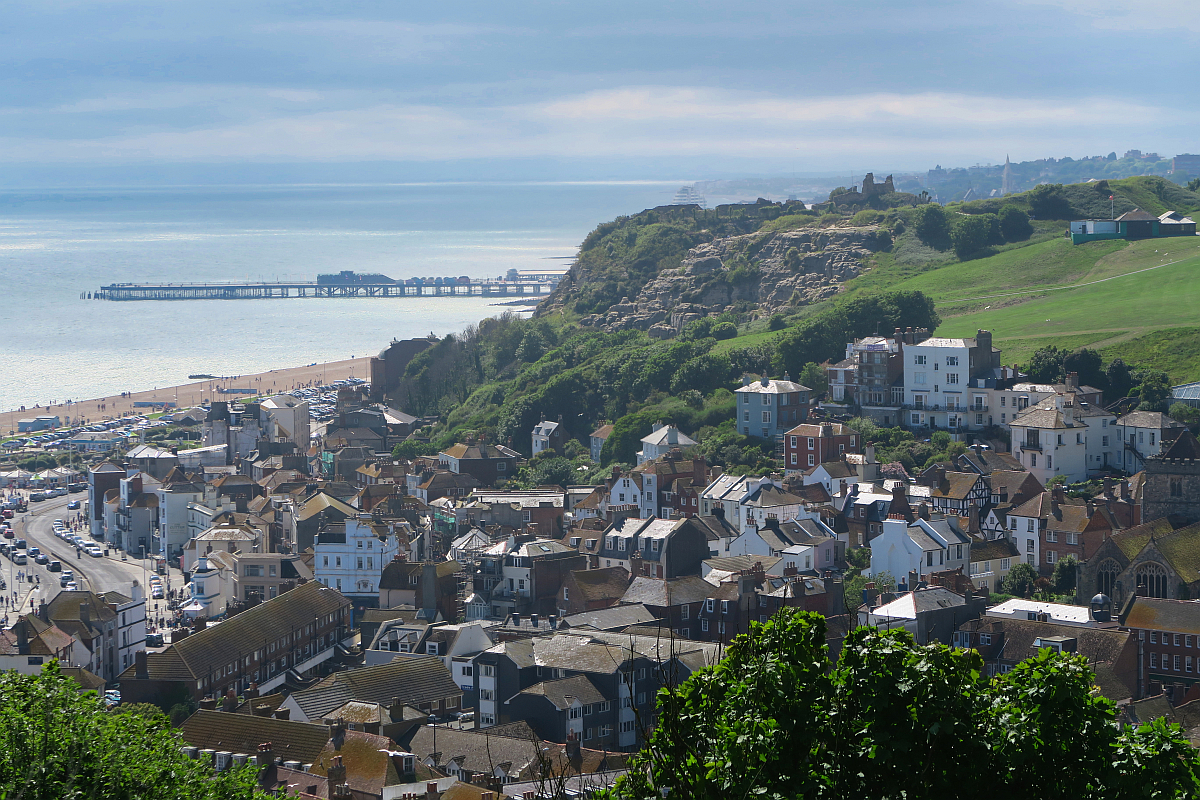 Seven Sisters Country Park
The Seven Sisters Country Park is famous for its white chalk cliffs. It is a popular hiking destination, especially on a warm summer day or bank holiday weekend. Seaford to Eastbourne is a well-known hike, but it can be quite long and tiring. You can also just do a part of it or use the local bus to save some of your energy. Beachy Head is a very spectacular viewing point, so don't miss that during your visit. We also went kayaking on the Cuckmere River, which was a very peaceful experience. Paddling is possible on the river and in the sea as well. You can go on an organised tour, but we also saw many people in their own inflatable kayaks. Some visitors just like to sunbathe at the seaside or go fro a quick dip. This country park really has it all. Even cycling is allowed at designated places. The visitor centre has many suggested routes and maps for walking.
How to get there: Take the train to Brighton and then bus 12, 12A or 13 x to Seven Sisters Country Park. Or take the train to Seaford or Eastbourne and walk from there.
Plan your hike: Walking routes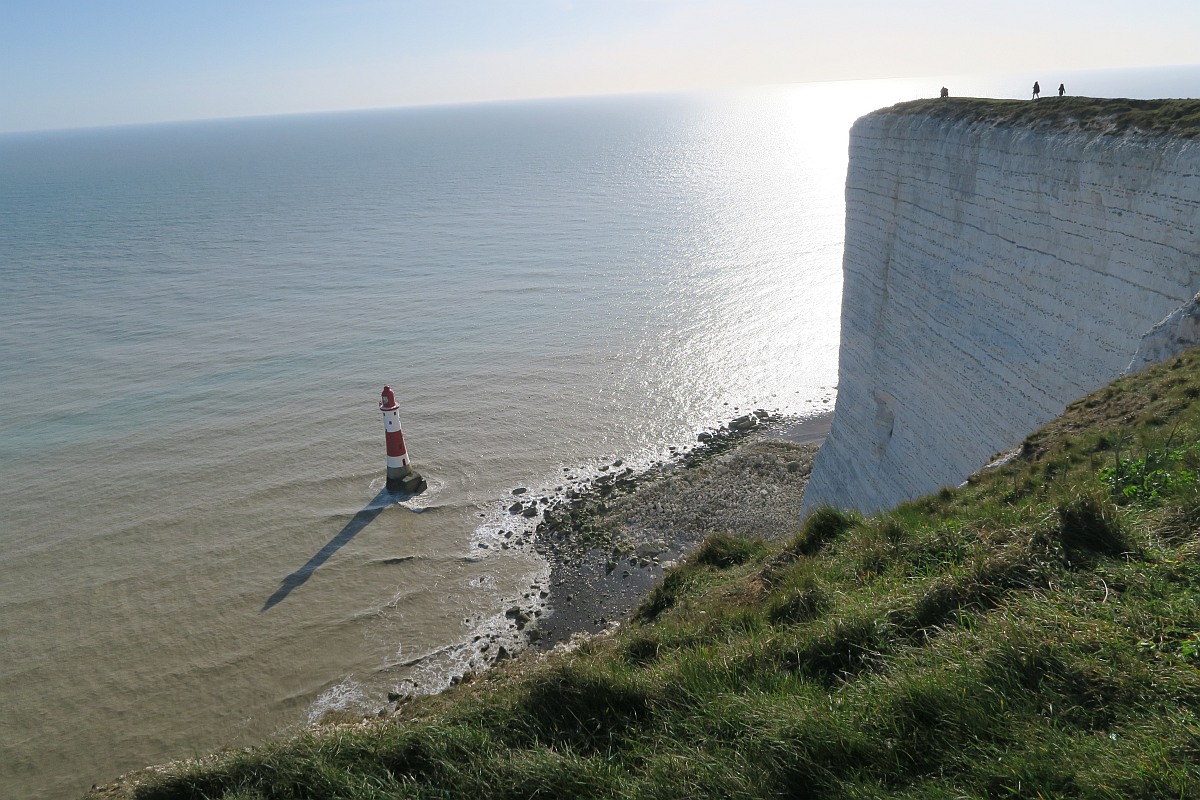 Lewes
Lewes has a special place in my heart, as I had my first kiss with my boyfriend on a hike here. It was raining and absolutely miserable, but there was something romantic about the scenery. Lewes is the county town of East Sussex in the middle of the South Downs National Park. It is surrounded by fields and hills, so there are hiking trails in all direction. You can start your adventure by visiting the castle. Once you leave the town, you will find peace and quiet. The Jill Windmill in Clayton is only 2.5 km from the station and it offers some good photo opportunities. Another easy hike is a circular walk to Glynde through Southerham Nature Reserve.
How to get there: Take the train to Lewes.
Plan your hike: Walking routes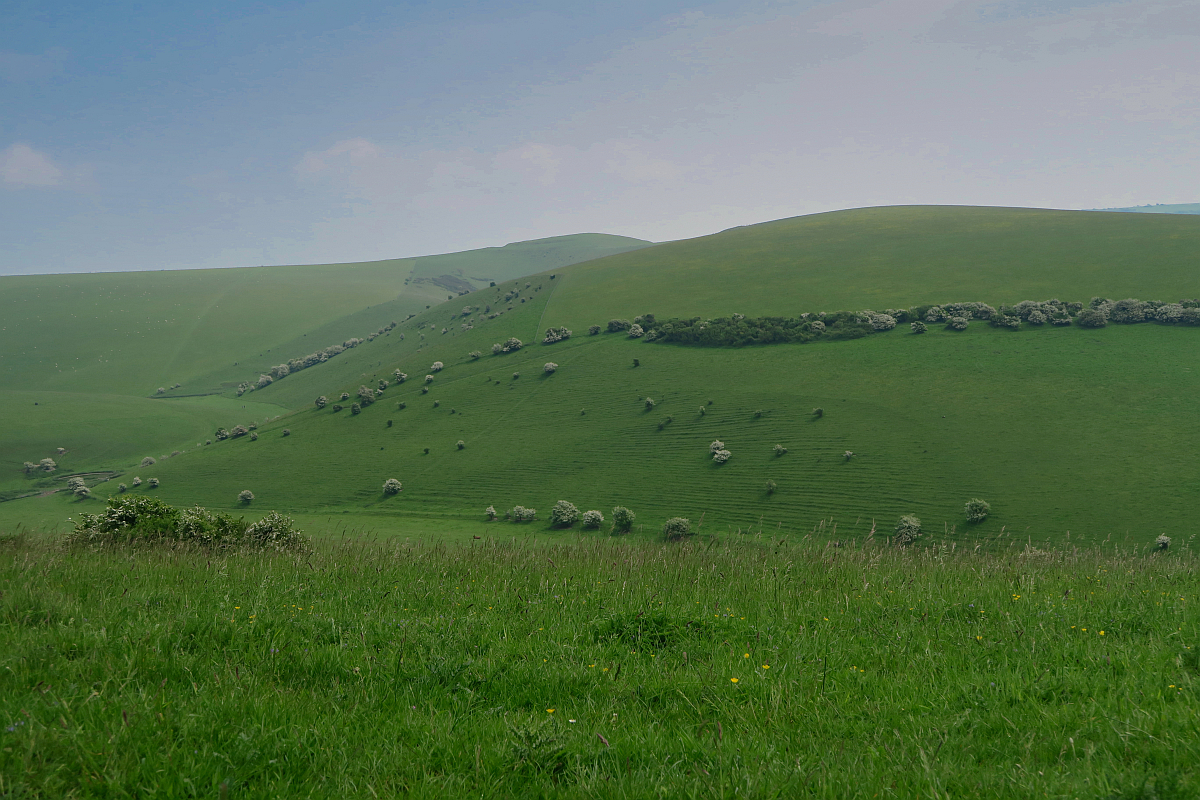 Long Man of Wilmington
The Long Man is the guardian of the South Downs. It is one of two hill figures in East Sussex. (The other is the Litlington White Horse.) The Long Man is 235 feet (72 m) tall and looks very impressive when viewed from a distance.  There are many theories about the origin of this figure and it has been restored a few times along the years. The modern figure is made of pre-cast concrete blocks that are now regularly painted white to keep the Long Man visible from many miles away. This is an iconic hike in the area, which is not yet very well-known, so you can enjoy a peaceful environment.
How to get there: Take the train to Berwick or Polegate.
Plan your hike: Walking routes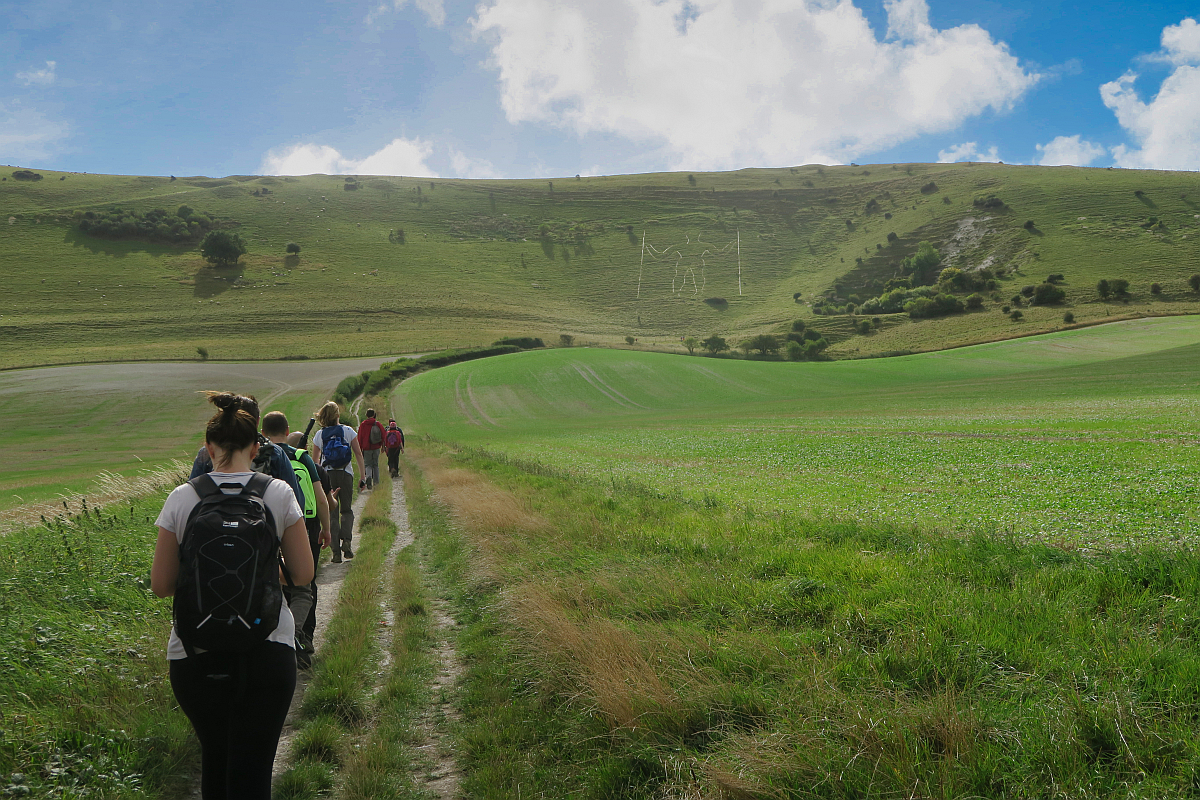 Litlington White Horse
During the 19th century, a chalk figure of a horse was cut into the face of the downs west of Litlington village. The figure is fenced off to protect it from the general public, but there is a trail that goes right above it. This viewing platform offers nice views to the sea, river and the countryside, but not so much to the figure. The horse is best viewed from across the valley. We had gorgeous views of it on our kayak trip on the Cuckmere River. The horse is currently cared for by the national trust.
How to get there: Take the train to Polegate and then bus 126 to High and Over Car Park to walk up close to the horse. Or take the train to Brighton and then bus 12, 12A or 13 x to Seven Sisters Country Park. Then walk along the Cuckmere River to see it from the valley.
Plan your hike: Walking routes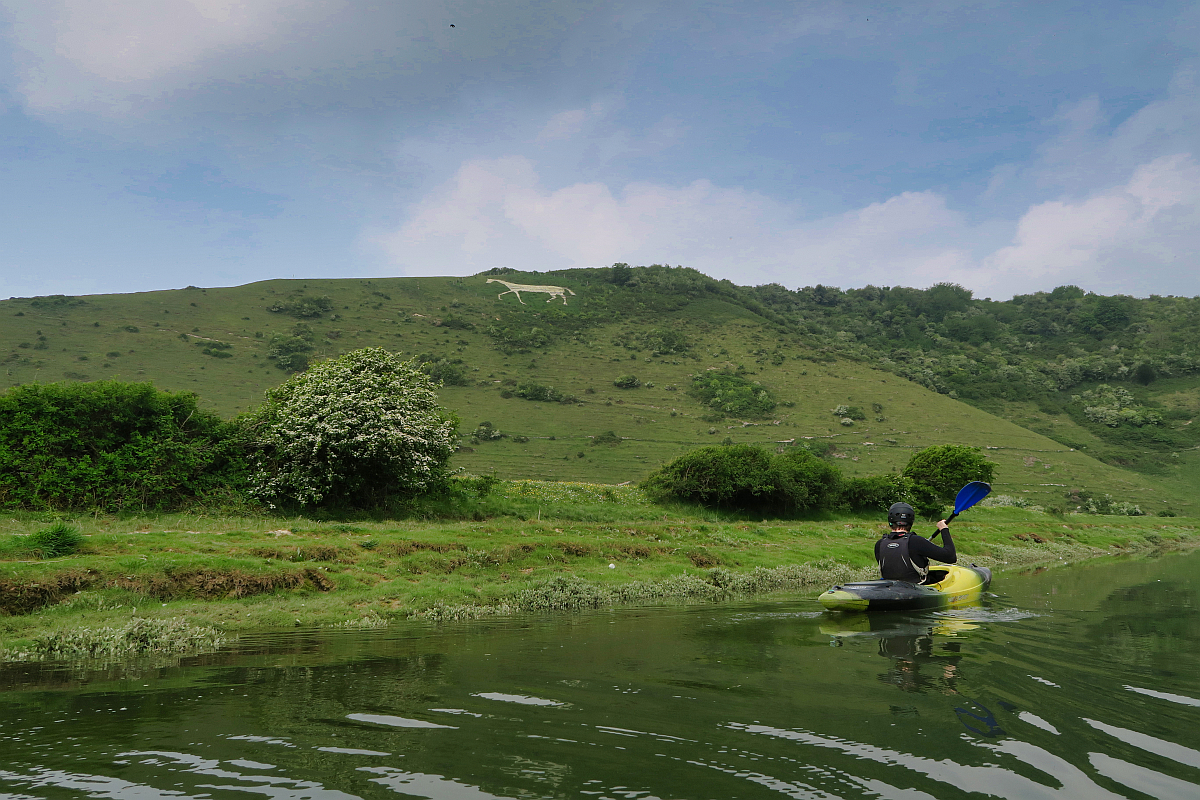 Medway Valley Walk
The Medway Valley walk is a linear route, which goes along the banks of the River Medway for 28 miles (45.2km). The path starts near Tonbridge Castle and finishes at Rochester, passing through Maidstone on the way. It is very easy to follow the trail as it is marked. It is, of course, possible to do just part of the trail. The route is easily accessible from towns and villages along the way and benefits from excellent public transport links. You will most likely see some interesting wildlife on this hike. Kingfishers are quite a common sight in the area.
How to get there: Take the train to Tonbridge, Yalding or Rochester.
Plan your hike: Walking routes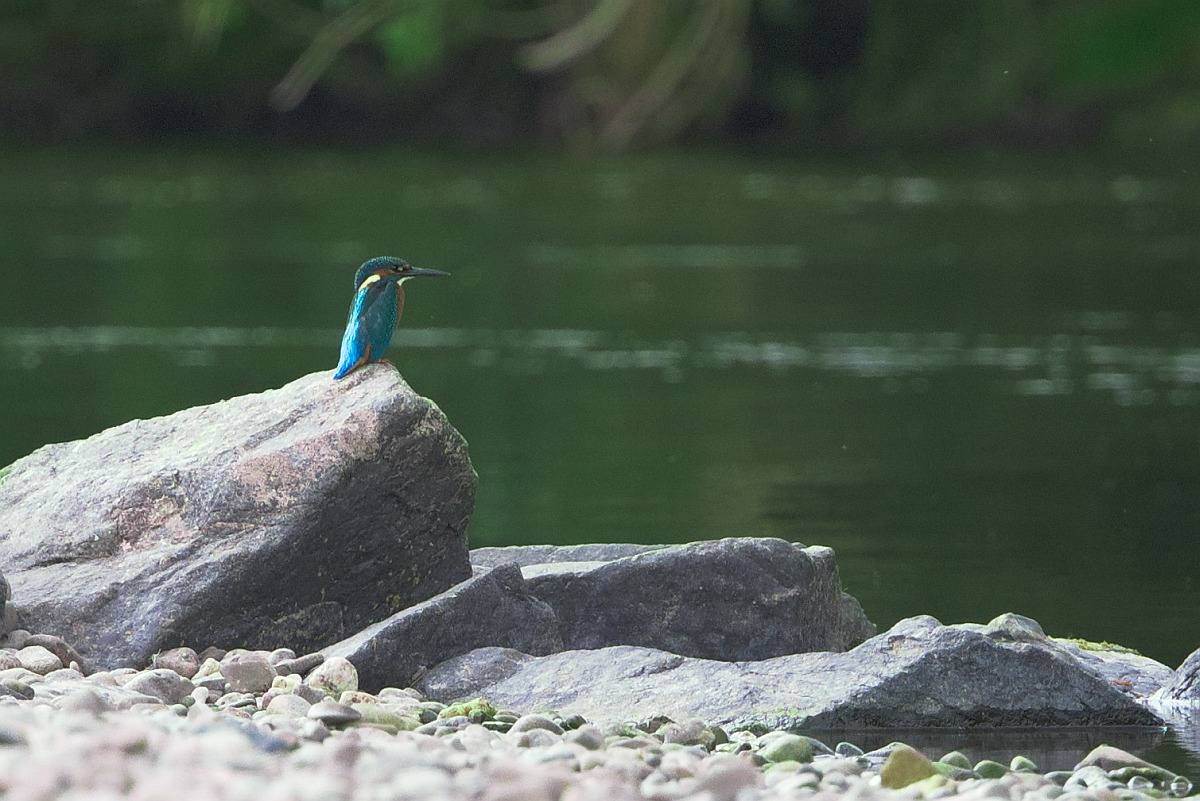 Thames Path
Did you know that the River Thames is the cleanest river in the world that flows through a major city? The Thames Path is a good challenge for any hiking enthusiasts. It follows the river for 184 miles from its source in the Cotswold hills to the sea at the Thames Barrier in Greenwich. On its way, the trail passes peaceful water meadows rich in wildlife, historic towns and cities and many lovely villages. The path is gentle, and it can be walked by people of all ages and abilities. The Thames Path is great whether you want an afternoon's stroll, a weekend's break or a big challenge.
How to get there: As the river is 184 miles there are many options to do part of the Thames Path.
Plan your hike: Walking routes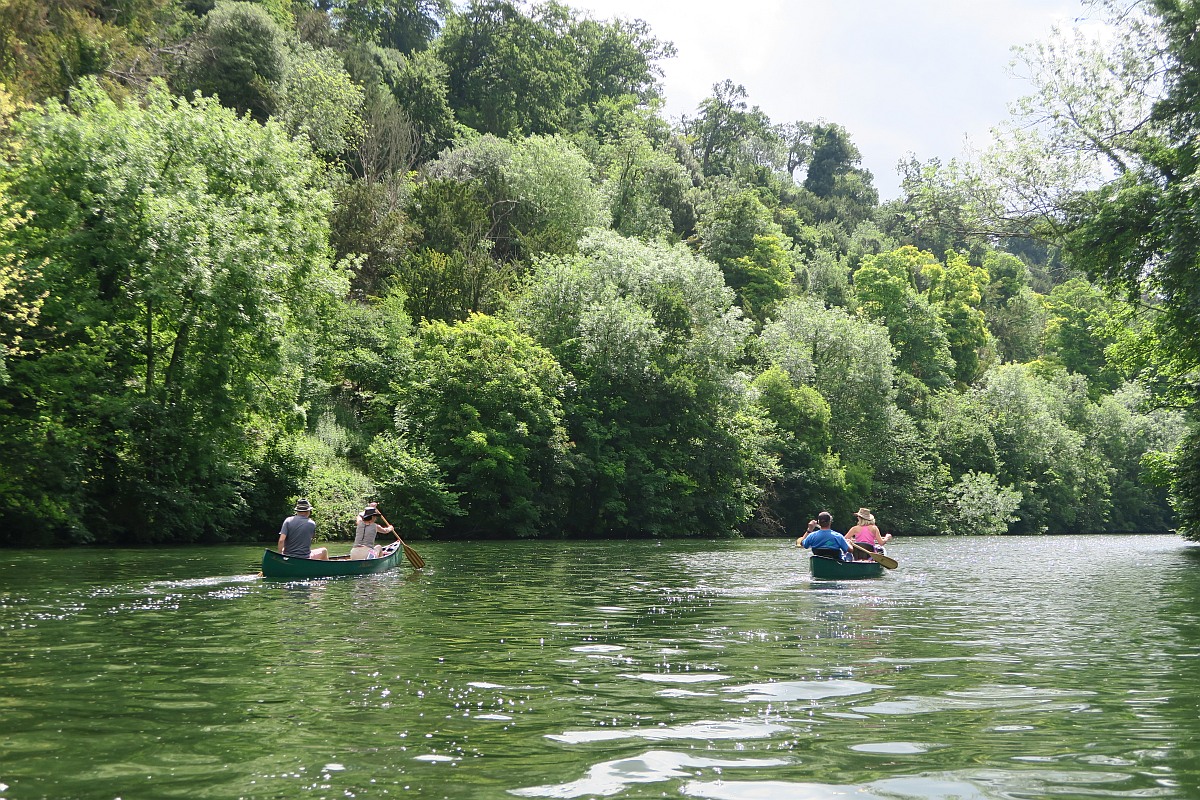 Sevenoaks
There are many walks that start from Sevenoaks. I visited the National Trust – Knole many times. The website has some great suggested routes, but I also enjoy just exploring without aim. This area is great to explore for families as there are some easy routes, which are pram friendly. There are also lots of deers in the park, which are fun for the children to see. Another nice walking option is to visit Sevenoaks Wildlife Reserve, which is a paradise for bird spotting.
How to get there: Take the train to Sevenoaks
Plan your hike: Walking routes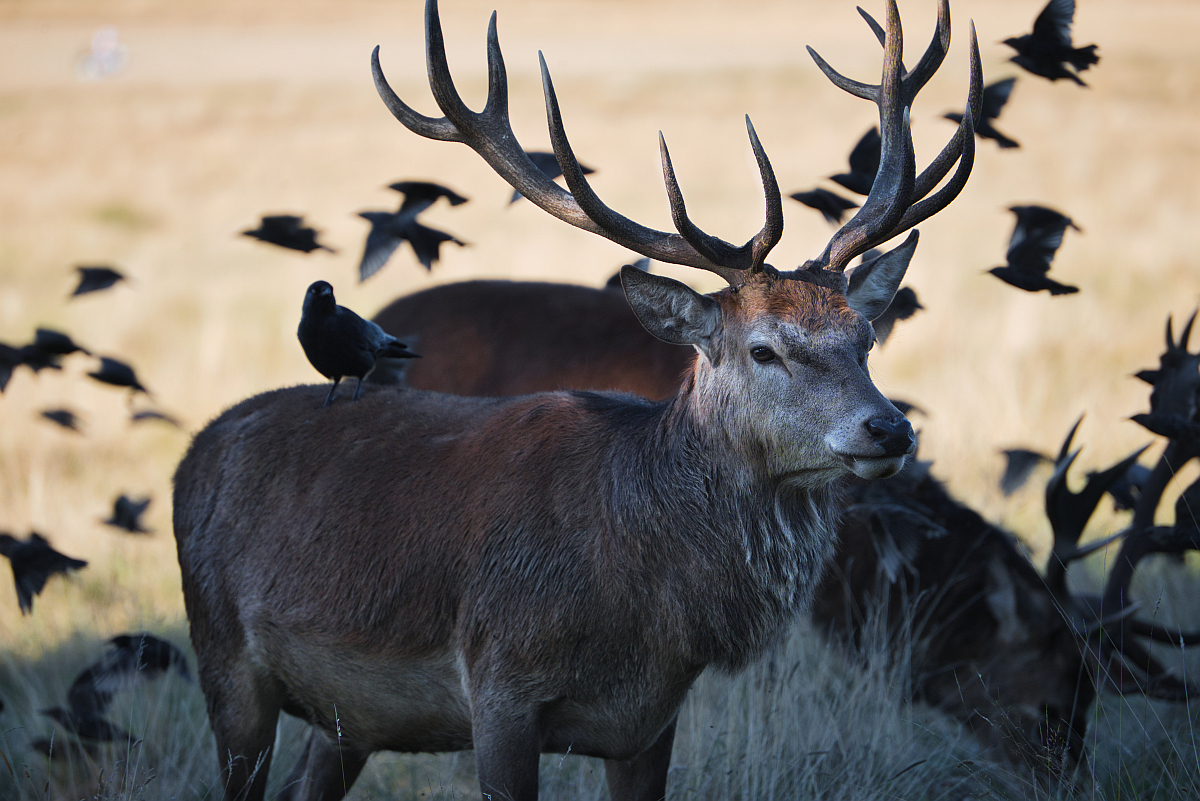 New Forest
The New Forest is not only great for a cycling or horse-riding holiday, but also for a hiking day trip from London. Despite its distance from London, it can be reached quickly on the train. Brockenhurst is conveniently located to explore the area. The New Forest is full of wild swimming spots, rope swings, wildlife and nature trails. It has wild horses roaming free, but if you prefer birds you can visit the Lymington Nature Reserve, which is a birdwatchers' paradise. You can also visit Hurst Castle, which offers fantastic views to the Solent and the Isle of Wight.
How to get there: Take the train to Brockenhurst, Ashurst or Lymington Town.
Plan your hike: Walking routes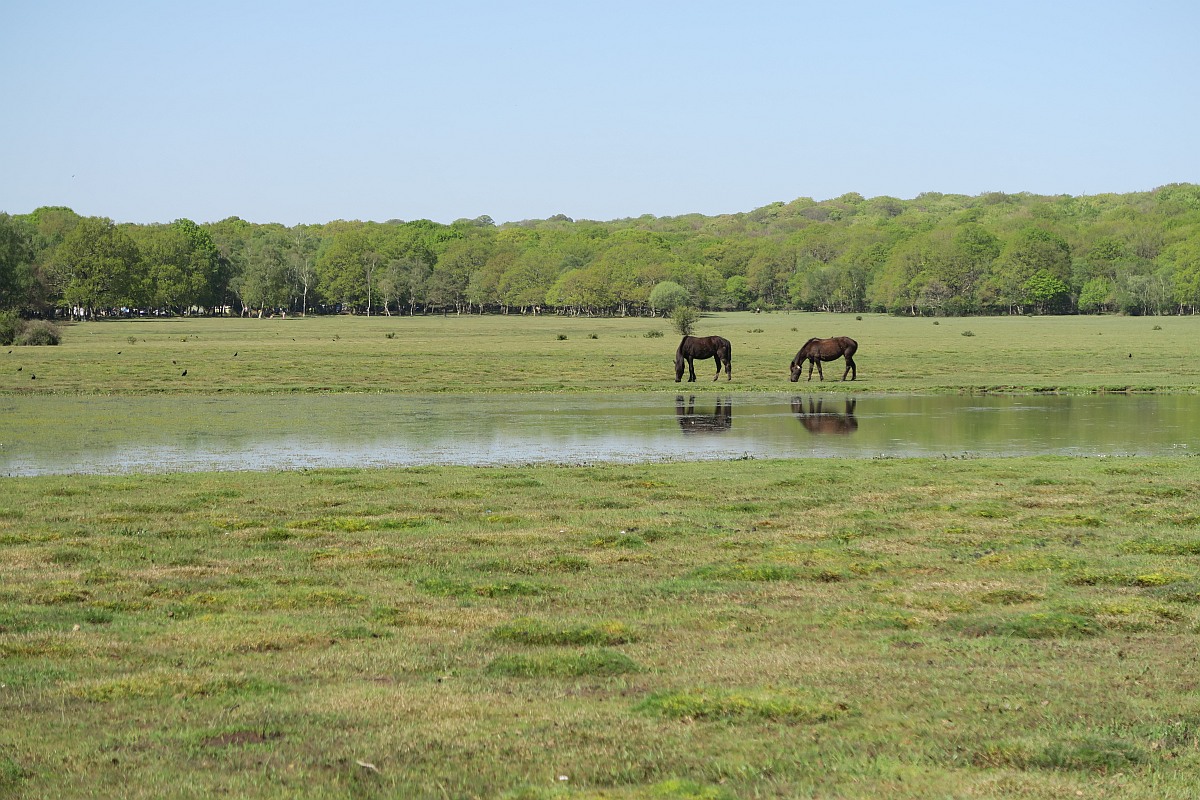 Looking for hiking buddies?
If you want to go hiking with a group but don't know anyone with the same interest, you can join organised hikes on the meetup website. They have hikes for all abilities and ages. Some of the trips are during the week, some at the weekend. They even organise multi-day treks!
Here are some essentials for your hiking adventures:
Disclosure: I may earn a small commission from the companies or products mentioned in this post.
Did you like this post? Why not PIN it for later?
Enikő
Hey, I'm Enikő! I'm currently an au pair and I want to share my experiences with you. I've travelled a lot in the past years. I'm gonna teach you how to settle in to a new country and get free accommodation anywhere in the world. Circle Enikő on Google+!