Spring in London – events and activities
Spring in London is a very beautiful time. Winter can be pretty miserable in England, so after spending months between the  4 walls watching TV, it is a great feeling when it finally warms up and the sun makes an appearance. All the flowers are blooming this time of the year and baby birds leave their nests to discover the world. It is a great time to visit London as the city becomes colourful with flowers and there are a lot of events you could attend. One of my favourite things to do in spring is visiting the London parks for a leisurely walk.
London Parks:
Kew Gardens:
Kew Gardens looks gorgeous any time of the year. If you spend Christmas in London, I suggest you visit this place as it has many Chrismas decorations, panto and light shows. Spring looks very different of course! Birds chirping, families enjoying a nice walk and flowers blooming.
During Easter, you can even embark on a fun journey on Peter's Rabbit Trail.
Price: £16 online or £17 at the gate for adults and £4 online or £5 at the gate
When: Open daily from 10 am
Peter Rabbit's Trail 30th March to 15th April.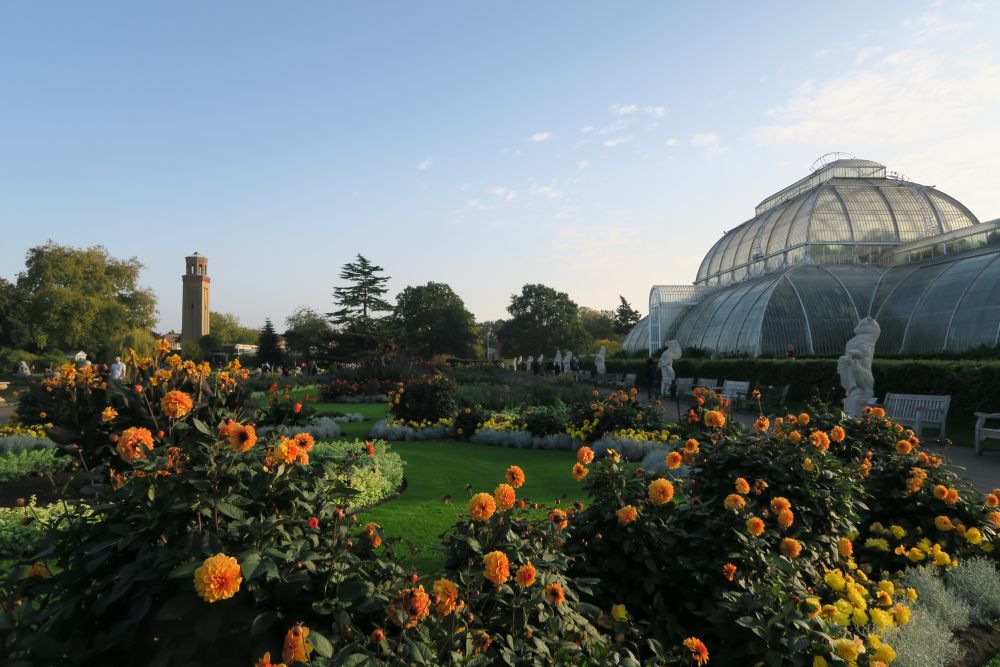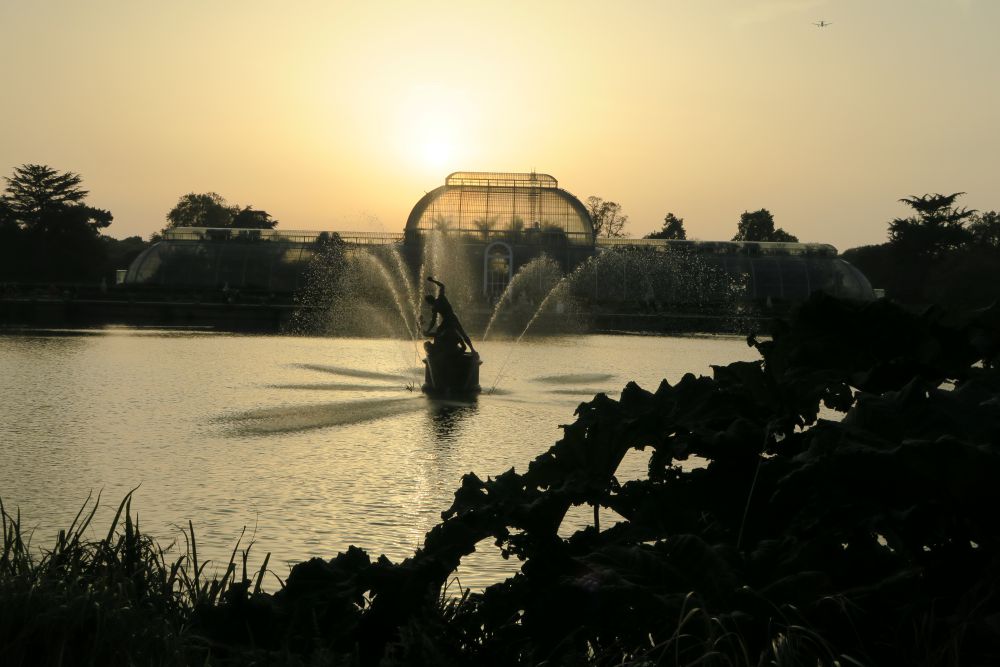 Isabella Plantation:
Isabella Plantation is a hidden gem inside Richmond Park. The whole woodland garden is worth a visit. There are lots of benches, which are perfect for a picnic or to enjoy watching the ducks by the ponds. The highlight of this place is the pond surrounded by azaleas in late April and early May. It will make a great Insta shot!
I would also suggest exploring Richmond Park a bit since you are there. It is a great place to watch the deer or fly a kite!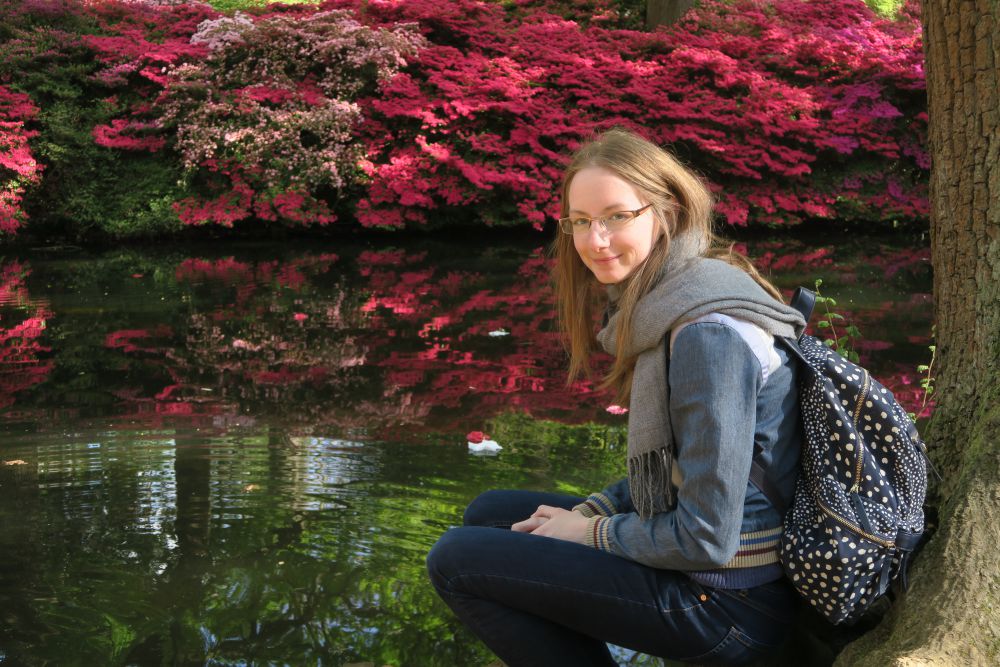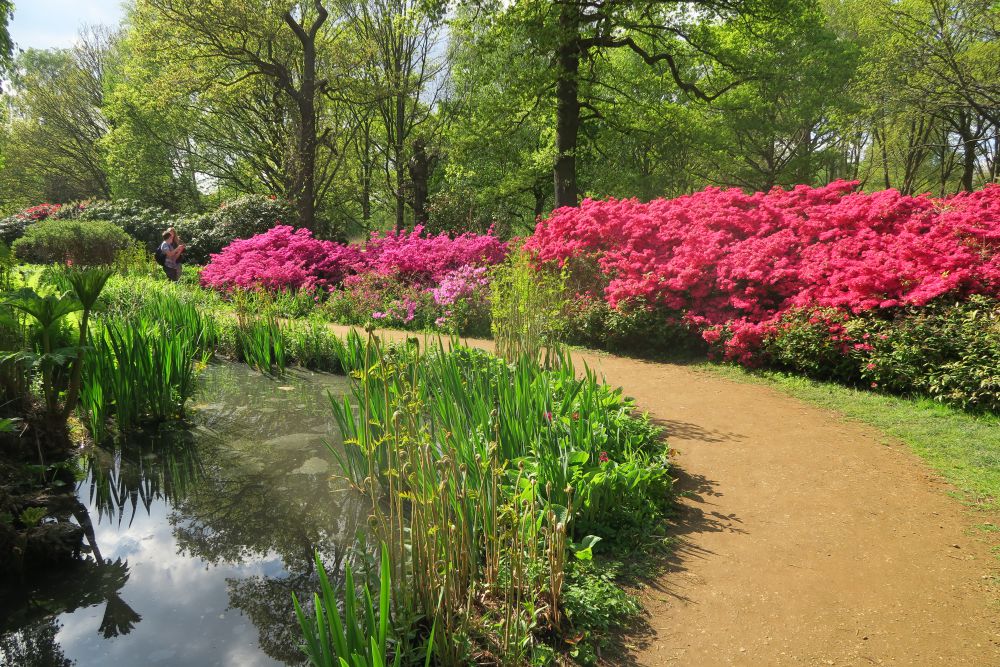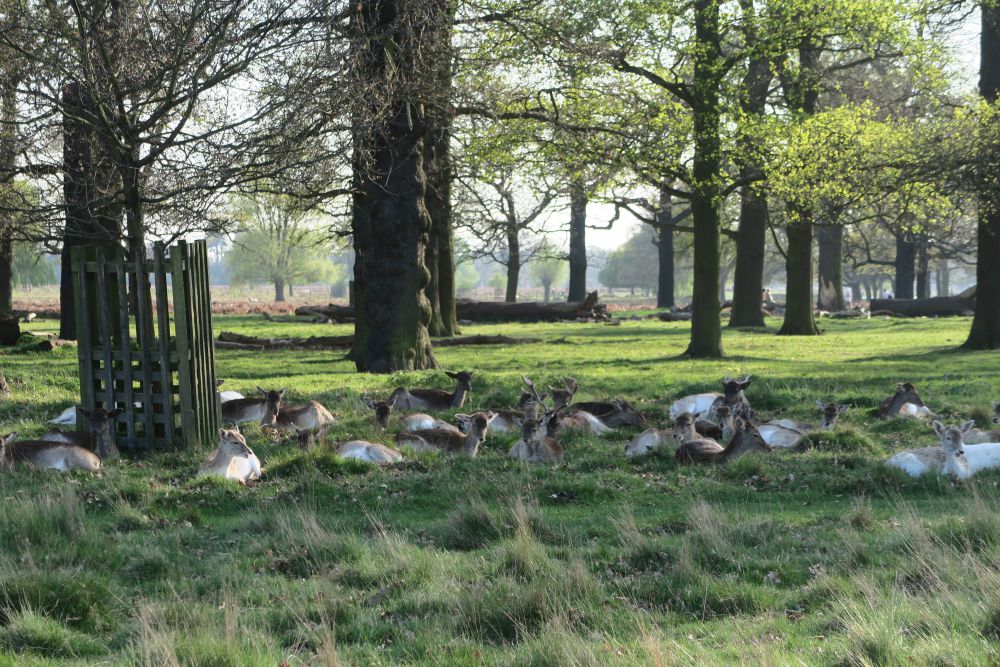 Woodland Gardens in Bushy Park:
When I first entered into the woodland gardens in Bushy Park I felt like Alice in Wonderland. It was so magical. It was a  gorgeous sunny day. Lots of children were playing and running around. All the flowers looked magical by the pond and little stream. Ducks splashing and we even saw kids playing in the water at the stream. It quickly became one of my favourite spots in London. We like to come here with our hammock and just chill.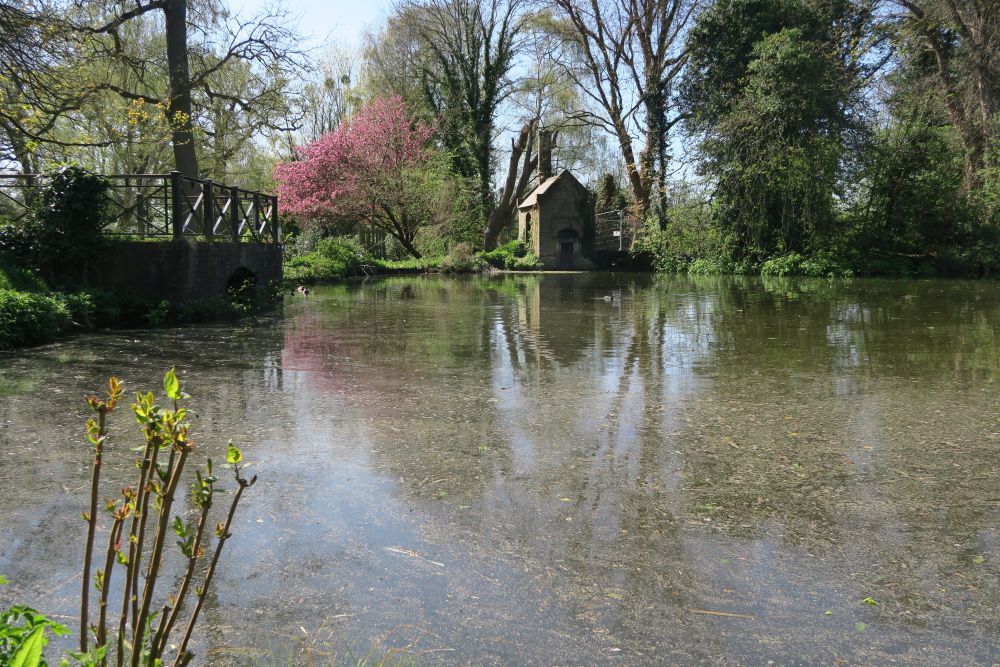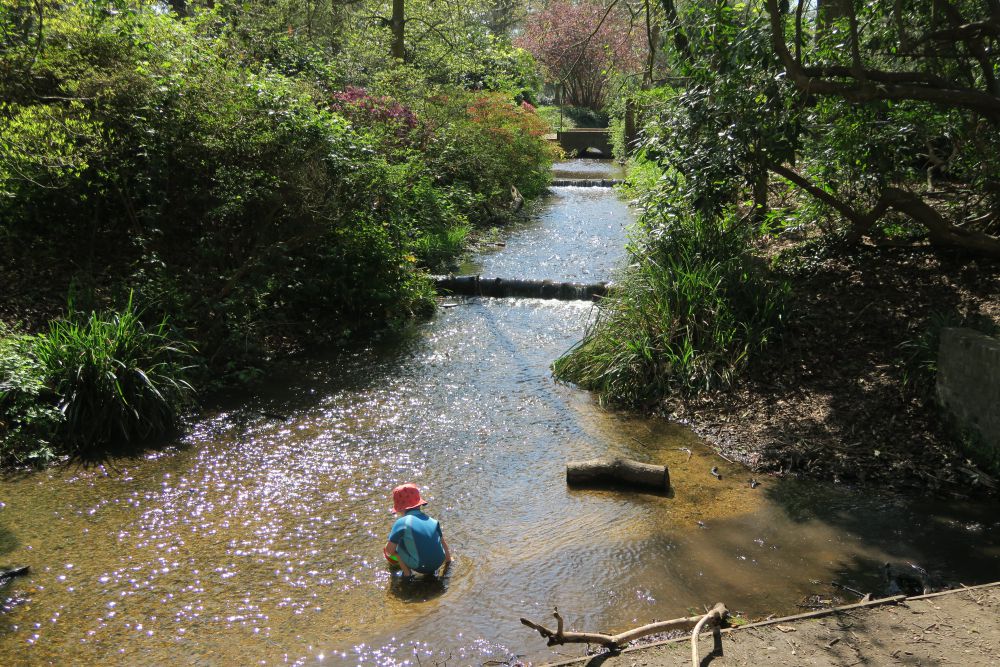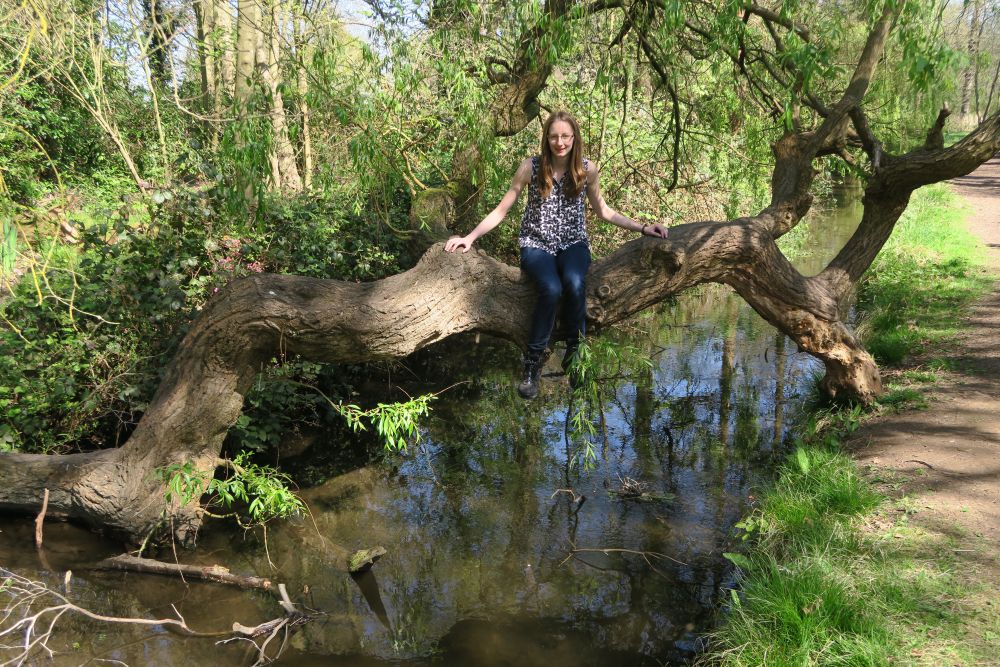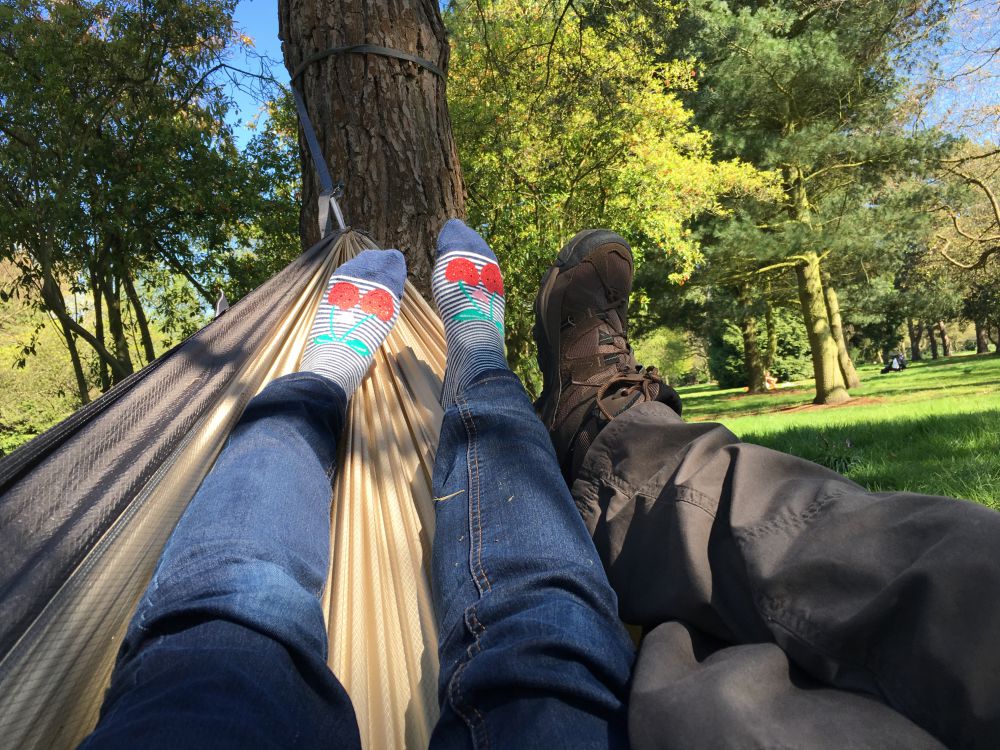 Holland Park:
Holland Park is a great place to visit for everyone as it has an awesome playground, an outdoor gym, rose garden, outdoor theatre,  tennis court,  large chess board,  cricket and football area. A unique feature of the park is the Japanese-style Kyoto Garden. The bridge at the bottom of the waterfall will fascinate every visitor. Stop for a moment to watch the colourful koi carp fishes. But there's more wildlife here! You will notice that squirrels like to play around here and peacocks walk freely in the park.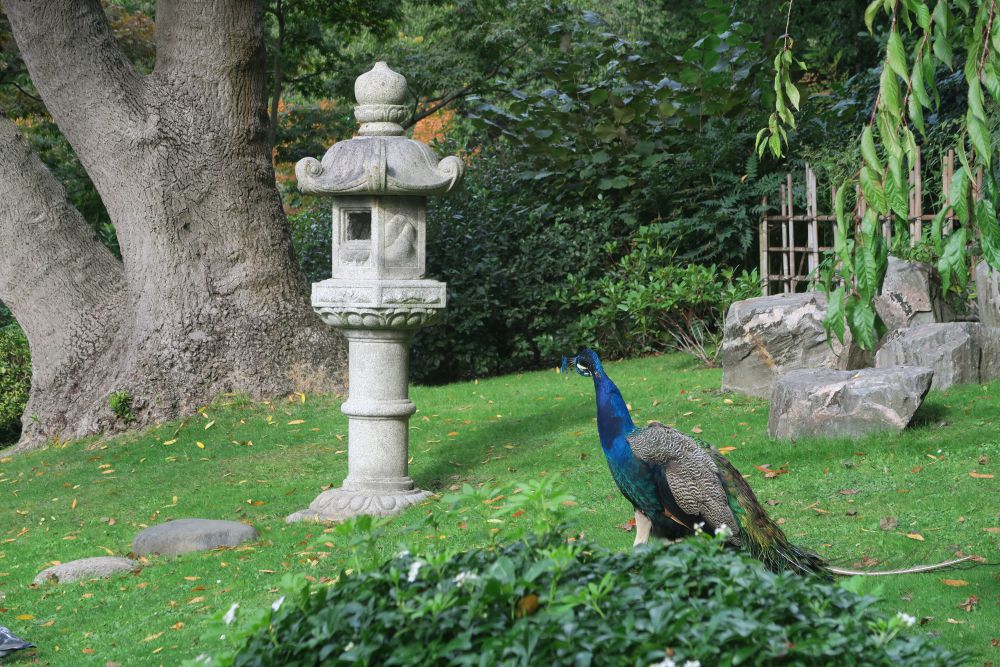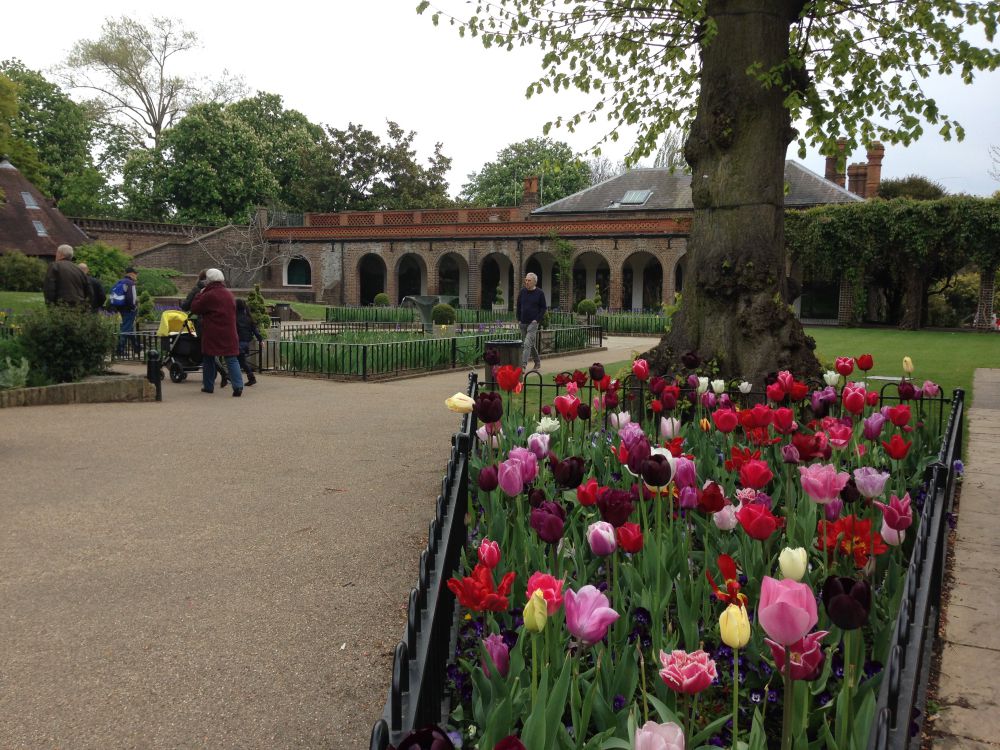 Kensington Gardens:
Conveniently located in the centre Kensington Gardens is easily accessible. It is the perfect place for a stroll. Kids will love the tunnel or as they call it "the secret passage" which surrounds the Sunken Garden. You can then head to the pond to see the ducks. If you have little ones they will enjoy the Diana Memorial Playground.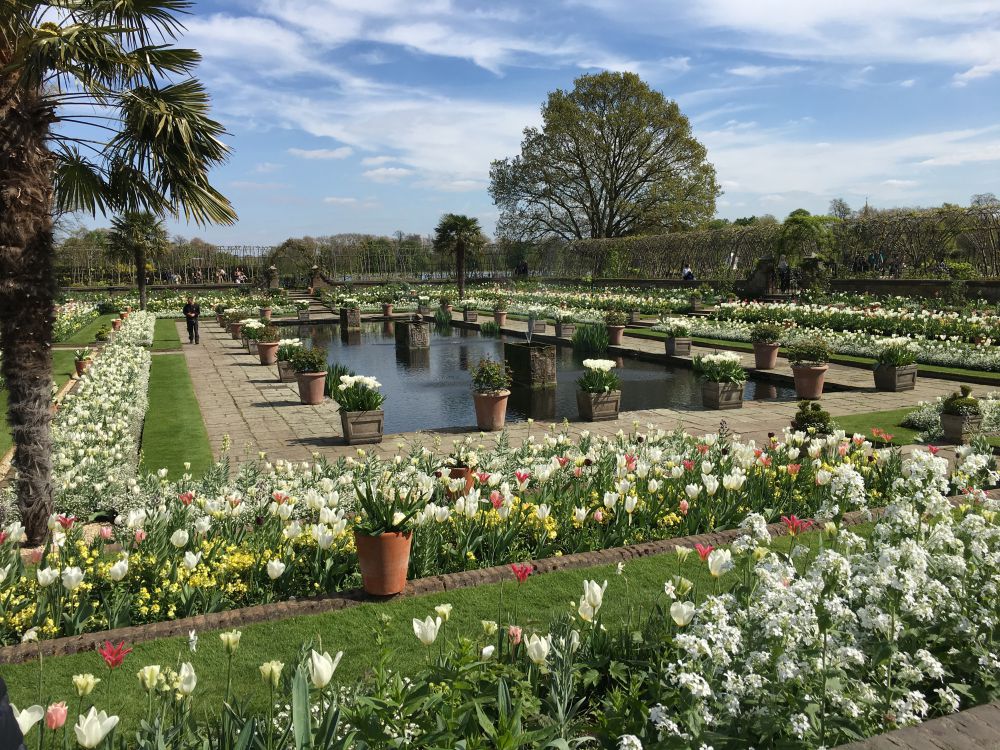 Regent's Park:
Regent's Park is paradise for any bird lover. You can find at least 200 species! If you are patient you can spot tits, robins, blackbirds, warblers, herons, jays and peregrine falcon just to name a few. Although Regent's Park is located in central London, there are plenty of places for the birds to build a home. The grasslands, canal and lake with its islands and reed beds offer great hiding places for the birds. Spring is when all the baby birds hatch, so if you are lucky you will spot adorable chicks.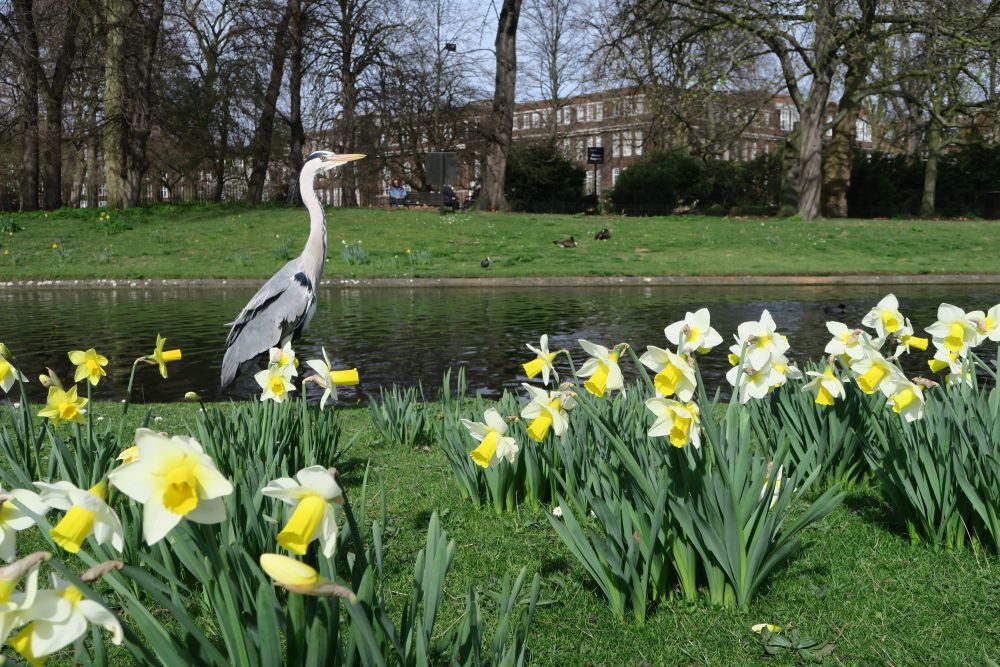 Spring Events London:
Watch the Boat Race:
You might have heard about the annual rowing race between the rowing teams of Oxford and Cambridge universities. Every year the event gathers a huge crowd. People line both banks of the river Thames. It is a great opportunity for the young people to socialize, drink beer and cheer for their team! The event is FREE and starts at the riverbank at 12pm at Bishop's Park, Fulham. It will be chilly and windy so be prepared and dress warm! Although it is quite fun to see the action live, if you prefer to do it snuggling up under a warm blanket you can watch the whole thing on TV as it is televised from 4pm.
When: 24th March 2018 from 12pm
Where: Bishop's Park, Fulham, Putney Embankment, Hammersmith Bridge or Chiswick Pier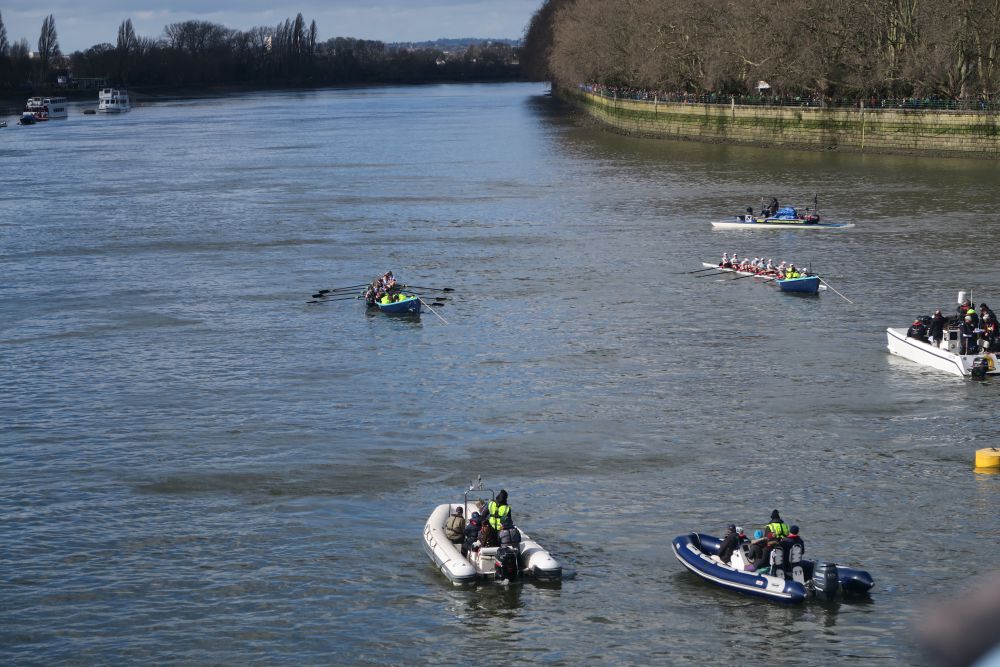 The Oxford & Cambridge Goat Race:
This is the goat version of the Oxford and Cambridge rowing contest. Two goats take part in a race around Spitalfields City Farm. One representing 'Oxford', the other 'Cambridge'. You will need to book tickets ahead, as the number of people who are let inside is limited. There is live music, booze, food and fun competitions for the visitors.
When: 24th March 2018
Gates open at 12 pm and the race takes place between 2 pm and 5 pm.
Where: Spitalfields City Farm, Bethnal Green
Price: £15 for entry
London International Pillow Fight:
International Pillow Fight Day is celebrated all over the world. I remember I was about 12 when I first took part in it in Budapest. It was great fun! It is essentially a flash mob, where people gather around and hit each other with pillows. All great fun and people are generally not too violent! At the side, there are normally even children who join in on the fun! I also took part in the London Pillow Fight and enjoyed it a lot! This is the video I made for the event!
When: 7th April, 2018 1:00pm – 4:00pm
Where: Allen Gardens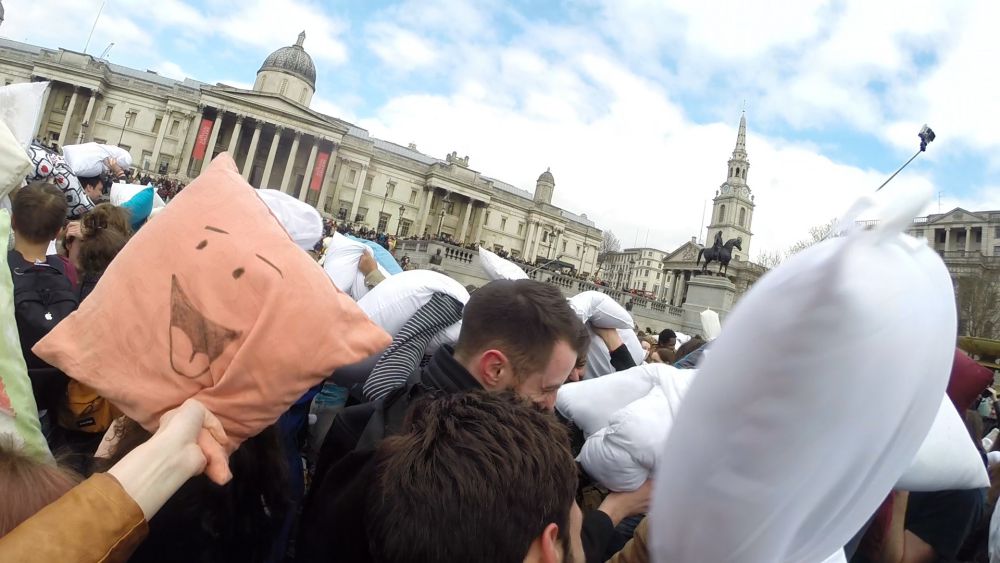 Run or watch the London Marathon:
Are you a runner? Then you should definitely consider running the London Marathon! It is part of the Abbott World Marathon Majors and completing it is a huge achievement, that most people only just dream crossing off their bucket list. If running is not your sport you should still go to this event, as it is a lot of fun to cheer the runners and spot the different crazy costumes that some wear during their run! The atmosphere is unbelievable during the whole time.
When: 22nd April 2018
Where: The mass race starts from Blackheath and Greenwich Park, but they will run through central London, so you can view the runners pretty much from any point from their route.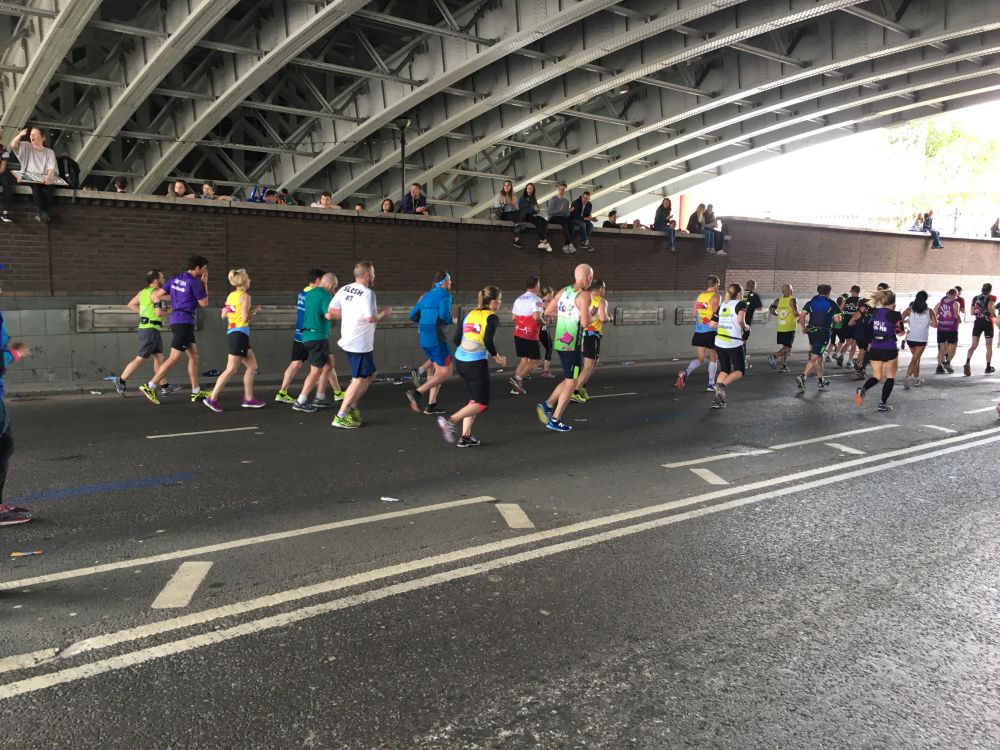 Easter in London:

The Passion of Jesus:
An annual performance by 100 performers including horses and donkeys showing Jesus's final days. It attracts lots of spectators every year. There will be big screens, so everyone can see the action.
When: 30th March
Two 90-minute live performances at 12pm and 3.15pm.
Where: Trafalgar Square
London Easter egg hunts
There are several Easter Egg Hunts taking place all over the city. They can be a lot of fun for the whole family. Some of these events fill up quickly, so make sure you book ahead to avoid disappointment!
Easter Egg-stravaganza:
Children can decorate their Easter eggs and participate in an egg rolling competition before they embark on an Easter Egg Hunt! This event will definitely put a smile on the kiddos face!
When: Sun 1 Apr  11 am to 1pm
Where: Tea Lawn at Lauderdale House
Price: £8.50 per children
Easter Egg Hunt with Fantasy High Street:
An annual Easter Egg Hunt brought to you by London Bridge City. Anyone is welcome to embark on a hunt for chocolate eggs, that are hidden around the site. You will need to carry out some fun tasks and follow clues! A fun event for the whole family.
When: Saturday 31st March
Where: Hay's Galleria, Hay's Lane, London SE1 2HD
Price: FREE, but you will need to register here.
Cadbury Easter Egg Hunts:
There are Easter Egg Hunts taking place all over the UK at National Trust properties. Simply search for your nearest egg hunt here and then have fun!
Price and time depends on location.
Hope you found some nice ideas about what to do in spring in London and you will have a great time!
Did you like this post? Why not PIN it?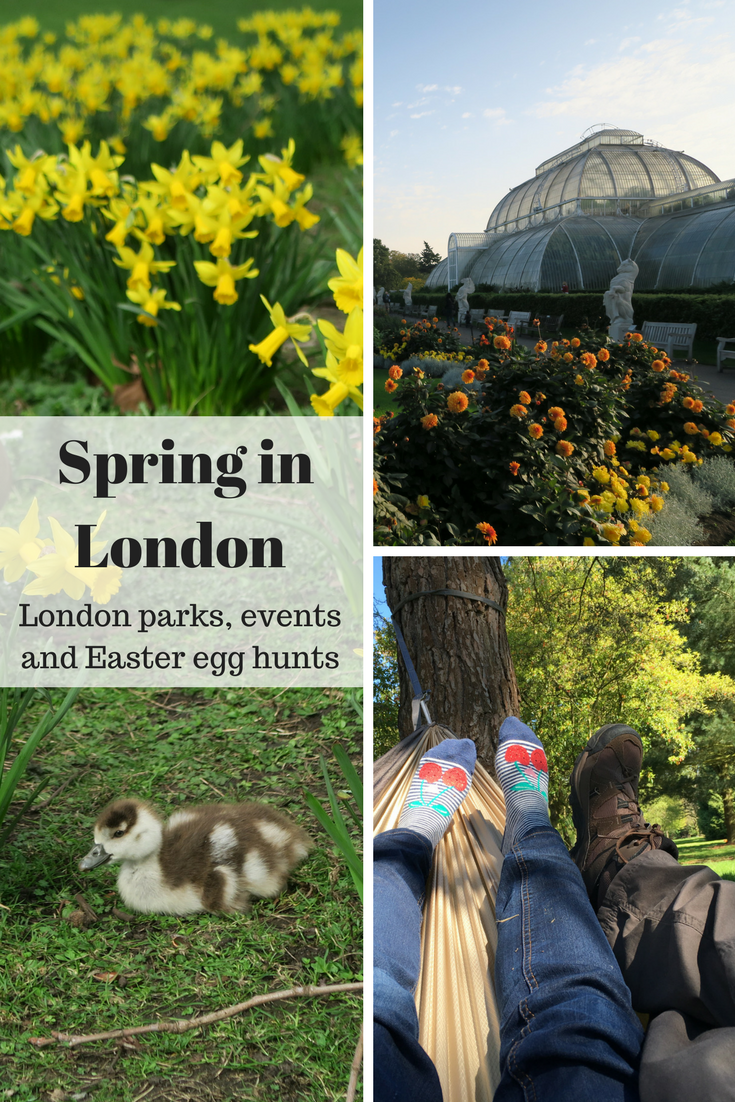 Enikő
Hey, I'm Enikő! I'm currently an au pair and I want to share my experiences with you. I've travelled a lot in the past years. I'm gonna teach you how to settle in to a new country and get free accommodation anywhere in the world. Circle Enikő on Google+!