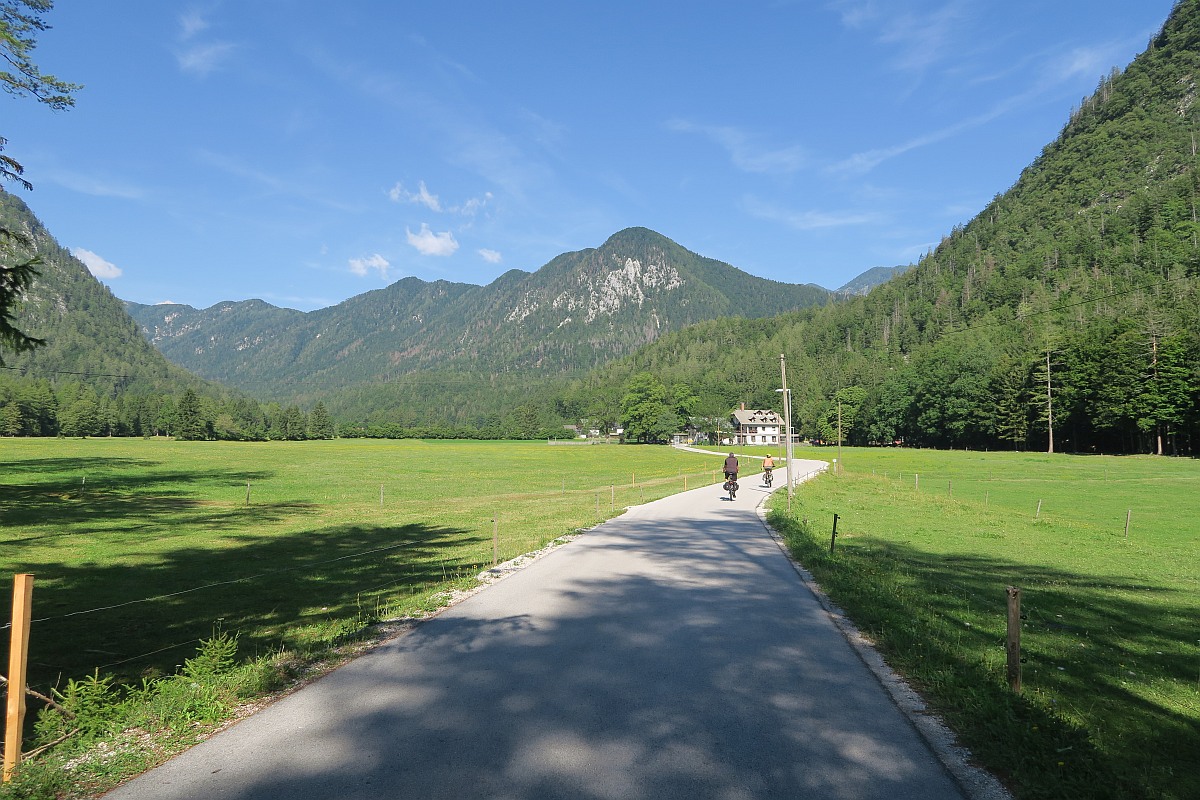 After cycling Lake Bohinj, we realised cycling in Slovenia is a great way to explore the country. We wanted to see more of the Triglav National Park. The Radovna Cycle Route is the first bike route in the area that goes inside the national park. The trail ends in the beautiful Radovna Valley and offers a great day out for families as well. We saw many people with kids bike trailers. On a hot summer day, you can extend your journey by cycling Lake Bled and having a swim.
Cycling Triglav National Park
Cycling is an environmentally friendly activity, which lets you explore a country. It is a great way to get close to nature, as you enjoy the passing countryside. To protect the area it is important to stay on the designated tarmac and gravel road.
Cycling the Radovna Valley
Radovna Cycle Route: Zgornje Gorje – Krnica – Radovna – Zgornja Radovna
Distance: 17 km
Parking: Zgornje Gorje and Krnica both have parking options. We found free parking in Zgornje Gorje and left the car there.
Bike Rental: There aren't any bike rental along the Radovna Cycle Route, but you can rent bikes from Lake Bled and have a longer journey. 
At village Krnica we turned right over the bridge. The cycle path goes towards Mojstrana town. The path mostly goes along the river Radovna inside a forest. It is not a completely traffic-free path, but cars are rare.  There are 12 information boards placed along the way, which provide some informative facts about points of interest and the Radovna Valley. When you reach Radovna Valley you can head to the Psnak inn for some refreshments. The views of high mountain peaks here are stunning.
The Radovna Cycle Route ends here, so after you had a break you can turn back.
However, if you feel energetic you can continue cycling and return by a different route. We chose to head back via Mojstrana.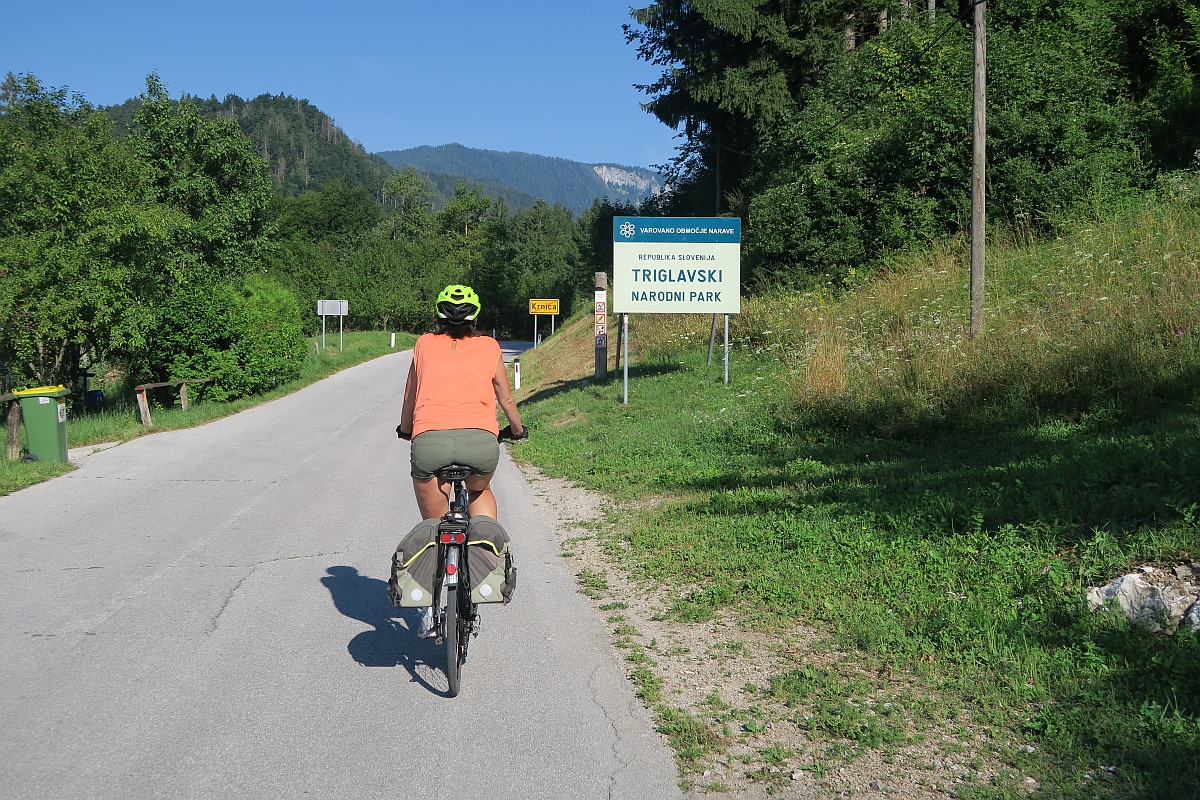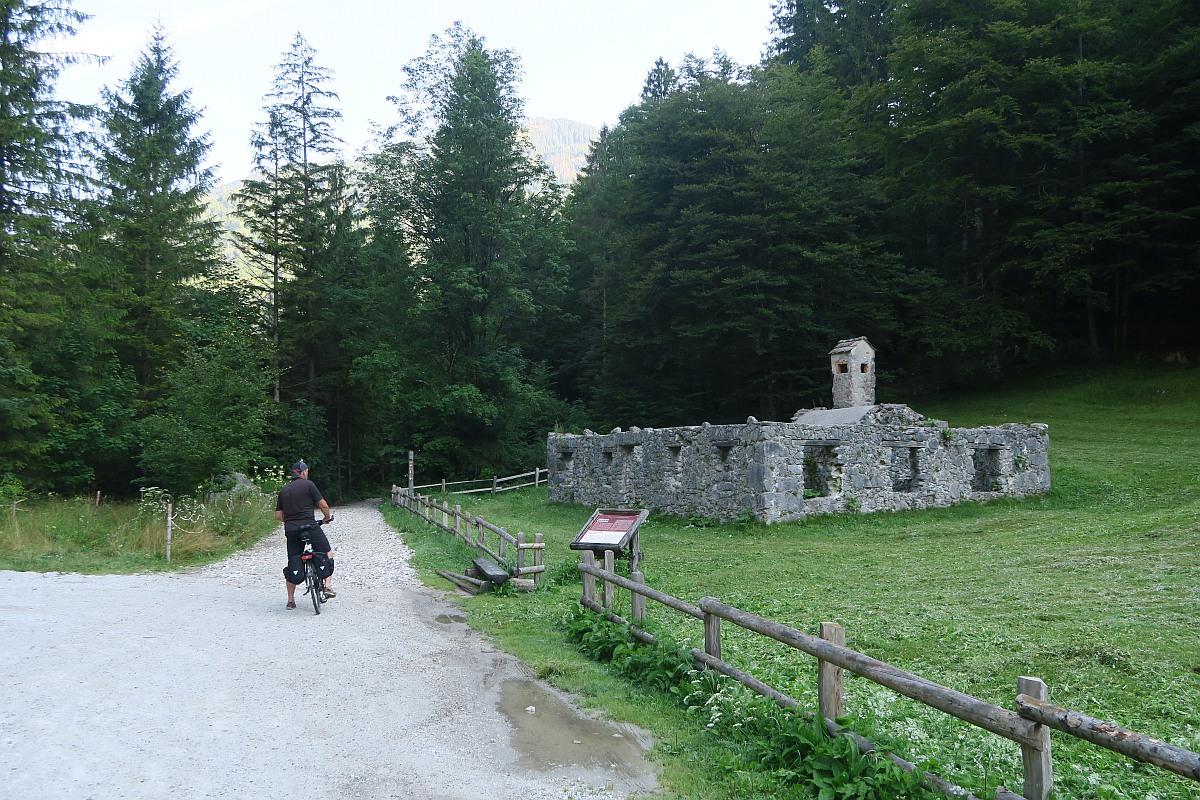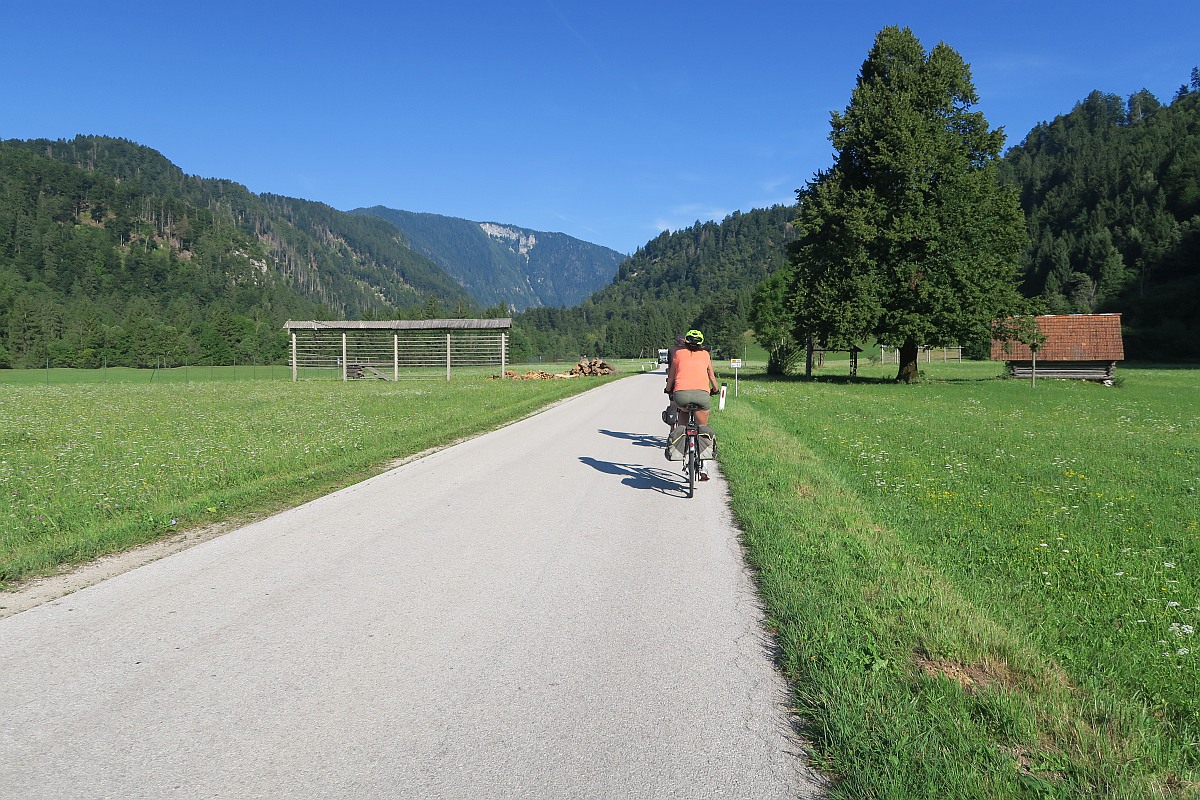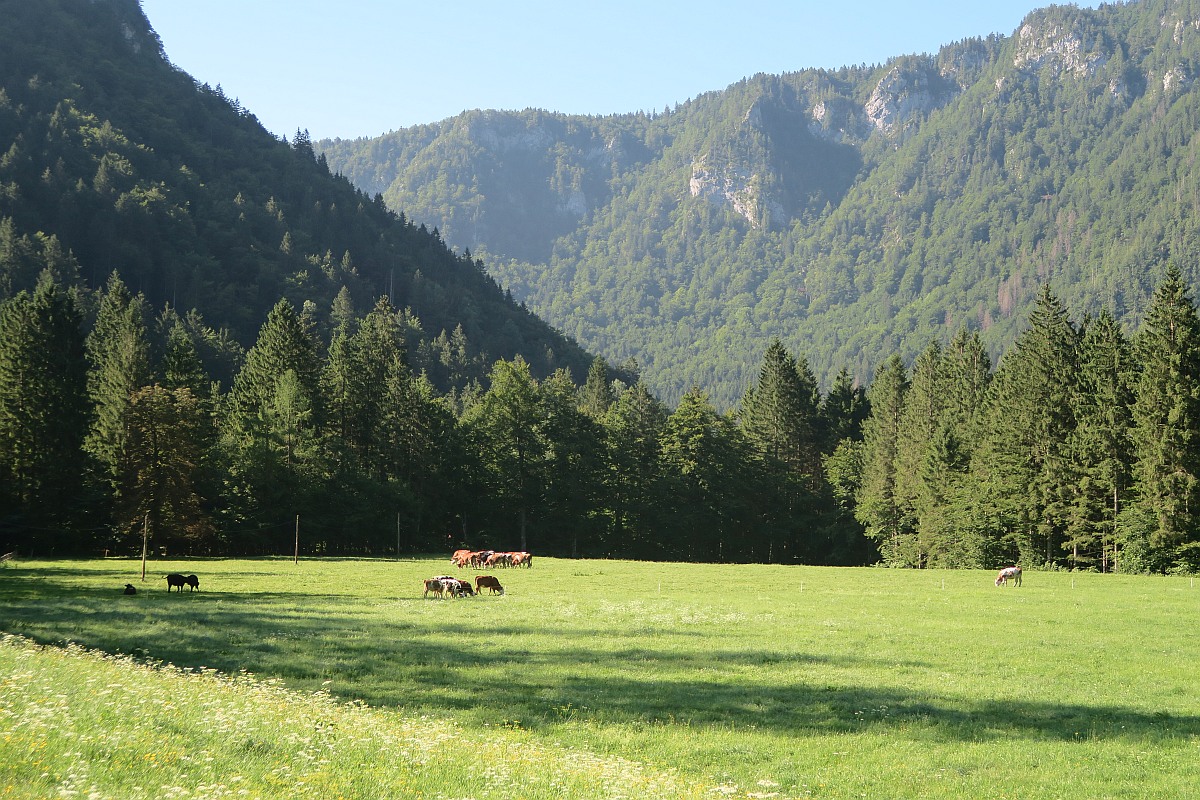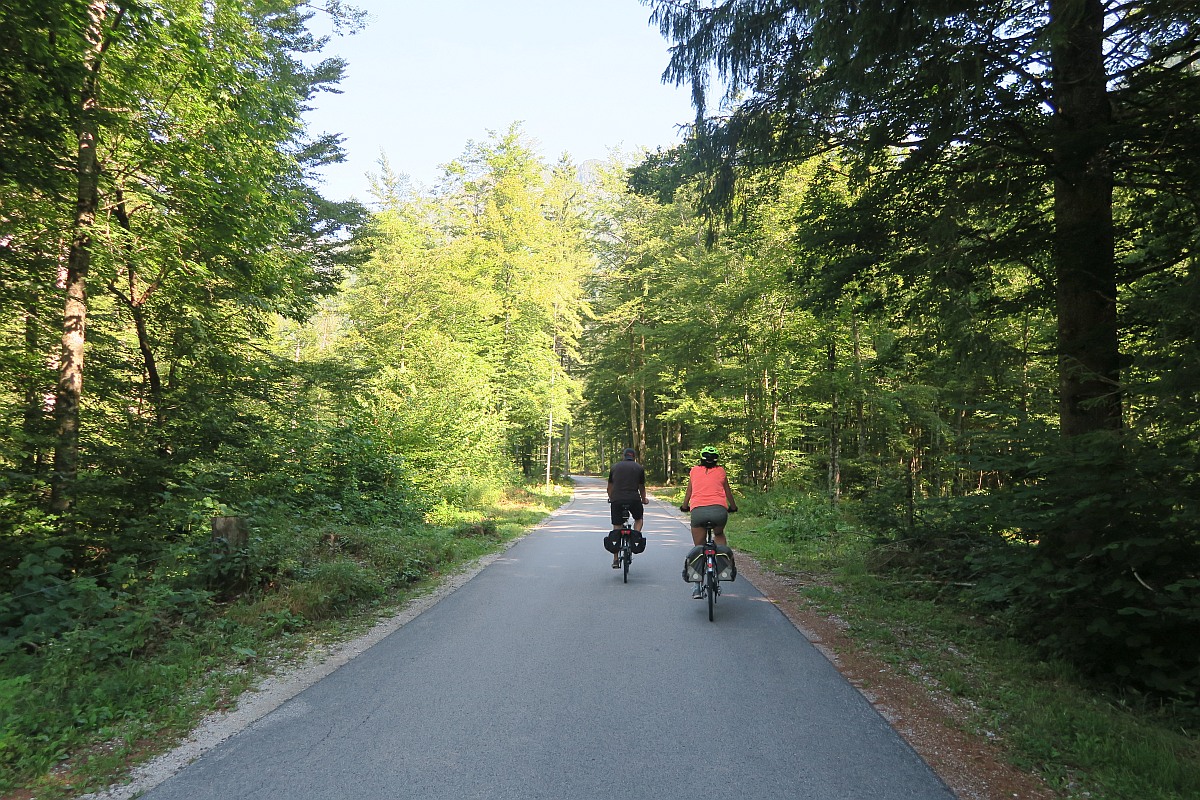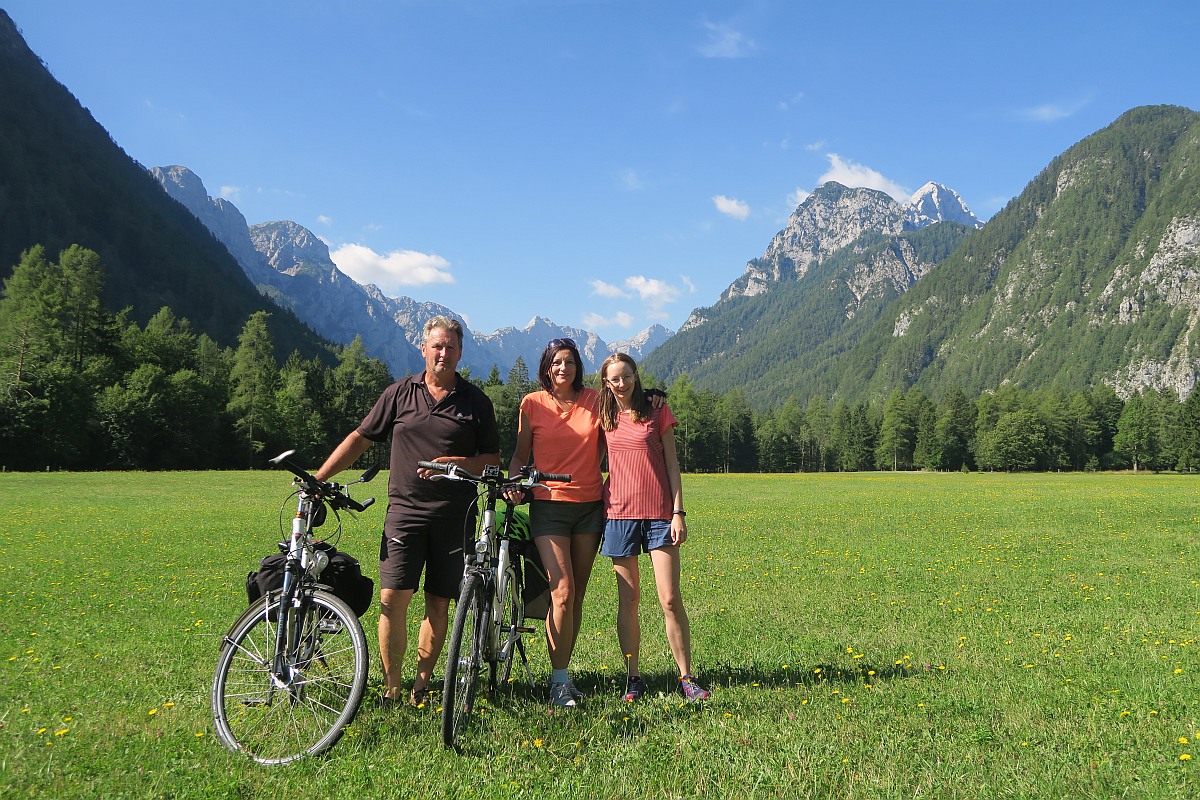 After the Radovna Valley an 18 % ascend started on a 1 km long slope. This was hard work, but it was all worth it for what came next: downhill for 5 km all the way to Mojstrana. We stopped for a short while at the Ski Mojstrana resort, as there was some shade and benches. We were quite hot by now, so we made the decision to cycle to Lake Bled for a dip.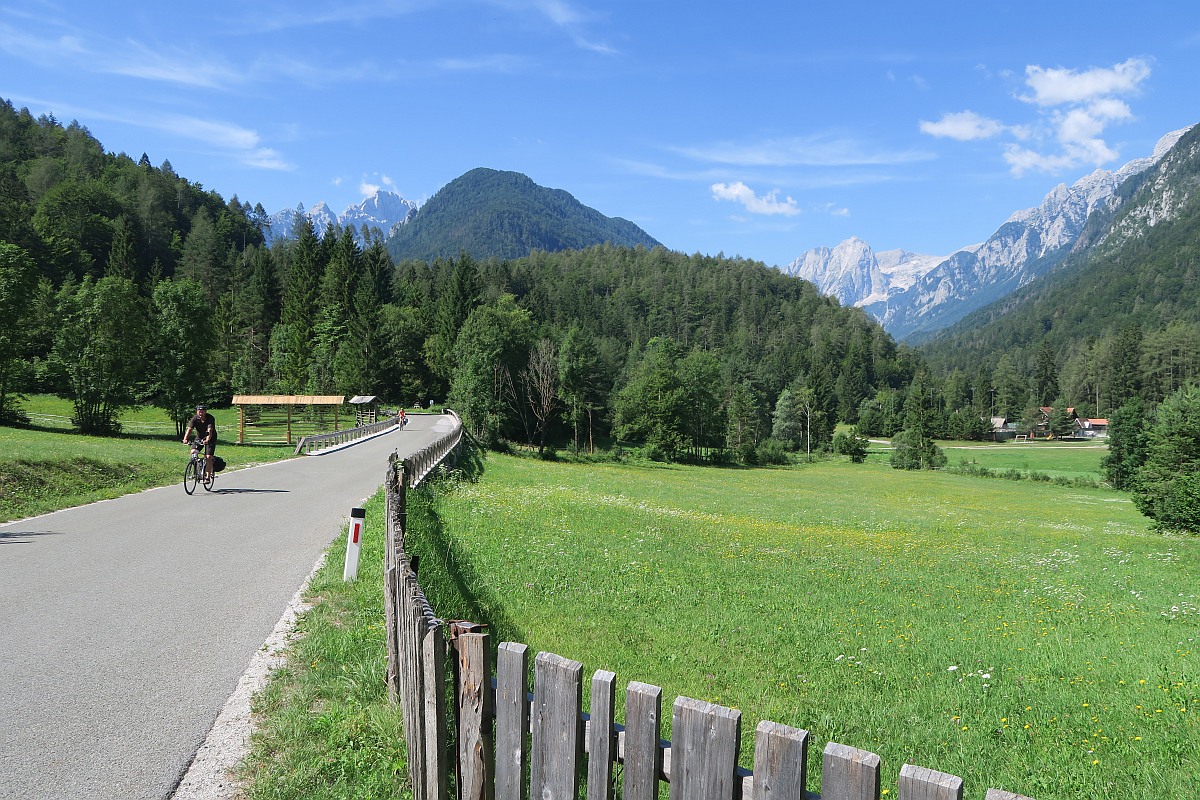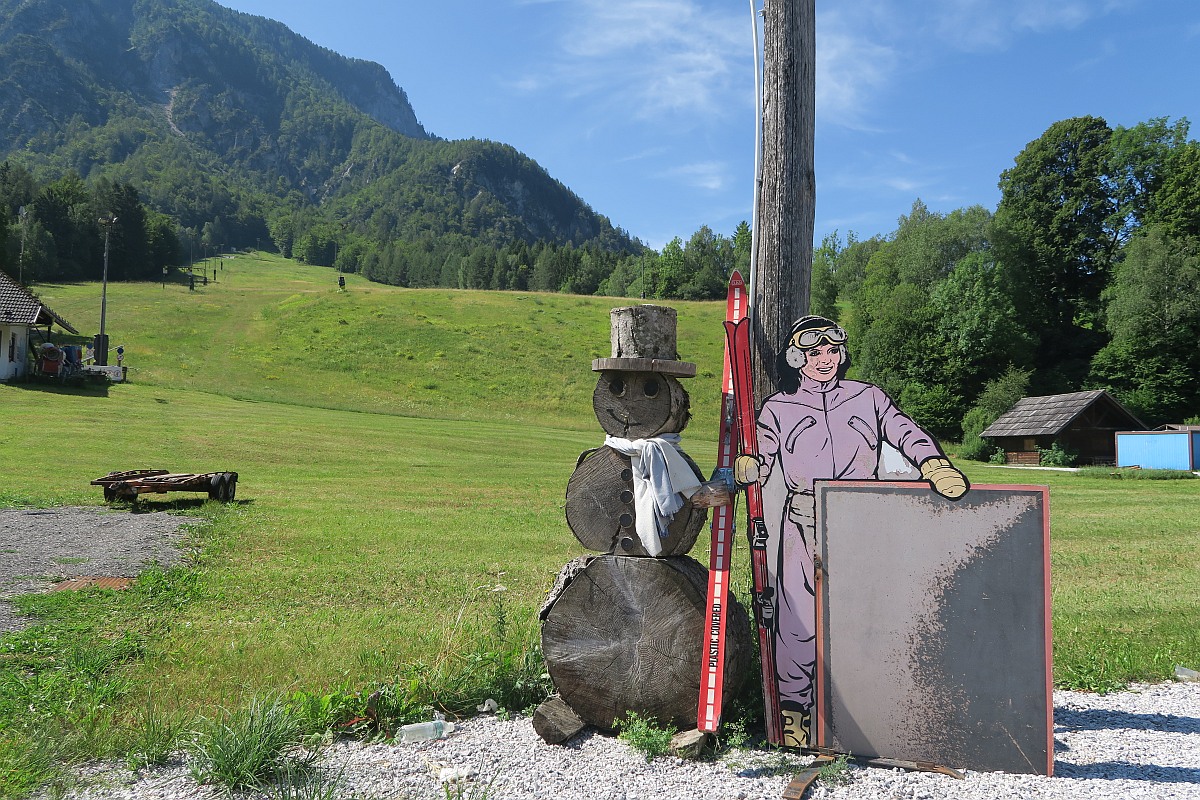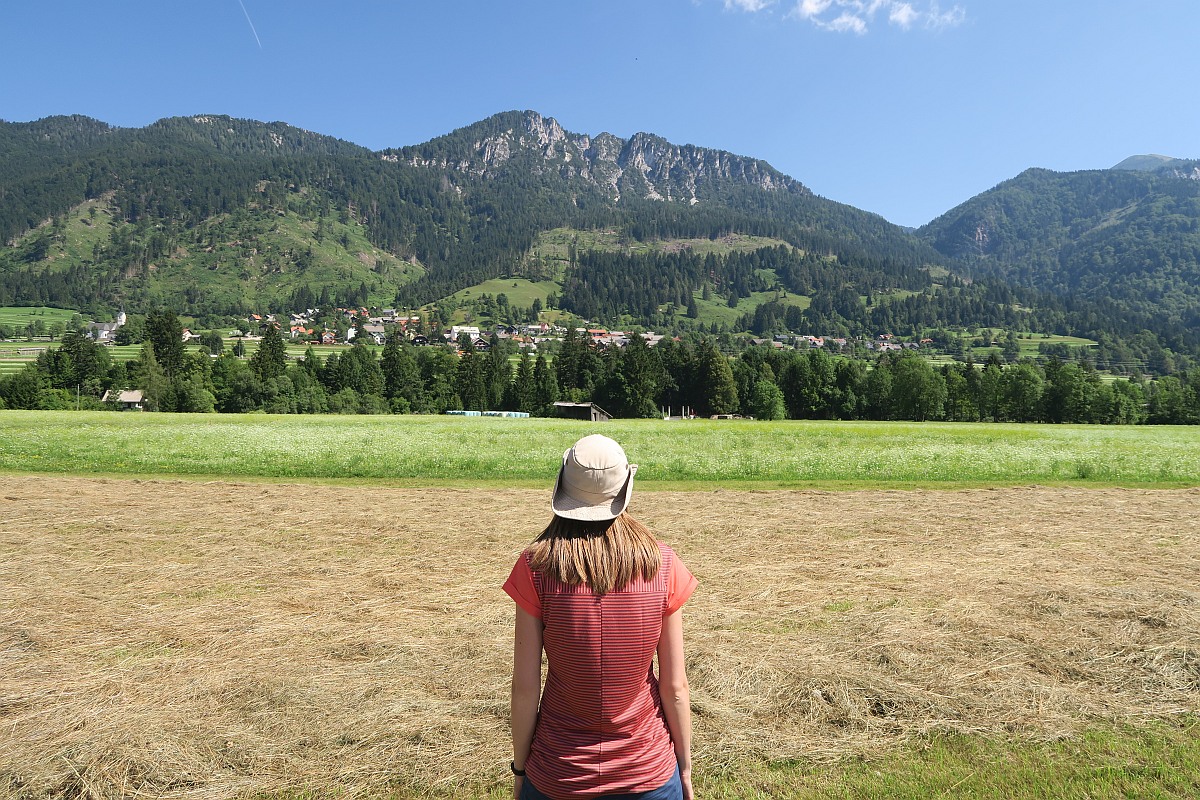 After leaving the settlement of Mojstana we arrived at a little piece of paradise. Dovje Mojstrana is a nice place for a stop next to the bike path. There is a cute little cafe, toilets, deck chairs and information boards with maps. You will need to cross over the little footbridge over the river Sava. The river has a beautiful colour and looks very clean and inviting on a hot summer day. After a short stop, we continued our way towards Jesenice.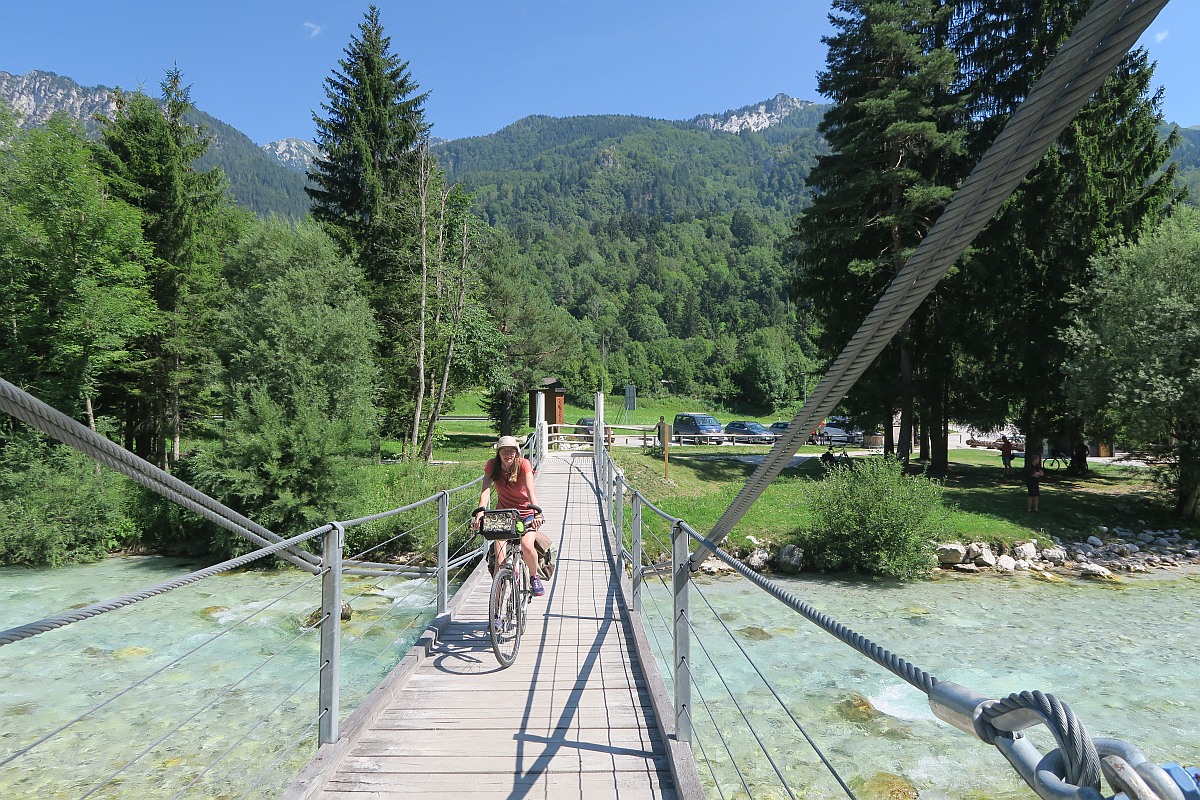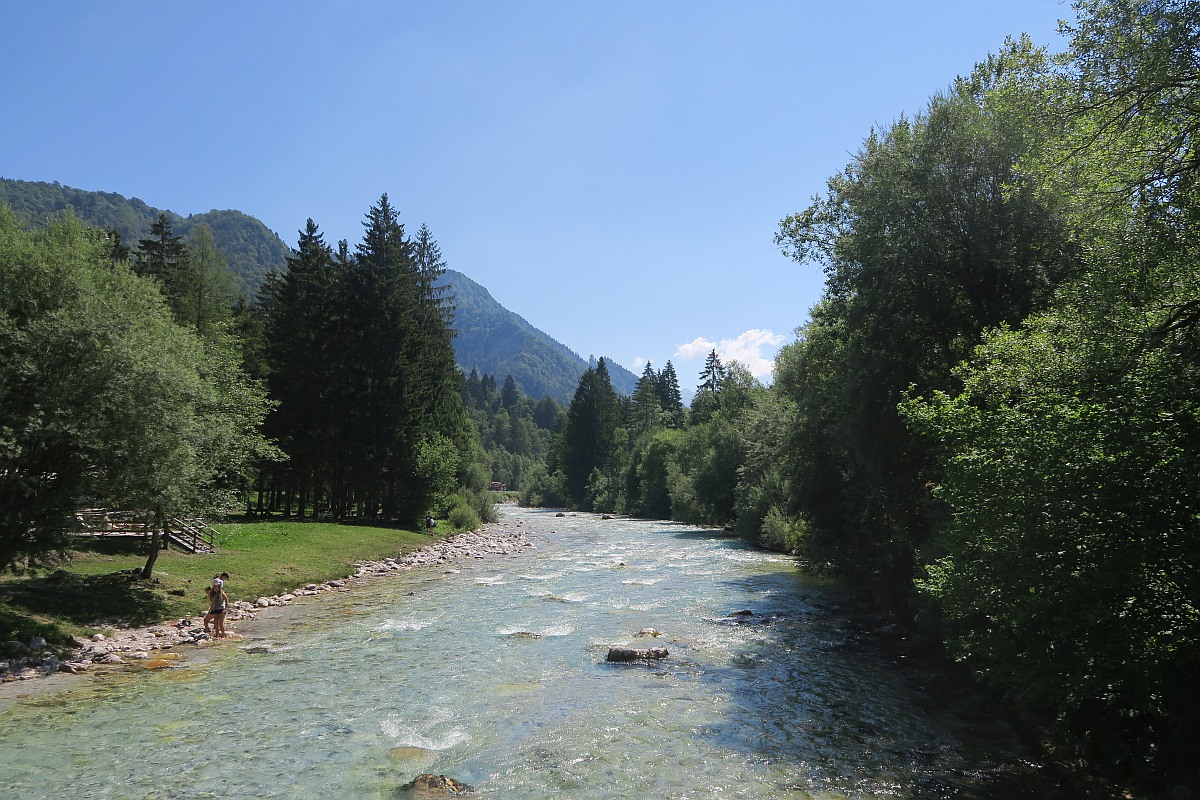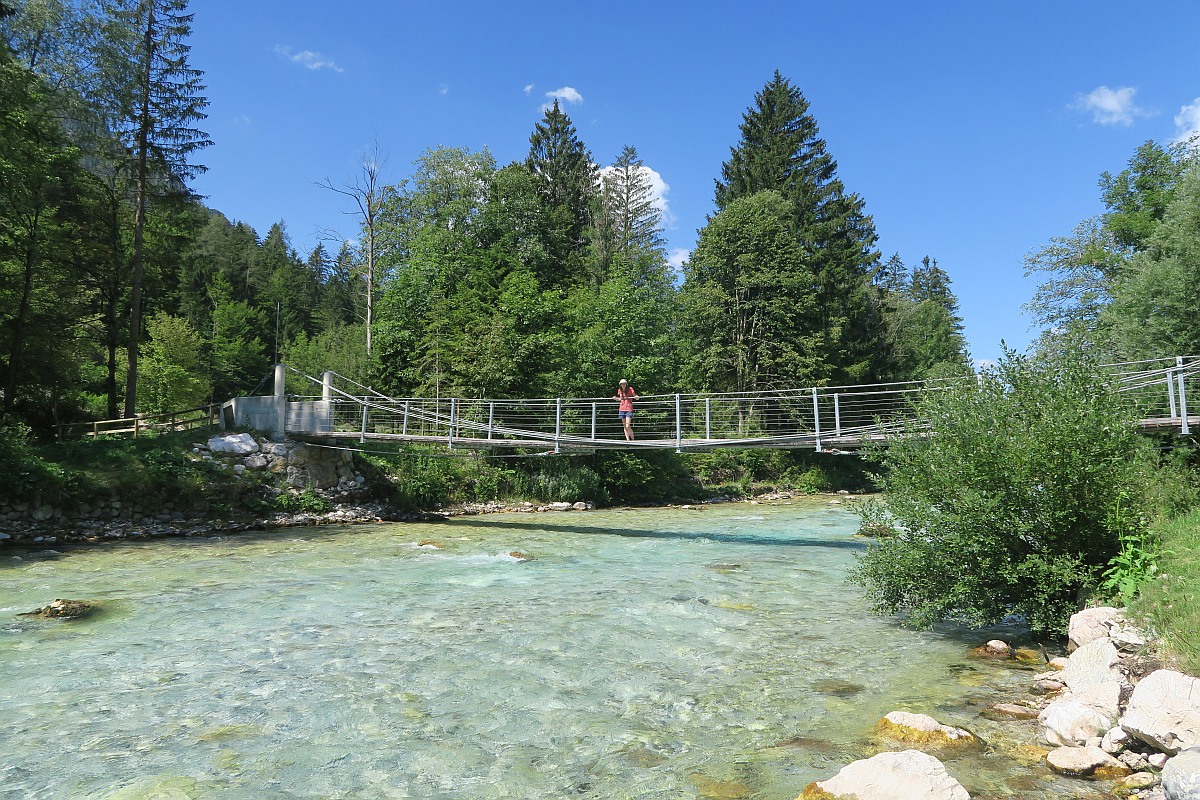 The bike path went next to the motorway, so it was quite a boring and not so scenic part of our trip. After leaving Lipce we had another big ascent. 12% for 2 km until we reached the village Kočna.
From Kočna the path was mostly flat until we reached Spodnje Gorje. From here we could have made our way back to our car. However, we headed towards Lake Bled, which was just 3 km away. The path went downhill. We knew this meant we would have to cycle back up the hill to the car, but the thought to go for a swim in Lake Bled was too inviting.
Cycling Lake Bled
We arrived at Lake Bled around 2 pm. The beach was busy as expected, but this didn't bother us, as we were desperate for a swim. We found a nice spot at the beach in front of Veslaški klub Bled. There is a nice grassy area with some shade as well. There was also a SUP rental and many wooden platforms to jump from. The water was really refreshing after our bike ride. We spent about an hour relaxing at the beach.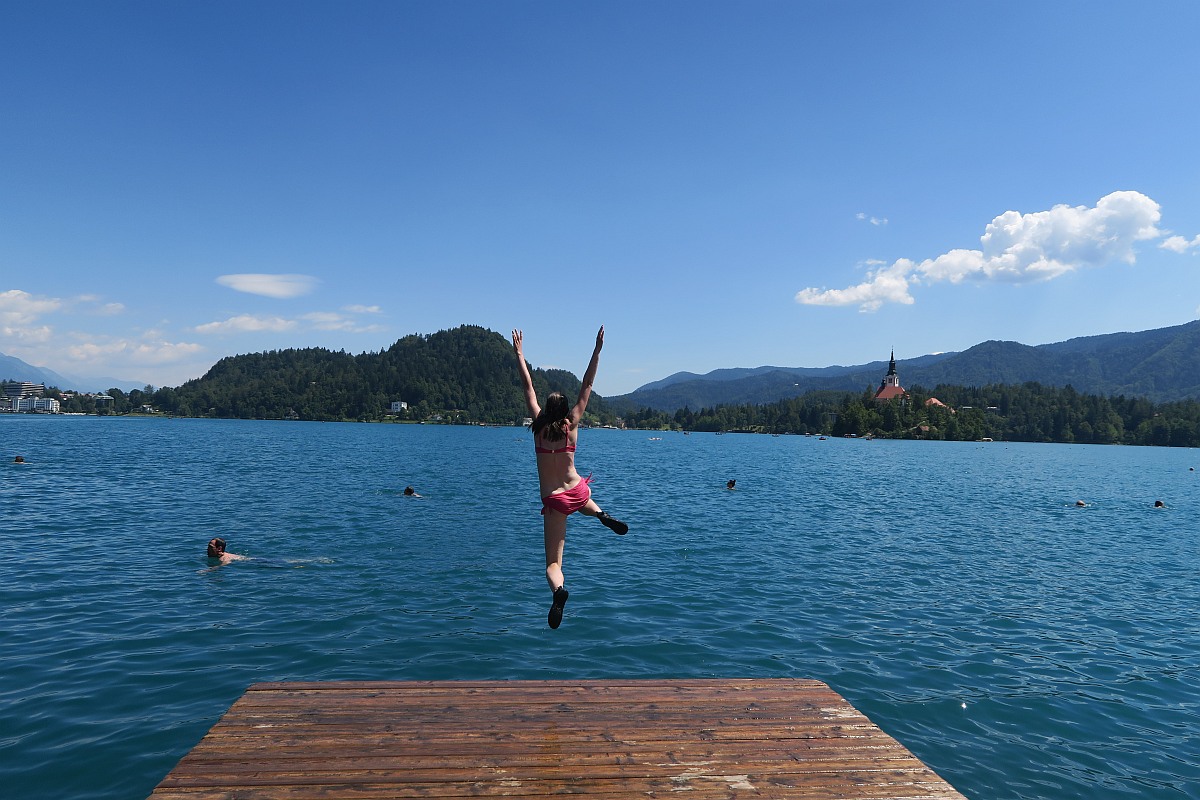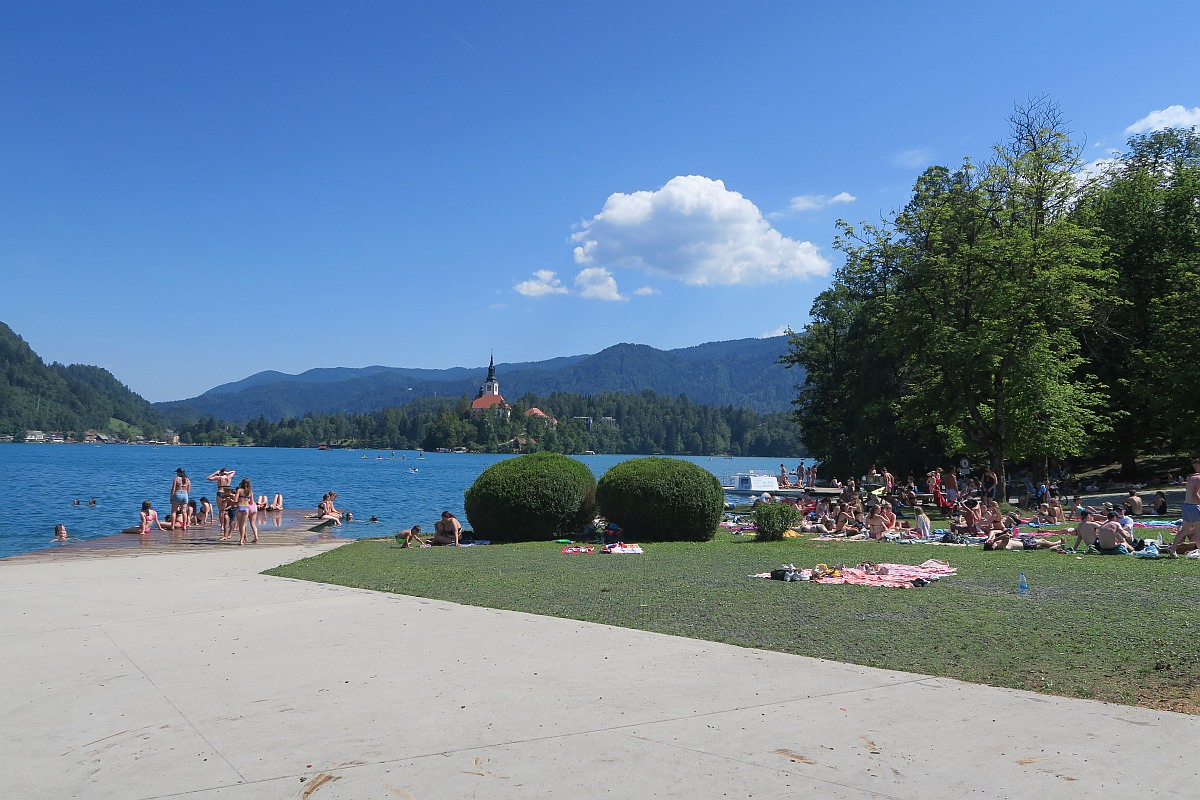 Once we gained our energy back, we decided to cycle around Lake Bled. There is a 6 km path around the lake, which you can cycle or walk on. It took us around 1,5 hours to cycle around Lake Bled, as we stopped so many times to take photos and enjoy the scenery. This walk is great to see the lake, but if you want to get even better views, I suggest going for a hike to one of the Lake Bled Viewpoints.
There were some rope swings along the way, where we enjoyed watching people showing off their skills. There are many possibilities by the lake. You can hire kayaks, SUP boards, go tobogganing or try the famous Bled cake. My brother used his own inflatable kayak to explore the lake. There are several places where you can launch.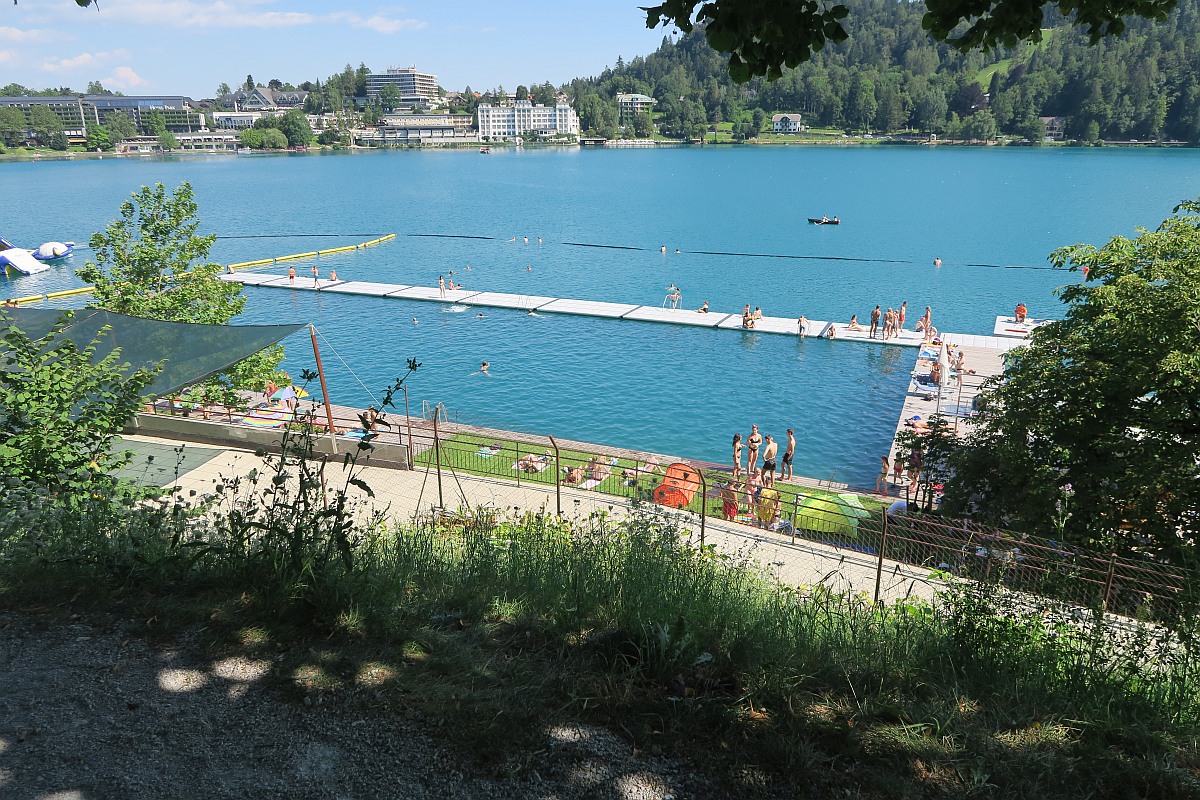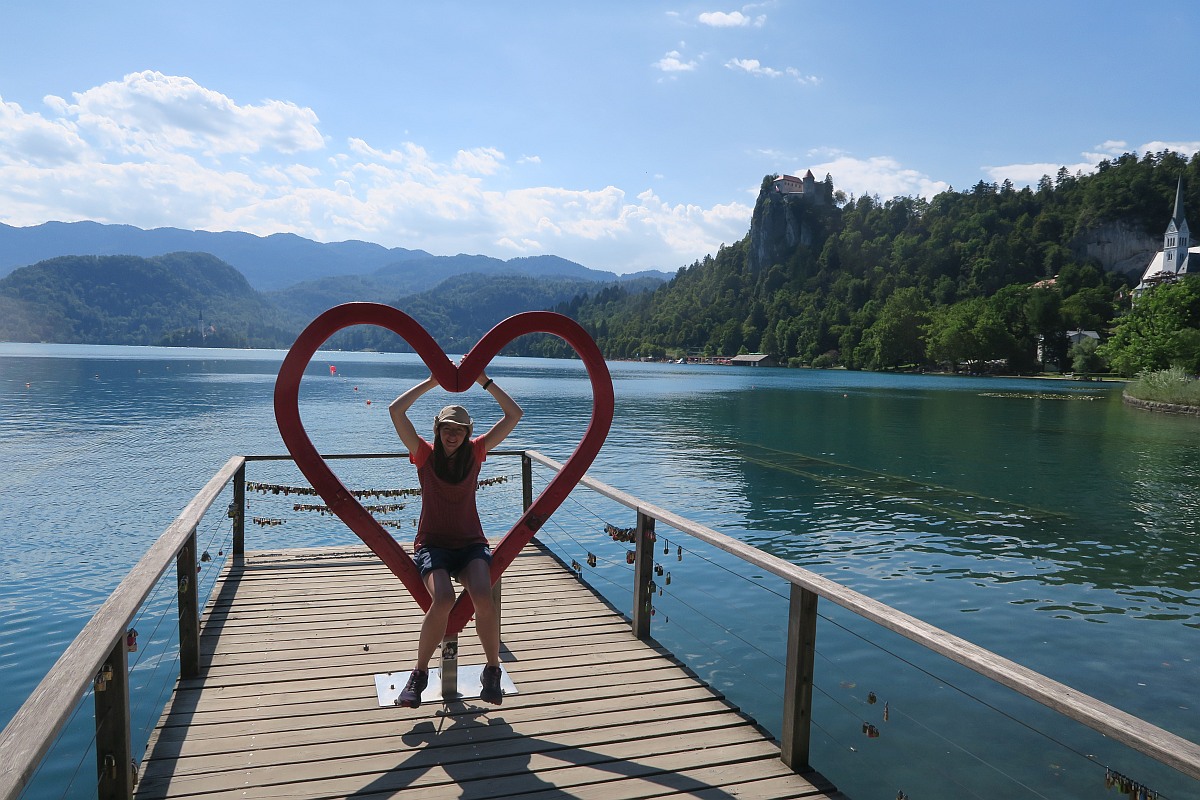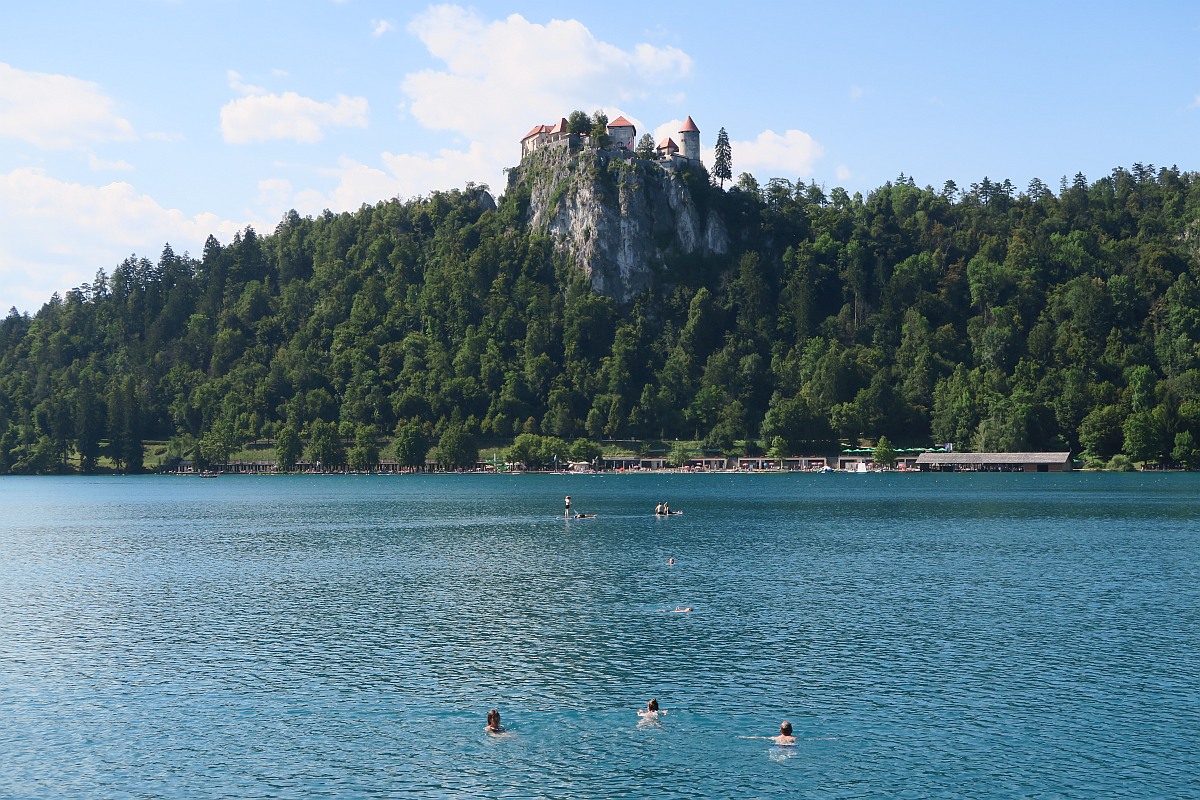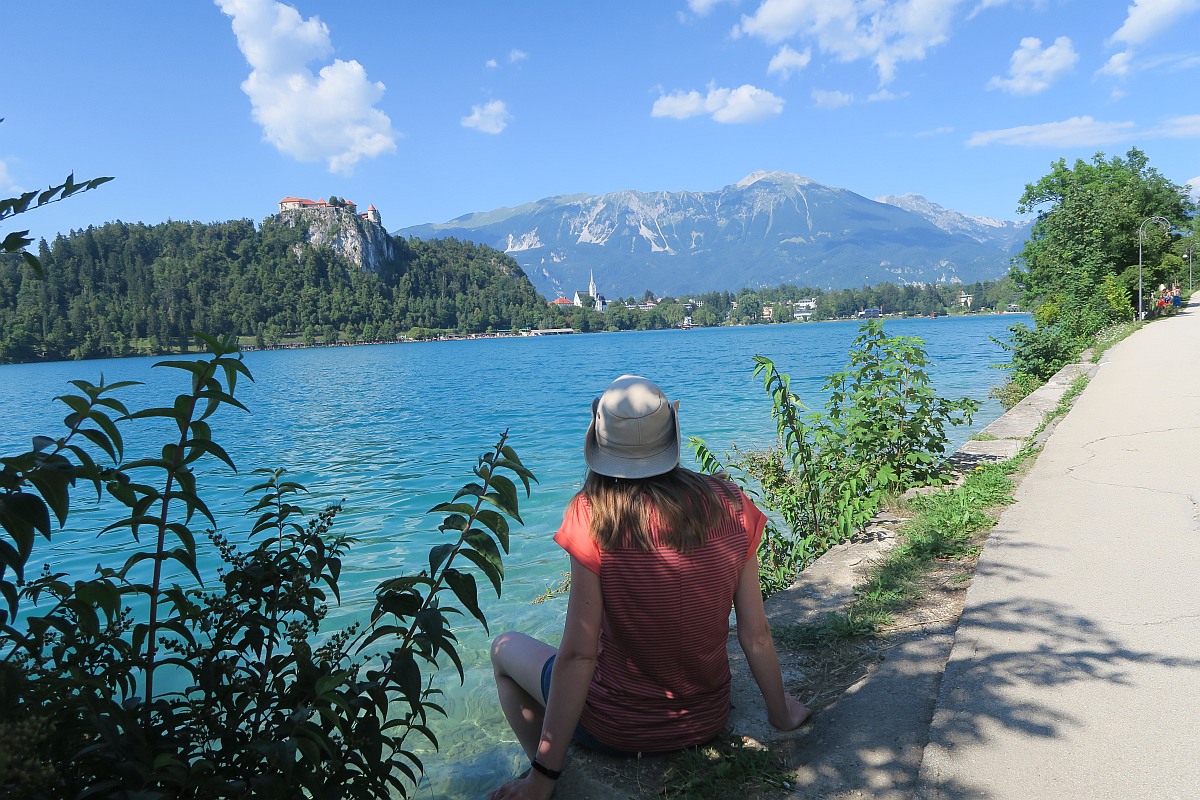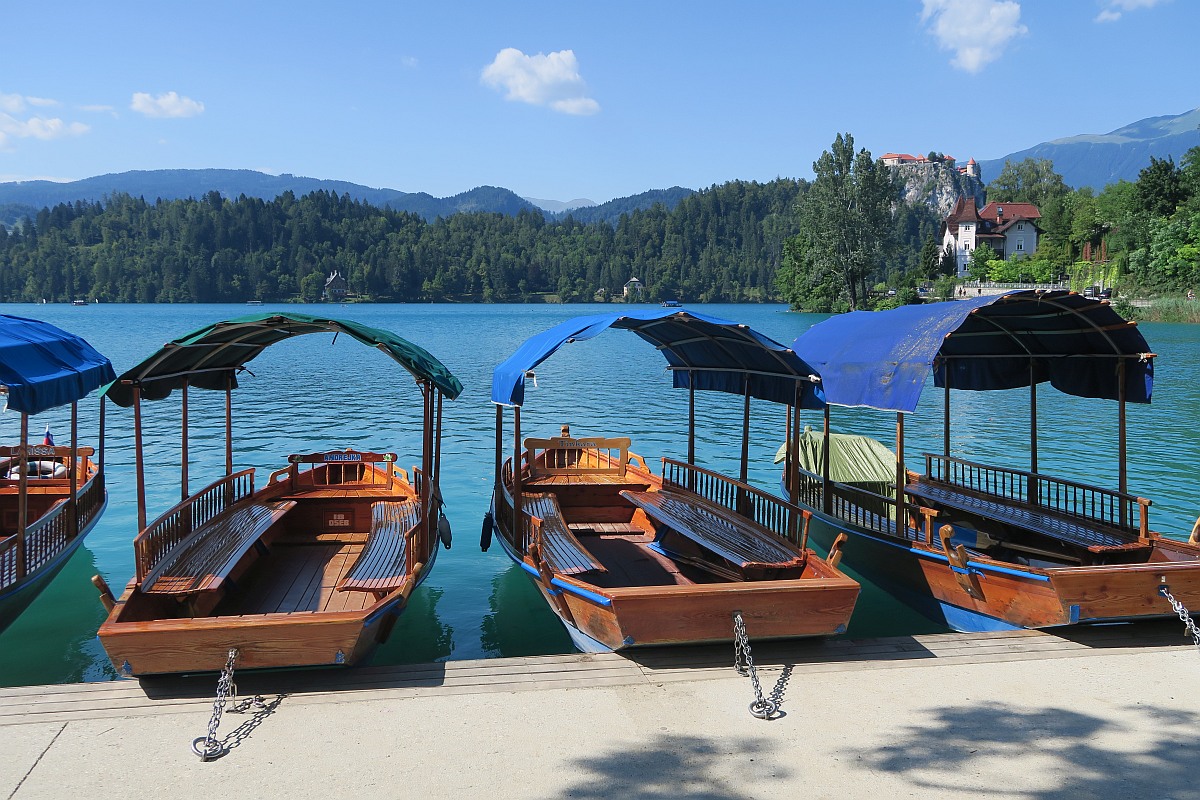 After cycling Lake Bled we headed back to our car to Zgornje Gorje. As expected the bike route went uphill, but we were compensated for our efforts by fantastic views.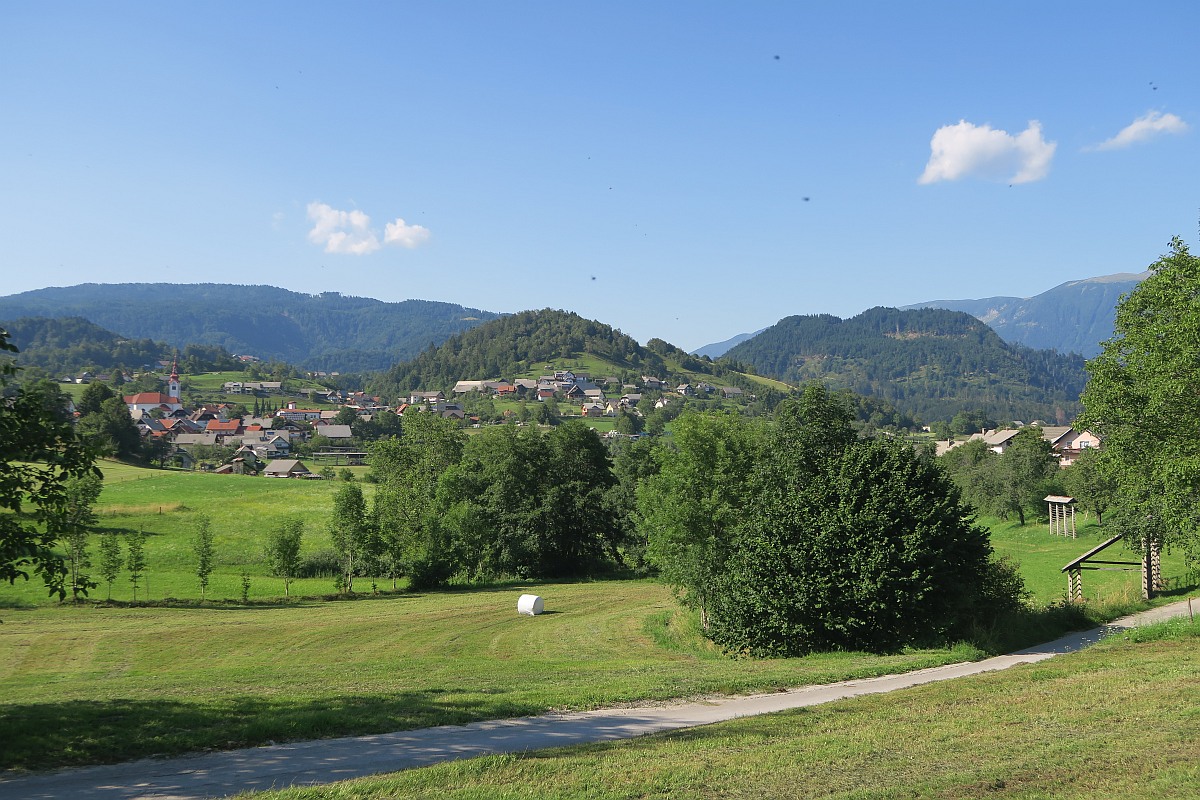 We cycled 54 km and tackled 544 m ascent. This whole trip took us 9 hours 15 minutes. It was an exhausting, but really fun day.
Did you like this post? Why not PIN it for later!
Enikő
Hey, I'm Enikő! I'm currently an au pair and I want to share my experiences with you. I've travelled a lot in the past years. I'm gonna teach you how to settle in to a new country and get free accommodation anywhere in the world. Circle Enikő on Google+!