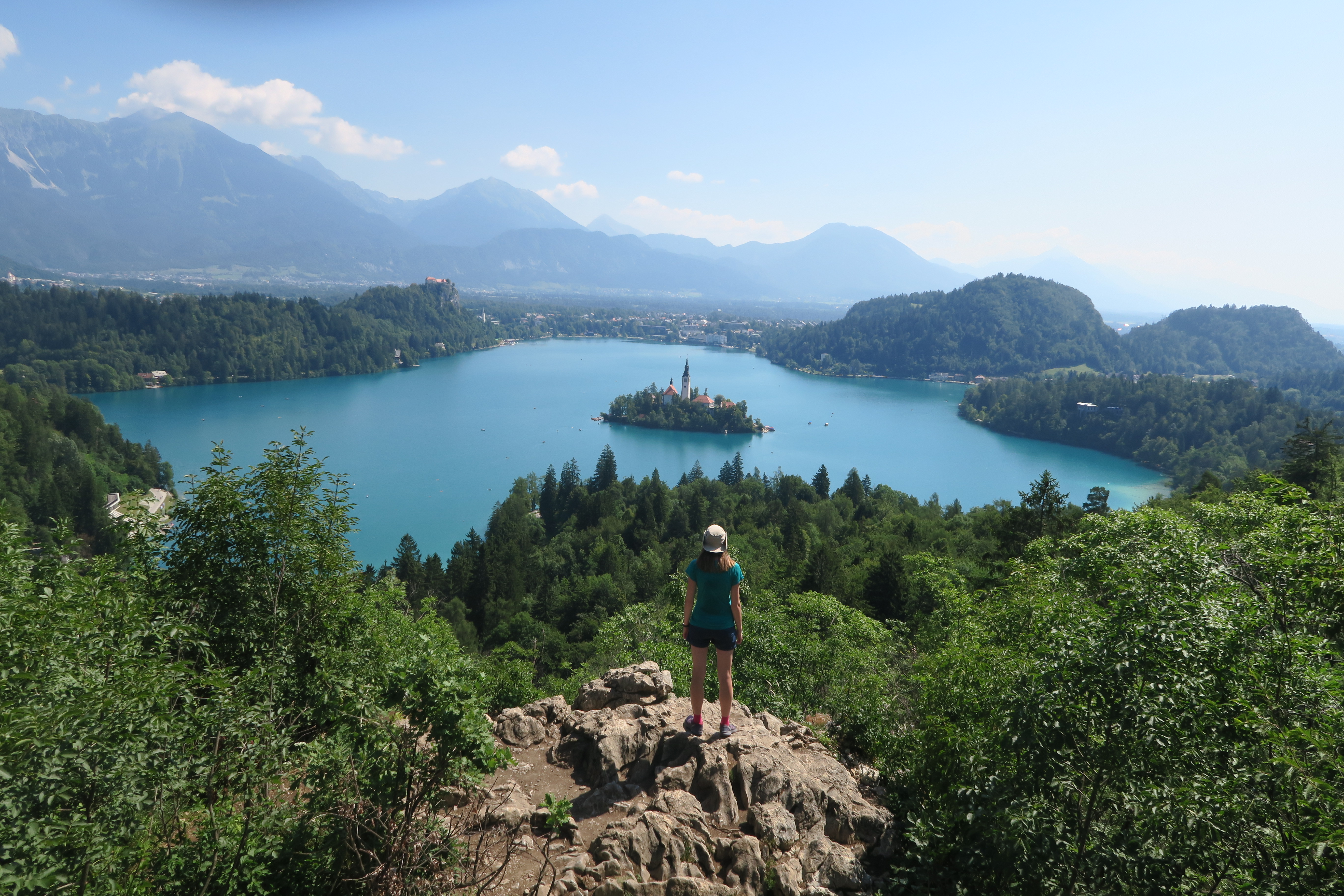 Slovenia boasts of natural beauty. You must have seen countless photos on the Internet of the fairy tale perfect lake which has a cute island in the middle with a church on it. These photos were probably taken from one of the Lake Bled viewpoints. Ojstrica, Velika Osojnica and Mala Osojnica are all viewpoints offering fantastic views to the lake and surrounding area. But which one to choose? How to get there? Where to park? You can find the answers to these questions from this post. 
This post may contain affiliate links. If you make a purchase through one of these links, I may receive a small commission at no extra cost to you.
There are many different types of accommodation around Lake Bled. They are all fantastic locations to visit these viewpoints on foot.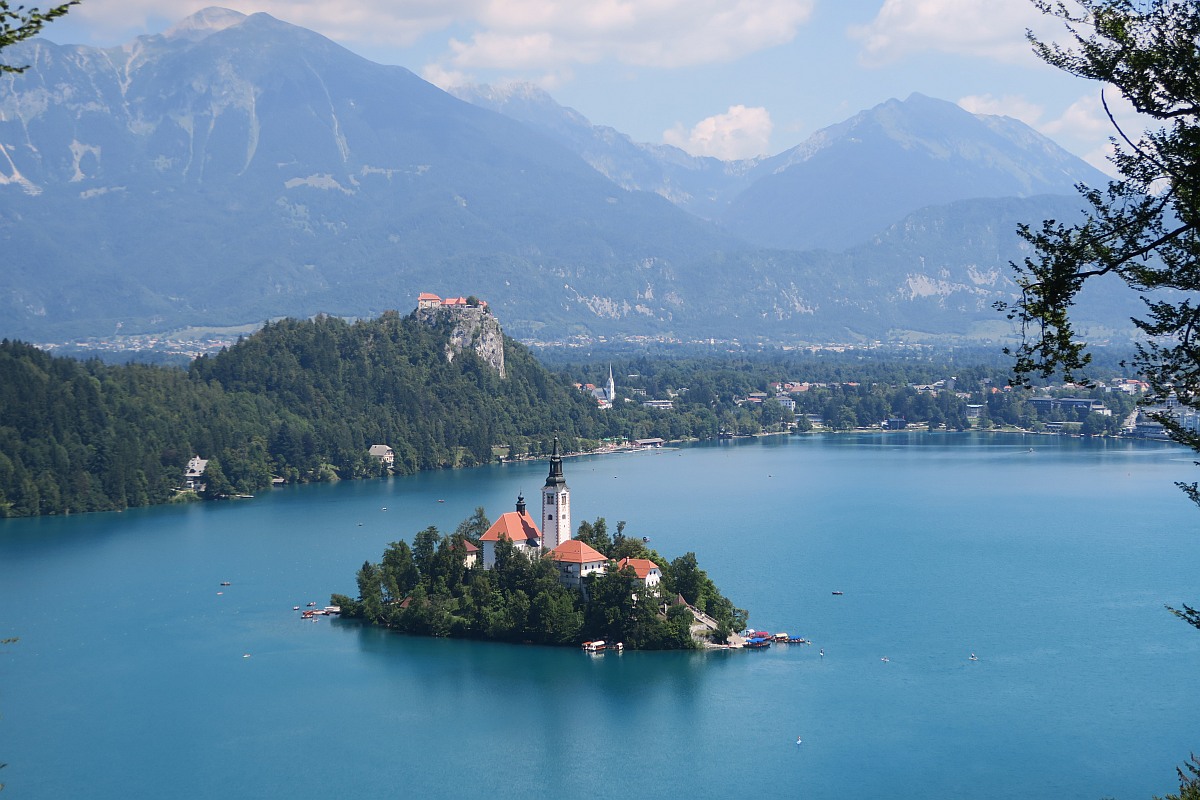 Bled viewpoints
How to get there
Public Transport
Bus: You can take the bus to Mlino and then walk about 20 minutes to the trailhead.
Train: Take the train to Bled Jezero and then walk 10 minutes down the hill to the start of the trailhead.
Lake bled parking
Parking anywhere in the area is expensive. Lake Bled became really popular in recent years, so even finding a parking spot can be tricky. Set off early if you want a spot close to the lake! Don't park anywhere next to the road, where there isn't a designated parking place, as you will get a fine!
Parking next to Camping Bled: This is the most convenient parking place if you want to hike to the viewpoints or if you want to spend your day swimming in the lake. It is right next to Lake Bled and only a few minutes away from the trailhead to the Lake Bled viewpoints. Parking places tend to fill up quickly, so arrive early to secure a spot. Parking fee is 3 € per hour. 
Parking next to Bled Jezero train station: This is a 10-minute walk down to the lake, where the other parking place is. There are more spaces here and it is also cheaper. The downside is the walk up the hill, to get back to your car. 
Ojstrica viewpoint
While this post should give you a good idea about how to reach the viewpoints, if you want to do more hiking in the area, then I suggest buying this map. It helped us a lot to plan our cycling and hiking trips in the area.
There is a signpost at the beginning of the trailhead, which suggests it is 20 minutes to reach the Ojstrica viewpoint. The coordinates for the beginning of the hike are: 46.36135, 14.08301
The trail goes inside a forest. It is uphill all the way until you reach the viewpoint. Especially towards the end, there are some rocky bits. While hiking boots are the best on the terrain, regular trainers will also work well. However, the trail is not suitable in flip flops!
This viewpoint is quite popular, so in order to find the place all to yourself, you will have to arrive really early. Watching the sunrise from here would be really magical I imagine!
Score: 10/10 This was my favourite Lake Bled viewpoint. There is plenty of space for people to enjoy the view. There is a bench to snap some Instagram photos and also a big rock you can stand on.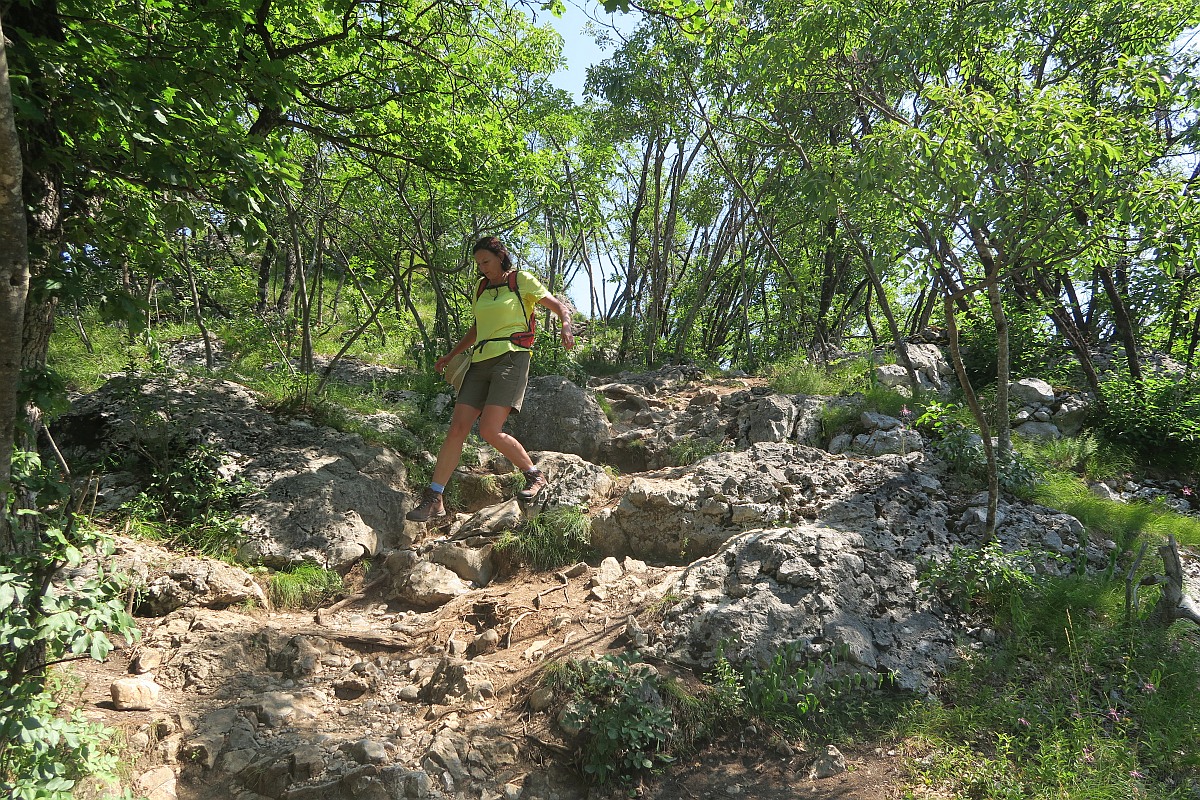 Velika Osojnica viewpoint
We went back to the main path to continue our way to Velika Osojnica viewpoint. The path there wasn't too challenging. It went through the forest and there were signposts showing the way. It is about 20 minutes from Ojstrica. 
Score: 8/10 This viewpoint requires the most effort to reach, hence it is not as busy as the others. But there isn't much place on the top to enjoy the view. On top of the hill, the view is obstructed by trees. You need to walk down a bit to reach a bench, which has a nice view. As that is the only place to snap a good photo, it would be rude to occupy it for long period of time and it can get crowded quickly.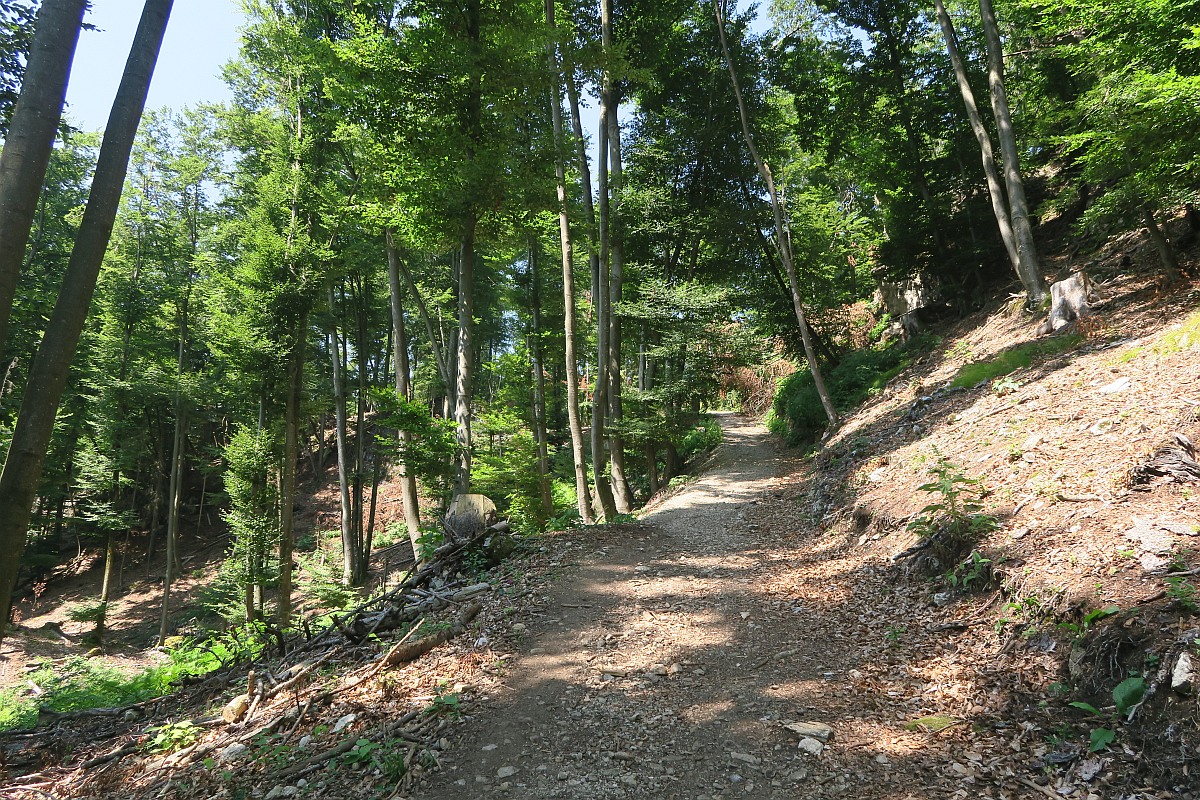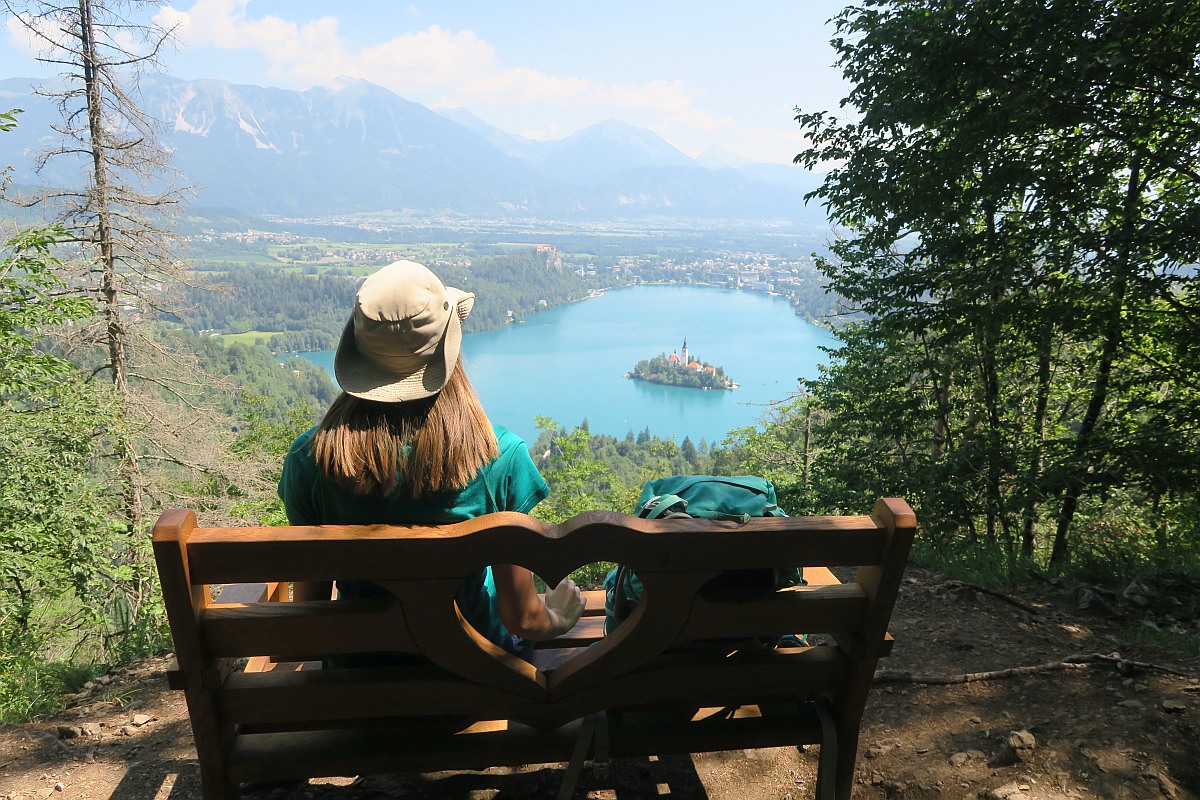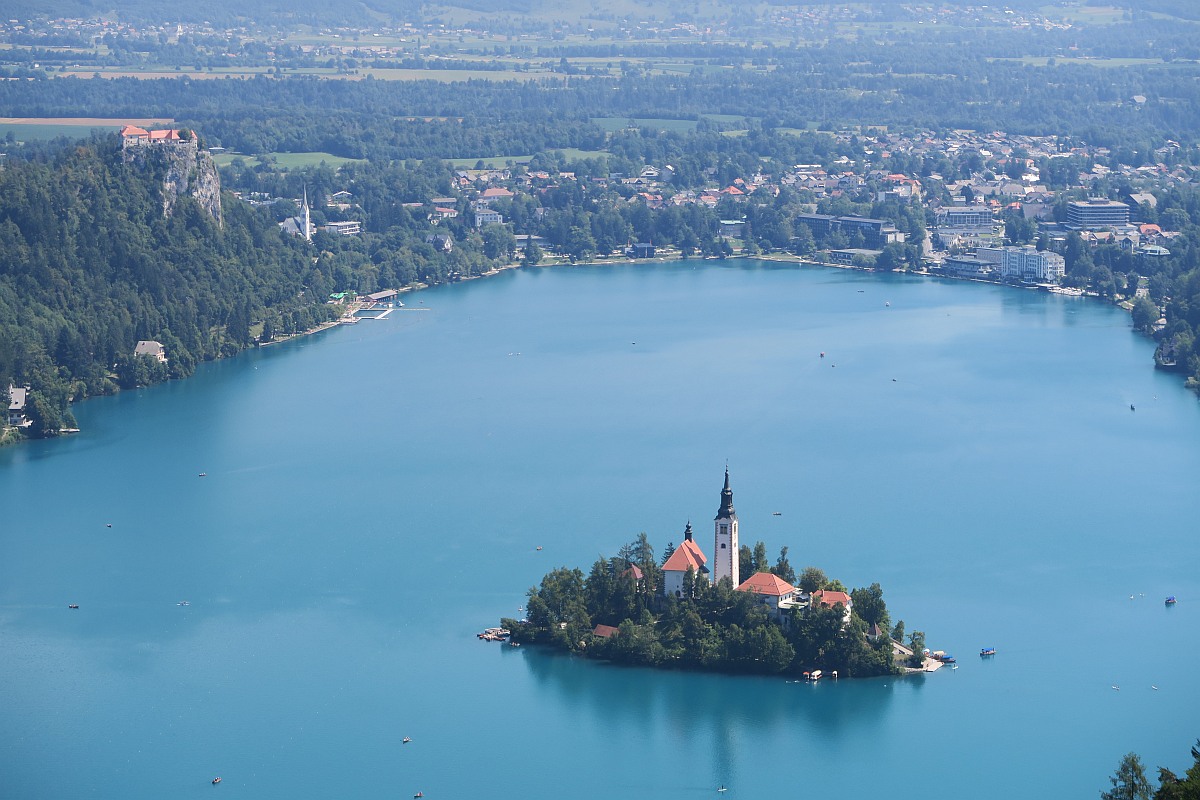 Mala Osojnica viewpoint
We headed down towards Mala Osojnica, making our hike circular. From Velika Osojnica we reached the viewpoint in about 15 minutes.
Score: 8/10 If you just want to get photos of the scenery without people in the shot, this might be the best place.  The view is really nice of the whole area. This Lake Bled viewpoint also tends to get busy, but there is plenty of space for everyone. There is a fence, which ruins the pictures for me with people in it (It is almost impossible to get a photo of a person without having the railing in it).
The path down from Velika Osojnica was quite scenic. Some parts had steep stairs built, others were just a forest track with views to Lake Bled along the way.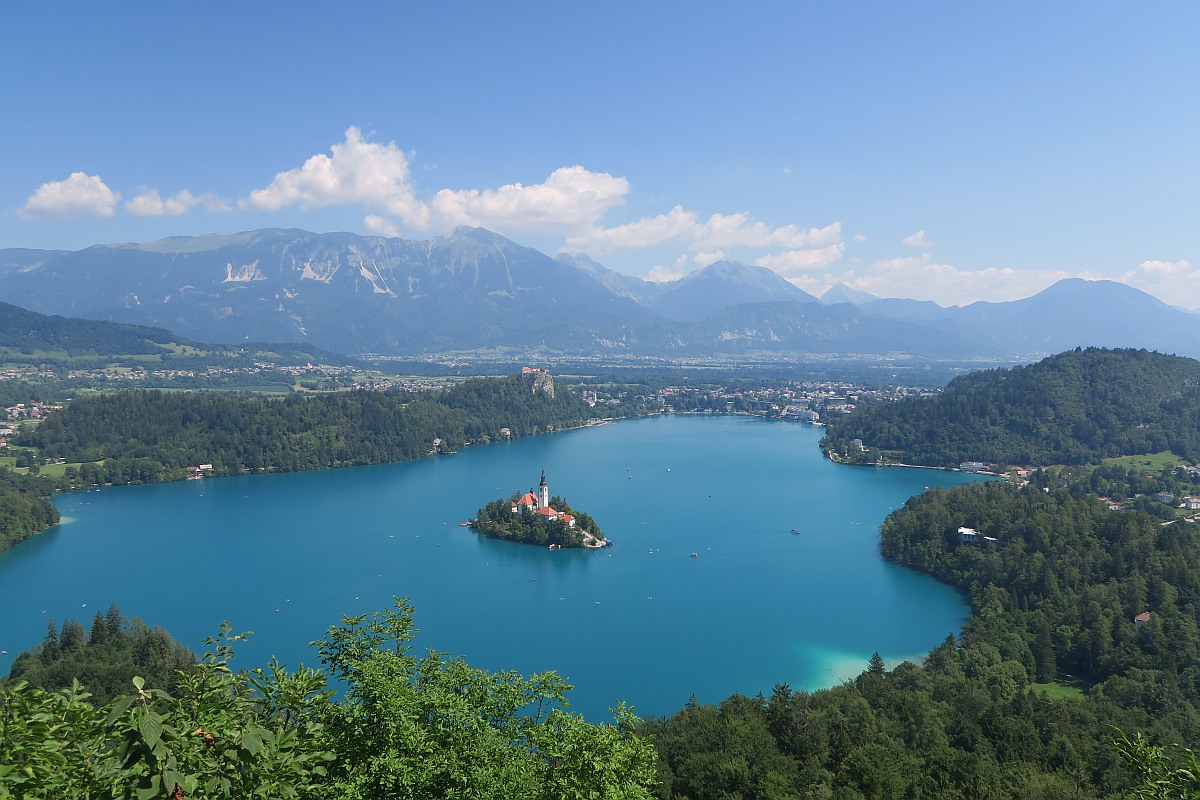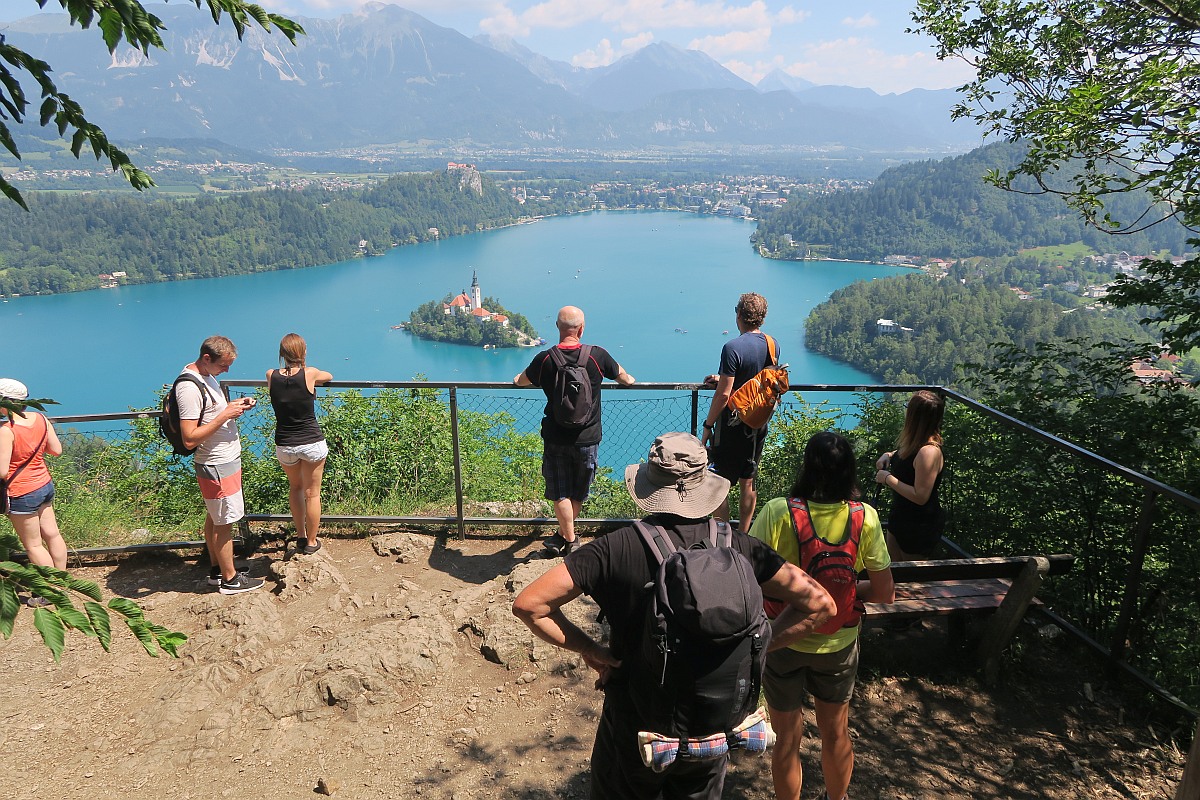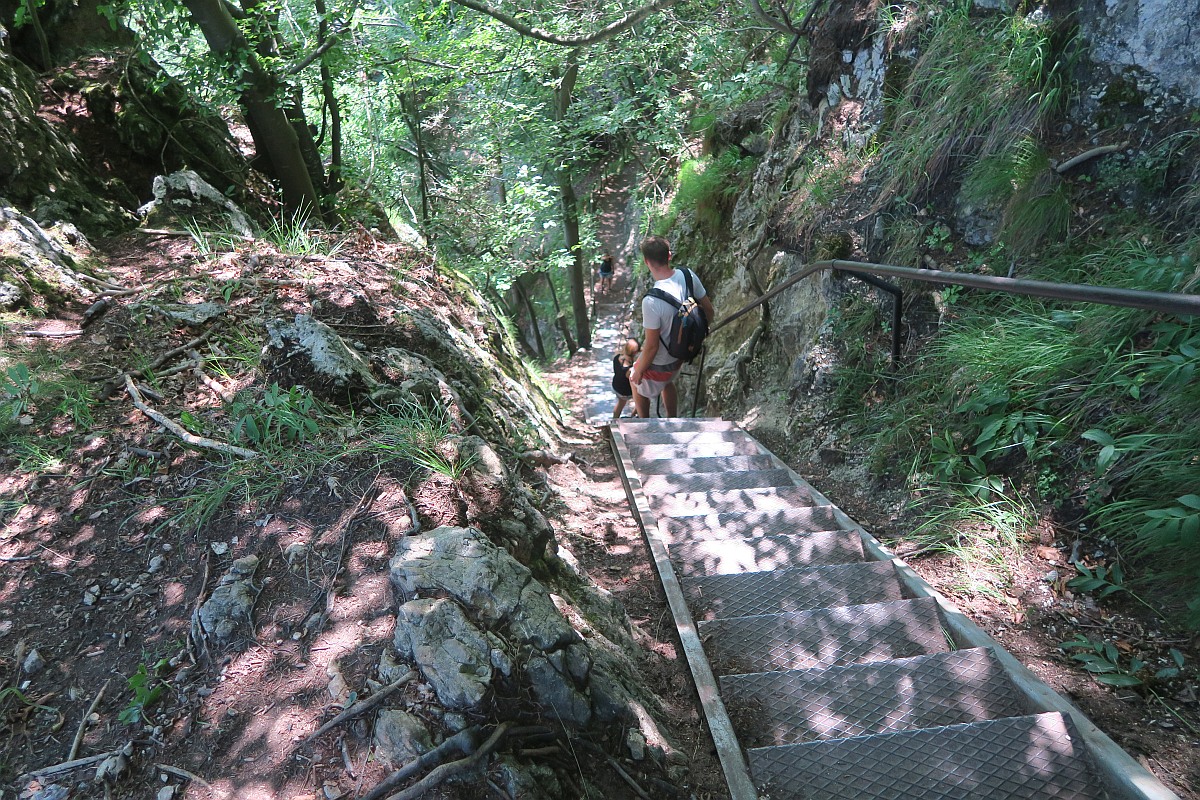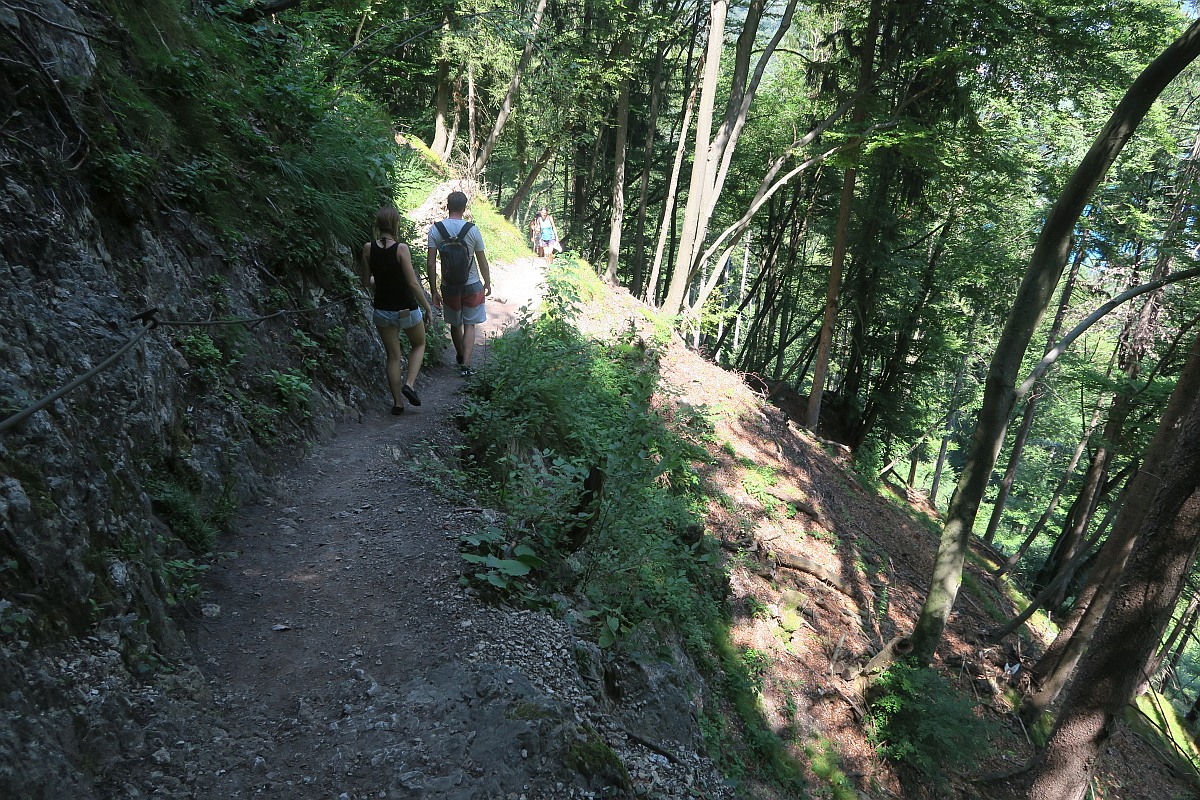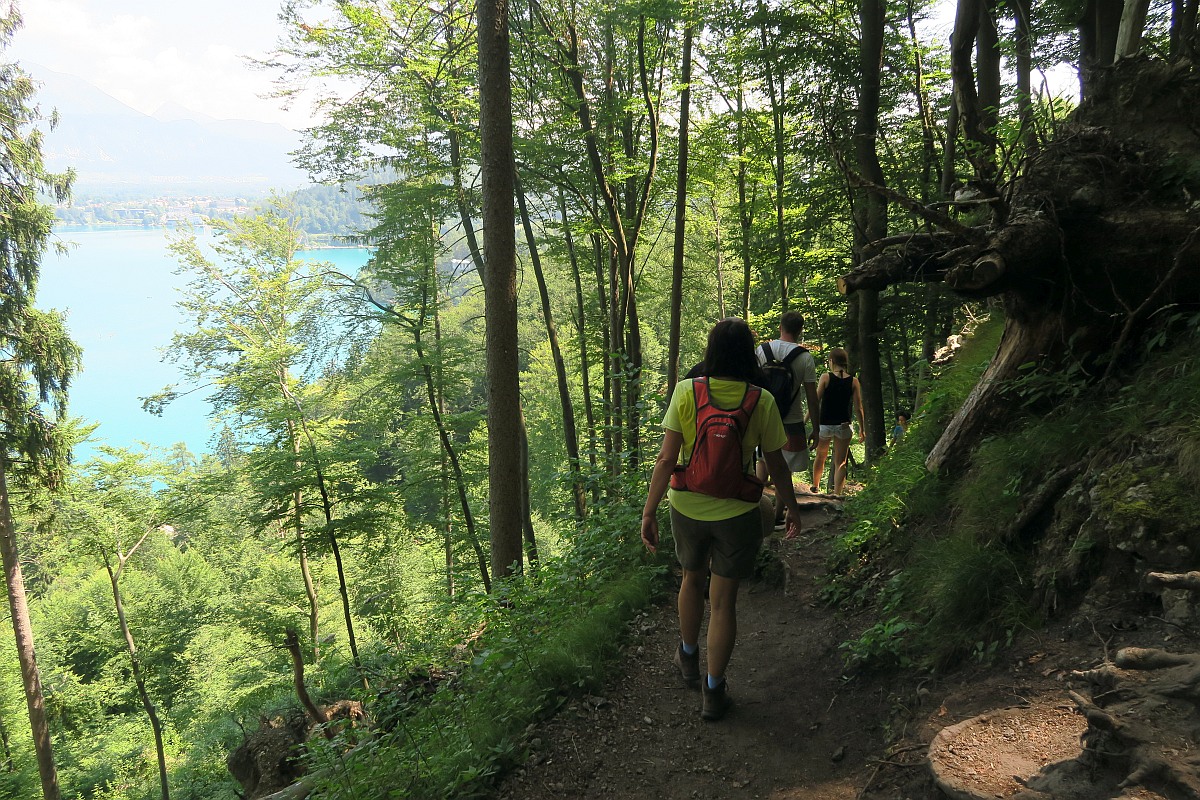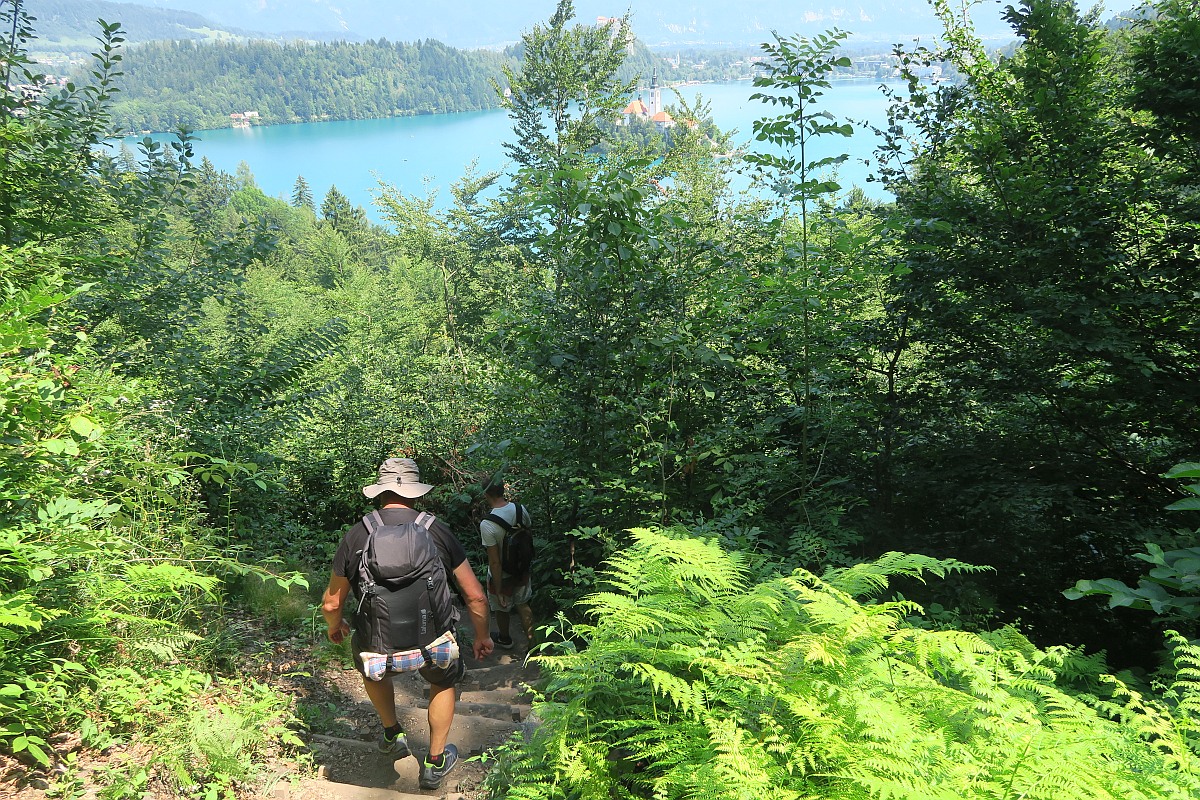 Duration
The whole hike is 5 km. It took us 2.5 hours with photo and snack breaks. The elevation gain is 308 m. You can, of course, make it a shorter hike by only visiting one or two of the viewpoints. 
Did you like this post? Why not PIN it?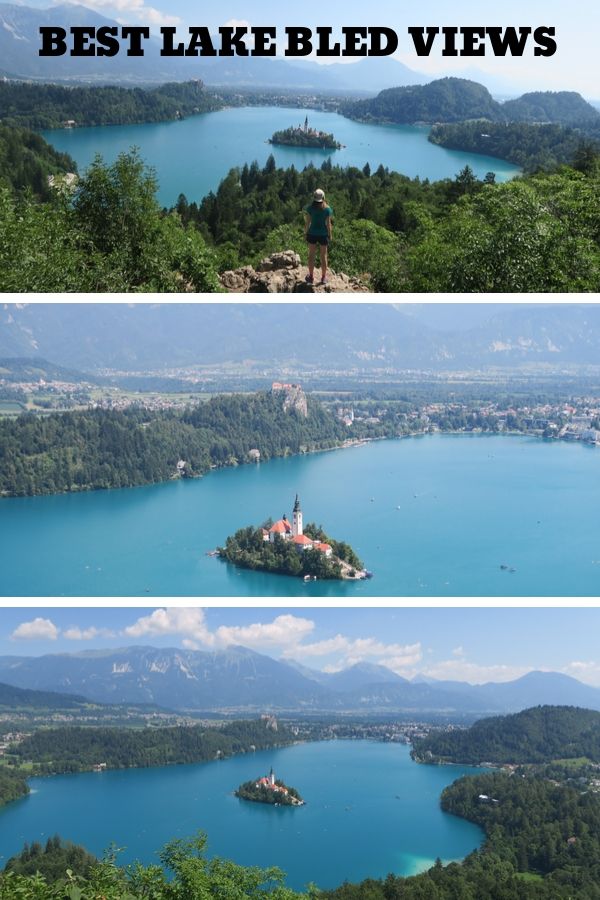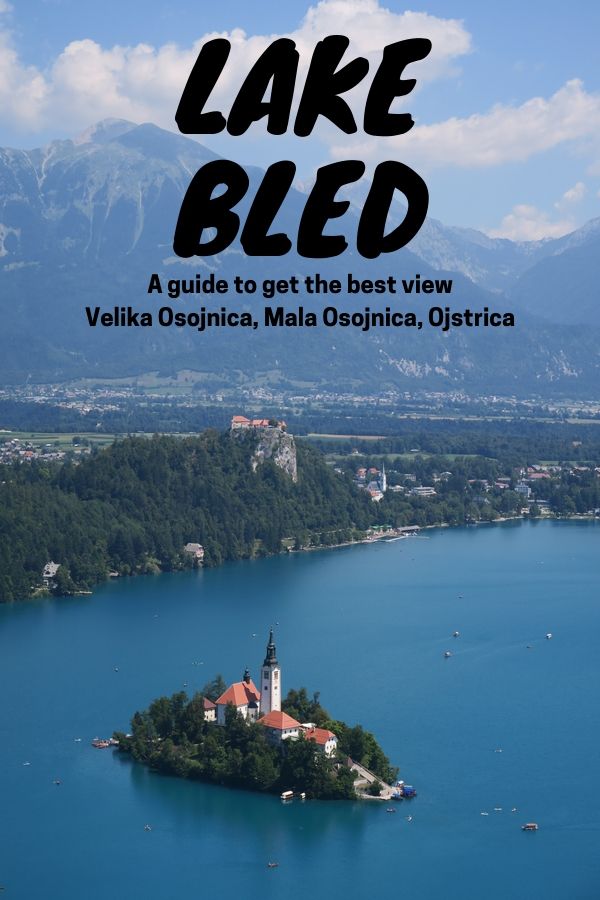 Don't miss the chance to visit some of these other attractions nearby!
Enikő
Hey, I'm Enikő! I'm currently an au pair and I want to share my experiences with you. I've travelled a lot in the past years. I'm gonna teach you how to settle in to a new country and get free accommodation anywhere in the world. Circle Enikő on Google+!