Cycling Lake Bohinj and Savica Waterfall – Cycling Slovenia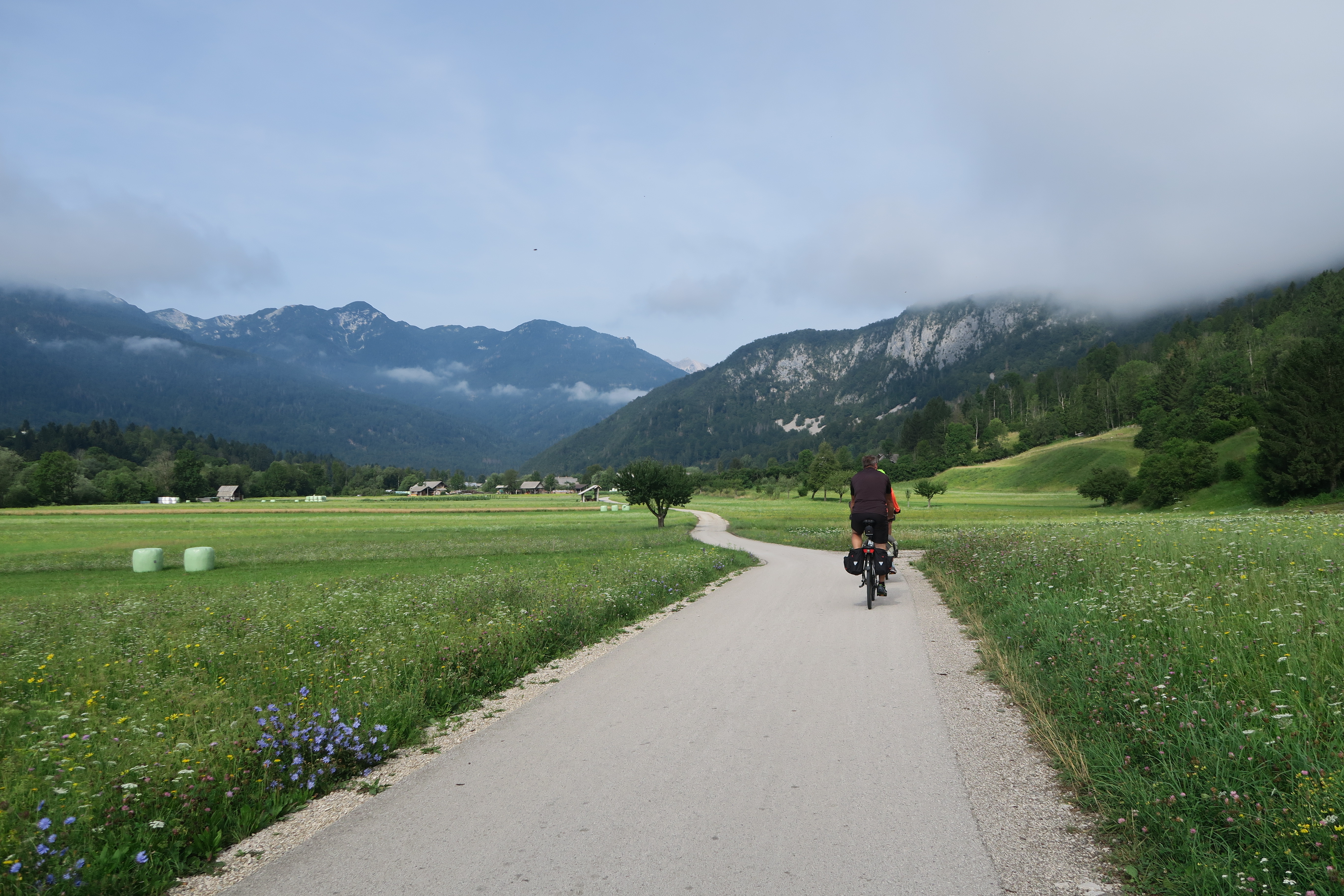 Cycling in Slovenia is a great way to explore the country thanks to the many scenic cycling routes covering the whole country. Most bike paths are well signposted and local tourist offices offer free cycling maps to help you plan your journey. An easy, family-friendly bike ride is cycling Lake Bohinj.
Cycling Lake Bohinj
Lake Bohinj is definitely worth a visit if you are in Slovenia. The surrounding area with the mountains and forests is beautiful. Lake Bohinj is less known than Lake Bled, which is another reason to visit it. There aren't that many tourists, especially if you go early in the morning.
Can you cycle around Lake Bohinj?
Unfortunately, this is not really possible. There isn't a cycle route around the lake. The north side has a hiking path, where cyclists are not welcome. On the south side, there is a road, which leads to the Savica Waterfall. It is possible to cycle on this road. Next to the road, there is also a gravel path for walking. However this path isn't widely used by pedestrians, so if you are a family with children and feel it is safer to cycle on the car-free path, that is also possible. We saw many families cycling there.
Bohinj Cycle route
There is a popular cycling route in the area which lets you explore both the Upper Bohinj valley and Lower Bohinj Valley. The route is designed to show you the best of the countryside. Although the cycle route is only 18 km, this can be a whole day activity with stops for sightseeing, having lunch, swimming in Lake Bohinj and the Sava Bohinjka river. There is also an option to extend your trip with a MTB route or cycling to Savica Waterfall.
Route: Bohinjska Bistrica – Brod – Ribčev Laz – Stara Fužina – Studor – Srednja vas – Bohinjska Češnjica – Bohinjska Bistrica
Duration: 18 km circular route with options to extend it.
Parking: 
Bohinjska Bistrica has many parking options. We left the car in the big parking lot in front of the local culture house (Kulturni dom Joža Ažmana). Parking here was free. There are two supermarkets there as well, so it is easy to stock up on food for a picnic if you want.
Another good option to park is Camp Danica, which is right next to the cycle path.
Bike rental:
You can rent bikes at Hike&Bike in the town centre. They have a wide selection of bikes including road bikes, e-bikes, full-suspension bikes, hybrid bikes and kids bikes.
Location: Vodnikova cesta 37, 4264 Bohinjska Bistrica
Sport 4 Fun also has bike rental possibilities. They are located right next to the cycle path.
Location: Pot v Danico 1, 4264 Bohinjska Bistrica
Cycling Bohinj
Start from Bohinjska Bistrica. Once you leave Camp Danica there is a cycling bridge leading you to the cycle path. The path goes along the left bank of Sava Bohinjka river. They organise kayaking trips on this river, which we were very interested to try another time. The path is really nice and suitable for everyone. I had to stop several times to take photos. The path is well signposted and there are some service stations along the way. There is one short ascent and after it, we quickly descended towards Stara Fužina village. The marked cycling path turns right and goes on towards the Upper Bohinj Valley, however, we headed towards the main attraction of the trip: Lake Bohinj. There is a lot to do at the lake. We arrived early morning when it was still very quiet. We enjoyed the wild beauty of the lake. It is not as touristy as Lake Bled. There were several benches by the lake, so we just sat there for a while enjoying the serene atmosphere.
We headed towards the famous church and bridge in Ribčev Laz. Alpinsport is located there. They offer bike, kayak and canoe rental as well as guided river tours. We decided to return another day to try kayaking as well. If you feel brave you can try rock climbing at Pod Skalco crag next to the lake.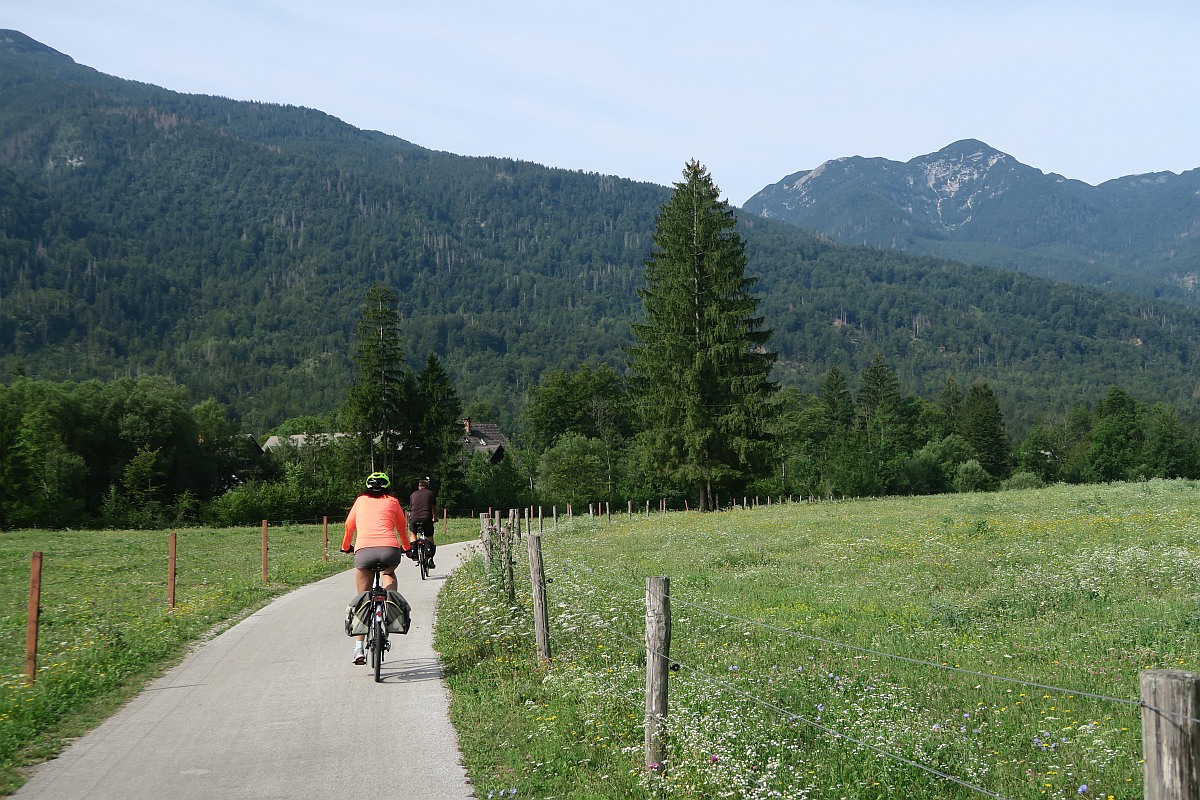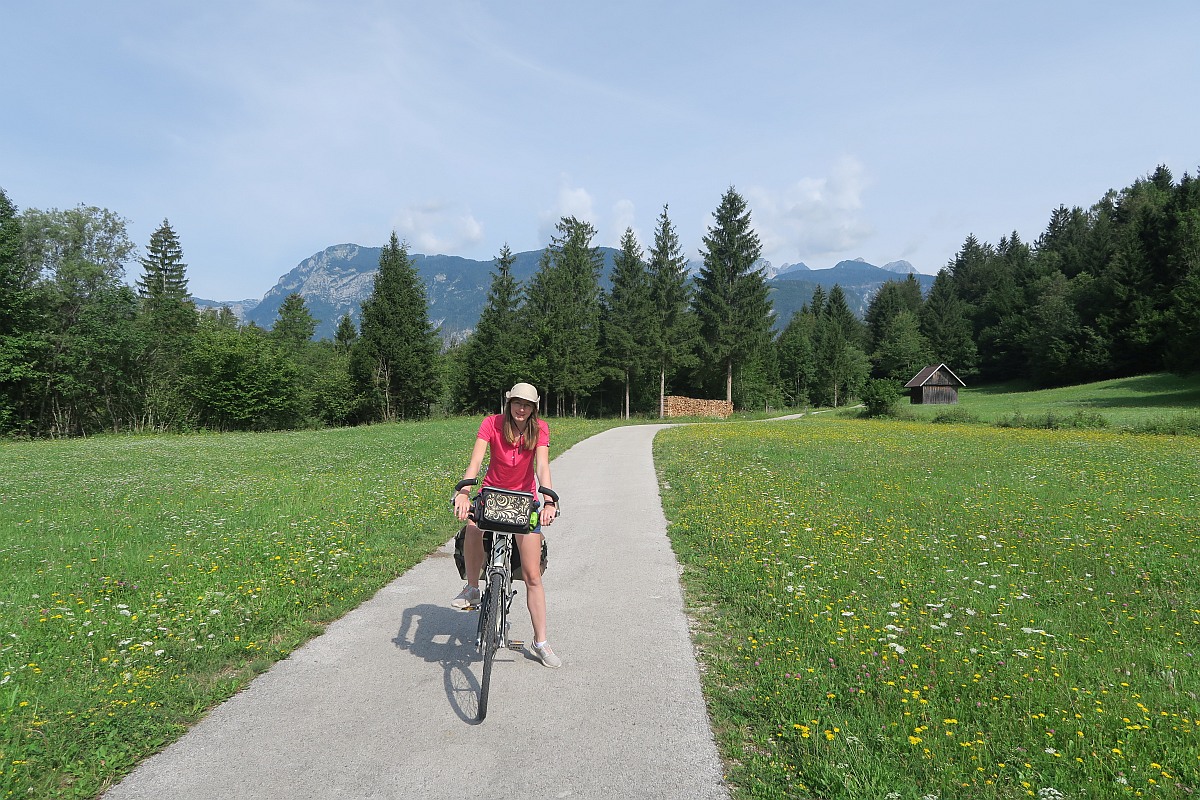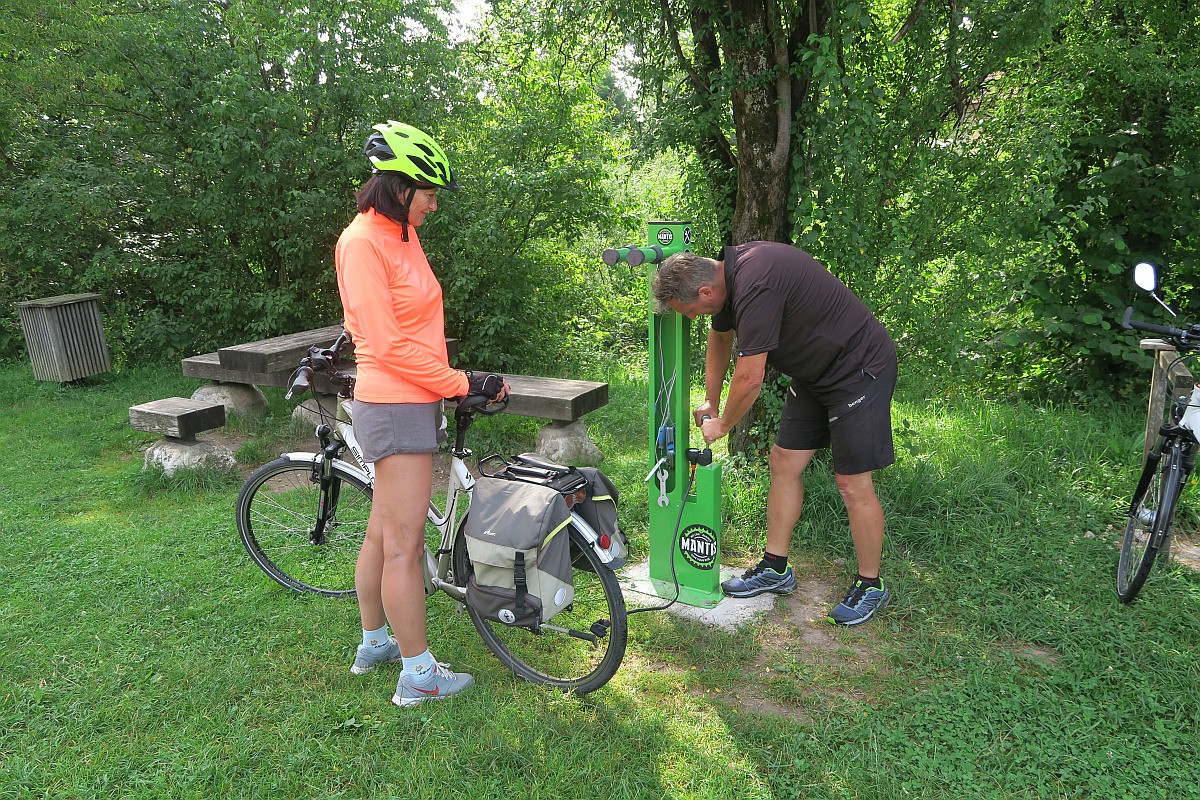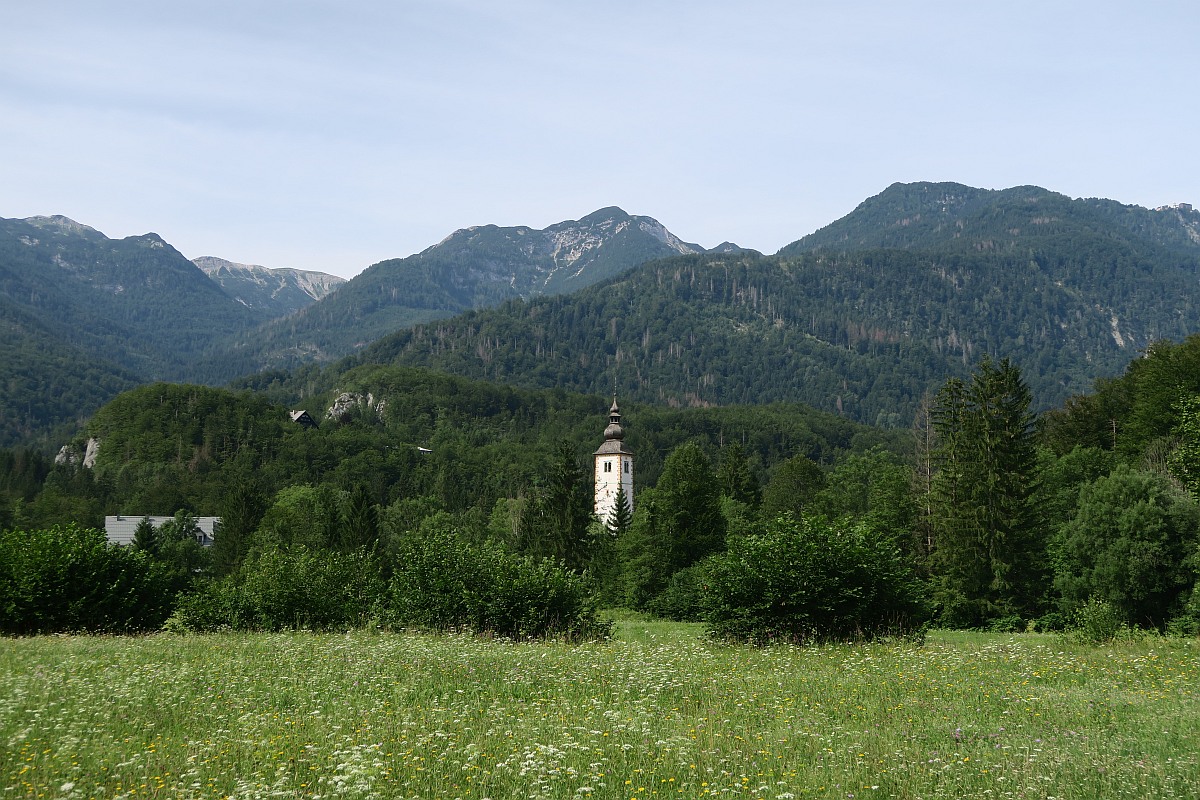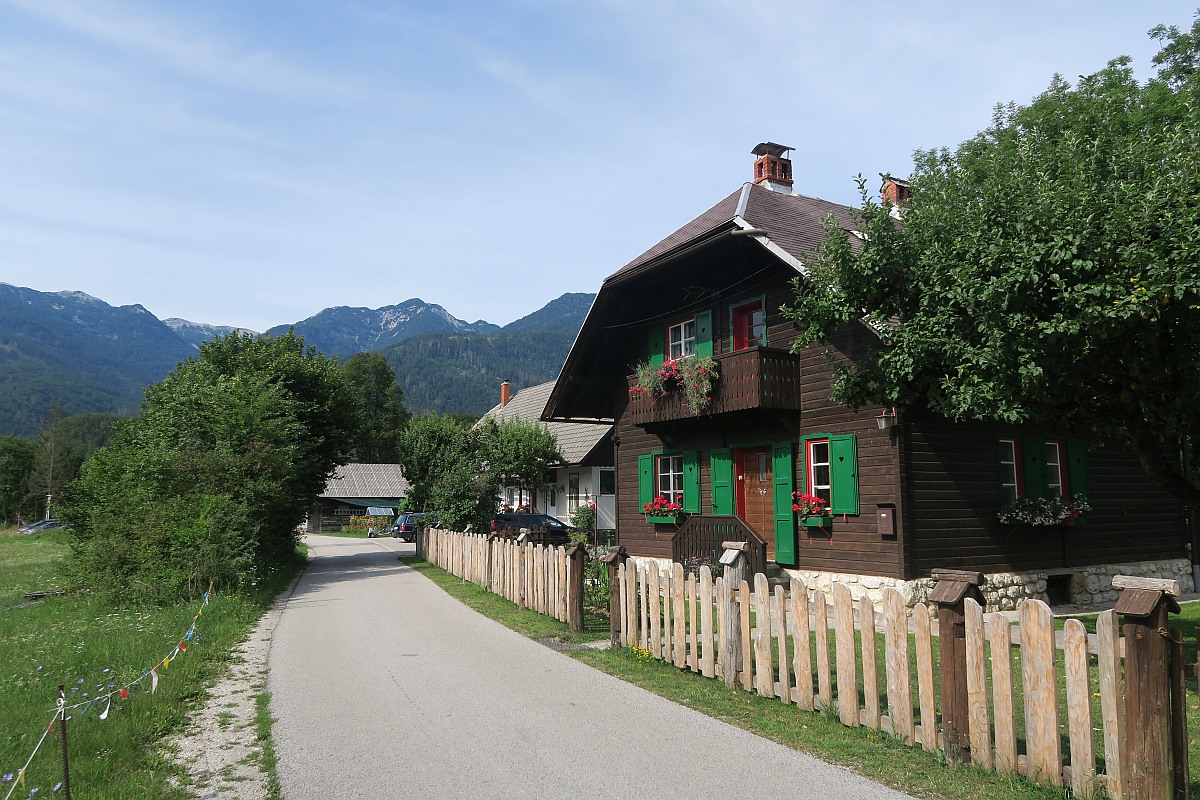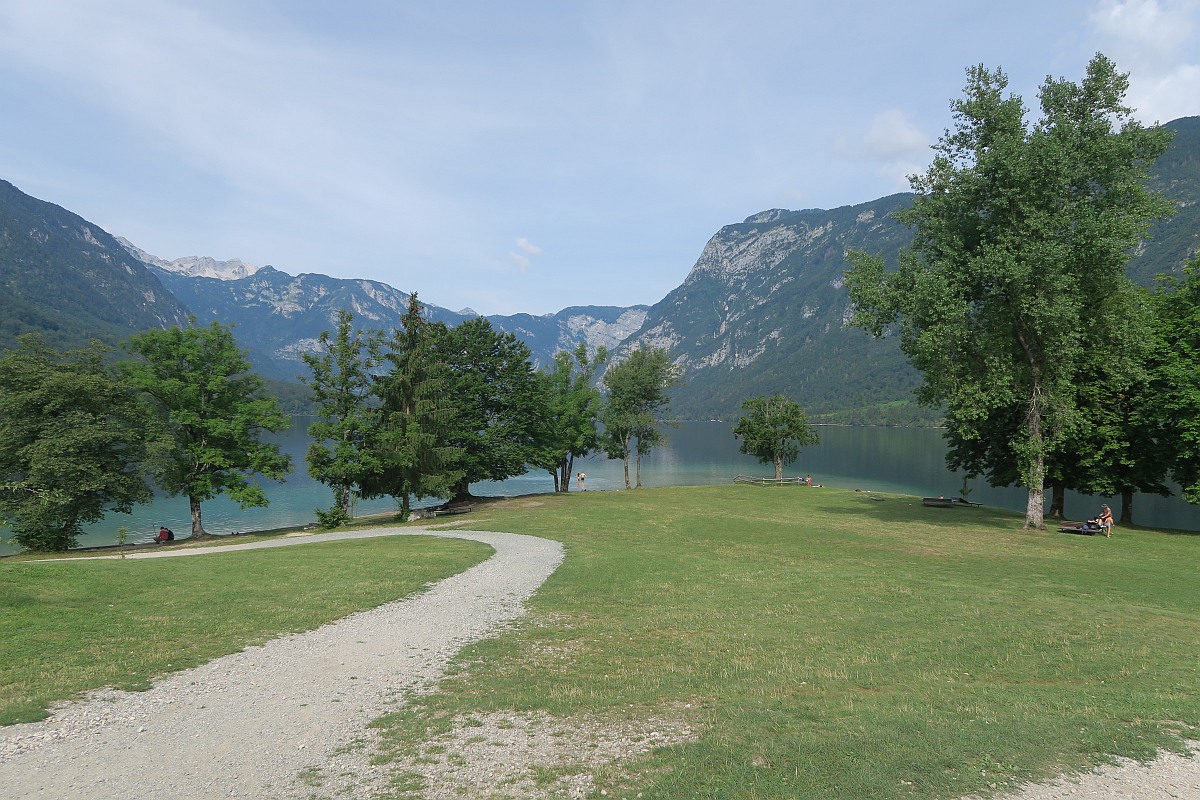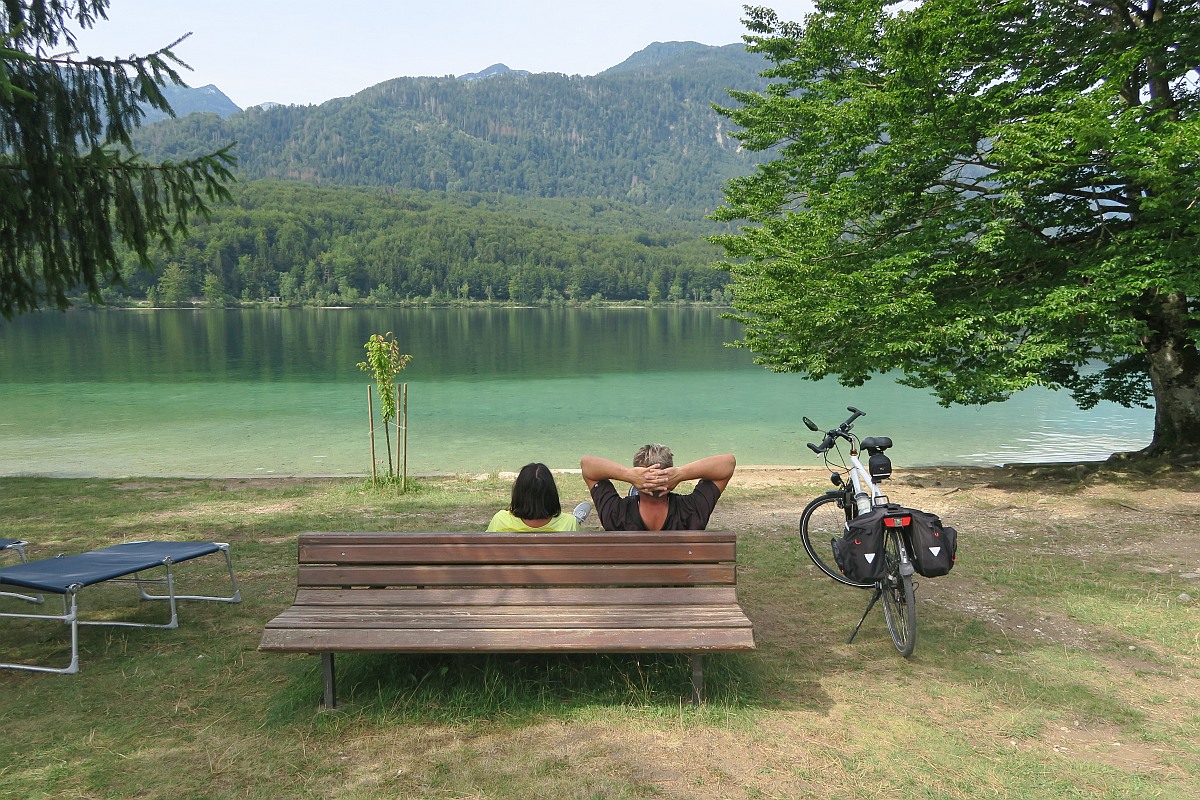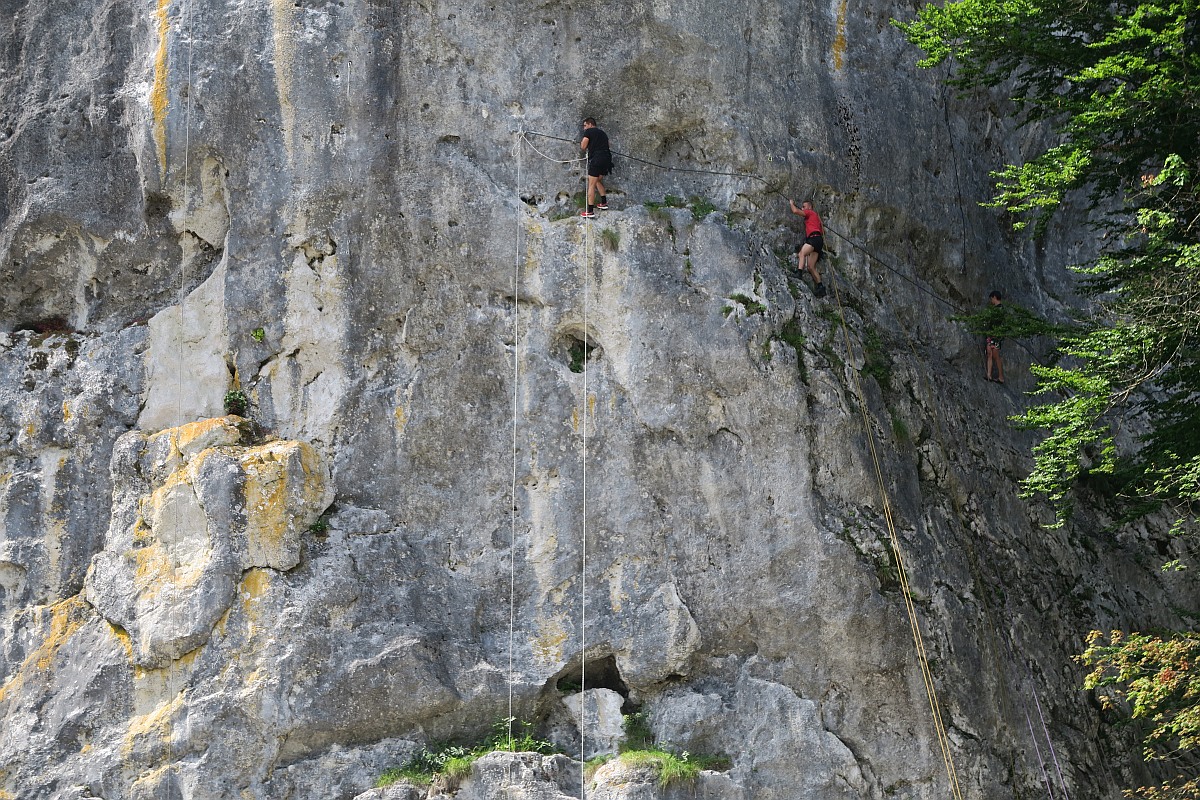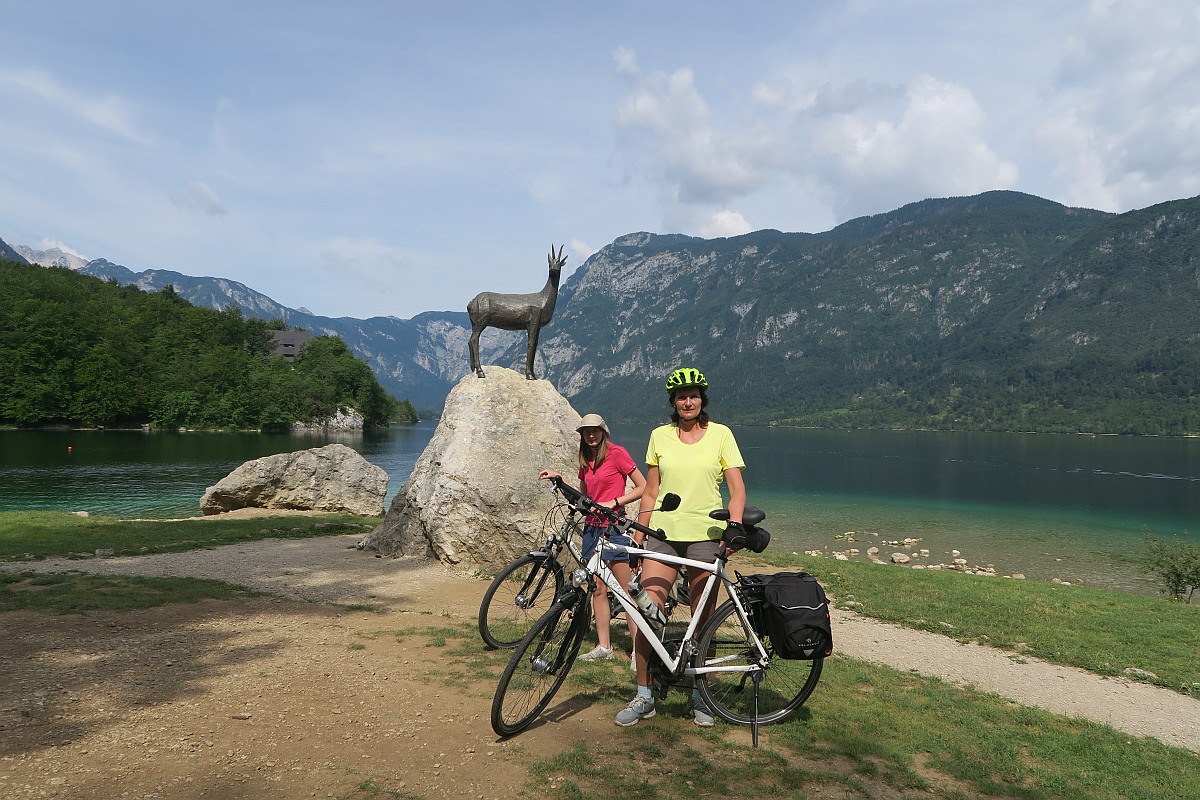 Since it was still early and we felt energetic, we decided to extend the bike trip and cycle to the Savica Waterfall. This was an extra 8 km one way. We cycled on the road along Lake Bohinj. We stopped a few times to enjoy the views of the lake. This is why I love exploring by bike: it is easy to stop for a few minutes to get new views of places. We discovered there were some hidden beaches along the shore and decided we would stop on the way back for a swim. As we left Ukanc, the ascend began. The last 3 km was basically uphill inside a forest. We arrived at Savica Waterfall around noon.
Savica Waterfall
Despite being exhausted after the ascend, we were glad we arrived by bike, after seeing the parking situation. Barely any space, people parking inches from each other and a lot of arguing.
We locked up the bikes and headed to the waterfall.
Entrance fee: 3 €
Hike to Savica Waterfall: It is a 20-25 minutes walk on stone steps to reach the 78 m high waterfall. It is fed by a karst spring also called Savica just above the waterfall. Savica Waterfall is often referred to as a must-see in Slovenia. I completely disagree. To me, the waterfall wasn't very special. Sure, it is nice, but there are so many nicer places in the area, for free which are not overrun by tourists. The path was already busy, but the real shock came when we arrived at the waterfall. There was a small platform, where people could take photos from.  It was really crowded. Everyone was trying to get the perfect shot. This completely ruined the experience for me. I suggest if you want to see the waterfall, arrive early in the morning.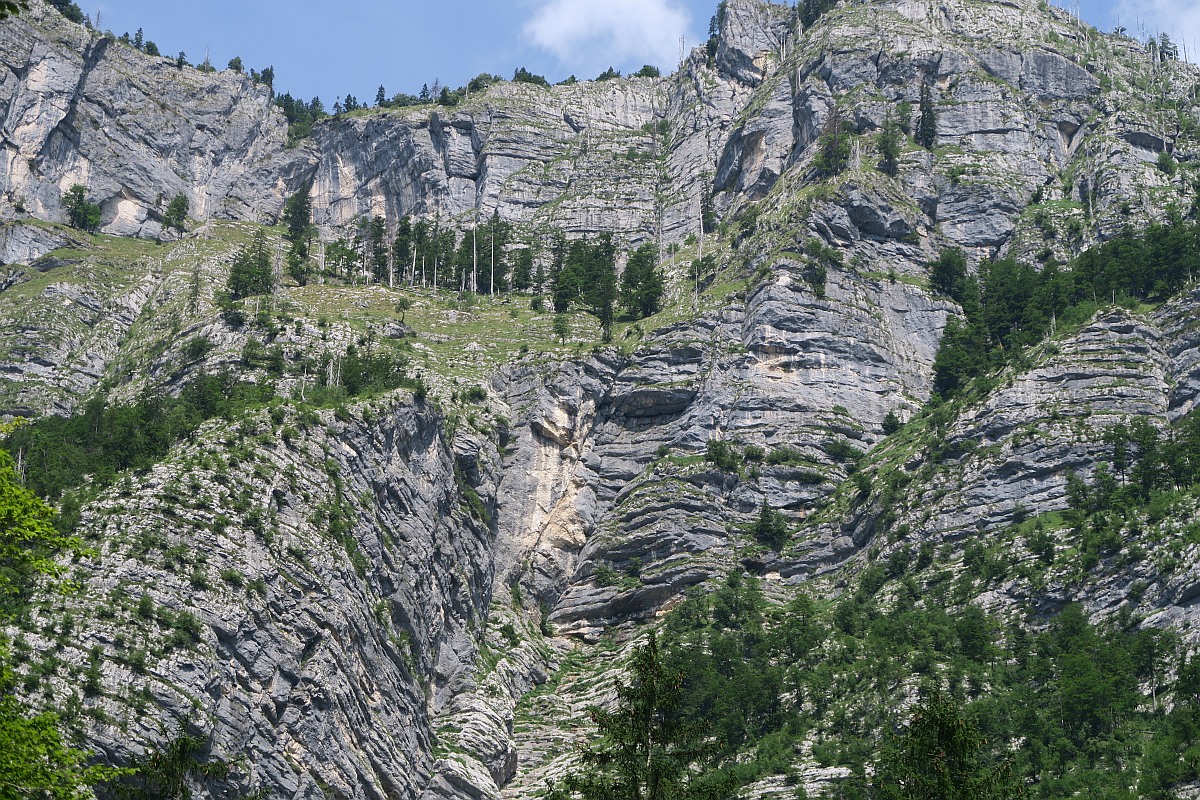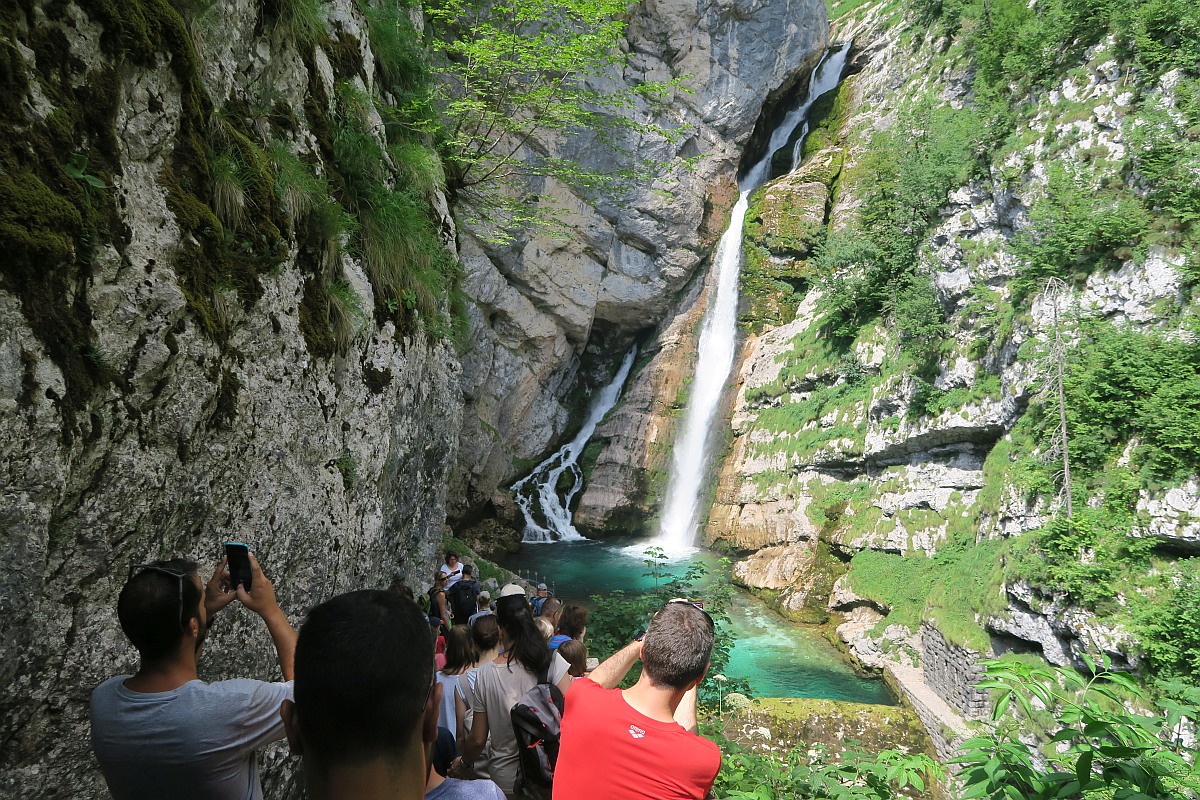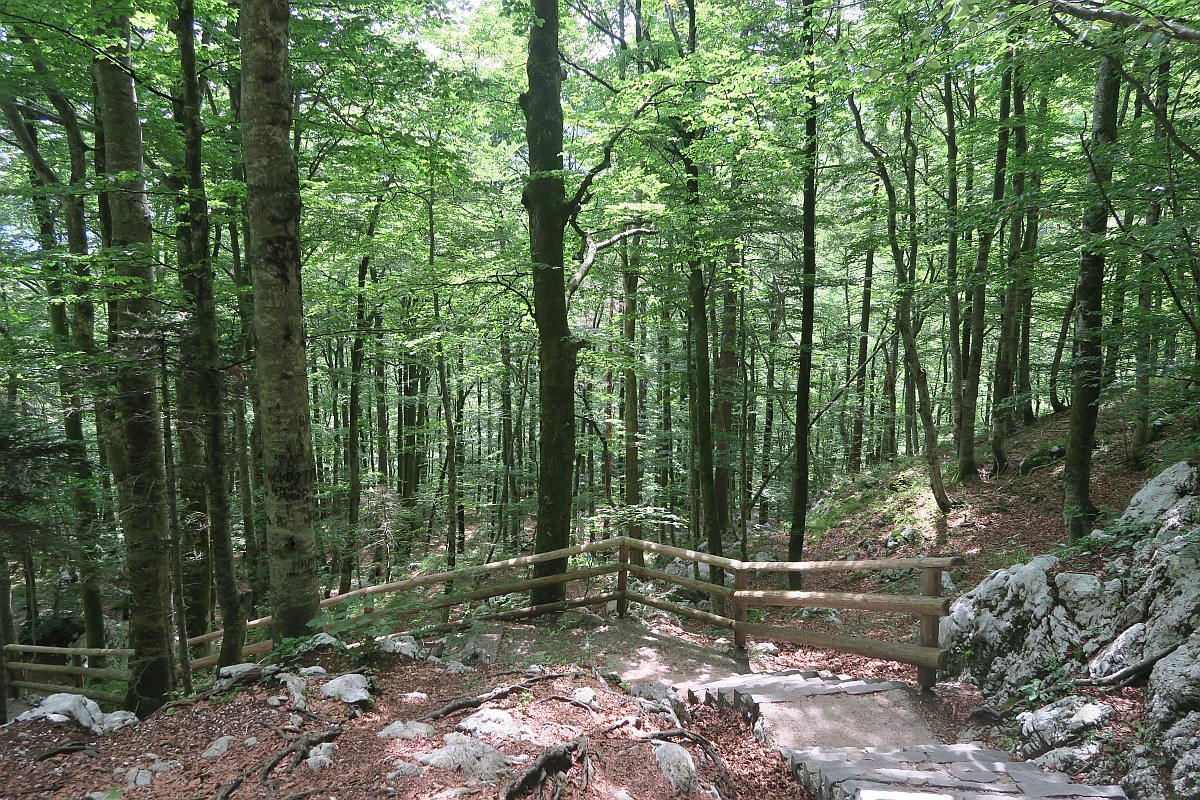 Swim at Lake Bohinj
On the way back we enjoyed the descend. Our hard work cycling up the hill was finally rewarded. We stopped at a little beach, where we had lunch and then we went for a swim. The water temperature was quite cold, (colder than Lake Bled) but on a hot, summer day, after a bike ride, it felt very refreshing. There were lots of fishes in the water and it was great fun to swim among them.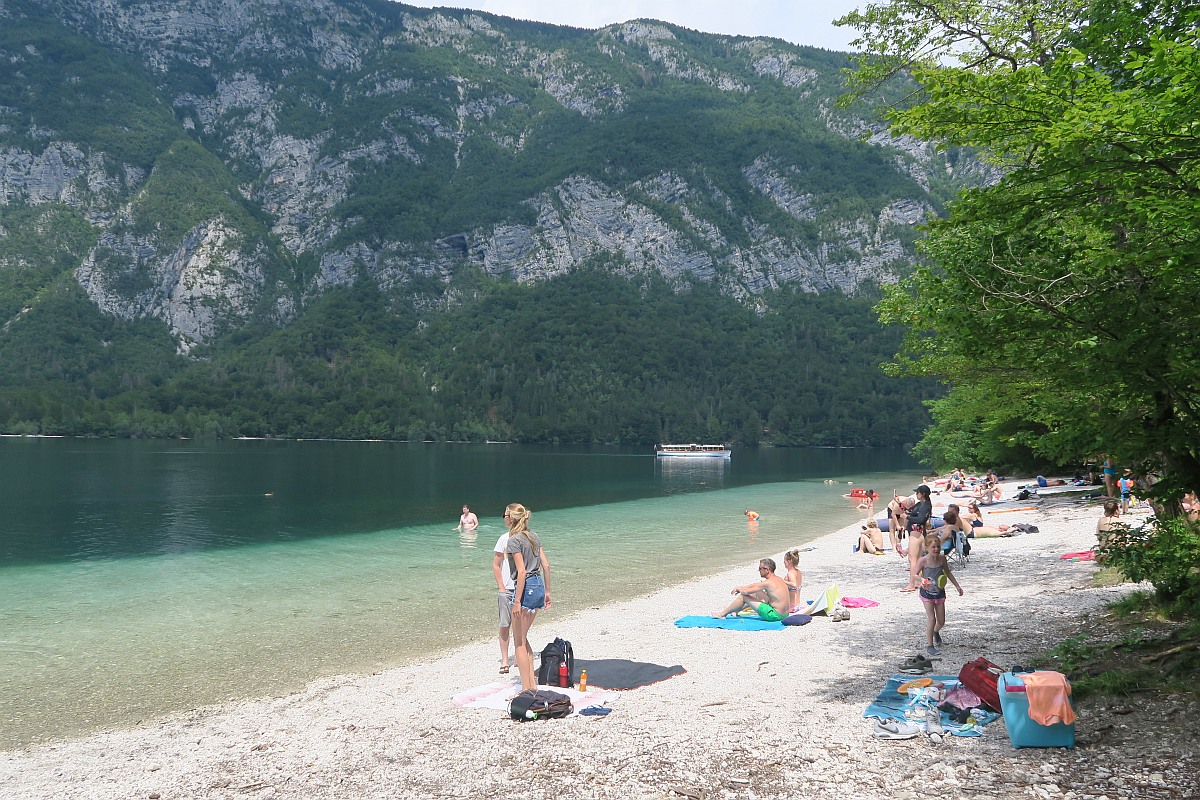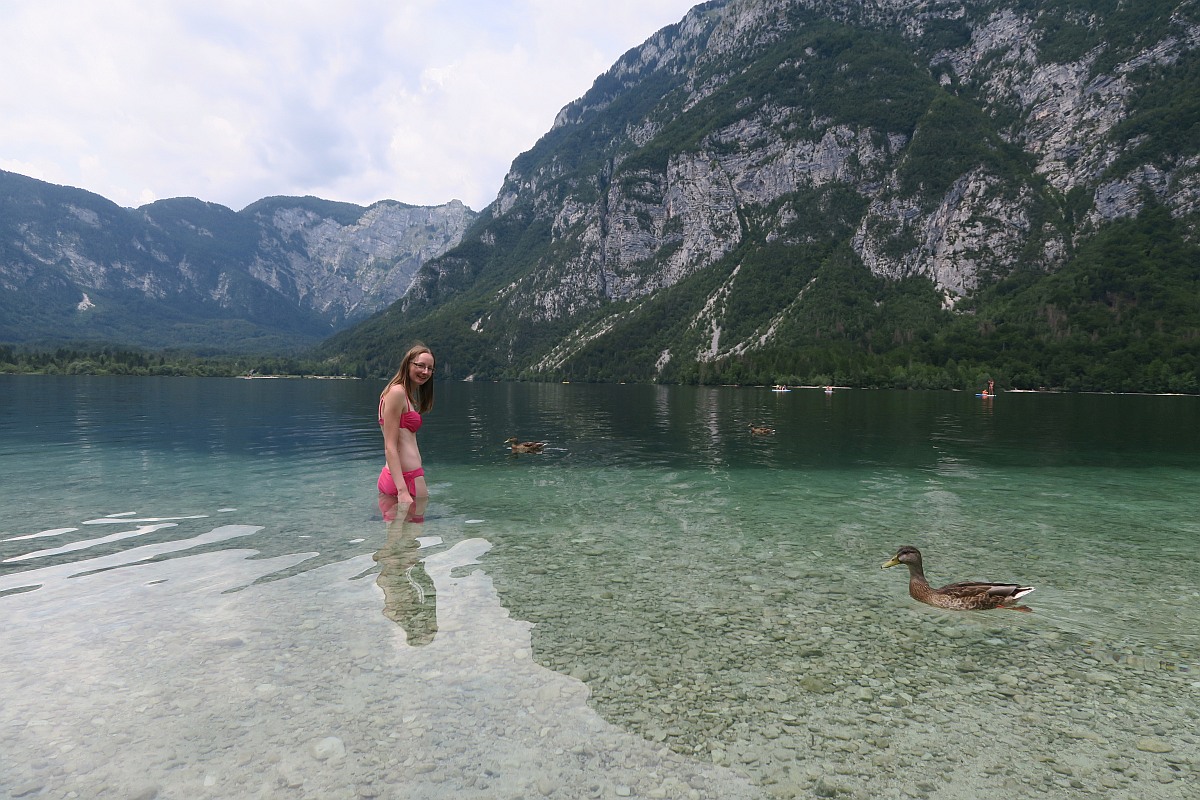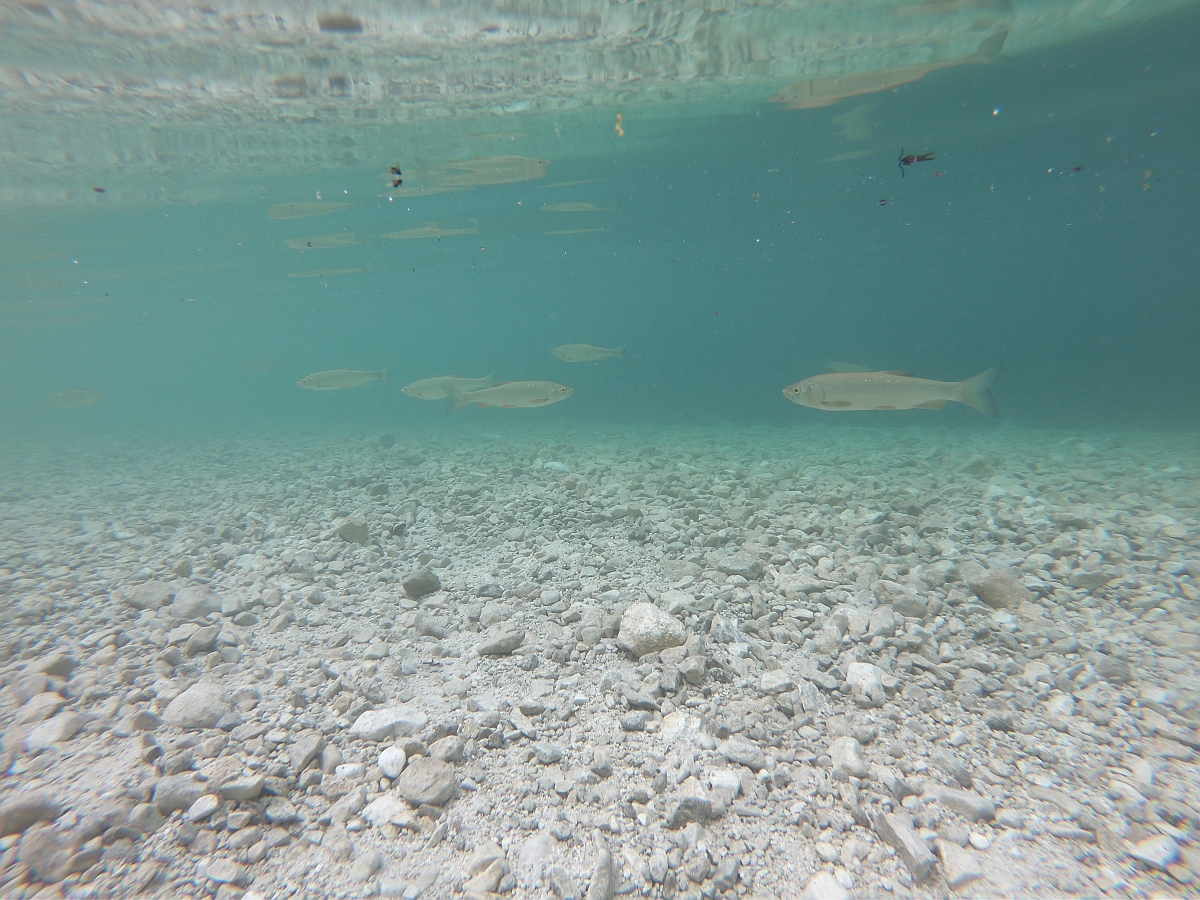 In the afternoon we headed back to the car, but we couldn't resist watching the kayakers from the bridge in Ribčev Laz. Standing in the heat there made us hot again, so we went for another swim in the lake. The spot which was so quiet in the morning, was way busier this time, but it didn't feel too crowded.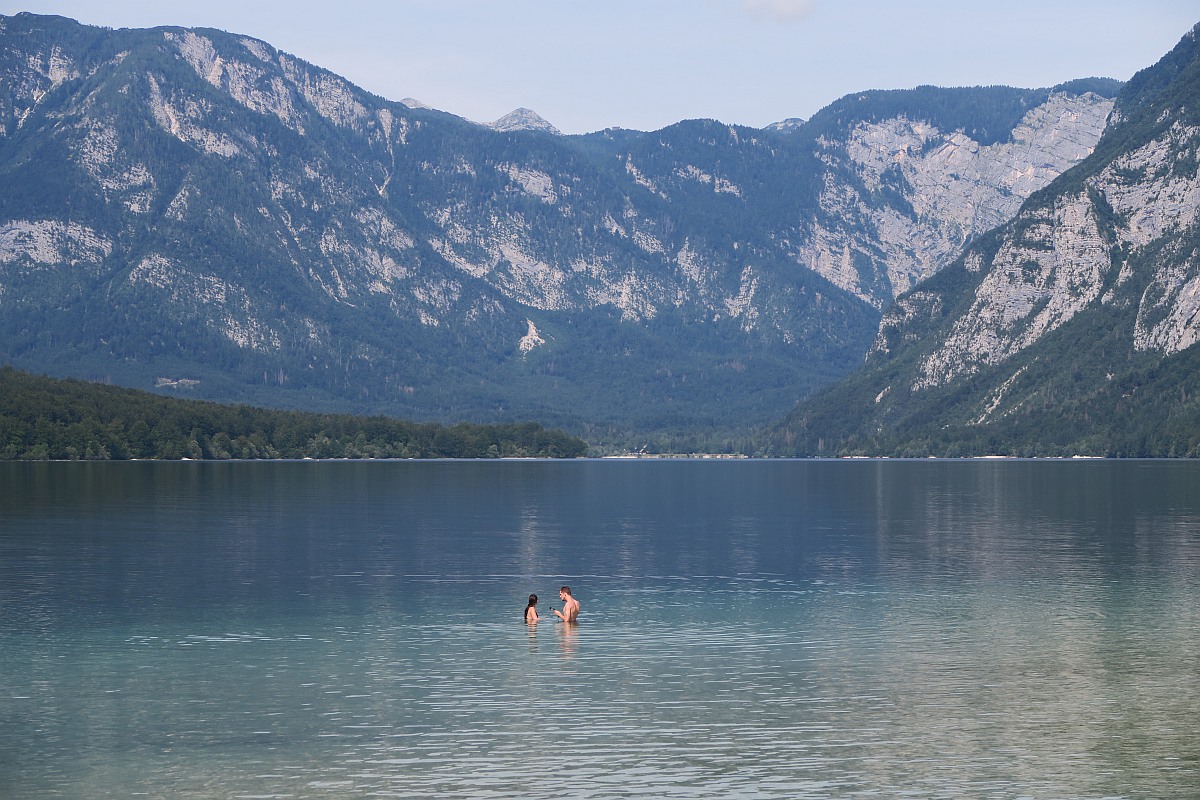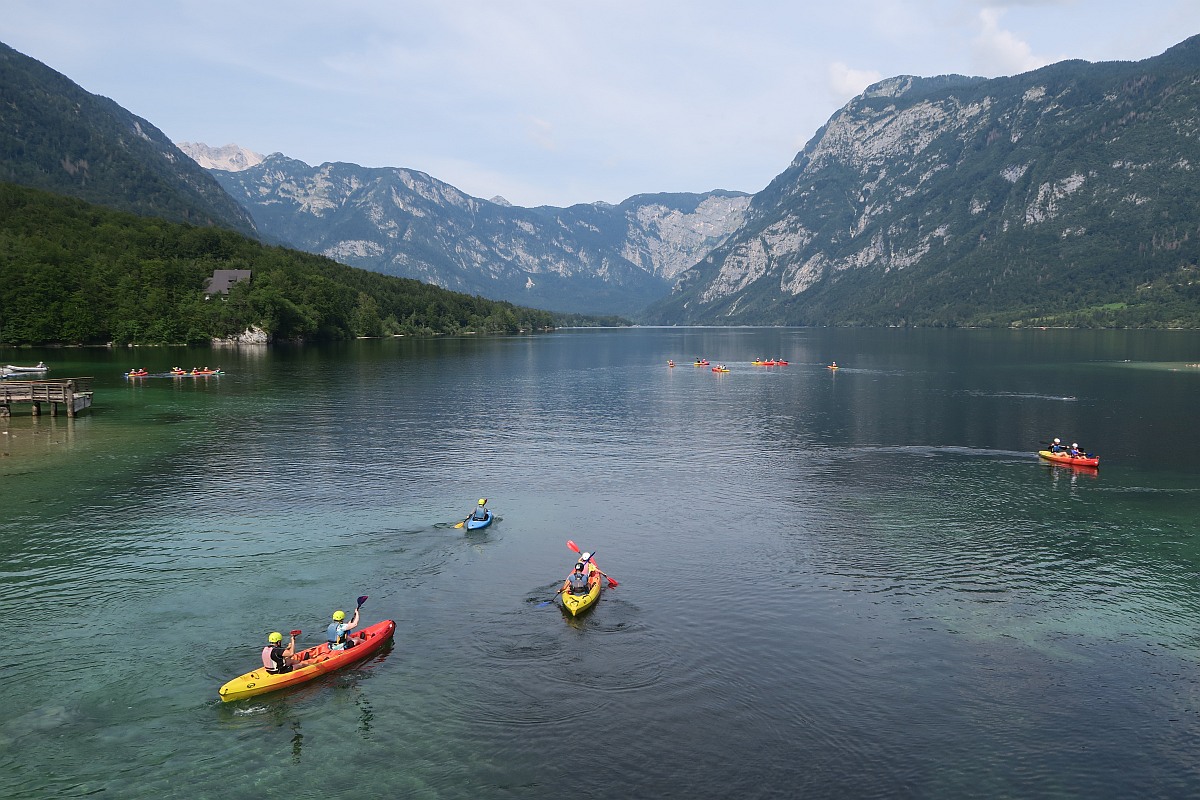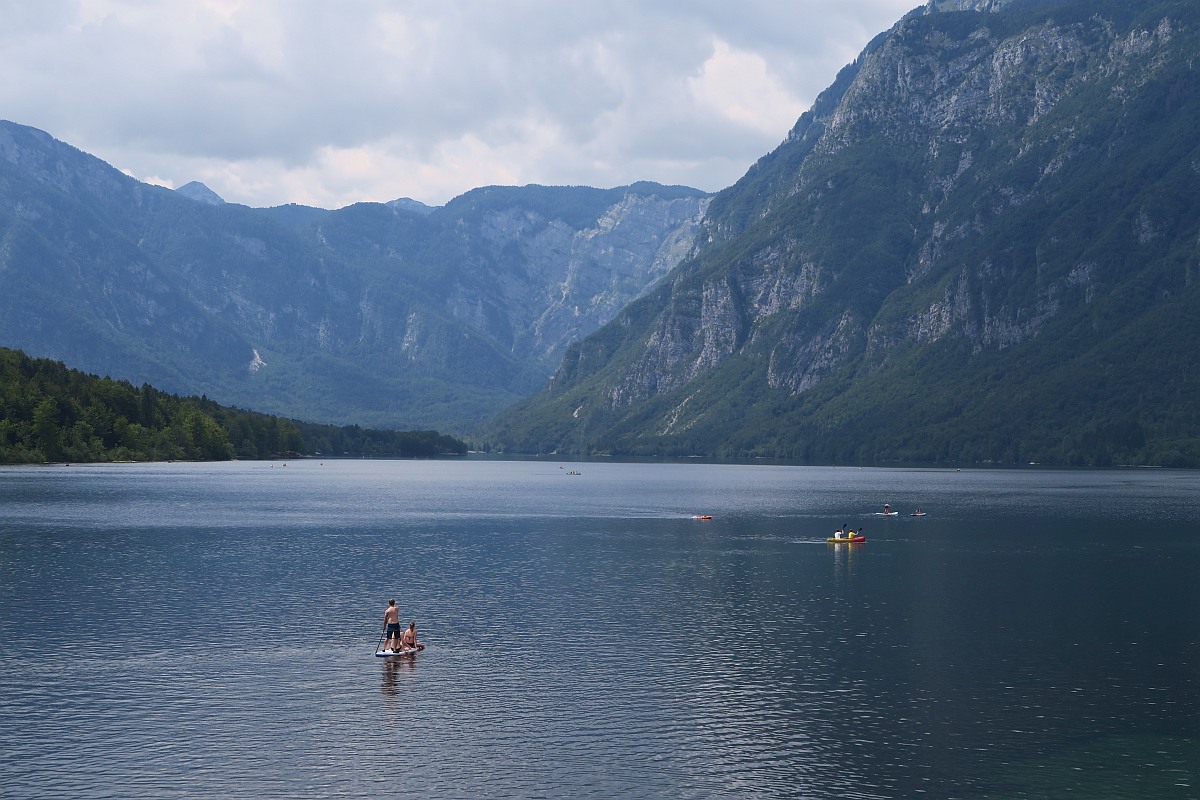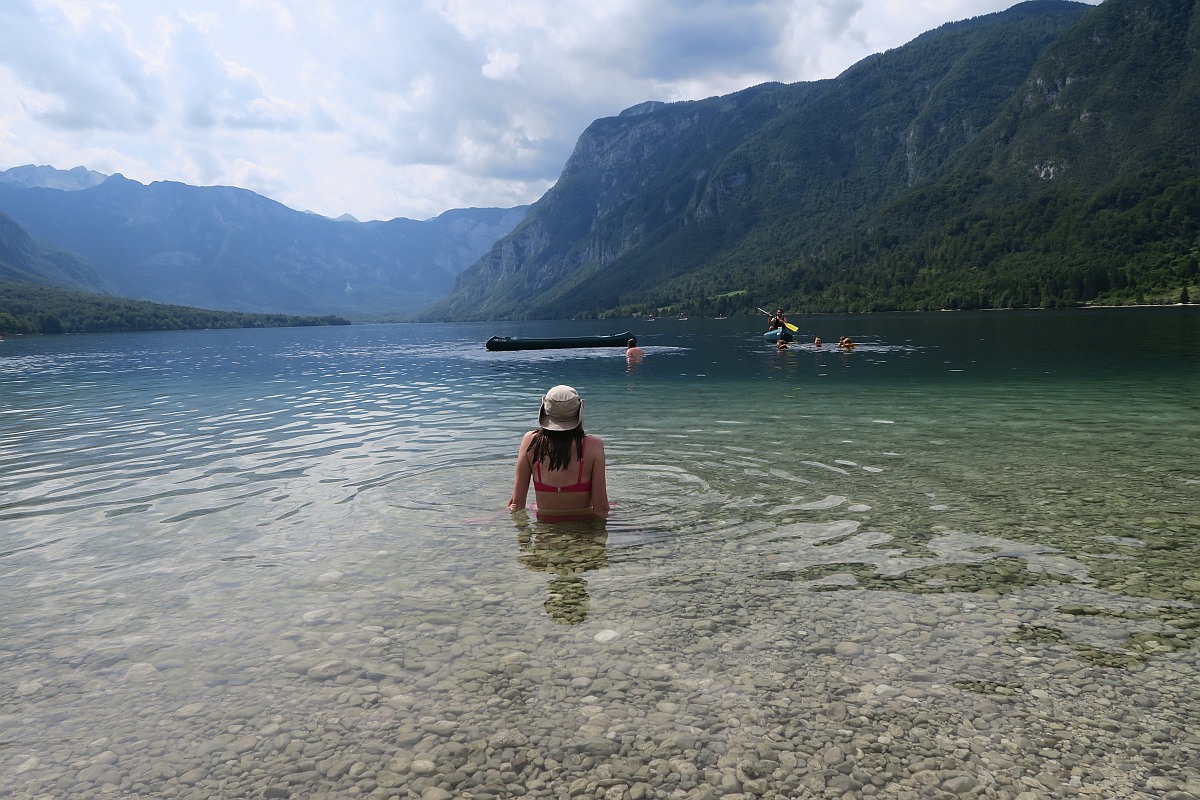 The route back to Bohinjska Bistrica
Soon we said goodbye to Lake Bohinj and we joined back on the main cycle path. The path leads across some meadows. The scenery is just beautiful. You can stop at Ranc Mrcina to see the horses or even go horse riding if you fancy. At Bohinjska Češnjica village we got on the main road. (This is not really suitable for small children, but there is an alternative route over the Senožeta hill, which is traffic-free.) We turned right before Jereka village and descended straight down to the starting point at Bohinjska Bistrica. The descend was really fun and a good way to end the trip. The Sava Bohinjka river was full of life, this time of the day. Lots of people sunbathing on the beach and children playing in the water. Slovenia is full of natural beauty and it was nice to see so many people enjoy being outside.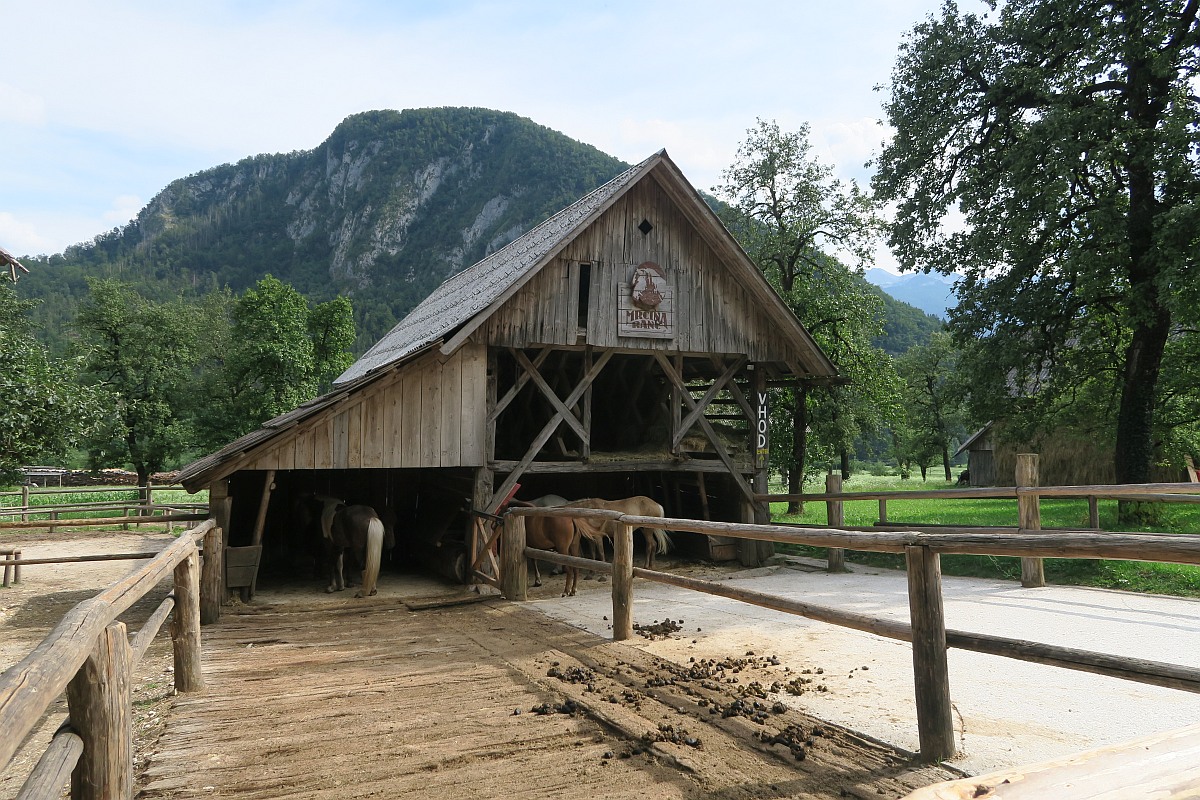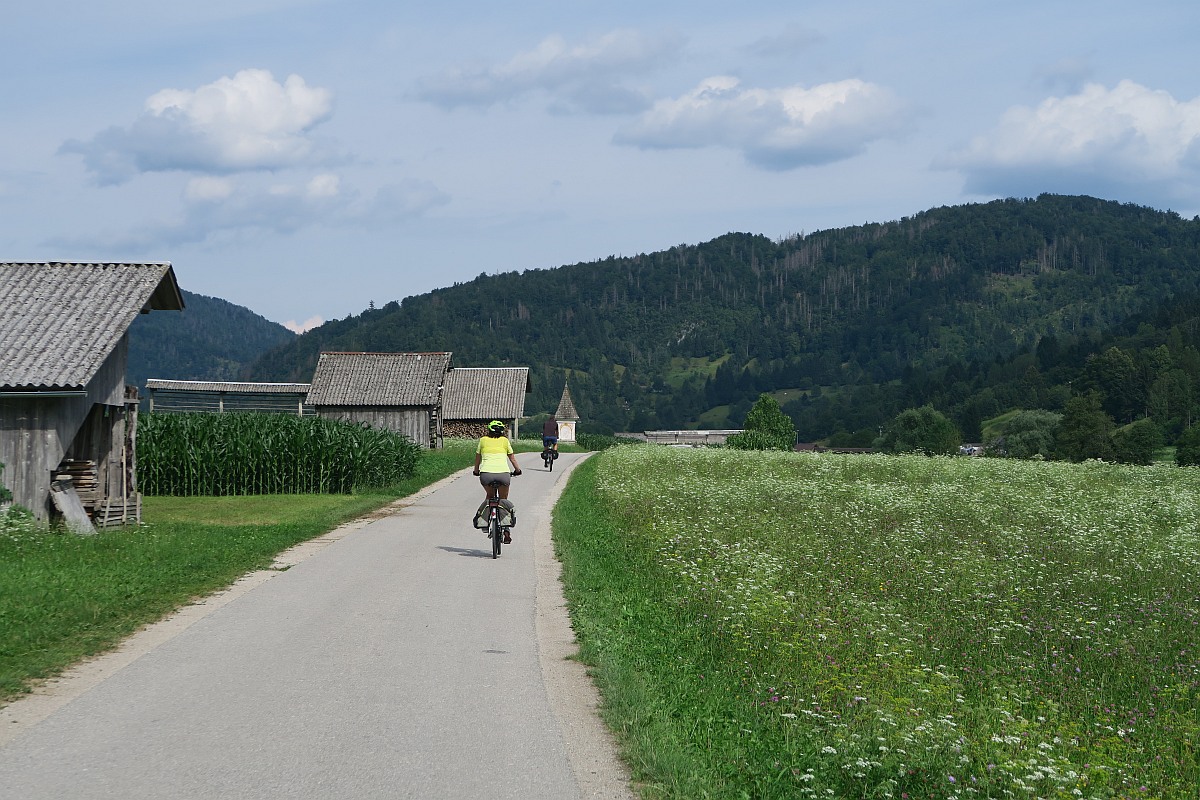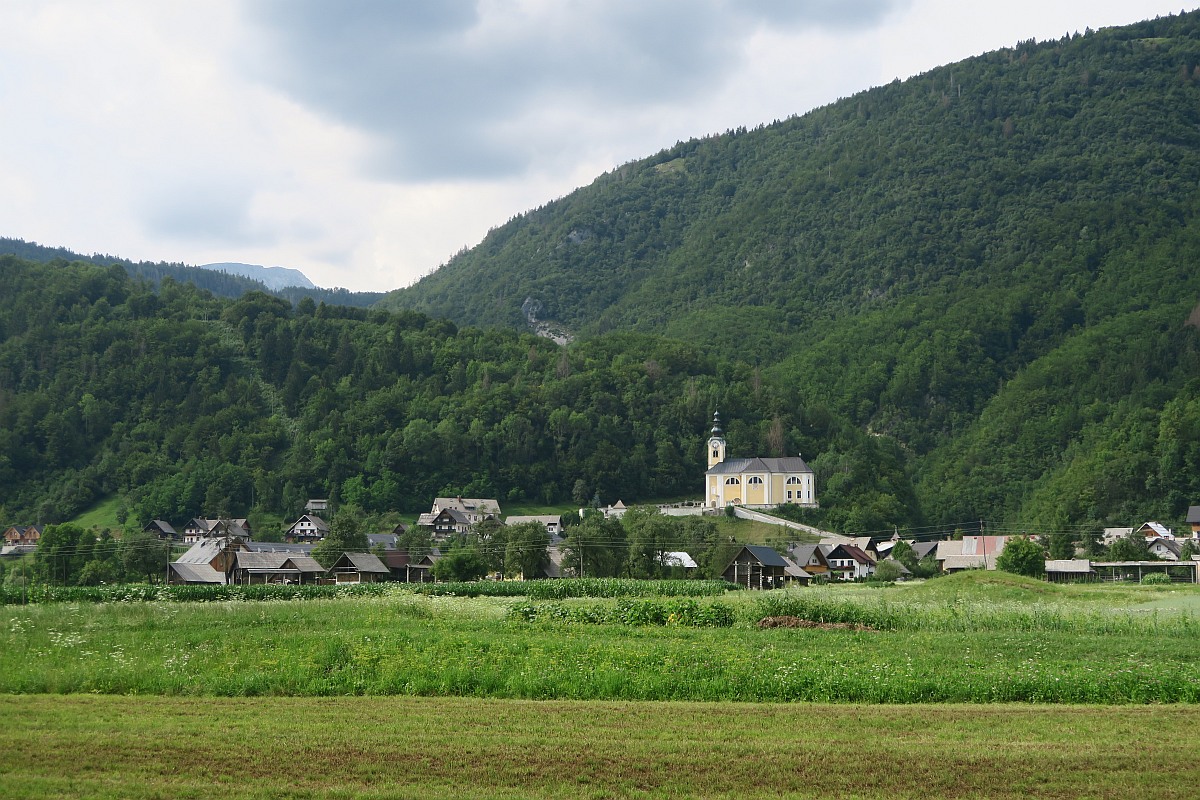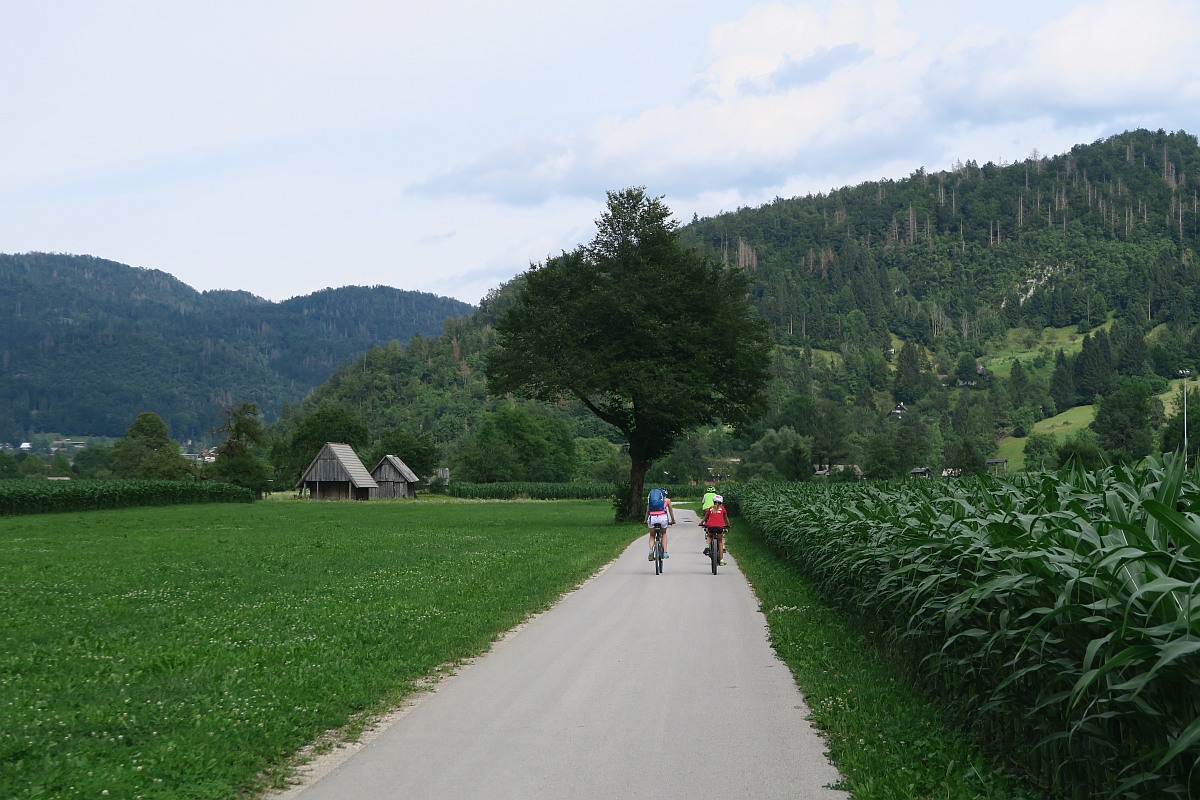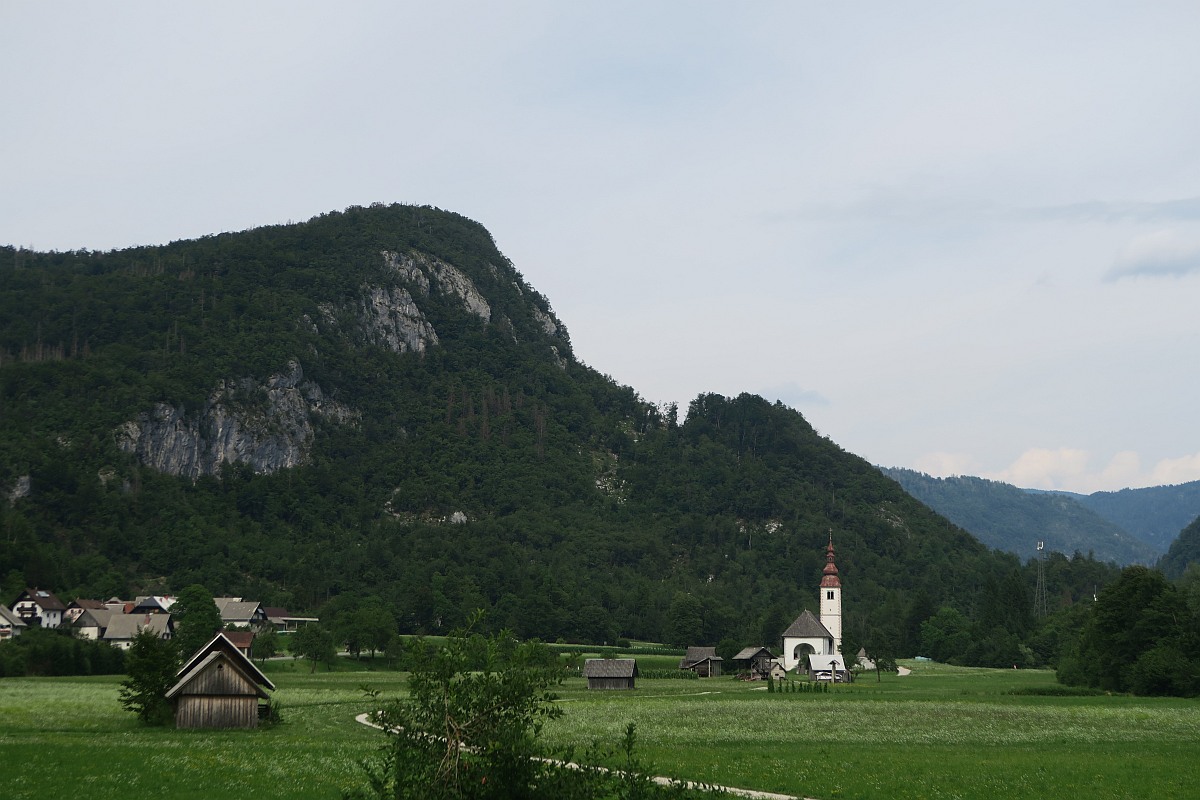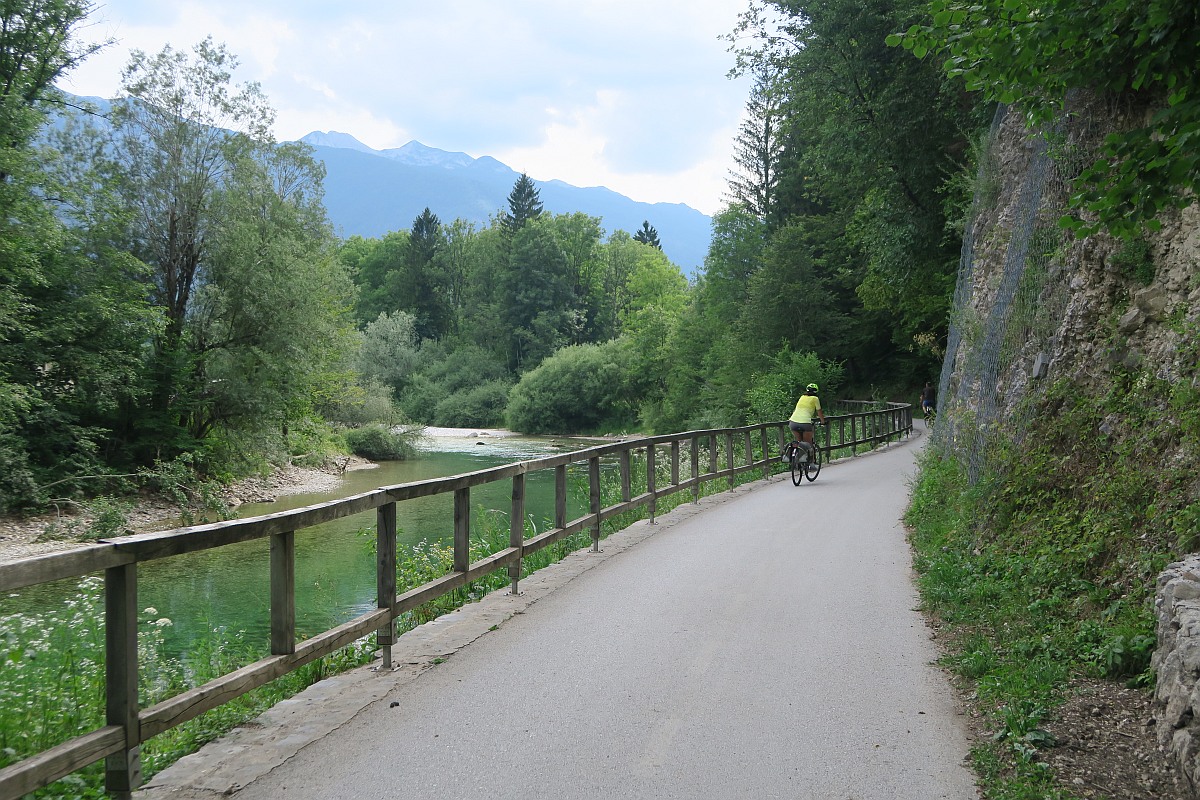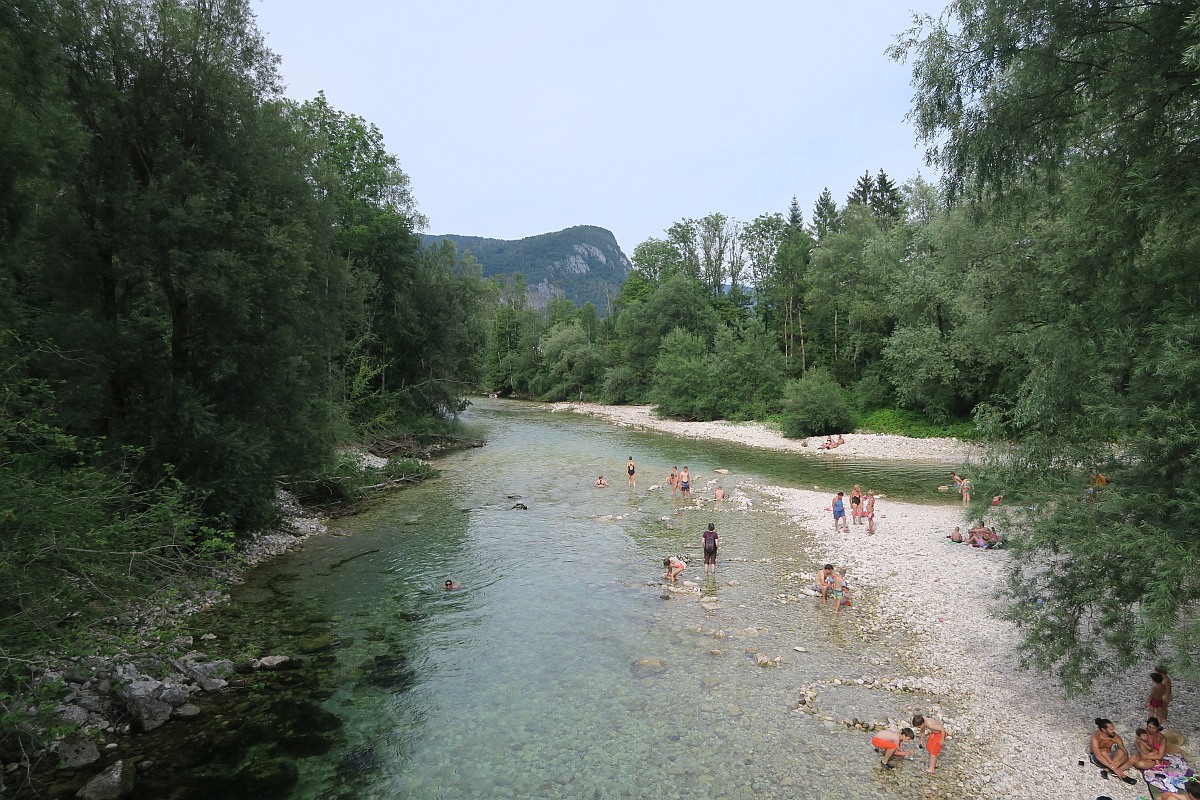 If you want to cycle Bohinj, you can download my GPX files to help you navigate.
This bike trip was 39 km with 308 m elevation gain.
Did you like this post? Why not PIN it?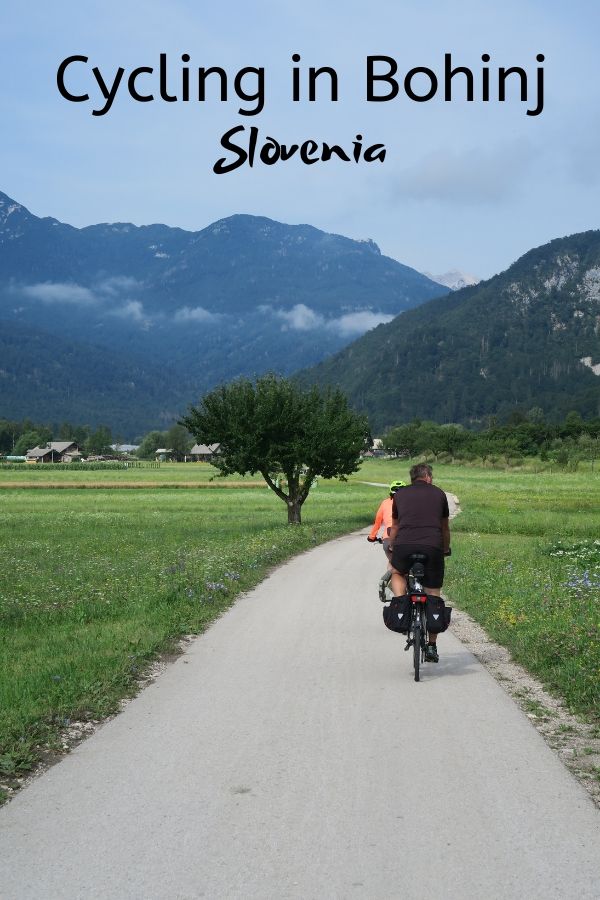 Enikő
Hey, I'm Enikő! I'm currently an au pair and I want to share my experiences with you. I've travelled a lot in the past years. I'm gonna teach you how to settle in to a new country and get free accommodation anywhere in the world. Circle Enikő on Google+!