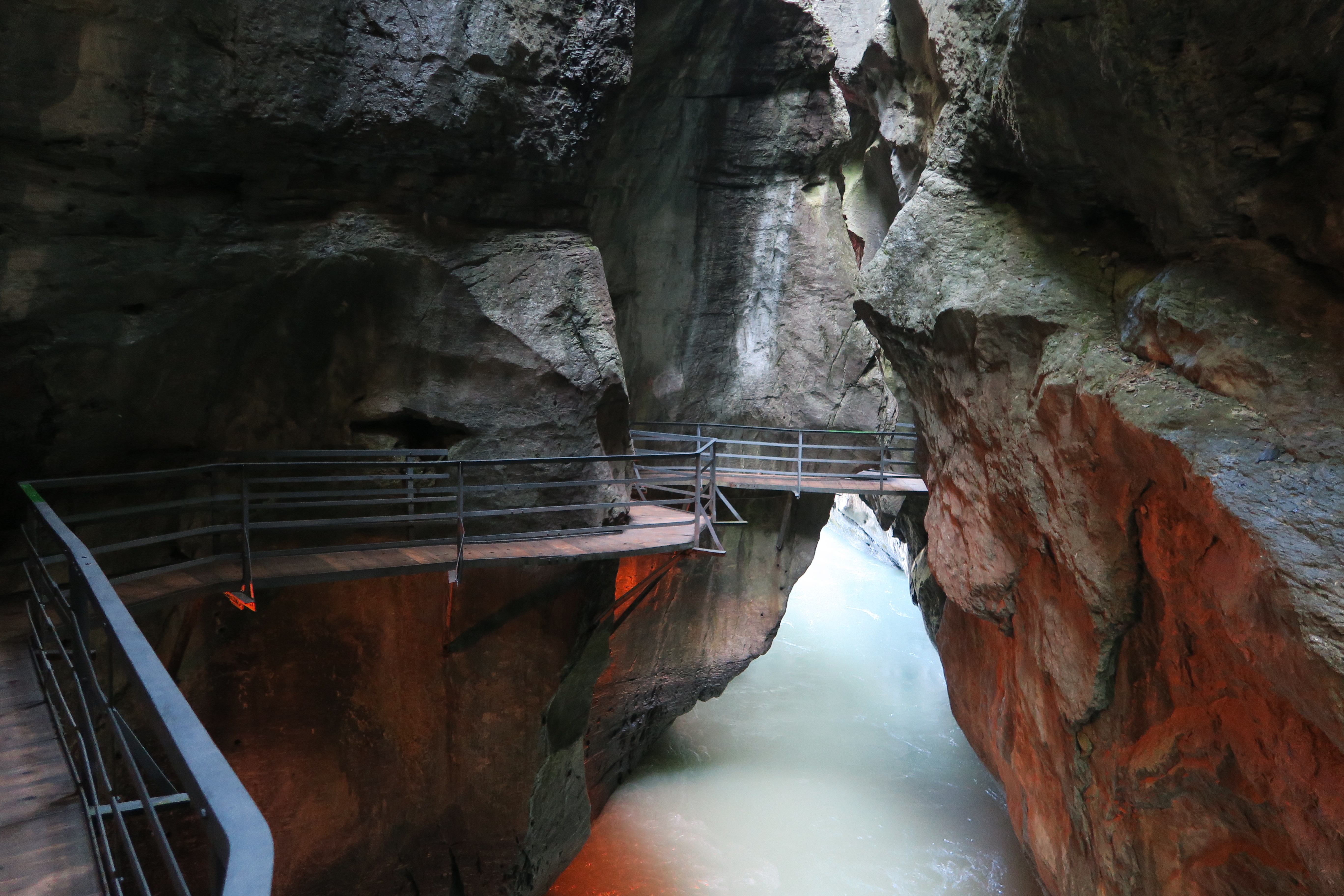 After going on some strenuous ridge hikes in Switzerland, like Arnirgat and hardergrat, we decided to have a more relaxing day. Visiting Aare Gorge and Reichenbach Falls seemed like a good option. We went on a Saturday around 10 am and the place didn't feel crowded at all. A similar place in Slovenia called Vintgar Gorge is absolutely packed with tourists, so I was really glad to discover that Aare Gorge is still a bit off the beaten path. It is an ideal day out for families with children, as none of the walking involved is too difficult.
Visiting Aare Gorge and Reichenbach Falls in Switzerland
Aare Gorge
Hiking Aare gorge
There is a 1.4 km narrow, wooden walkway suspended on the rocky cliff face that passes through the gorge carved by the Aare River.  We started from the West Entrance, which I think is the nicer and more interesting part of the gorge. Here at its narrowest point, the gorge is only 1 meter wide. As we walk further the gorge gets wider and taller as well. At some places, the cliff walls rise 180 m above us. The water has a beautiful blue colour and it flows really fast. It is incredible to think how deep it must go at the narrow parts of the gorge and some places under the cliffs as well. There is also a nice waterfall called Schraybach. We took lots of pictures along the way and enjoyed the atmosphere. It took us about 1 hour to reach the end. It is possible to take a train back, but we decided to walk back the same way, as we enjoyed it so much.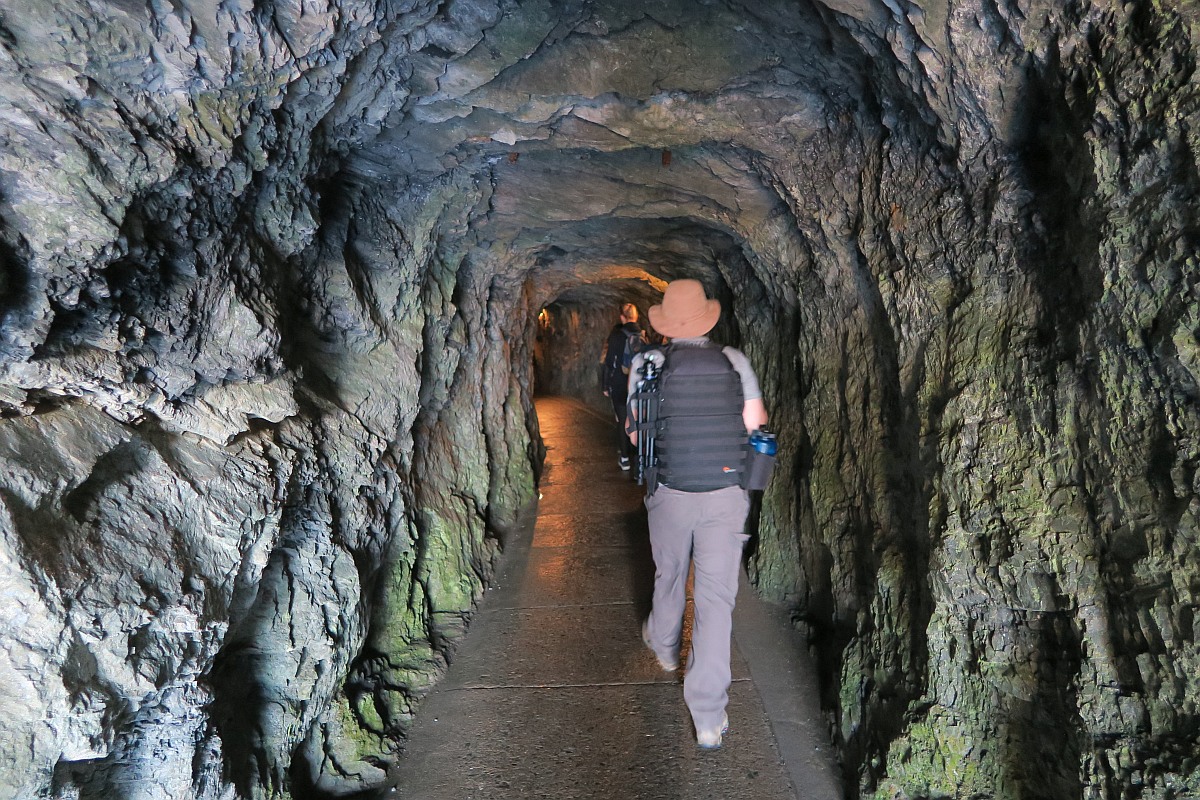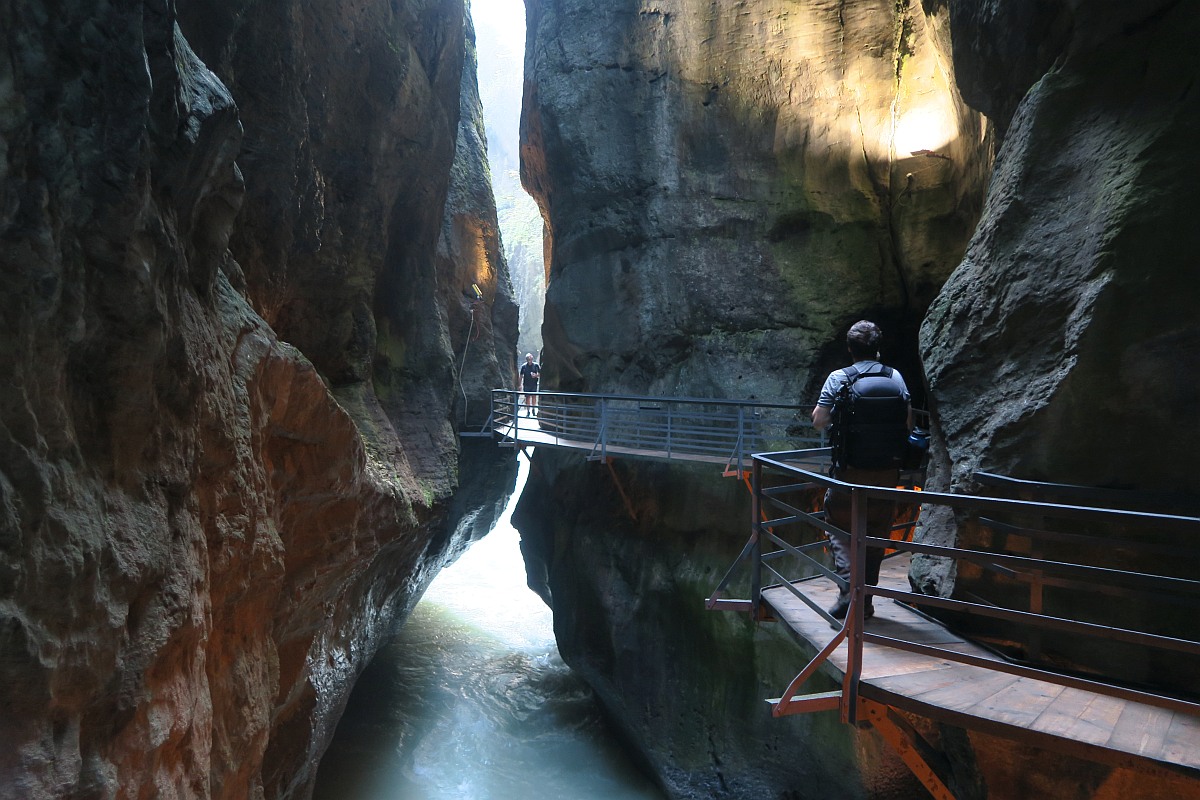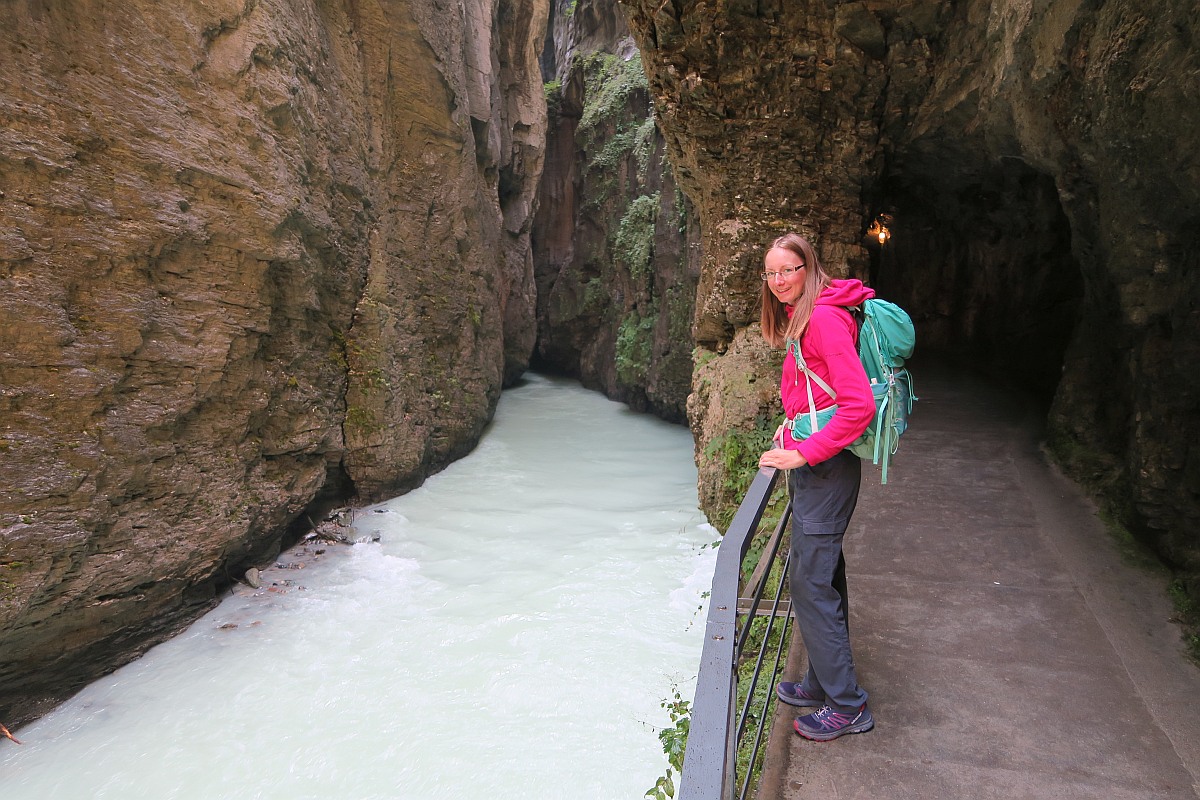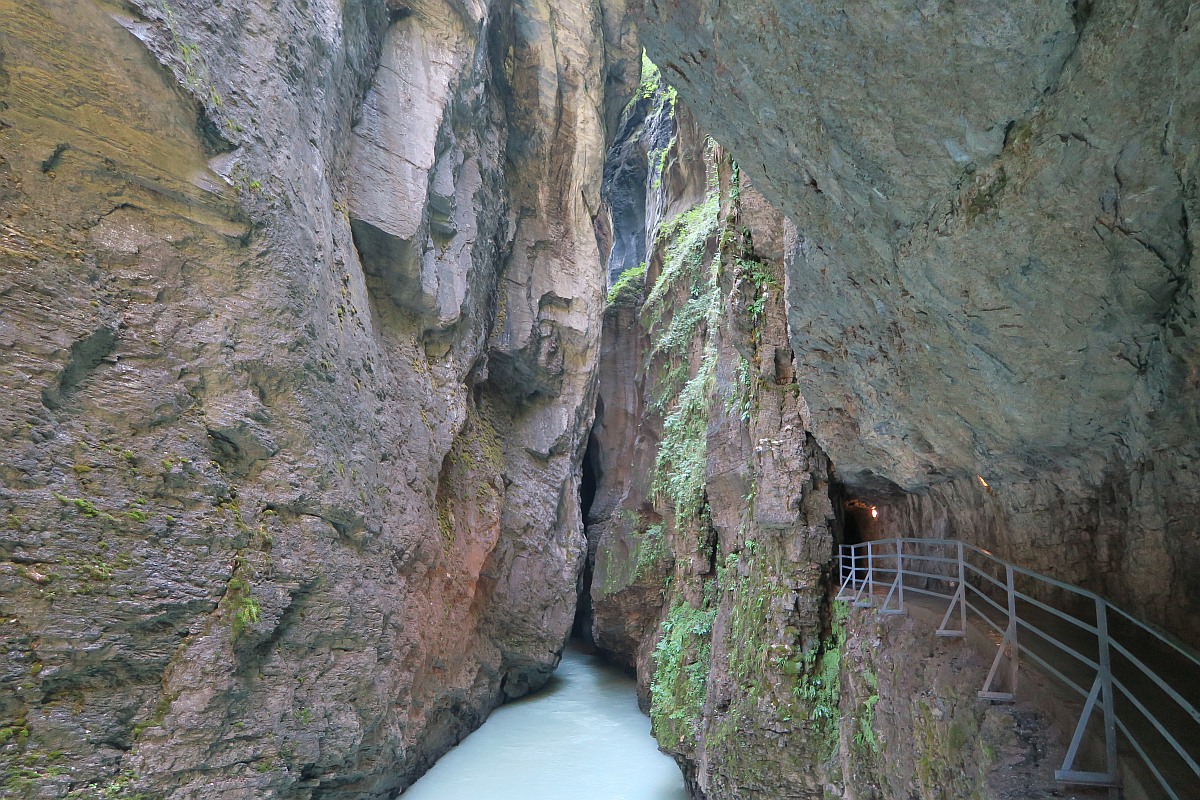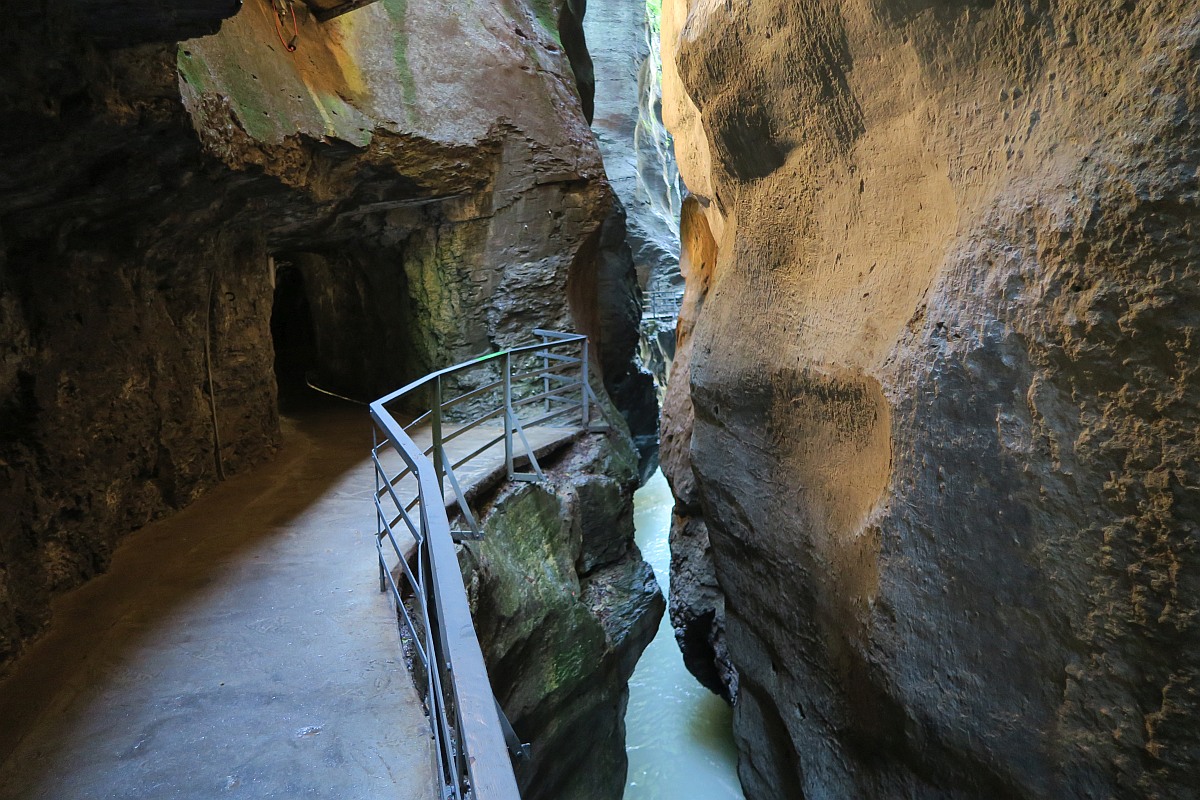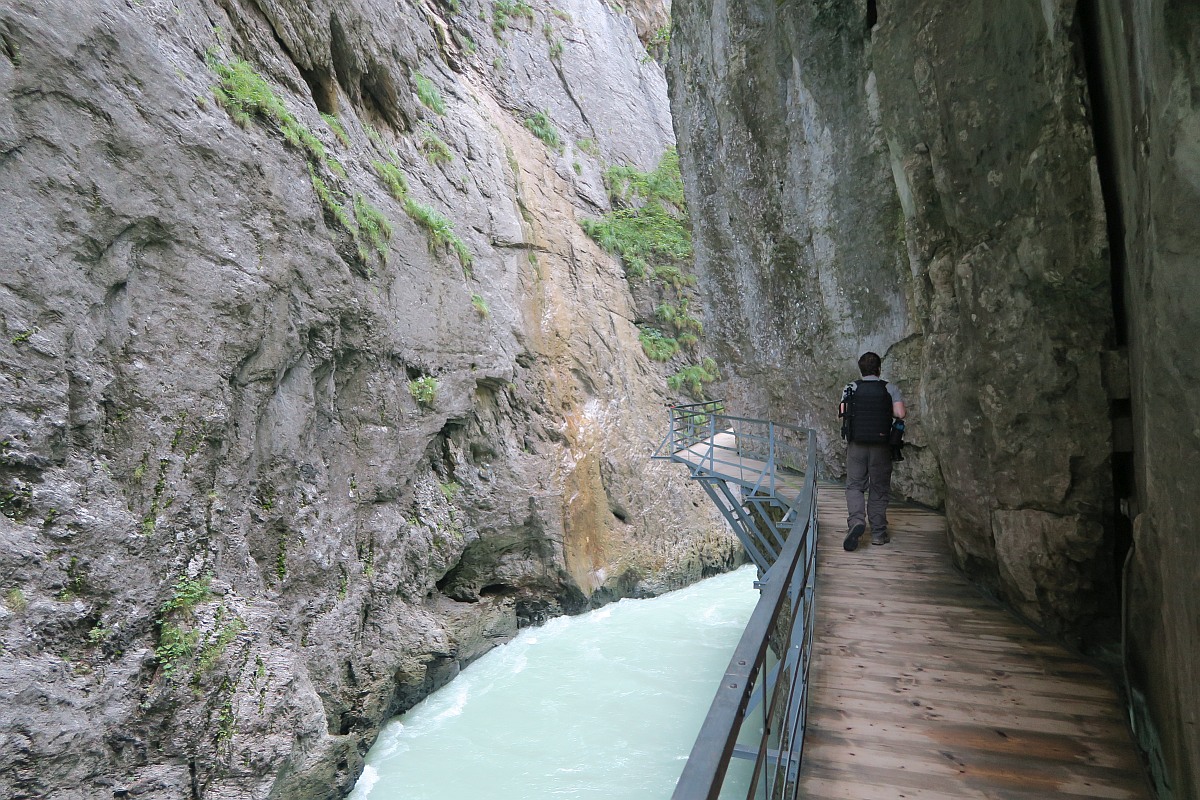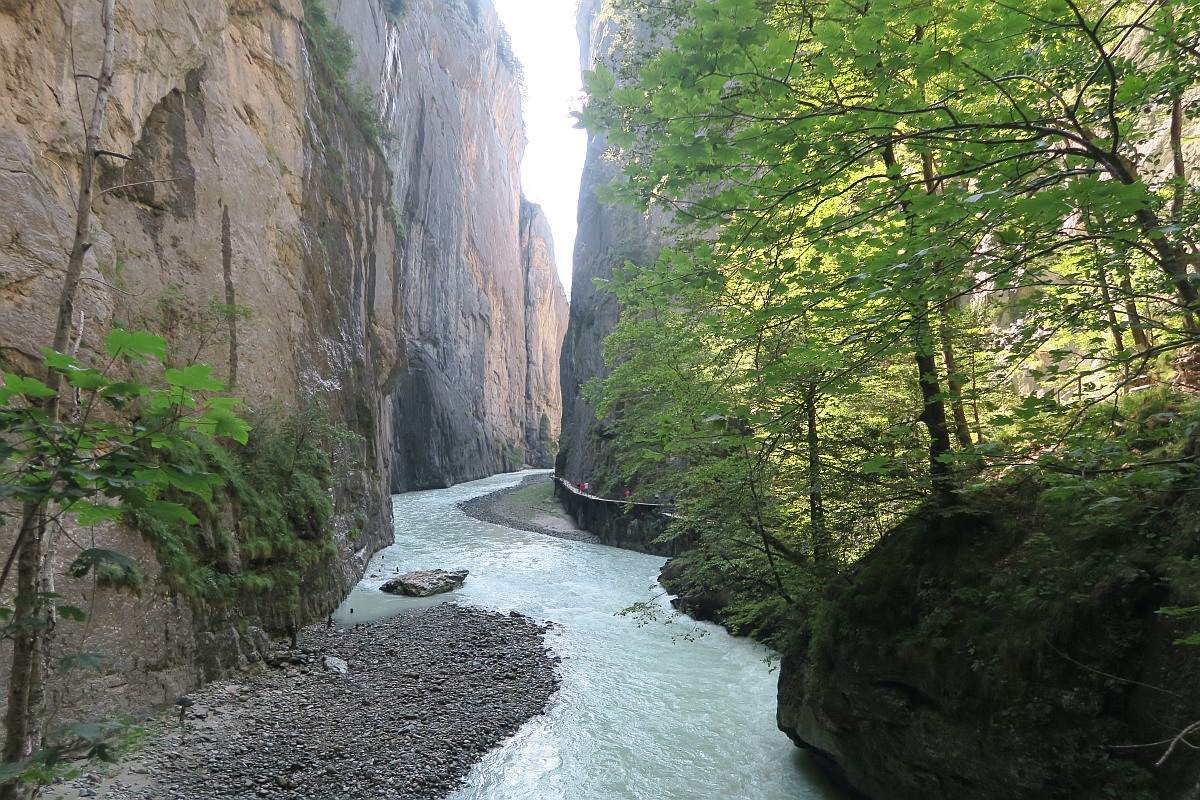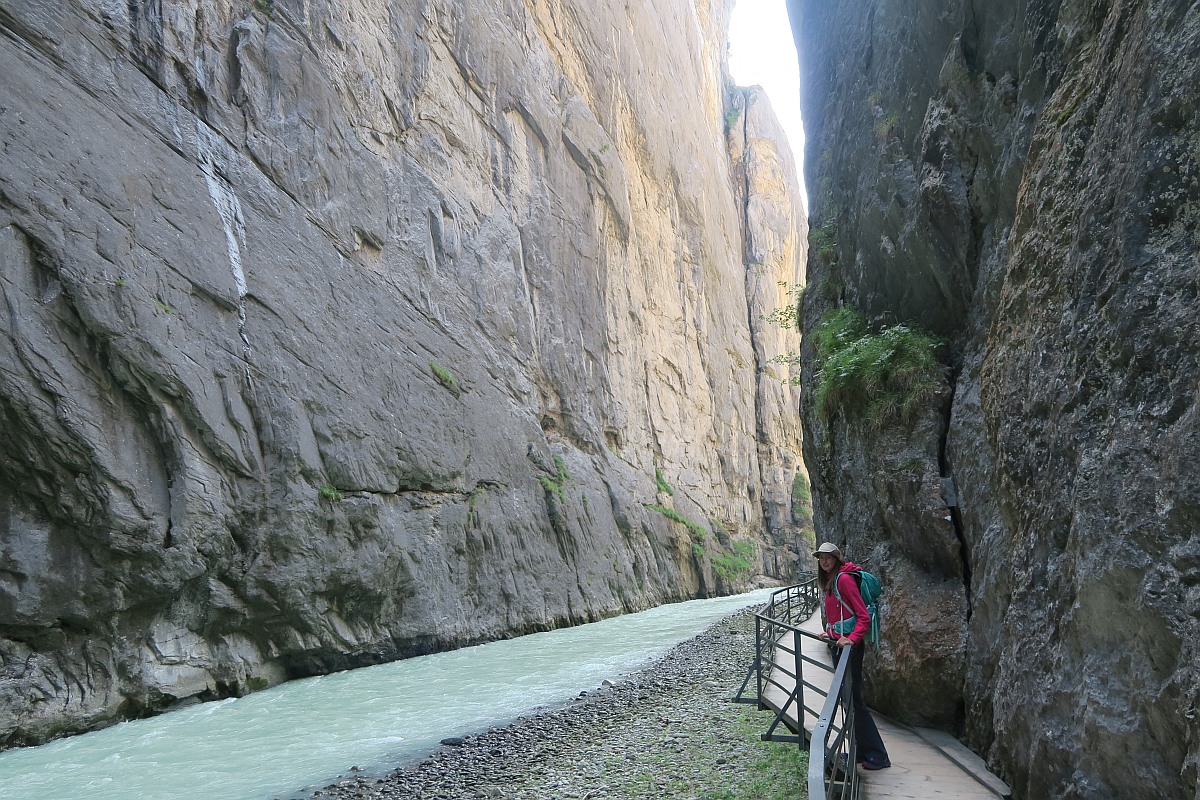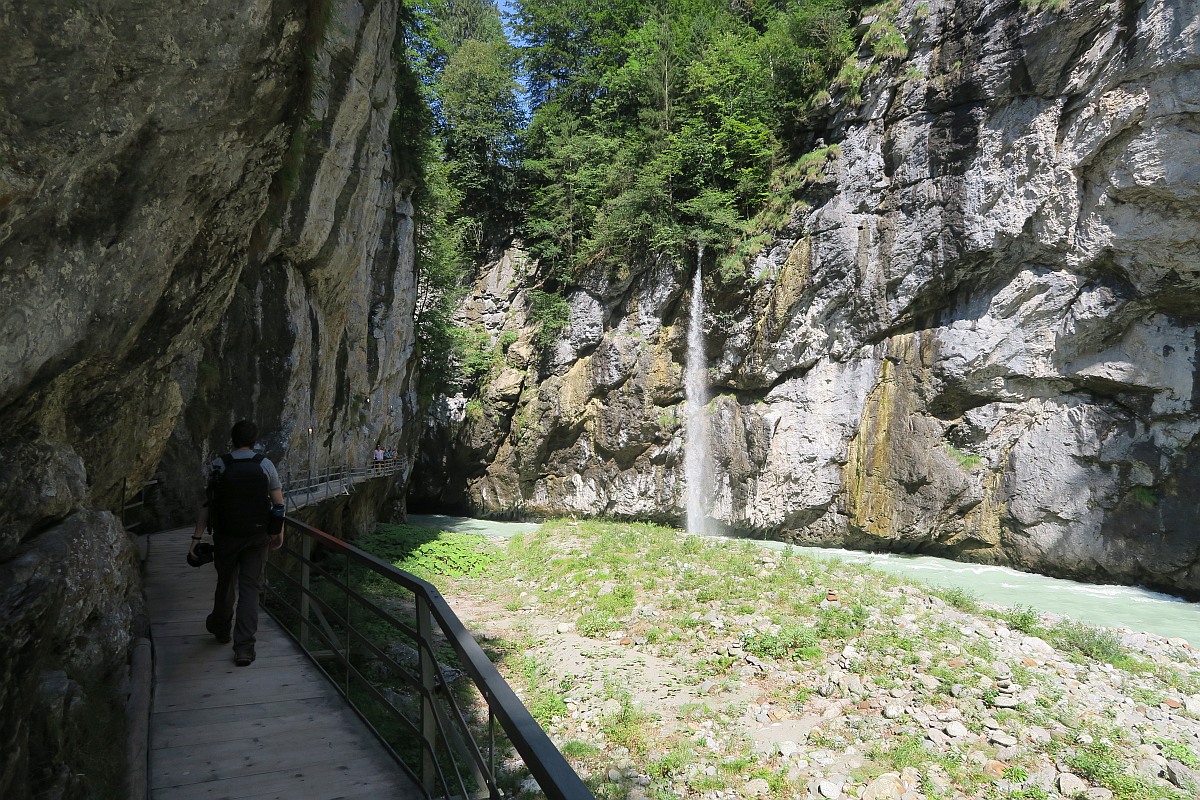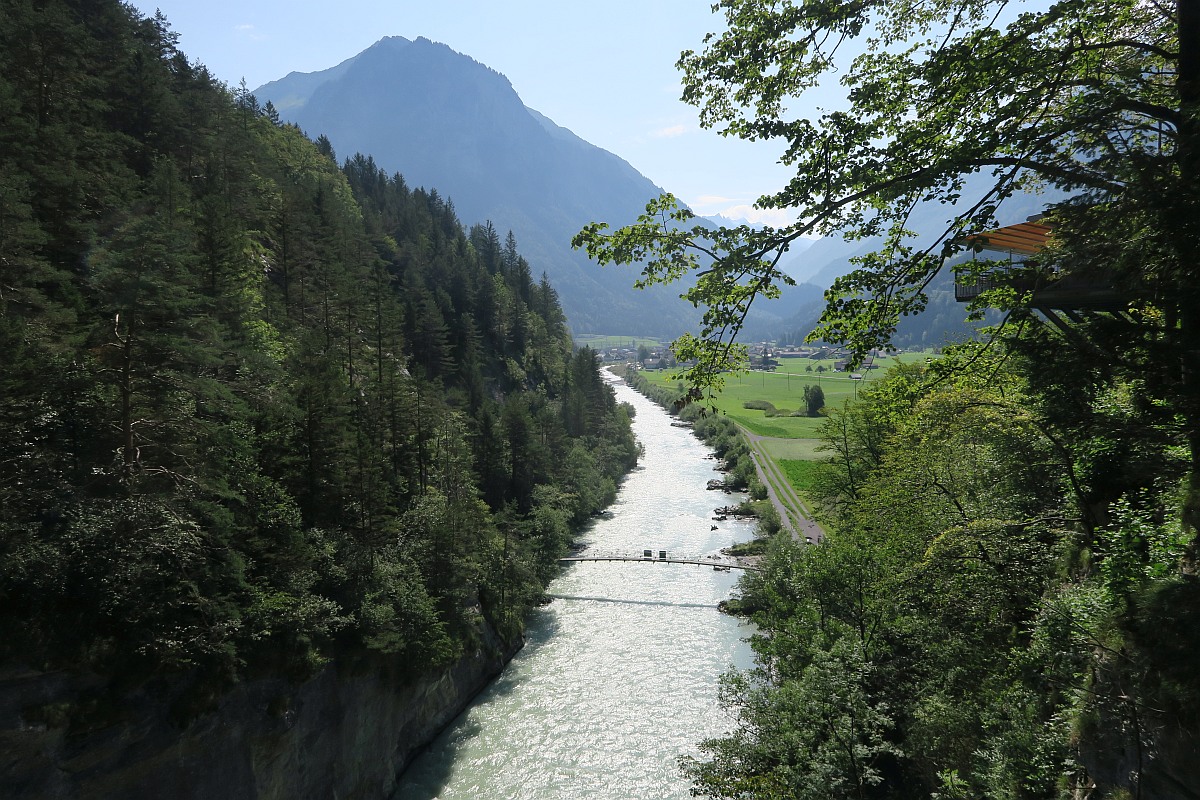 Aare Gorge opening hours
During peak season (July and August)
08.30 – 18.30 h
On Thursdays, Fridays and Saturdays from 18.30 – 22.00 h you can visit the gorge from the west entrance to see the place illuminated.
Any other time during open months:
08.30 – 17.30 h
The gorge is shut during the winter months after 3 November until around April. For full opening hours please see their website.
Which entrance to choose?
West Entrance: There is more parking here. There is a nice playground as well, so if you have children I suggest using this entrance.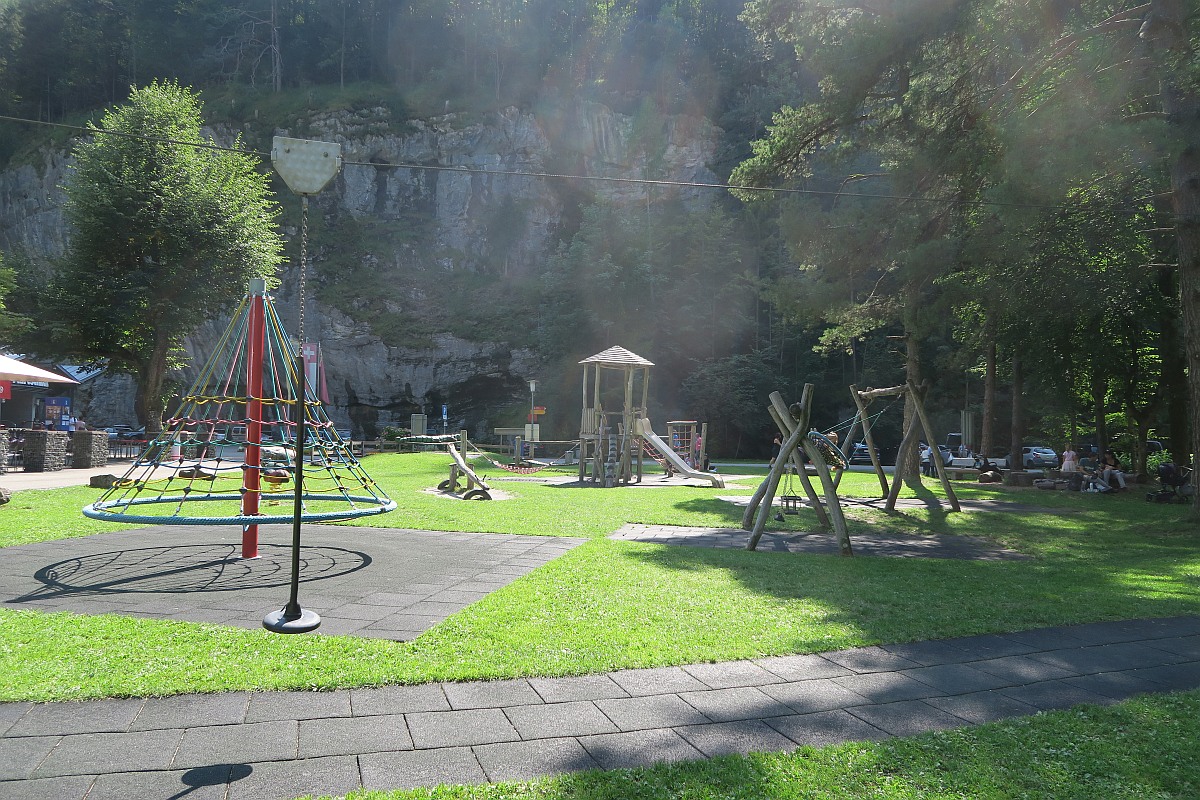 East Entrance: Use this entrance if you are with a buggy or wheelchair. You will be able to visit half of the gorge if you use this entrance.
If you walk the whole gorge and want the leave the best for the last, walk from East to West, as it only gets more beautiful as you walk.
Aare Gorge prices
This activity is quite cheap compared to other attractions in Switzerland.
Adults: CHF 9.00
Children 6-16: CHF 5
Children under 6: free of charge
You can also buy combined tickets with the Reichenbach Falls. This includes transport between the gorge and waterfall and tickets for the funicular up the waterfall.
Adults: CHF 16
Children 6-16: CHF 11
It is also possible to hike up to the waterfall free of charge, which is what we did.
How to get to Aare Gorge
By car:
The gorge is well sign-posted on the roads. It is only a 25-minute drive from Interlaken or 1-hour from Lucerne.
Aare Gorge Parking: There is a lot of parking at Aare Gorge West entrance free of charge. There is staff, who help make things run smoothly and they point out where to park.
There is also free parking at the East Entrance, but not as many.
By public transport:
From Interlaken: Take the train from Interlaken Ost and change at Meiringen. Use platform 13 to change on to the train to Aareschlucht West or Aareschlucht Ost MIB. Journey time is 54 minutes.
From Lucerne: Take the train from Lucerne station to Meiringen. Use platform 13 to change on to the train to Aareschlucht West or Aareschlucht Ost MIB. Journey time is around 1h40min.
From Meiringen: It takes about 15 minutes to walk from the town to the West Entrance. Alternatively, you can take the train to Aareschlucht West or Aareschlucht Ost MIB.
From Aareschlucht West it is a 7-minute walk to the West Entrance.
The Aareschlucht Ost MIB stop is inside a tunnel. You will need to press a button the indicate the driver you want to get off. Quite a unique experience to arrive at the tunnel and then use the lift up. It is a 5-minute walk to the East Entrance.
What to bring with you
It can be quite chilly inside the gorge, so make sure you are wearing a jumper. Hiking boots are not necessary, as the walk is easy on a wooden platform.
Reichenbach Falls
Hiking Reichenbach fall
The hike to the waterfall isn't signposted very well. We used my AllTrails app on my phone to get there. You can also download my gpx files to your phone to help you. We hiked from Aare Gorge West Entrance and the return hike took us 2h50 minutes. This includes stops for lunch, breaks to take pictures, etc. It is a 7 km return hike with 422 m elevation gain. So the hike is not super difficult, but it is a hike, where I would suggest wearing hiking boots. The first 20 minutes is walking through the town from the gorge on flat ground, but then we reach a small forest and the ascent begins. The best view of the waterfall is as soon as we arrive at the bottom of it. However, we hiked up to the viewing platform, which was also interesting and it offered nice views to Meiringen town. Along the way, there is a board pointing out where Sherlock Holmes died. He fell off the cliff while battling his arch-nemesis, the evil Professor Moriarty.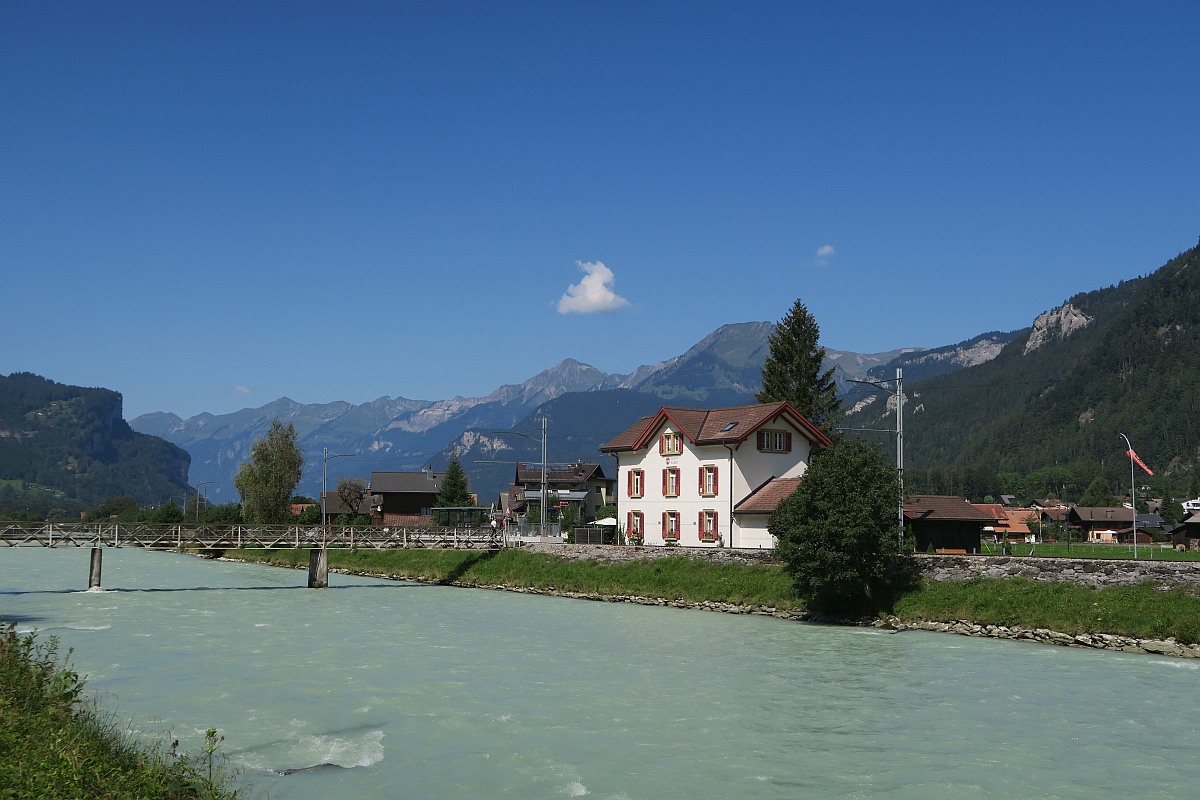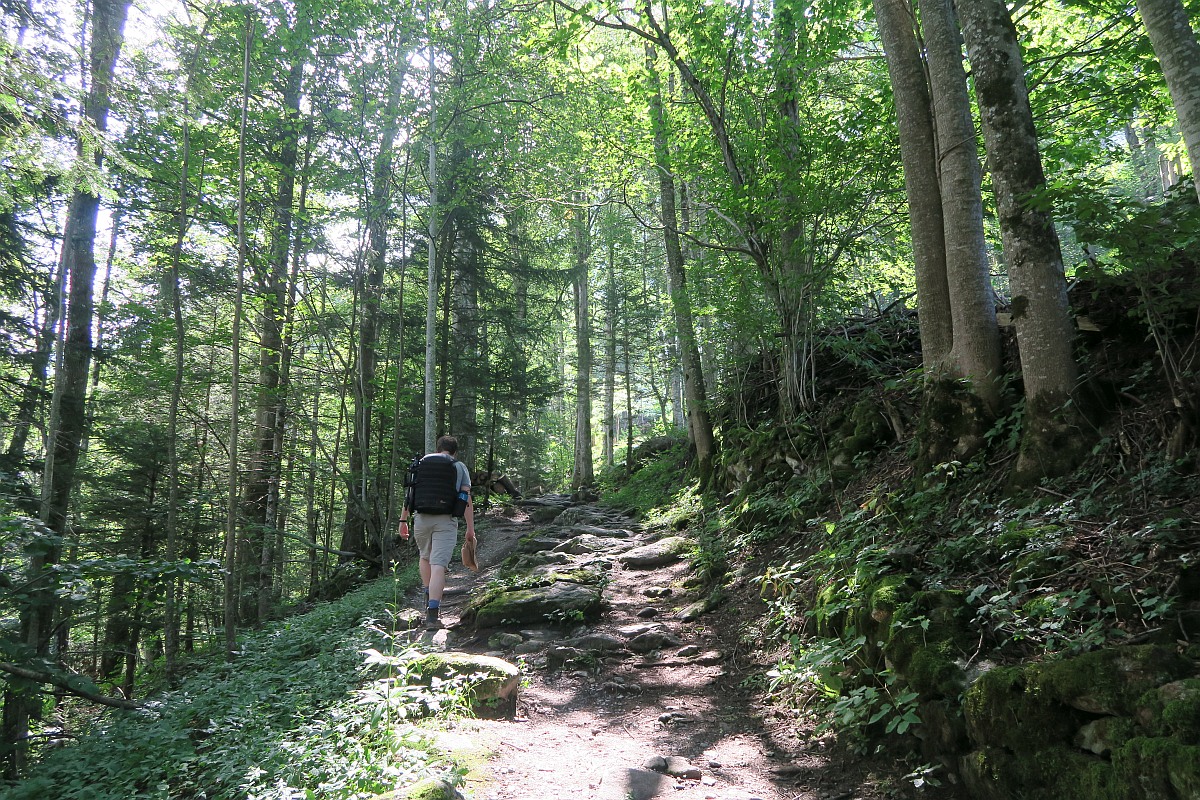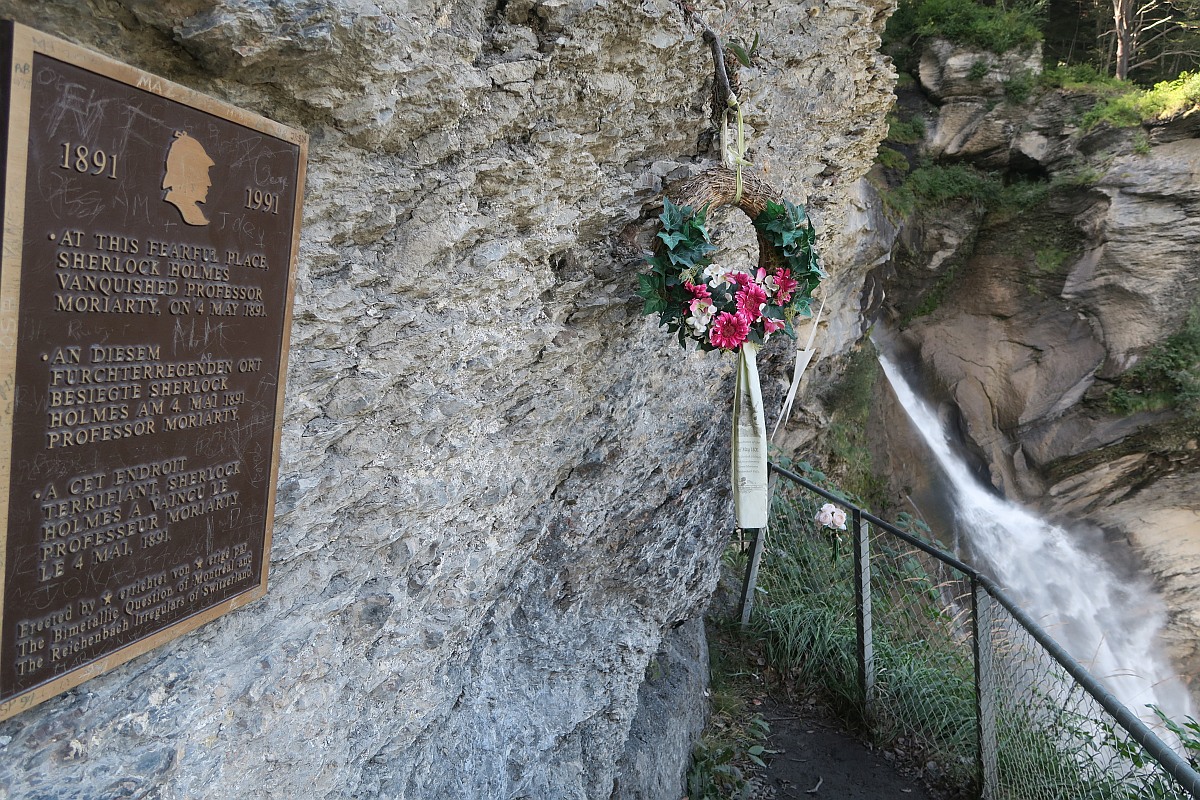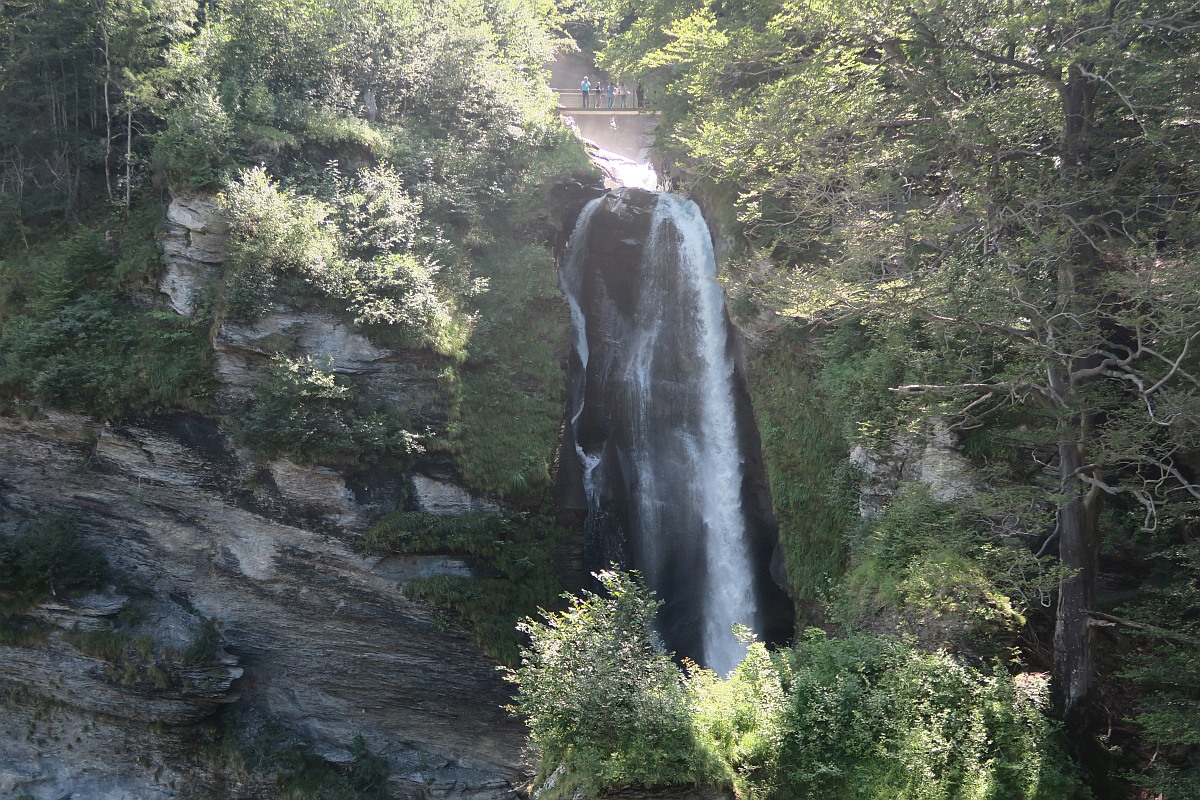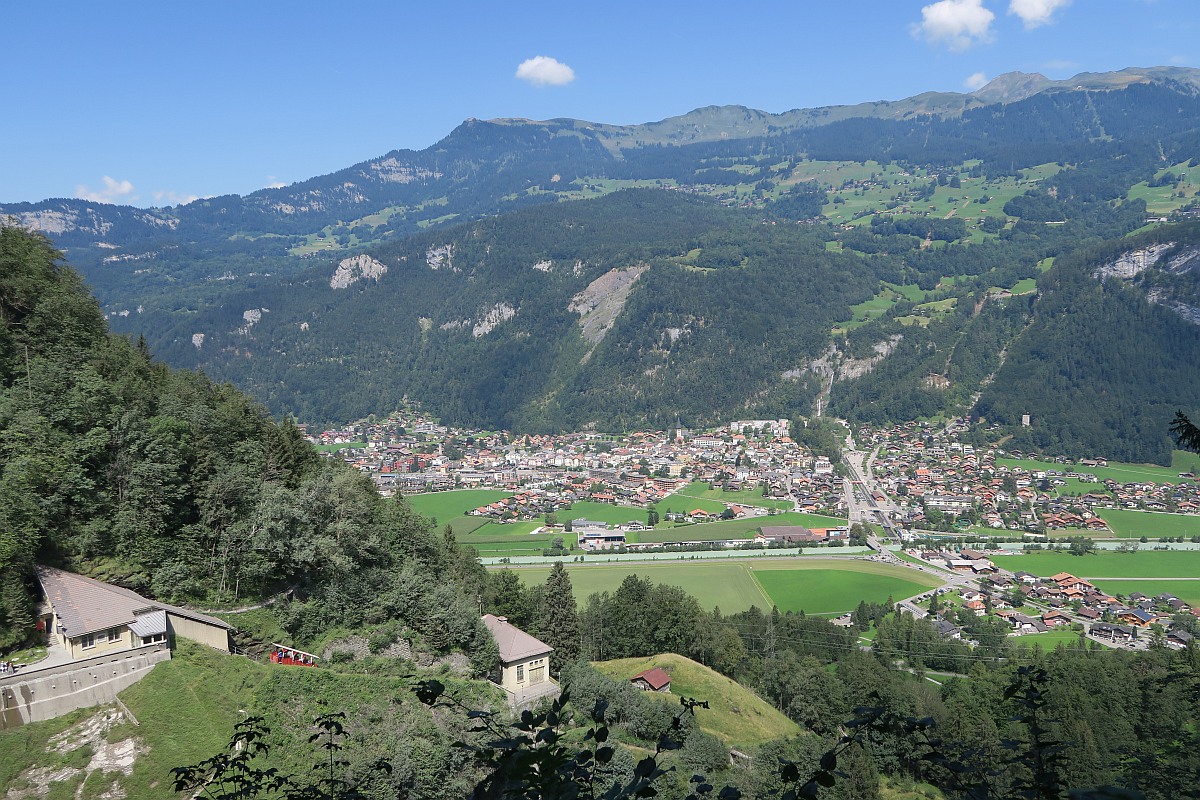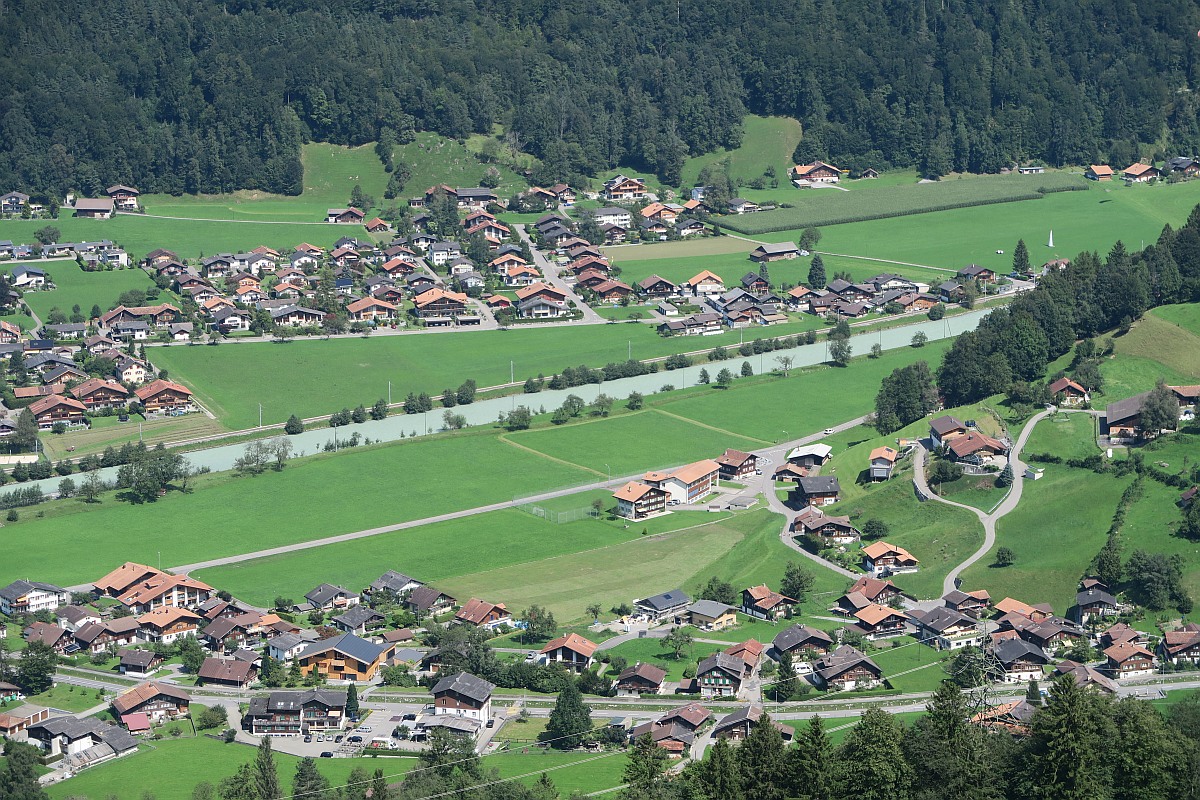 How to get to Reichenbach fall
If you buy a combined ticket at the gorge that includes transport between the two locations. However, it involves waiting for the train and it is often better to just walk. It is a 20-minute walk from Aare Gorge West Entrance to the start of the funicular on flat ground. If you want to save money or just enjoy hiking you can walk up to the waterfall free of charge.
Reichenbach fall Parking: There is limited parking at the Reichenbach falls funicular, so it is advised to park your car at Aare Gorge and then walk or take the train.
Reichenbachfall funicular prices
Adult: CHF 12
Children 6-16: CHF 8
It is cheaper to get a combined ticket if you also want to visit the gorge as well.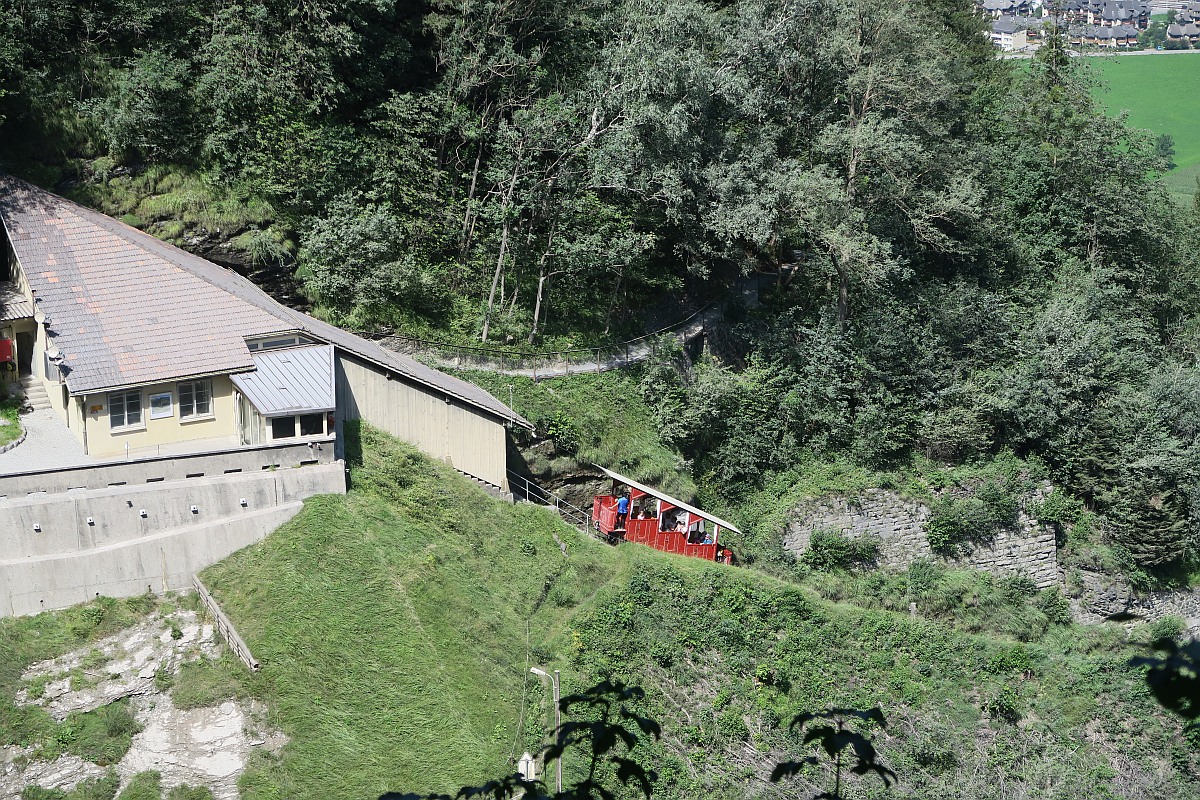 Did you like this post? Why not PIN it?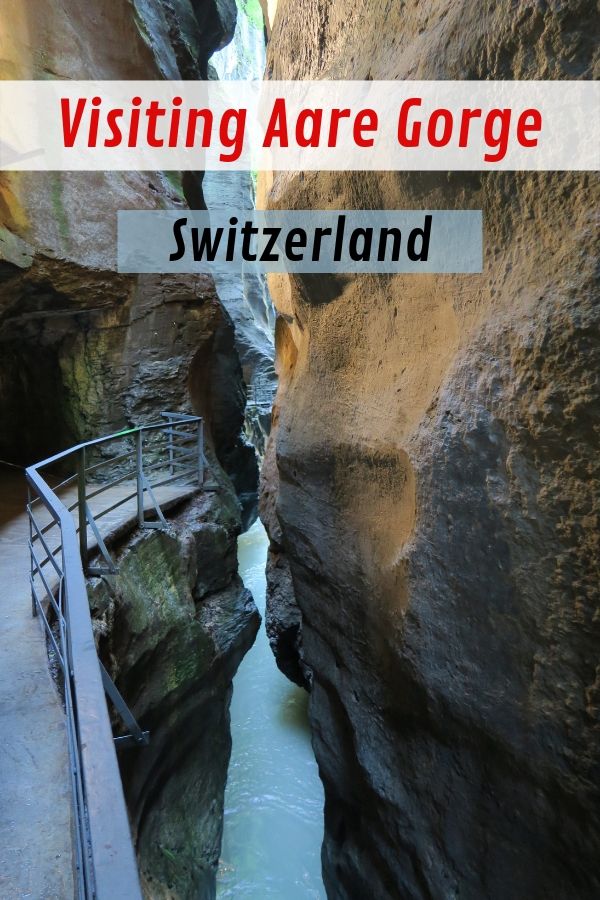 Enikő
Hey, I'm Enikő! I'm currently an au pair and I want to share my experiences with you. I've travelled a lot in the past years. I'm gonna teach you how to settle in to a new country and get free accommodation anywhere in the world. Circle Enikő on Google+!