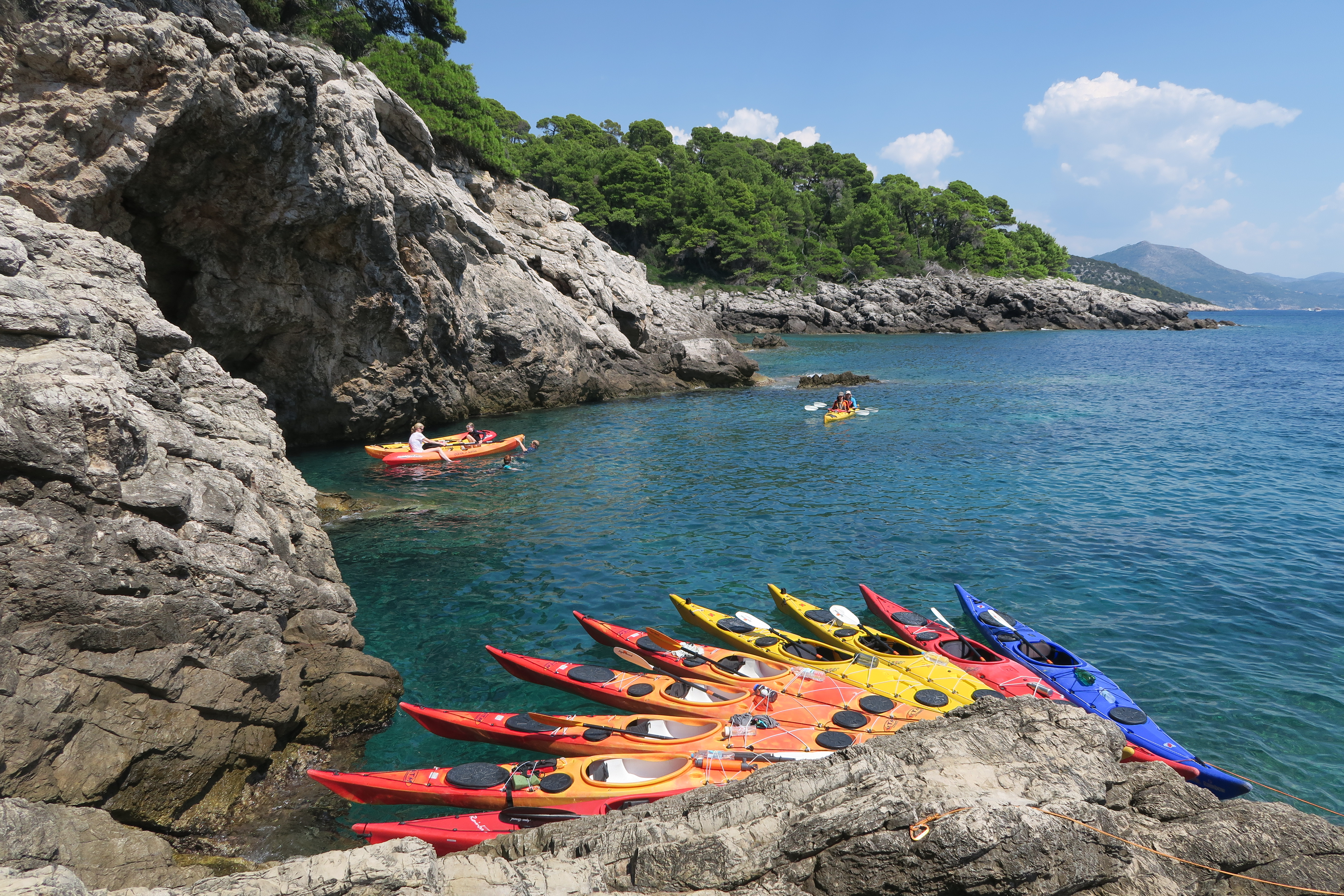 Kayaking in Croatia is great for all the outdoor lovers since it has a beautiful coastline, pristine beaches, hidden caves, wild bays and lots of islands. It is the perfect place to explore by kayak. We went on many kayak and canoe trips in the UK. We have done some kayaking around London and we even went on a wild camping kayak trip in Dorset, so it wasn't a completely new thing for us. In fact, it is the reason we chose Croatia for our summer holiday. We enjoyed those trips so much, that we wanted to do more and get better at it.
There are several companies offering kayaking trips all over Croatia. We wanted to do a multi-day one to see more of the country. Adria Adventure has several different trip options. We chose to do the one-week kayaking trip around the Elaphite Islands.
The Elaphite Islands:

This region is easily accessible from Dubrovnik by ferry, it only takes about 40 minutes. It consists of several islands, but only the 3 biggest ones are inhabited. These are Kolocep, Lopud and Sipan. Each island has its own charm.
Kolocep: No cars are allowed on this island. It is a popular destination for boat trips from Dubrovnik thanks to its Blue Cave. We didn't spend much time here, as we only came across this island by paddling around it and having lunch at a local family-owned restaurant, which was lovely. It is a nice place for relaxation, short walks by the sea and swimming.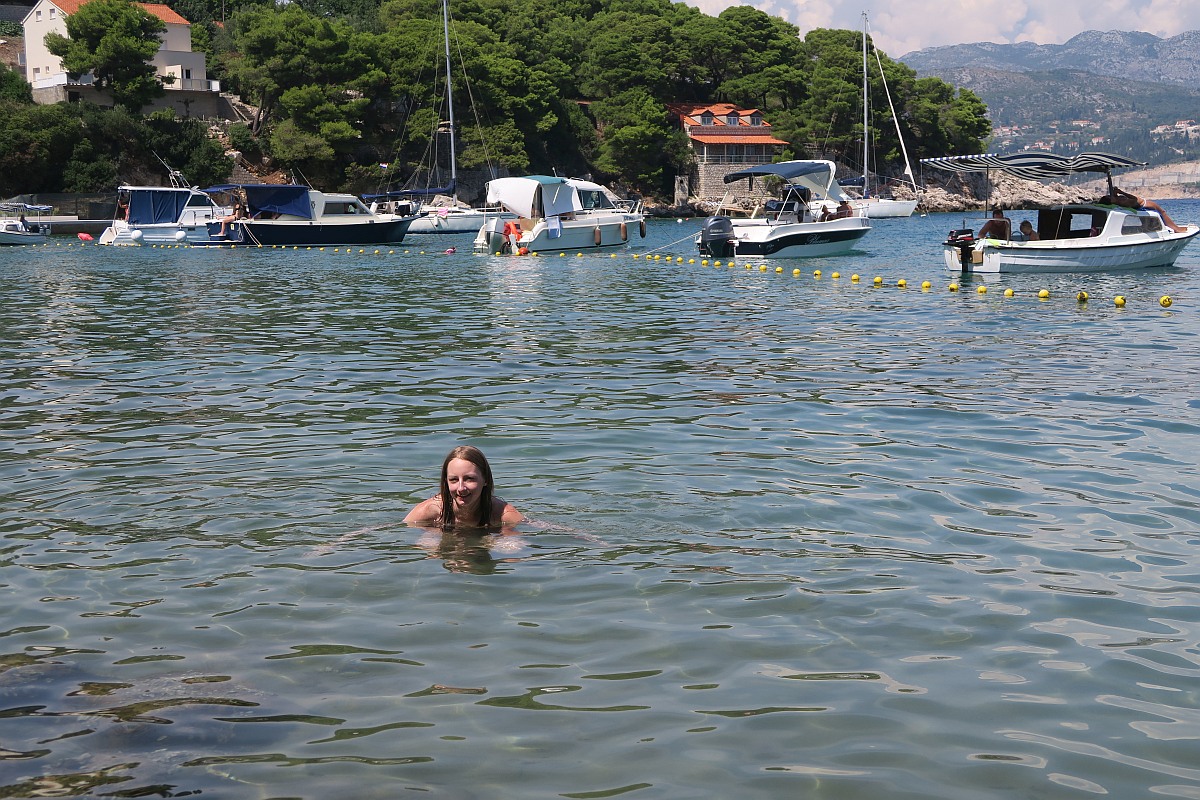 Lopud: We spent 4 nights on the island and it became my favourite place in Croatia. There are no cars on the island, making it a very relaxing and peaceful place. Locals get around by cycling. The island is so small you can easily get everywhere on foot. Sunj beach is located on the other side of the island. The beach here is sandy and very shallow, making it perfect for families with children. You will find 2 restaurants here as well. It is about a 20-minute walk to get here or you can take a taxi (golf car) for 15 kunas per person. All other facilities are in the main town where the ferry port is. For a small island, there were quite a lot of restaurants. There was a bakery close to our accommodation which I loved for their fresh croissants, tasty coffee and the huge selection of cakes and ice cream. There were two shops on the island, one of them selling ready-made sandwiches, which was handy when we wanted something quick and cheap for lunch on our kayaking trip.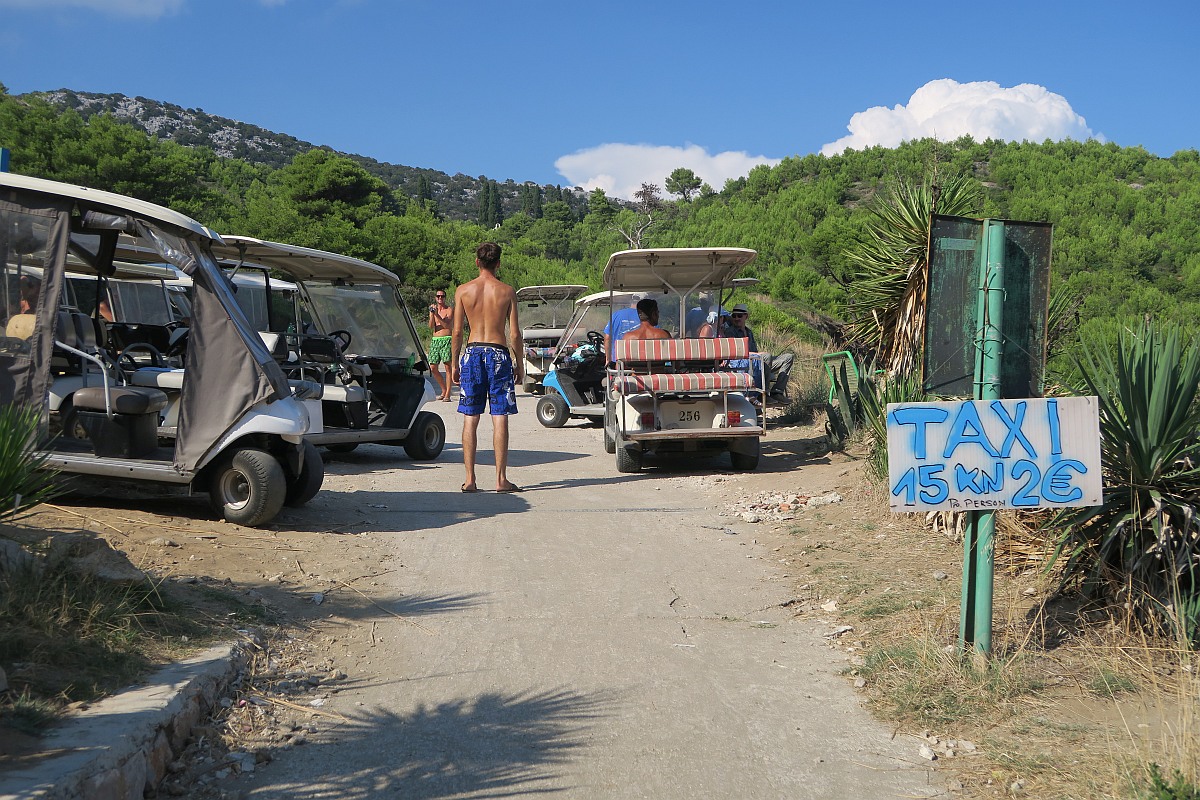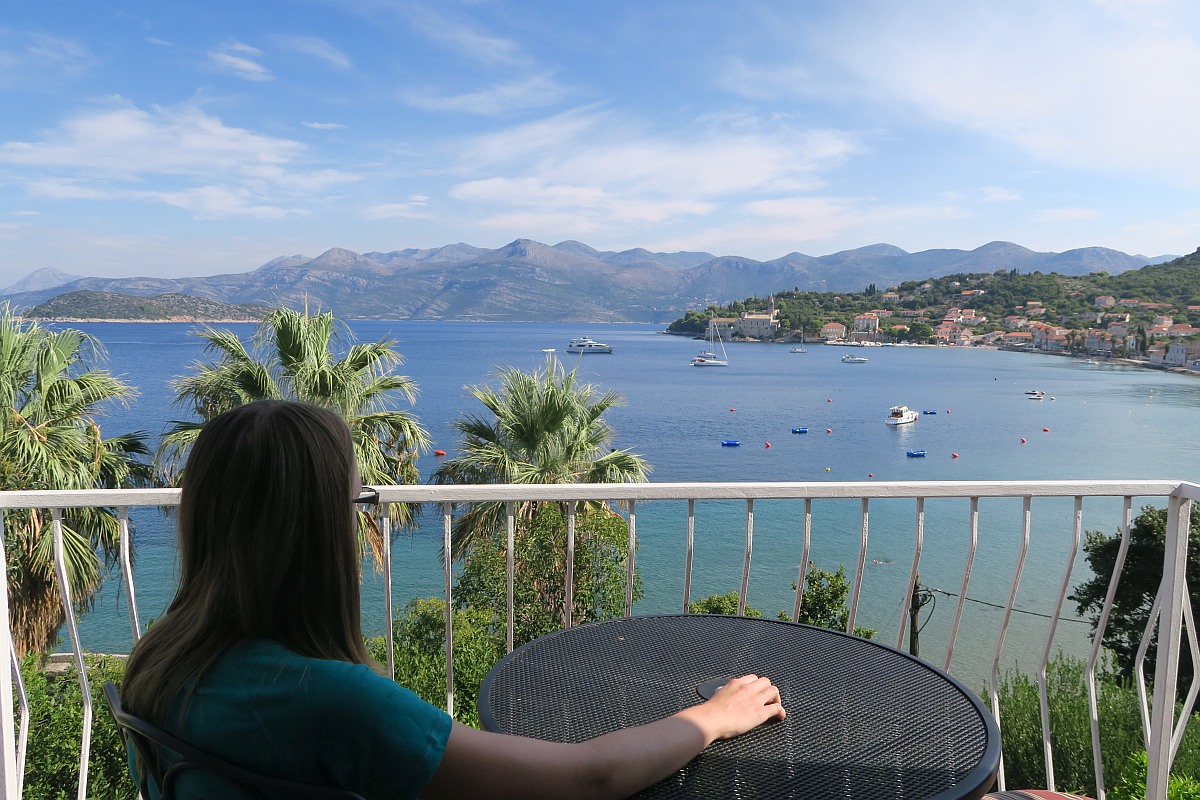 Sipan: We spent 3 nights here during our kayaking trip. This island is bigger than the other two and has cars. It is a 10-minute bus journey from Sudurad where the ferry terminal is to Šipanska Luka, which is the biggest town on the island. However, our base was in Sudurad, which had more limited restaurant and shop options as Lopud. Only one small shop with not much choice and 3 restaurants, which were nice. The beach in Sipan was rocky, which I prefer over sand. It was the best place for snorkelling on our whole trip in Croatia. We saw many interesting fishes, sea cucumbers, sea urchins and shells.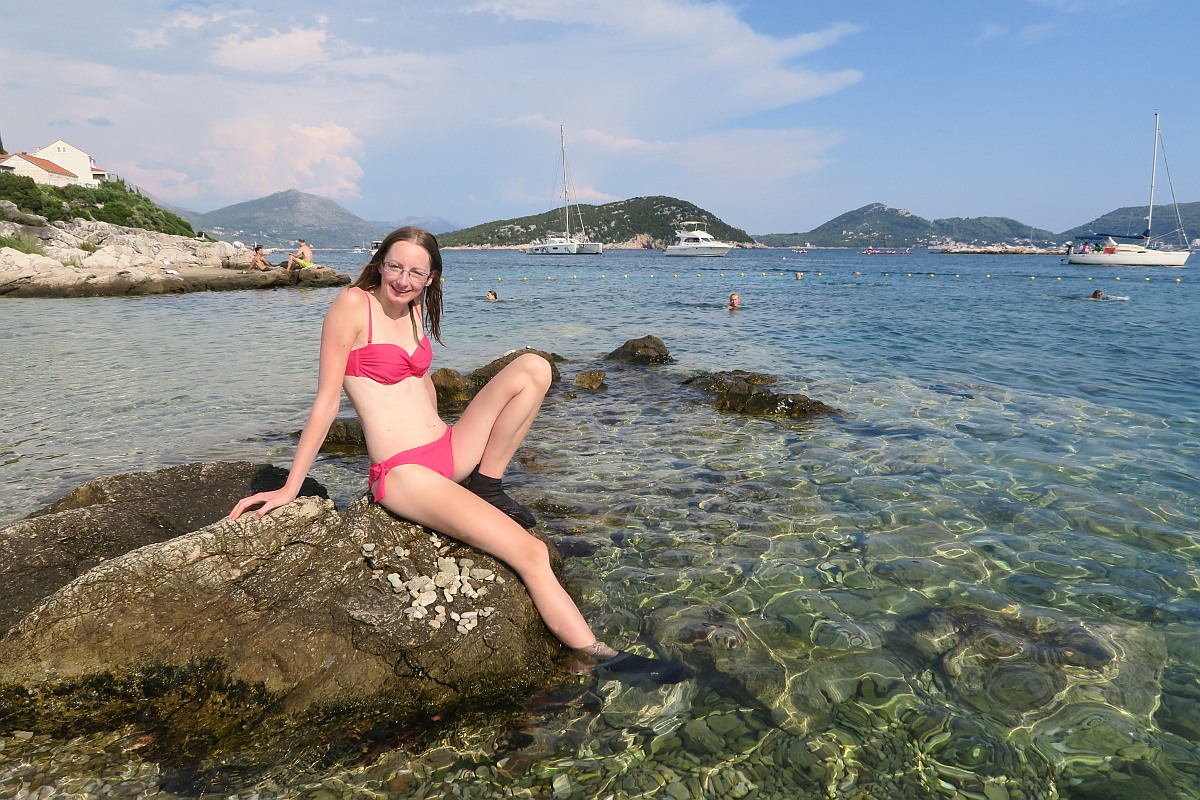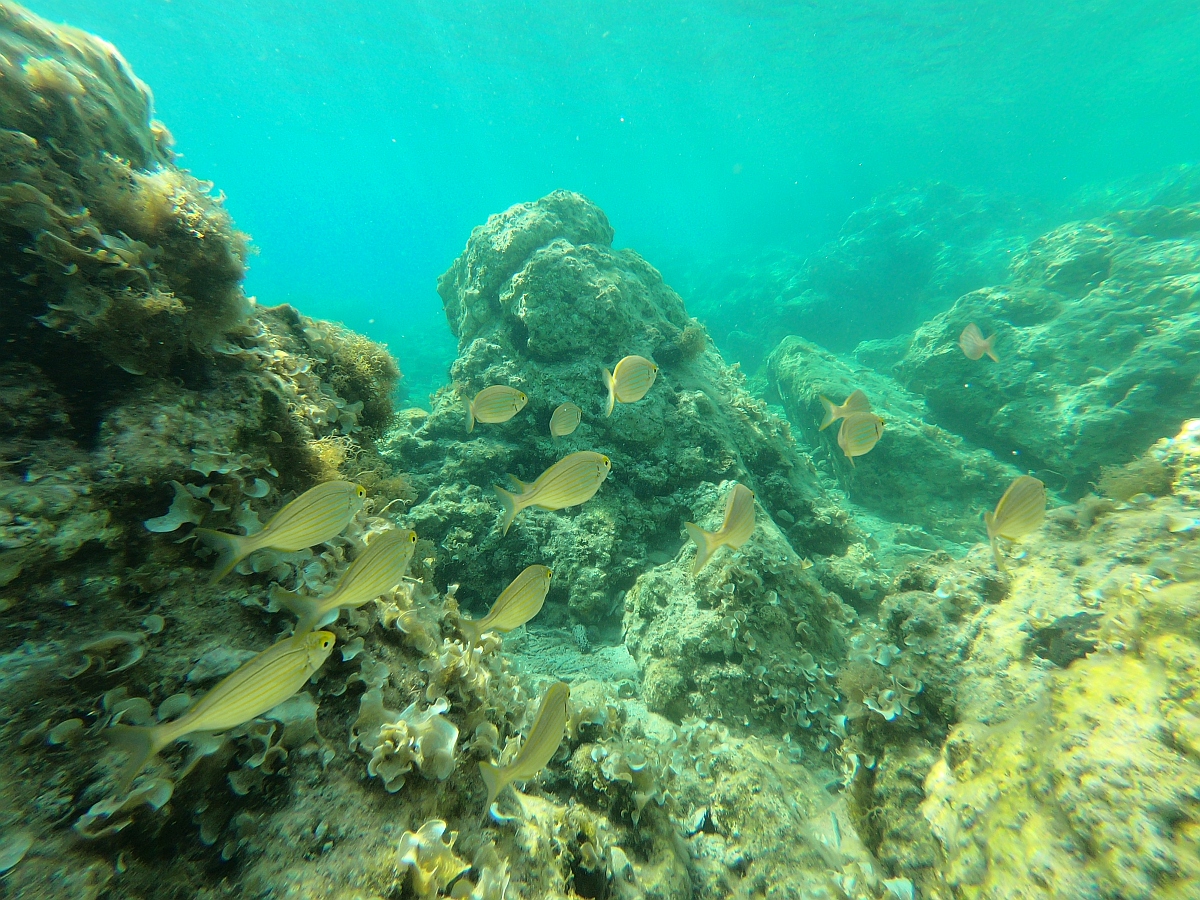 During this trip, the main activity was kayaking, but we also had lots of free time for swimming and exploring.
Day 1: The company will arrange transfer for you from the airport. If you arrive early you can spend the day discovering Dubrovnik before heading to Lopud island by ferry. The company will help you with your luggage and getting to the ferry terminal. Most of the group took the ferry from Dubrovnik at 6:15 pm. Our guide waited for us at the port on Lopud and showed us our accommodation. Most of the group had dinner together at a restaurant, so we could get to know each other a bit, however, this was not obligatory, and people who were tired or already eaten could relax and stay in their rooms.
Day 2: We met at the beach at 10:15 am where we could all choose our kayaks. We had the option to choose a double kayak or single kayak. All of them were closed pit sea kayaks with storage and the spraydeck, dry bag, buoyancy aids and paddle were provided by the company as well. Our guide, Luka gave us some tips about how to paddle and soon we were ready to go. To ease into kayaking there was "only" 6 km distance we had to cover on our first day. The destination was the other side of the island, Sunj Beach. I was quite behind from the group, which wasn't really surprising as I am not the strongest paddler, however, Luka reassured me it was not a problem and not to worry, just take it easy! The scenery along the way was beautiful and we even paddled into a cave, which was a cool experience. Soon we arrived at Sunj Beach. Some walked back to our accommodation to have lunch there, however, most of us stayed and headed straight to a restaurant to have our well-deserved lunch. Later we had the option to extend kayaking by 7 km and head out to a nearby island, however, most of the group didn't fancy it, and then Luka decided not to go with only a few people who were interested. There was a lot more kayaking ahead after all in the next few days! So the afternoon was free activity. Me and Tom stayed at the beach and had fun playing in the water with our ball and going snorkelling. This was the first sandy beach we came across in Croatia, so I could show off my hand standing in water skills! The water was so shallow and warm, that it was really nice to just sit in the water and relax.
Paddling distance: 6 km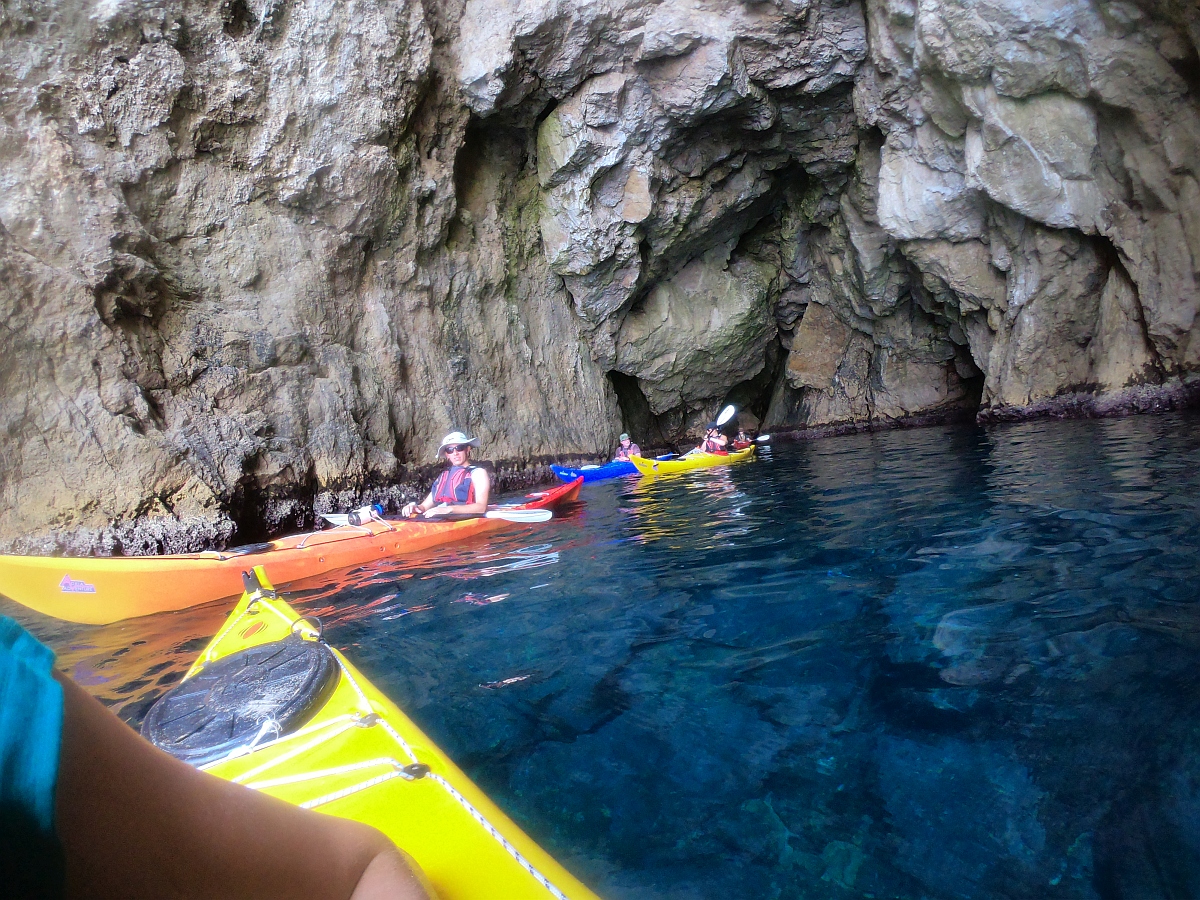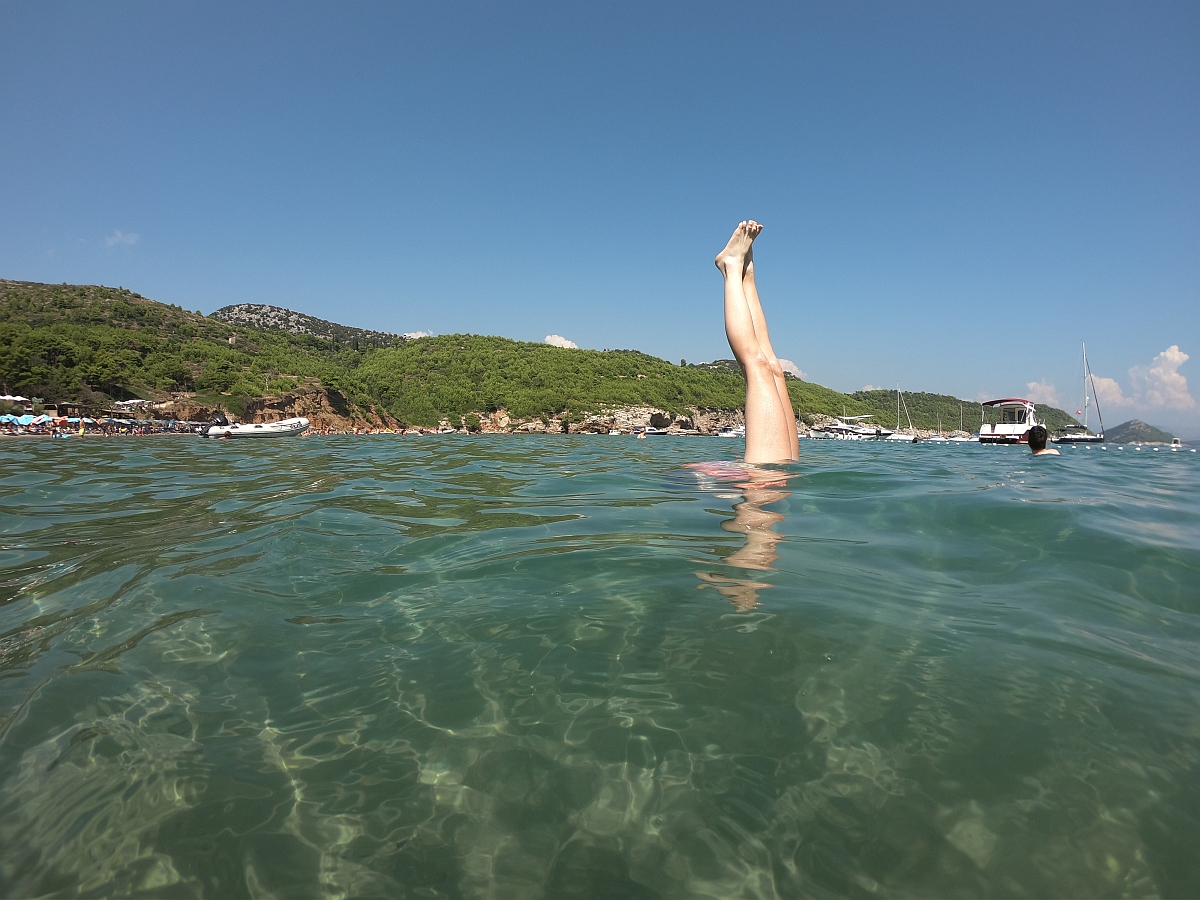 Day 3: In the morning we took a 20-minute leisurely walk to Sunj Beach, where we left the kayaks. The plan for the day was to paddle around Kolocep island have lunch there and then come back to Sunj Beach. The weather was a bit windy today, so we had to miss out on the Blue Cave as the sea was too rough for it. The scenery along the way was lovely so it wasn't really an issue. After around 9 km of paddling, we arrived at our stop on Kolocep island, where we had a table booked for our group in a local family owned restaurant. After our tasty lunch, we had about 45 minutes of free time to go for a swim and relax. Luka proposed a new plan for us: paddle back all the way to our accommodation instead of Sunj Beach. This meant a long way, but a more relaxed trip the next day. We all went with the idea and were prepared for the long paddle back to Lopud without any stops. On the way, it was clear that a storm was ahead of us. The dark clouds, waves and lightning looked intimidating and cool at the same time. At first, we enjoyed snapping pictures of these elements. However, as we were heading into the storm the wind got worse and I found it trickier and trickier to keep up with the group. The whole group was quite spread out at this point as we were all struggling. Luke stayed behind with me for a while to give me some paddling tips, however soon one of the group members capsized at the front from a big wave and Luka had to go and help him. At this point, we all just assumed to stay put until we could see what the next step was. I was just trying hard not to capsize myself and stay in one place while keeping my eye on the closest group member I could see. We waited quite a while until our group member managed to get back in his kayak with Luka's help. They all started to paddle back towards me as any other option was out of the question. The wind at this point was too strong for us to paddle towards our accommodation. We headed back to Kolocep island and landed in the main town where the ferry port was. The company was true to its name "Adria Adventure". Thankfully neither of us panicked and we were all cheerful after the adrenalin rush and had a good laugh about it. I think it is important to have an adventurous spirit if you are planning to go on a kayak trip as things often don't go according to plan. Weather can turn bad, someone might capsize, get sunburnt, or step into a sea urchin. With a positive attitude, you will have a great time! Don't forget, the best stories are always about events when things didn't go according to plan.
We took the ferry back to Lopud and it wasn't long before dinner.
Paddling distance: We ended up paddling 18 km this day. You can see on the map, we got quite far, but it was just not possible to go any further due to the wind.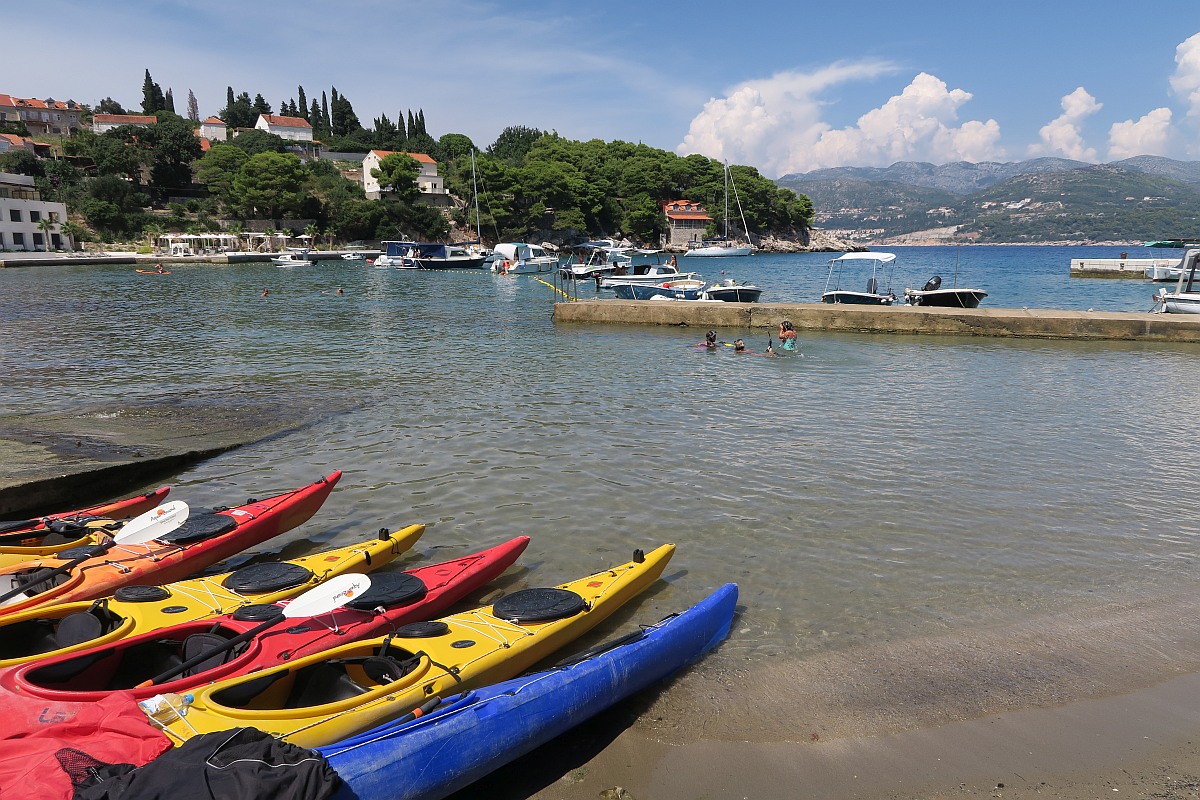 Day 4: In the morning we met at the port on Lopud and took the ferry to Kolocep where we left the kayaks the previous day. The original plan would have been to paddle to the mainland to Trsteno Arboretum, where they shot many Game of Thrones scenes, but since the weather wasn't great, Luka didn't want to risk getting caught in another storm. So we had a short relaxing paddle back to our accommodation on Lopud. We didn't mind it, as we were quite exhausted after yesterday. We arrived back around lunchtime and it was free activity to everyone. Me and Tom had lunch in a restaurant, then explored a local park called Park Đorđić-Mayneri.
Paddling distance: 7 km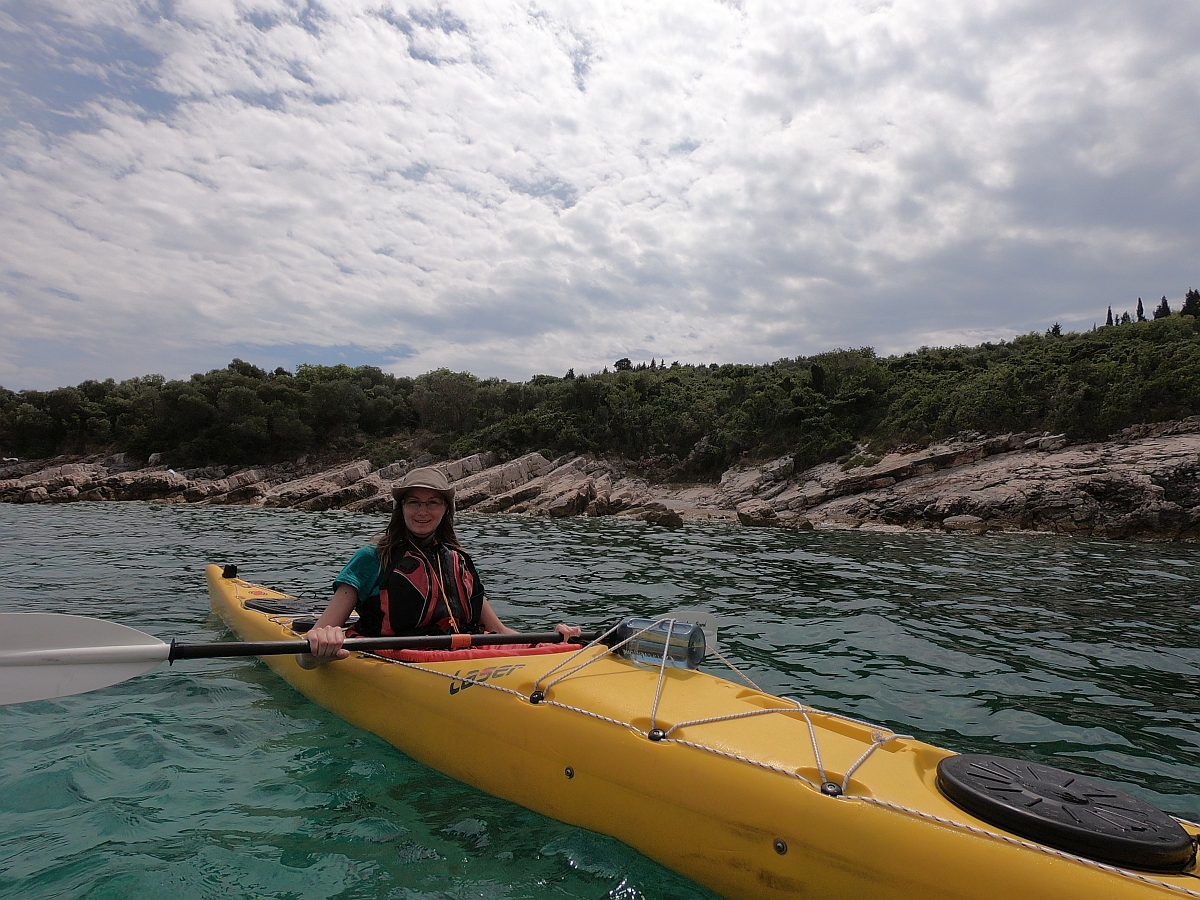 Day 5: Sadly today we had to say goodbye to this lovely island of Lopud. However, there was a new place waiting for us to be explored: the island of Sipan. Luka and another guide assisted us with luggage transfer and ensured that it arrived safely to our accommodation in Sipan.
Today a small group of two and another guide joined us as well for the rest of the week. We had great conditions for paddling as we had backwind, so even though we had to cover a big distance, it wasn't exhausting for me at all. I really enjoyed surfing the waves pretty much all the way. There was even a cool arch we could paddle into on the way. When we arrived at Šipanska Luka some people had lunch together in a restaurant, but me and Tom and another couple enjoyed a packed lunch that we took. Then we spent some time wandering around the town eating ice cream before taking a 10-minute bus ride with the whole group to Sudurad, where our accommodation was.
Paddling distance: 12 km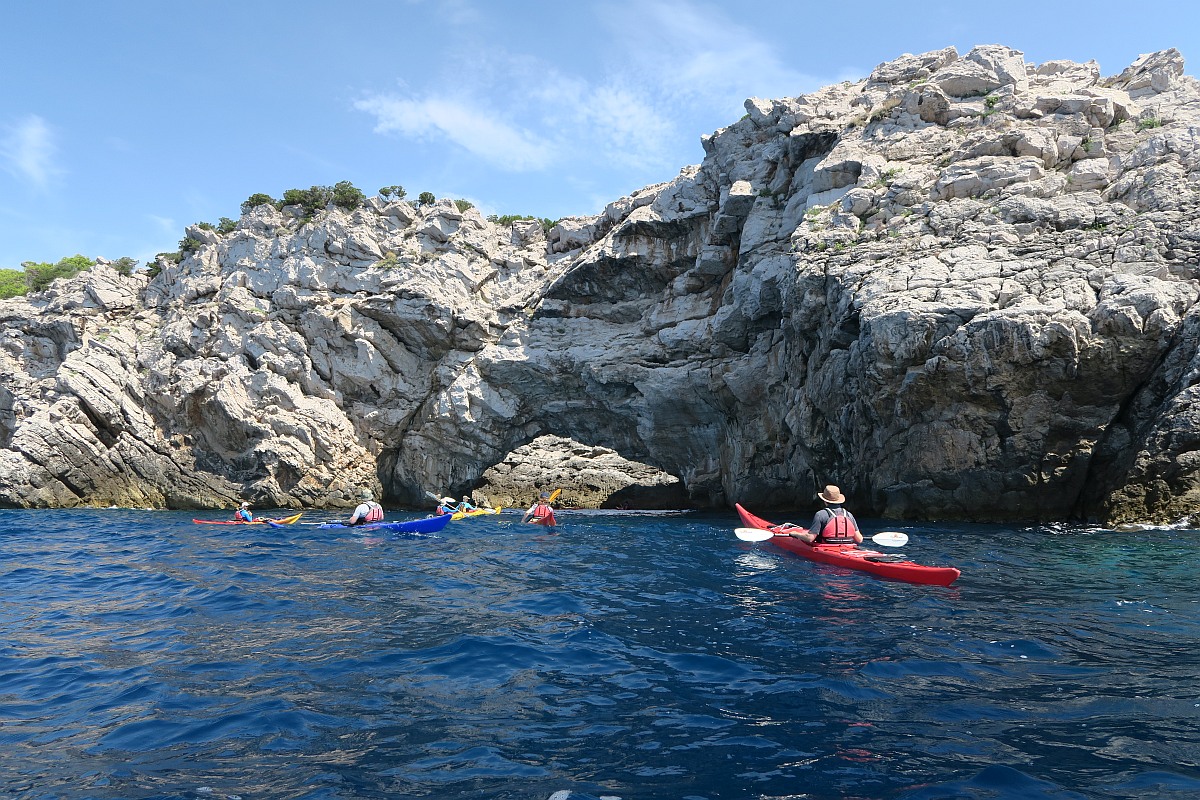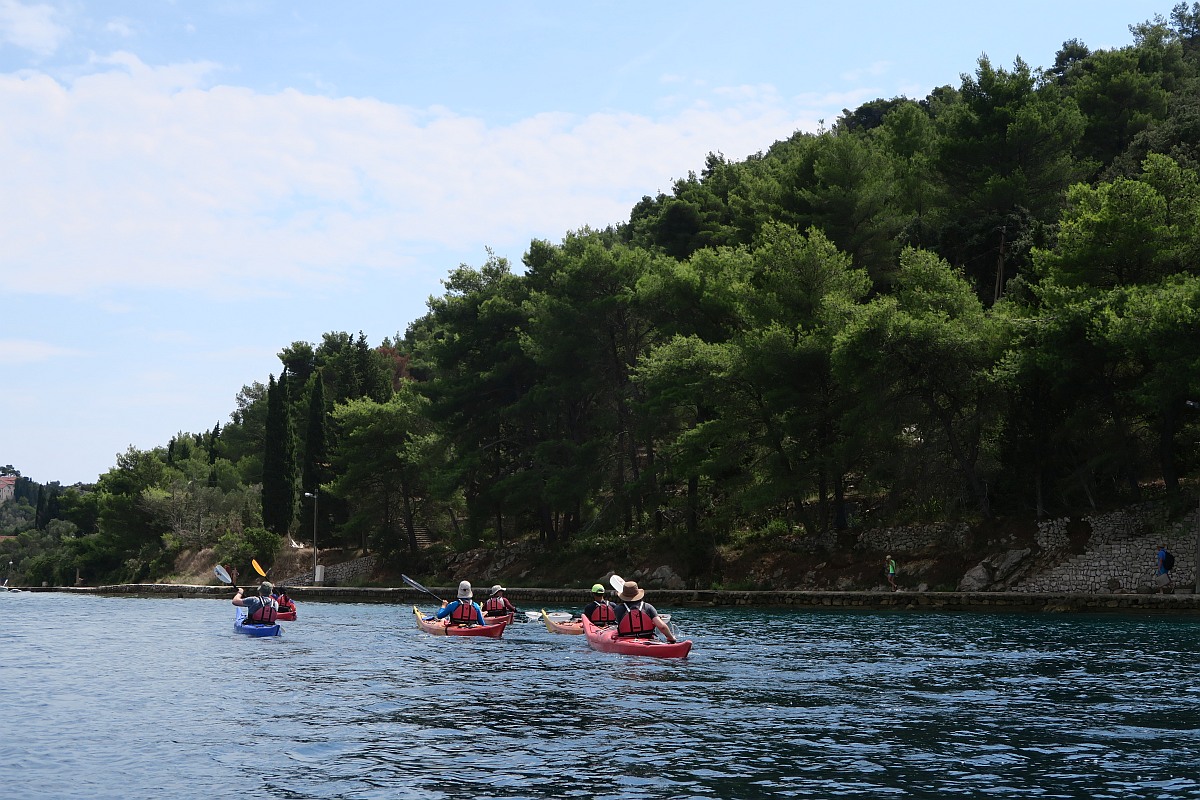 Day 6: In the morning the group met at the bus stop to go back to Šipanska Luka, where we left the kayaks. We had a long journey ahead, so we asked to make a swim stop half way. Our guides knew a nice place, which was perfect. We spent 20 minutes there, snorkelling, swimming, sunbathing and those that brought a snack with themselves could fill their belly to gain some energy. Soon it was time to leave. The rest of the journey was a bit tiring, but the scenery made up for it. We arrived back to Sipan around 2 pm and some of the group members wanted to practise some kayaking skills. The guides left, but they let us use the kayaks at the beach, as long as we put them back after. This was a good opportunity to have a go at Eskimo roll, with not much success!
Paddling distance: 15 km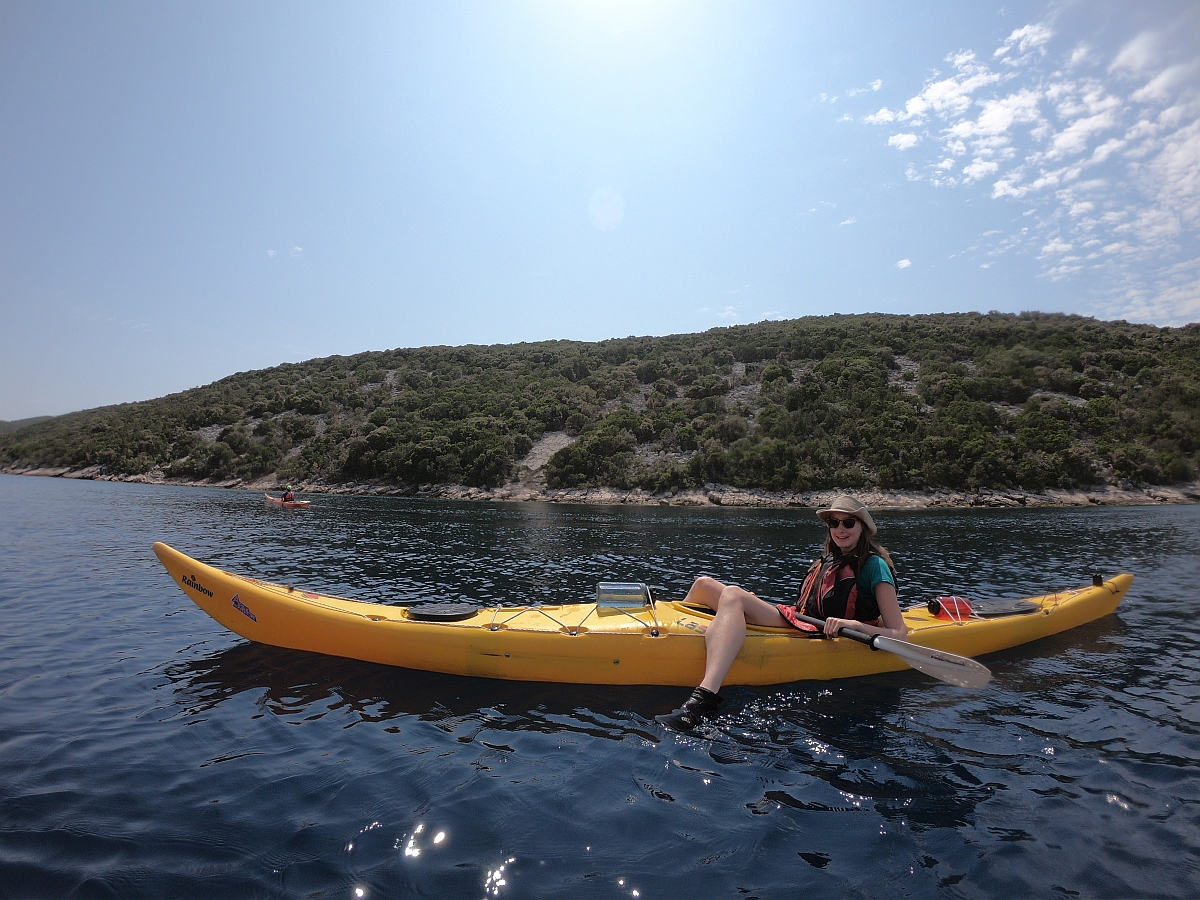 Day 7: Our last kayaking day turned out to be my favourite. What not to love? We didn't paddle a huge distance this day, so didn't get too tired. We explored a hidden underwater cave and did cliff jumping! When we arrived at the Green Cave no one was there apart from us. We rafted up the kayaks next to each other and we got snorkelling masks from the guides to dive into the cave. Luka assisted us with this. He went first and then made sure that we don't hurt our head in a rock as coming up from under the water. The Green Cave was the highlight of the week-long kayaking trip around the Elaphite Islands. It was such a cool experience to swim into the cave and then spend time in there. At first, it was really dark, but our eyes adjusted in a few minutes and we could see clearly. We had some fun here taking underwater selfies and attempting at some rock climbing from the water. Once we left the cave there was some more fun time ahead. We decided to do some cliff jumping. A week ago after long, long hesitation, I jumped from a 5 m cliff on a rafting trip in Omis. Here the cliff was about 3 m, which was way more fun for me, as it was less scary. The brave could climb up a bit further as well and attempt a jump from there. Soon another kayaking group turned up and we left as it was starting to get rather busy. We paddled around a tiny island called Ruda, which had a small cave to kayak into. We got back to our base Sipan around 2 pm and the rest of the day was free activity.
Paddling distance: 6 km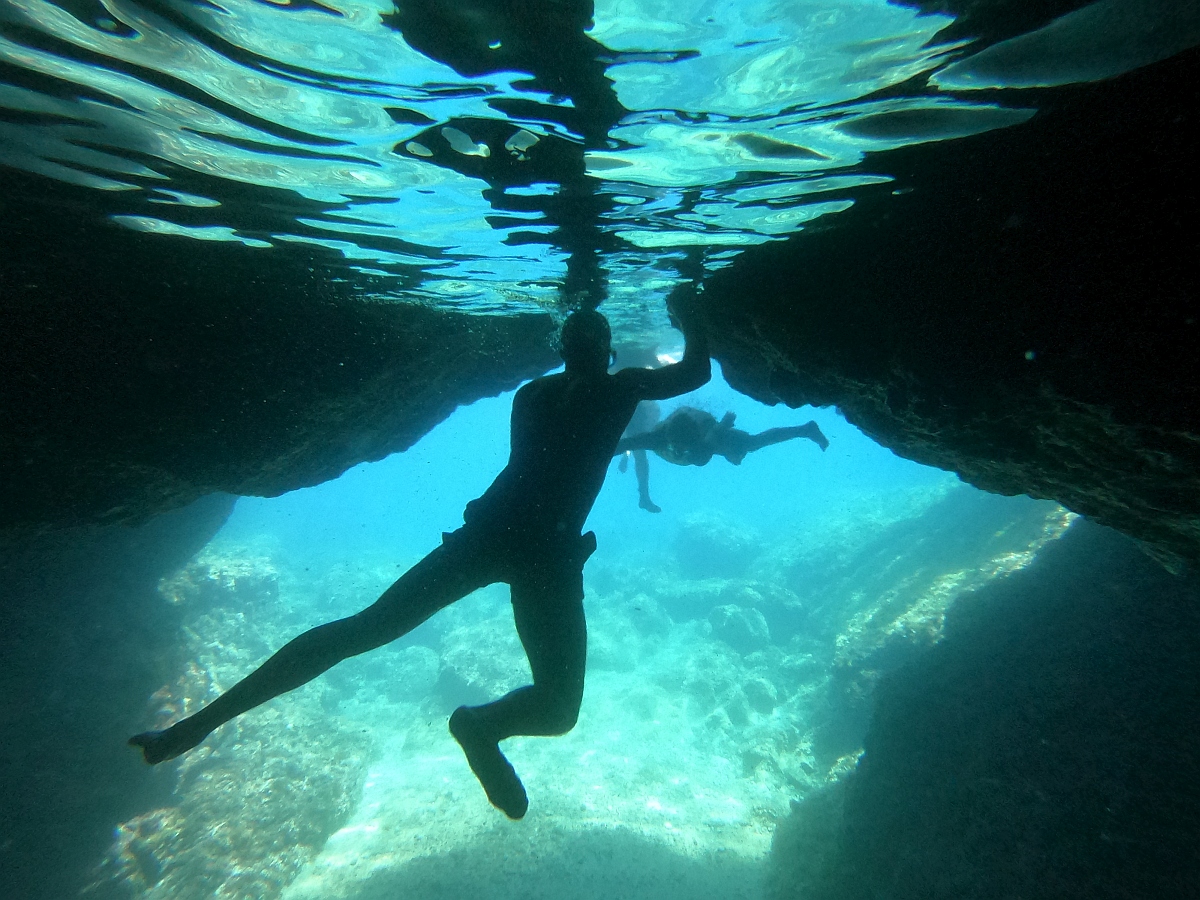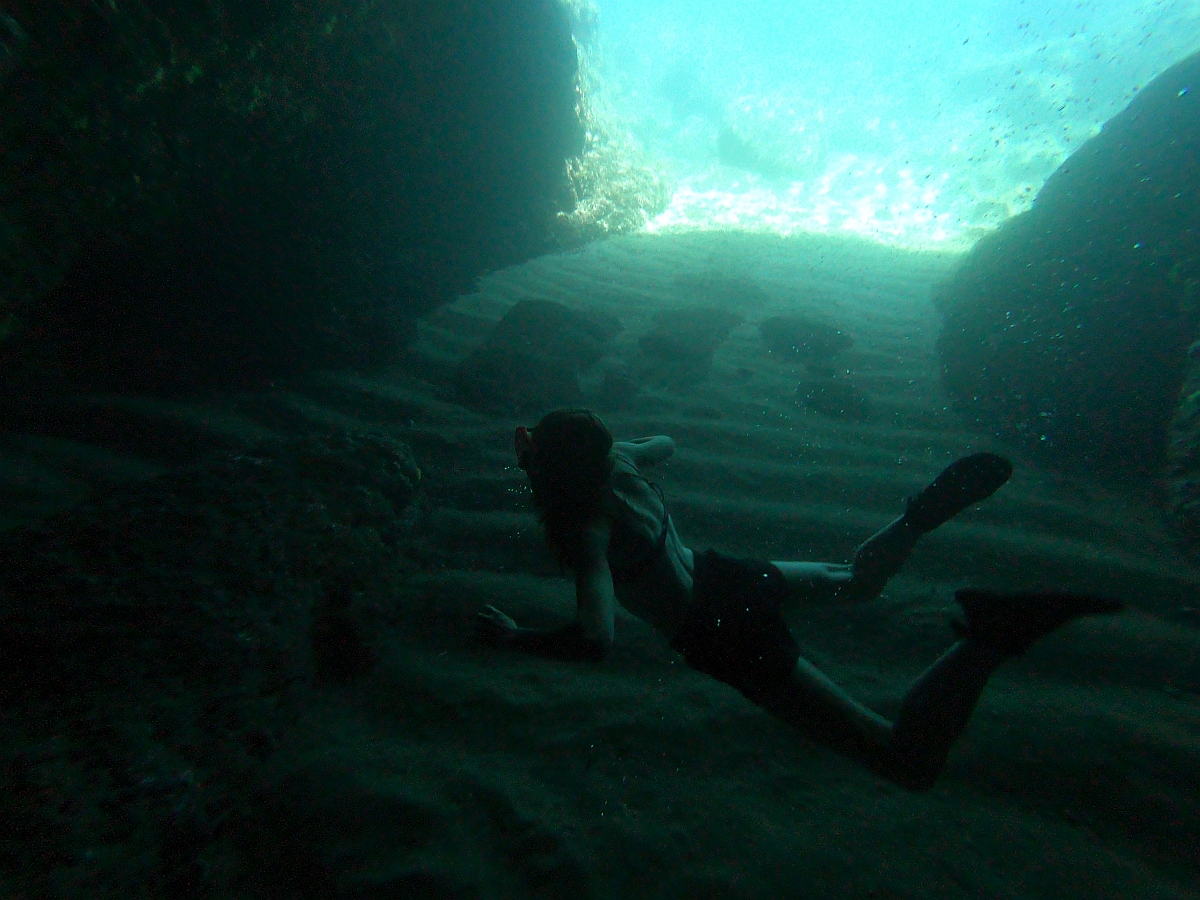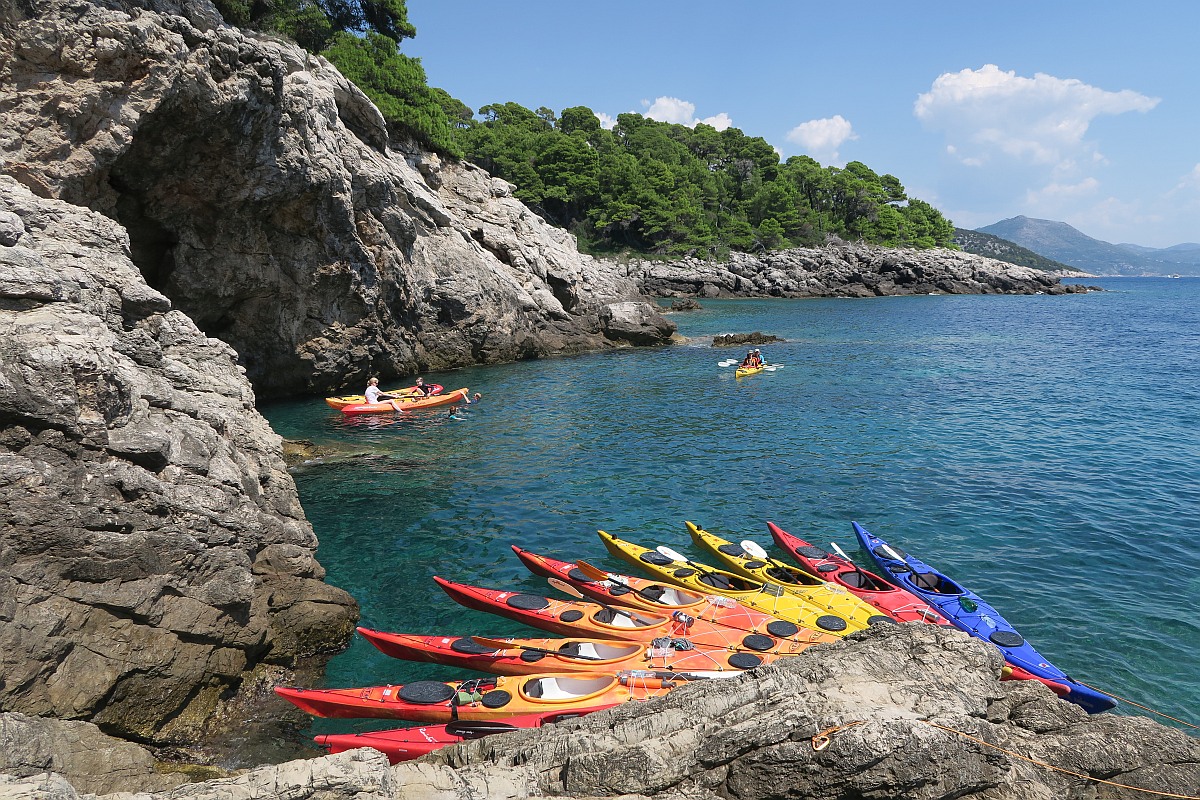 Day 8: Depending on what time people had their flights they took the ferry back to Dubrovnik and then got a transfer by the company to the airport from the ferry port.
Price: The trip costs €785 per person in high season and there is a €120 single room supplement.
What's included:
7 nights accommodation in family-owned B&B (4 nights island of Lopud, 3 nights island of Sipan)

7 breakfasts

2 dinners

1 lunch

Transfers by minibus and boat with assistance

English speaking guide

Kayaks with the equipment
Who do I recommend this trip: I think if you are a complete beginner who's never been in a kayak before, this trip might not be for you, as some days we covered big distances. Paddling moves different muscles than what you might be used to and you will probably end it with muscle pain. Adria Adventure offers shorter trips as well, which might be more suitable for you. That way you can see if this is for you or not.
I didn't have a massive amount of kayaking experience either. I would recommend this trip if you have tried kayaking before a few times and enjoyed it, but you don't yet have the confidence to go without a guide, or you simply enjoy meeting new people and paddle as part of a group. I would also suggest the trip if you want peace of mind, as the company will take care of everything for you, including transfer, logistics of kayaks, luggage, accommodation, etc… You should have a good attitude and love for the outdoors. The scenery along the way is beautiful. Now that I am back in London I miss those sunrises, mountain and sea views that greeted me every morning from our balcony. I miss the adventure of exploring new caves and wild bays. I can't wait for next summer to do some more kayaking!
Group: Our group consisted of 7 guest + a guide on the first 4 days and 9 guests + 2 guides on the last 3 days. Interestingly apart from one Aussie guy we all travelled for the trip from the UK and lived around London.
About the company: The company owner Ivana was always very helpful and quick replying to emails prior to our trip. This made me have great confidence in the company. Adria Adventure also tries to help the local economy by booking the guest into private accommodation providers, or small family owned hotels. This gives a more authentic experience. During the kayaking week, the meals that are provided are in small family owned restaurants, where ingredients are supplied from local fishermen and farmers. Responsible tourism is something I want to promote on my blog and I am pleased to say this company cares about the environment and the local economy.
Watch my short video about all the highlights of the trip!
Did you like this post? PIN it for later!
Disclaimer: We were guests of Adria Adventure, but as always all opinion is my own.
Enikő
Hey, I'm Enikő! I'm currently an au pair and I want to share my experiences with you. I've travelled a lot in the past years. I'm gonna teach you how to settle in to a new country and get free accommodation anywhere in the world. Circle Enikő on Google+!