Hiking Bonistock from Melchsee-Frutt, Switzerland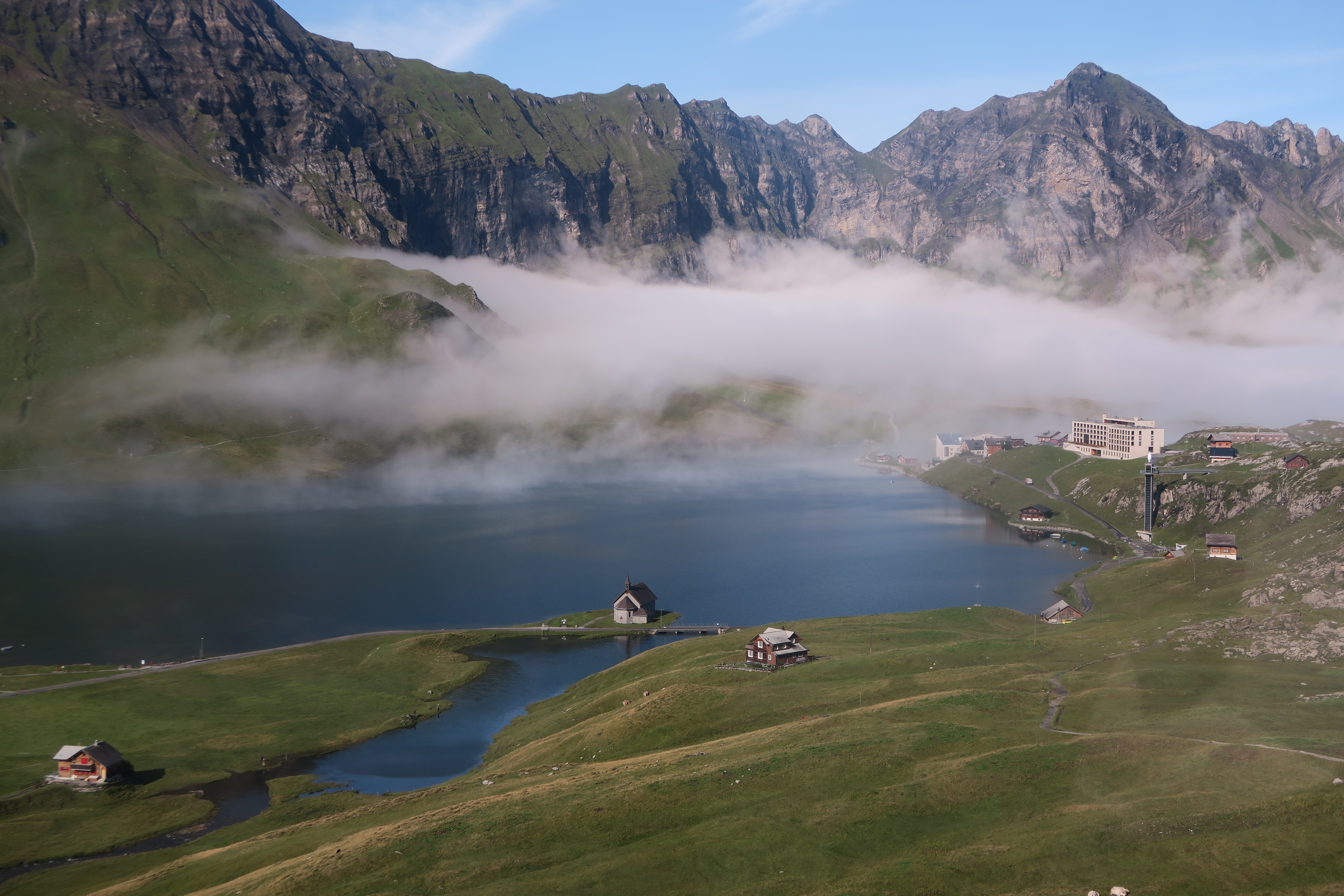 Most cable cars in Switzerland are really expensive, so during our 2-week holiday, we tried to go on hikes without using them. There was only one exception. Taking the cable car to Melchsee Frutt is really affordable and there are several hiking routes in the area. You will find some challenging alpine trails for the more experienced hikers, but there are several stroller-friendly walks as well with scenic views. Even the elderly or families with children can find some easy routes and you can hop on the Fruttli train if you get tired. We decided on hiking Bonistock and part of the 4 lakes walk. The area is a popular ski resort in the winter months, but in the summer it is very quiet and not busy at all. We only met a couple of other hikers and fishermen in peak season.
Hiking Bonistock
How to get there
By public transport:
Take the train to Sarnen. There is a regular service from most big towns. From Sarnen take bus 343 to Stöckalp. The bus drops you off at the cable car station. Then you can take the cable car up to Melchsee Frutt.
Parking:
Stöckalp: There is a huge car park next to the cable car station in Stöckalp. It is free in the summer period.
Melchsee Frutt: It is possible to drive up to Melchsee Frutt instead of taking the cable car. However, there are a few restrictions. You can only drive up on even hours (e.g. 8 am – 8:40 am) and downhill on odd hours. You will need to pay CHF 16 for the car park at Melchsee Frutt. Caravans and campers are not permitted on the mountain road. For full info see the website.
Cable car:
Prices:
A great promotion for families that all children under 16 can travel for free on the cable cars in the summer months.
For adults, I suggest getting the Day ticket for CHF 35.00. It is valid on the cable car from Stöckalp to Melchsee-Frutt, the cable car up to Bonistock from Distelboden and also the Fruttli train. This will save you a lot of money, as the train and Bonistock cable would cost a lot more extra individually.
Stöckalp – Melchsee-Frutt cable costs CHF 29.00 return. If you are confident you will hike all day without using any other cable car or train then go for this option.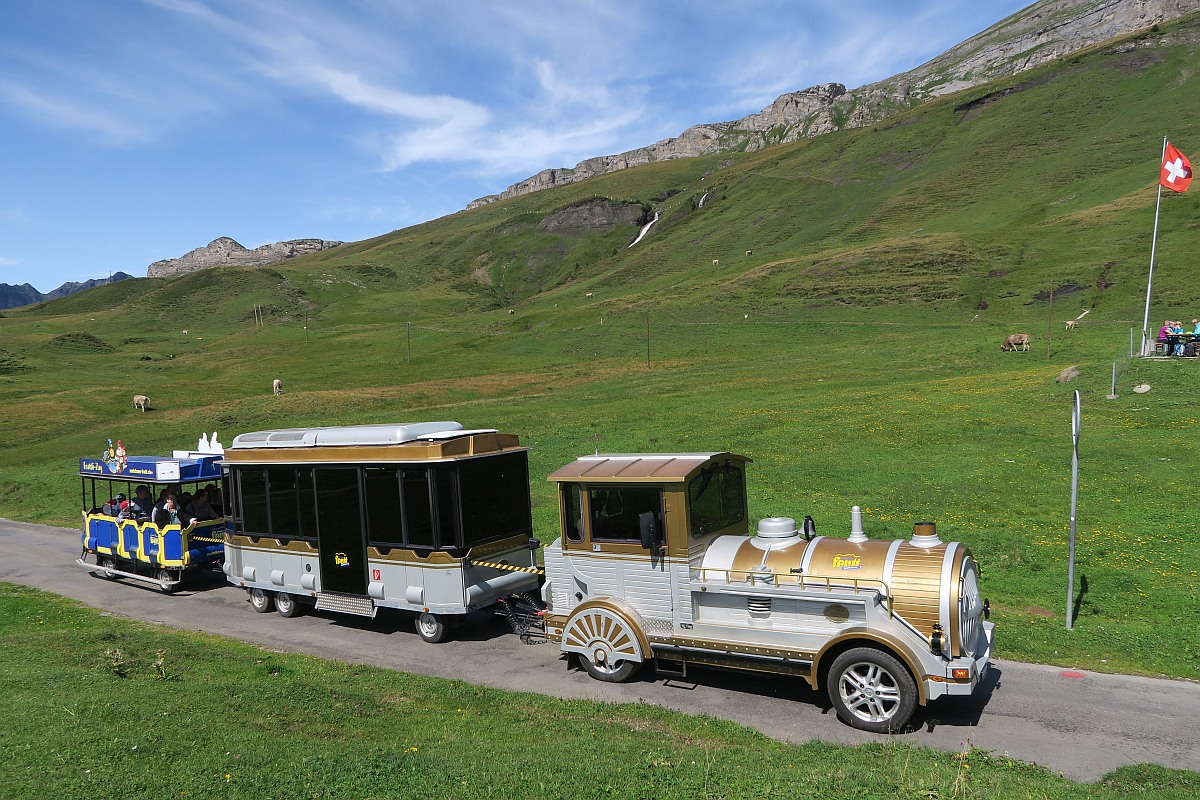 Bonistock hike
Once you took up the cable car to Melchsee Frutt you will arrive to a mountain resort. There are several chalets, holiday rentals and shops here, which are probably more popular in the ski season. You have two option to reach Bonistock: hike or take the cable car.
Hike: From Melchsee Frutt follow the signs to Bonistock. It is about 2 km to reach the top with 200 m elevation gain.
Cable Car to Bonistock: We decided to take the cable car up. We arrived about 8 am to Melchsee Frutt and there weren't many other people around that early. From the Melchsee Frutt cable car, it is about a 15-minute walk to Distelboden where the cable car is. Alternatively you can also take the Fruttli train if the timing is right. We walked and took about 30 minutes, as we stopped several times to take photos. The trail goes past Melchsee. There is a Panorama Lift, which is free to use and offers nice views from above. There are several other places you can stop to enjoy the scenery. You will come across picnic areas, benches, sunbeds, pedalos for rent, a playground and the Kapelle (cute, little church). Once we reached the cable car we just showed our ticket and the operator took the two of us up straight away. Great service. I got some of the best pictures of the day from the cable car!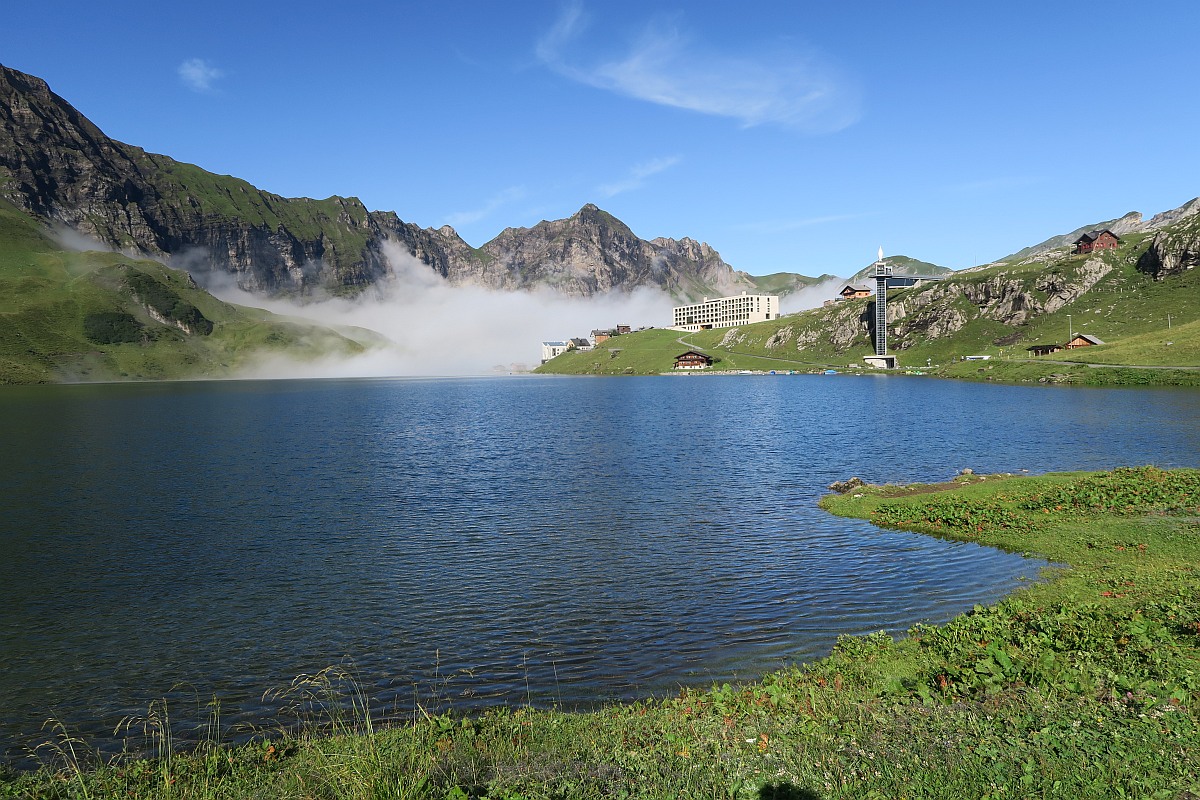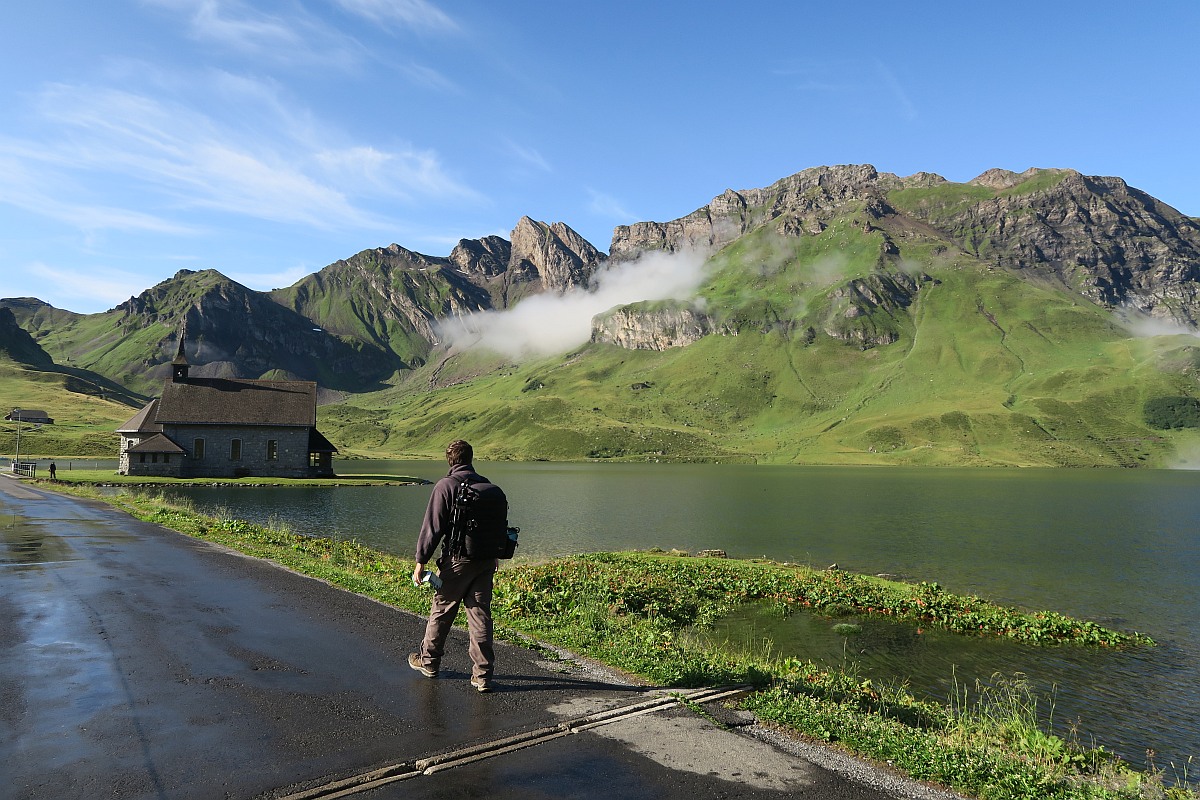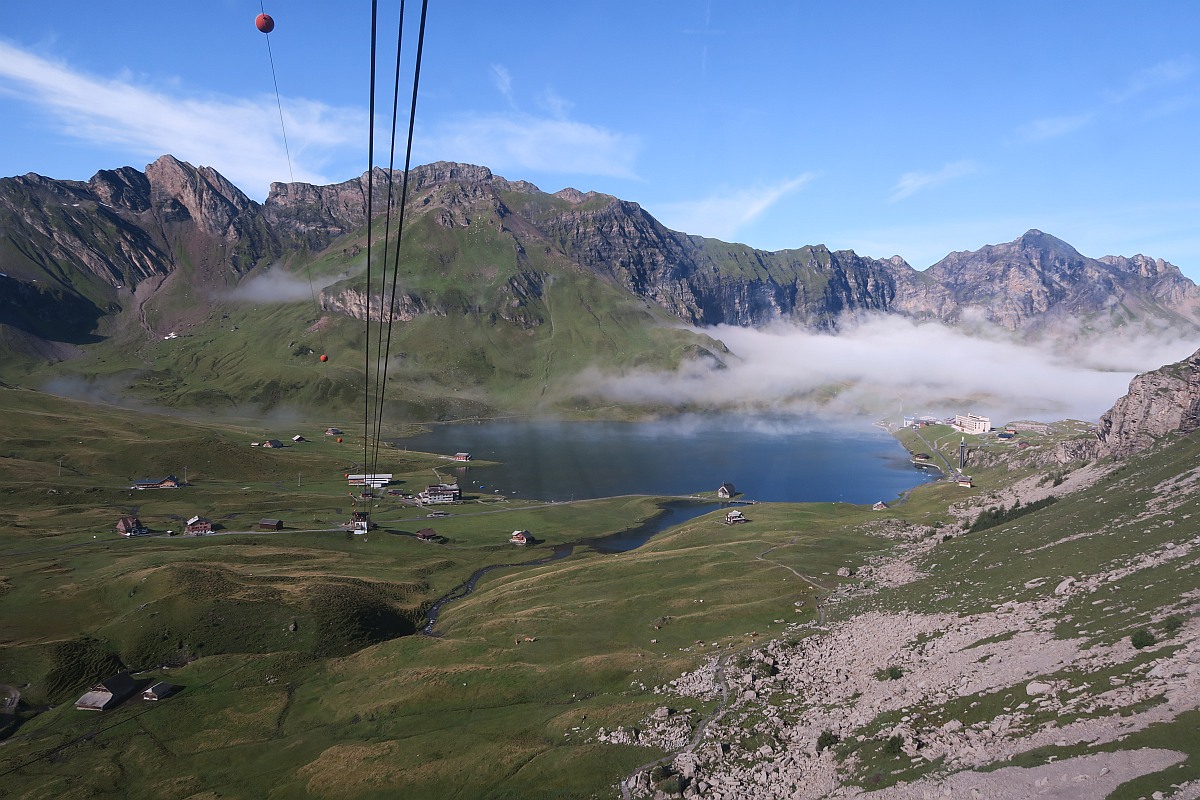 On top of Bonistock (2167m) there is a restaurant with lots of tables. You will get lovely views of the area. At the time of our visit, there was a really cool cloud inversion, which was interesting to experience. We decided to hike down along the ridge to Tannalp. We did a few more dangerous ridge hikes in Switzerland already like the hardergrat trail or Arnigrat. The one from Bonistock, wasn't very exposed, so even families with children could do it. It offered nice views to Melchsee, Tannensee and we could even see as far as Engstlensee. Soon the trail went downhill towards Tannensee. We got really lucky here, as we could see a newborn calf. It could barely walk and was still covered in mucous. I managed to snap a few pictures. It was a really special experience.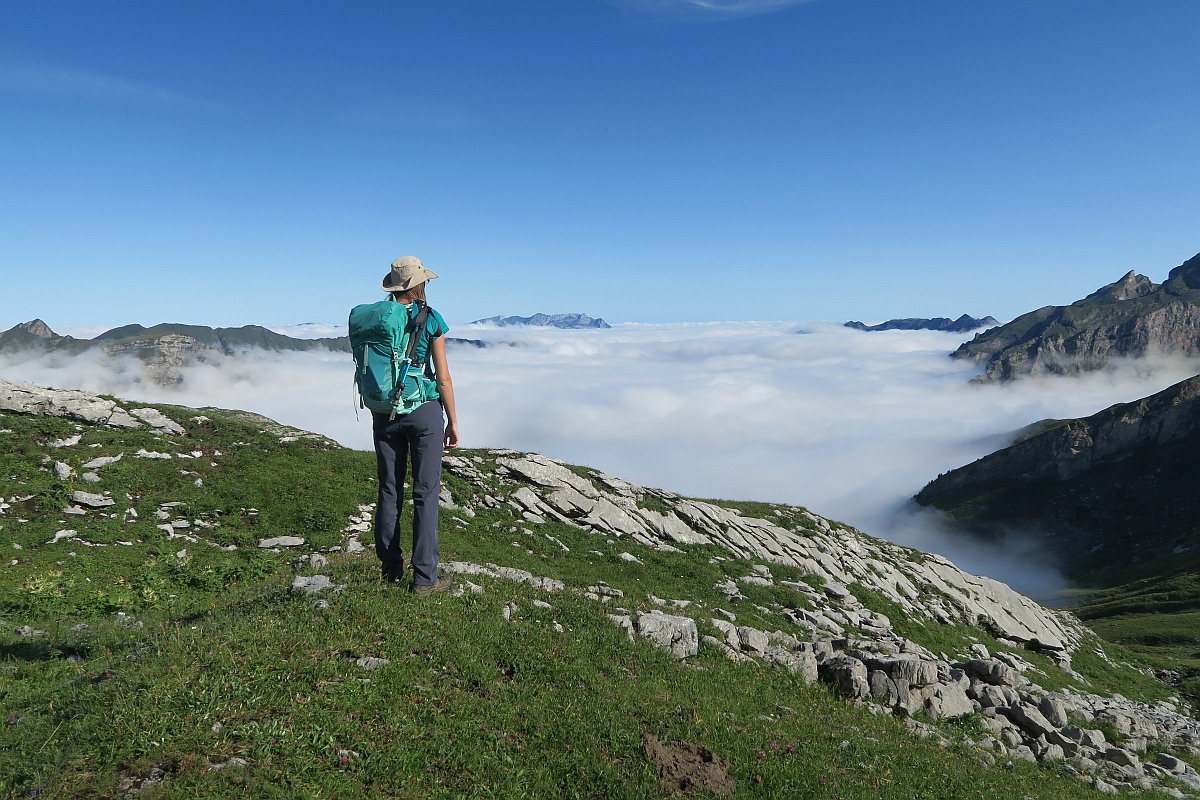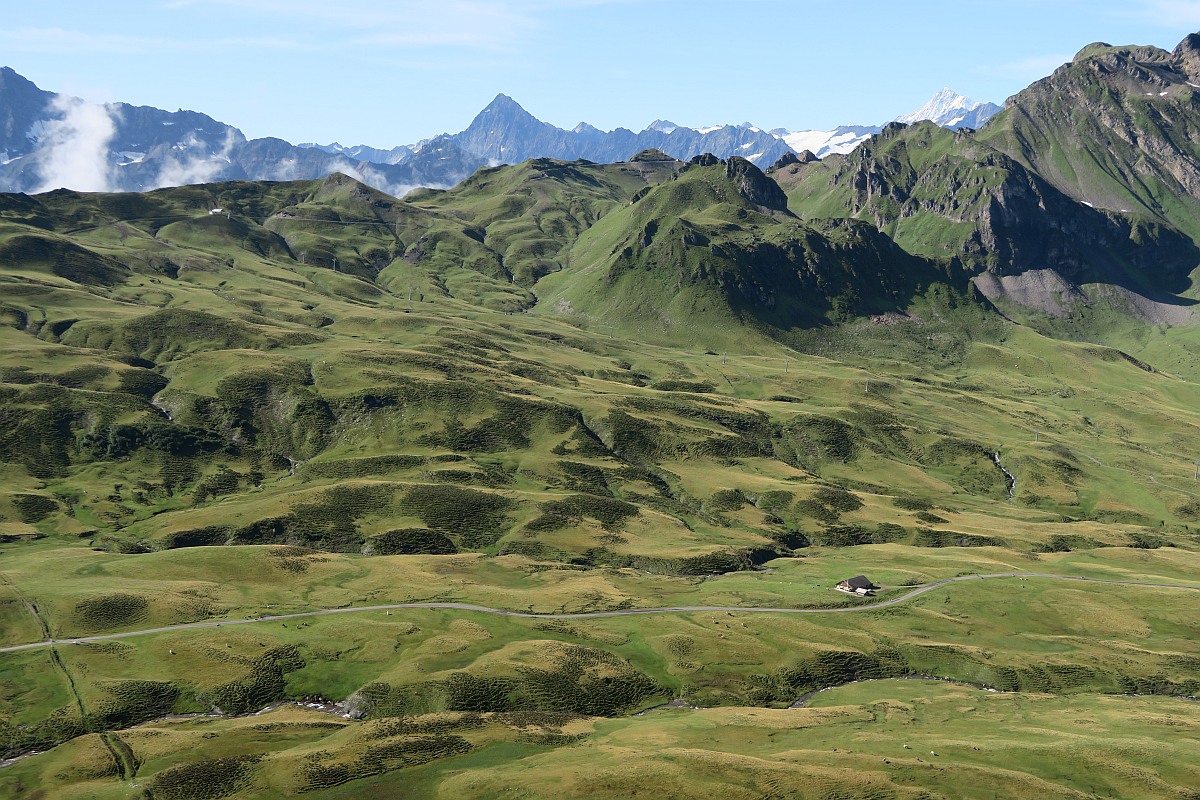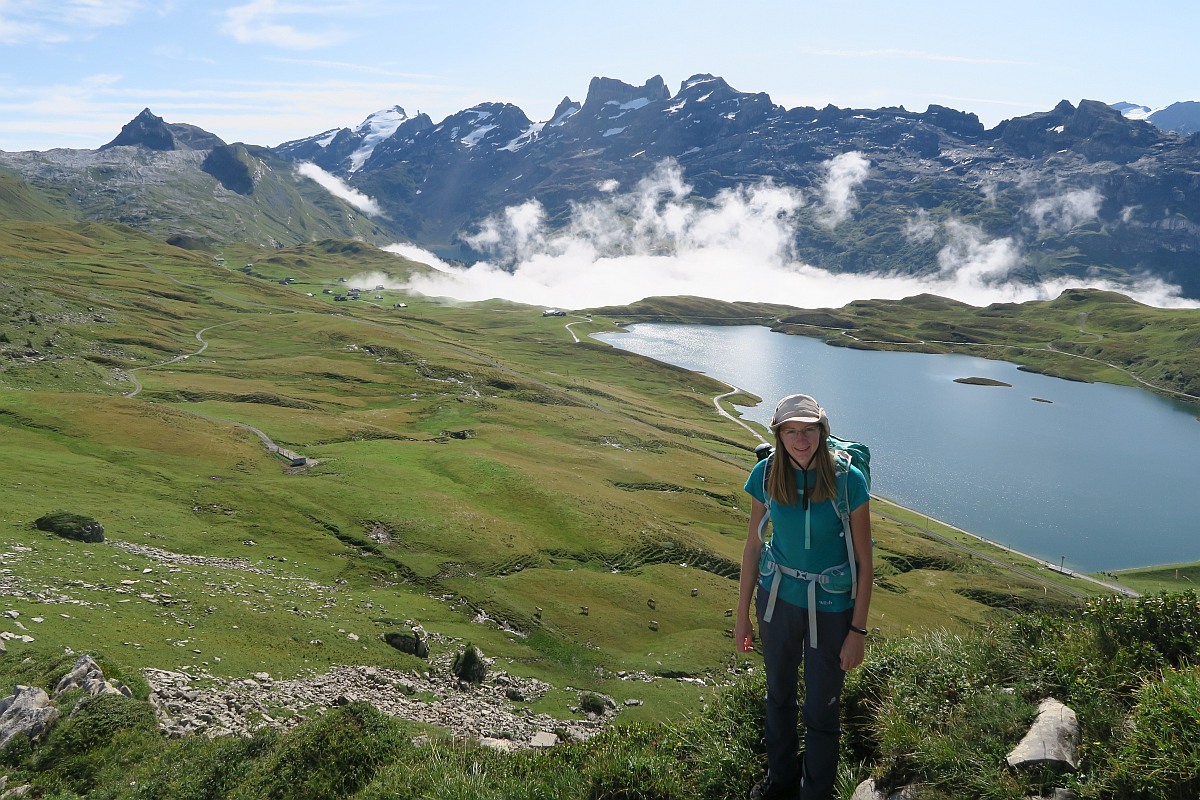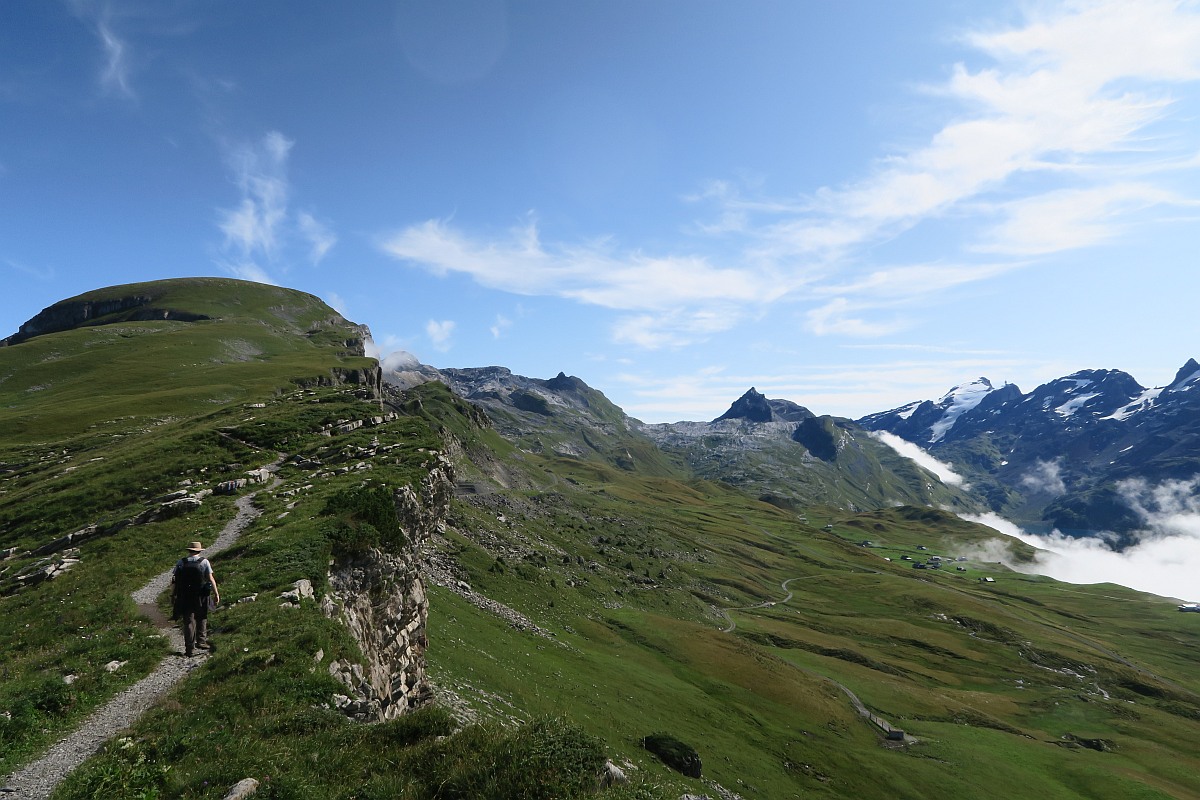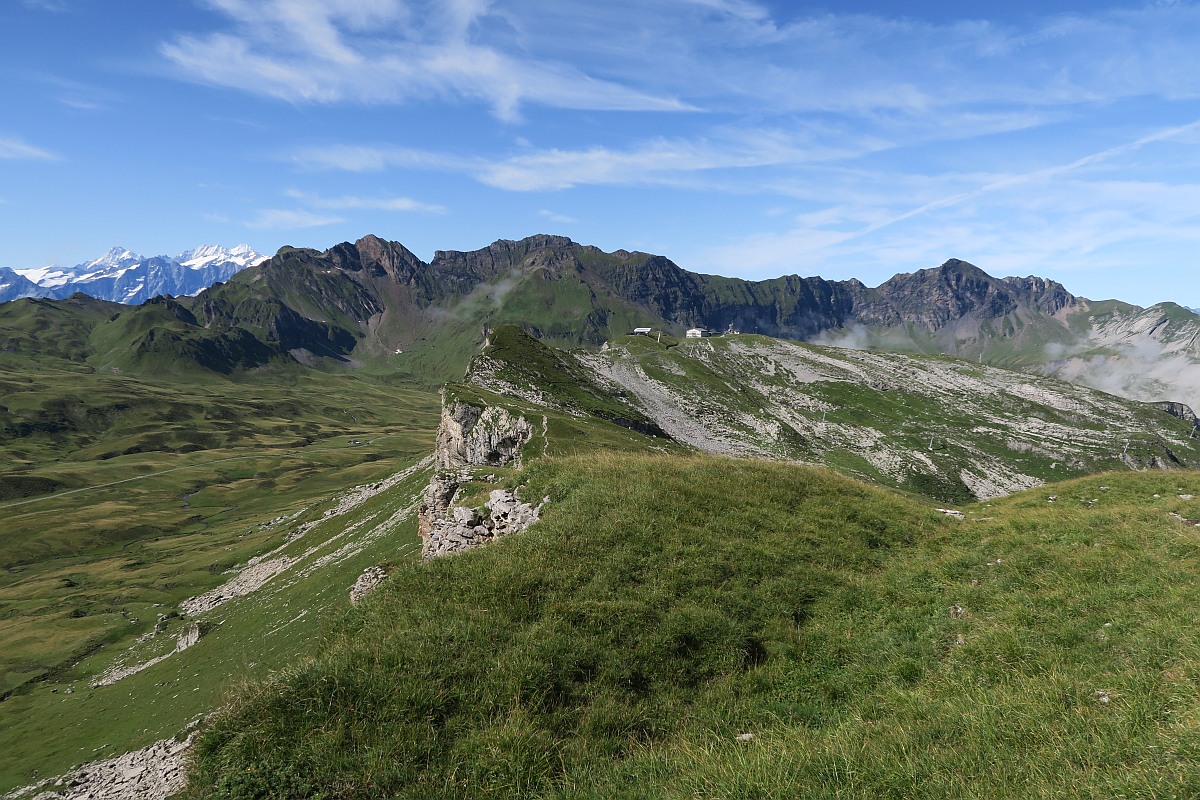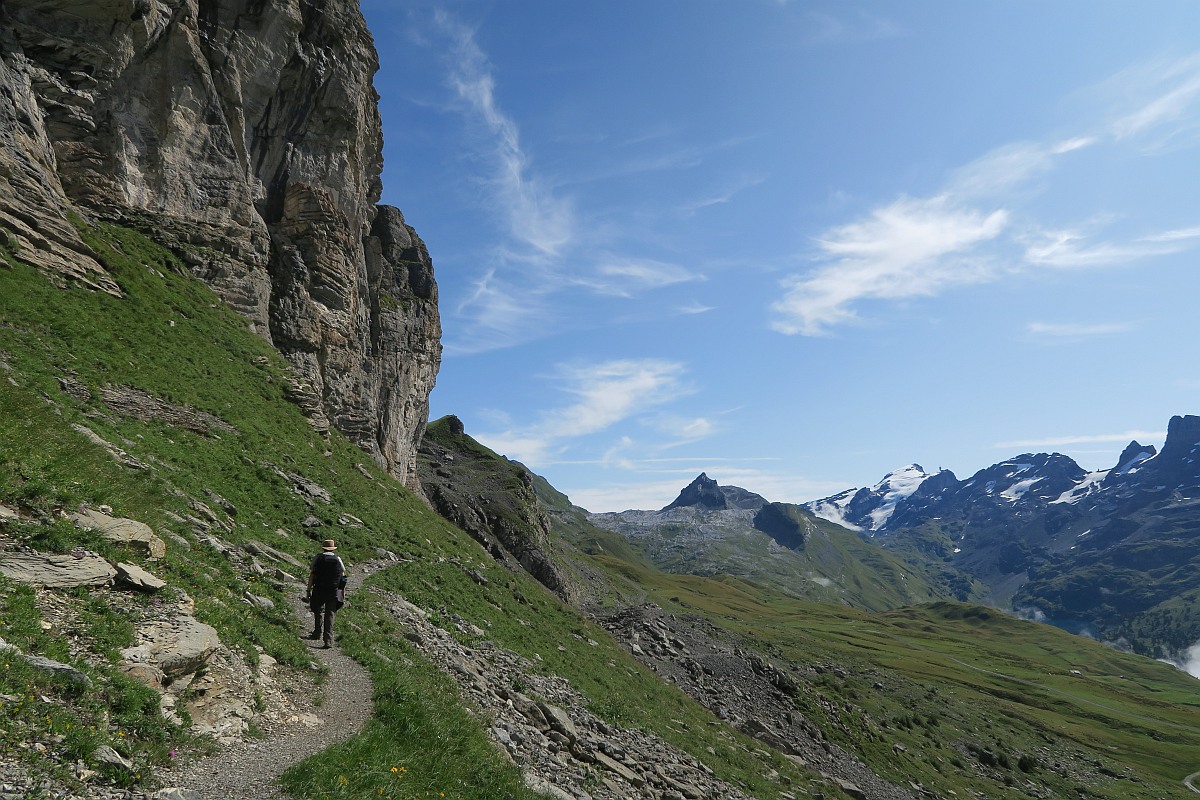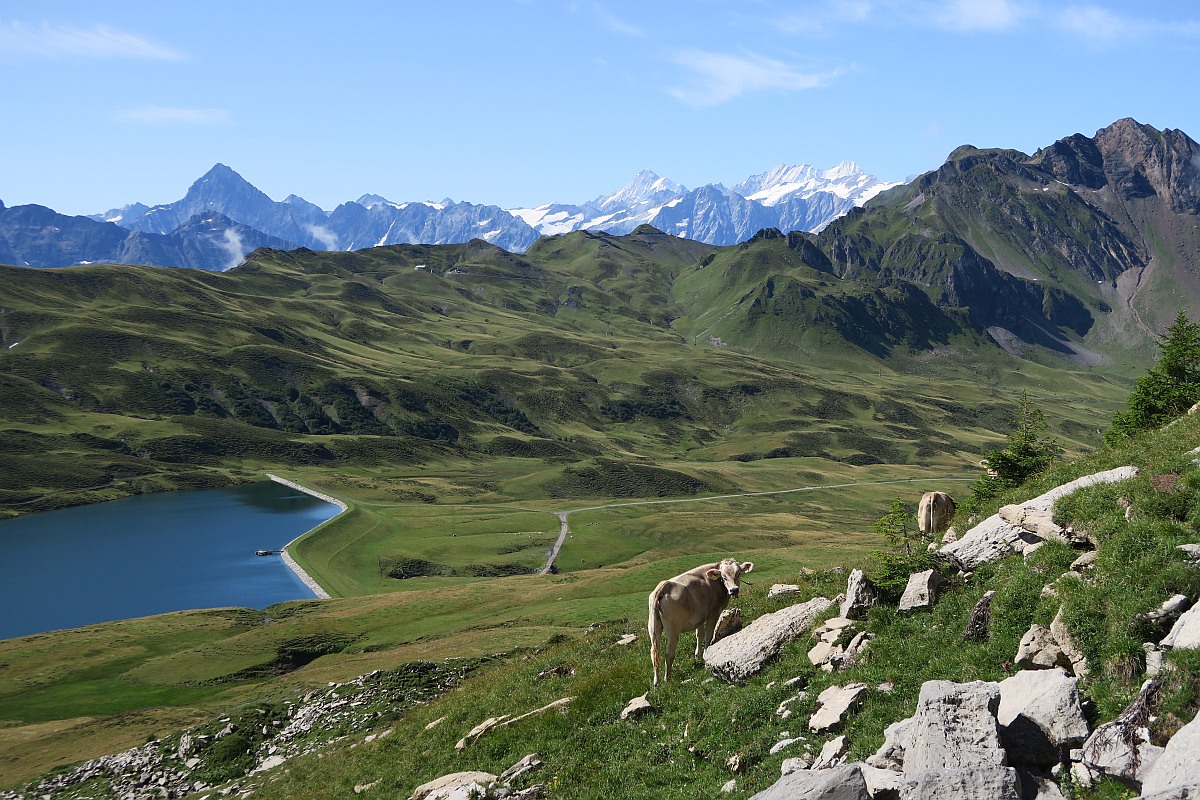 When we reached Tannalp we had a break at a bench for lunch. There are also toilets here and this is the final stop for the Fruttli train. The 4 lakes walk is another famous hike in the area. We decided to do a section of it and go as far as Engstlensee. The trail there was downhill and quite easy. There was only one short exposed section, but the trail was quite wide and a rope on the side provided security. As we got closer and closer it became obvious that we won't see much of the lake. Sadly we were covered in a cloud. We walked for about one hour in the mist, which was quite interesting actually, but I would have preferred some clear views. We reached the lake, but visibility was only a few metres. We then headed back. Hiking back to Tannalp was a bit more challenging as it was uphill, but there wasn't a huge elevation gain. When we got back to Tannalp the whole area was covered in a cloud and the temperature also dropped. We decided to take the train back, to save time and our energy. You need to time your arrival well, as the train only goes every hour. The train ride would also provide some nice views on most days, but this time it was just fog. Despite this, we enjoyed the ride. The driver was a jolly fellow and kept us entertained. We soon got back to Melchsee Frutt and we took the gondola down in the fog.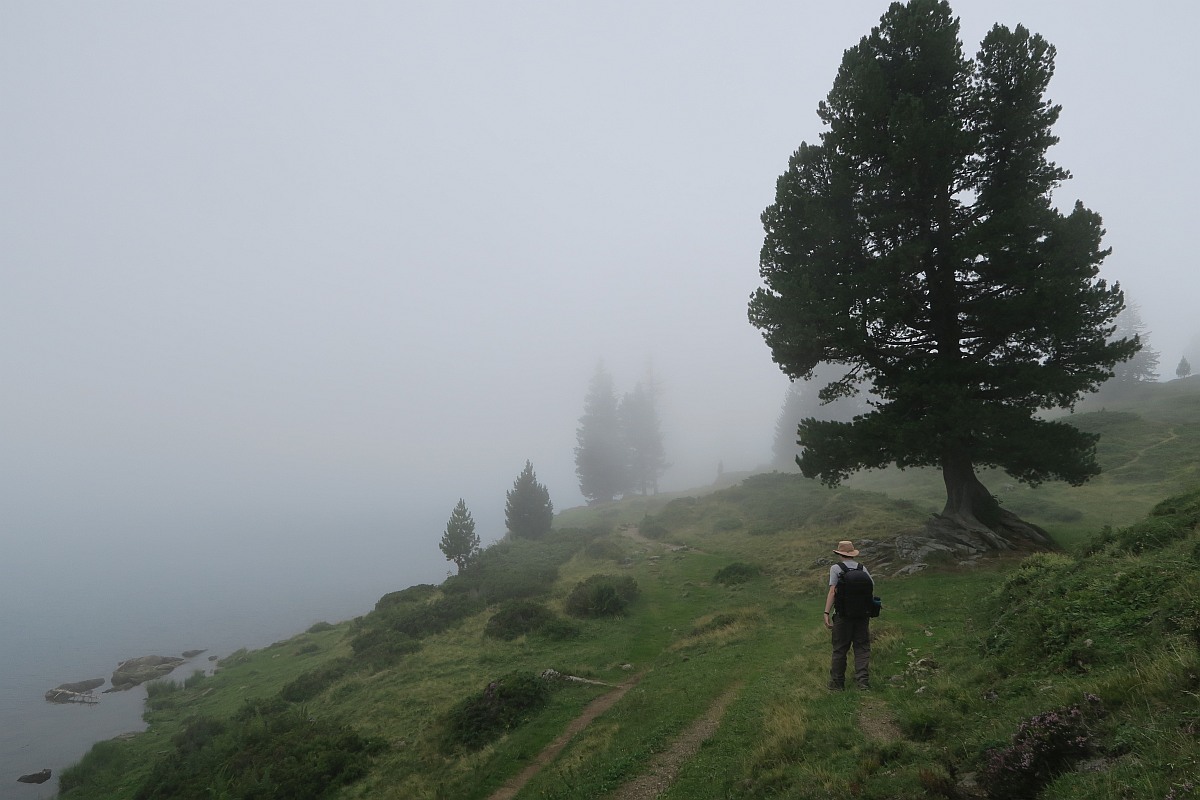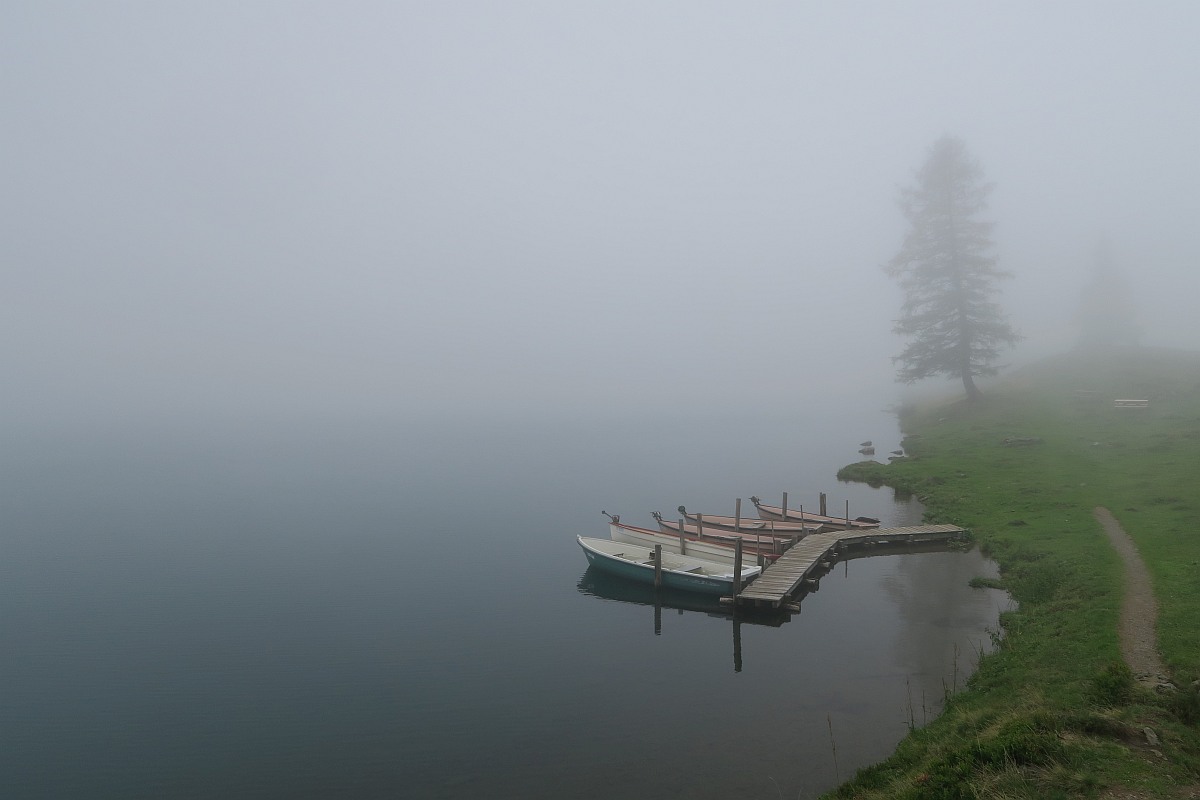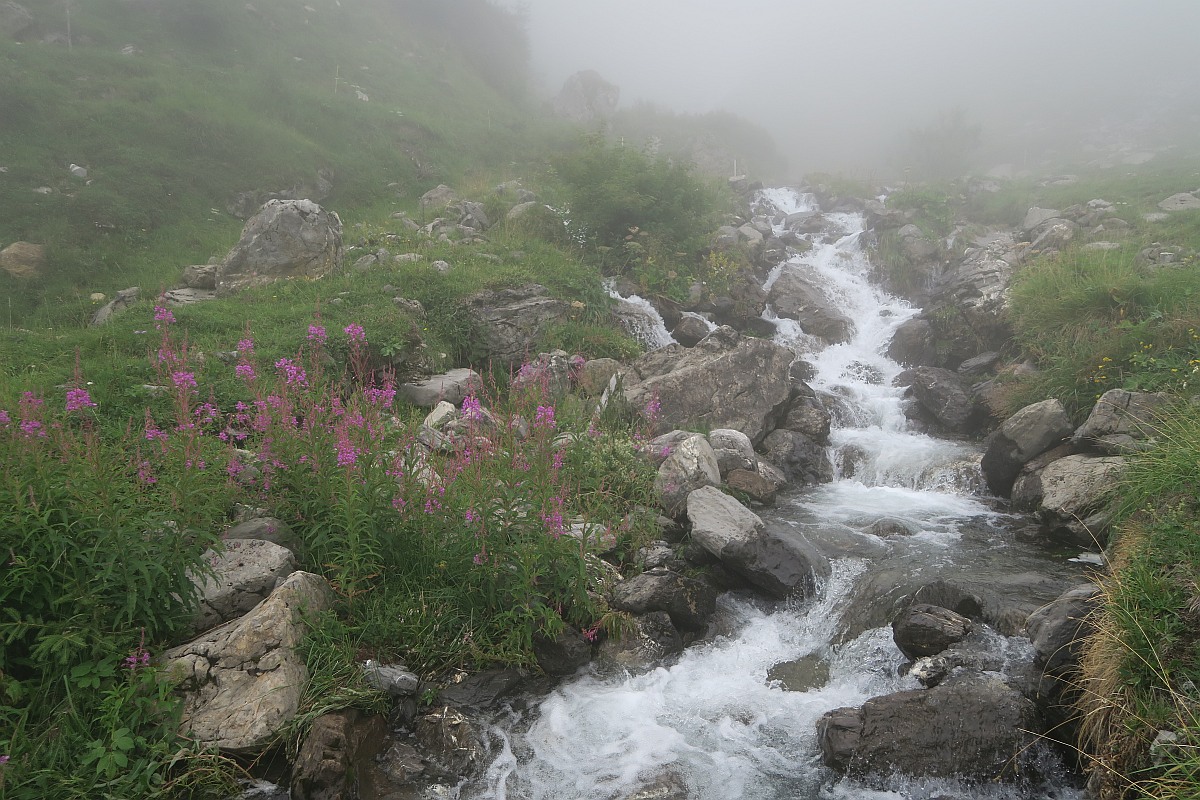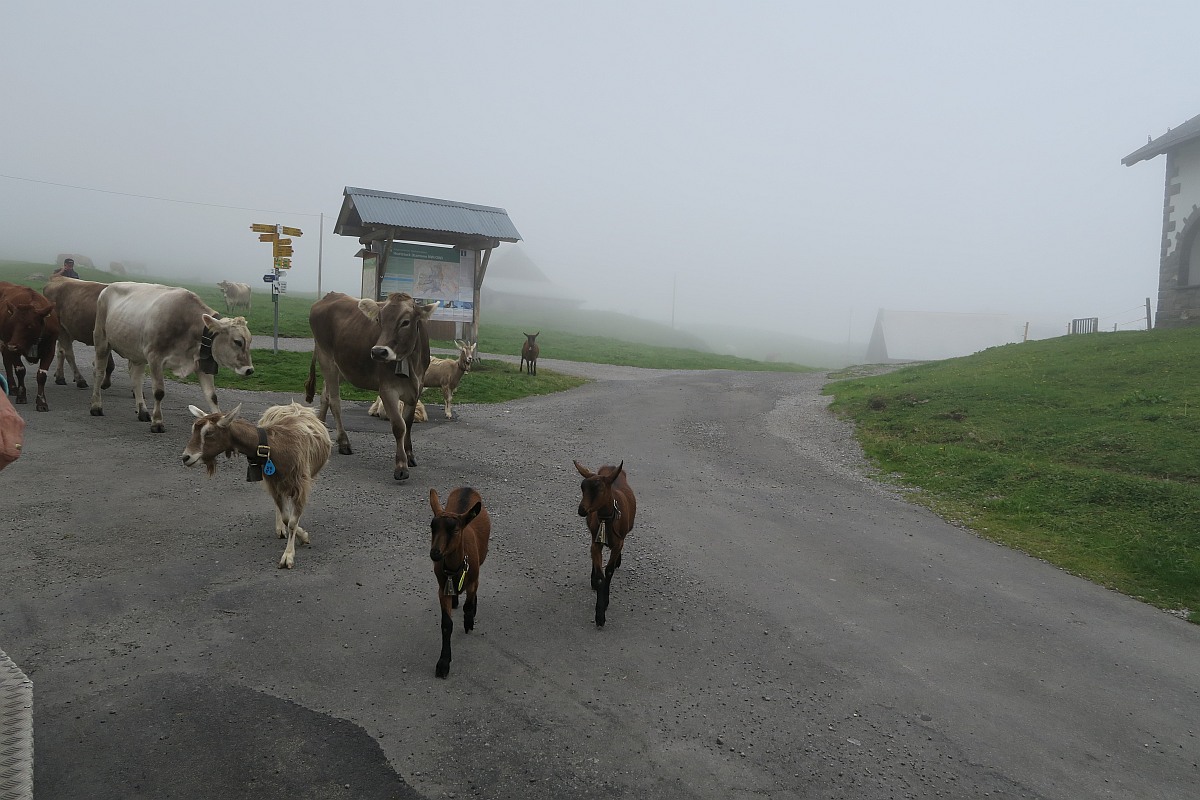 We spent the second part of our day in the fog. We still had a lovely day. We were glad we set off early in the morning, so we could enjoy the scenery in the sunshine and clear views. You can check the webcams to see the conditions live.
There are several hiking opportunities in the area and the cables cars and Fruttli train makes it easy to get around if you are not that fit. You can plan your own route, based on your fitness level and interest. This website has lots of hiking suggestions for the area with maps.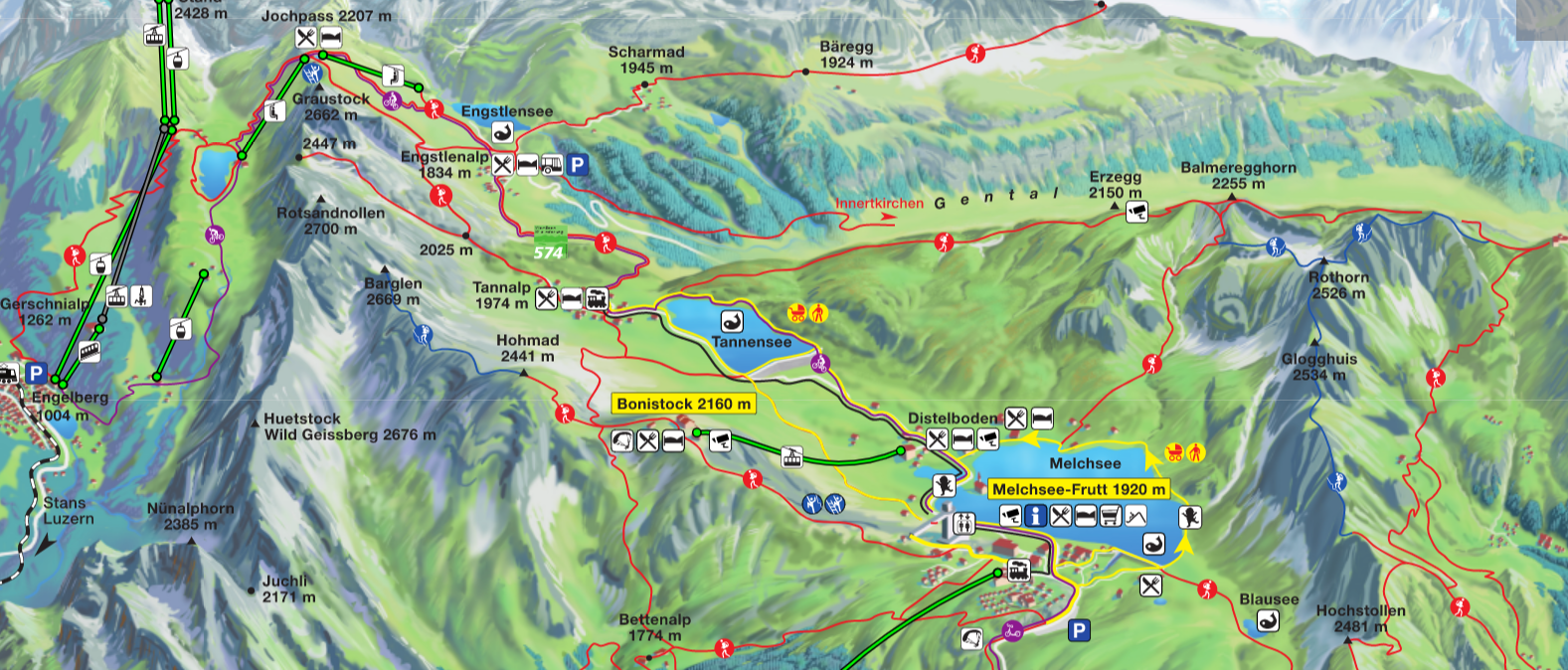 Did you enjoy this post? Why not PIN it?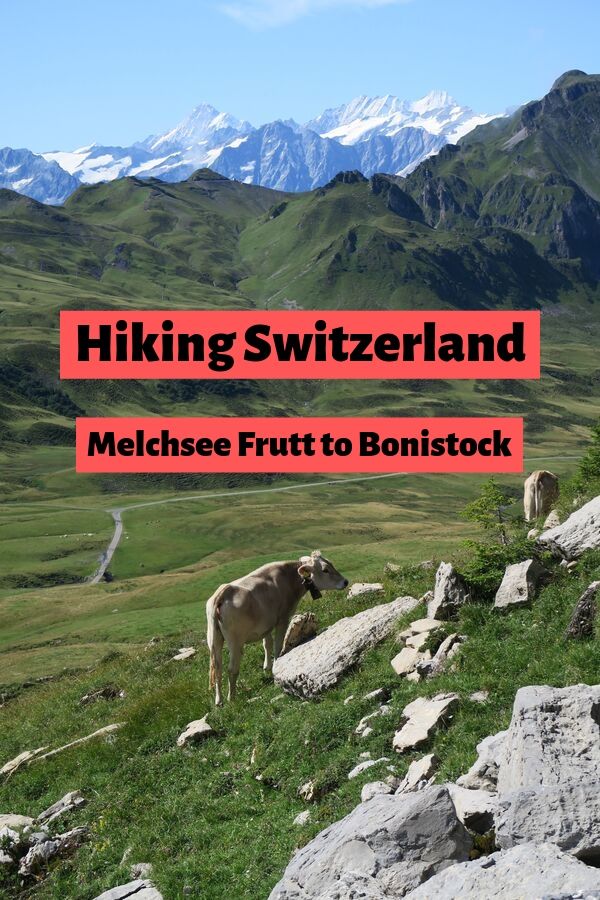 Enikő
Hey, I'm Enikő! I'm currently an au pair and I want to share my experiences with you. I've travelled a lot in the past years. I'm gonna teach you how to settle in to a new country and get free accommodation anywhere in the world. Circle Enikő on Google+!