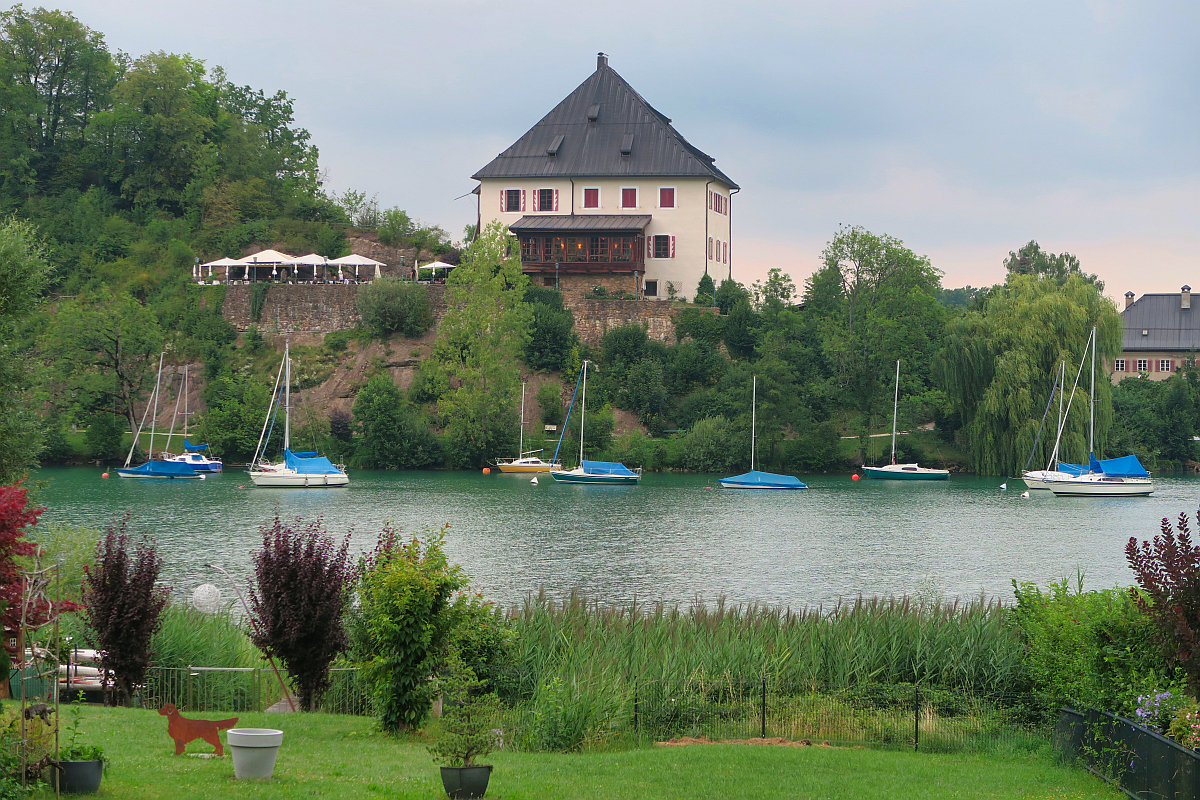 This summer I discovered a new place in Austria, which is perfect for outdoor lovers. The Salzburg Lake District is often mistaken by tourists with the Salzkammergut region. However, these are two different areas. Both are famous for its scenic lakes and they are located close to Salzburg. But what are the differences between the two areas? Which one should you visit? What is there to do in in the Salzburg Lake District? This guide will answer all these questions. 
What is the Salzburg Lake District?
The Salzburg Lake District is only 20 km north of Salzburg. It makes a great day trip from the city, but if you like nature you can also base yourself in the area and spend several days here, as there is so much to do. The area consists of four lakes: Grabensee, Mattsee, Obertrumer See and Wallersee. Over the hill from Wallersee, you will find Irrsee and Mondsee, which are part of another region called Salzkammergut. The Salzburg Lake District is less-known, so if you prefer to stay away from the tourist hot spots than this place is for you. The Salzburg Lake District is quite hilly, but it doesn't have any impressive mountain peaks as Salzkammergut has. Otherwise, the two regions have quite similar landscapes and recreational sports facilities. They have beautiful beaches, lakeside cafes, scenic cycle paths, gorgeous hiking trails and well-kept sailing clubs.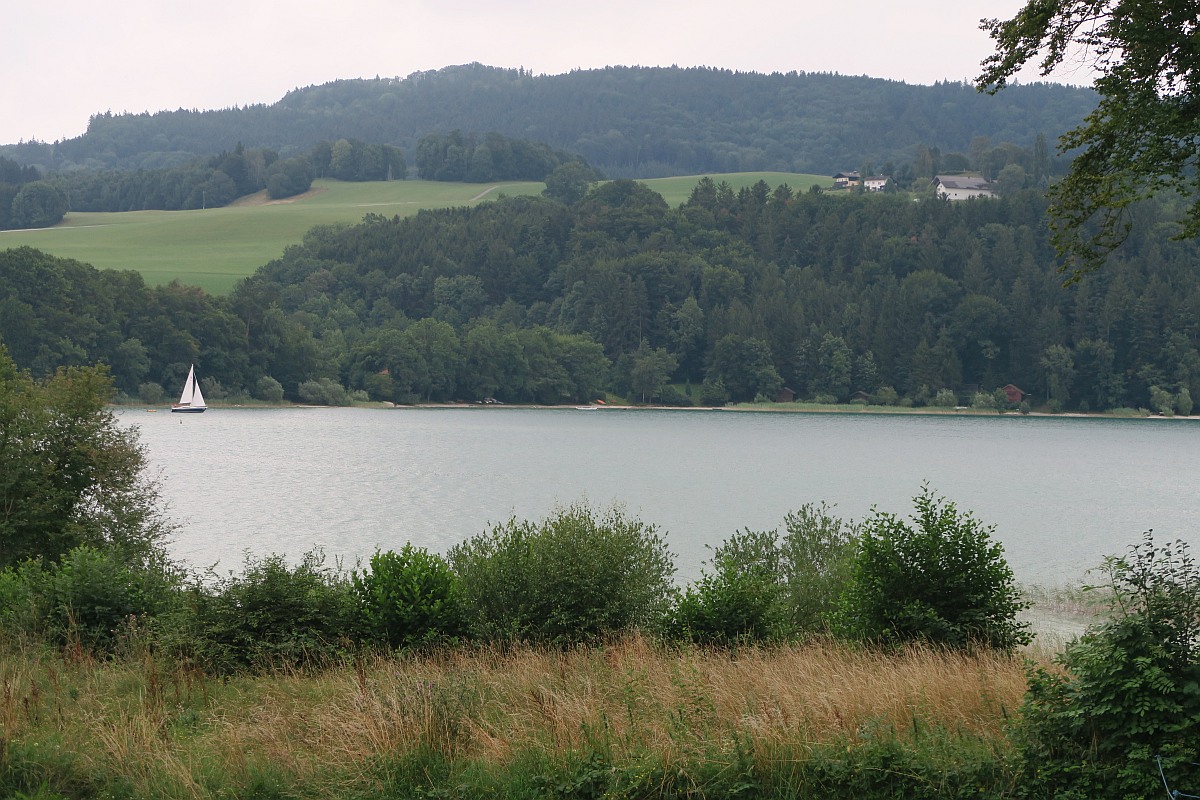 Cycling in the Salzburg Lake District
We loved riding our bikes in the area, as it was reasonably flat, compared to some other parts of Austria. There are tourist offices in most towns, where they give out free cycling maps, but you can also download my GPX files for your device. Each day we picked a new route to cycle. I like exploring new places by bike, and the infrastructure for cycling is really good in Austria. The roads were well marked and we felt safe on them. Most of them are very family-friendly. You could use a kids bike trailer or if they are old enough they could ride their own bikes. We also liked that the restaurants and cafes were bike-friendly.
The Three lakes Bike Ride
This bike ride is perfect to see the Austrian countryside and explore some of the nearby attractions. There are many opportunities along the way to stop for a swim as well.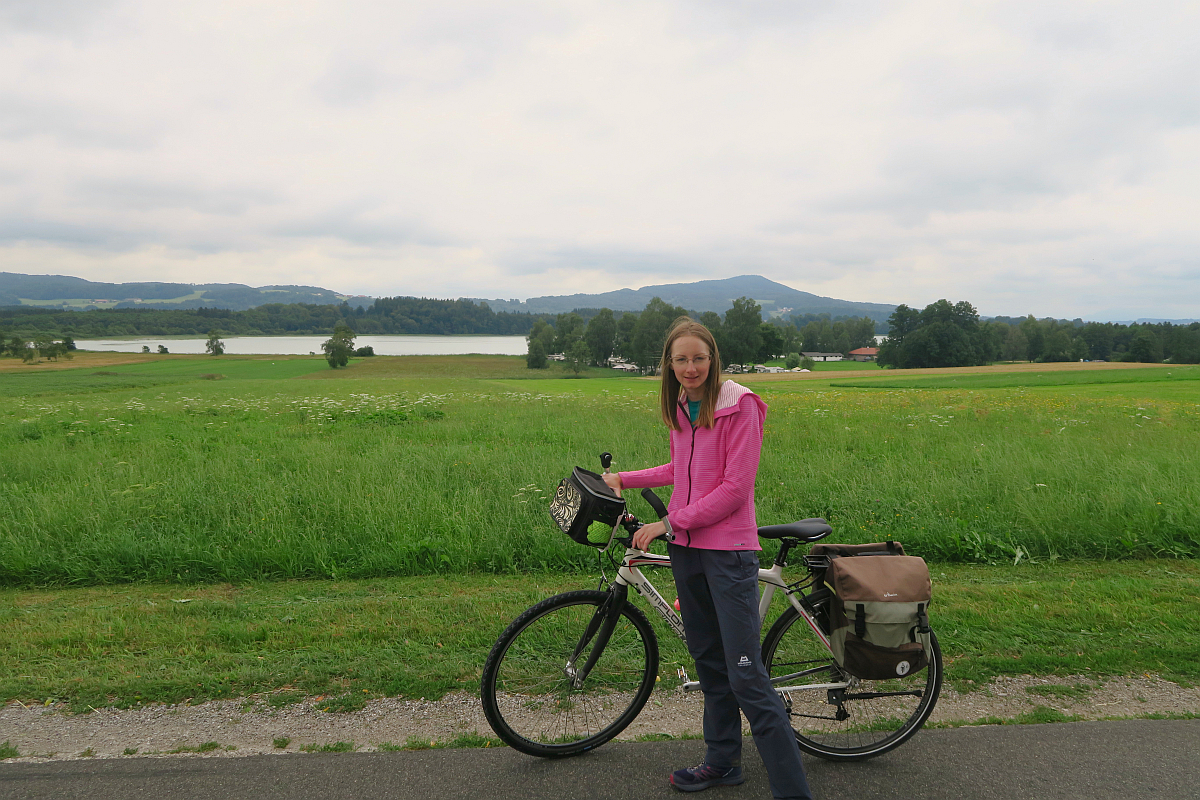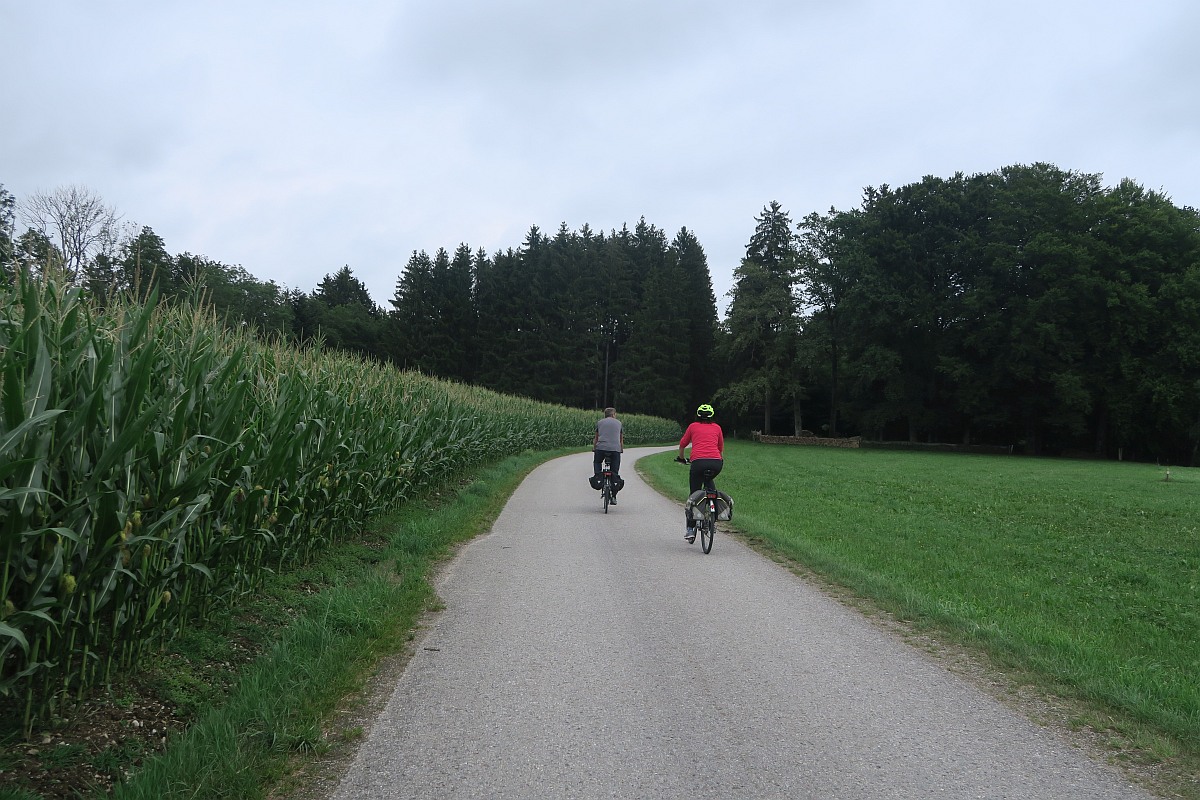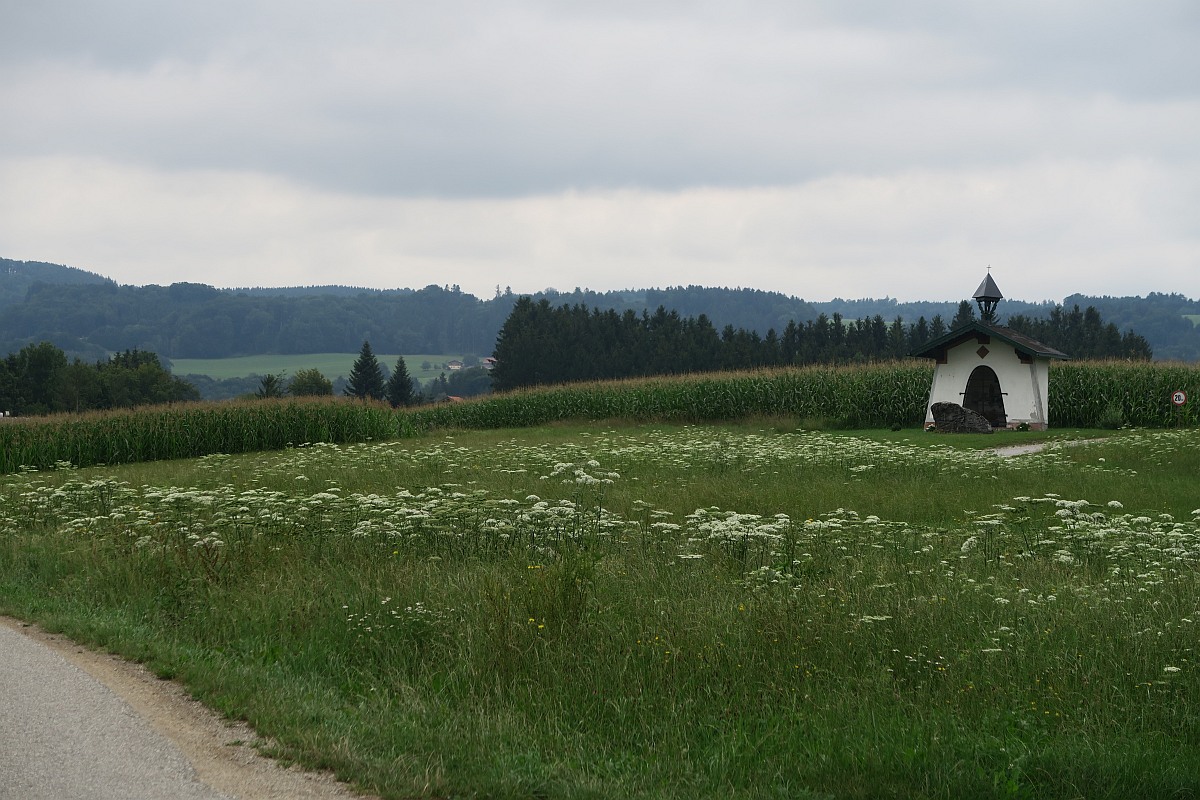 The highlight of the ride: The Wiegeliege Gebertsham observation point offers lovely views of the surrounding area.
Duration: This bike ride around Grabensee, Mattsee, Obertrumer See is 35 km. You can extend it by cycling to Wallersee as well.
Difficulty: The path is easy and child friendly. Most of it is flat. The only bigger ascent is at Mattsee, near Gebertsham. You will find a nice observation point here, with benches and information boards. The elevation gain on the whole ride is 140 m.
Cycling over to Germany
We started from the village of Obertrum, and cycled through beautiful countryside. From the village of Trainting we had a nice, long descent to Anthering. From there the scenery changed completely. We cycled next to the Salzach river on long, flat terrain until we reached Oberndorf bei Salzburg.  Don't miss visiting the Silent Night Chapel, when you arrive. Then we cycled over the Salzach Bridge to Laufen, which is part of Germany. After a little sightseeing, we returned to Austria and started to cycle back to our accommodation through Sankt Georgen bei Salzburg. After Nußdorf am Haunsberg we had a big hill to climb. This is avoidable if you choose a different route. We did a quick stop at Wildkar Waterfall and then had a great ascent back to Obertrum.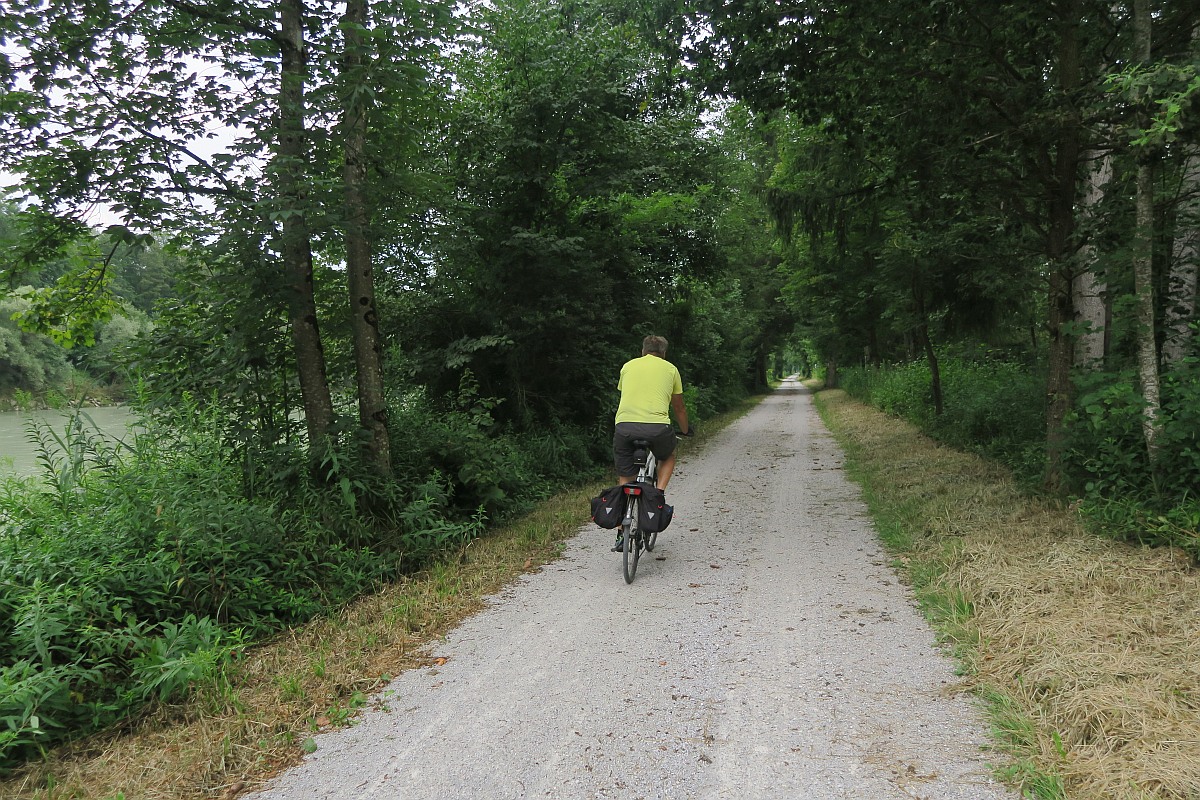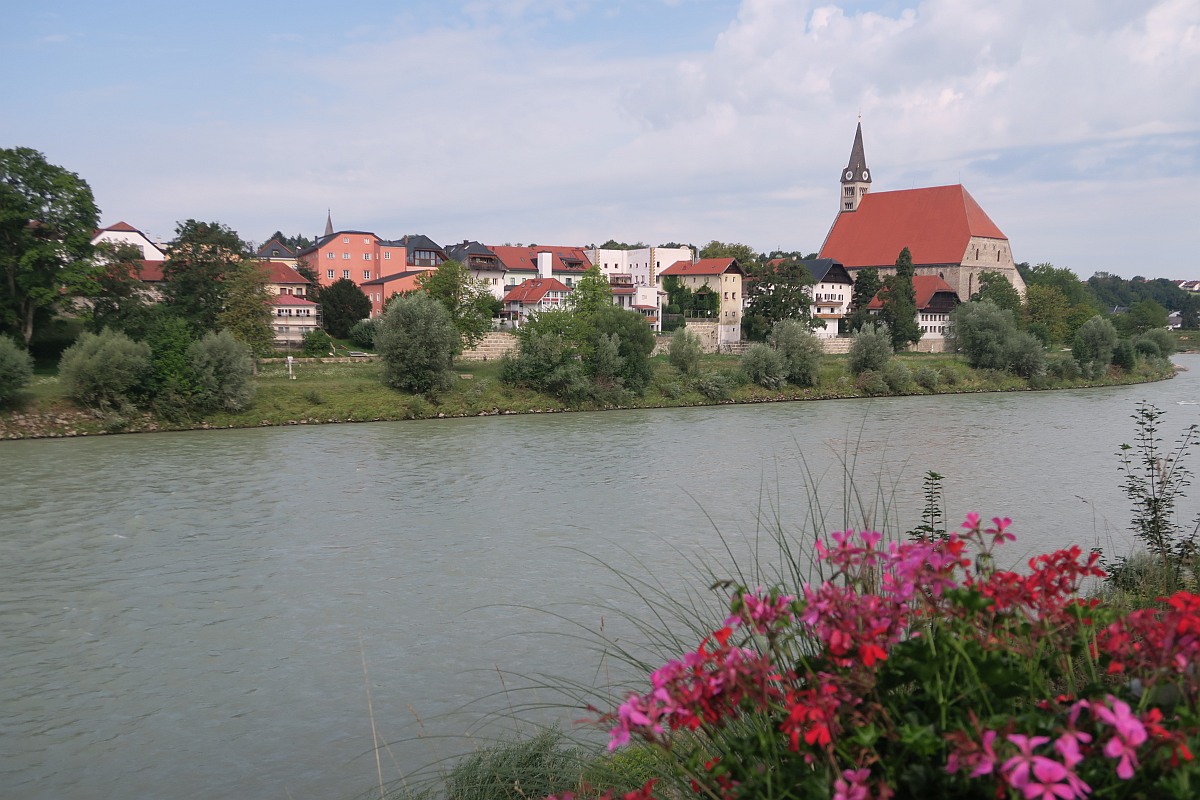 The highlight of the ride: Cycling over to Germany on the Salzachbrücke.
Duration: This bike ride is 65 km long.
Difficulty:  This journey is quite challenging physically, as there is a big hill to overcome on the way back.  We decided on this route, as we wanted to visit the Wildkar Waterfall on the way back. However, it would have been smarter, to choose a longer route, that goes around the mountain, because this way we had a total of 522 m ascent. 
Swimming in the Salzburg Lake District
The lakes in the Salzburg Lake District are among the cleanest and warmest waters in Austria. There are several spots, where you can go for a swim or launch a boat. An inflatable kayak is a good option for beginners.
Obertrumer See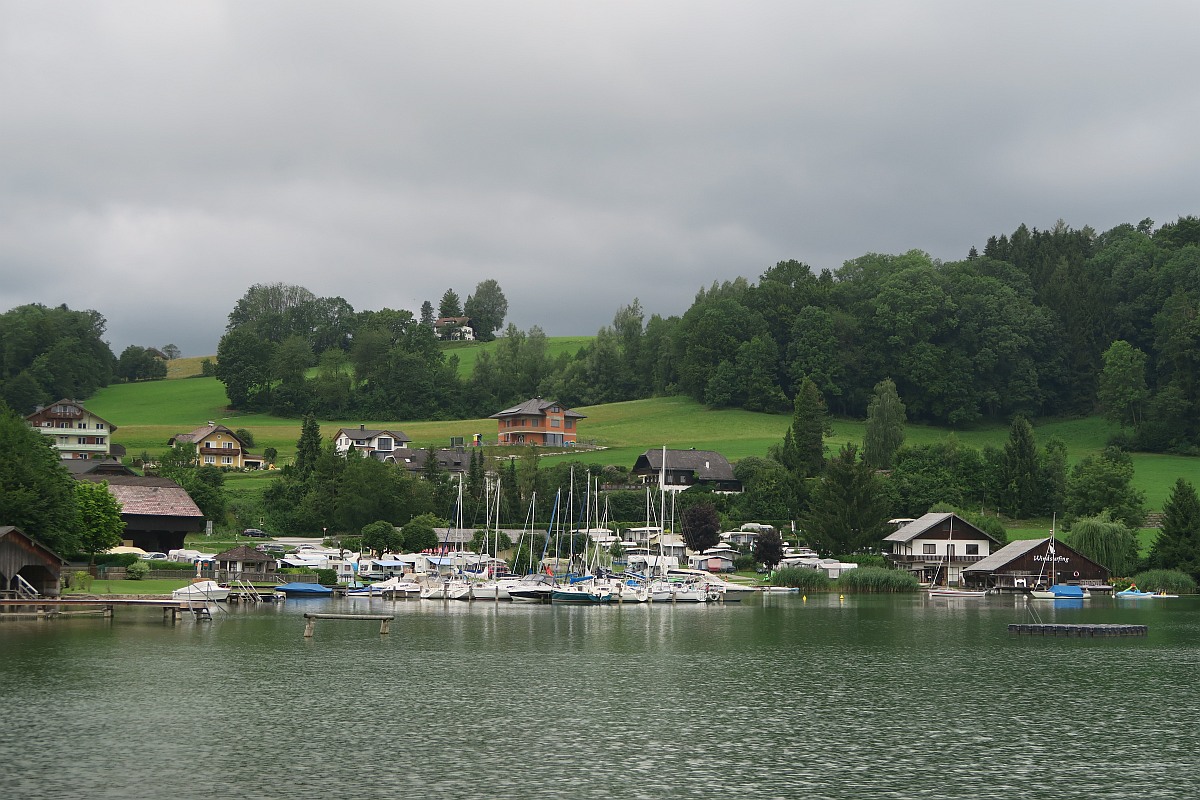 Freibad Magistrat
Grabensee
Bade- und Campingplatz Perwang am Grabensee
Mattsee
Strandbad Mattsee
Strandbad Gebertsham
Wallersee
Seeleben Neumarkt am Wallersee
Naturstrandbad Zell am Wallersee
Attractions at the Salzburg Lake District
The lush green meadows, hills and forests of the Alpine foothills offer excellent hiking and cycling opportunities. But there are plenty of cultural events and buildings, that are also worth visiting as well.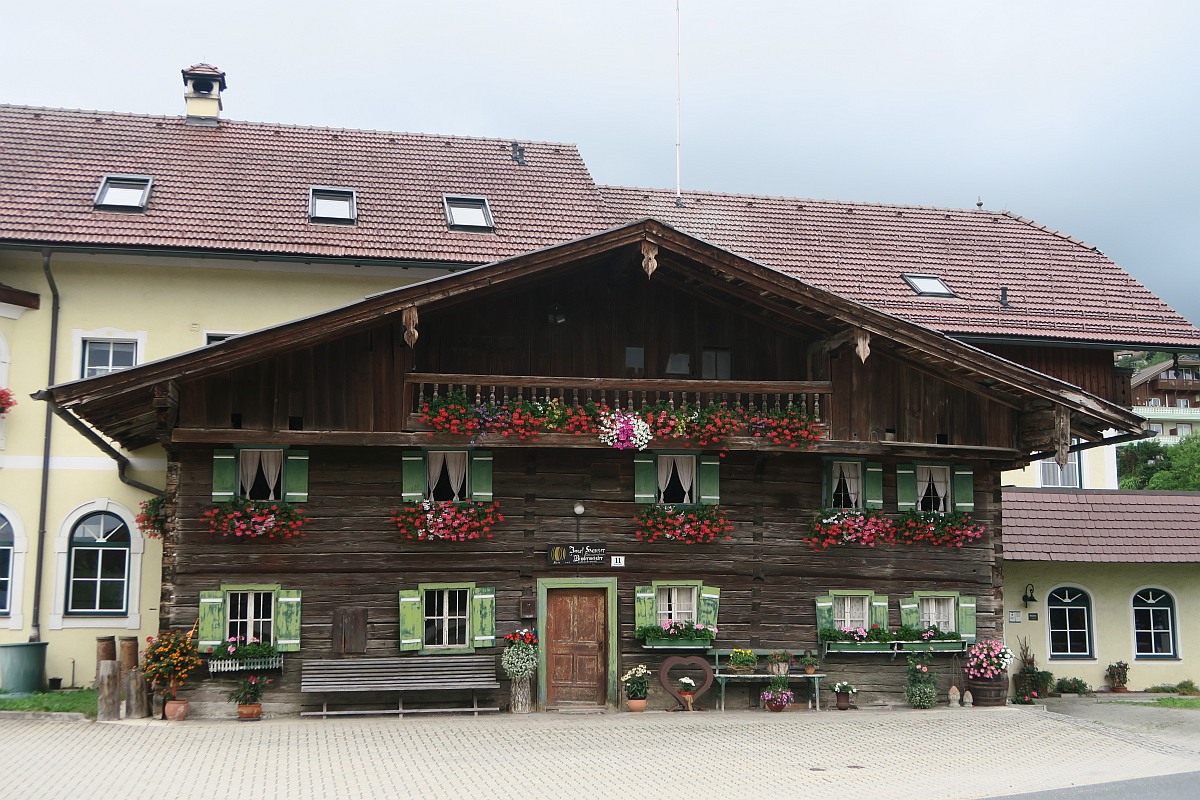 Ferdinand Porsche Museum
In The Ferdinand Porsche Erlebniswelten fahr(T)raum you can see historic racing cars designed by Ing. Ferdinand Porsche and his team. You are able to learn more about these incredible vehicles. There is even a tractor shed, where there is an exhibition about how the agriculture was motorized and developed.
A very unique experience that the museum offers are chauffeured trips in a stylish vintage car through the beautiful Salzburg Lake District.
Schloss Mattsee
The Mattsee Castle was built around 1100 by bishops from Passau. Today the Castle is home to a cafe and restaurant, but they also have several event halls. They often organise weddings, concerts and birthday parties here. The views from the winter garden and terrace are really scenic. If you want to learn more about the castle, you can go on The Millennium Trail around the Schlossberg, where you will find information boards.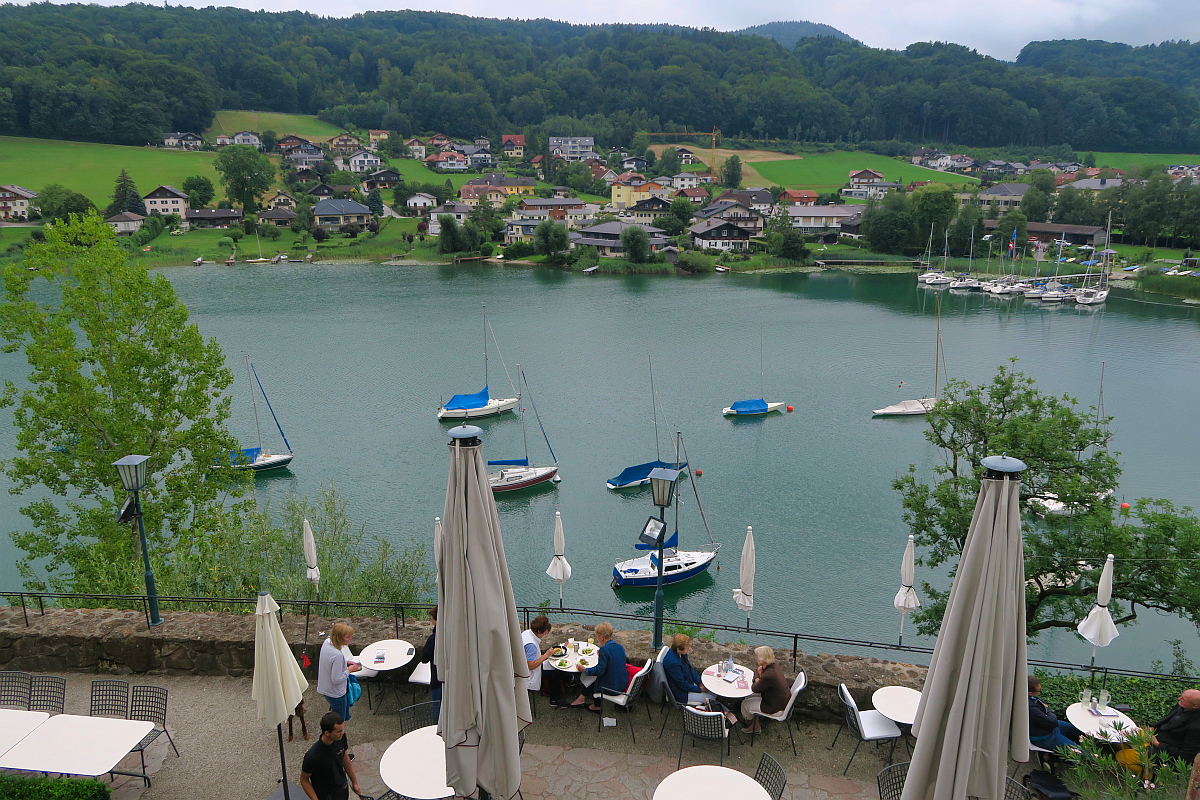 Bavarian farmstead in Mattsee
This open-air museum was built in 1988 on the occasion of the Celtic National Exhibition. It shows how the Bajuwaren lived on the Mattsee around 500 to 800 AD. There are information boards, but guided tours are also available by appointment. The museum is free to visit all-year-round.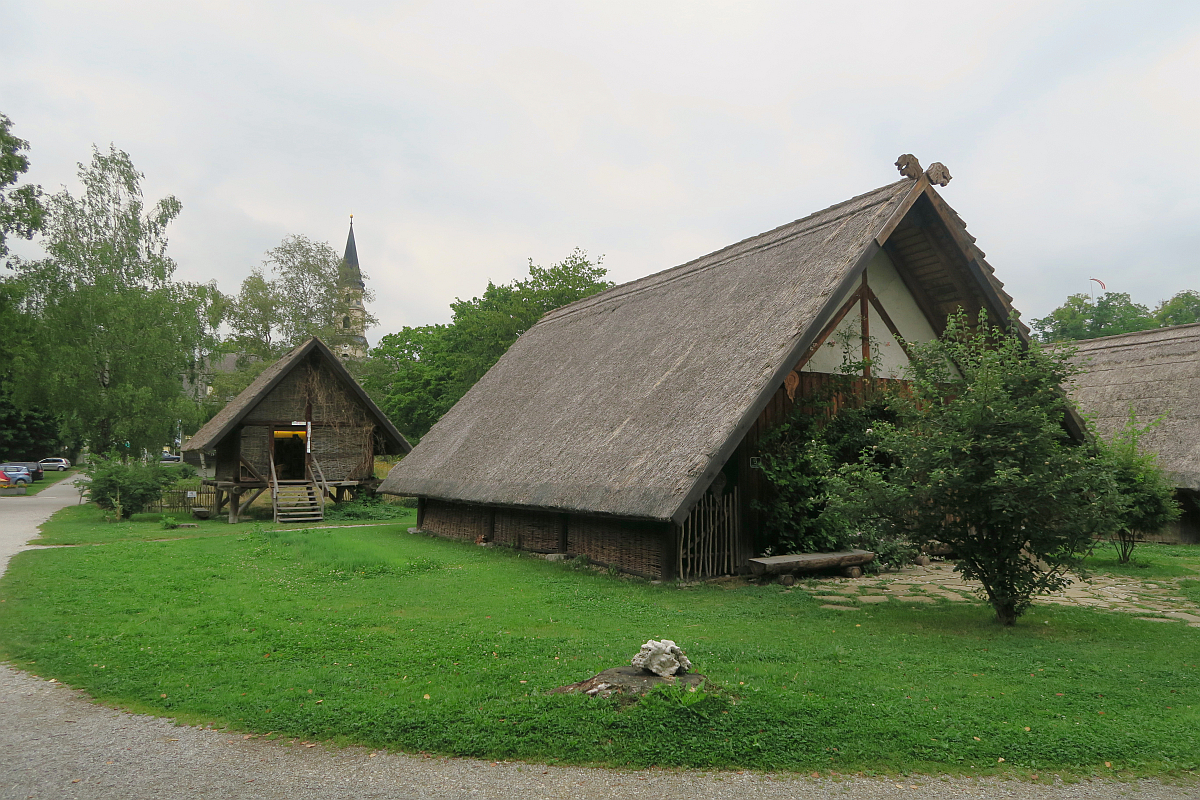 A very unique experience is to watch a theatre play or concert at the floating stage in Seeham. 
Wiegeliege Gebertsham
Enjoy a wonderful view of the Mattsee, the neighbouring lakes and the distant view of the Salzburg region. This viewpoint with benches next to the Gebertsham church offers scenic views and information boards as well.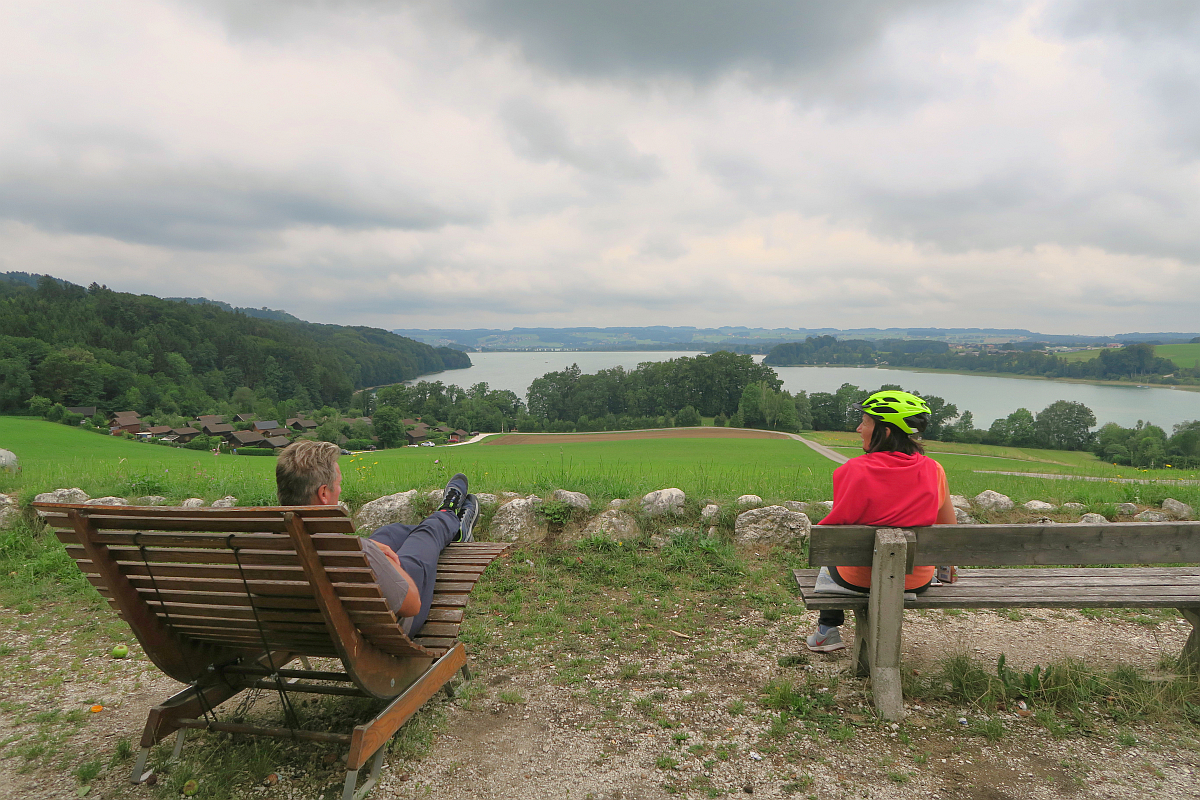 Wildkar Wasserfall
This picturesque waterfall is 5 m tall and 20 m long. It consists of two stony steps. It is not the most impressive waterfall in the country, but it is certainly worth a visit if you are in the area.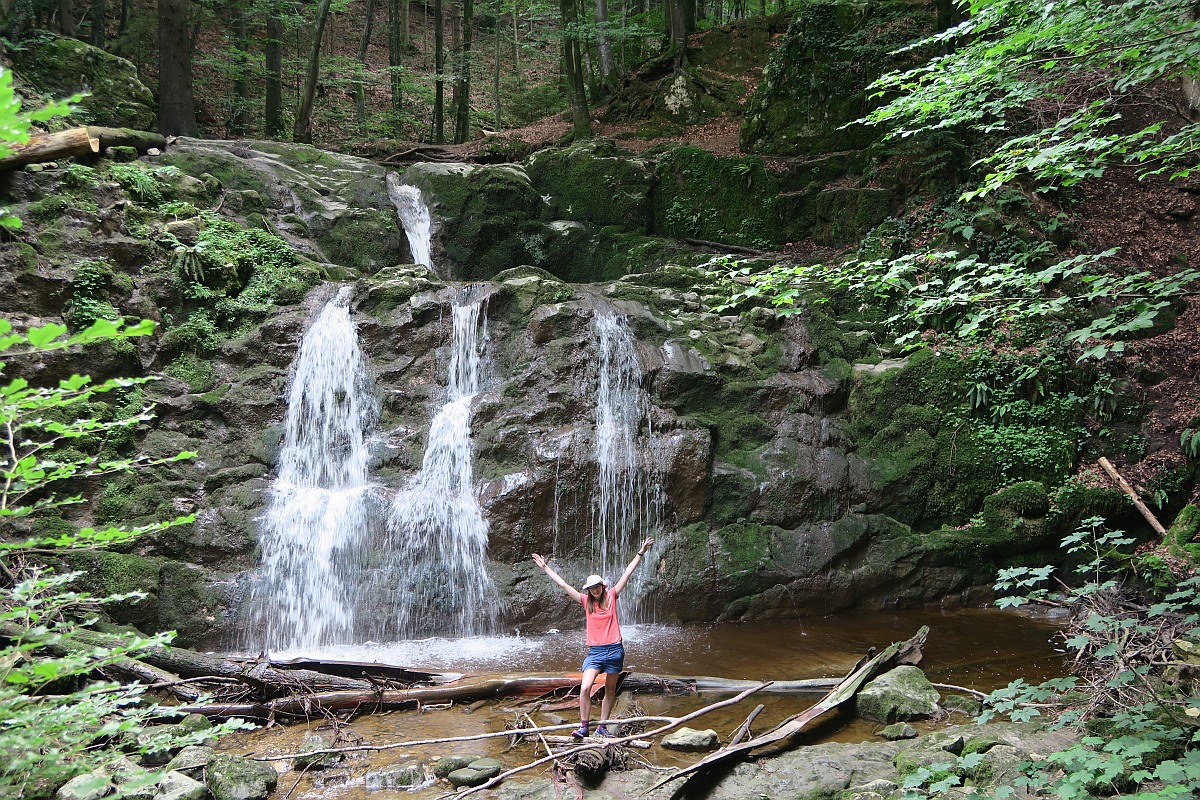 The Salzach Bridge
The Salzachbrücke connects the Bavarian town of Laufen with the Austrian town of Oberndorf near Salzburg. It was built in its Art Nouveau iron construction.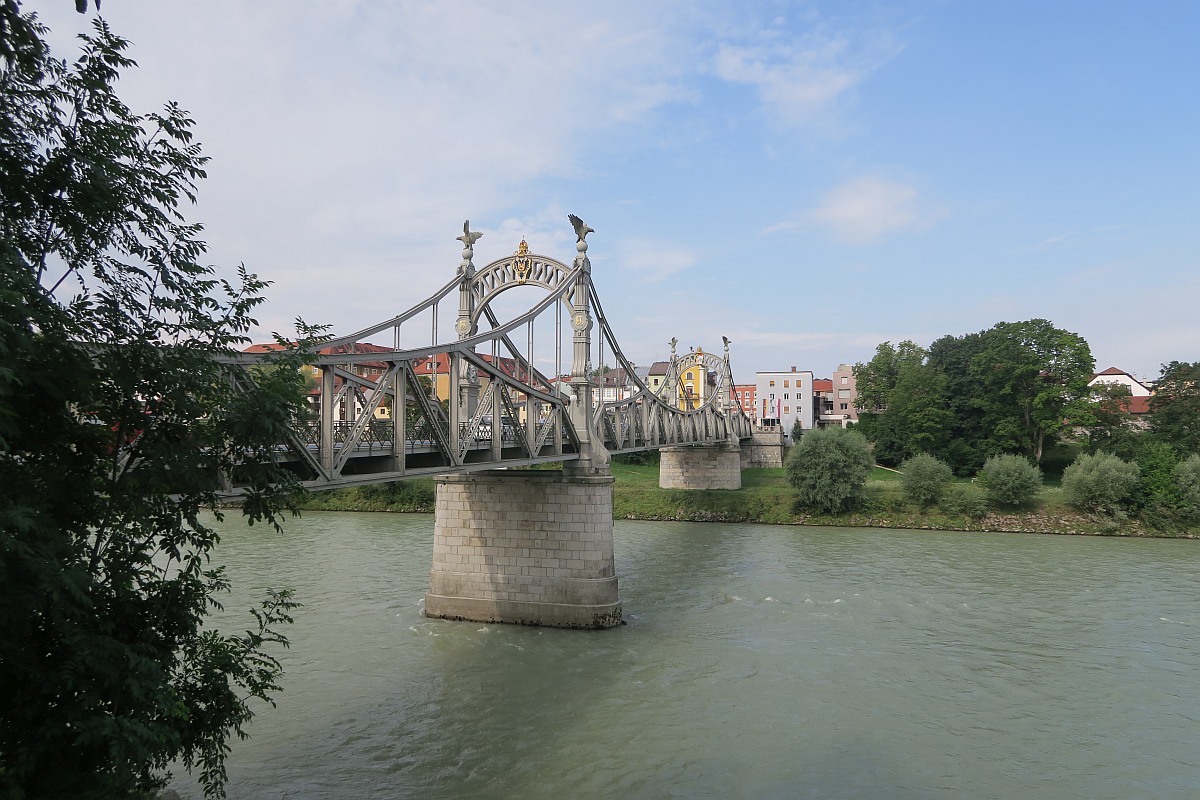 Trumer World of Beer
The Trumer World of Beer is a highlight in the Salzburg Lake District for the beer lovers. You can discover the world of the Trumer private brewery by a guided tour. You will have the chance to taste the famous Trumer Pils. There is also an opportunity to spend some time in the beer cellar and brew your own beer.
Silent Night Chapel
The town of Oberndorf bei Salzburg is well worth a visit. It is the birthplace of the world's most famous Christmas Carol: "Silent Night!  Holy Night!". It was performed for the first time at Christmas in 1818 in the Church of St. Nicholas in Oberndorf.
High Rope Park
Adventure lovers can test their bravery at the High Rope Park in Seeham. At the treetop walk, you will see some panoramic views and there is also an opportunity to try zip lining.
Salzburger Seenland Card
With the Seenland Card you can visit such attractions as the World of Beer in Obertrum or lakeside beaches free of charge. It also provides a discount to many restaurants and cafes. The card is free of charge to guests staying at the participating accommodation. 
Did you like this post? PIN it for later!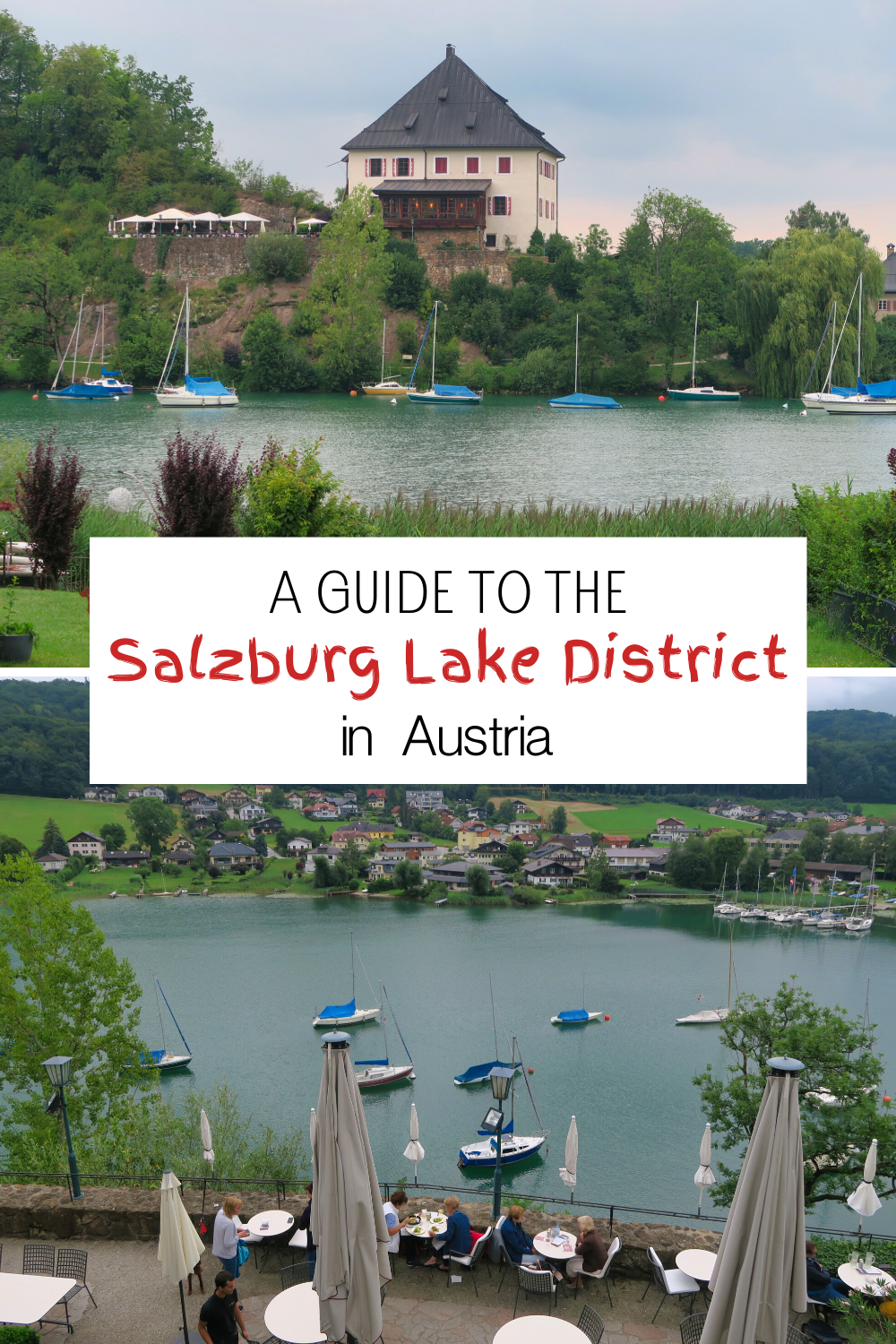 Enikő
Hey, I'm Enikő! I'm currently an au pair and I want to share my experiences with you. I've travelled a lot in the past years. I'm gonna teach you how to settle in to a new country and get free accommodation anywhere in the world. Circle Enikő on Google+!