This year we chose Kitzsteinhorn for our ski holiday. It was the first glacier ski resort in the Austrian Alps. The mountain reaches a height of 3,203 m, so it is very much snow proof! Thanks to the high altitude you can even ski here in the summer.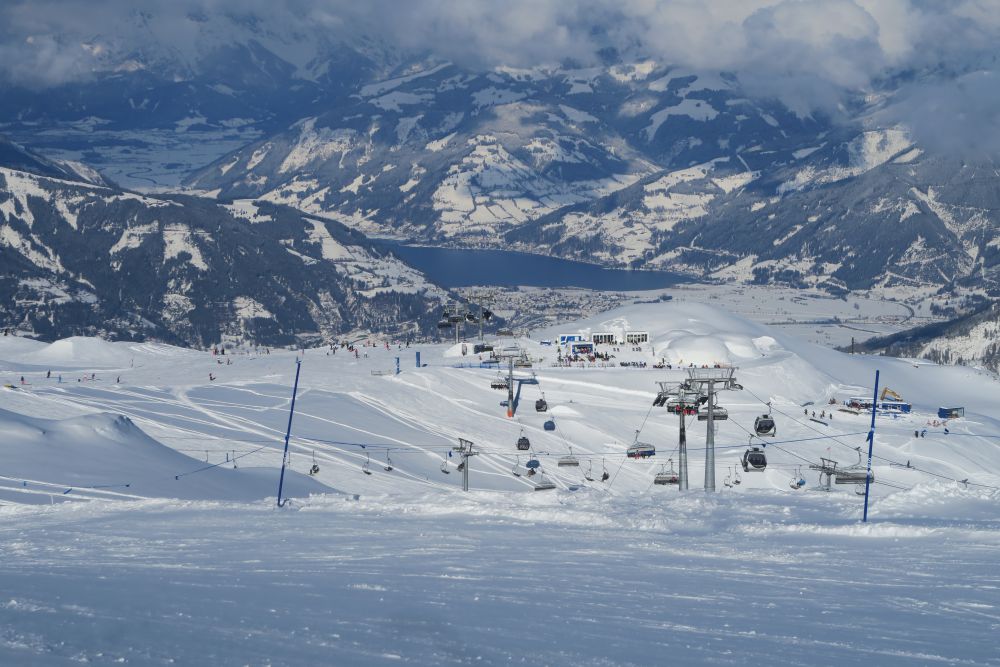 How to get there: When you are preparing for a ski trip you will have to decide how you will get to the ski resort. You can take a flight to Salzburg and then a transfer bus to your hotel in 1,5 hours. There are lots of other options as well, like flying to Innsbruck and taking a transfer bus from there, but this will take longer. The ski resort, of course, is easily accessible by car as well and it is a fast and easy way to drive there on the motorway from the neighbouring countries like Hungary, Germany or Italy.
Ski passes: You have many options depending on how much time you want to spend skiing. It is possible to buy day or even half day ticket. Ski passes are valid for all cableways and lifts in Kitzsteinhorn, Zell am See and Kaprun. Note that with your ski pass you are only able to use the Gletscherjet I and Panoramabahn for one return trip daily. These gondolas connect the valley (parking lot) and the ski areas. There is no direct ski slope down to the parking lot, which means you will need to take the gondola, so normally you would have no reason to use this gondola for more than one return journey. However if for any reason you want to return to your car during the day and then head back to the slopes you will need to reserve an extra glacier trip in advance on your first trip. Ski pass prices start at €51,00 for adults for a day ticket in high season. For a detailed list of prices refer to this website.
Opening times: The first cable car from the valley starts at 8:15 am, however we sometimes got there earlier and the gondolas were already running and we were able to get on. The ticket office opens at 8 am, this gives you the opportunity to have time to purchase your passes and then still be among the first skiers on the mountain top. The last return trip from the Alpincenter to the valley is at 4:30 pm.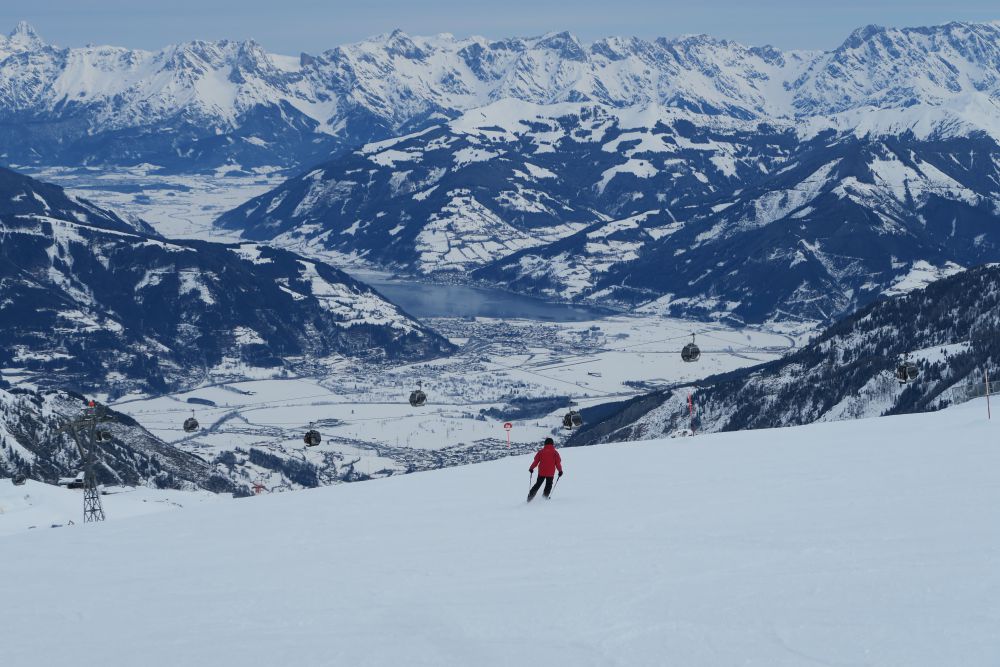 Ski pistes: With your ski pass you will be able to access the pistes in Kaprun/Maiskogel and Zell am See as well. This will give you 118 km of slopes total. The resorts are well connected with a ski bus which you can use free of charge with your ski pass. Kitzsteinhorn is not really suitable for beginners, but there are many slopes in Kaprun which are. My parents also joined us on this ski holiday and they loved the beginner slope in Kaprun and were very confident learning there. The Maiskogel ski resort is a very family and beginner friendly area, while Kitzstenhorn is great for people who already know how to ski. Me and my boyfriend loved the variety of slopes in Kitzsteinhorn. It is also a very popular activity to ski off-piste, so I would also suggest this place for the freeride lovers. There are plans to connect Kaprun village to the Glacier in Kitzszeinhorn with a gondola making the resort into a ski in and out area. This will make the ski resort even more enjoyable. They are planning to open this 3K Kaprun-Kitzsteinhorn-K-onnection in December 2019. This 12 km journey will be the longest continuous cable car axis.
The Eagle Line was a fun slope marked blue, with different obstacles: sharp turns, little jumps, and targets. Children and adults equally enjoyed this slope and it became one of our favourites during our stay.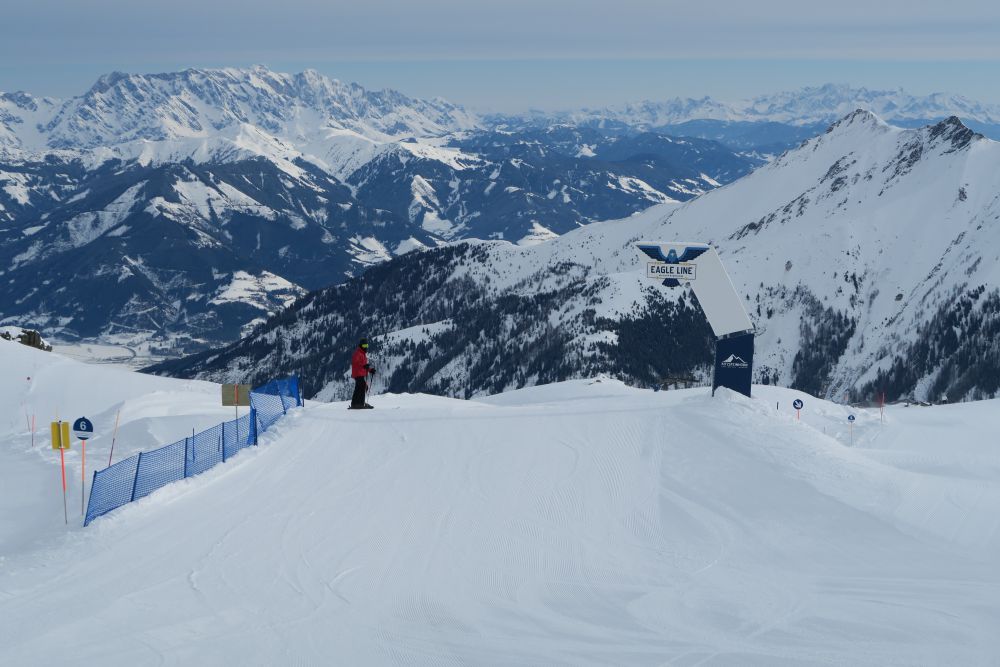 The Black Mamba is for those who like a steep slope as it reaches 63% at some points. We, of course, couldn't have a visit to Kitzsteinhorn without conquering the Black Mamba slope. It was quite a workout for the legs skiing down, but it is a great feeling to do it.
Restaurants: The resort offers a great variety of restaurants so everyone will find something that suits their needs. We prefer self-service restaurants and was happy to see there were options for this. Our favourite place to eat was the Alpine Centre. Lots of seats and tables available there, TVs on the wall, so we could watch the Winter Olympics while having lunch. Great food choices ranging from traditional Austrian food like Wiener Schnitzel, germknödel, Tiroler gröstl to more international food like hamburgers, pizza and pasta.
If you fancy a really special experience visit Gipfel Restaurant. It is the highest restaurant in Salzburg and has a self-service and service part as well. You will not only love the food they serve but the gorgeous views as well.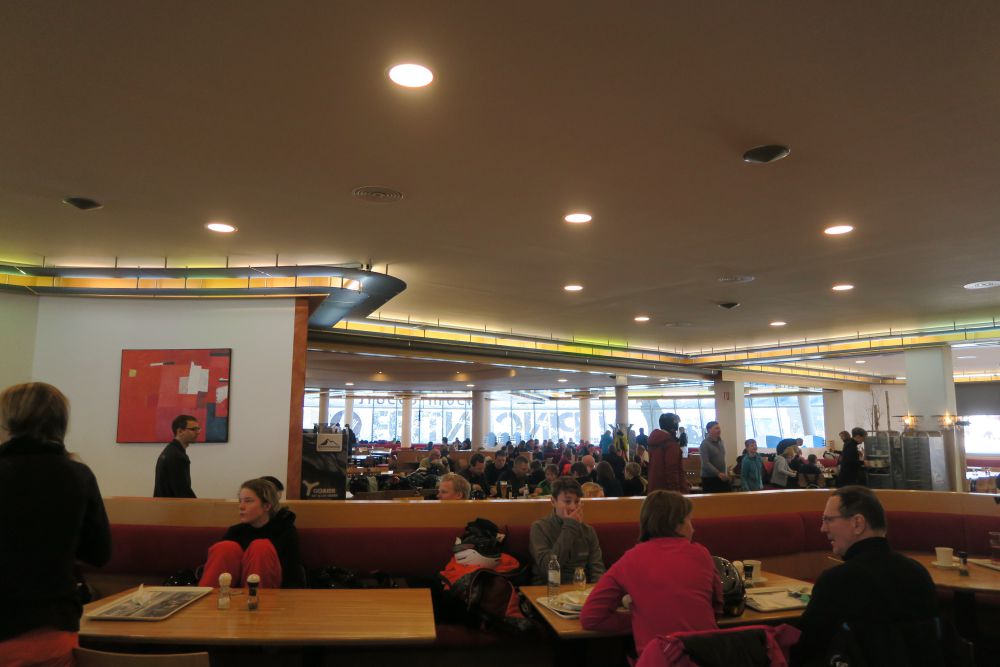 Kitzsteinhorn offers a lot for the non-skiers as well. It often happens that a party has a few people who are not into skiing. Well, those will not be sitting bored at home as there is so much to explore for them as well. A visit to the summit of Kitzsteinhorn is an absolute must!
Top of Salzburg is located 3029 m above sea level. You will be greeted with gorgeous views.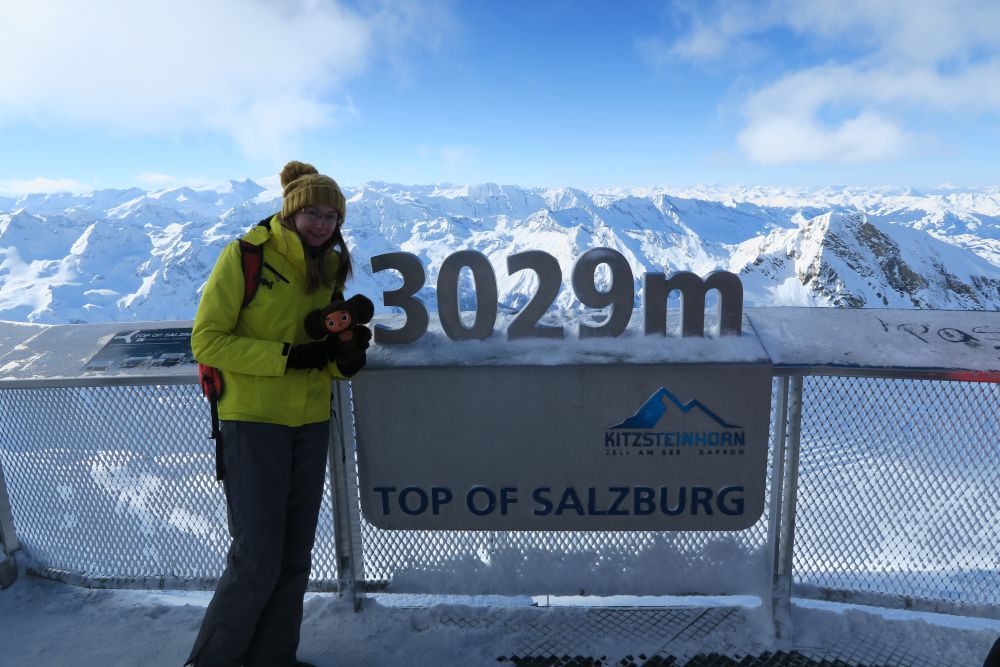 There is a ranger tour that anyone can take part in free of charge every Tuesday at 11 am and 1 pm. The tour started at the Top of Salzburg and ended about 30 minutes later at the panorama platform after walking through the 360 m long tunnel. The tunnel is home to the National Park Gallery which has interesting exhibitions. We learned a lot from the ranger, who was very knowledgeable and he shared a lot of information about Kitzsteinhorn and the Hohe Tauern National Park. He was fluent in both German and English. We learned the impact of global warming on the glacier, how it is unfortunately shrinking. This year was actually a good one as there was a lot of snow and low temperatures. We also found out that wolves made an appearance in Austria after over 100 years as they have been migrating from Slovenia. Taking part in the tour was a nice break from skiing. You can simply leave your skis as the racks provided and join the tour in your ski boots and helmets.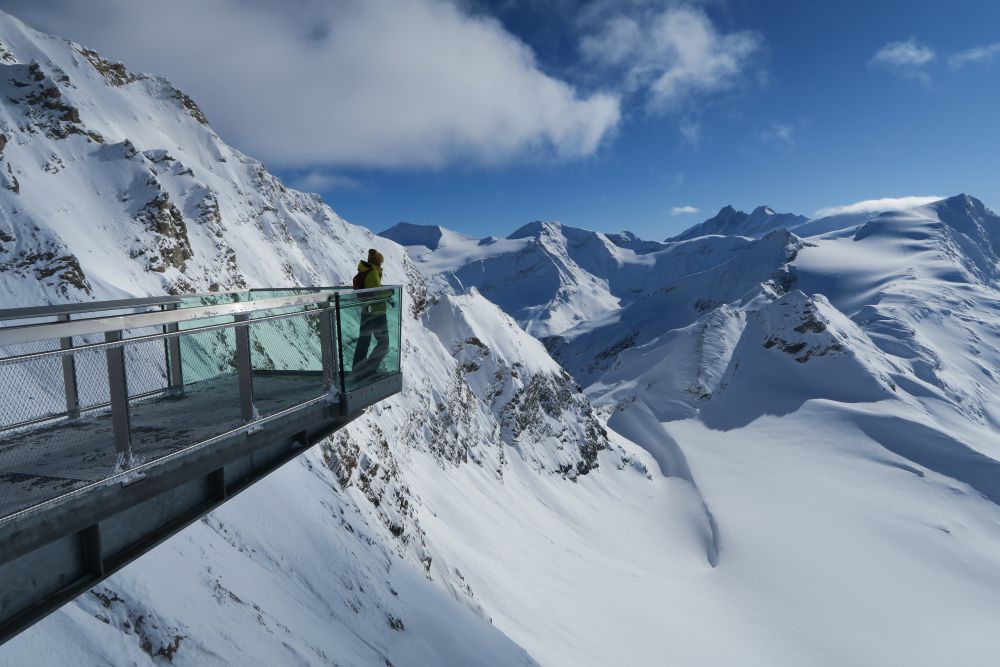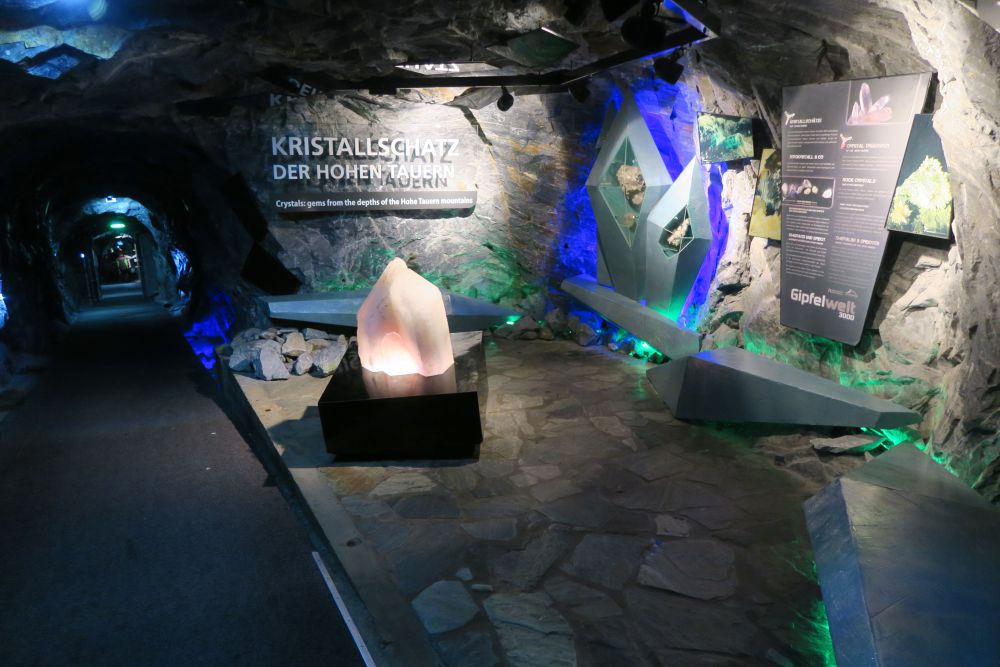 Another nice addition to the top platform is the Cinema 3000, where you can enjoy a short movie about the area. You will enjoy beautiful images that will show the national park in different seasons. I am sure it will give you serious lust to come back in the summer and do some hiking as well!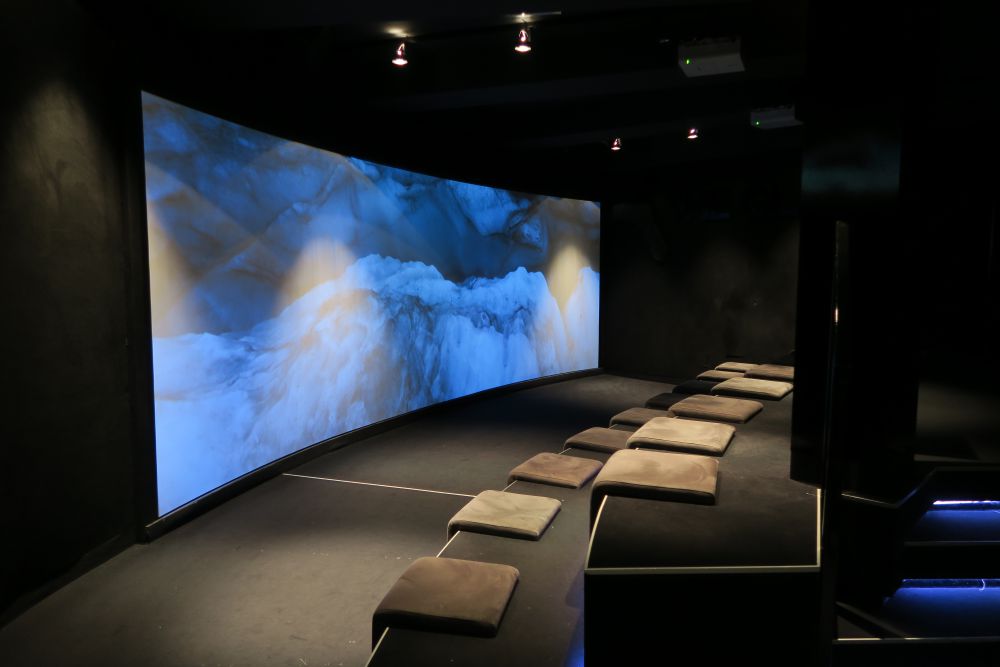 Snowshoeing has been on my bucket list for a while and I was really happy that I was able to cross it off in such a beautiful place as Kitzsteinhorn. Now I am eager to do more as I enjoyed it so much. Walking with snowshoes on is a much easier way to explore the area than hiking in simple snowboots. During our tour, we saw many hikers who were struggling in their regular snowshoes going uphill the slippery snow. It was very easy for us in our snowshoes. Our tour happened to fall on Valentine's day and we were lucky to have gorgeous sunshine throughout the day. We had about 10 people in our group from different countries. Our guide didn't speak very good English, but a group member was very kind and translated many of the interesting facts that the guide told during the tour. The tour started at the Alpine Center. There are lockers here, which you can rent for €4 for 24 hours that could store your skis, boots and helmets while you are snowshoeing. During the tour we walked up to Ice Camp where we had some time to enjoy the scenery and have a drink before we headed back to the Alpine Center. The tour took about 2 hours.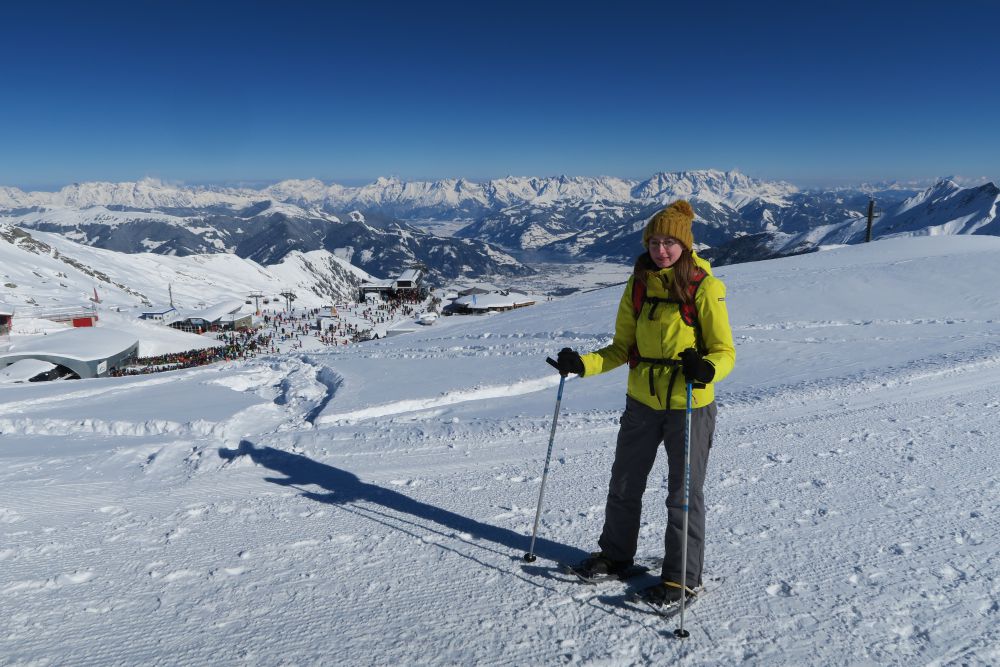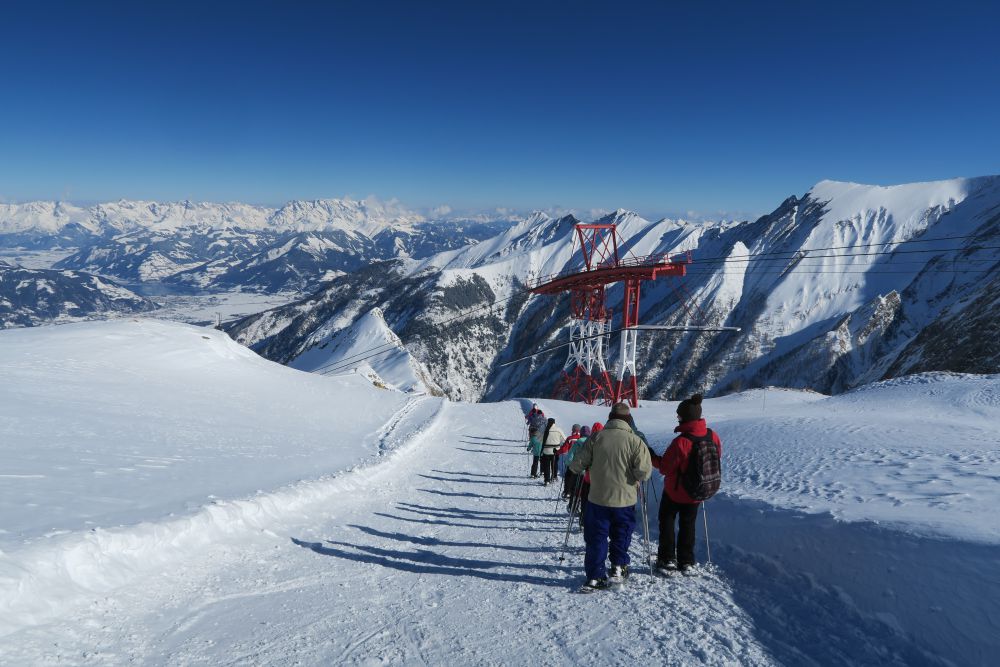 Visitors will enjoy Ice camp presented by Audi Quattro, which consists of 3 ice igloos. It is a great meeting point. Inside the igloo, you can have snacks and drinks from ice glasses. Now if that's not a unique experience, I don't know what is! On sunny days you can enjoy some music and the breathtaking views from the deck chairs. In bad weather, the igloos provide the perfect shelter and give you a chance to warm up with some hot chocolate. You can also pass some time by taking pictures in front of the Audi with the help of the automatic photo point.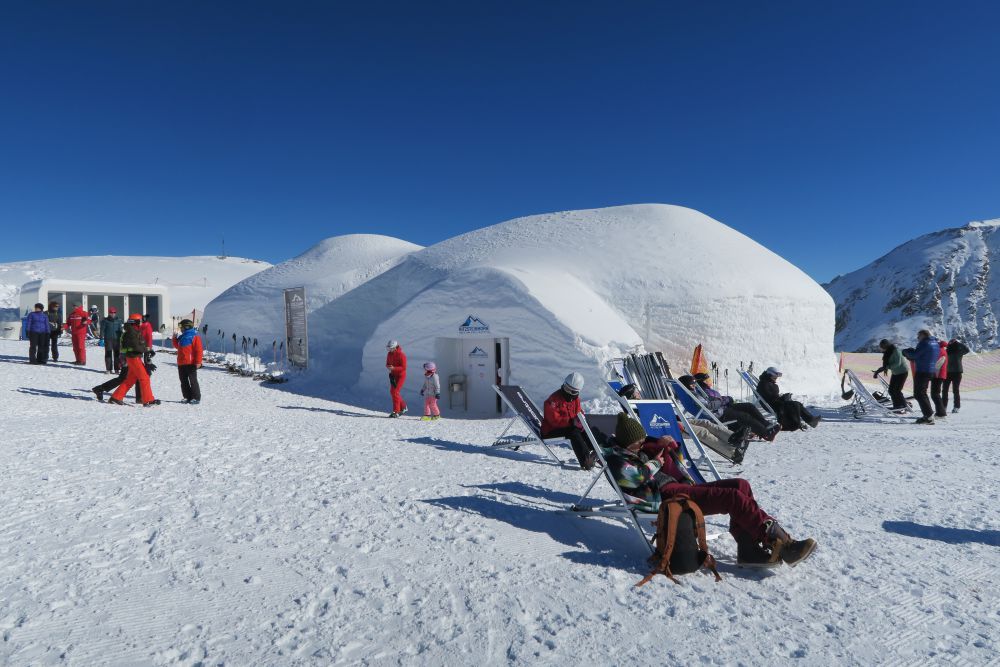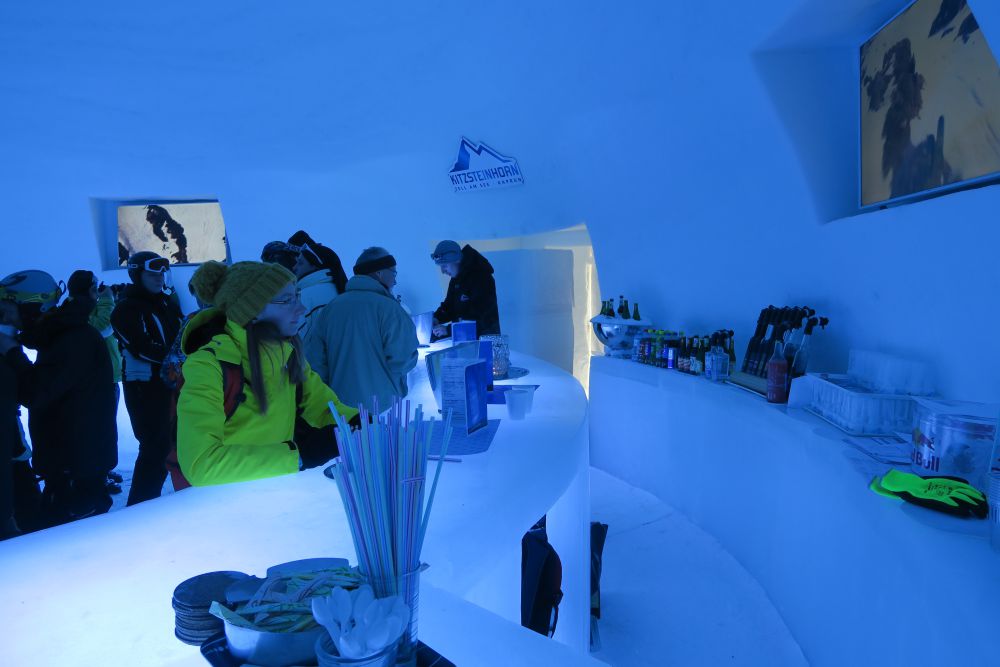 I was rather impressed with the Snowpark. Lots of cool features like rails, jibs and kickers. You will also find a Superpipe, which I thought was really cool as I have never come across with something like that before. If you like to show off and practise some tricks the SNowpark is the perfect place for you!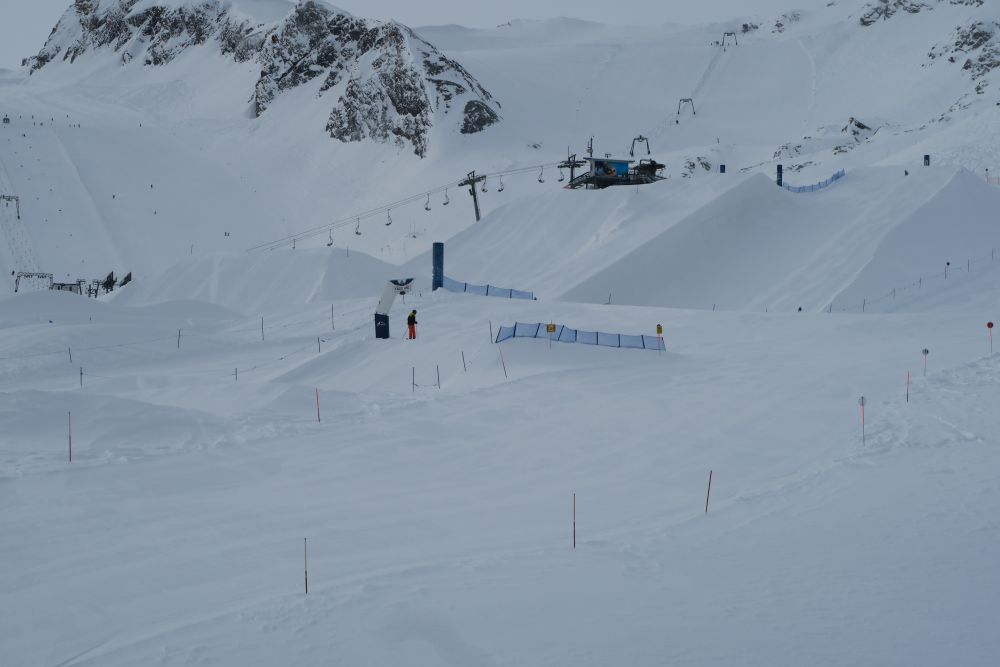 Kitzsteinhorn and Kaprun is very popular among the younger generations, as there is a lot of apres ski going on. Nightshow Kaprun is one of them. It takes place on the Lechnerberg piste. Don't use google maps instructions to get to this place. We saw crowds of people walking for the night show all relying on google maps. We all ended up at the wrong place, the opposite end of the piste. It was quite amusing how so many of us had to turn around and locate the right place. If you do use google maps make sure you type in "Ski Dome Lounge Kaprun", that will take you to the right place. There is parking as well! Since we got lost at first we were a bit late to the show, but we still enjoyed some of it! It was great fun! We saw a lot of cool jumps, stunts and fire and dance show.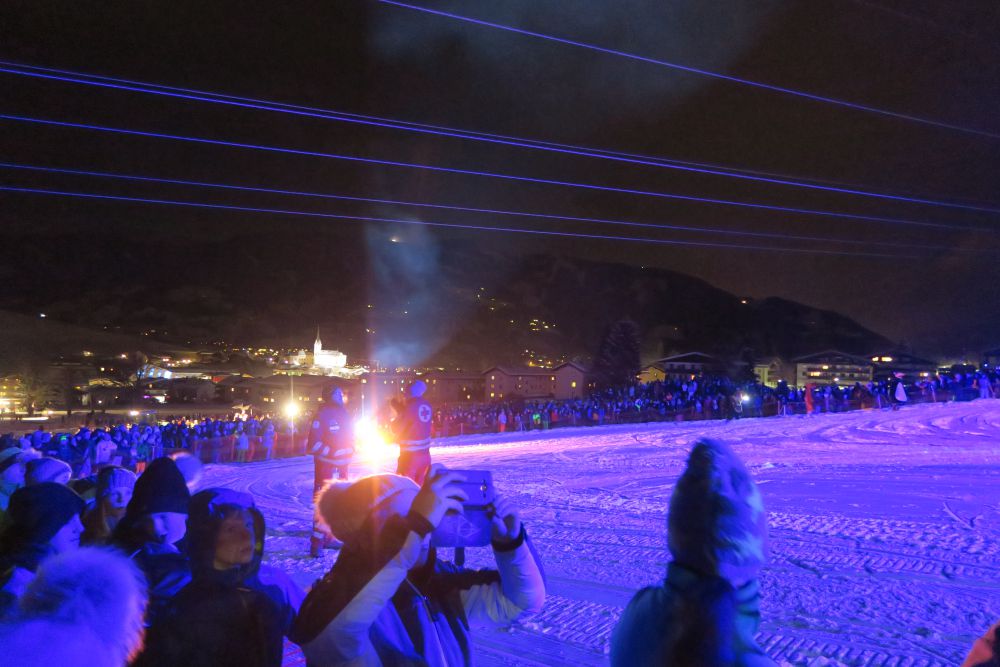 Accommodation: There are lots of different types of accommodation you could choose. As this is a popular area you will need to book far ahead to secure a nice place for your budget. We like staying in apartments as this gives us the opportunity to have more space and cook for ourselves. This is why we choose Haus Hubertus, which is a 30-minutes drive from the ski resort. We were very satisfied with the place. It was affordable, clean, spacious and had everything we needed.
If you prefer something closer to the resort I suggest you to book something in Kaprun or there are even ski in and out hotels called the Krefelder Hütte and BSFZ Kitzsteinhorn. They have direct access to the slopes of Kitzsteinhorn.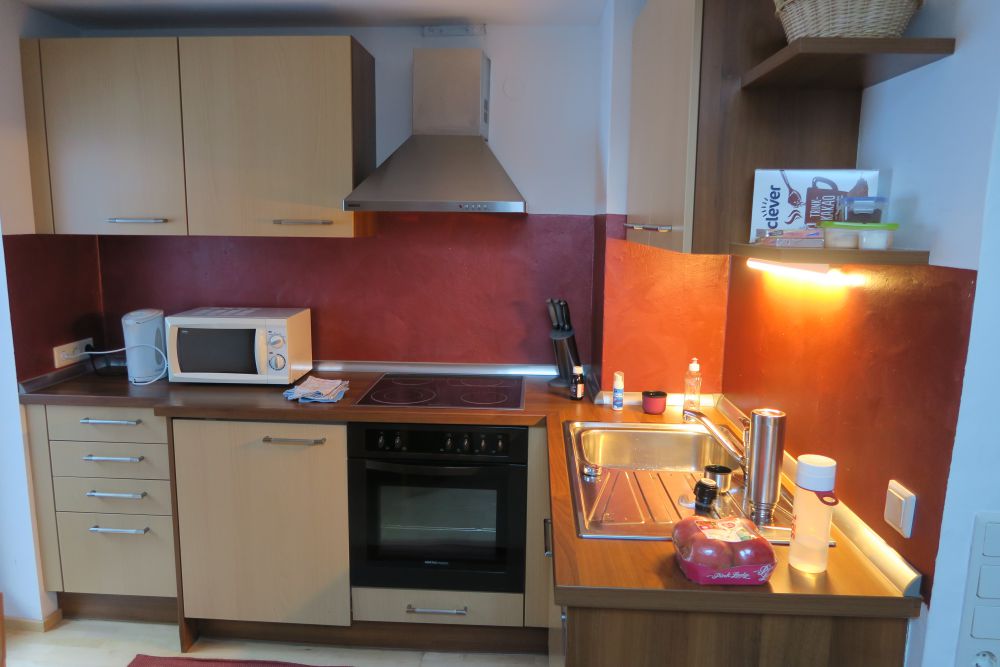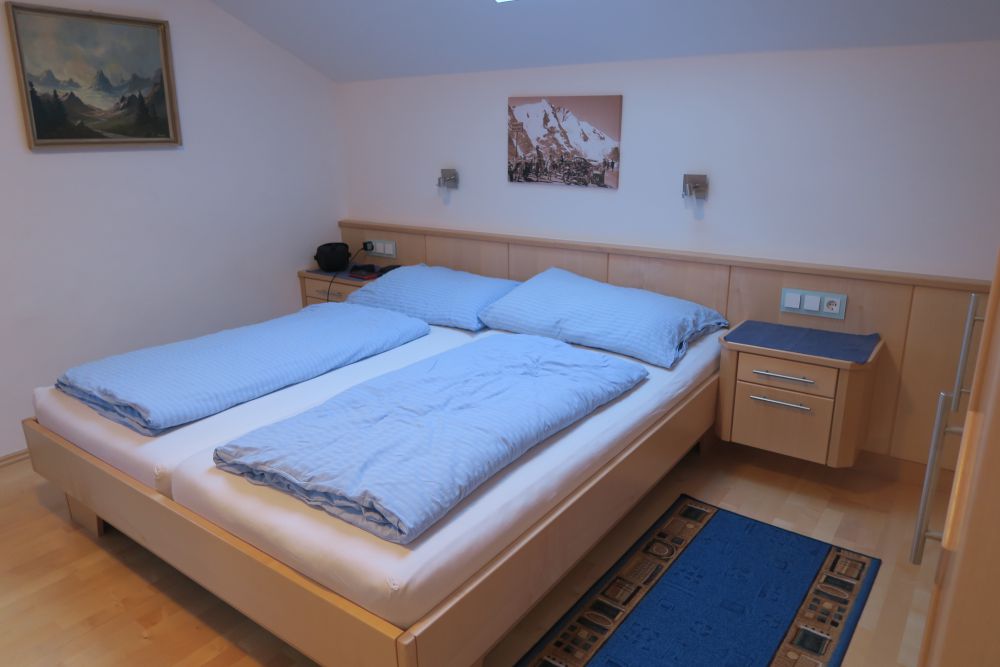 My conclusion is that Kitzsteinhorn is a great place both for skiers non-skiers. The area is beautiful, a real hidden gem in Europe, and I would like to return someday, perhaps in the summer as well, so I could explore some of the hiking trails.
I edited this video about our stay. Enjoy!
Are you a skier? Now it's your time to share your favourite ski resort! Please let me know in the comments what you look for in a ski resort!
Note: We were guests of the Kitzsteinhorn resort, but as always all opinion is my own.
Did you like this post? Why not PIN it for later?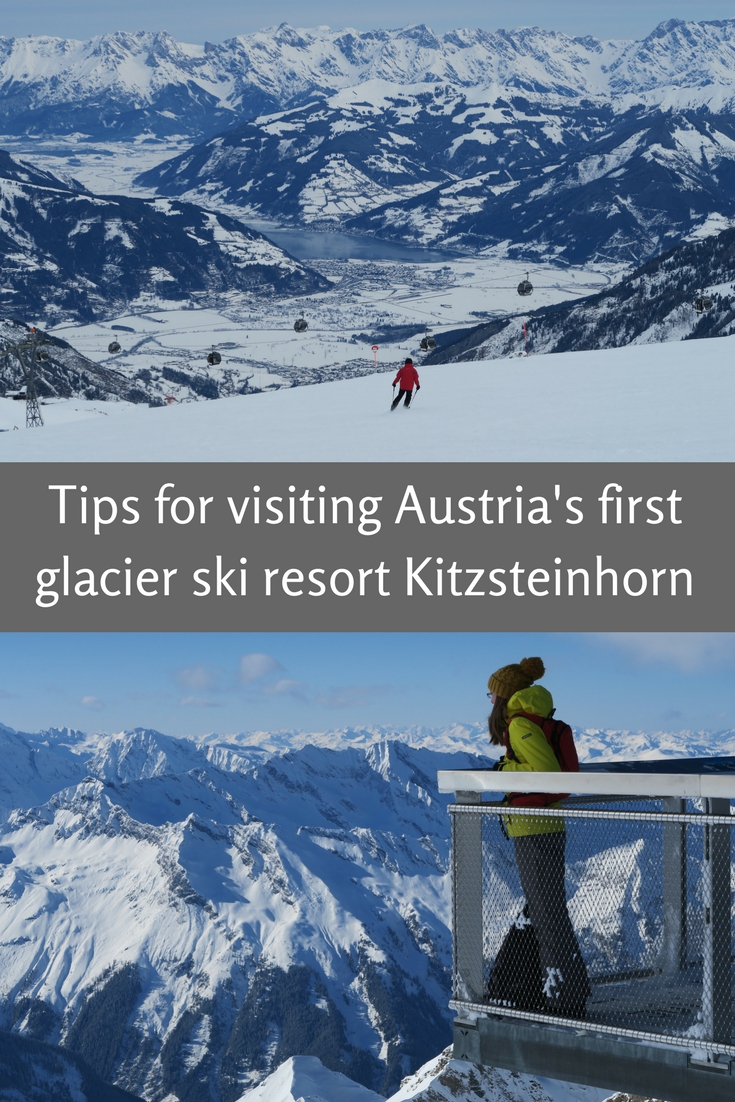 Enikő
Hey, I'm Enikő! I'm currently an au pair and I want to share my experiences with you. I've travelled a lot in the past years. I'm gonna teach you how to settle in to a new country and get free accommodation anywhere in the world. Circle Enikő on Google+!