Andorra ski holiday – Grandvalira ski resort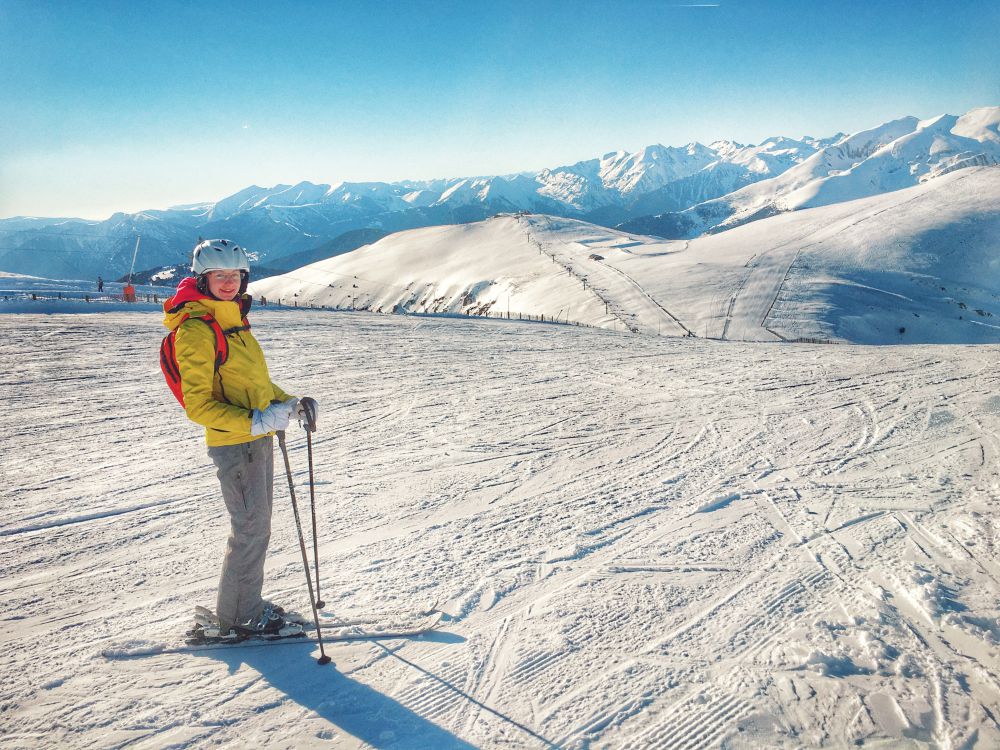 I just got back from my best ski holiday yet and I can't wait to tell you all about it. Everything worked out really well. We had beautiful weather, nice accommodation, super snow conditions and we could have a quick sightseeing day in Barcelona as well.
I think most people fly to France or Italy from the UK for their skiing holiday. They somehow overlook Andorra. It's a tiny country I admit, but has the largest resort in the Pyrenees. So let me introduce you Grandvalira and tell you why you should choose it as your next skiing destination!
How to get to Andorra: Fly to Barcelona and spend a few days in the city if you have the time. This way you can combine your ski holiday with a short city break.
From Barcelona Airport (El Prat) you can take a transfer bus to Andorra in 3,5 hours.
Another option is to fly to Toulouse.
Accommodation: We were lucky enough to find a home exchange in this small country. Having free accommodation saved us tons on this trip. The apartment had a great location, only a few minutes walk from the slopes in El Tarter. I loved that I was able to look out of our window and see the slopes.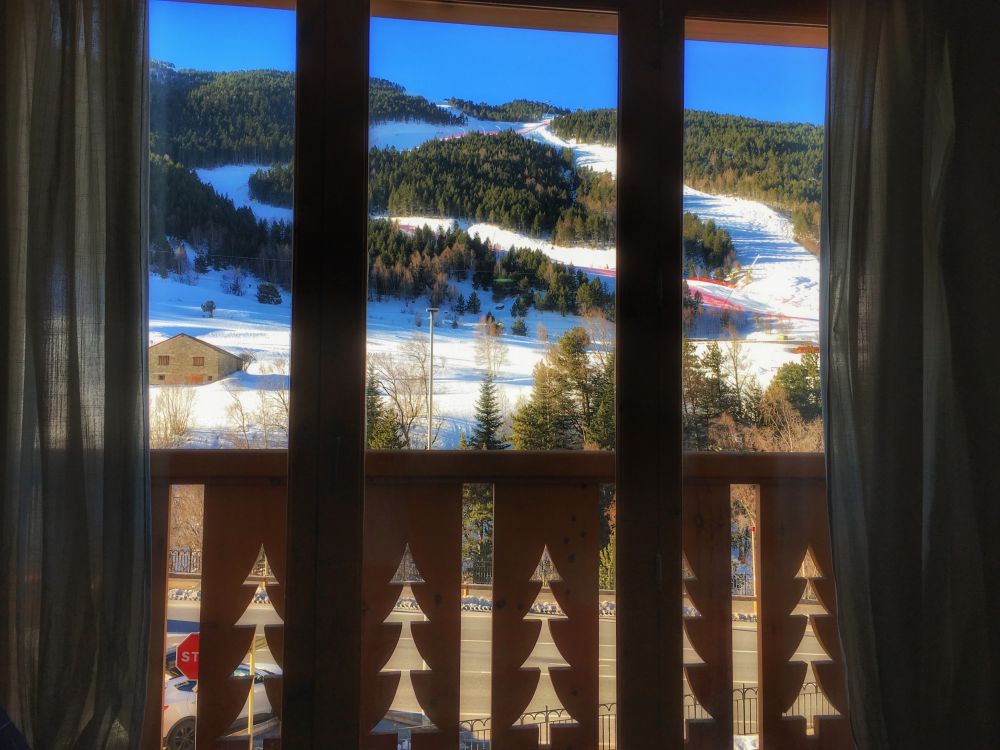 Our awesome view from the apartment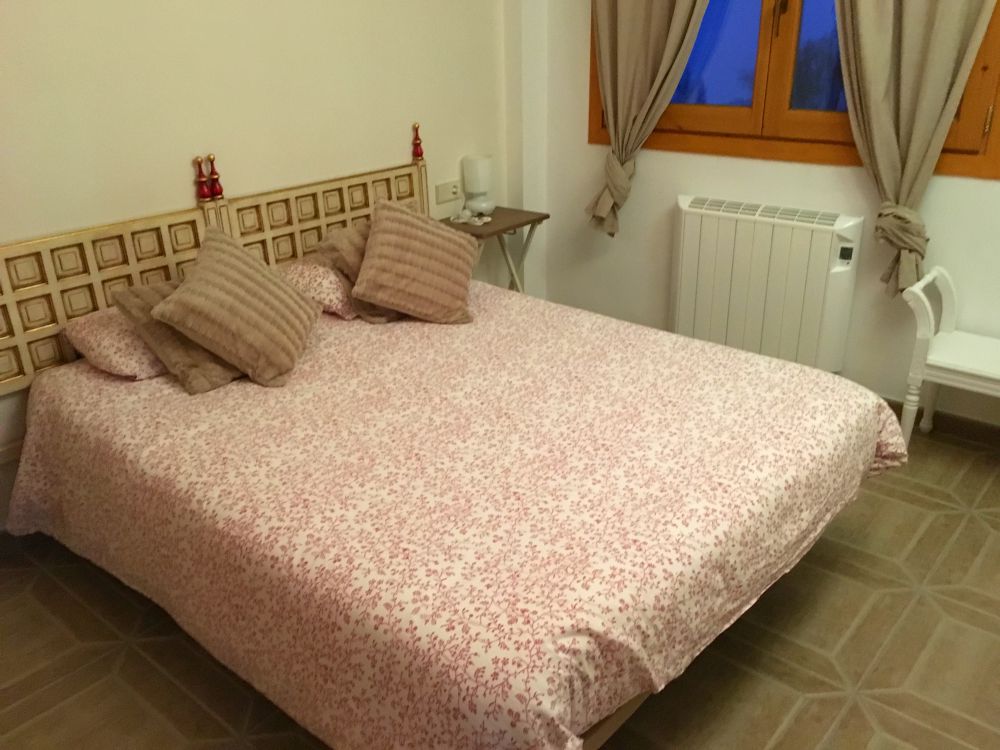 Grandvalira ski resort: Grandvalira has 210 km slopes and 67 ski lifts. Pas de la Casa/Grau Roig/Soldeu/El Tarter/Canillo/Encamp are all parts of the resort and these towns are all well connected. Having so many slopes guarantees no one will be bored and everyone has something for their own abilities. We had a 5-day ski pass and the lifts and slopes were not busy at all except for the weekend, which was expected.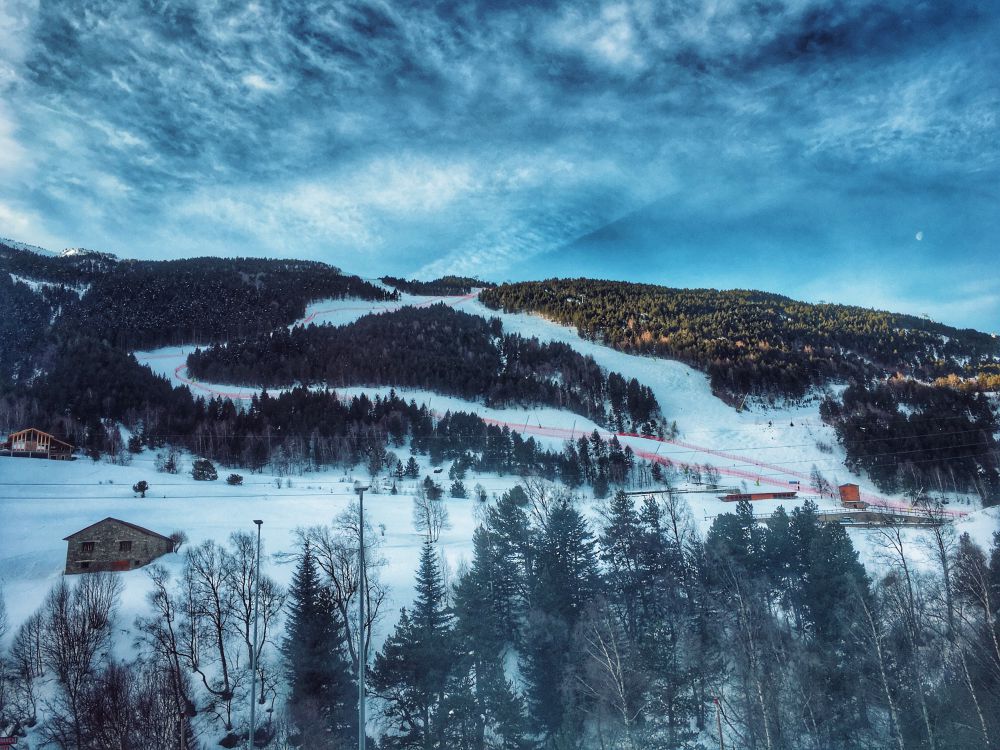 Lunch vouchers: We purchased ski passes with lunch vouchers, which saved us some money. It was a good idea as food can get expensive on the slopes. The vouchers included chips +drink + a warm sandwich (quite a big baguette) or hamburger. There is at least one restaurant in every sector where you can use the vouchers.
Your ski pass comes with a unique code, that you can use for the wifi, which is accessible at the restaurants on the slopes.
Equipment hire: We hired our ski equipment from Nordic Esports. They were very professional. The process was quick and easy. We also rented a locker 5 Euro/day. The lockers are located next to the slopes at Nordic Esports and they are suitable to store 4 sets of skis and boots at the same time.
Free mobile app: Grandvalira has its own mobile app, that has some cool functions. It can show you how many kilometers you skied each day and what was your top speed.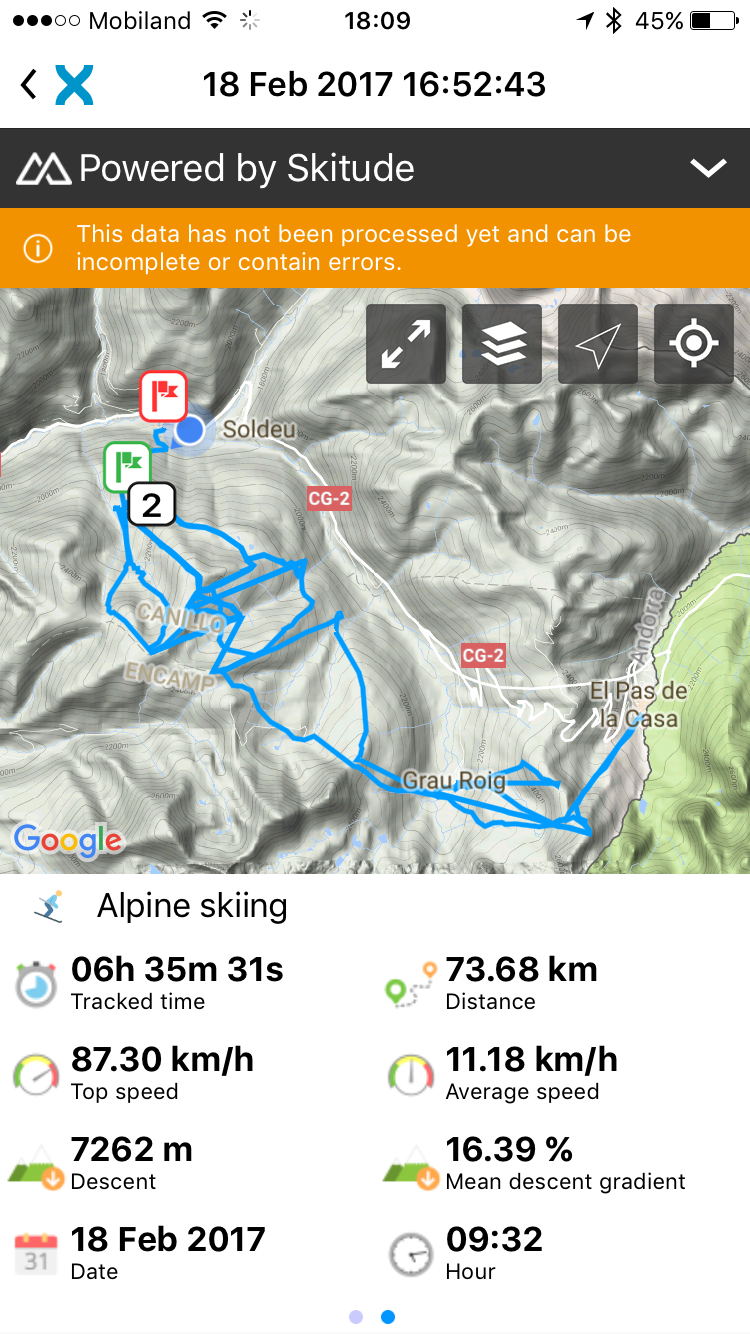 Prices in Andorra: Wself-cateringatering as our apartment had a kitchen. There was one supermarket in El Tarter called Caves Manacor, which sold some interesting goods. All sorts of meat, cheese, chocolate, souvenirs and delicatessens. It's a foody heaven.
Some grocery prices.
450 gr Nutella   4,5 Euro
2 l Semi skimmed milk 2 Euro
Frozen pizza 3 Euro
50 g Parmesan Cheese 4 Euro
150 gr bacon 2.75 Euro
French baguette bread 1 Euro
12 eggs 2.75 Euro
500 gr boneless chicken breast 4 Euro
125 gr Andorra chocolate 3 Euro
Tips for skiing: Drink plenty of water and take lip balm with you. Our mouth got quite dry by the end of our skiing holiday! Also a good idea to take a flask and fill it up with tea or hot chocolate!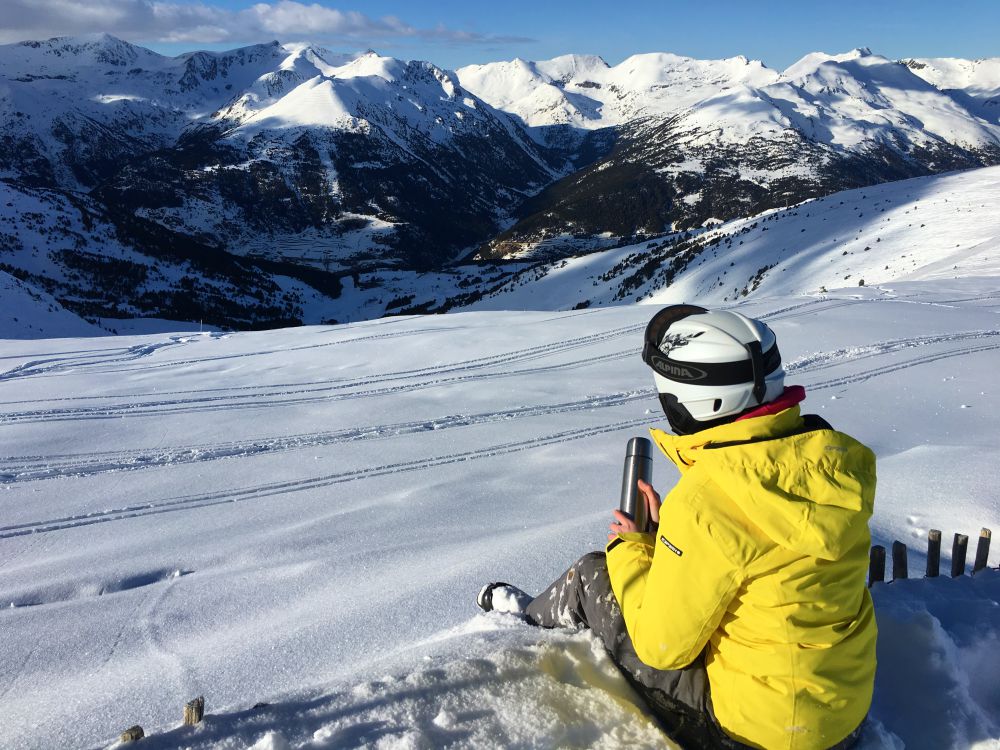 Check out my short video about the ski resort!
I had a great holiday in Andorra. I thought the slopes and snow conditions were great and the staff was very professional. You can also try other winter activities as well like mushing, snowshoeing, snowmobiling or if you prefer a less active holiday you can visit some of Andorra's nice spas.
We booked all of our ski passes/equipment/lunch vouchers/transfer from airport HERE!
Have you ever been to Andorra? What was your favourite ski resort you visited?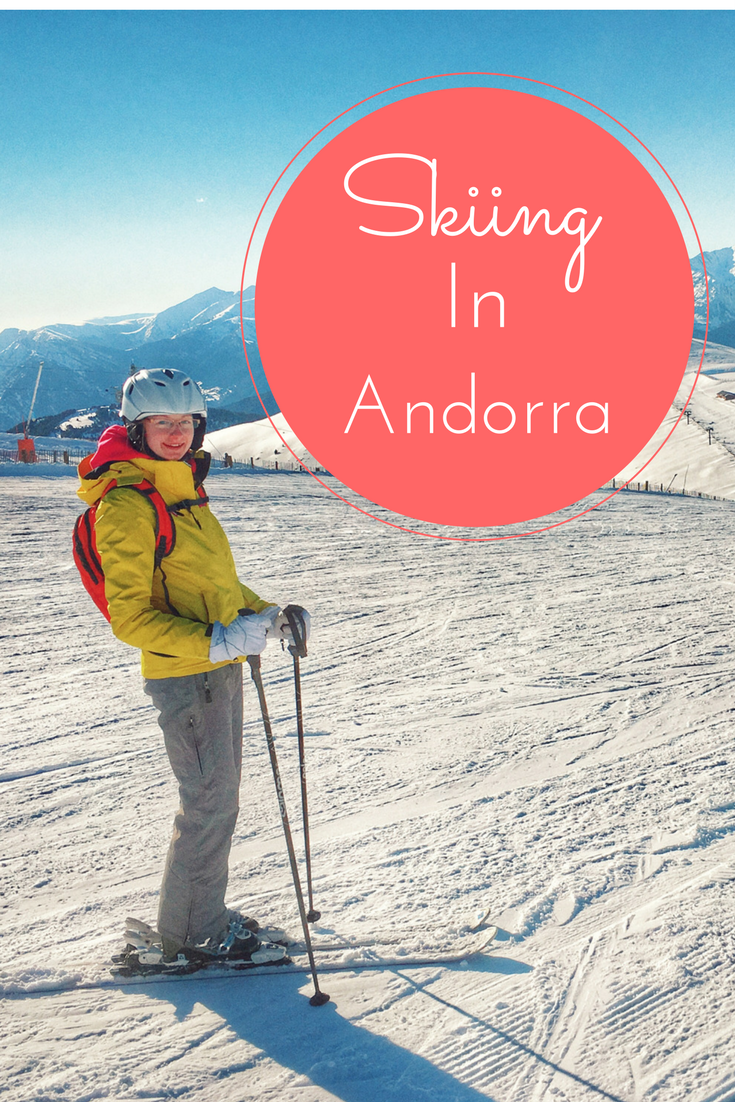 Enikő
Hey, I'm Enikő! I'm currently an au pair and I want to share my experiences with you. I've travelled a lot in the past years. I'm gonna teach you how to settle in to a new country and get free accommodation anywhere in the world. Circle Enikő on Google+!