Winter is definitely here. And it is one of the best times for landscape photography. Fewer people, which means not waiting around for them to leave so that I could get the perfect shot. Also, the sunrises and sunsets are at a very reasonable time and don't require getting out of bed super early or staying up late. We love the misty mornings with the frosty grass. It can create a very special atmosphere. A great time to hit our local woodland or nearby hills. But with the lower temperatures, I found it challenging to operate the camera with thick gloves. Taking them off makes my hand freeze. Numb fingers are no fun and can ruin the whole experience. So I've been looking into a solution for this problem. That is when I found out about the Vallerret photography gloves! I was kindly gifted a pair for this review and it arrived just at the right time for our winter adventures. 
Vallerret's first photography gloves launched via Kickstarter in 2015. Since then they designed several different types of gloves for different needs. The company is based in Norway, so they really know what real winter feels like. The founders themselves are passionate outdoor people, who want to protect the places and lifestyles they love from climate change. Hence they are commited to running a sustainable business. They are aware that any production creates pollution. To minimise their impact on the environment, they offset both historic and future carbon footprints. They also donate 1% of annual sales to environmental non-profit organizations. 
Which glove to choose for UK climate
The UK doesn't quite have the same harsh winters as Norway. But it can still feel very cold on top of a mountain in the wind. Getting that perfect winter shot takes patience, which means standing around in the cold for long periods of time. I opted for the Markhof Pro V3 Photography Gloves. They are well suited for the UK climate. However, if you are planning to go on a photography trip to somewhere colder, like Iceland, Norway or Greenland, then you might want to opt for a different model. 
Why we loved the Markhof Pro V3
The gloves not only function great for photography, but they also look super stylish. We used these gloves on our early morning trips to our local woodland at 0 °C temperature. Thanks to its 100 % Merino Wool liner it kept the hands warm at all times.  The FlipTech finger caps are our favourite feature. It gives me full access to my dials in seconds. The built-in magnets keep the caps open and out of the way.  I also like the non-slip grip, as it helps me to keep the camera safe. It has several other features, that make this glove more suitable for photography, than regular gloves. There is a pocket on the back of the glove for an SD-Card. You can also find a tripod key installed. A suede wipe is built-in on the back of the thumb, which works great for an emergency lense clean.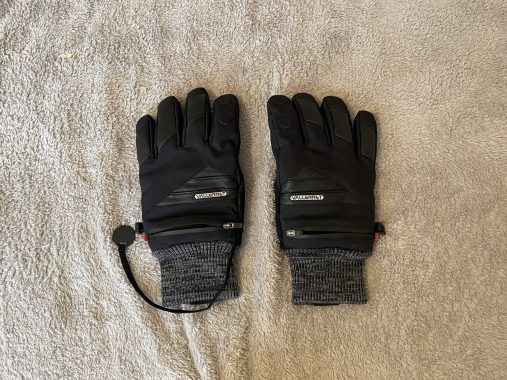 Glove care
Because these gloves have a flip cap on the thumb, in order to be functional for photography, and thus with the finger hole, by definition, the glove could not be waterproof. They currently use Durable water repellant treatment (DWR) and a laminated membrane on the fabrics to create a high level of water resistance. If your photography mission is on a wet day, then it is suggested to hang dry your gloves as soon as you get home to avoid material breakdown and mould.
If your gloves get dirty, you can hand wash them, but don't use the tumble dryer.
Who are these gloves for?
These gloves are great for everyday photography trips in the winter for amateurs and professionals alike. Whether you are into astro, wildlife, urban or landscape photography I am sure you will find them really useful on those cold winter days. 
Disclosure: We were provided with these gloves for the purpose of this review. All thoughts and opinions are my own.
Enikő
Hey, I'm Enikő! I'm currently an au pair and I want to share my experiences with you. I've travelled a lot in the past years. I'm gonna teach you how to settle in to a new country and get free accommodation anywhere in the world. Circle Enikő on Google+!