Sailing day trip from Split to nearby islands
On our holiday in Croatia, I really wanted to get more familiar with sailing, partly because my boyfriend is into sailing and also because it is a great way to explore the coastline and the nearby islands. Turns out there are several companies offering yacht charter or sailing trips from Split, however, I was looking for something quite specific. Although my boyfriend has a day skipper licence we weren't quite ready to venture out on our own as it's been a while since he last sailed and neither of us is really familiar with the marinas and sailing habits in Croatia. We wanted to find a company that offered sailing trips with a skipper for small groups. Opcija Tours offered exactly that.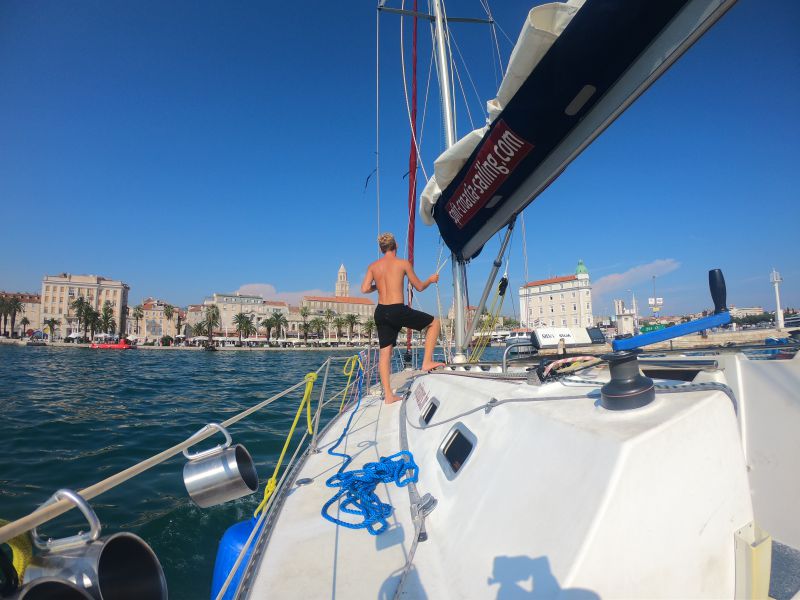 The sailing boat: The boat type is VAL 35. It is 10,60 meters, and it's registered for 10 guests + 2 crew members, but they restrict the number to 8 guests unless it is a private tour of a family or friends of 10. We were lucky as we only had to share the boat with a friendly family of 4. Having only 6 guests on the boat was great as it left us plenty of space. We could move around freely on the boat and we were allowed to choose where we wanted to sit. There were cushions prepared for us making the journey very comfortable. The boat also had a toilet and a table downstairs with seats around it to have lunch in case the weather was not great.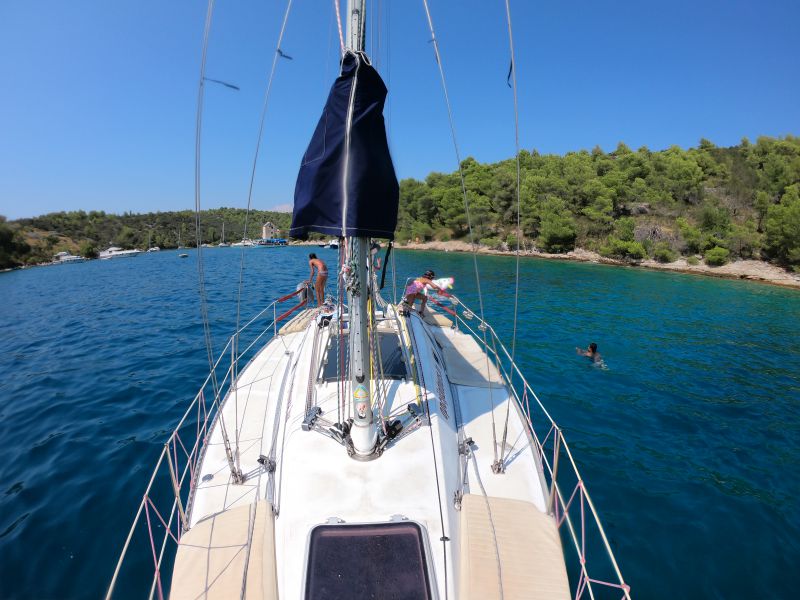 Sailing day trip from Split to nearby islands
In the summer the trip starts at 10 am from Split Harbour. It was easy to find the boat thanks to the pictures online and the company name printed on the side of the boat. Glorian greeted us and the other guests and introduced us to the other crew member who helped him on the boat. The company is very clear on their website that no two trips are the same as the destination depends on the weather/wind and the skipper. The general idea is to go to one of the nearby islands Brac, Solta or Ciovo and visit a seaside town, where you will have some free time to go for a swim or wander around. Then you will go on the sailing boat along the coast and anchor in a wild bay to go swimming and have lunch. In the afternoon there is normally good wind, which should give you the opportunity to sail back to Split, where you will arrive around 5 pm. I really like this approach, but this trip might not be for you if you want to see something specific.
This was my second time on a sailing boat, so I was still quite new to it. Guest can chip in as much or as little as they wanted to with the handling of the boat. I was quite happy to just sit and relax, enjoy the sun and scenery, but my boyfriend enjoyed trying out the tiller, which was really interesting to him as he hasn't handled a boat with it before. Our first stop was on the island of Solta in a cute, little seaside town called Stomorska. Glorian gave us corn on the cob as a snack before lunch, which brought me back some pleasant memories, as my mum used to make this for me and my brothers when we were small. We had about 45 minutes of free time in the town. We enjoyed just wandering around and having an ice cream.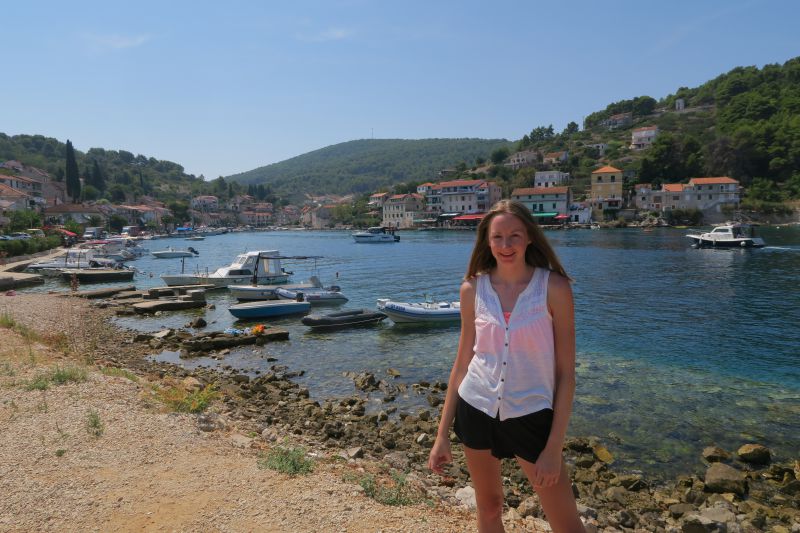 After this, we made our way towards the island of Brac where we anchored in a wild bay. We had a lovely time here jumping off the boat, snorkelling and swimming around. The company provided us with snorkelling gear and a giant inflatable unicorn. This was particularly appreciated by the two girls from the family, but I also had a go at riding it and of course snapping a few insta pictures.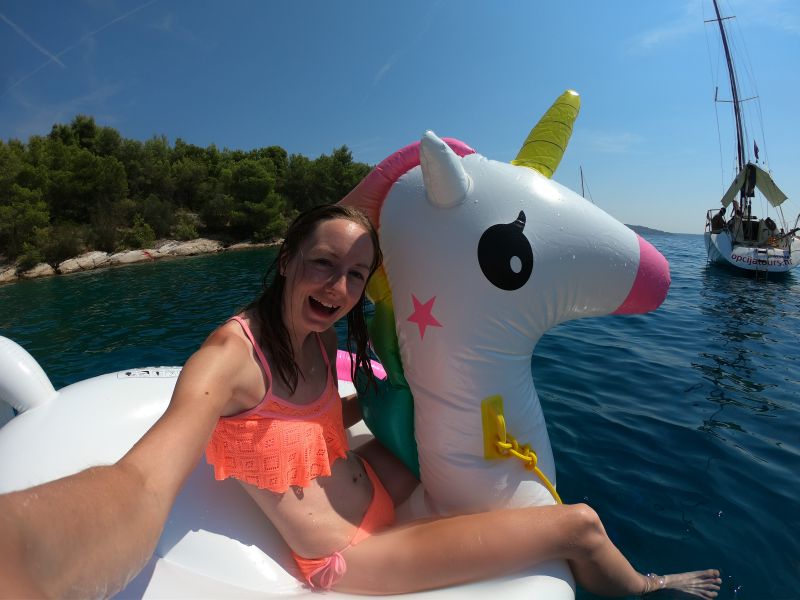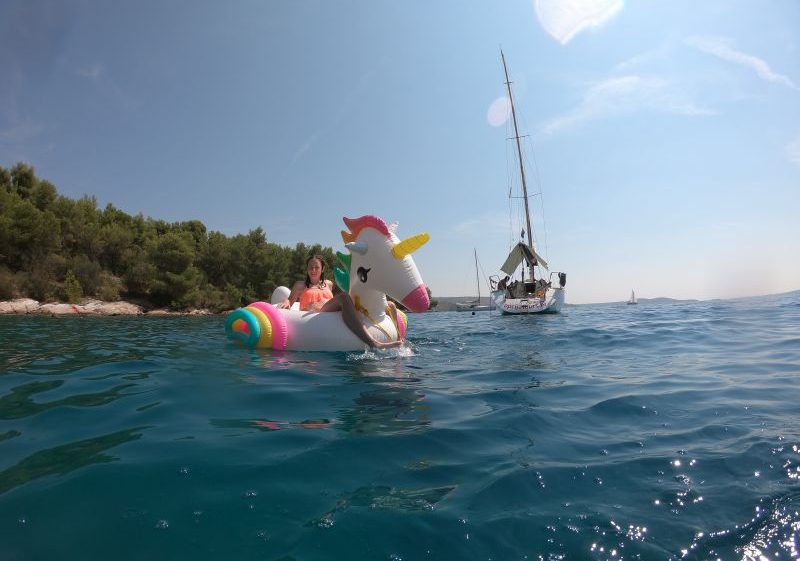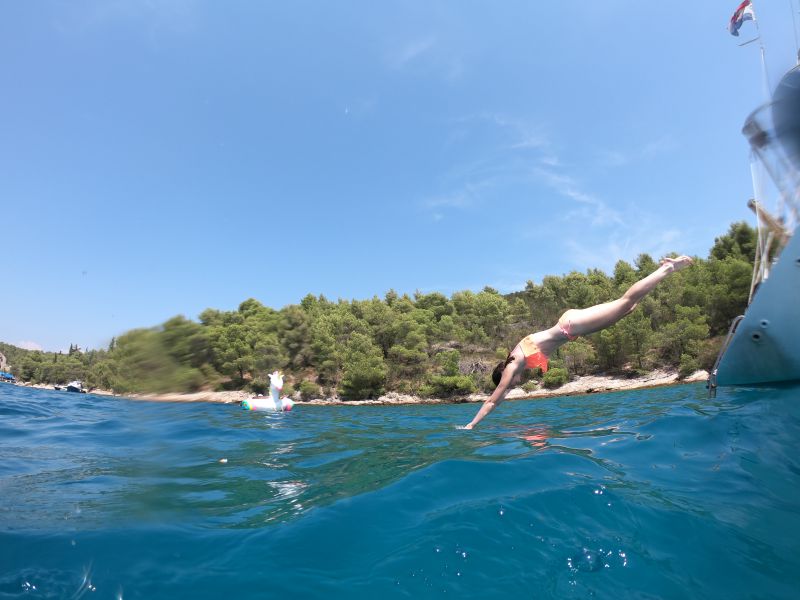 Soon lunch was served, which was prepared at home by Glorian's girlfriend. Since the weather was gorgeous we decided to eat lunch on the deck.
Dalmatian Lunch: Just like the destination of the boat, the lunch menu is also always different. If you have any allergies or dietary restriction get in touch with the company and they will make sure they meet your needs. On our trip, we had a vegetarian on board and there were tasty dishes she could enjoy as well. All the ingredients they use are locally grown.
This what the menu looked like the day we went:

Soparnik: savoury pie baked in a wood-fired oven with a filling of Swiss chard, garlic and olive oil  It is a UNESCO protected dish and very famous for the Dalmatian region.
Chicken and vegetable kebabs
Vegetable kebabs
Salad with locally grown vegetables and cheese
Dips
Sardines
I was happy to try all the dishes and really enjoyed them. It is nice to try some local food from fresh ingredients. They also served Croatian white wine and there was plenty of water on board as well.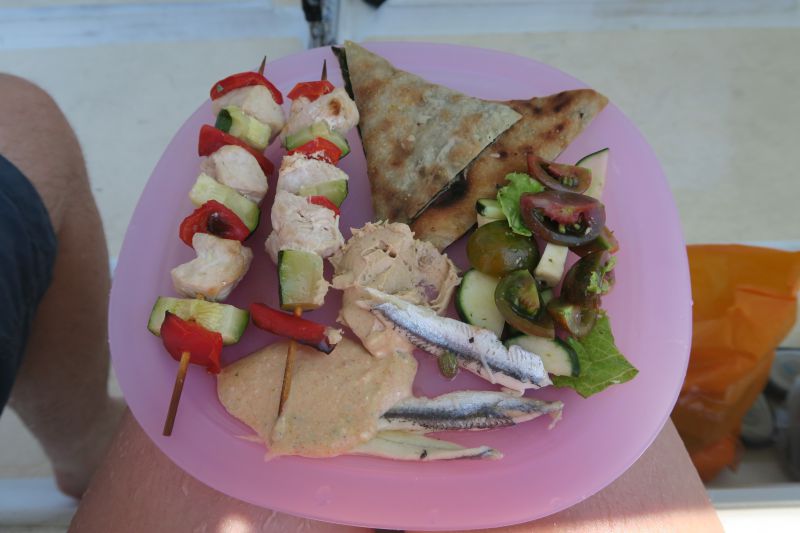 After our delicious meal, we had more time to go for a swim. I decided I prefer going for a swim way more from a boat than from a beach. Diving from the boat is a lot of fun and there is no crowd around you. I suggest trying it if you haven't yet! Time passed quickly as we were having fun. Soon we had to return to the boat and get ready to leave the bay. But there were more pleasant times ahead. The wind picked up since the morning, which meant we could get the sail out. It got quiet as soon as the motor was turned off and we enjoyed the sound of waves while sailing back to Split. Glorian had one more treat for us: some tasty local grapes to snack on. As we were sailing back the girls wanted some music on, which was a good opportunity to hear some Croatian music. At around 5 pm we arrived back to Split. What a great day we had, I think I understand why so many people are into sailing. It can be very relaxing and a great way to explore.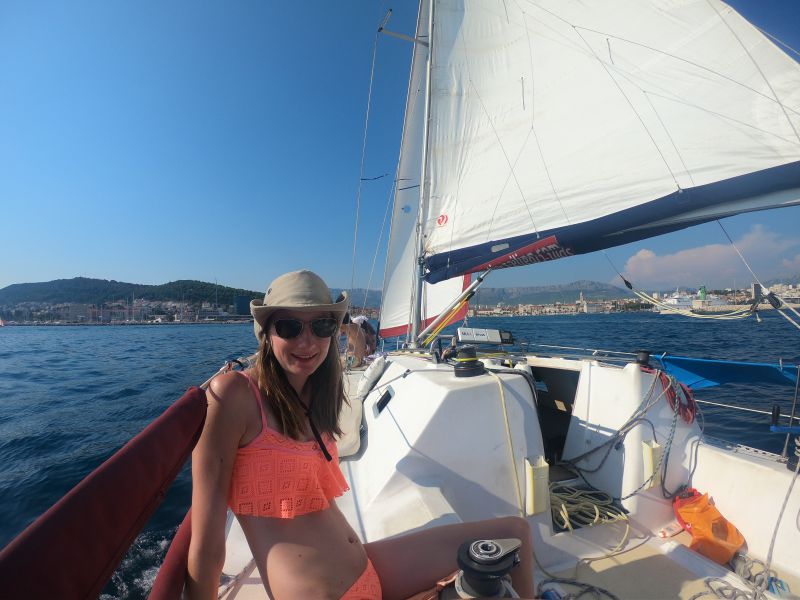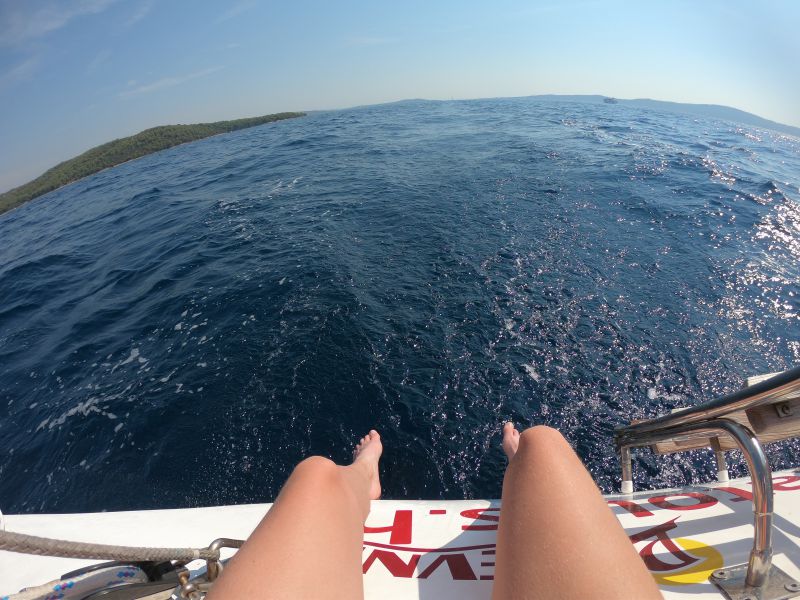 Price: This full day sailing trip from Split costs 110€ per person. Children under the age of 4 can attend for free and  4-11 years receive a 30% discount. I highly suggest this trip for families as well, not just for couples. The two kids aged 8 and 12, who were on the trip with us had a blast. The price includes the skipper, lunch, drinks (white wine and water), fuel and snorkelling equipment. Basically, you will have no other expense on this trip unless you want to buy something in the town on the island, like ice cream or souvenirs.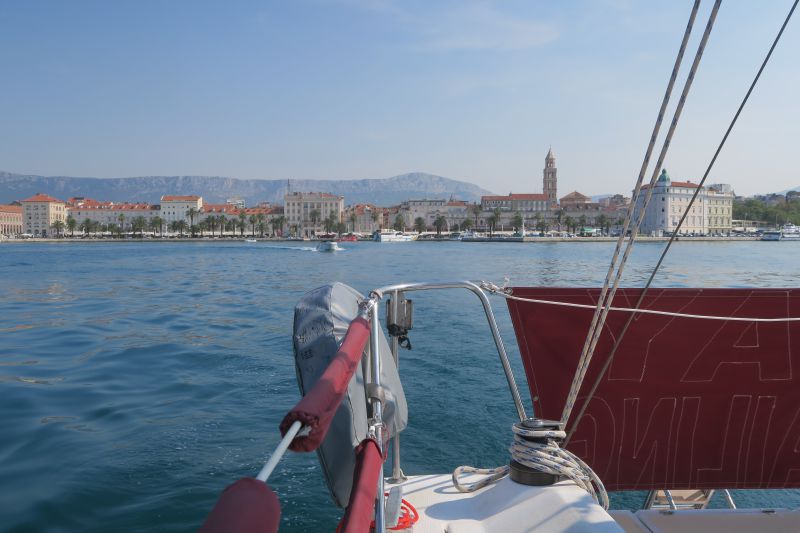 Other trips by the company: The company also offers half day sailing trips and a sunset sailing. You can book a private tour as all with only your friend and family on board and there is also a possibility to charter another sailing boat they have. If you would like to visit Bol, the Blue Cave, Green Cave, Paklinski Islands, Monkseal Cave or the island of Vis they also offer speedboat tours to this places.
Watch my video about this sailing trip from Split!
Did you like this post? PIN it for later!
Disclaimer: We were guests of Opcija Tours, but as always all opinion is my own!
Enikő
Hey, I'm Enikő! I'm currently an au pair and I want to share my experiences with you. I've travelled a lot in the past years. I'm gonna teach you how to settle in to a new country and get free accommodation anywhere in the world. Circle Enikő on Google+!