Exploring Brac island – a catamaran day trip from Split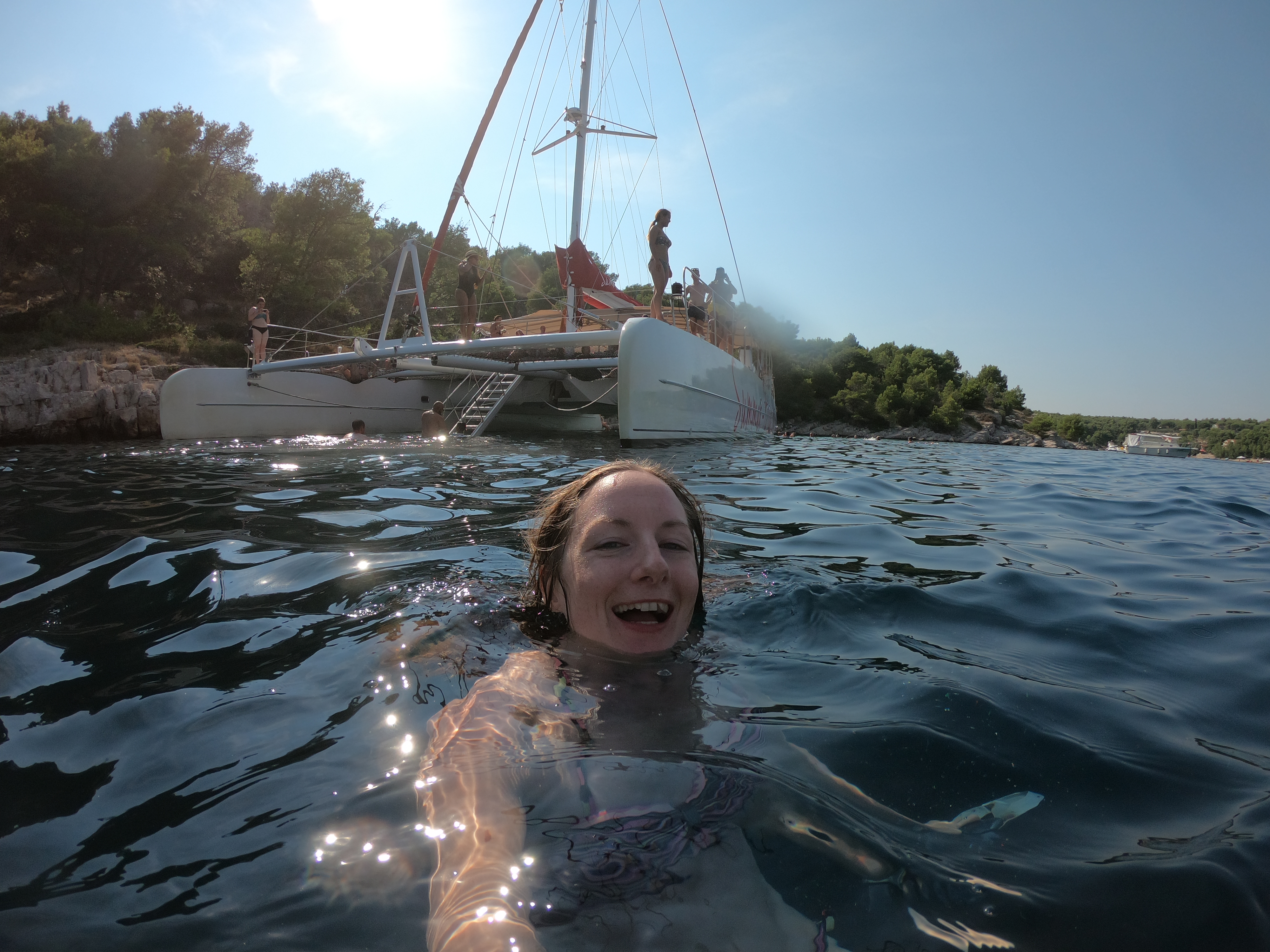 You must have seen pictures of the famous Zlatni Rat beach, (otherwise known as the Golden Horn) on billboards or in travel magazines. It is an easy day trip from Split, so we decided to go and see the symbol of Croatia.
Many companies offer trips to the Golden Horn, so it can be overwhelming to choose the best for you. We decided to go with Summer Blues company and we didn't regret our decision. They offer a full day catamaran trip from Split with unlimited drinks and a stop at Vidova Gora the highest peak on the Adriatic islands. As you know we love hiking and enjoy the views from mountain tops. Summer Blues was the only company I found that offered a stop at Vidova Gora, which is really the only way for ordinary tourists to see the shape of the Golden Horn from above.
On board the catamaran: The catamaran boat was very big. There were seats with tables available which could fit around 20-25 people comfortably in my opinion. There were a few more seats without tables and lots of space on the floor to sit and lie down on your towel. In high season you can expect 60-80 people on board. Not everyone will have a sitting place, but people move around on the boat constantly and it is quite fun to sit at the side with your feet hanging off the board. If you want to have a seat at a table arrive early and you can grab one.
Catamaran trip from Split to Brac

Meeting point for the trip was at Split Harbour at 8:30 am. If you arrive on time you can board along with the first people and grab the best seats. We left the harbour at 9 am. The journey to Supetar town on Brac island was relaxed. We enjoyed the views as we left Split and took pictures with the mountains in the background. When we were at the open sea they gave everyone salami sandwiches, which were very tasty! It took about an hour to get to Supetar town, where a coach was waiting for us.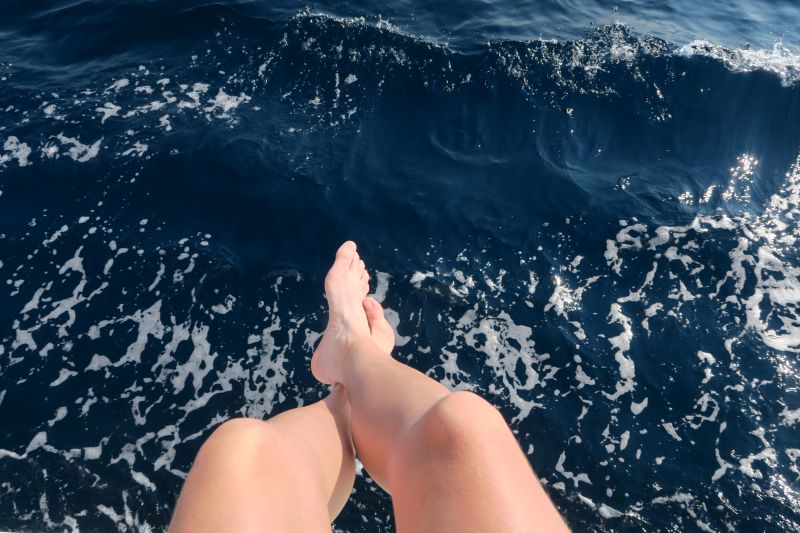 Exploring Brac Island
We boarded the coach, that took us to Vidova Gora, the highest peak on the Adriatic islands. Although the bus was airconditioned, with the temperature 30 degrees outside it was still quite warm on a bus full of tourists. On the way, our tour guide shared some interesting facts about the island. After about 30 minutes we reached the top of the mountain.
Vidova Gora
We got 30 minutes of free time to go and take some pictures. The best viewpoint is about a 10-minute walk from the parking lot. The views were amazing. We could see the town of Bol, Zlatni Rat, Hvar island and the Pakleni islands. It is also possible to hike up to Vidova Gora, a 7 miles round trip from Bol, however, I wouldn't recommend this in the hot summer months! Our time on the top quickly went past and we had to return to the bus. This time was enough to snap a few pictures and enjoy the views for a bit. but not really enough to go exploring, as, with most group tours, there was a tight schedule to stick to.
Zlatni Rat
Our next stop was the famous beach Zlatni Rat. We had over 2 hours of free time here, which was enough for us to go for a swim, have a snack and explore the beach. There are several watersport activities here, that you can participate in. You can go parasailing, waterskiing, speedboat tubing or rent a kayak or paddleboard. Sunchairs and umbrellas are also available for hire. There are several restaurants and shops selling fruits, crepes, ice cream and other tasty beach snacks. For families with children, there is even a small adventure park. I really liked Zlatni Rat as you can do so many different activities. Although it was busy, the beach didn't feel too crowded as the area was quite big. A huge bonus is there was shade! There is a small forest area in the middle ideal for people who want to be in the shade. Also, a great spot to hang your hammock and just chill! The beach itself is not sandy, which I prefer that way. I hate it when the sand goes everywhere! This small pebble beach was great for me! The water got deep quite quickly, so perhaps not the best for families with children. If you fancy a walk and sightseeing instead of a swim at the beach you can make your way at a lovely promenade to Bol town and meet the group at the catamaran at the given time.
Catamaran trip along the coast of Brac
We left Bol Harbour at 3 pm. It was really interesting to pass the beach we were at before by the catamaran. A completely different angle of the same place! We enjoyed the coastal views as we were heading to our next destination.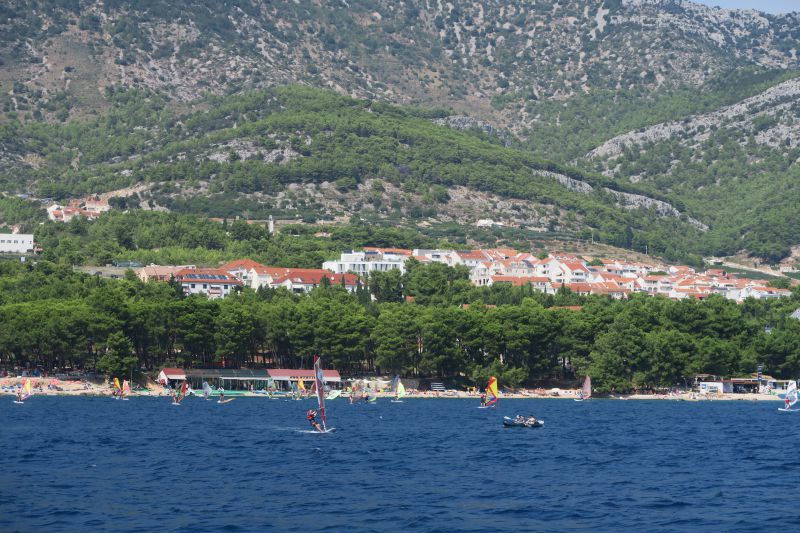 1st swim stop
Around 4 pm we stopped at Bila Lučica bay. They served lunch, however, we wanted to make the most of the swimming break and spent the whole time jumping off the boat, snorkelling and swimming in the water. It was great fun! I think I much prefer going for a swim off a boat than from a beach. This way there is no crowd or dirty feet. We could finally get on the net on the catamaran as well, which is a great place for sunbathing. For safety reasons, it is not allowed to be on it while the boat is moving. Soon the swim break was over, everyone got back on the catamaran. While we headed for the next swim stop Tom and I had our lunch. It was a chicken salad, which was good enough to keep us going.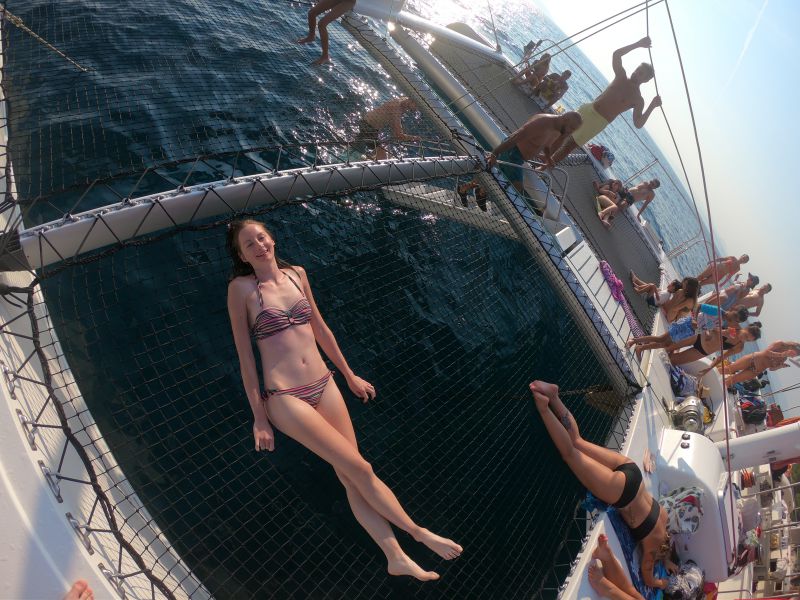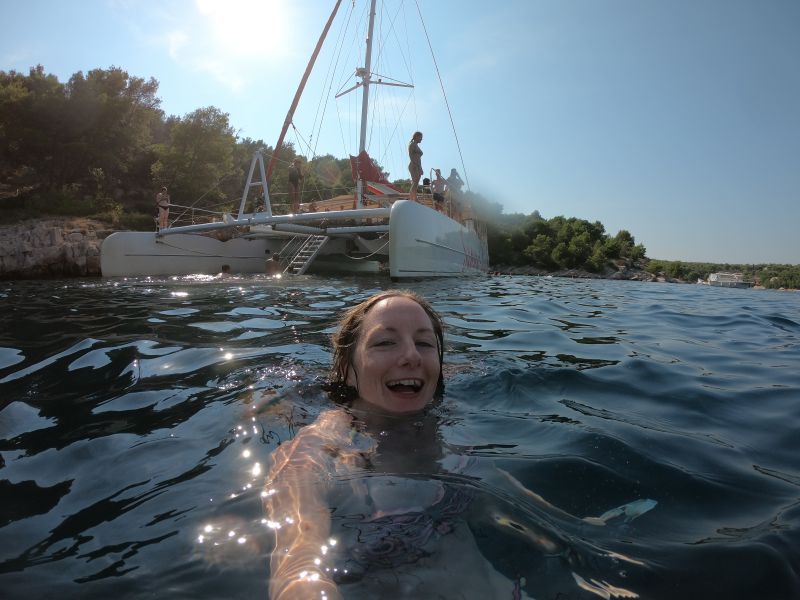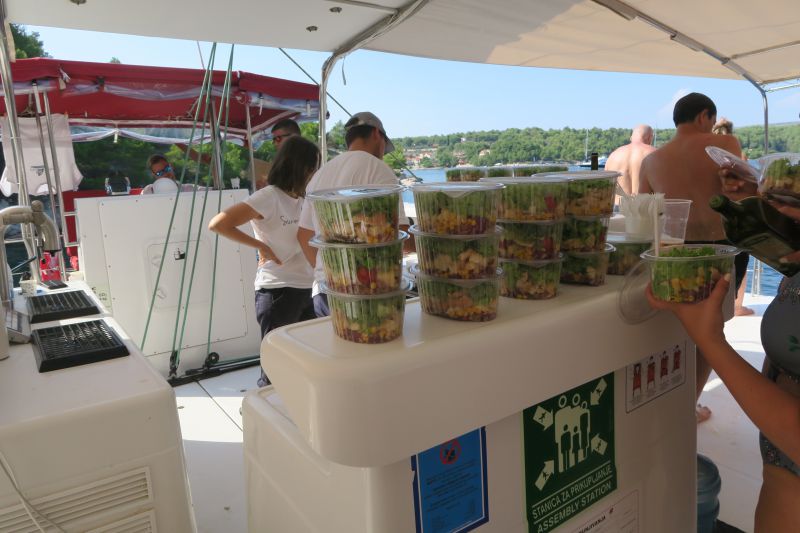 2nd swim stop
During the second swim stop, they served watermelon and apple pie. I couldn't say no to any of them. I love watermelon, especially on hot summer days! Then off to a refreshing swim!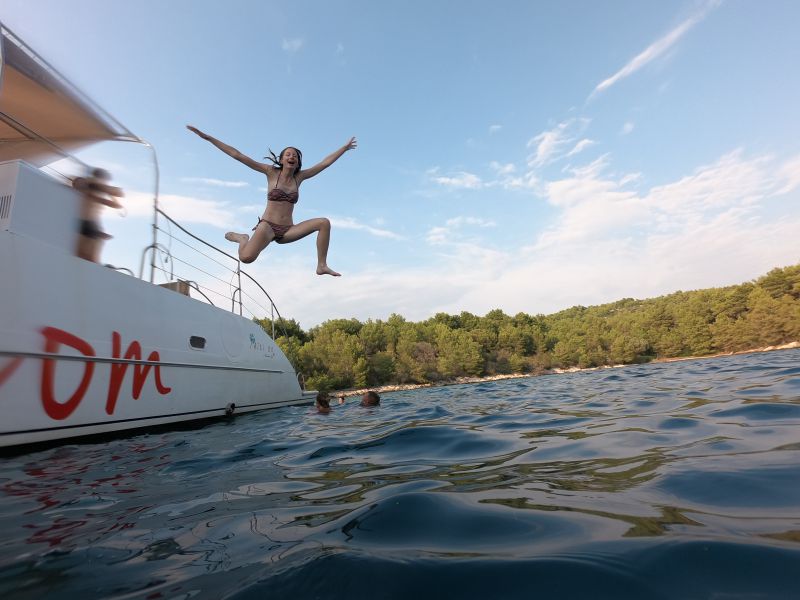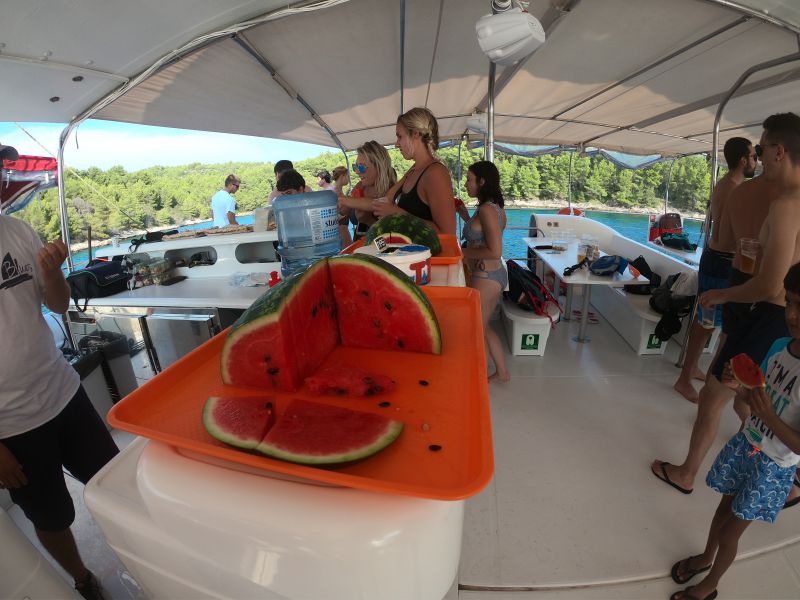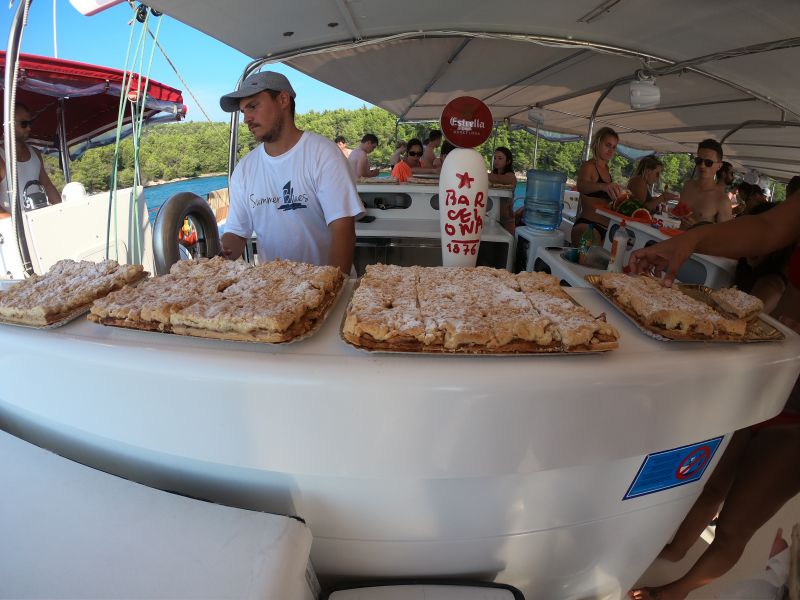 Catamaran trip back to Split
The trip back to Split was very cheerful. It was a bit like a party boat, but everyone was responsible and people who didn't want to dance could just sit and enjoy the scenery. I am not a dancer myself but I love listening to music and it was fun watching others on the dance floor, especially when an old lady decided to join in as well. She was very popular! Time passed quickly and soon we arrived to Split. It was around 7 pm at this point. I couldn't believe how fast the day passed.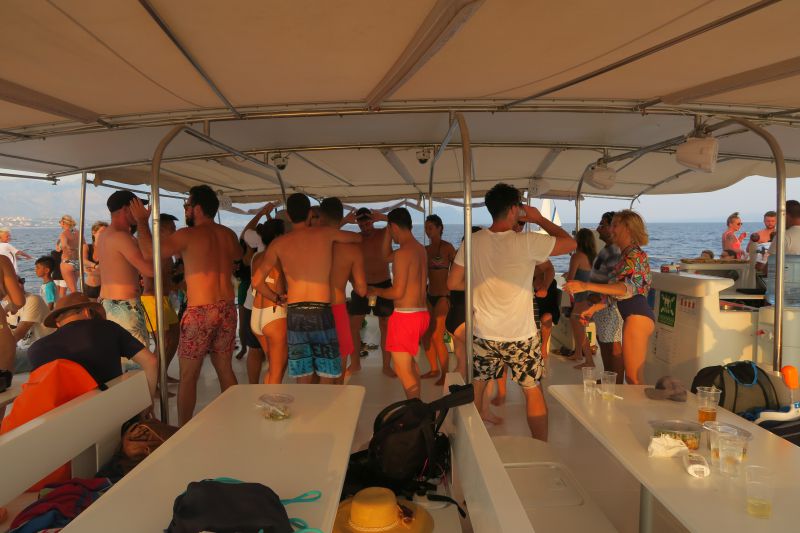 Price: 87 Euro per person in high season. Kids under 4 go for free and 4-14-year-olds get a 50% discount. 
This is a great price for a full day trip, which includes all your food for the day and unlimited drinks. (soft drinks, water, juices, beer, wine) The company also provides snorkelling gear for the duration of the trip.
Who do I recommend this trip: This trip is seriously suitable for any age. The majority of guests were in their 20s, but there were also a few families and elderly, who had just as much fun. It is an organised group tour, so expect to have meeting points and times that you need to stick to. I am not generally a huge fan of group tours, but I really enjoyed this one. Things went smoothly and we saw everything we wanted to. If you want to explore Brac as a day trip from Split and have the unique experience of seeing the coastline of the island and having some fun swim breaks in wild bays this is the trip for you!
The company also offers a catamaran trip to Hvar island, where you can explore Stari Grad, one of the oldest towns in Europe.
Watch my video about our experience!

Did you like this post? PIN it for later!
Disclaimer: Please note this is a sponsored post and we were guests of Summer Blues, but as always all opinion is my own.
Enikő
Hey, I'm Enikő! I'm currently an au pair and I want to share my experiences with you. I've travelled a lot in the past years. I'm gonna teach you how to settle in to a new country and get free accommodation anywhere in the world. Circle Enikő on Google+!