5 things to do in Omis, Croatia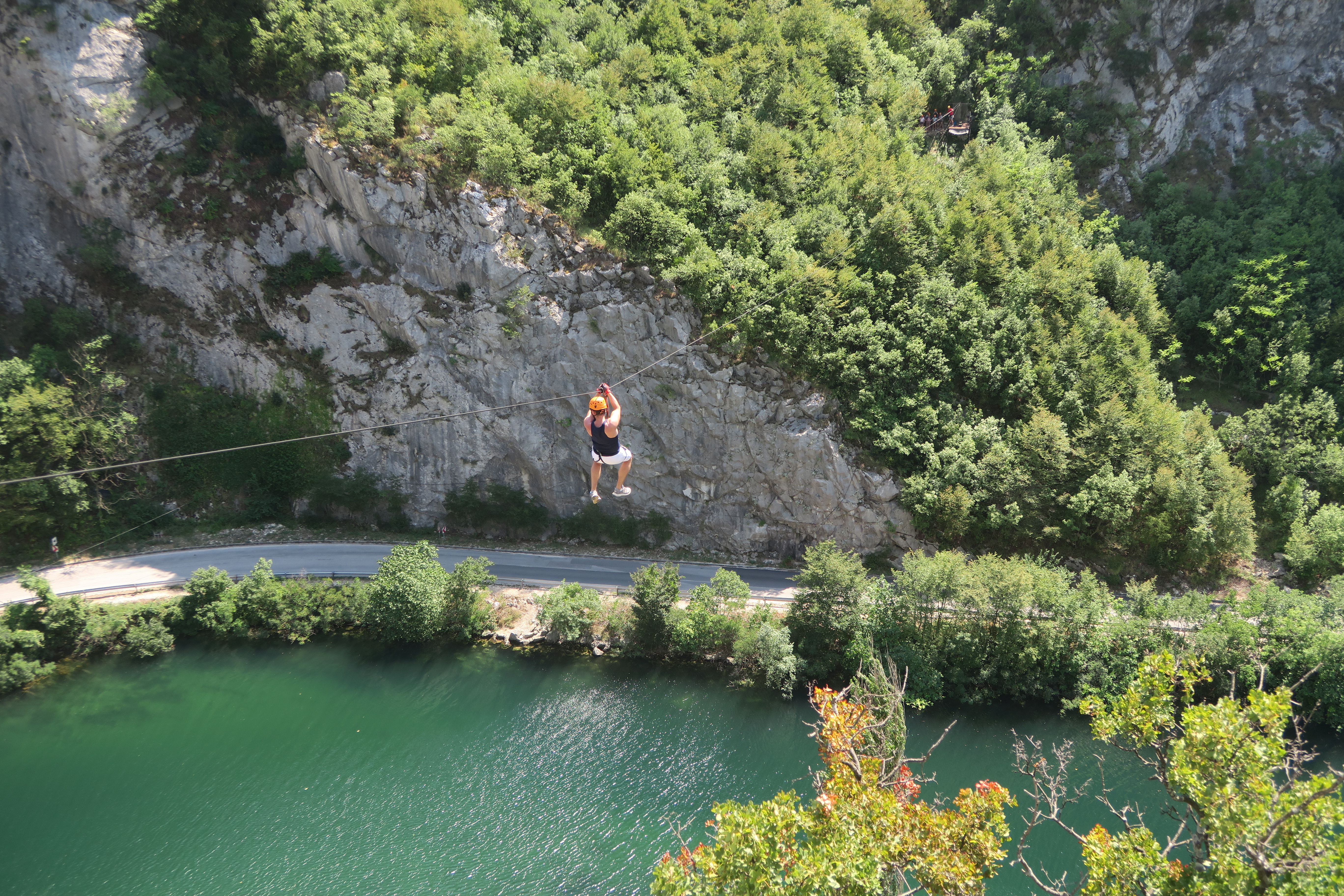 Croatia is not only a place for a family beach vacation or island hopping with your friends. There is plenty of adventures you can have, like kayaking around the Elaphiti Islands or trying one of the many activities in Omis. The town is located in Dalmatia, around 25 km south of Split. It is a great base if you love adventure activities.
Rafting in Omis
There are several companies in Omis offering rafting tours. You can even book them on the day by visiting one of the tour agents. I did a lot of research and I found that Dalmatia Getaway was the best for what I was looking for. I like to avoid crowds and this company did just that. They only run one trip a day starting at 10:30 am. This way we didn't see any other rafting groups on the Cetina river and we could enjoy the surroundings. This trip also combines rafting with some fun canyoning elements and we stopped to do rope swinging, cliff jumping and explored a really cool cave as well. Before the trip, we were treated with cakes, coffee and juice and during the trip when we stopped for a break Jure made a beautiful fruit basket. Nothing better than cool watermelon on a hot summer day!
We had gorgeous views along the way. The trip is also suitable for children as well. We had an 11-year-old in our group who had a blast. The rafting part is not particularly exciting, although there are some smaller rapids and the cliff jumping and other elements are not compulsory for those who don't want to do it.
Price: The trip cost 400 kuna and it also includes a nicely edited HD video about the trip, which is a huge bonus.
Duration: There is no set schedule, but normally you can expect to spend 5-6 hours on this experience. We paddled 12 km down the Cetina river.
Practical tip: You can leave your car keys in the van that will transport you to the starting point of the rafting trip. At the end of the trip, the van will wait for you where you finish and Jure can assist you to get the car keys back.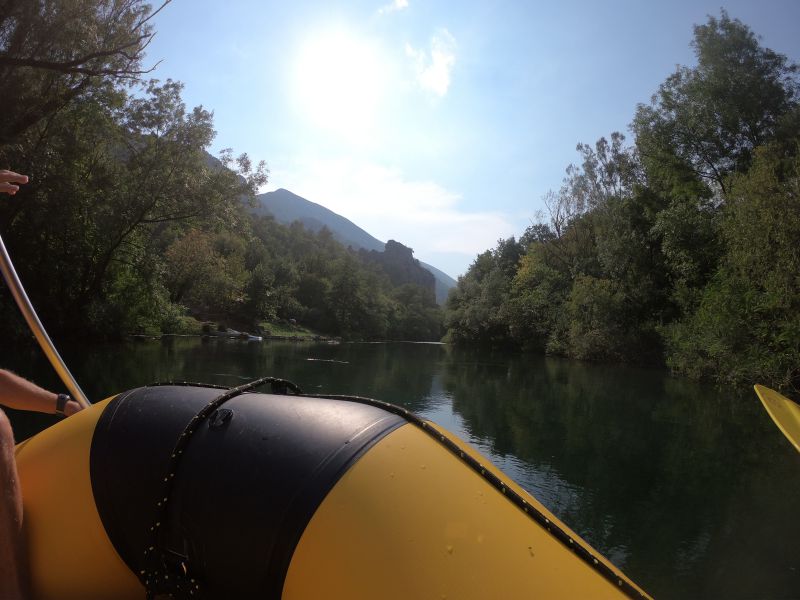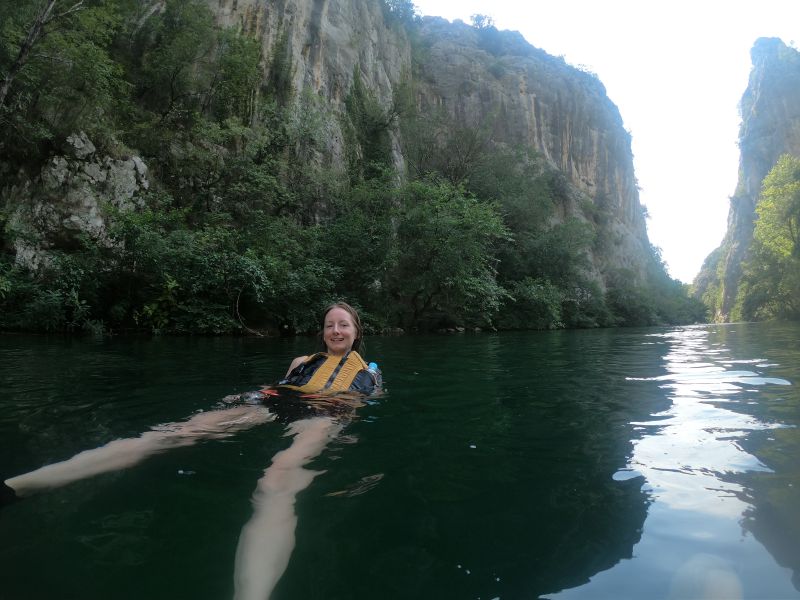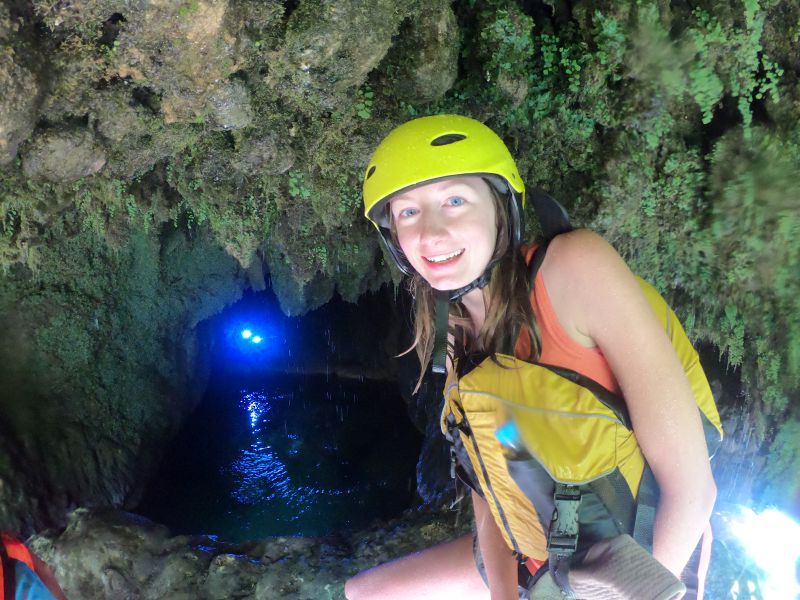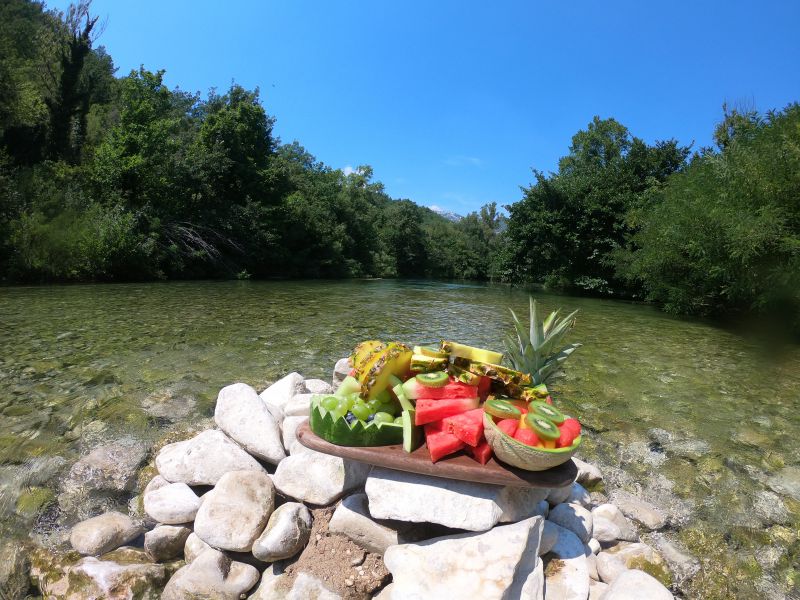 Zip Lining in Omis
I went zip lining in Singapore before and it was lots of fun. However, this experience was even cooler. ZipLine Omis has 8 wires offering beautiful views of the Cetina river and the nearby mountains. The office is located in the town centre and then we were transported by van to the mountains. There is some hiking involved to get to the first zip wire, but it doesn't take longer than 15 minutes. We had 8 people in our group and 2 guides. We started by taking part in a training session on a short 25 m cable, where we learned how to break and the guides signals. The first zip wire was the longest and most fun with its 700 m. On the day we were there we had to go in pairs as it was too windy. The guides were always very helpful and conscious about safety. We really enjoyed all the zip wires.
It is a fun, exciting way to see the Cetina canyon under you. After you finished on all the zip wires you will be transported back to the office by car.
Price: It cost 400 kuna.
Duration: You should estimate to spend 3 hours for the whole experience.
Practical tip: Please remember to bring water with you in a small backpack and wear trainers for this trip, as flip-flops are not allowed!
Photography tip: If you have a GoPro camera you can use it with a chest mount, or if you are lucky you might get a helmet with a GoPro mount on it. There is one zip wire where you are allowed to use your camera or phone handheld if you go in pairs.
Hiking in Omis
Hiking to Fortress Starigrad is well worth the effort for the fantastic views you get from the top. There are two routes up: a short steep one and a long not so steep. We decided to hike up the steep one which starts from the parking lot in Omis. The journey from here is very obvious as it is well marked. The first sign said 45 minutes, however, we managed to get to the top in 30 minutes without stopping! I suggest setting off early morning in the summer months, as it can get really hot. The steep trail goes through a forest, so there is some shade to protect you from the sun. We decided to take the longer route down. It offered some nice views to Omis.
Price: Entrance fee to the fortress in 15 kuna.
Duration: We spent around 20 minutes on the top just enjoying the views and taking pictures. This hike is 4 km and will take around 2 hours.
Visit Omis beach
The beach in Omis is quite big, so there is lots of place for the crowd of people that come to relax here. The water temperature is colder than what we experienced in other places of Croatia, since the Cetina river flows into the sea here, cooling the water down. Despite this, it is still nice to go for a swim in the hot summer months. You have the opportunity to go parasailing or kayaking. There is also a big inflatable sea playground which looked fun.
Price: Visting the beach is free. You have to pay extra for kayak rental or use of the inflatable sea playground.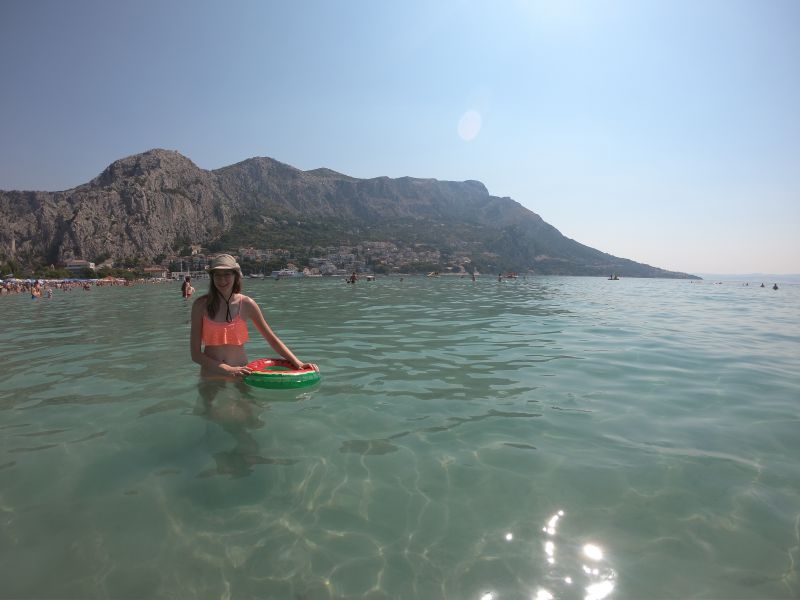 Explore Omis Old Town
Omis Old town is a great place for a walk. You can admire the historic buildings and have a stroll at the harbour. You will find lots of reasonably priced restaurants, where you can try traditional Croatian food.
Price: Wandering around the Old Town is free.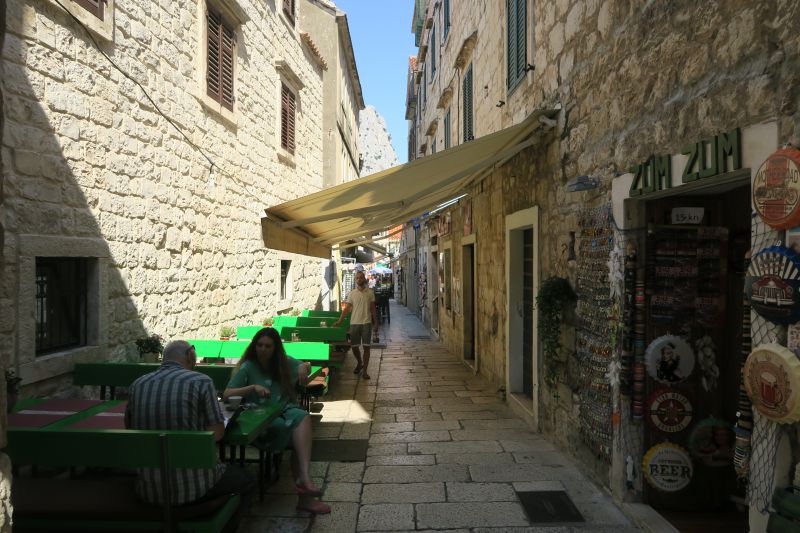 Watch my video about my time in Omis!
Did you like this post? PIN it for later!
Disclaimer: This is a sponsored post. We were guest of ZIPLINE Croatia, but as always all opinion is my own.
Enikő
Hey, I'm Enikő! I'm currently an au pair and I want to share my experiences with you. I've travelled a lot in the past years. I'm gonna teach you how to settle in to a new country and get free accommodation anywhere in the world. Circle Enikő on Google+!