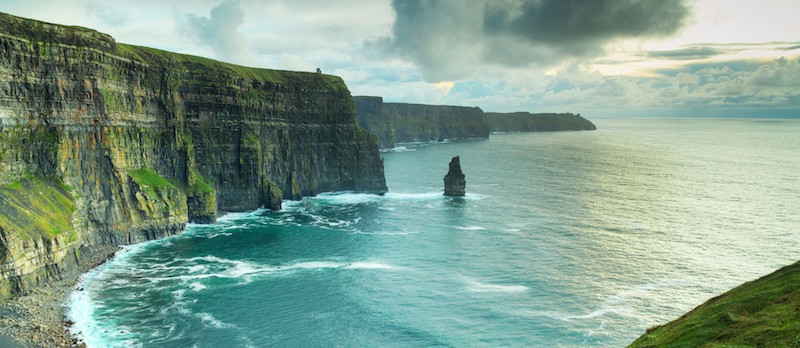 Today's blog post was written by Claire from Traveltio. I was very happy when she contacted me with her blog post ideas. Her Ireland Bucketlist makes me want to go back to the country once again. As you might know I was an au pair there for 2 months, but due to my short time there and big amount of work, I couldn't really travel around much.The only place I was able to visit for a short time apart from Gorey where I lived was Dublin. Well I'll surely return someday and check out all these sites Claire is talking about. 😀
Far from being just a mythical place where leprechauns and pots of gold run free—and I'm not saying that doesn't happen, either—the Green Isle has a special place in my heart and it's not difficult to figure out why. From breathtaking views of the sea to the fluffy little creatures that give me my favourite sweaters, Ireland is a place of adventure and incredible warmth, both in the people and in the warm pub food!
If you're headed for the island with no snakes—thanks Saint Patrick!—then there's a couple of places you surely can't miss. So get out your hiking boots, or an empty stomach, and check out my favorite things.
Cliffs of Moher
As Ireland's most visited tourist attraction, with over one million visitors per year, you know it's got to be good. With incredible panoramic vistas of the coastline and a first-hand experience with the infamous Irish sea air, the Cliffs of Moher are just one of those things that must be seen. After you take in the cliffs, head to O'Brien's Tower or settle in for some fantastic bird watching off the Atlantic.
Blarney Castle
Have you ever felt like there was something you wanted to say but just couldn't get it out? Or wish you had a come up with a particularly sharp comeback? Blarney Castle, home to the Blarney Stone, will help take care of all the "cat's got your tongue" episodes with just a single kiss. While it may be just a piece of limestone, it is known for giving the kissers the gift of endless talk, and you can't go to the castle and not give the rock a smooch. Also check out the mills for a cup of tea or to grab a great souvenir; the shop has handmade woolen hats, think Indiana Jones, that really are one of kind. It makes a perfect day trip from Dublin.
Have a Guinness
Does it seem kitschy? Maybe it is, to sit on the bar in a half-underground pub surrounded by the laughing Irish…but then again, what could be so bad about that? Guinness is a real tradition that deserves your support, even if you're not so keen on such a strong brew. If that's the case and you've had a sip of it once but can't get the hang of it, try a Bulmer's cider, it's light and refreshing, and a break from heavy. Just don't ask for the Black and Tan—it's bound to bite you on the butt by getting you kicked right out of the bar. Don't believe me? Catch up on your history.
Powerscourt Waterfall
Located near one of Ireland's cutest little towns, Enniskerry, the Powerscourt Waterfall is a favorite natural wonder of the Green Isle, and the tallest waterfall in the country. Head to the Powerscourt Estate, a favorite with the locals for being a great place for a walk or a picnic, and take in the almost 400 foot waterfall. But word to the wise, you better bring a camera along to catch the falls.
The Wonderful Barn
While not one of the most widely visited attractions, the Wonderful Barn near Castletown is famous for it's interesting shape, and if you're one for architecture, it's a great site to add to your list. Built in 1743 as storage for grain, the corkscrew shape with it's outer staircase is free to visitors and makes for a view that recalls castles of Germany or France; it's truly a unique view for Ireland.
The Giant's Causeway
To get to this famed attraction you're going to have to travel a while—but it's worth it! The phenomenon off of Belfast is considered to be one of the most interesting natural wonders in the world, and as one would expect from the Irish, it has a deliciously entertaining legend to follow. Opt for taking a guided tour to learn the whole story, and then stick around for some dolphin spotting if you're lucky.
Bar hop in Dublin
One of the best things to do in Dublin is going bar hopping. Whether it's at the Barge along the Grand Canal or The Hole in the Wall around from Phoenix Park, you've got to bar hop in Ireland's capital city to catch the rays and a real solid way to spend a day. If you're not just thirsty but looking for a great place to grab a bite of famed pub food (no really, it's not a joke, it's delicious here) then head to Cronin's in Crosshaven, it promises not only a spectacular pint, but some pretty tasty seafood to go along with it.
Dunlace Castle
After a visit to the Giant's Causeway, head straight for Dunlace for an Irish castle with significant old world charm. Used for its defensive outlook capabilities for over 1000 years, the castle is steeped in warring clan, rebellion, and mystical history, and it's worth a wander. Take the kids for a special kids tour while you enjoy a self-guided audio tour, and then pop into the tea shop for some nosh after your day on the battlements.
Try the Seaweed
Though it may seem like an unconventional finger food, the tradition of Irish snacking on seaweed is one that isn't so modern or based on passing food fads. Eaten raw, the seaweed is pulled from the ocean and dried, then packaged like crisps and can be found in most supermarkets. Don't like the salty taste? Just wash it down with a strong cuppa or a Guinness, and you can knock out two must-do's in one.
Dunquin Harbor, County Kerry
The beauty of Ireland has always been in it's rustic landscapes; from the moors to the green fields full of sheep, the true beauty lies in the open wild of the countryside, and the Dunquin Harbor is no exception.With it's dramatic cliff views and fascinating local culture, it was inspirations and home to the famed Irish storyteller Peig Sayers, and is also the shooting location for the movie Ryan's Daughter.
Buy A Sweater
There is no better souvenir to take home than a sturdy Irish wool; with sheep spotting the countryside at every turn, you'll have a constant reminder of just how good the wool is at keeping out the elements. Shop local and grab a knit from Blarney Castle Woolen Mills—from hats to scarves to ponchos, you won't be disappointed with the selection and come winter you'll be loving the warmth.
Head to the Burren
While Dublin is as modern as every other central metropolis in the EU, homegrown Irish charm like they sing in the songs can be found at the Burren in County Clare, where tradition is alive and well. Find yourself tasting a couple of pints of Burren beer, or heading on one of their taste tours—they're up for best Foodie Town of 2015—or head down any of their Geopark Heritage Trails to work up a hearty appetite.
Black Pudding
Did you think you were going to get to the end of a list of Irish must-do's without seeing black pudding? I hope not, because despite it's squeamish reputation, it's actually a delicious dish. Still think you're too squeamish? You can't go wrong with a cartside fish and chips—they like it extra crispy, and golden brown here. Throw on some malt vinegar and you can call it a day.
Of all the places I've been, Ireland is my favorite and one of the friendliest places I've ever been. With chatty people, open smiles, great food, interesting history, and plenty of beer to drink, there's no way it could be anything but an incredible time. So what are you waiting for? It's time to figure out why they're always saying, "Erin Go Bragh!"
Enikő
Hey, I'm Enikő! I'm currently an au pair and I want to share my experiences with you. I've travelled a lot in the past years. I'm gonna teach you how to settle in to a new country and get free accommodation anywhere in the world. Circle Enikő on Google+!