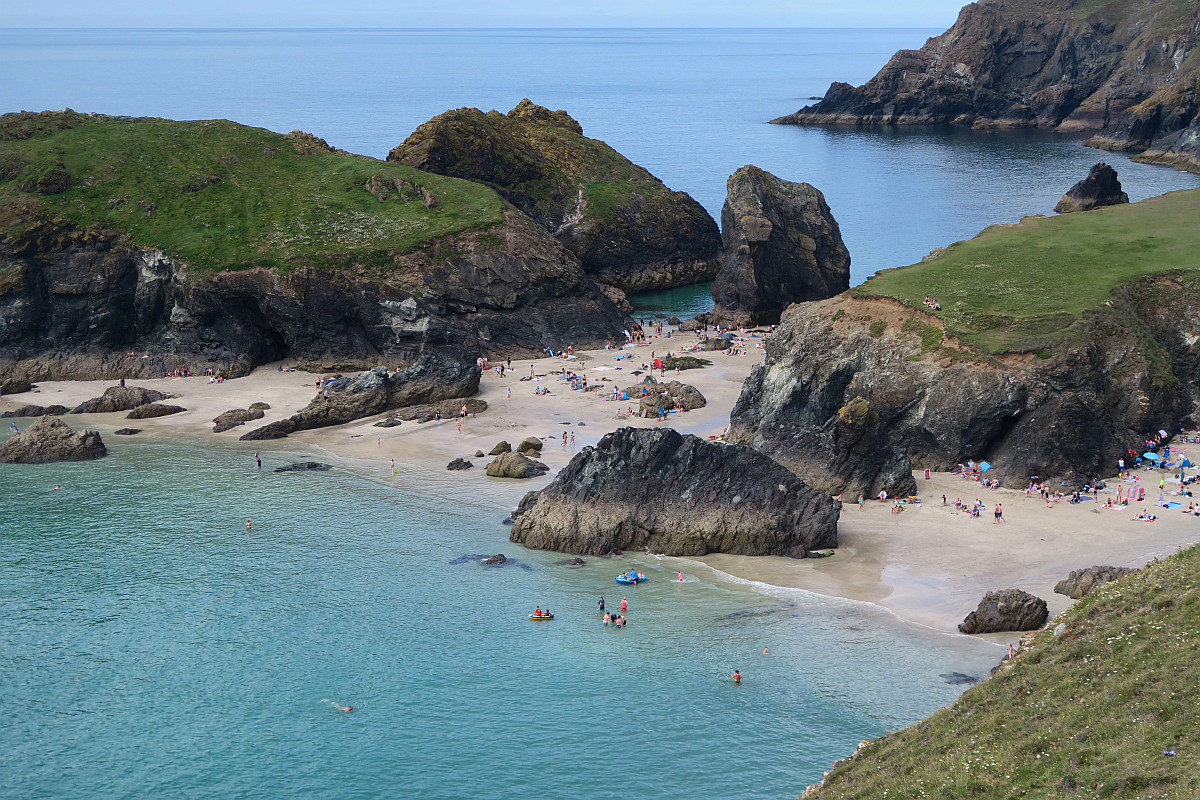 I heard many great things about the beautiful beaches of Cornwall from my boyfriend, who as a typical Brit spent many summer days there as a child. I was happy to visit the region this summer to see what was all the fuss about. I was not disappointed! During our week-long holiday, we explored several stunning places, but my absolute favourite was the Lizard to Kynance Cove Walk. The Lizard Peninsula is perfect for different generations to enjoy together. Exploring hidden caves, cliff jumping, building sandcastles, sunbathing at the beach, swimming in the water, kayaking or embarking on a coastal walk are only a few examples of the many things that you can do here. There is truly something for everyone here!
Guide book suggestions for the area
I love the Wild Guide books and have the whole collection. This one focuses on hidden gems, beaches, cute cafes and unique accommodation in Cornwall.
This is another favourite book. If you are into photography then it's an absolute must. Gives great suggestion about compositions and best time to visit during the day/year.
The Lizard Peninsula is quite remote and doesn't have many villages. The main type of accommodation you will find are campsites. If you want to stay at a cottage or hotel, then I suggest staying in either Falmouth or Penzance. Both are coastal towns with a lot to do and about 50 minutes from Kynance Cove.
The Lizard Peninsula
Cornwall is the home to the most southerly point of the British mainland. This is called the Lizard Point. This is where Britain's most Southerly Cafe is located. It is worth to stop here for refreshments as this cute cafe has outside seating with stunning views.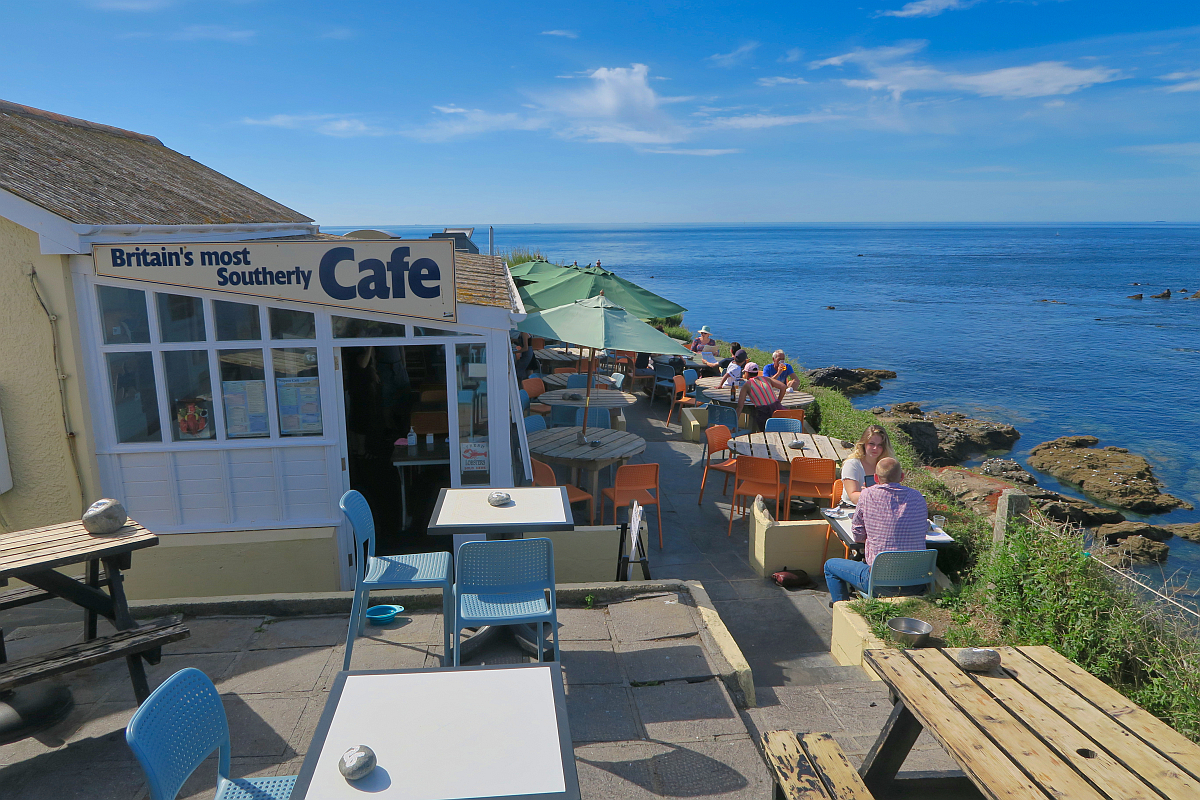 Lizard to Kynance Cove Walk
The Lizard Peninsula offers outstanding views. The coastline is full of isolated nature, high cliffs and interesting wildlife. The Lizard to Kynance Cove Walk is a short 2,5 miles section of the South West Coast Path. The walk can be done in about 50 minutes, but we stopped many times to take photos, so we took longer than that. The terrain here is mostly easy and suitable for children as well. The path is a bit uneven, but it stays away from the cliff edge. It is possible to walk up to the edge, but you should do that with caution, especially during slippery conditions. During summertime you can expect grazing cattle on the fields, so be aware if you are walking with a dog.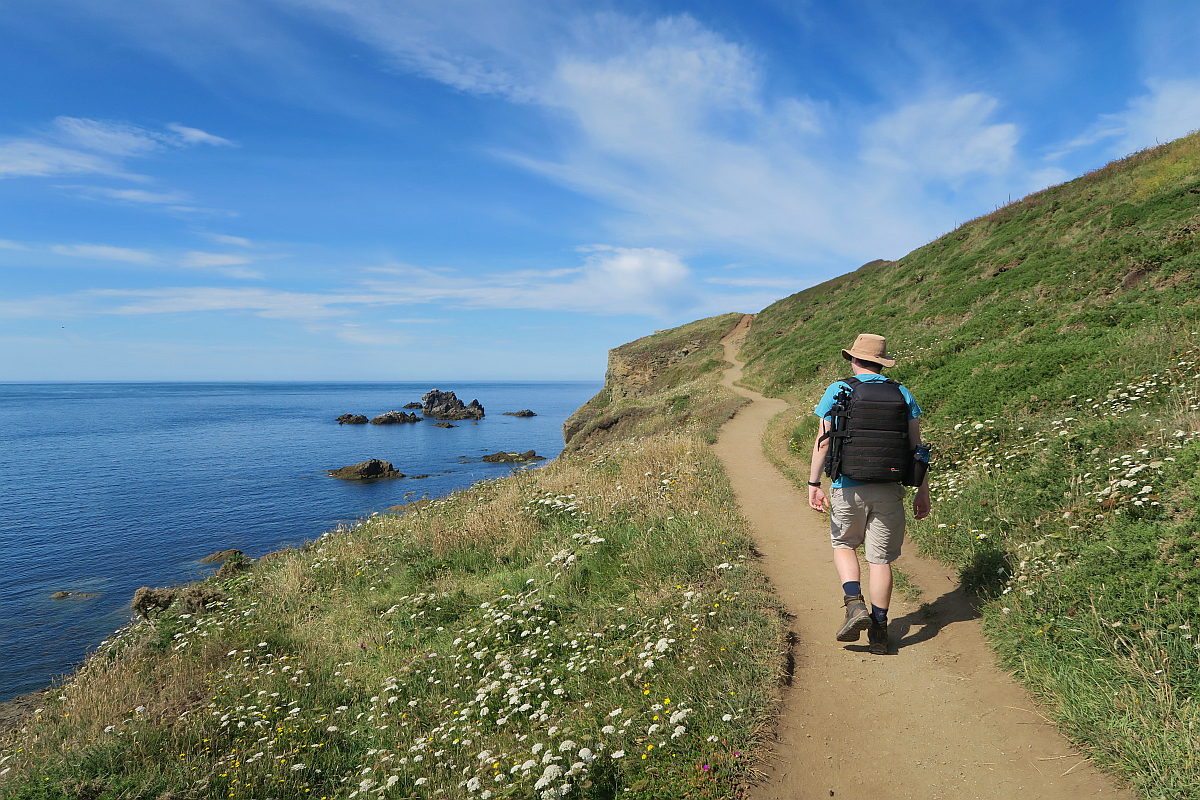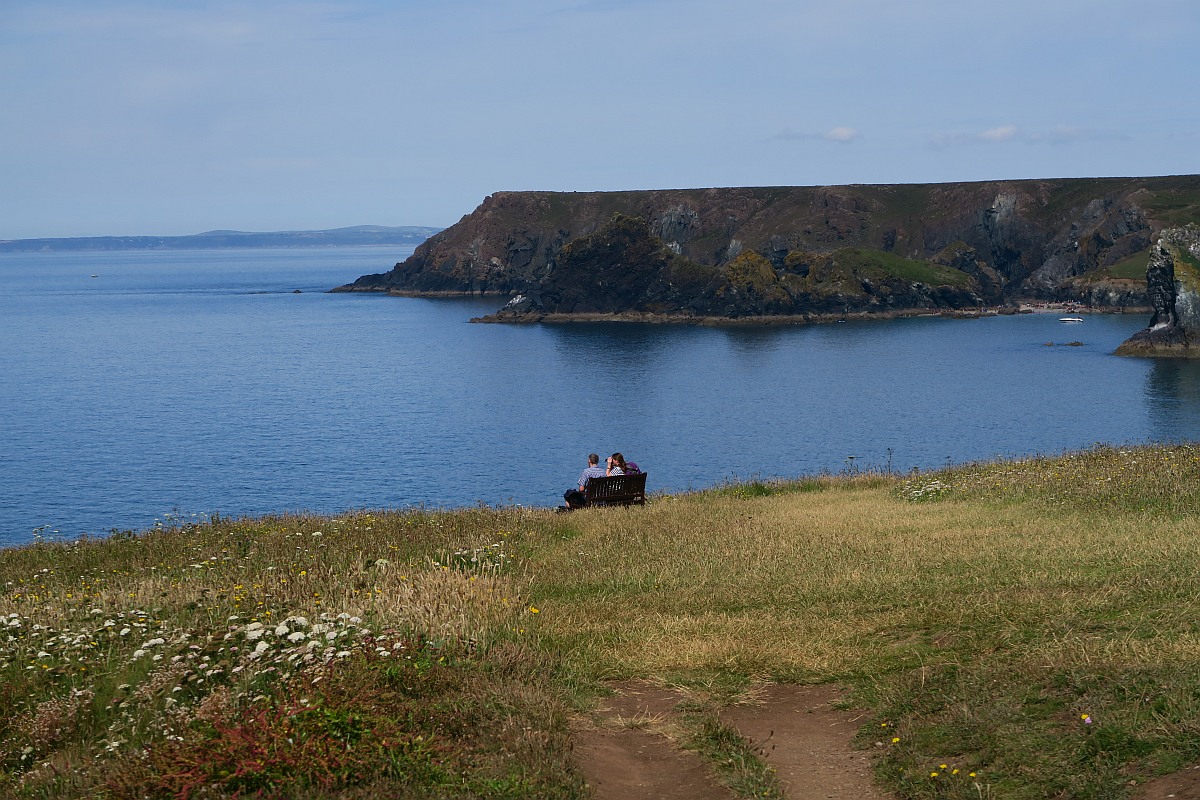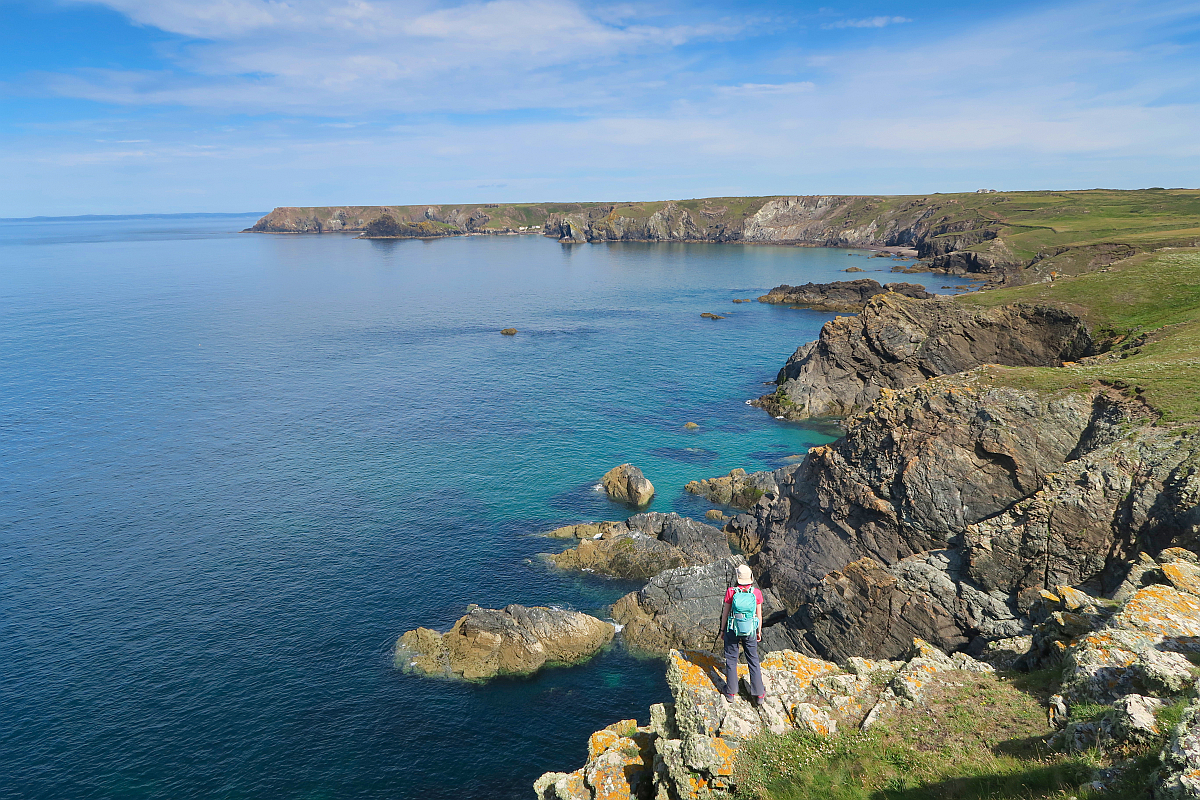 The Lizard Parking
There is a National Trust car park at the Lizard, which is free to members, otherwise £3.50 for the day. There are toilets at the car park as well.
The Lizard Lifeboat Station
A point of interest at the Lizard is the old Lifeboat Station. From 1859 until 1961 the Lizard Lifeboat Station was based here at Polpeor Cove. You can still see the building on the beach. In 1907 it was home to the RNLI's biggest rescue, as they saved 167 lives. In 1961 the station moved to a safer, less exposed location near Kilcobben Cove.
The Lizard Lighthouse
The sea here is often busy with ships. Due to bad weather and rocky shores, there have been many shipping accidents in past centuries. To guide sailors safely they built the Lizard Lighthouse in 1751. On a clear night, the reflected light could be seen 100 miles (160 km) away. Today the lighthouse is automatic and also acts as a visitor centre. You can even climb to the top of it to enjoy the dramatic views.
Wildlife at the Lizard Peninsula
During our visit, we spotted several seals sunbathing on the rocks and splashing in the sea. Although they were quite far away, this was still a fun thing to see. Bring some binoculars if you enjoy observing wildlife. Apparently dolphins are also quite a common sight. But the Lizard Peninsula is also one of the best places to see seabirds in the UK. Gannets, puffins and terns travelling through the English Channel can be often seen far out to sea. Closer to shore you will probably notice the Cornish red-billed choughs. They are a local cultural icon, which are also featured on the Cornish coat of arms. During late summer you can also see Cornish heath with its pale pink flower spikes. This part of Cornwall is the only place in Britain where this shrub is found.
Pentreath Beach
Before reaching Kynance Cove, you will pass Pentreath Beach. It is a truly hidden gem in Cornwall, despite being only 10 minutes away from the popular Kynance Cove. Even on a hot summer day, there would be only a couple of people at the beach. This is probably because it is a bit hard to get to and there are no facilities. Because of the strong current, swimming here is not recommended, but experienced surfers are often seen riding the waves. Dogs are also allowed all year round, so a great spot for pet owners. There are some steps to get down to the beach, but the descent is quite steep and some parts are a bit rocky, so be careful and wear suitable footwear!
Also, the tides come in really fast on the Lizard Peninsula, which means you can easily get trapped. Getting cut off by the tide is a common cause of lifeboat launches. Do your research and plan accordingly! I suggest visiting this beach during low tide, as during high tide most of the sand disappears and only a small patch of rocky beach remains.
Kynance Cove
This place is considered as one of the most beautiful beaches in the world and it is easy to see why. With its white sand, turquoise water, rock pools, arches, hidden caves and rocky islands it attracts several tourists every year.
The walk from the National Trust car park is quite steep. There are steps at some parts leading down to the beach and this can take about 10 minutes. This path is only accessible at low tide. There's also an alternative pushchair route which is flatter and follows a track around the back of the beach to emerge by the café. This route, which you'll need to take at high tide, takes between 15 to 20 minutes.
Safety at Kynance Cove
There are no lifeguards on the beach. The beach is tidal, and I recommend visiting it during low tide, as this is when there is plenty of sand and beach to explore. Make sure you plan ahead, to not get cut off by the tide!
Dogs at Kynance Cove
There is a dog ban in operation on the beach from 1 July to 31 August, 10am-6pm, but you can still walk your dogs on the coastal path.
Water temperature
Even in the summer month, the water temperature is below 18°C, so having a wetsuit is recommended if you want to go for a swim.
Kynance Cove Parking
There is a National Trust car park at Kynance Cove, which is free to members. Otherwise, it costs £8 for the day. No card payment. Although the car park is quite big, it can get full on a peak, summer day, so arrive early!
Toilets at Kynance Cove
There are toilets at the car park and also at the beach next to the cafe.
Things to do at Kynance Cove
Explore the caves
One of the most interesting things to do on the beach is to explore the little caves. This is only possible during low tide.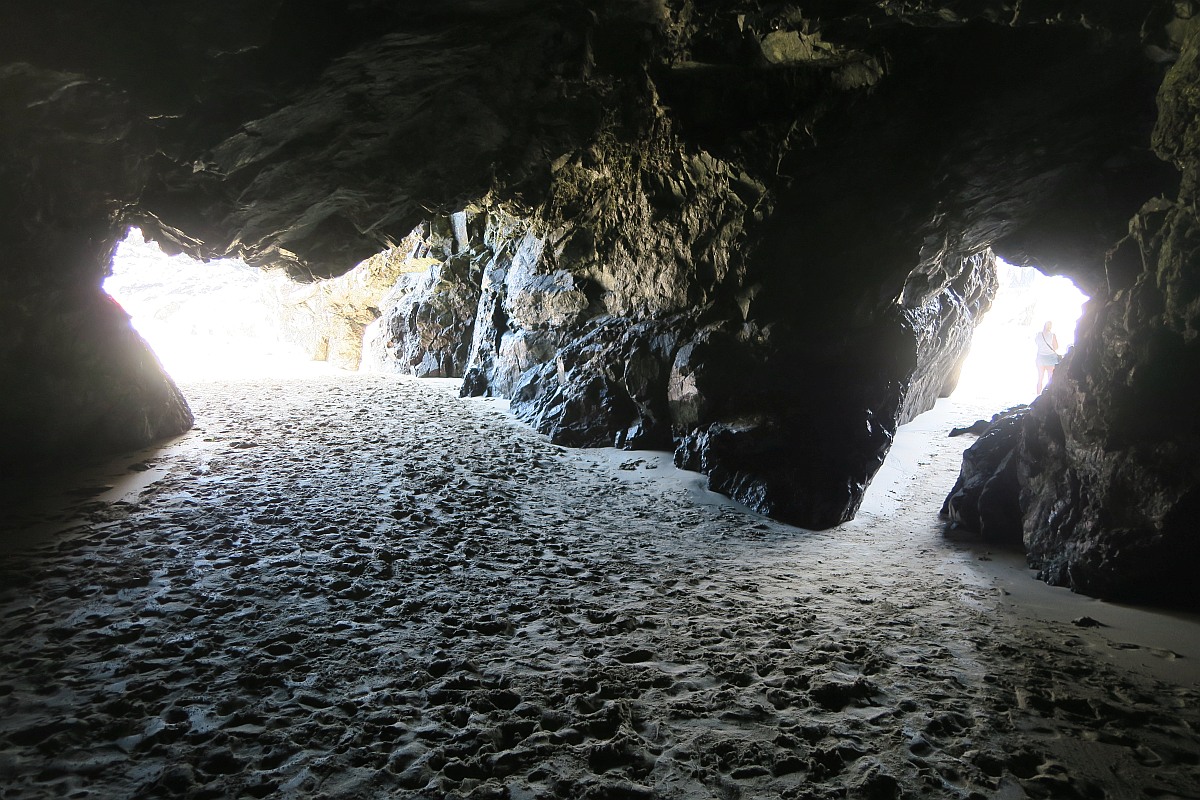 Go kayaking or paddleboarding
Exploring the shoreline from a kayak or SUP could be a lot of fun. Taking down the kayak from the parking lot could be a bit exhausting and I suggest taking the high tide route to do this, to avoid the steps. An inflatable kayak might be easier to carry, than a rigid one.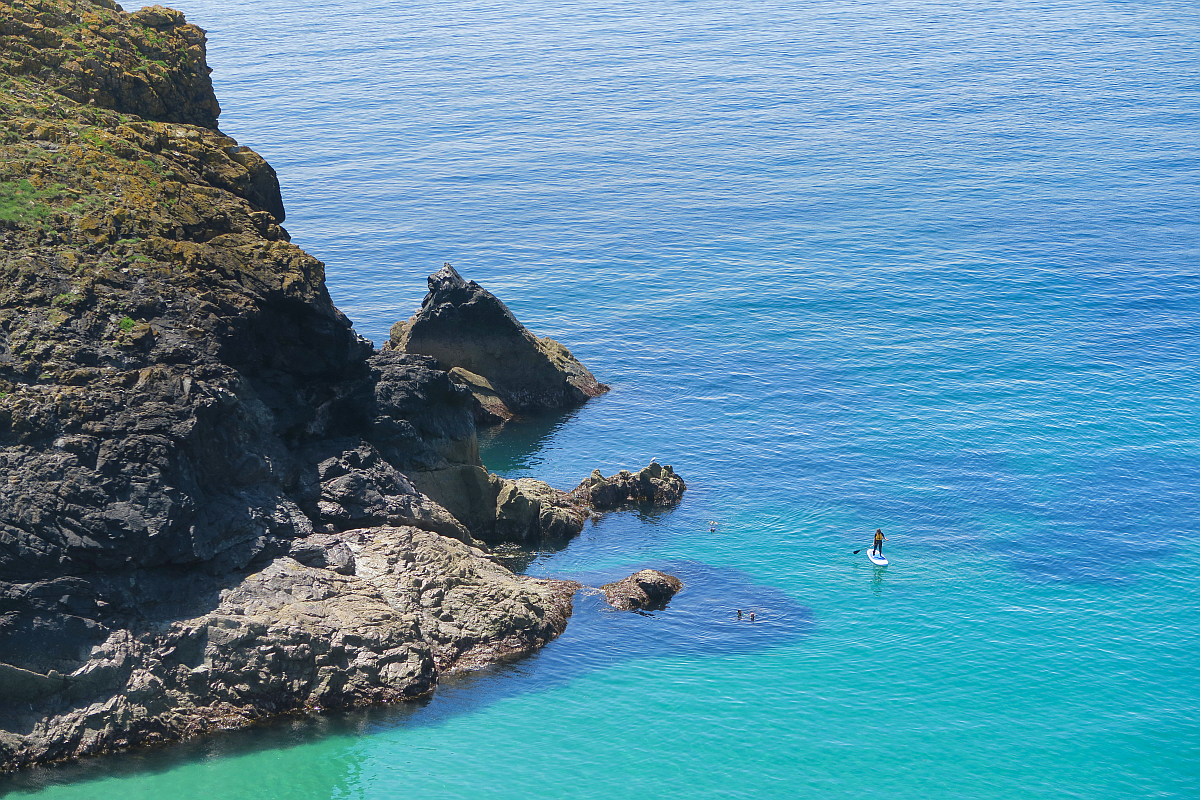 Try cliff jumping
If you are adventurous you can find some deep rock pools, which are suitable for cliff jumping.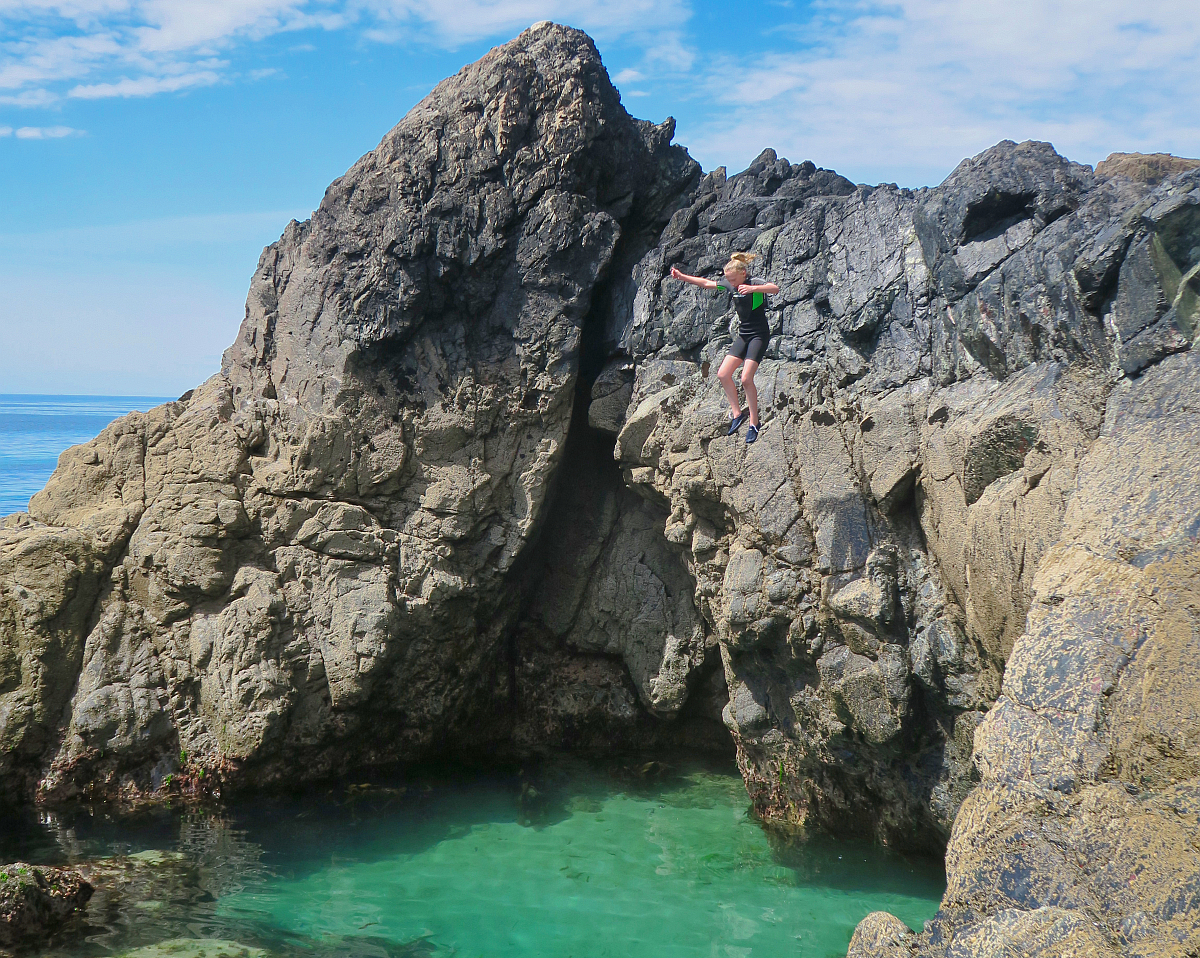 Go for a swim
Swimming here is a popular activity, but the water temperature is cold even in the hot summer months, so I recommend having a wetsuit.
Snorkel underwater
Thanks to the crystal clear water you might be able to spot fishes and other sea life around you with snorkelling gear.
Sunbathe
On a sunny day, you can spend hours sunbathing on the sandy beach. Just make sure to check tide times before you find yourself a comfy spot close to the water.
Build a sandcastle
There were many children building really cool sandcastles and some of them dug deep holes on the beach, which they filled up with water.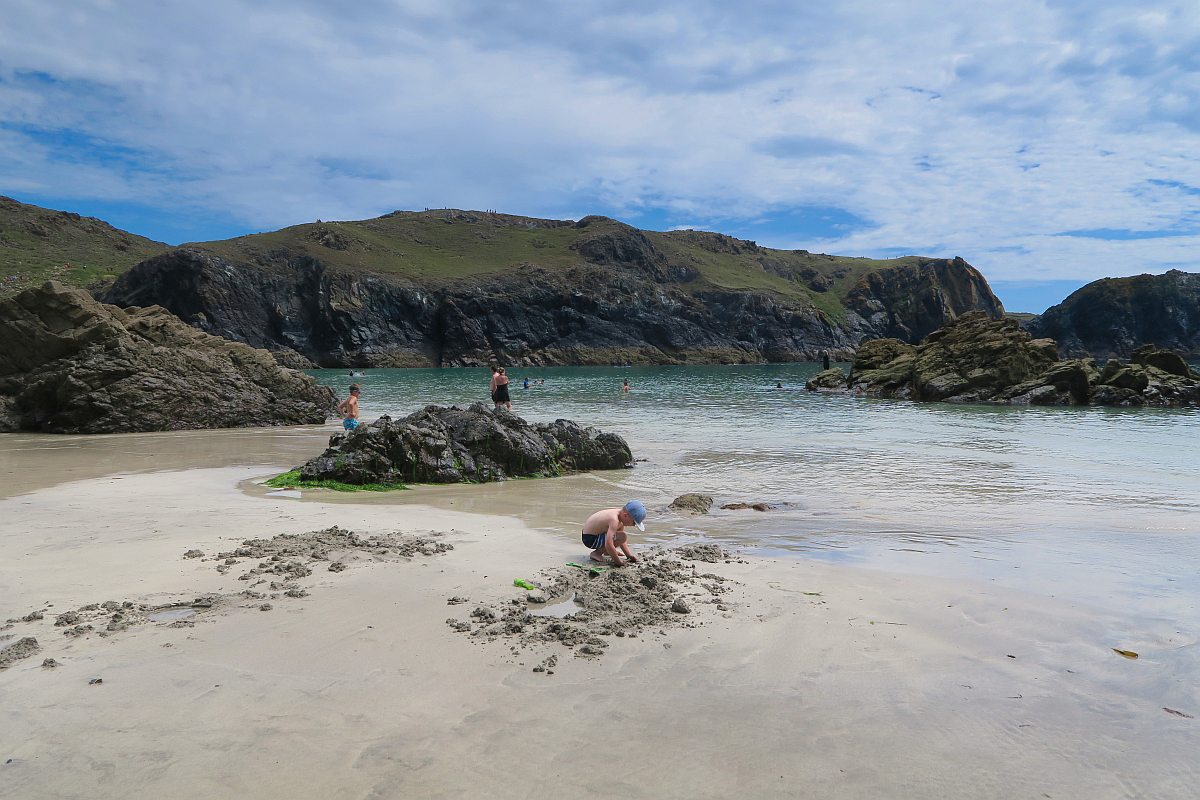 Visit the cafe
There is a cafe at the beach with panoramic views. You can buy delicious cakes, ice cream, sandwiches, milkshakes and smoothies. They also sell beach games, bodyboards and maps for the area. The cafe is normally open from Easter to the end of October half term.
Did you like this post? PIN it for later!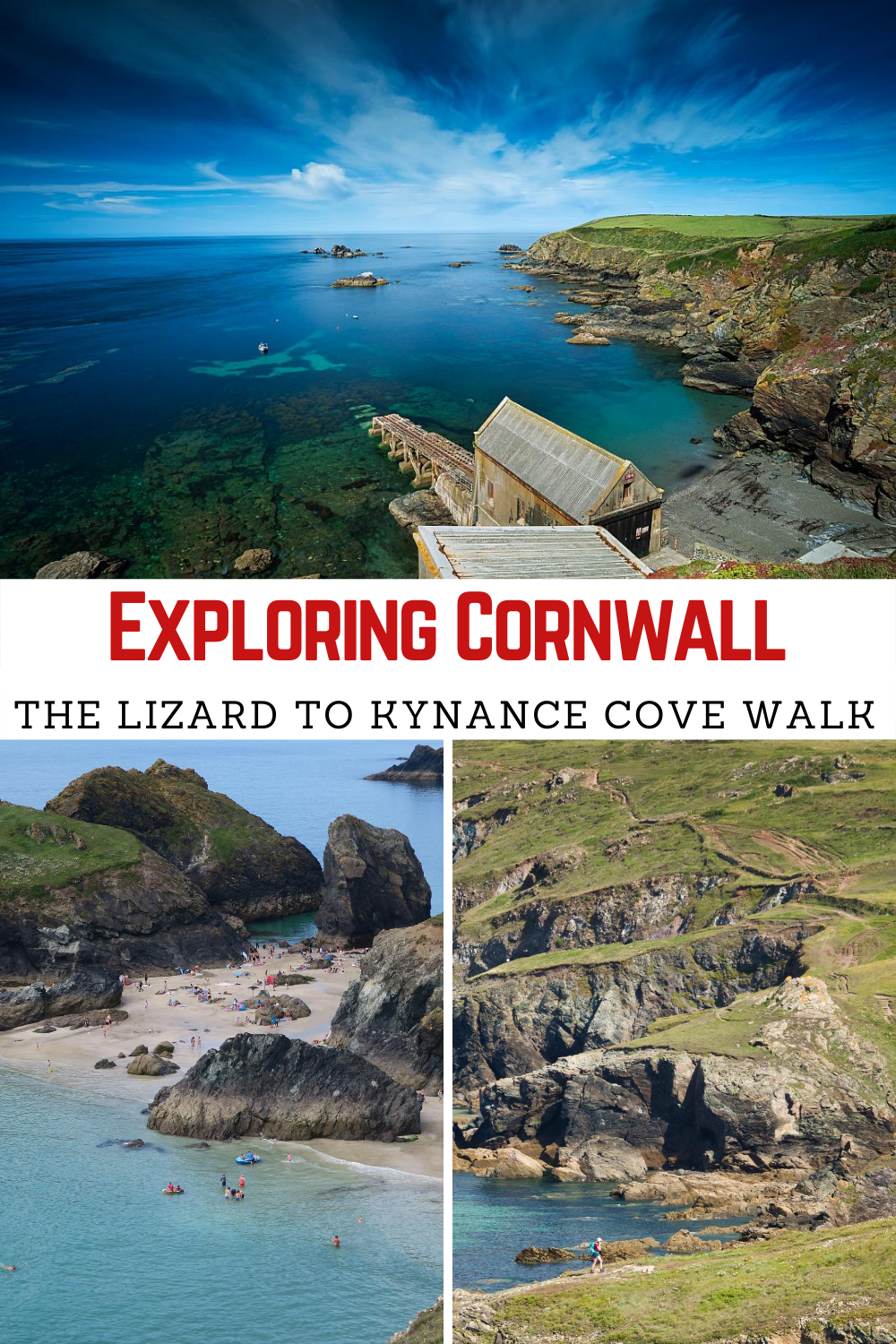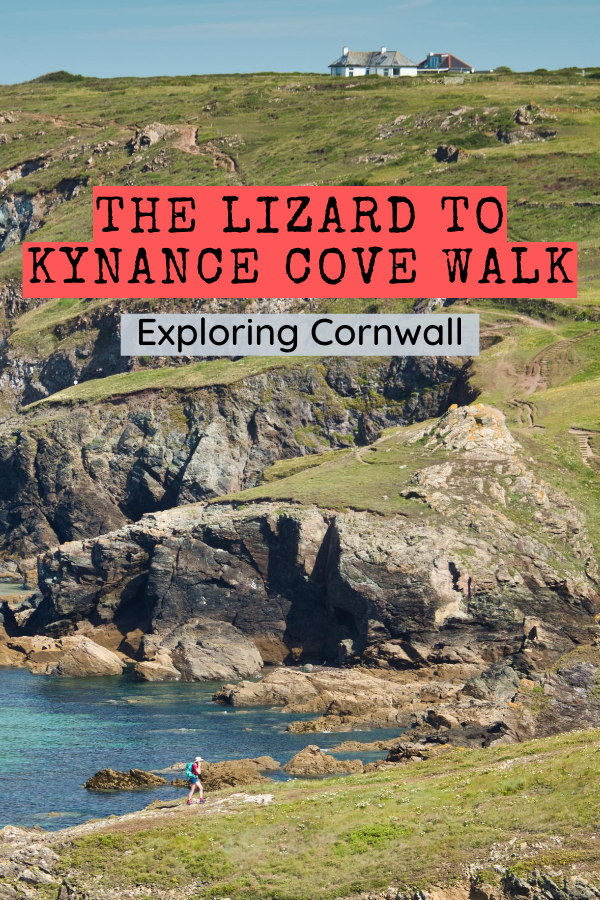 Don't forget a map for your walk
Even though we have Google maps, I still take an OS map on my walks. They are great to plan a hike and a good backup when we have no mobile reception. (Which is quite common in Cornwall)
Enikő
Hey, I'm Enikő! I'm currently an au pair and I want to share my experiences with you. I've travelled a lot in the past years. I'm gonna teach you how to settle in to a new country and get free accommodation anywhere in the world. Circle Enikő on Google+!