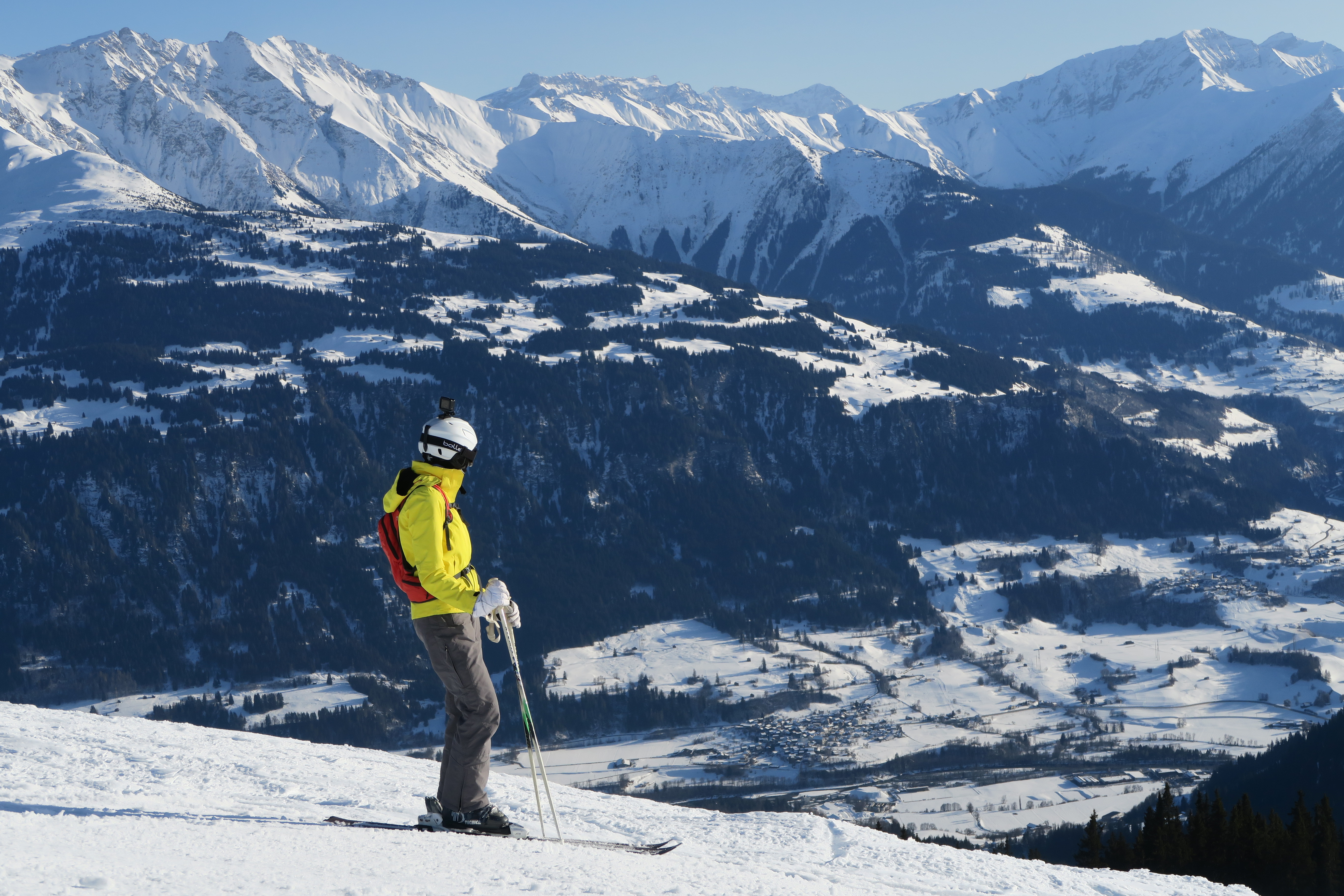 This winter we decided to choose Switzerland for our skiing holiday. We went during the UK half term holidays when most French ski resorts are flooded with British families. In Switzerland, we were greeted with almost empty slopes and no queues at the ski lifts.
We spent 2 days skiing in LAAX and we couldn't have chosen a better resort!
Skiing in LAAX, Switzerland
LAAX is located in Graubünden, which is the biggest province in Switzerland and it is the perfect destination for nature lovers. Most of the slopes are situated over 2000 m, which makes it a snow-sure ski resort. At the same time, the area is known for its lovely weather and there is over 300 days of sunshine a year. Don't forget to bring your suncream! 🙂

LAAX in numbers:
224 kilometres of slopes
4 snow parks
28 ski lifts
Parking: It was a bit strange to us at first that we had to pay for parking, which is not the norm in the places we skied before. Parking prices vary depending on which village you park in. We found Falera to be the cheapest, however you will have to walk about 10 minutes from the parking lot to the to the ski lift.
Laax village has a big parking garage which we found rather expensive, but it is very conveniently located close to the lifts and you are able to pay through the mobile app as well.
Price: An adult day pass in high season is CHF 85.00.
Please refer to the website for prices, as they vary on many factors. In general, I suggest buying your ski pass ahead of time through the Inside LAAX app as that will save you money!
Opening times: General opening hours are 8:30 am -4:30 pm.
The last descent from Crap Sogn Gion is 5 p.m.
Some ski lifts at a higher altitude close before 4:30, so always check online, or at the lift itself.
Inside LAAX app: The app is great to see live updates on lift status and webcams. You can find out about events, pay for parking (often cheaper than at the ticket office). It is even possible to order your food in the app for many of the restaurants. The most fun thing though in my opinion is tracking your on-mountain activities by linking your key card.
Visiting an Eco-friendly ski resort: As you may know, I am trying to lead a more eco-friendly lifestyle to protect this beautiful planet we live on. I recently wrote about having a zero waste holiday in Budapest. This is why it was important to me to ski at a resort, which cares about the environment. LAAX has the vision to become the world's first self-sufficient alpine resort. They already made several steps to protect the environment, including paying special attention to recycling and using 100% renewable energy, like hydroelectric power. They take advantage of the fact that this area is generally sunny, so a lot of the ski lifts operate with solar panels. I was very pleased when I learned about this Greenstyle project and hope they will achieve even more success in this field.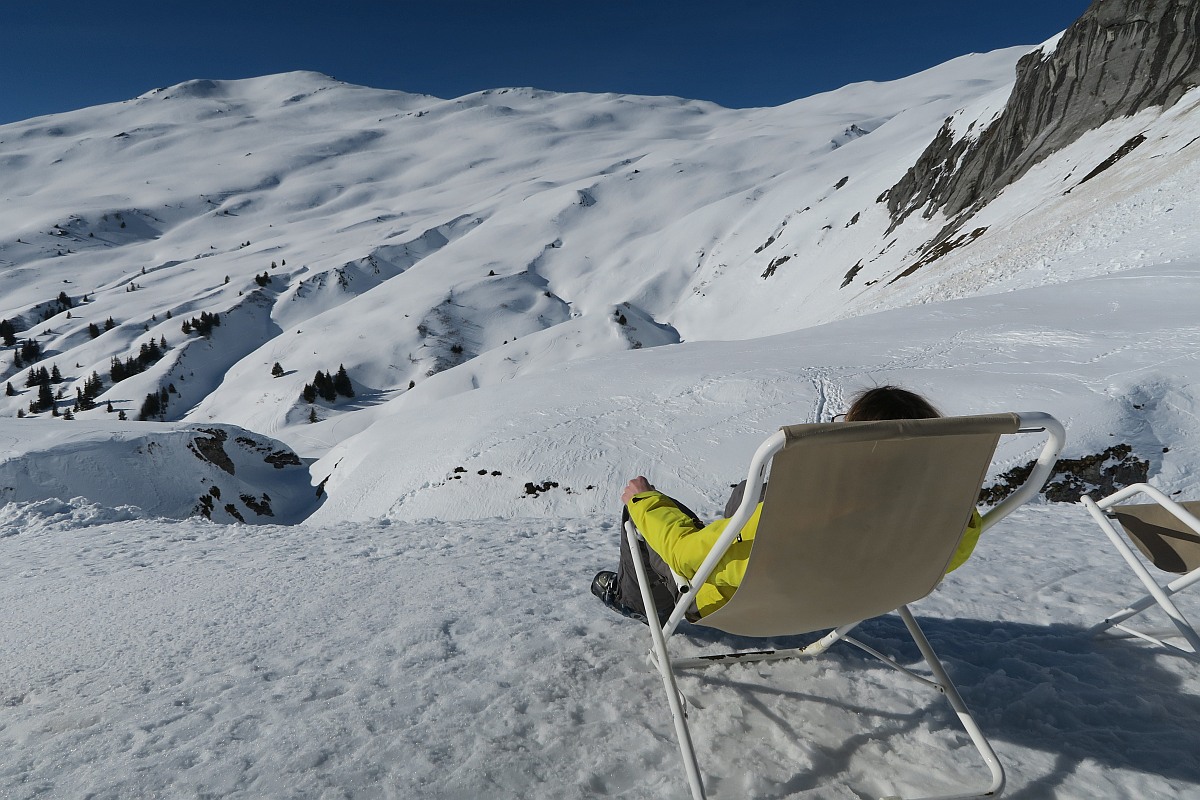 LAAX for non-skiers

My parents, who are non-skiers also joined us on this trip and they found lots to do as well. There are several well-maintained hiking trails and sledge routes all marked on the map as well.
Hiking Caumasee and Il Spir in the winter:
Don't miss the opportunity to see the Swiss Grand Canyon! You can start your journey from LAAX, the trail is well maintained. This 9 km hike will first pass a lake with its gorgeous turquoise colours called Caumasee (Lake Cauma). It is a popular bathing lake, even in the winter there are a few brave people who go for a swim! Then continue your way to the viewing platform Il Spir. From here you can see breathtaking views into the Rhine gorge 400 m below you. If you are patient you can wait to see a red train pass by down the tracks. You can make your way back the same way you came but there is also a chance to make it a circular route. The hike should take about 3-4 hours with photo stops.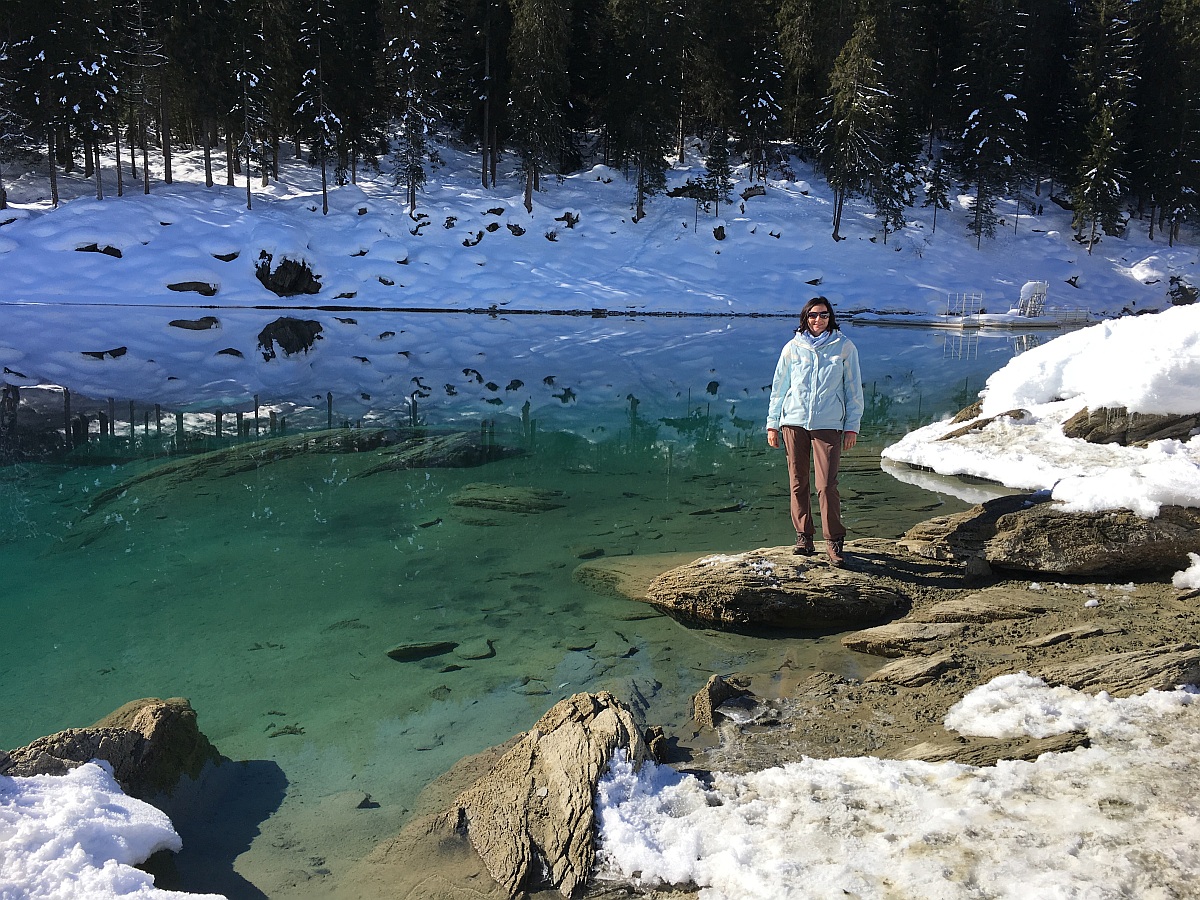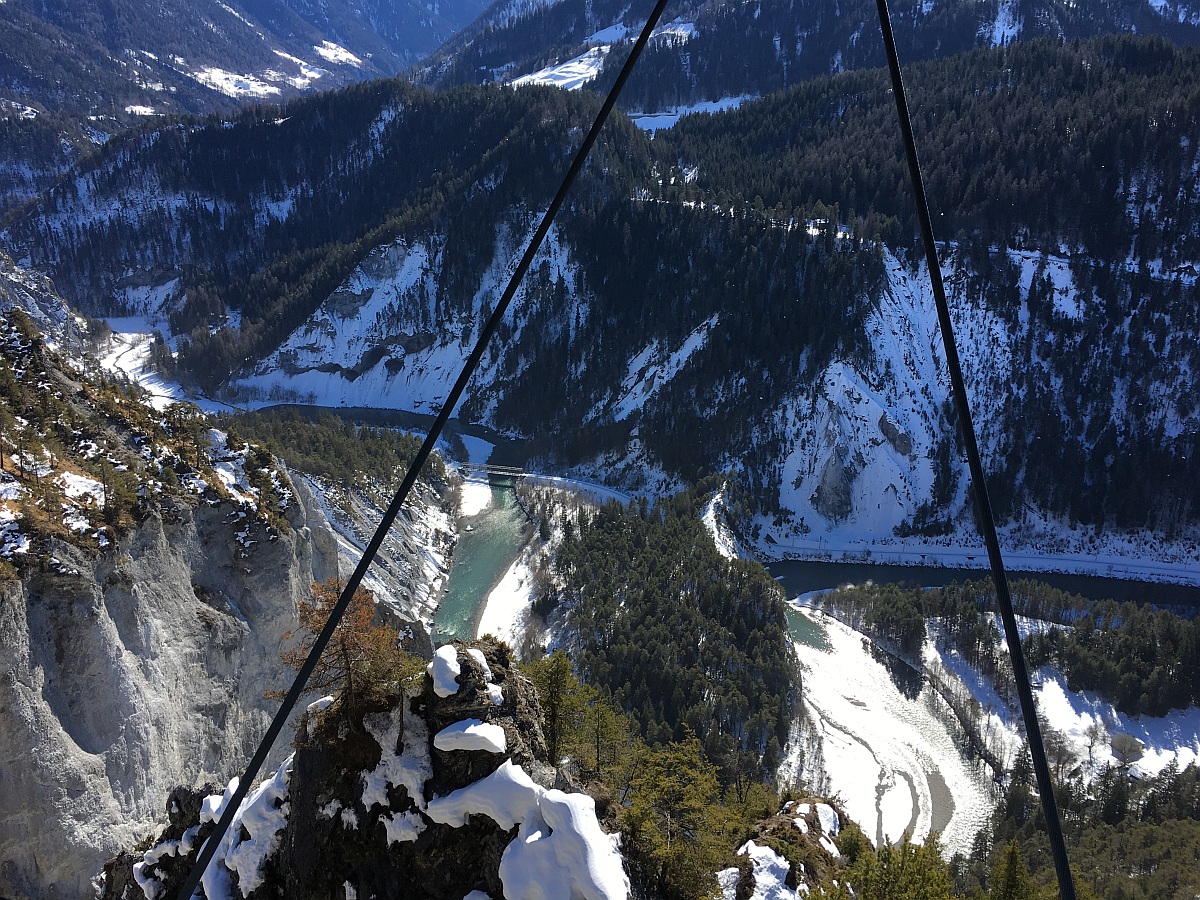 Hiking to Crap Sogn Gion
Another hike my parents enjoyed was to Crap Sogn Gion, which I passed many times on skiis, as many ski slopes start from there. Start the hike from the Falera base station at 1220 m. You will encounter some lovely views on this hike. There are benches along the way, which are perfect for a quick snack stop. At Crap Sogn Gion there are restaurants, where you can treat yourself, and deck chairs to rest. The snow park is also located there, so you can sit and watch people do some awesome tricks. This hike is 15 km with a 1050m elevation gain. If you feel up for it, you can extend the hike and continue your way to Crap Masegn, which is 3 km from Crap Sogn Gion. You need to have a good fitness level to do this hike. There is also a possibility to purchase a ticket for the ski lift if you want to see the view from the top, but hiking is not really your thing.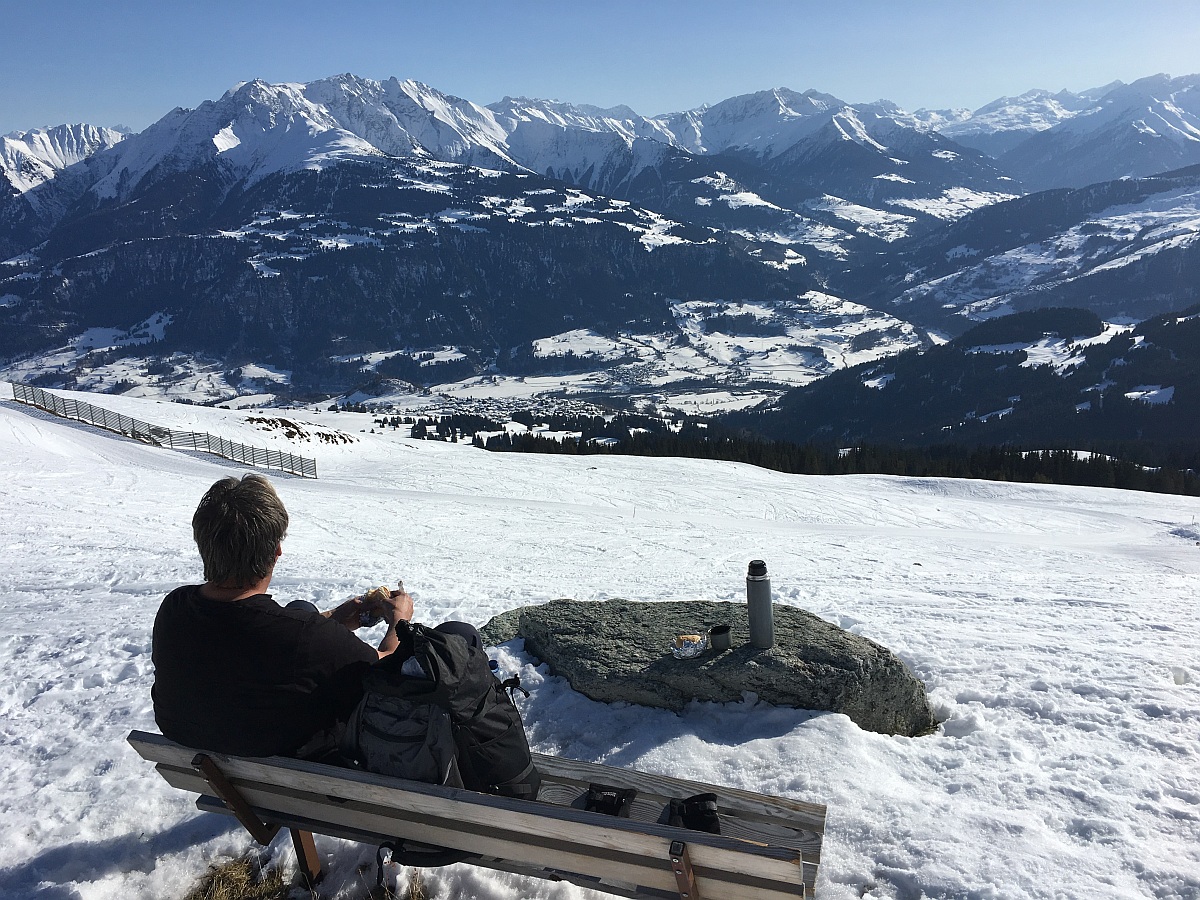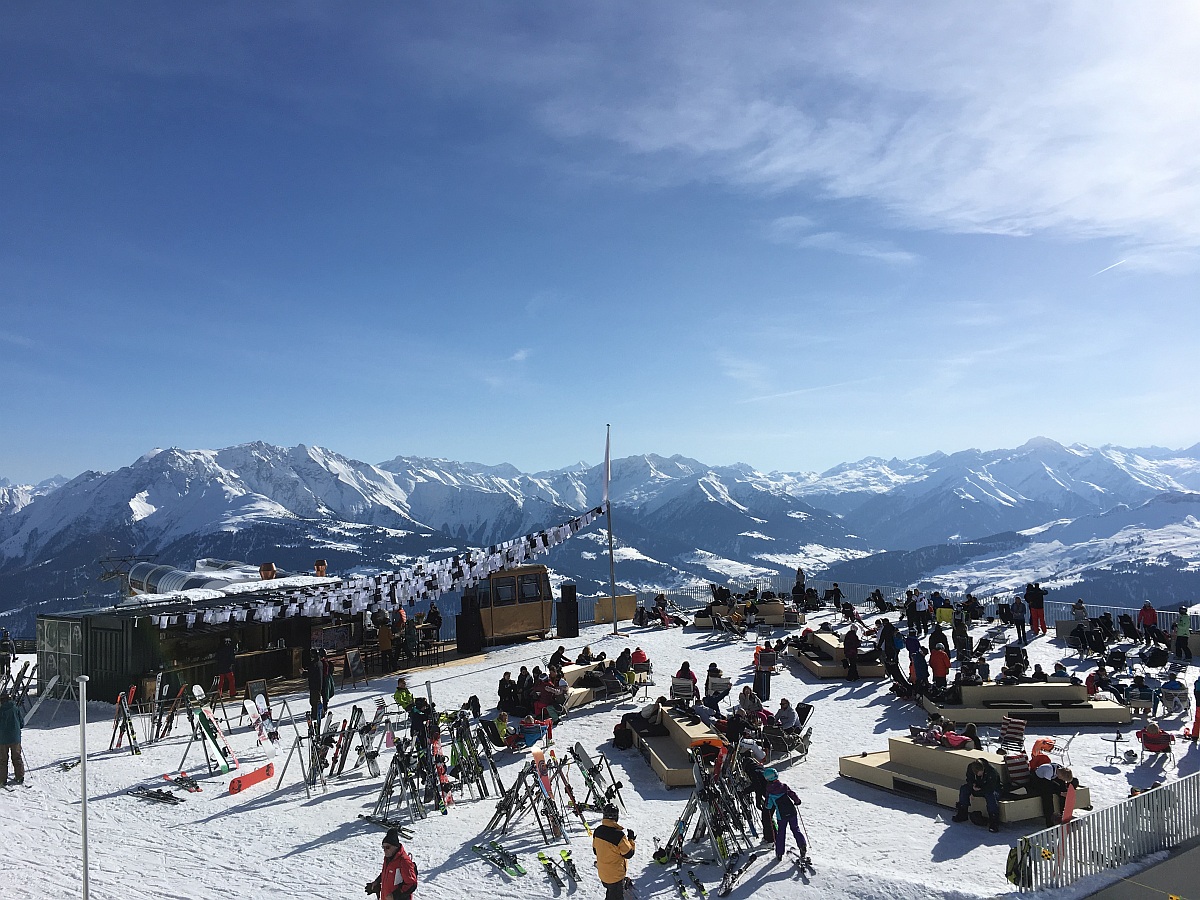 Sledging in LAAX
Another great way to explore the area is by sledging. This probably appeals a lot to families, but it can be fun for any age group. There is even a chance for night sledging! You can bring your own, or rent one for CHF 12.00.
How to get to LAAX
By plane: The closest airport is Zurich, 150 km from the resort. You can then book a shuttle bus to the resort for CHF 75 for a single trip.
By car: Take A3/A13 motorway towards Chur and exit at Reichenau (no. 18). Then take route 19 and you will reach LAAX in around 30 minutes.
By public transport: Train travel in Switzerland is very reliable. Local and international train connections will also take you to Chur. From there, you can reach LAAX by PostBus going towards Flims. Or you can take a train to Ilanz by Rhaetian Railway and then take the PostBus.
My summary on LAAX
I really enjoyed spending my time in LAAX. I think the sunny weather greatly contributed to that. You can be almost certain to have nice weather during your time in the area. I think LAAX is a great place if you are an already competent skier, who will take advantage of the wide variety of slopes. We had fun exploring so many different slopes. Our favourite was the descent from La Siala down to Flims on #10. It covers a total distance of 13 kilometres with a descent of 1,700 metres in altitude. It has everything: gorgeous mountain and cute town views, steep and gentle parts, narrow forest tracks and wide slopes.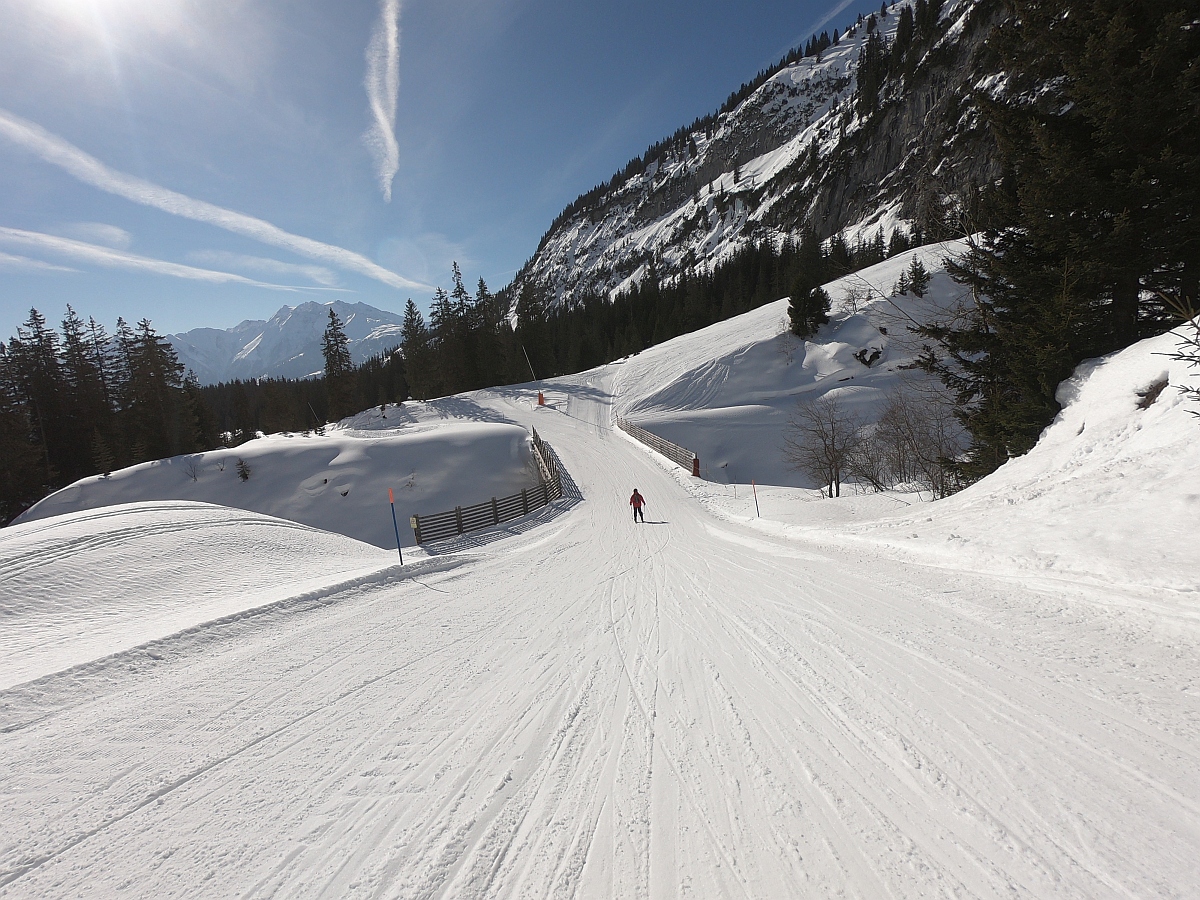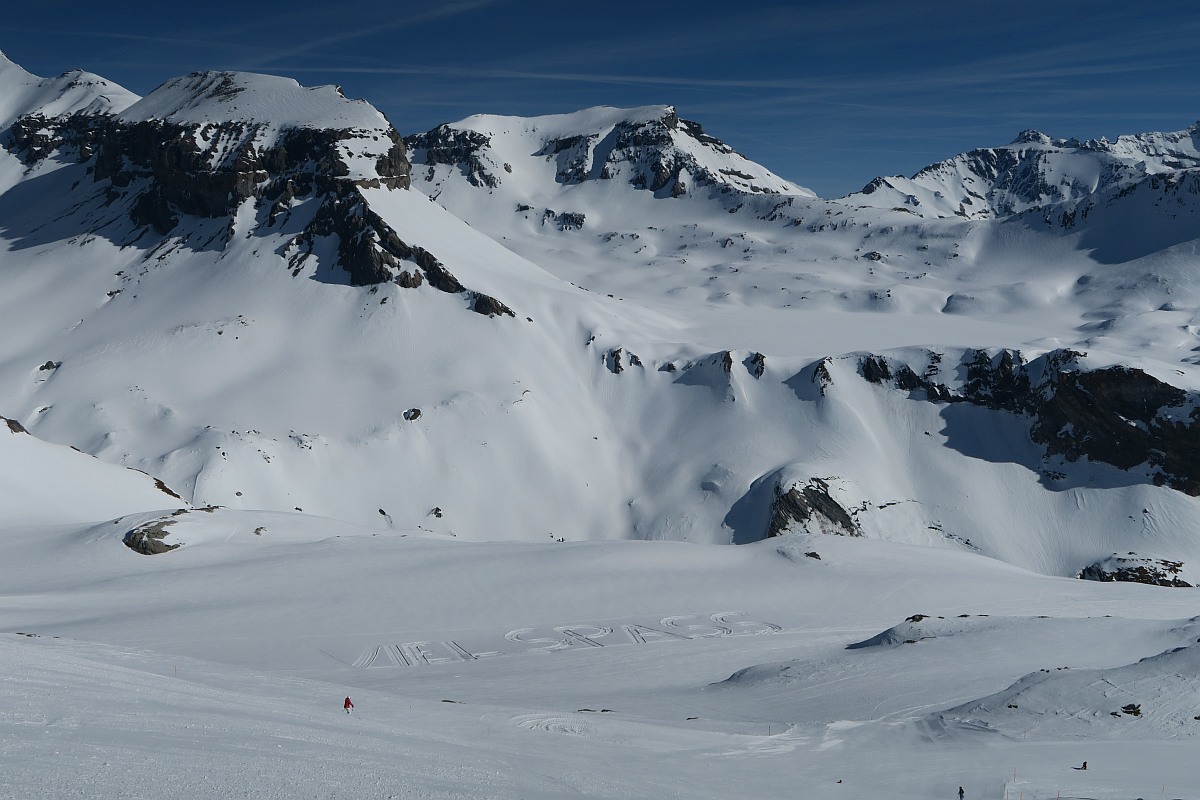 I thought navigation in LAAX was really easy as the slopes are well sign-posted. None of the slopes were particularly busy and we didn't need to wait in long queues at the lifts. To me, the only downside was using some of the lifts. I have a preference for chairlifts, as it doesn't require taking the skis off and I am able to sit comfortably. In LAAX there are many different types: 9 chairlifts, 3 aerial ropeway lifts, 8 gondolas, 8 T-bar/button lifts. If we wanted to get to certain places we had to use a mixture of lifts. This is not a big issue, and probably most people prefer using different lifts, I just have a personal preference for chairlifts.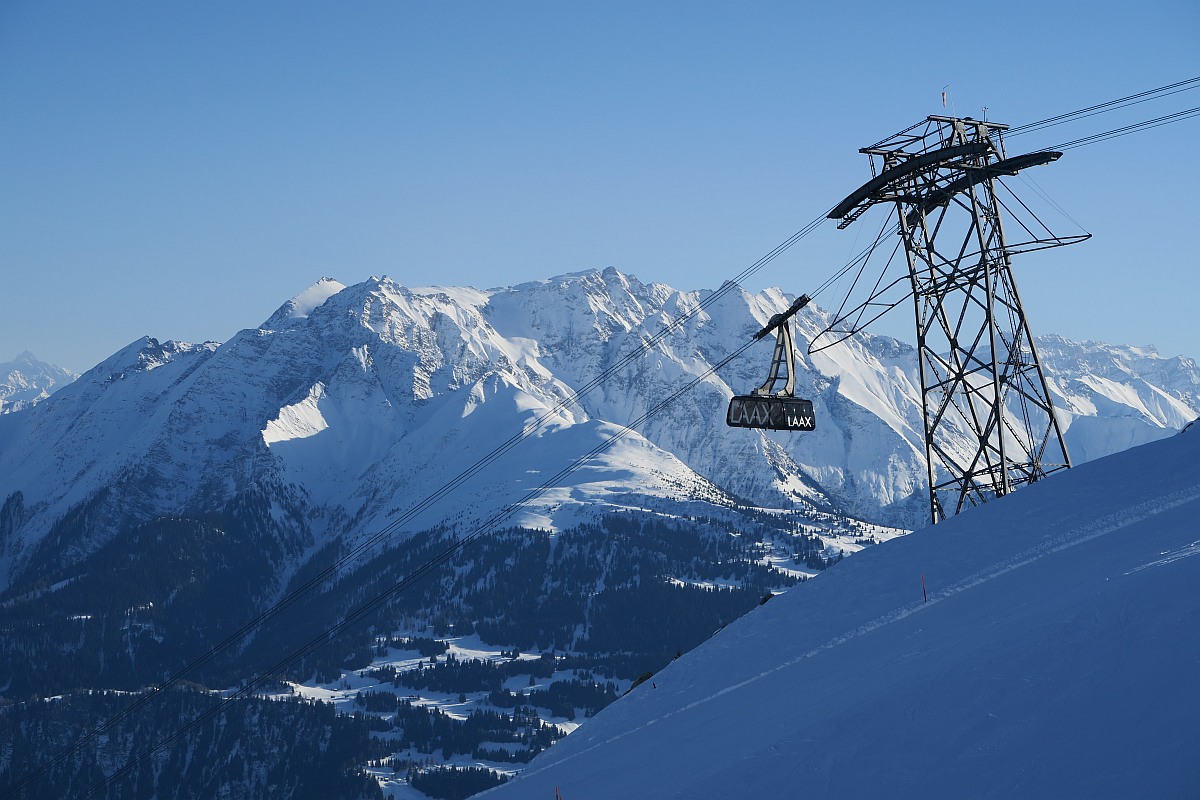 This is a short video I edited about our ski trip in LAAX. Enjoy!

Are you a skier/snowboarder? Do you go to the same resort every year or like to mix it up? What are your favourite resorts in Europe?
Disclaimer: We were guests of LAAX, but as always all opinions are my own!
Did you like this post? Why not PIN it?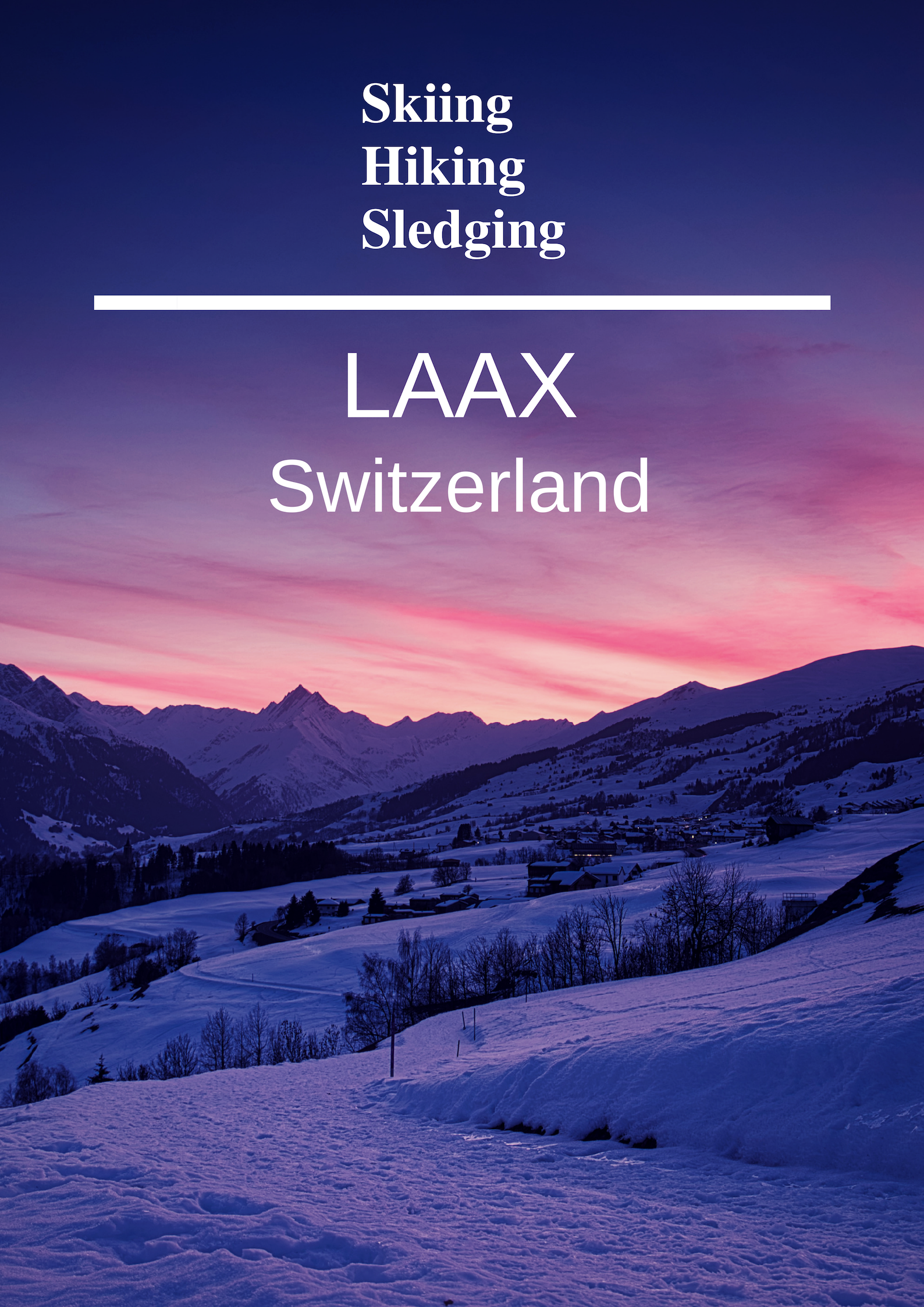 Enikő
Hey, I'm Enikő! I'm currently an au pair and I want to share my experiences with you. I've travelled a lot in the past years. I'm gonna teach you how to settle in to a new country and get free accommodation anywhere in the world. Circle Enikő on Google+!