This post may contain affiliate links. If you make a purchase through one of these links, I may receive a small commission at no extra cost to you.
Hiking the Lauterbrunnen Valley is a great option if you want an easy and budget-friendly walk. It can sometimes be difficult to find an affordable activity in Switzerland. The Lauterbrunnen to Stechelberg section is suitable for families, the elderly and even for people with wheelchairs. The walk offers fantastic views along the way to several waterfalls including Staubbach falls and Mürrenbachfall. You will also see glaciers and the striking Breithorn at the end of the valley. Lauterbrunnen is also one of the starting points to get to the Top of Europe: Jungfraujoch.
Hiking Lauterbrunnen Valley
Where to stay in Lauterbrunnen
The town has many different types of accommodation for different budgets.
How to get to Lauterbrunnen
By public transport: 
From Interlaken: Take the train from Interlaken Ost to Lauterbrunnen. It takes 20 minutes.
From Lucerne: Take the train to Interlaken Ost. Change there to Lauterbrunnen stn. It takes 2h30min.
From Zürich: Take the train from the Main Stn to Bern. Change to Interlaken Ost and then change again to Lauterbrunnen. It takes 2h30min. 
Lauterbrunnen parking:
Kirchenparkplatz: Best location to park if you want to do the Lauterbrunnen to Stechelberg hike. Open-air parking area by the church. Quite big with lots of space. It costs CHF 1 per hour and you can also stay overnight. It costs CHF 12 for 12-24 hours stay. You need to decide ahead of time how long you will stay and pay at the ticket machine, then place the ticket on your window. You can pay by cash or card.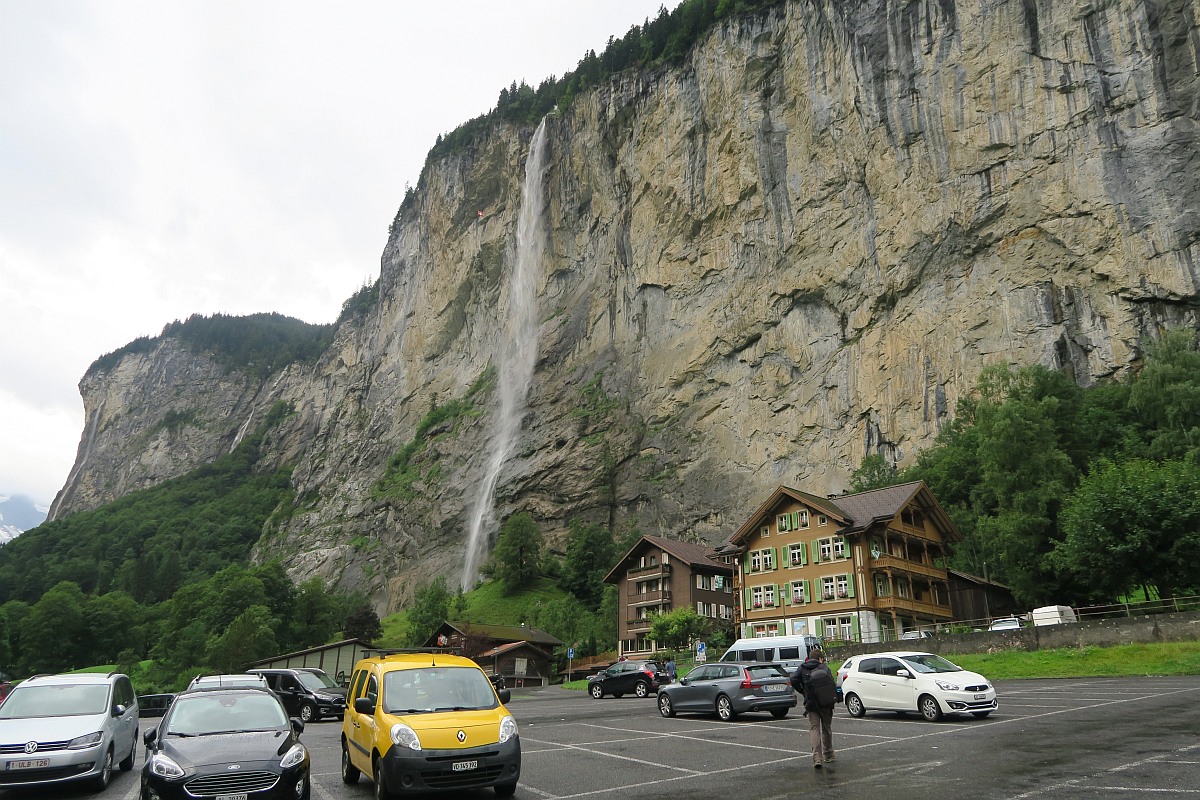 Parkhaus Lauterbrunnen: A multi-storey covered parking garage by the train stn. Lots of space for cars. The height restriction is 2.50 m. It is possible to pay by cash or card. You can also pre-book your spot online and you can leave your car for several days.
Prices are a bit higher than at the Kirchenparkplatz.
2h – CHF 3
3h – CHF 5
4h – CHF 7
5h – CHF 9
7h – CHF 11
9-24 h – CHF 17
Parkplatz Lauterbrunnen: A small parking area by the school, about 3 minutes walk from the train stn. It costs CHF 1 per hour. Maximum stay is 24 hours. It costs CHF 12 for 12-24 hours stay. You need to decide ahead of time how long you will stay and pay at the ticket machine, then place the ticket on your window. The machine only takes change. 
Staubbach falls
Lauterbrunnen is quite a cute town with lots of nice cafes, restaurants and shops. You can spend some time just wandering around, searching for the best view of the Staubbach Falls. You must have seen countless of photos of this waterfall on Instagram and Pinterest. The sight of this waterfall is most impressive after heavy rain, so if you want to get an epic shot, try and go after it's been raining. 
The path up to the Staubbach falls starts only 150 m after the Kirchenparkplatz. It is only open in the summer months, as there is a big risk of snow, ice and rock falls during any other time of the year. To get to the waterfall, first, you will have to walk up a series of stairs. At the top, there is a tunnel to walk through, which leads to a path that goes behind the waterfall. This path is very slippery, so take care. There is railing to hold onto, but hiking poles might also be useful. Waterproof trousers, coats and shoes are recommended for this section, as you will get very wet otherwise from the spray. You won't get a nice view of  Staubbach falls when you are behind it, but it is still a cool experience and you can see the valley from above. The waterfall is beautifully floodlit at night, which is a very unique sight.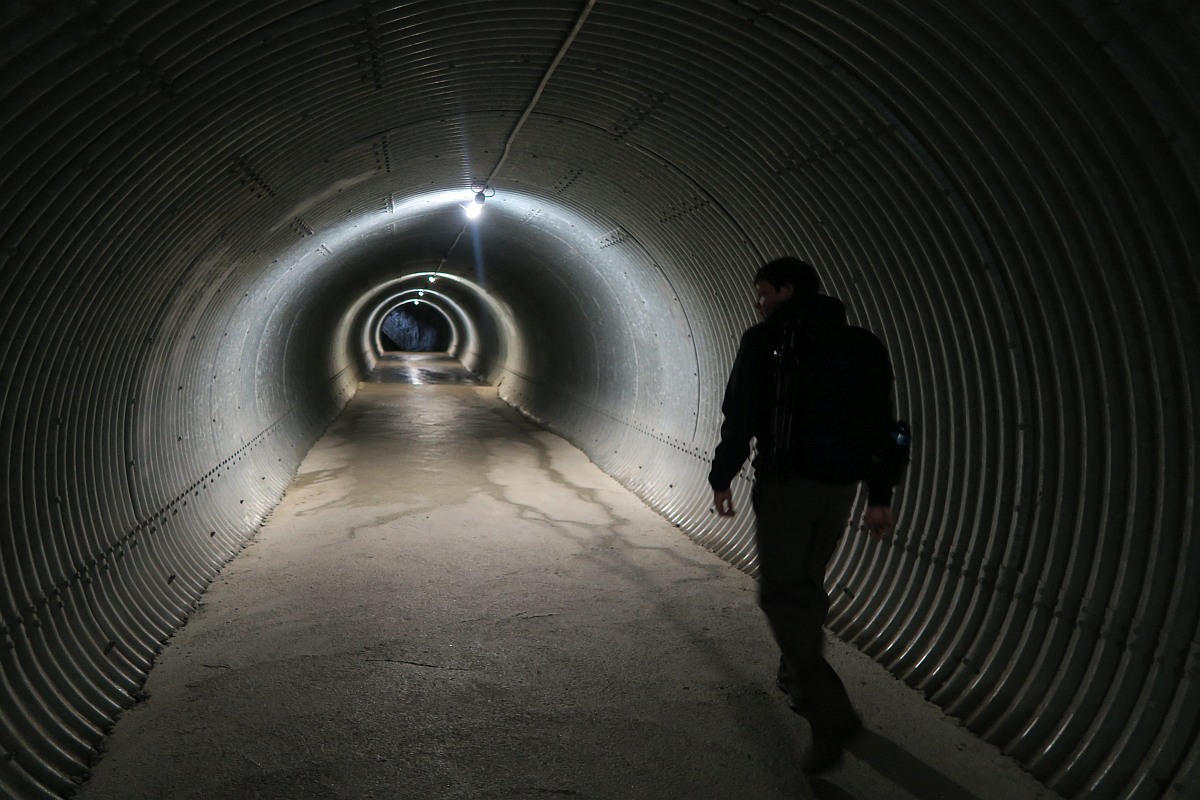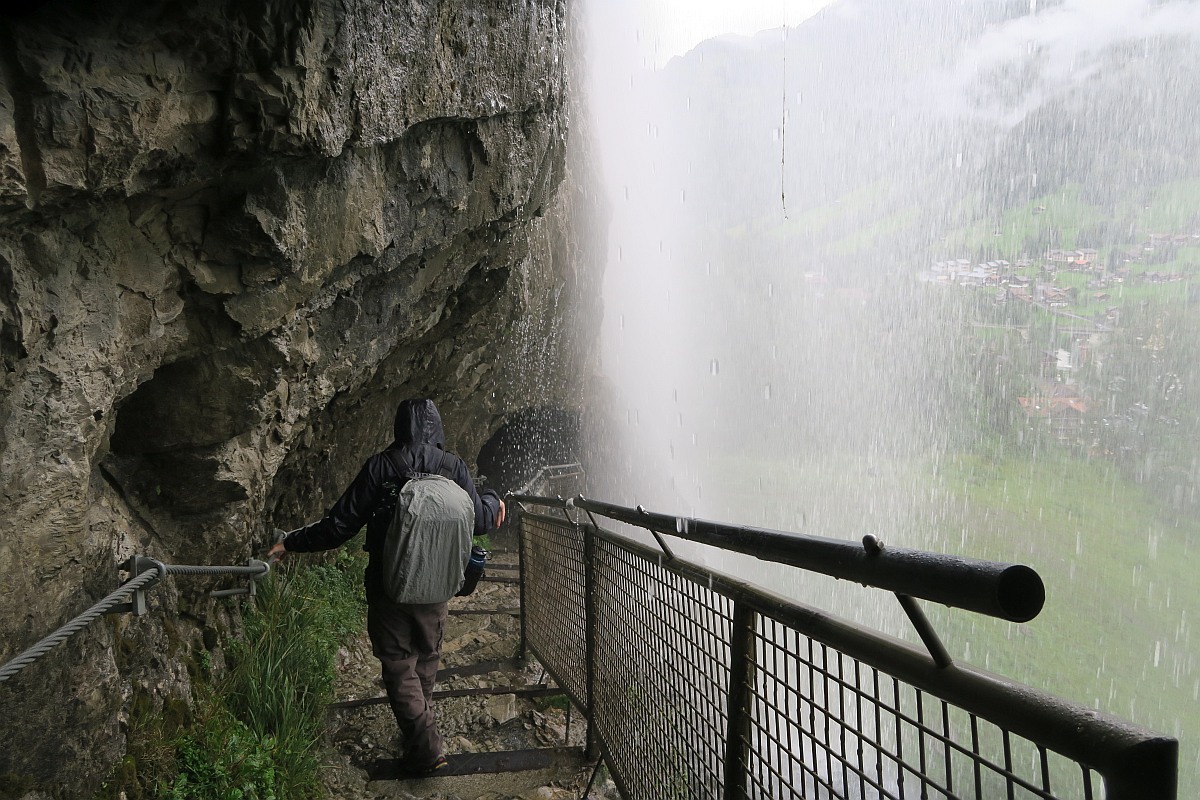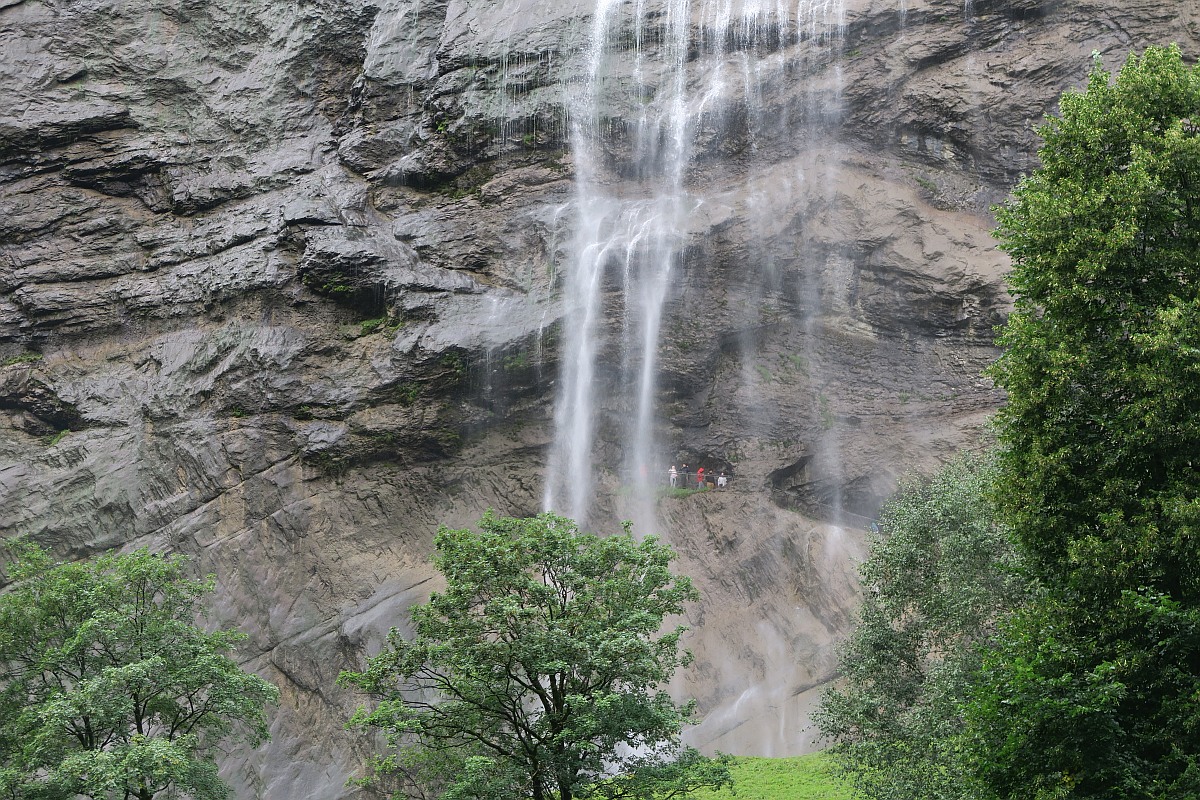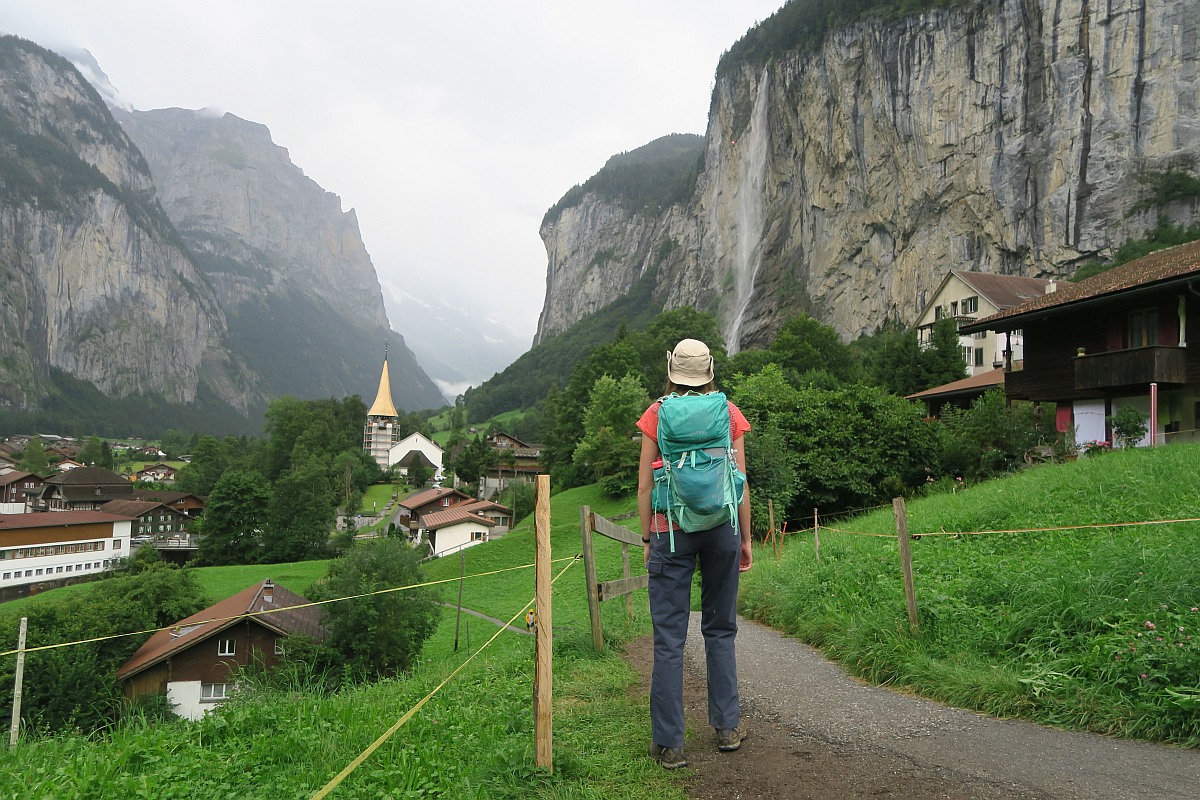 Lauterbrunnen to Stechelberg Hike
This section is 4.3 km on flat terrain. It is mostly paved but becomes gravel towards the end. It is ideal for buggies, wheelchairs, scooters and bikes. The road is quiet, but not completely car-free, so keep a close eye on children. Lauterbrunnen Valley is famous for paragliding. You will see helicopters going up and then a few minutes later paragliders will appear. It is really cool to see them do tricks occasionally. If you feel adventurous you can also give it a go. The trail from Lauterbrunnen to Stechelberg offers lovely views without too much effort. As you are getting close to Stechelberg you will spot Mürrenbachfall. The whole walk should take about 1 hour. There is a bus service from Stechelberg back to Lauterbrunnen, if you don't fancy walking back. Postauto 141 costs CHF2 – CHF 4 and takes 18 minutes.
While this route is quite straight forward, if you want to go on other hikes as well in the area, then buy this map. It helped us a lot to plan our trip.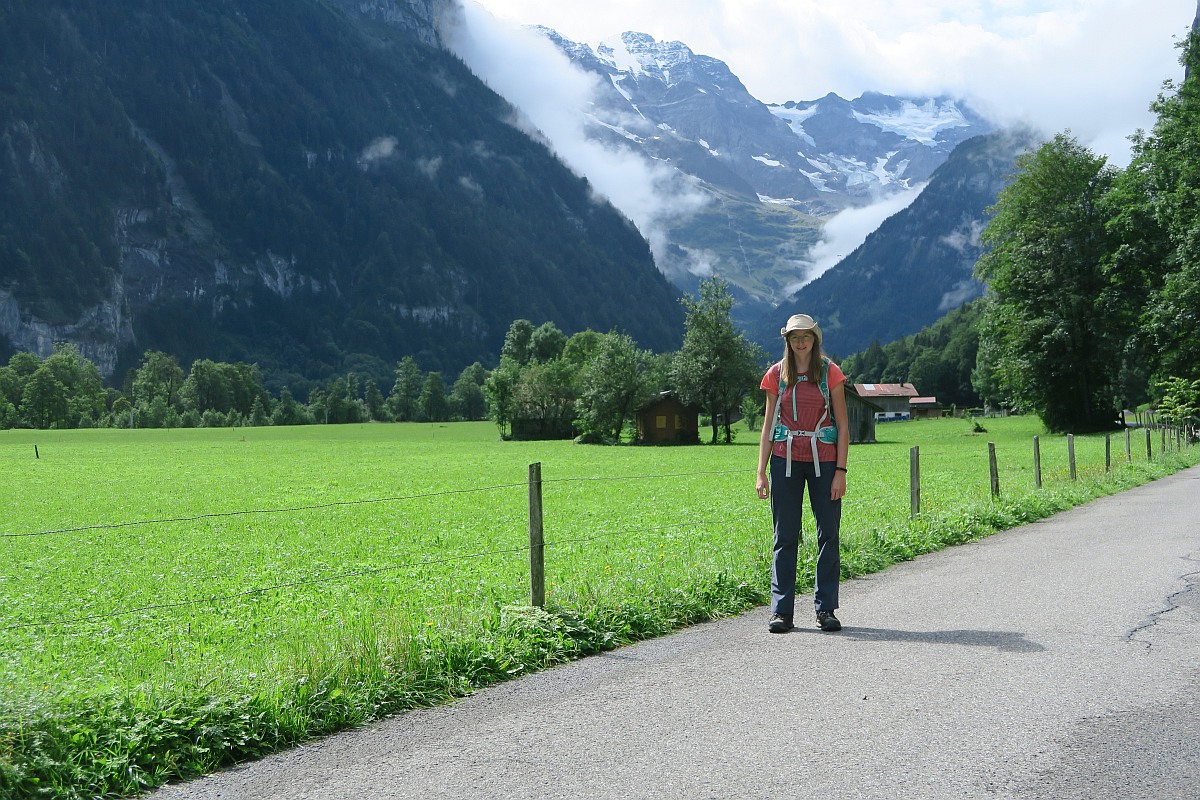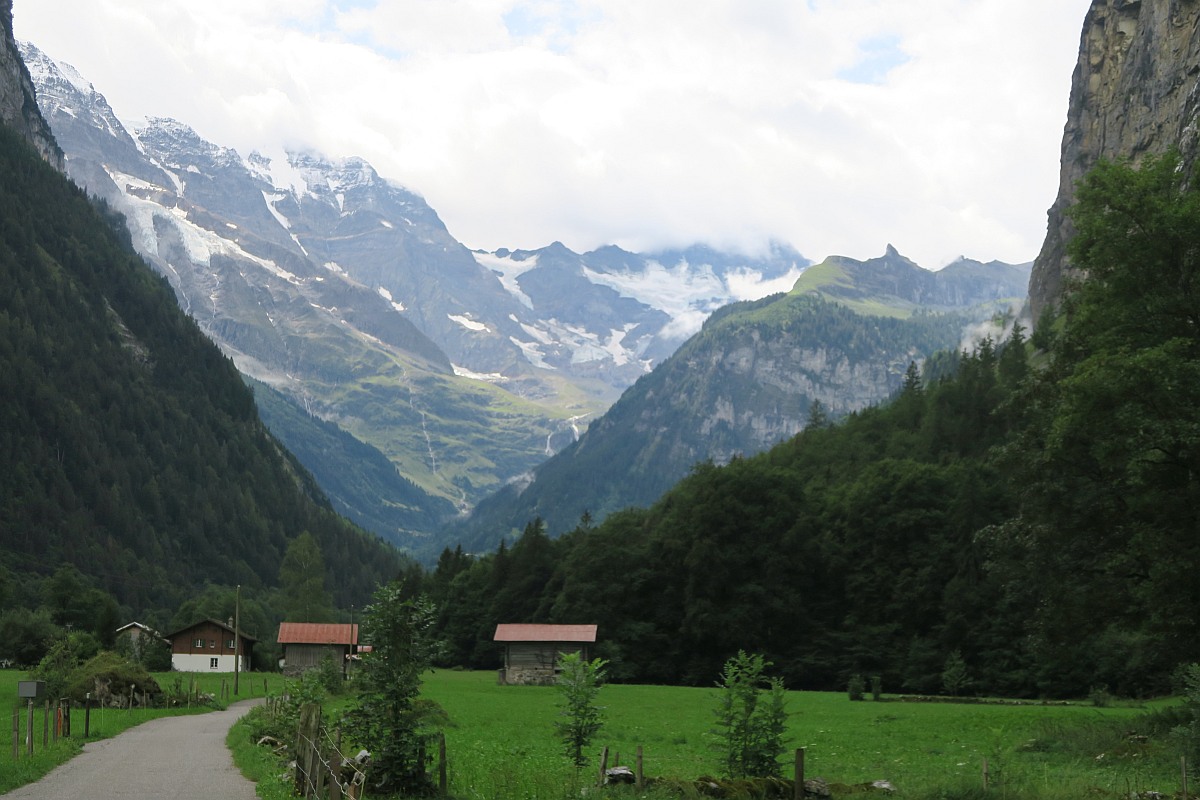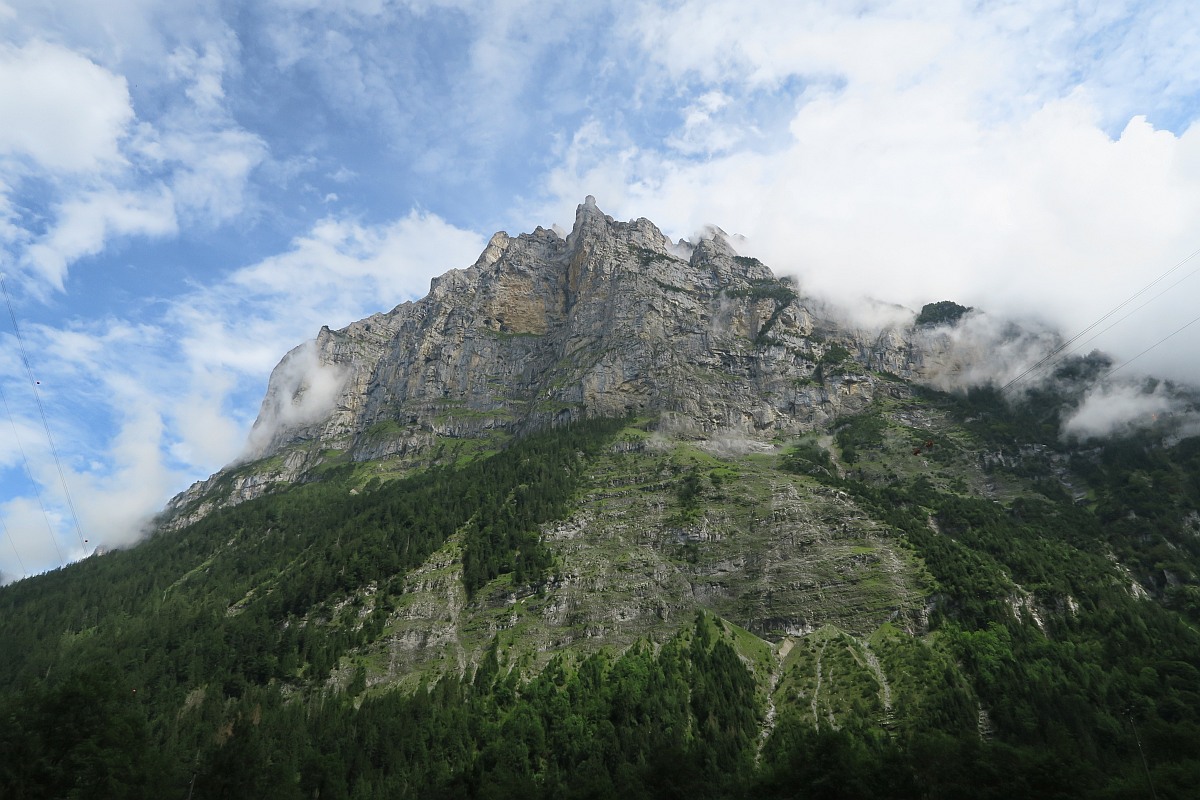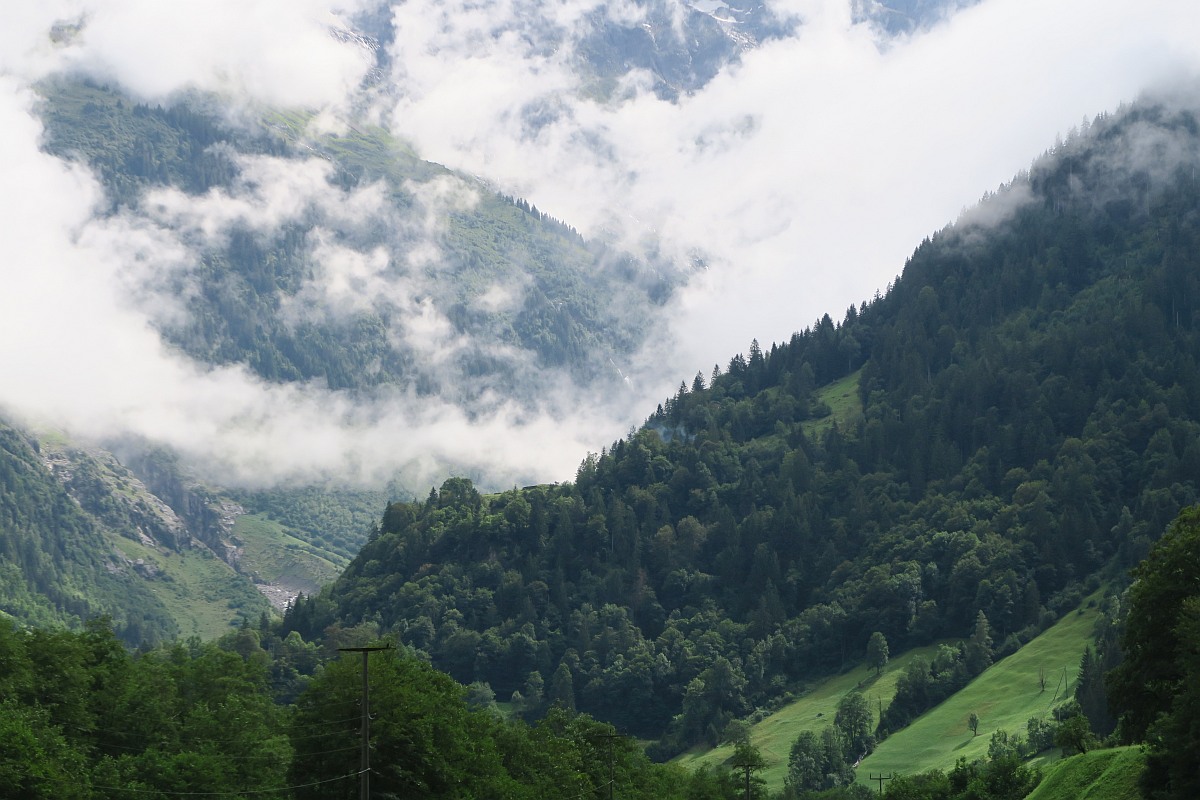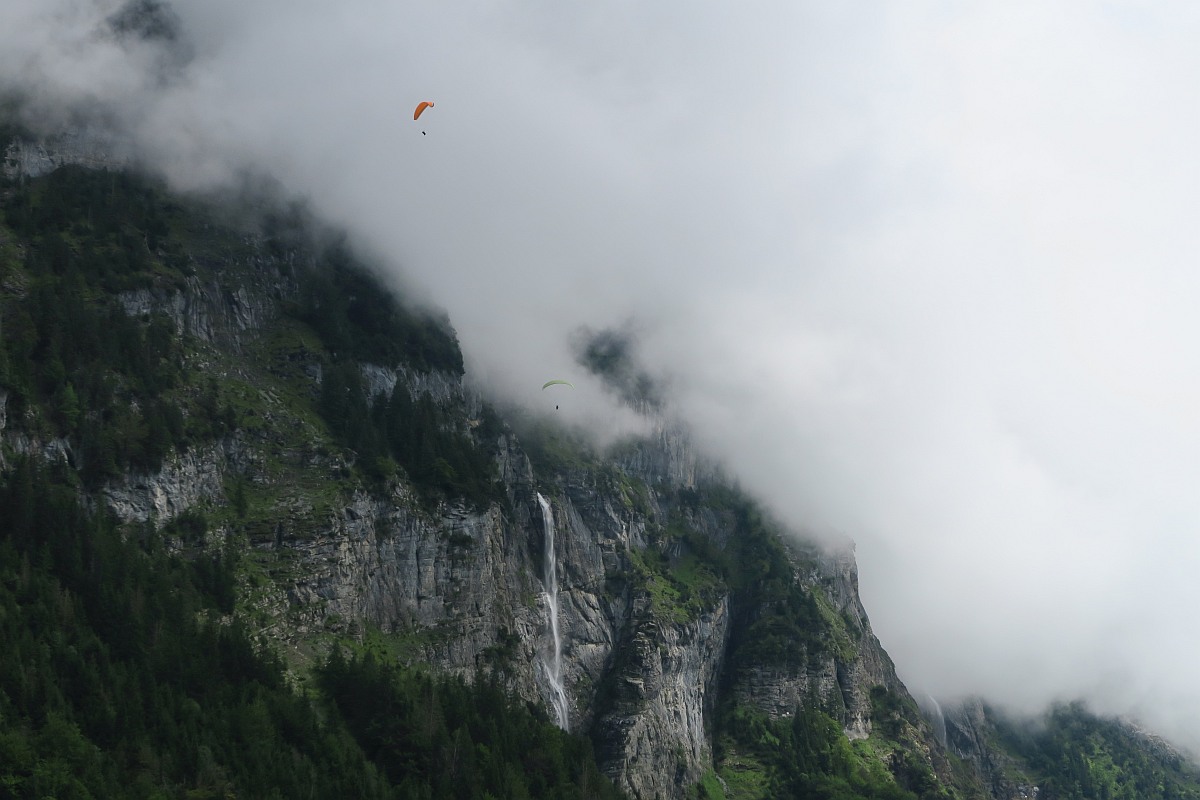 Mürrenbachfall
Mürrenbachfall is the highest waterfall in Switzerland with its 417 m. It looks very impressive especially if you walk up to its base. The trek there isn't long, but a bit challenging, as the terrain is quite slippery. It only takes about 15 minutes to reach its base from Stechelberg parking area. It is a great feeling getting the spray from the fall on your face. There is also a Via Ferrara hike coming from Mürren, which has a wire bridge going directly over Mürrenbachfall.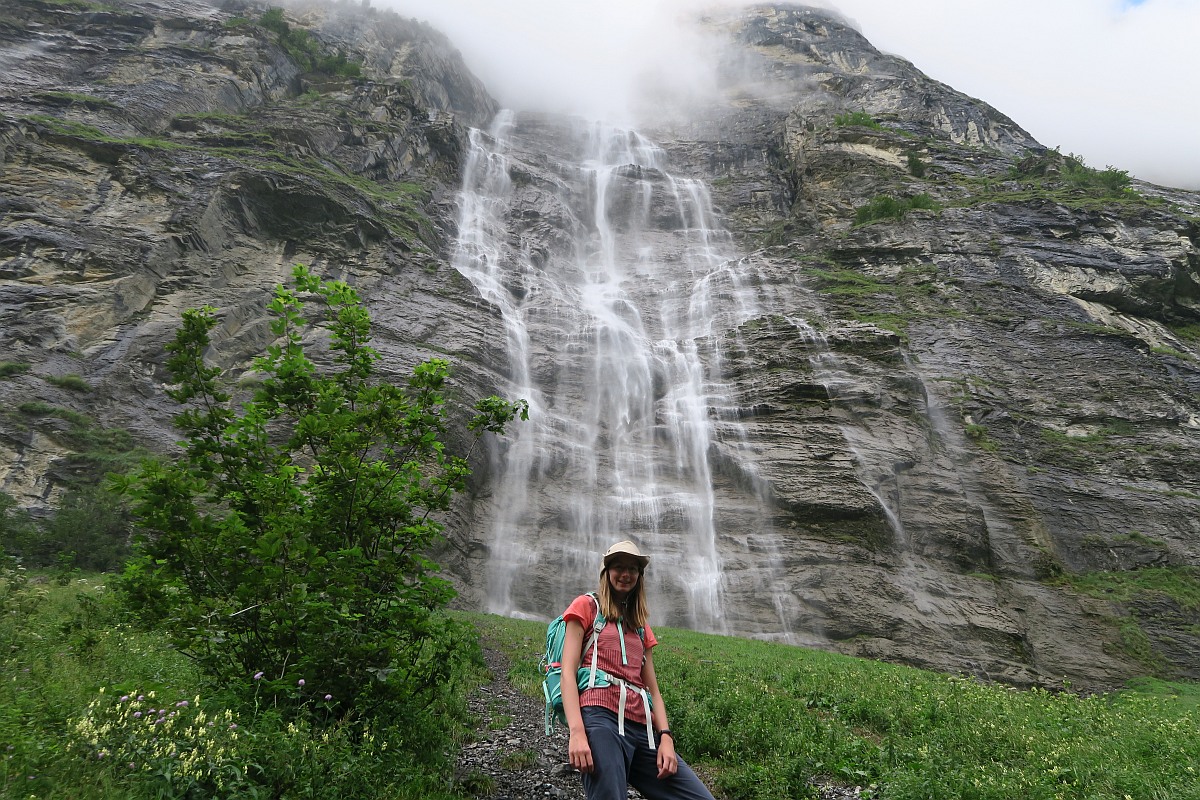 Excursions from Stechelberg
There are many other walks in the area. From Stechelberg you can take the Schilthornbahn up to Schiltorn (2970m), also knows as the James Bond Mountain. On the top, you will find Piz Gloria restaurant that starred in the 1969 Bond film "On Her Majesty's Secret Service". Now they offer James Bond menus and the restaurant rotates around its own axis in 45 minutes. A must visit place for any James Bond fans, but even if you don't care much about the movie, you will be amazed by the fantastic view surrounding you. 
A cheaper option for an excursion is to take the cable car to Mürren. It is a cute car-free village with a lot to offer.
Trümmelbach Falls is also just a short bus ride or hike from Stechelberg. In fact, you can make a detour there on the Lauterbrunnen to Stechelberg hike. Keep in mind, that you will have to pay an entrance fee for Trümmelbach Falls and children under 4 are not permitted inside.

Stechelberg parking
There is a big open-air parking area next to the Schiltorn cable car. It has a barrier, so you don't need to decide ahead of time how long you want to stay. Simply take the ticket before entering the car park and when you are finished you can pay for the amount you stayed at the ticket machine. You can pay in cash or by card. The first hour is free of charge. You can also buy a ticket for a multi-day stay.
0 – 1 hour CHF 0.00
1 – 2 hours CHF 4
2 – 4 hours CHF 6
4 – 8 hours CHF 7
8 – 12 hours CHF 8
12 – 24 hours/1 day CHF 11
Lauterbrunnen Valley by bike
The Lauterbrunnen to Stechelberg path is also suitable for cycling and there are some other easy routes in the area as well. You can take your bikes on the car and park at Kirchenparkplatz. There are also bike rentals in Lauterbrunnen, which also offer ebikes, trailers, kids bikes and the possibility to rent for multi-day trips as well.
Imboden Bike Rental prices: 
MTB-Hardtail
2h – CHF 22.
4h – CHF 28
8h – CHF 38
MTB-Full suspension
2h – CHF 45
4h – CHF 55
8h – CHF 70
E-bikes
2h – CHF 28
4h – CHF 38
8h – CHF 50
The area offers many fantastic activities. Don't miss your chance to visit some of the nearby attractions.
Did you enjoy this post? Why not PIN it for later?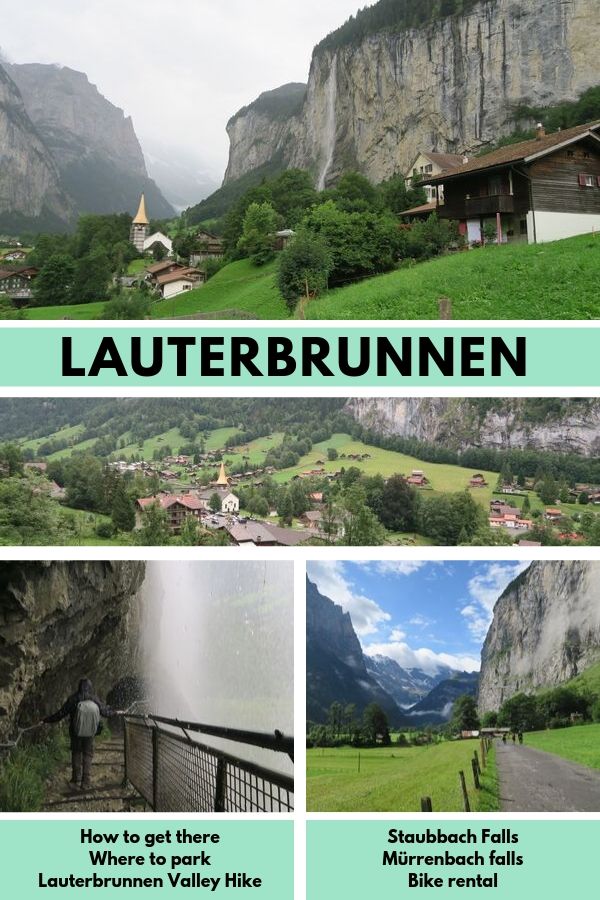 Enikő
Hey, I'm Enikő! I'm currently an au pair and I want to share my experiences with you. I've travelled a lot in the past years. I'm gonna teach you how to settle in to a new country and get free accommodation anywhere in the world. Circle Enikő on Google+!