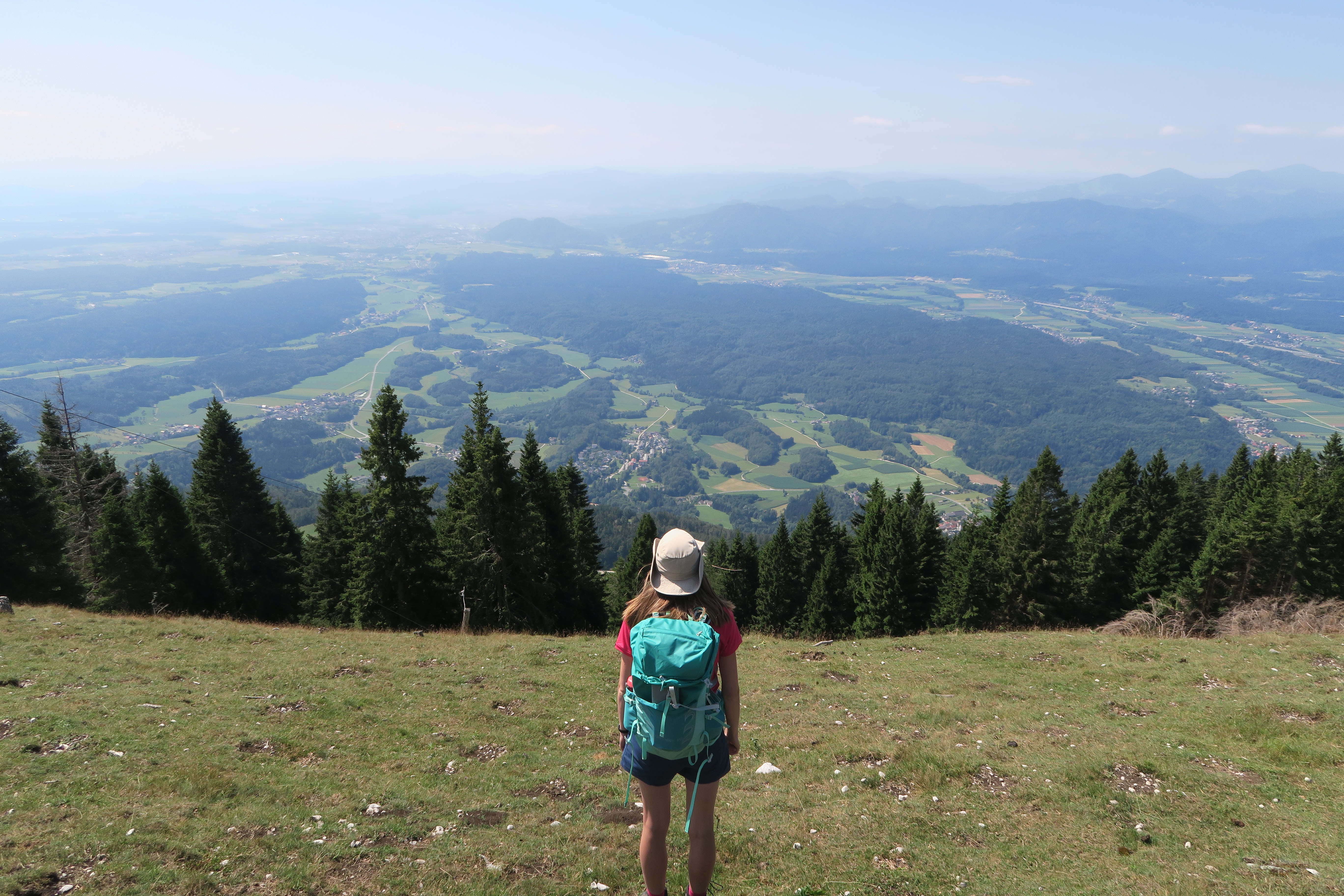 Kriška gora (1471 m) and Tolsti vrh (1715 m) are the locals' favourite hike in the Kamnik-Savinja Alps. It offers fantastic views to the Ljubljana basin and the hut on the mountain top serves delicious traditional home-made dishes. Kriška gora is also popular with paragliders. We really enjoyed watching them jump off on their adventure. While this hike is popular and it is one of the stops along the Via Alpina hiking trail the path is not crowded. You won't meet many tourists, as it is mostly a known path among the locals. It makes a great day trip from Ljubljana as well.
Hike from Golnik to Kriška gora and Tolsti vrh
How to get there
By public transport
Take the bus to Kranj and then change to take the bus to Golnik. From Ljubljana, you can take a direct bus to Golnik.
Parking:
Golnik: There is a lot of parking available next to Park Golnik.
Gozd: If you prefer to have a shorter hike you can park in Gozd. There are a lot of parking available next to church Cerkev sv. Nikolaja at coordinates 46.340196, 14.332584
Golnik – Gozd Section
We set off from Golnik at 7 am, as there was rain in forecast for the afternoon. The route to Gozd is about 2.5 km with 430 m elevation gain. The path goes up basically the whole way inside a forest. The route is very obvious, there are several signposts as well. There is one lookout point along the way, where you get your first view to the Ljubljana basin. We could see Golnik and the apartment block, where we were staying at. It took us about 1 hour to reach Gozd. Most people start their hike from here, but for us it made sense to set off from Golnik as that is where our accommodation was and we felt energetic.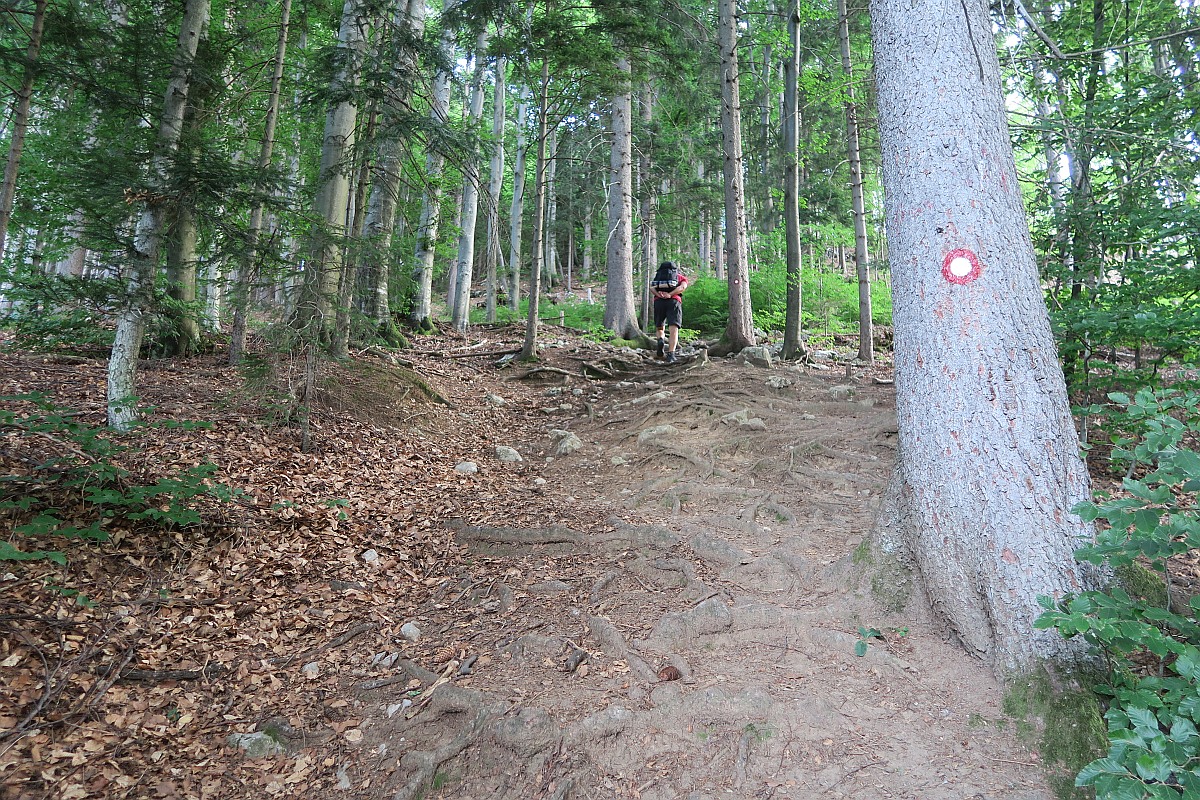 Gozd – Kriška gora Section
The signpost suggested 1h20 min for Kriška gora and 2h40 min to Tolsti vrh. You can do the hike either way around, but we decided to hike up to Kriška gora first. The trail was quite strenuous as it was uphill all the way. Luckily it was mostly inside a forest, so we weren't exposed to the sun. There were a few benches along the way, where we could rest. We saw some hikers carrying up their heavy paragliding equipment. We reached the top and were happy to find the hut open. The sun was shining, people were enjoying the deck chairs and paragliders were taking off. It was a lovely day. Some maps show a cable-way to the top, but this is only a material cable-way, not for people! We ate our sandwiches while enjoying the view and we bought some cold drinks from the hut. Prices were very reasonable. Later we saw someone having a traditional Slovenian soup, which looked tasty, so we also ordered some. Eating so much, when we still had to climb Tolsti vrh, probably wasn't a great idea, but we just couldn't resist that yummy soup!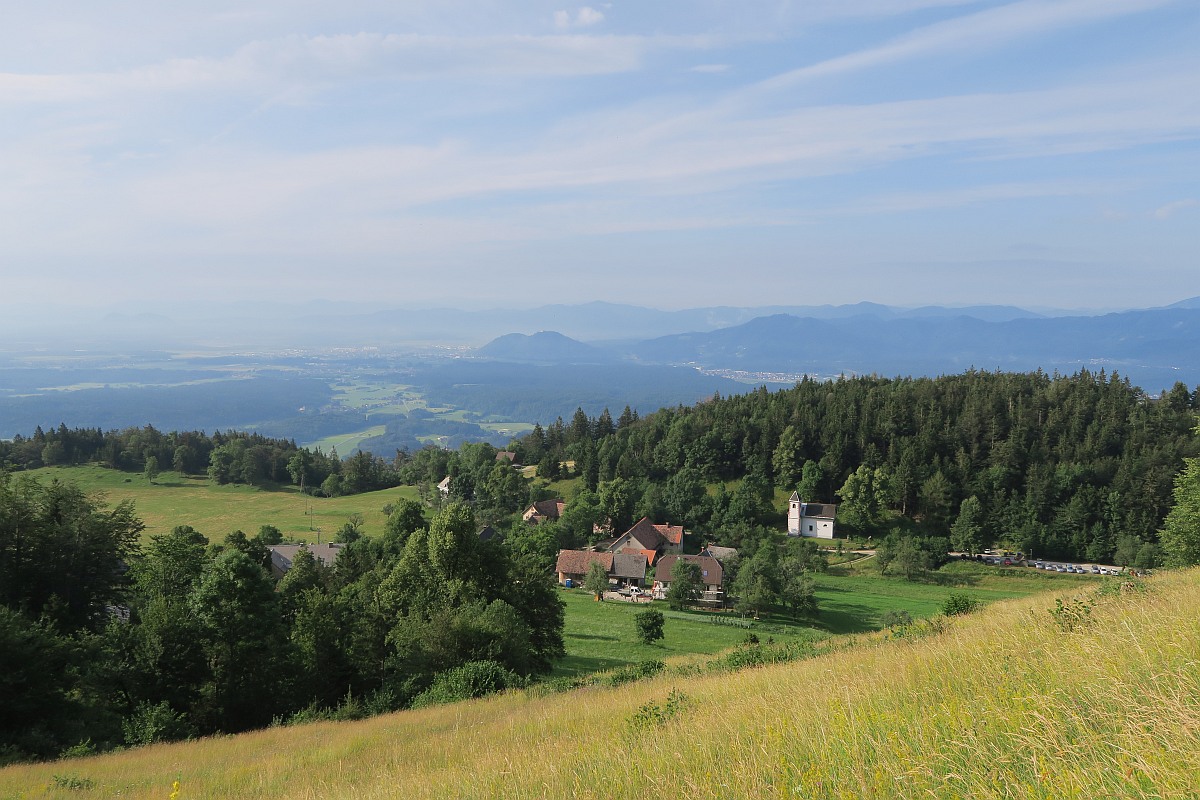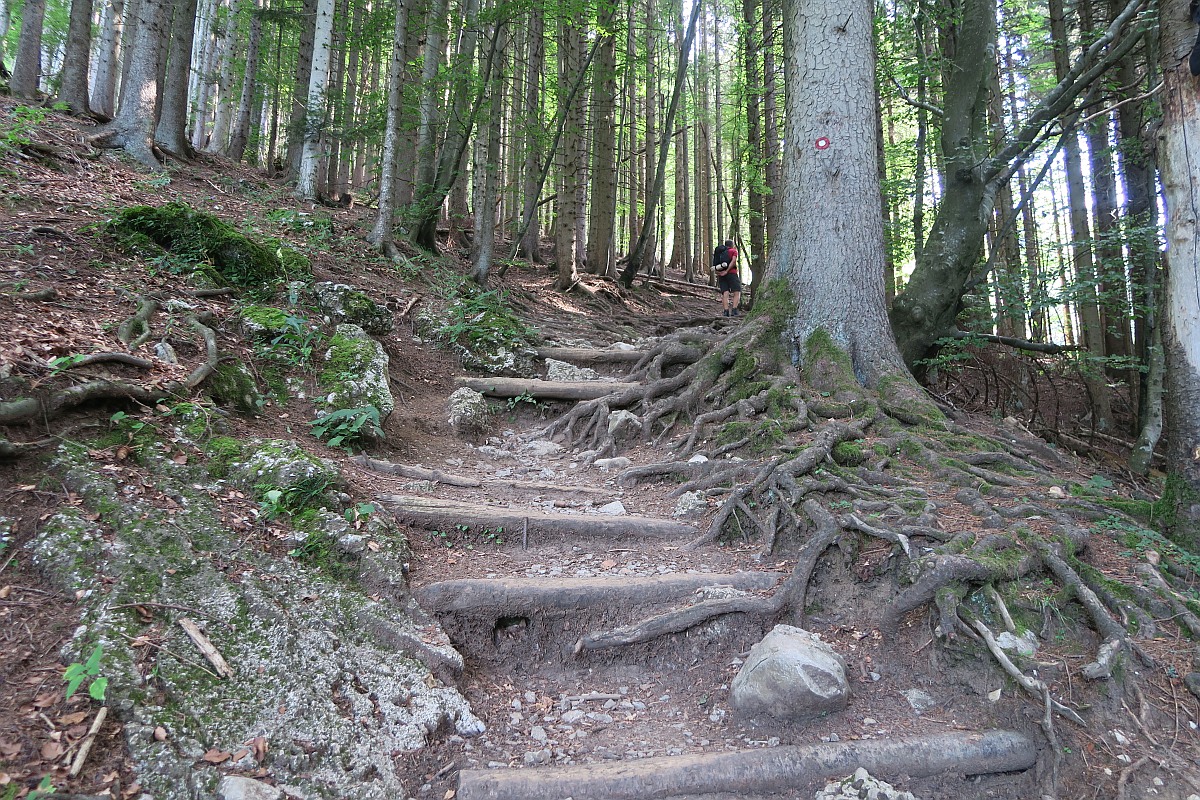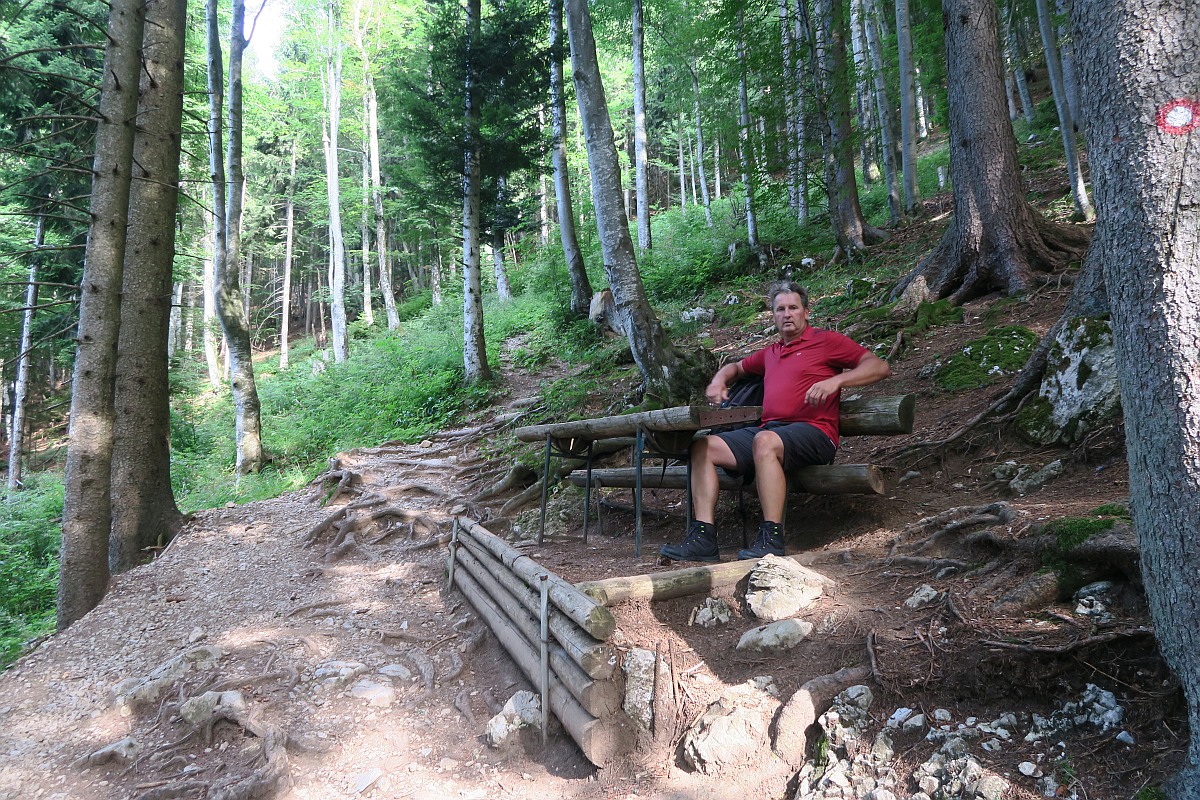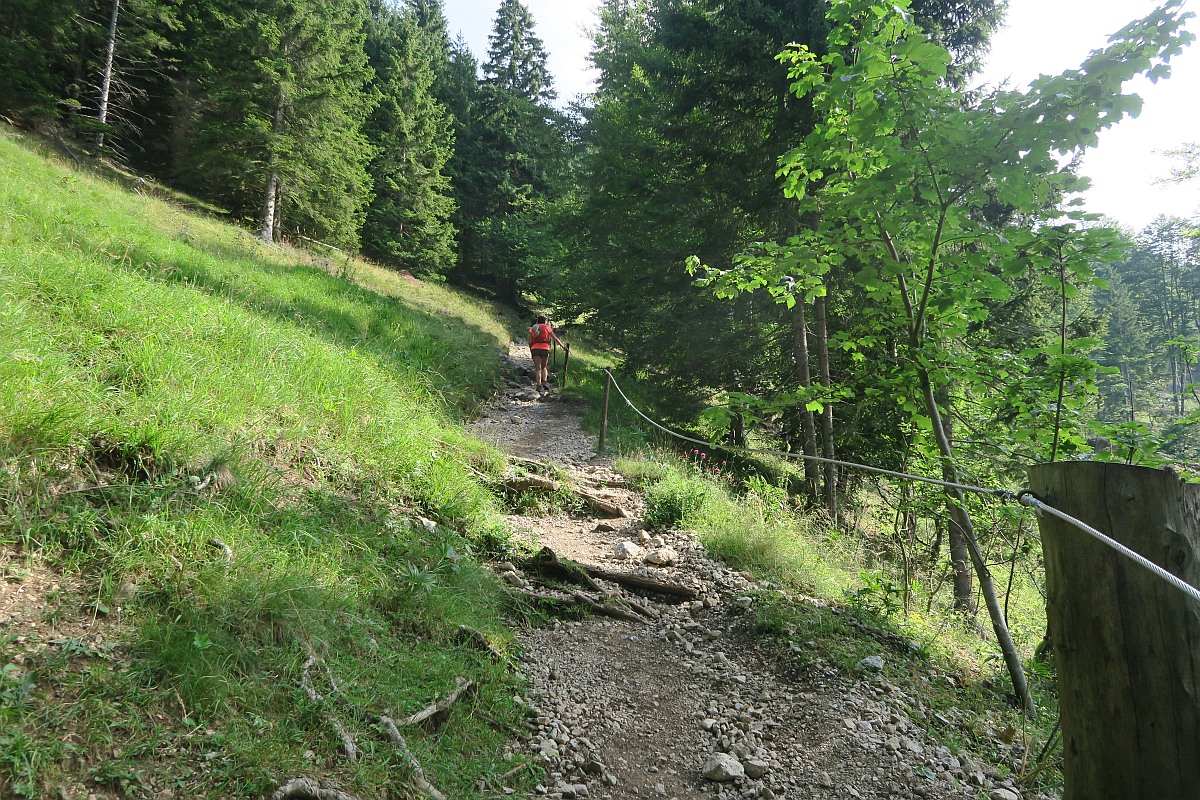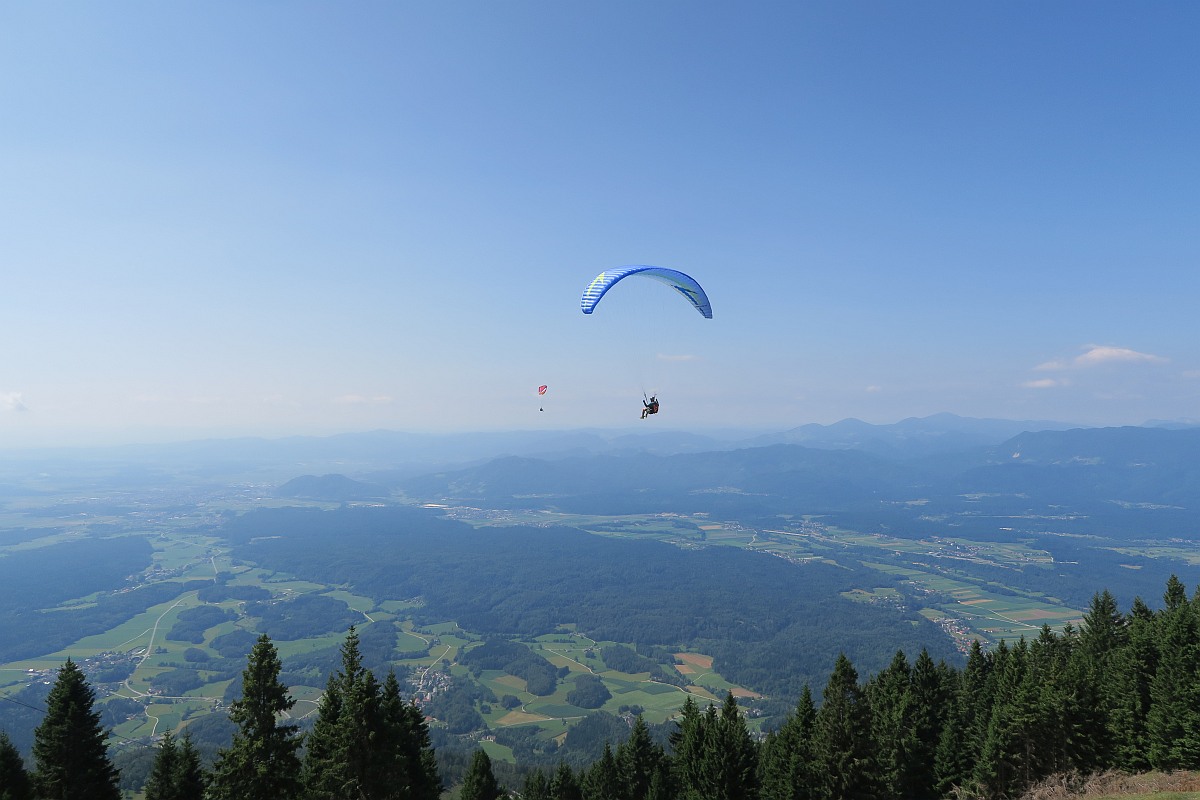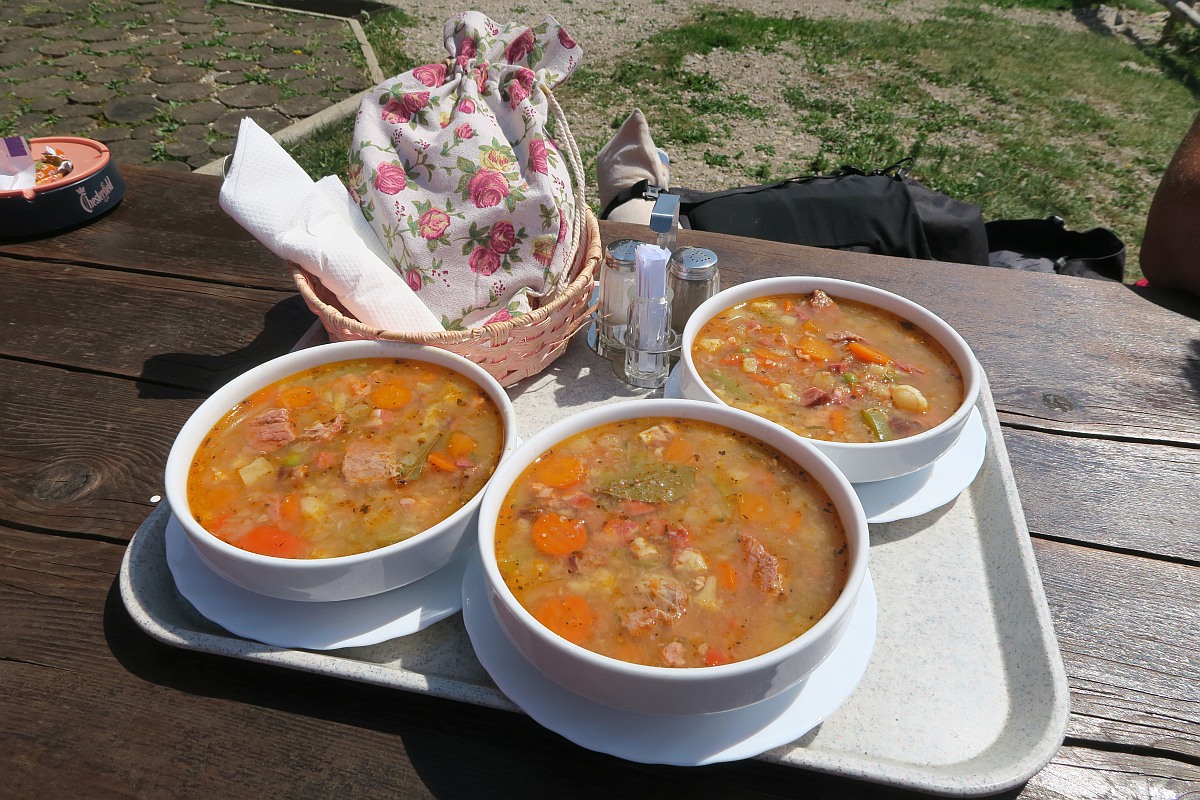 Kriška gora – Tolsti vrh Section
From Kriška gora the signpost suggested 1h15min to reach Tolsti vrh. The trail was quite interesting and diverse. It went through a panoramic ridge with open views, some forests with green moss on rocks and some places we had to scramble up steep rocky terrain. The path occasionally went downhill, sometimes it was flat and many times we had to ascend. We had gorgeous views along the way. By the time we reached Tolsti vrh some dark cloud appeared. We spent some time enjoying the 360 views. We could see the impressive mountain Storžič, which is a more strenuous hike.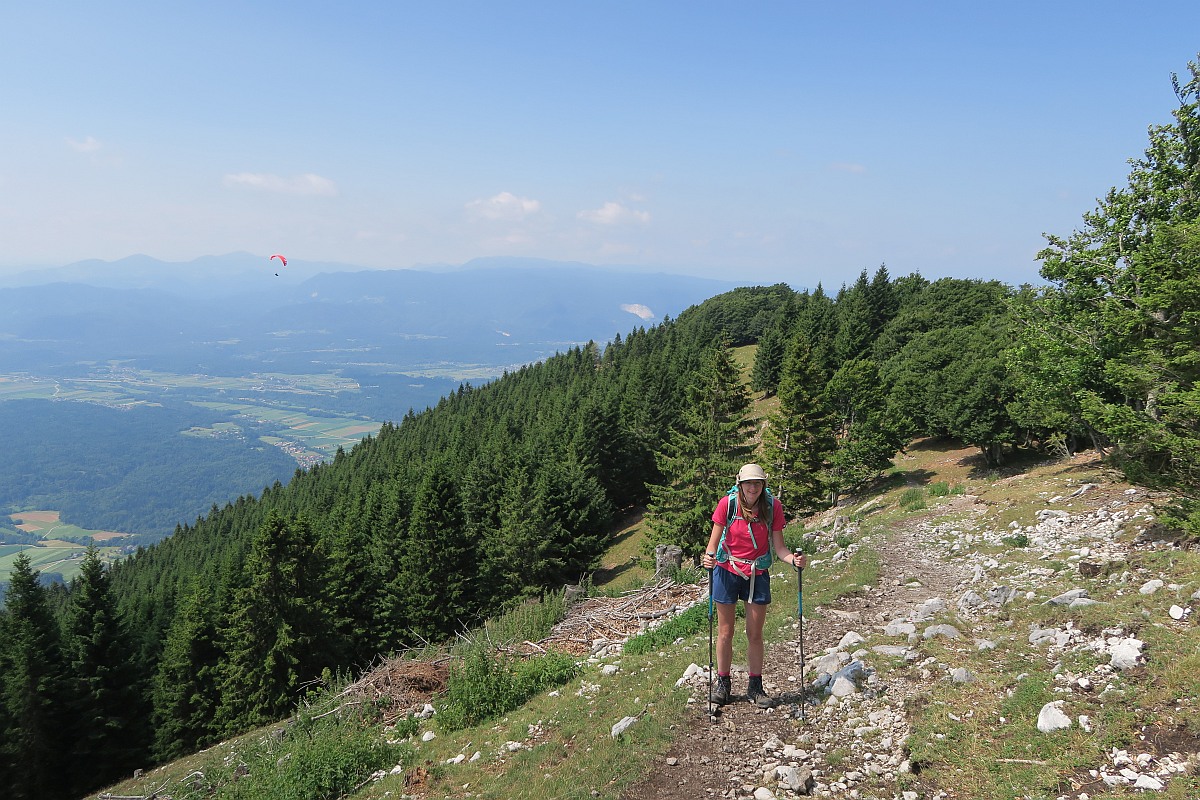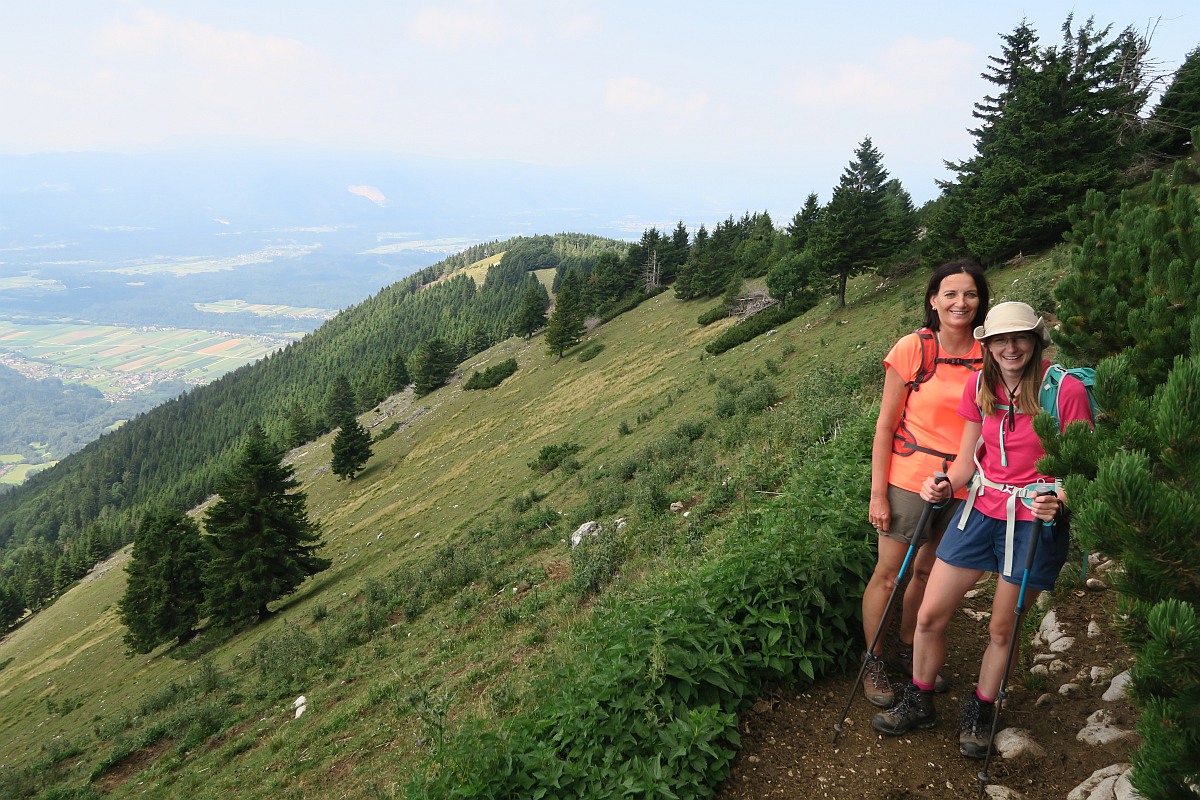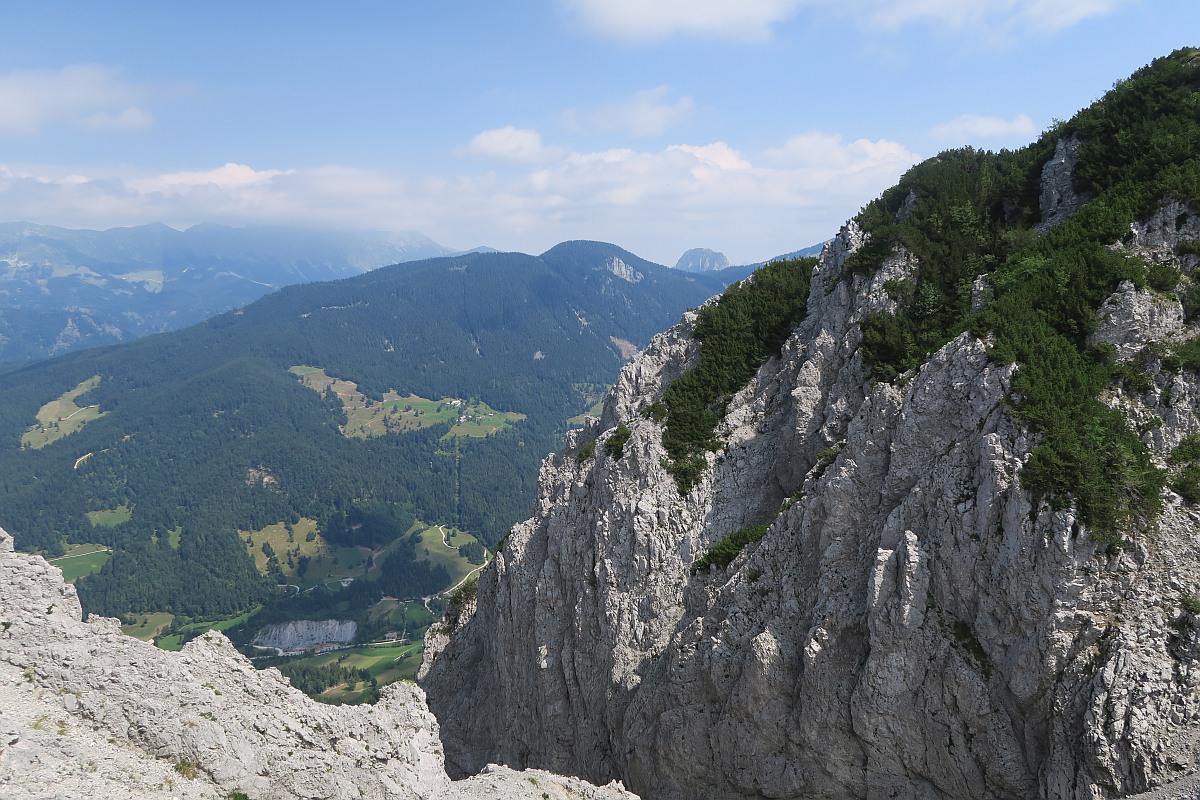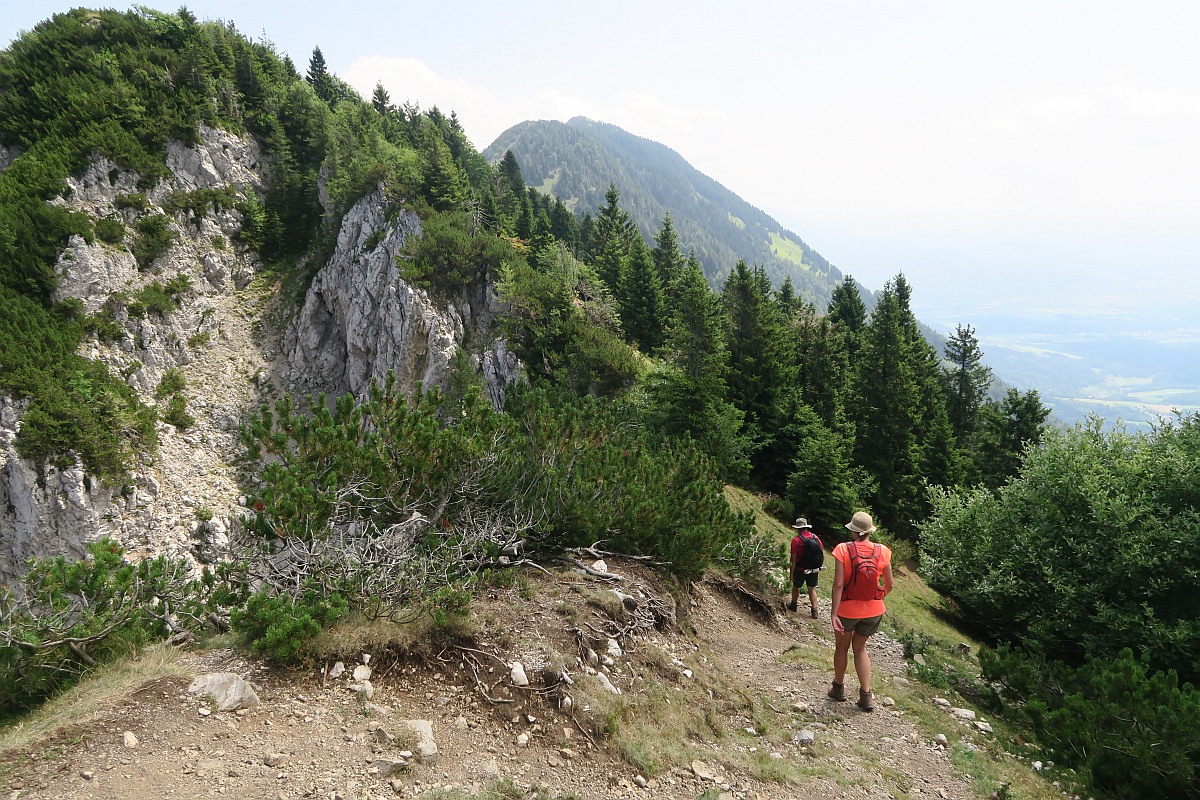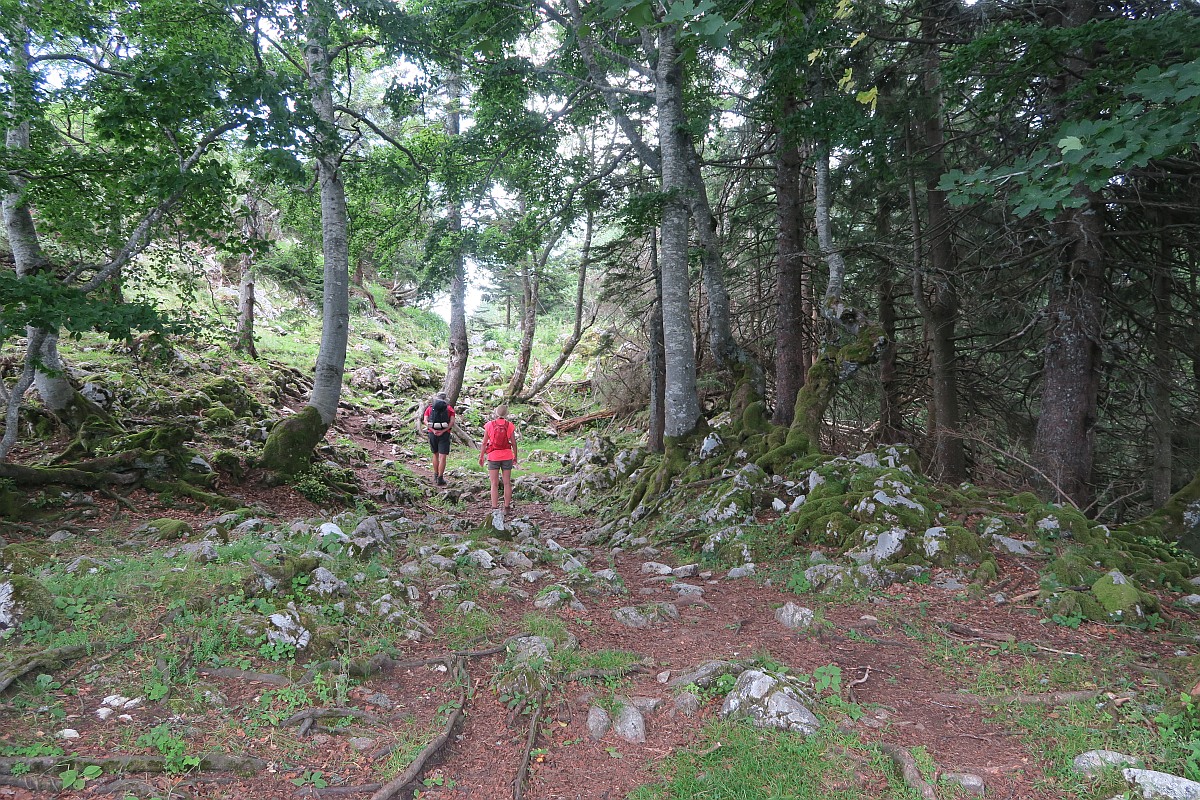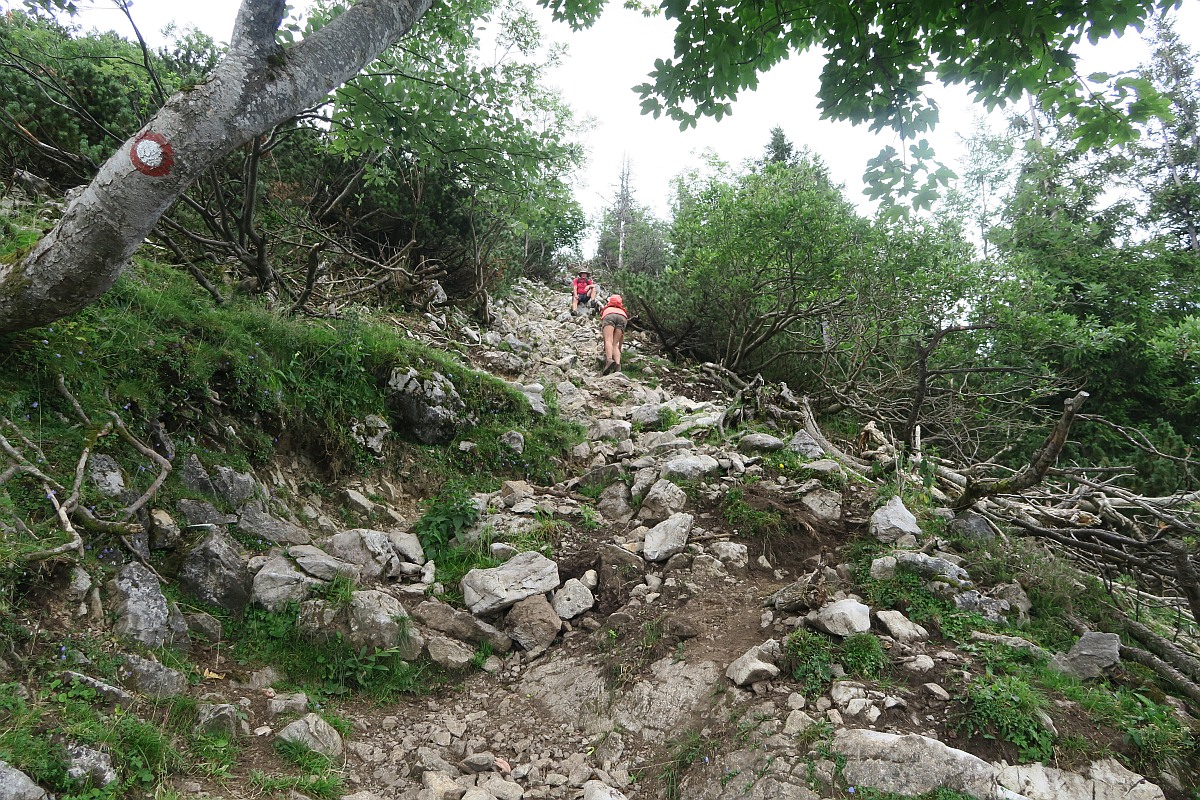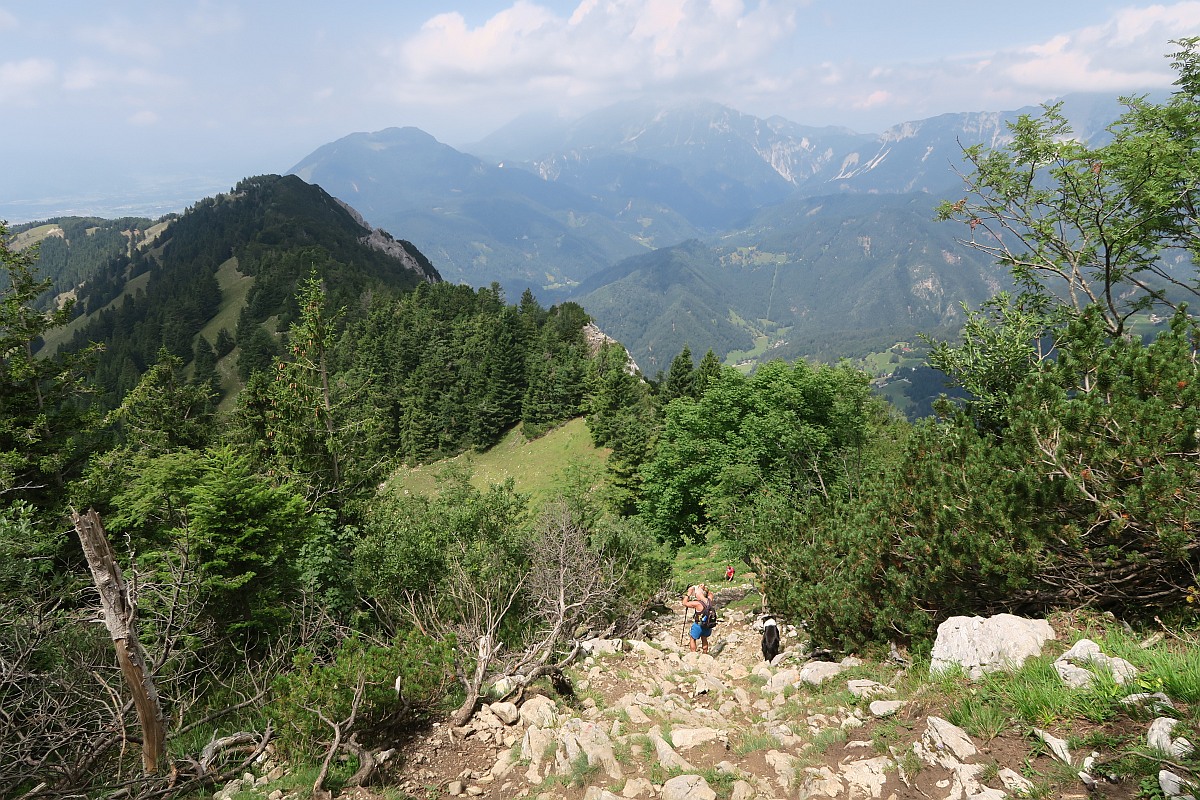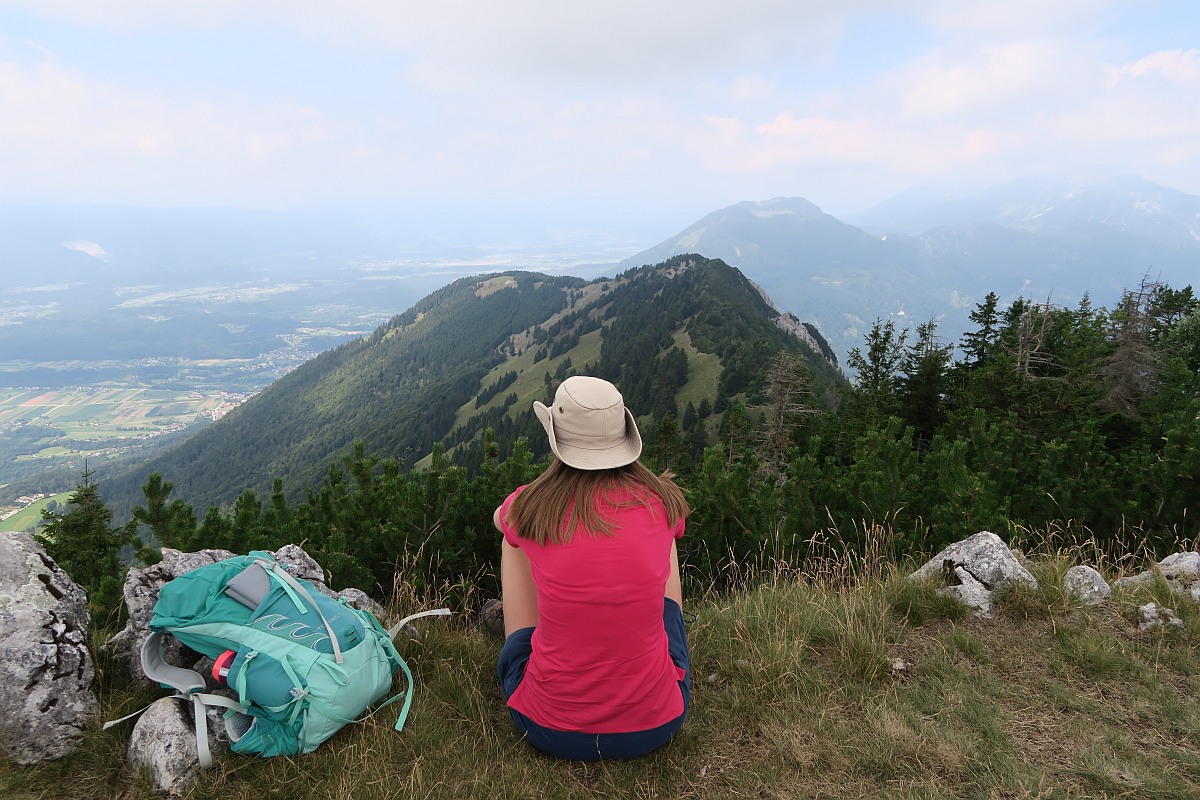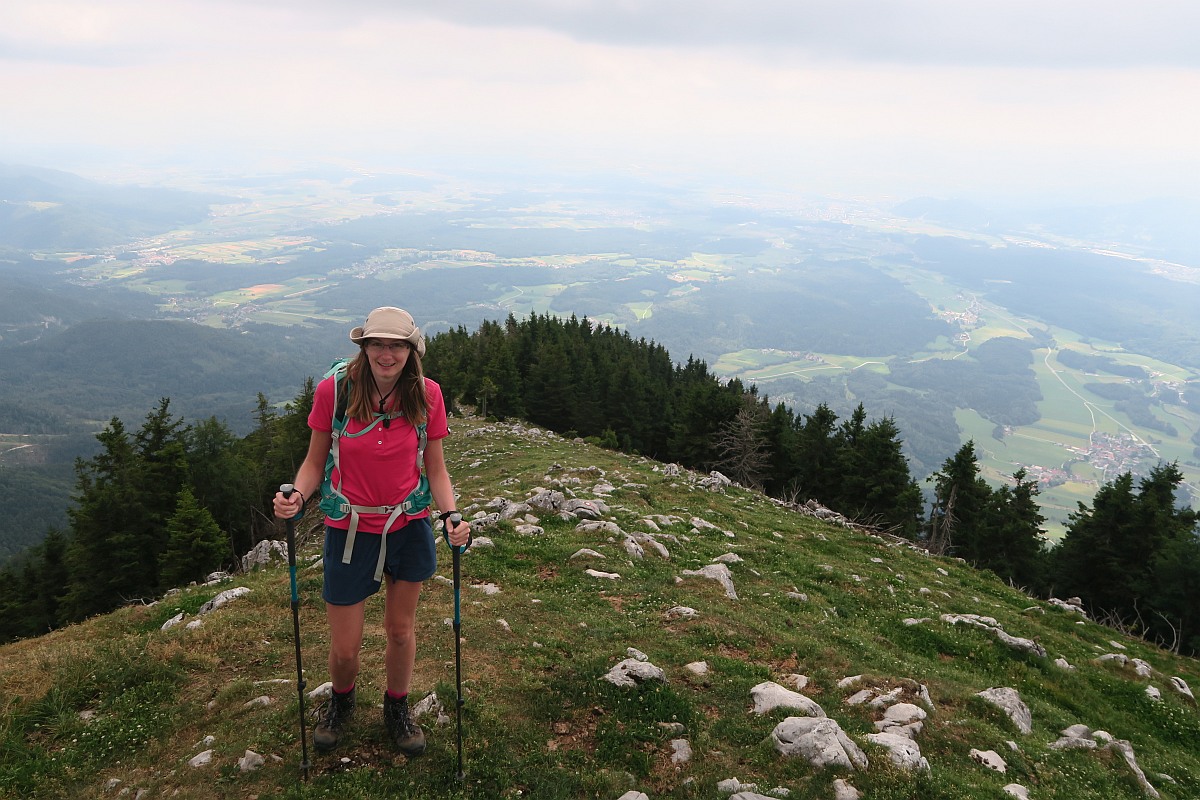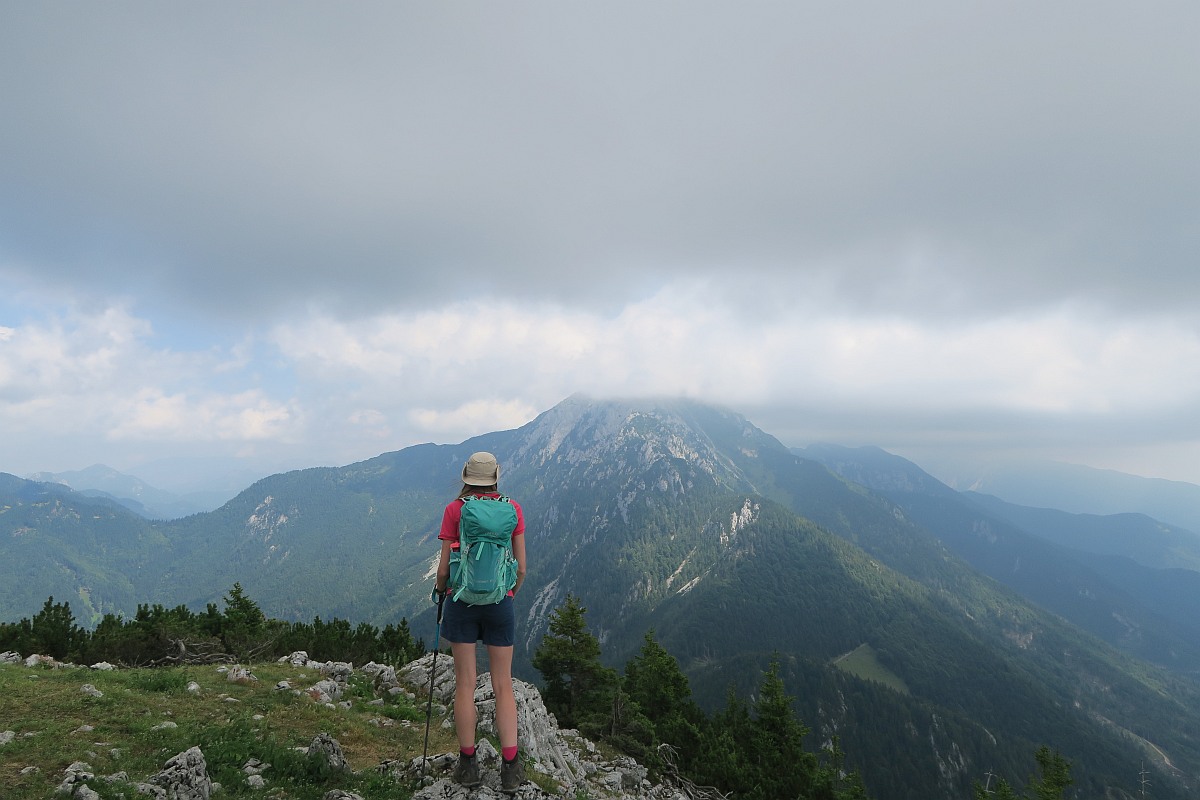 Tolsti vrh – Gozd Section
We headed down at a steady pace, as we didn't want to get caught out in the rain. The signpost suggested 2h to reach Gozd. I often find that hiking downhill is more effort than going up. We had to descend 1100 m, which can be hard on the knees and joints, so hiking poles are definitely recommended. We were quite tired as we were descending, so the trail felt quite long. Even though we were exhausted, we still enjoyed the views.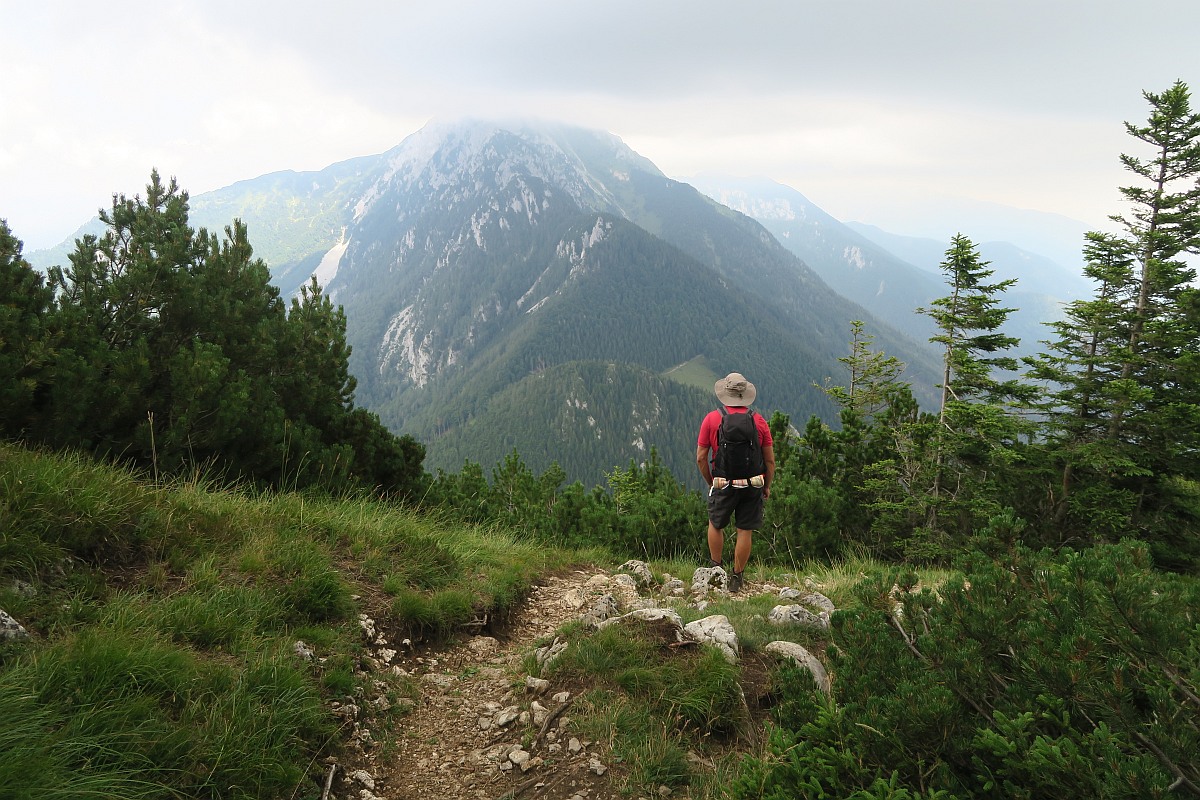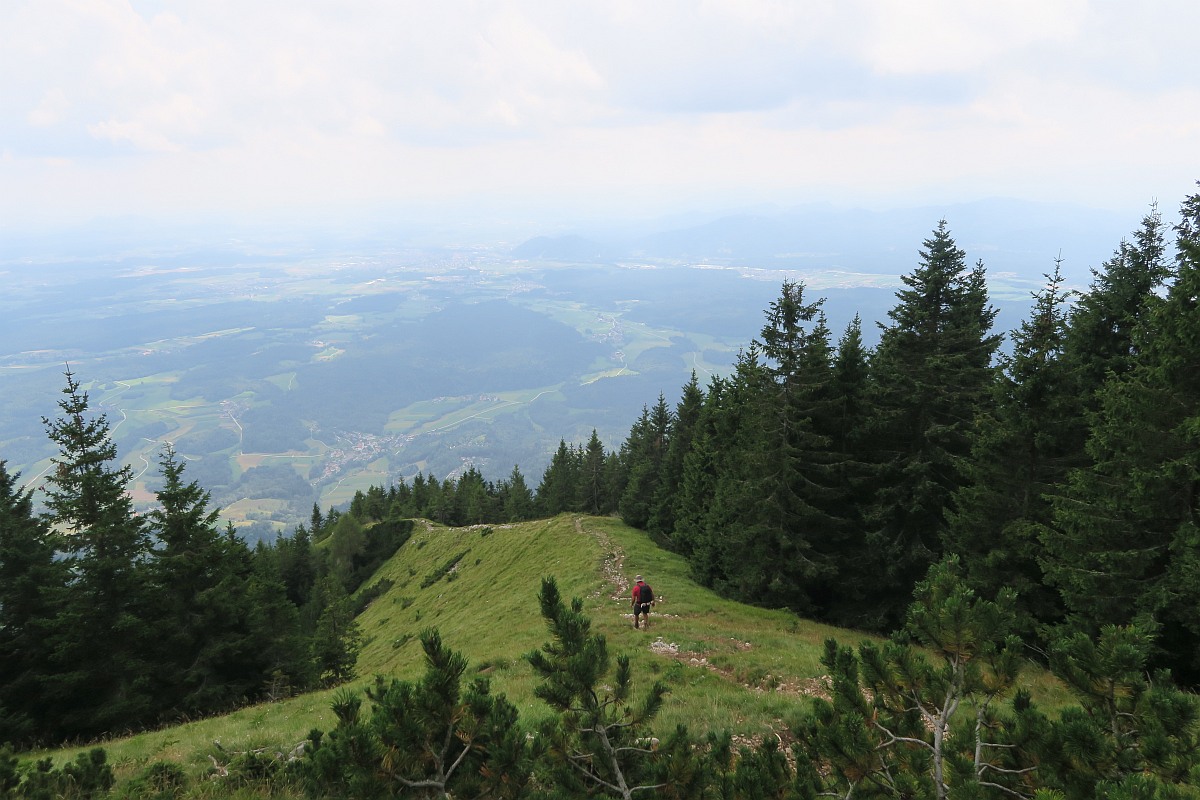 Gozd – Golnik Section
When we reached Gozd we continued our way to Golnik. We took the same route down, as before. We picked up a fast pace, as we heard thunder and it was only a matter of time until it rained. We made it home just in time before the storm. Happy ending! 🙂
Duration
This circular hike was 16 km with 1260 m elevation gain. It took us 9.5 hours to complete including all of our breaks.
Difficulty
The trail itself is not dangerous or exposed. But considering the distance and elevation gain, this is a hike for people with good fitness level. You will need sturdy hiking boots and hiking poles are also suggested. Check the opening hours for the hut is Kriška gora to avoid disappointment if you want to buy refreshments. If you want to make your hike easier just pick one peak and then return the same way home, making it a shorter hike.
Did you like this post? Why not PIN it?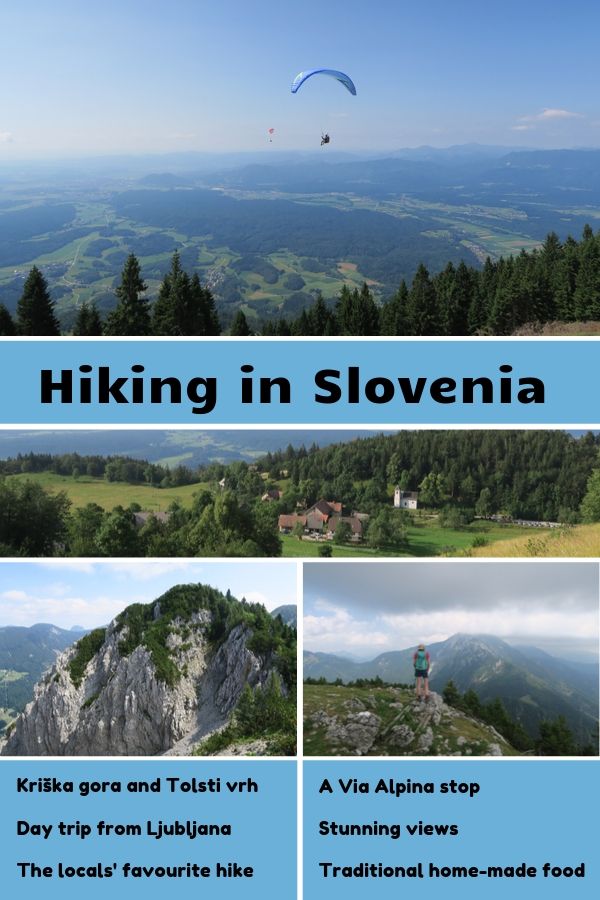 Enikő
Hey, I'm Enikő! I'm currently an au pair and I want to share my experiences with you. I've travelled a lot in the past years. I'm gonna teach you how to settle in to a new country and get free accommodation anywhere in the world. Circle Enikő on Google+!