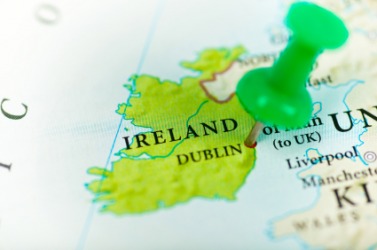 If you were open-eyed this won't came as a surprised. A few days ago I added a new segment on my blog called "Au pair Ireland". I know what you think: she gave up her dream becoming an au pair in the USA. It's not true. Going to Ireland is just a short by-pass in order to earn some money and spend my time in a useful way. You know I can't sit on my ass for a long time. I must go and experience things. I must travel. That's the way I am.
Ireland is just for 2 months. Then I go to another country. I've already have the plane ticket. Where? I'm a beast. I won't tell. You'll know everything in time. I say that, however it's not the USA. It's even further. You're welcome to leave your guess in the comment section. 😀
Until that I tell you a bit about why I choose Ireland. When I booked my ticket for Janury 6th to -guess where- I knew I can't stay at home for 2 months doing nothing. So I decided to become an au pair in Europe. I was shocked how easy it was to find a family starting asap for short term. It makes me relaxed to think I'll always have this option in case I want to see a new country and earn some money.
I was contacted by many families. In the end I agreed with an Italian family who live in Ireland, because they were the fastest and everything seemed ok. I wanted to go to a country where they drive on the left side. (Little idea about my next destination… :D)
So I write more about the family in the next post.
I promise there will be blog posts and even vlogs regularly. I'll also post the last weeks of my stay in Russia in a few days. 😀
Enikő
Hey, I'm Enikő! I'm currently an au pair and I want to share my experiences with you. I've travelled a lot in the past years. I'm gonna teach you how to settle in to a new country and get free accommodation anywhere in the world. Circle Enikő on Google+!