Tips for a zero waste, vegan holiday in Budapest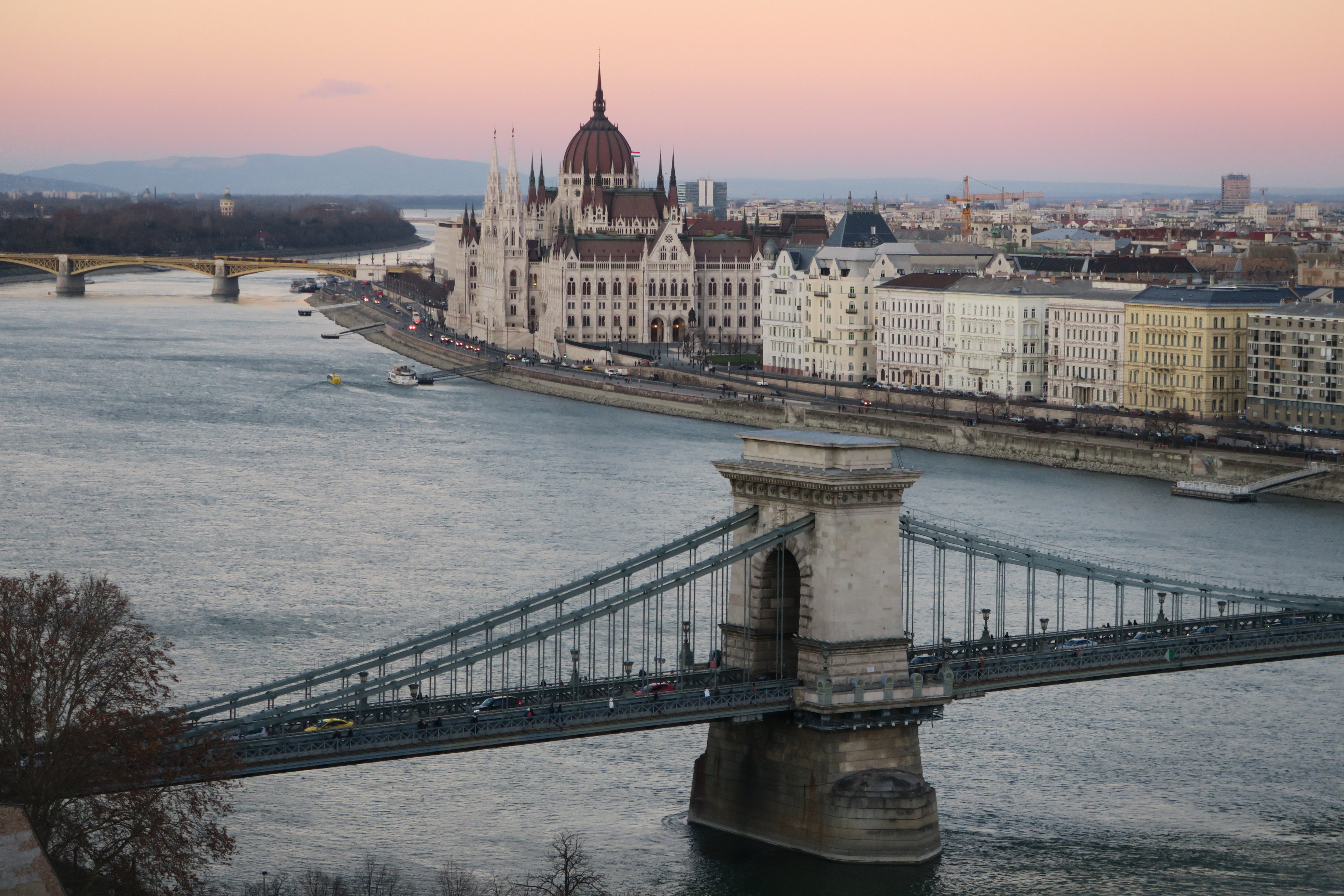 If one of your New Year's resolutions was to reduce your plastic waste I have some great tips for you. You can easily plan a zero waste holiday in Budapest with my guide. Hungary – in the heart of Europe – is not only a great budget-friendly destination but, thanks to the many vegan restaurants in Budapest it is also ideal for vegan and vegetarian travellers.
Us who love travelling and spending time in the outdoors should especially make an effort trying to keep the planet clean, as otherwise there will be no clean mountains to climb or water to swim in. I know it can be difficult to maintain a zero waste lifestyle when you are travelling. There are several ways to reduce plastic pollution and waste while travelling. You can use some eco-friendly travel products, such as a reusable SIGG bottle, using a bamboo toothbrush instead of a plastic one or using a shampoo bar.
How to get to Budapest zero waste
Train: An environmentally friendly way to get to the capital is by train. Train travel in Europe is very easy. There is a good train connection to Budapest from several European cities, like Vienna, Krakow, Munich, Paris or Prague just to name a few.
Bike: A more unusual way to visit Budapest is by bike. The famous EuroVelo6 cycle path is 3653 km long and it goes through 10 countries (France, Switzerland, Germany, Austria, Slovakia, Hungary, Croatia, Serbia, Romania, Bulgaria). The mostly flat cycle path runs from the Atlantic all the way to the Black Sea. I have done a section along the Danube from Passau to Budapest and I highly recommend it!
Plane: Of course in some cases travelling to Hungary by train or bike is not possible and you will need to fly. There are a few ways to Offset Air Travel & Fly Sustainably.
How to get around in Budapest zero waste:
Walking: The best way to explore the capital is by walking as a lot of the tourist attractions are close to each other.
Public Trasport: Using public transport in Budapest is another great way to get around. There are buses, metro lines, trams, trolleybuses, boats and trains. You can use a single ticket each time you use any transport method, or even better is to buy a pass. 1,3 and 7-day travel passes are available, which will save you money and the hassle to buy and validate the ticket before your journey. Travel passes don't need to be validated. 
Cycling: There is a great cycle hire scheme in Budapest called MOL Bubi, which makes it easy to get around by bike without owning one. You will need to buy a ticket by bankcard from the touchscreen terminals at docking stations, on their website or via the mobile application. You can buy 1, 3 or 7 days tickets. With your ticket, you can use the bike free of charge for up to 30 minutes per hire. After 30 minutes extra fees will apply. You can see the price list on the website.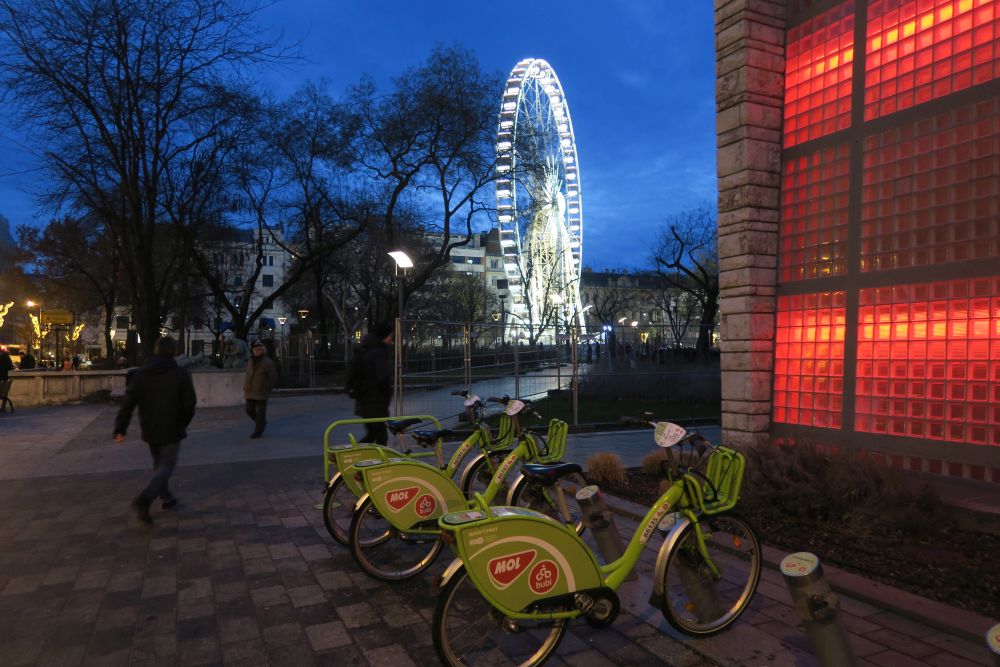 Electric car rental: If you want to rent an electric car for a few days I suggest E-Rent. It can be a good option if you want to explore the Hungarian countryside, for example, have a getaway to Lake Balaton.
For short-term hire, Budapest has a great electric car rental system called GreenGo. If you have a Hungarian driving licence all you need to do is fill in your profile on the app and you are ready to drive. With EU or international driving licence, you will need to go into the office to register. Their office is conveniently located in the city centre at 1075 Budapest, Rumbach Sebestyén u 15. Or you can also register at your chosen location for an extra fee. Once you are registered you will need to download the app. With the use of a card or a smartphone application you can rent the car on a minute-based tariff and when you are finished you can leave it anywhere within the designated usage area.
Zero waste Shopping in Budapest
There are a few zero waste shops in Budapest, where you can buy products without unnecessary packaging. You will need to take a container and fill it up with what you need. You will then pay according to weight (of course, the weight of your container is deducted) If you don't have any containers, you can also purchase them in the shops.
Ne pazarolj – zero waste shop & café
They have a big variety of products including food (pasta, rice, fruits, grains, honey, cheese, flour, oil, dates, spices, butter, yoghurt etc) cleaning products (laundry detergent, limescale removal, window cleaner, washing liquid, etc) and household items (toothbrush, toilet paper, hairbrush, soap, reusable bottle, toilet brush, etc). There is also a cafe at the top of the shop.
Location: 1027 Budapest Fő utca 79.
Opening hours:
Monday-Friday: 9-19
Saturday: 10-14
Sunday: Closed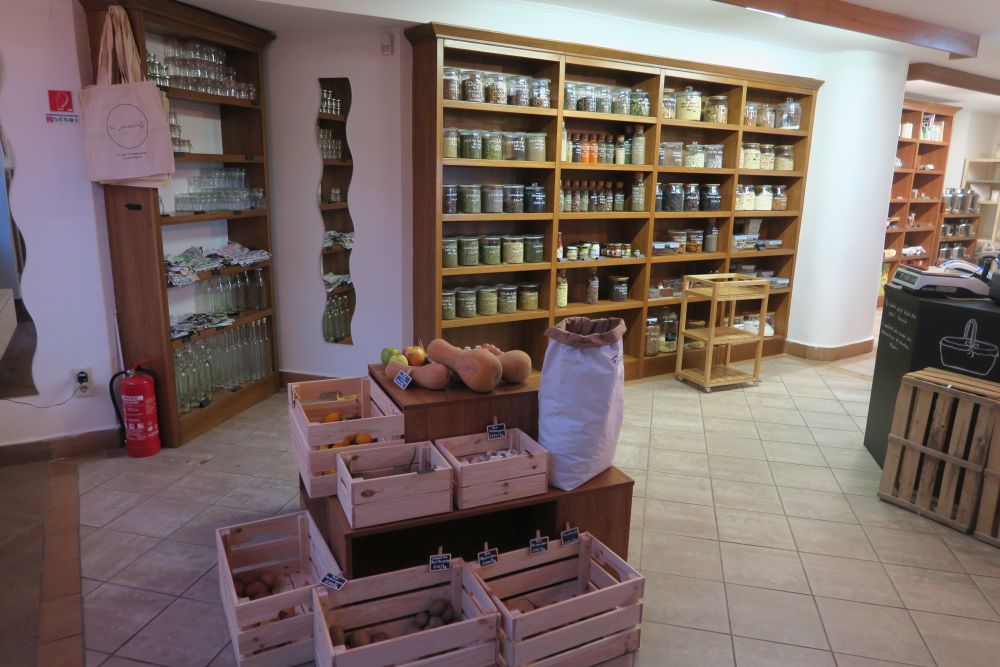 Ligeti Bolt
This shop is slightly smaller, but there is still a lot in terms of food. You will find pasta, rice, grains, honey, milk, flour, dates, spices, yoghurt, jam, tea etc. They also have a few household items such as hand cream, reusable bottle, soap, deodorant, etc.
Location: 1132 Budapest, Kresz Géza u. 21.
Opening hours:
Monday-Friday: 9-19
Saturday: 10-13
Sunday: Closed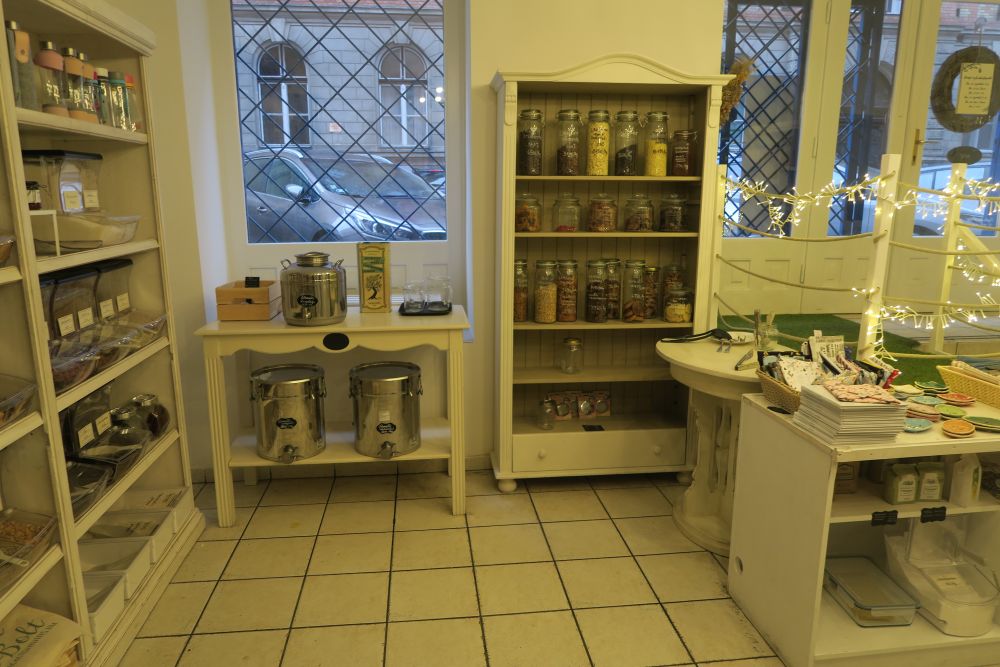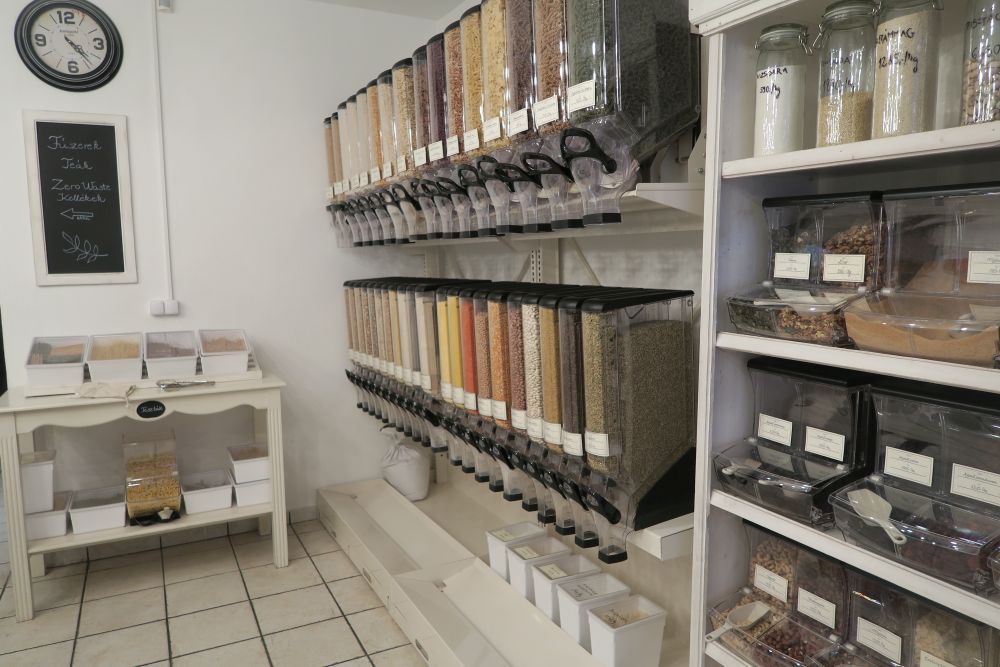 Szatyorbolt
It is not a completely zero waste shop, but one that helps local farmers/producers. All the products in the shop are fresh and from local farmers/producers minimising the impact on the environment transferring the goods to the shop from faraway places. The shop tries to minimise packaging and mostly uses reusable materials. You can also order products online, which helps them to plan the ordering quantities and by this reduce food waste. When ordering online you can collect your products at a pick-up point or in some cases they will use bikes to deliver the goods to your home/accommodation. The products that are available to buy from Szatyorbolt include eggs, fruits, vegetables, meat, milk, cheese, bread, etc.
The shop has limited opening hours so plan ahead when visiting, or order online.
Location: Budapest, Gyulai Pál u. 12, 1085
Opening hours:
Monday, Tuesday, Wednesday: Closed
Thursday: 12.00-20.00
Friday: 9.00-20.00
Saturday, Sunday:  Closed
Vegan restaurants in Budapest
Being vegan is a great environmentally friendly decision. Luckily more and more people choose not only a zero-waste lifestyle but also being vegan. Thanks to this we can see an increase in vegan and vegetarian restaurants in Budapest.
Vegazzi
All the pizzas they serve here are vegan. It easily became my favourite pizza, as it beat any non-vegan pizza I had before. Its location is also great in Budapest's famous Ruin Pub district, which has a special atmosphere. At first glimpse the place looks like just a small food stall, however, they have seating at the side, which is covered in the winter period. We tried the Margarita pizza, which had rice mozzarella on top and the Hungarian Pizza which had grain sausage for topping. Vegazzi have 6 different types of pizzas and prices range from  HUF 1390 to HUF 2090. The pizza sizes are not too big, you can easily finish one by yourself. Another special feature of them is that the pizzas as baked in a wood-fired clay pizza oven. This is a must visit place in Budapest!
Location:  Paulay Ede utca 33. (Anker't) Budapest, Hungary
Opening hours:
Monday, Tuesday, Wednesday: Closed
Thursday: 17.00-21.00
Friday: 17.00-23.00
Saturday, Sunday: 12:00-23:00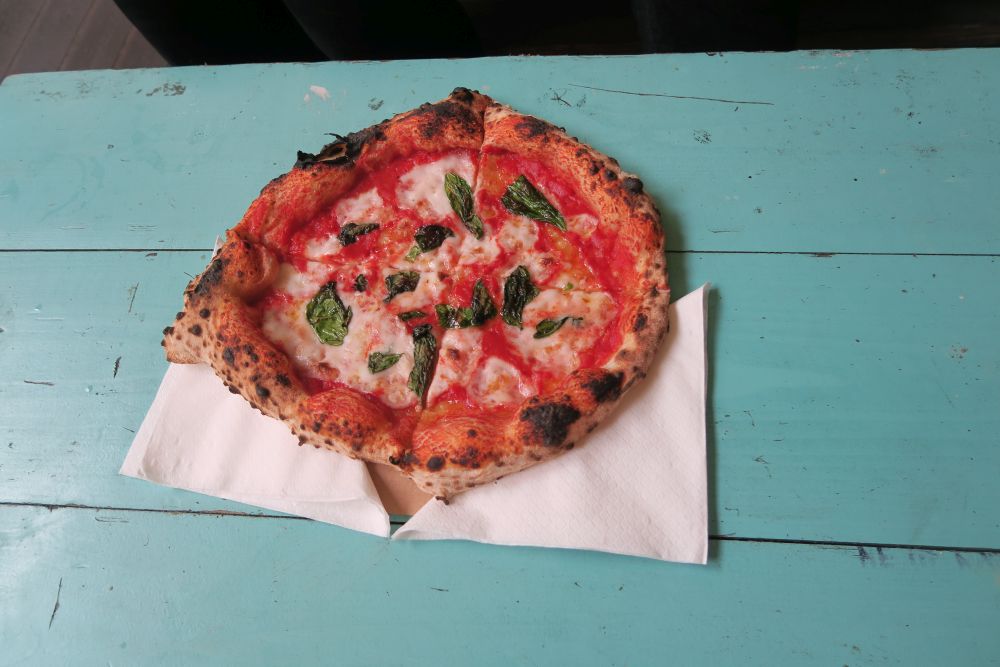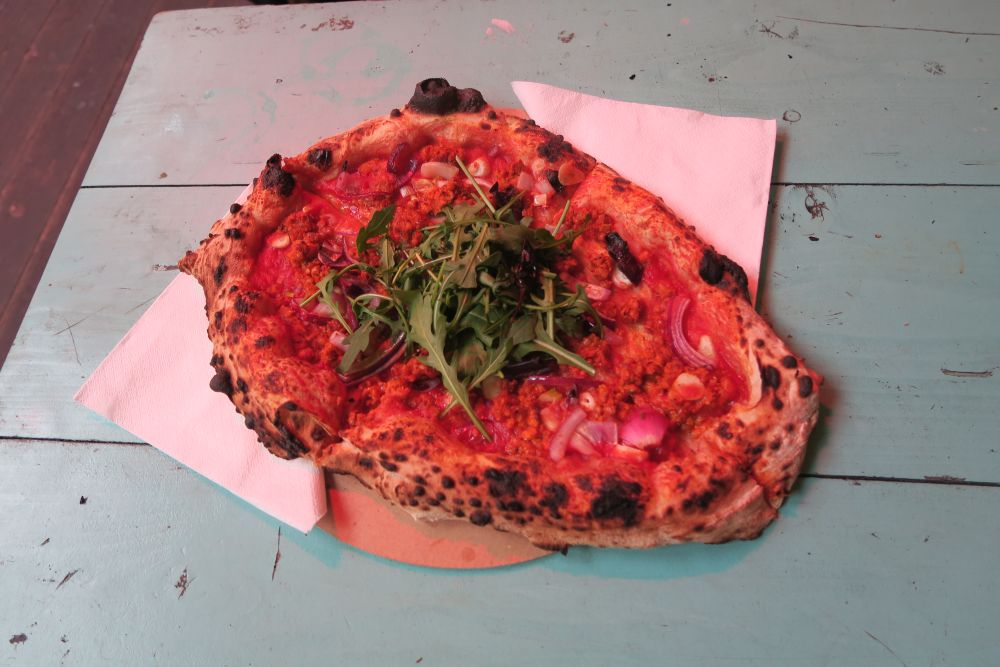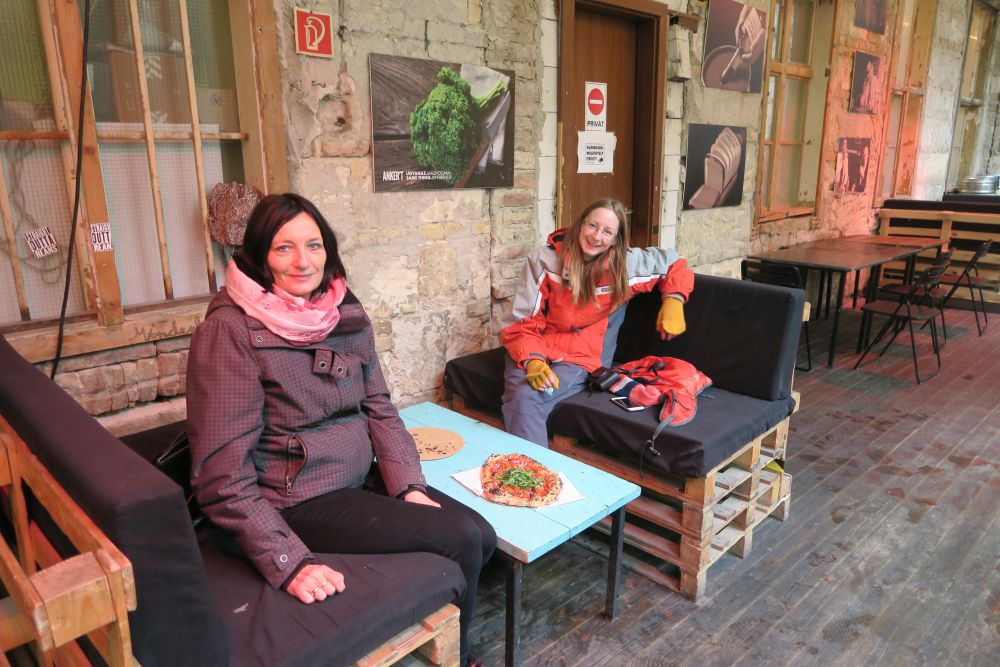 827 Kitchen
A vegan buffet style restaurant where you can try traditional Hungarian cuisine's tasty vegan variants. They also have a few international dishes as well as salads, soups and cakes. The food varies according to day, but there is always quite a big selection to choose from. Most of the vegetables they use come from organic farming produced by a local farmer. The system in the restaurant is simple: you take a plate and fill it up with what you fancy, as you circle around the buffet. You will then pay according to weight. Price is HUF 399/100 gram.
Location: The restaurant has two locations.
827 Kitchen – Kálvin tér 1053 Budapest, Kálvin tér 4.
827 Kitchen – Zsilip utca 1133 Budapest, Zsilip utca 4
Opening Hours:
Kálvin tér is open every day 11:00-20:00
Zsilip utca is open Monday to Friday: 11:00-18:00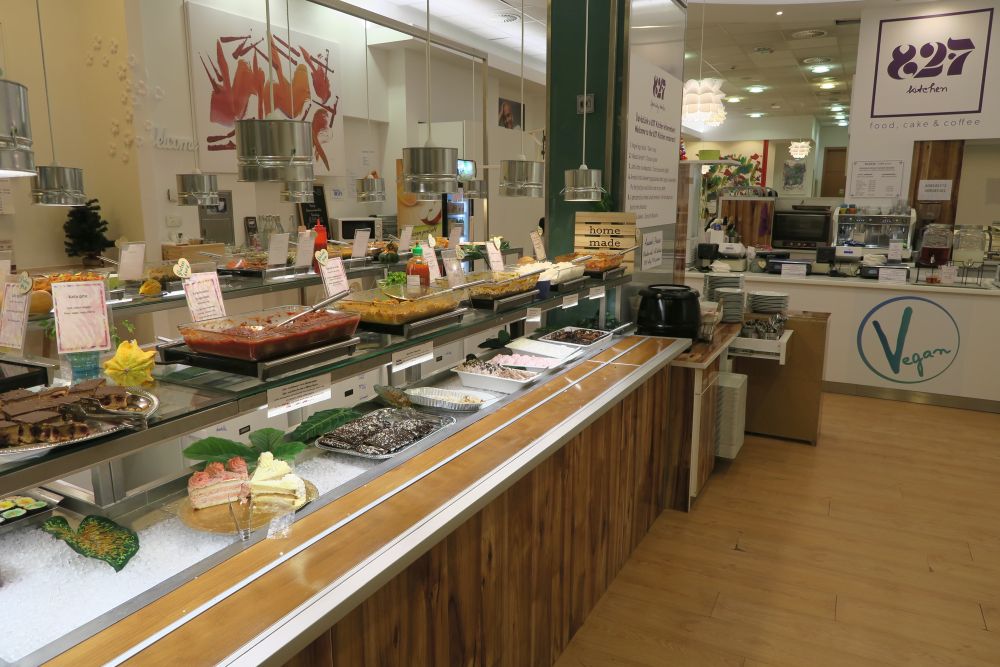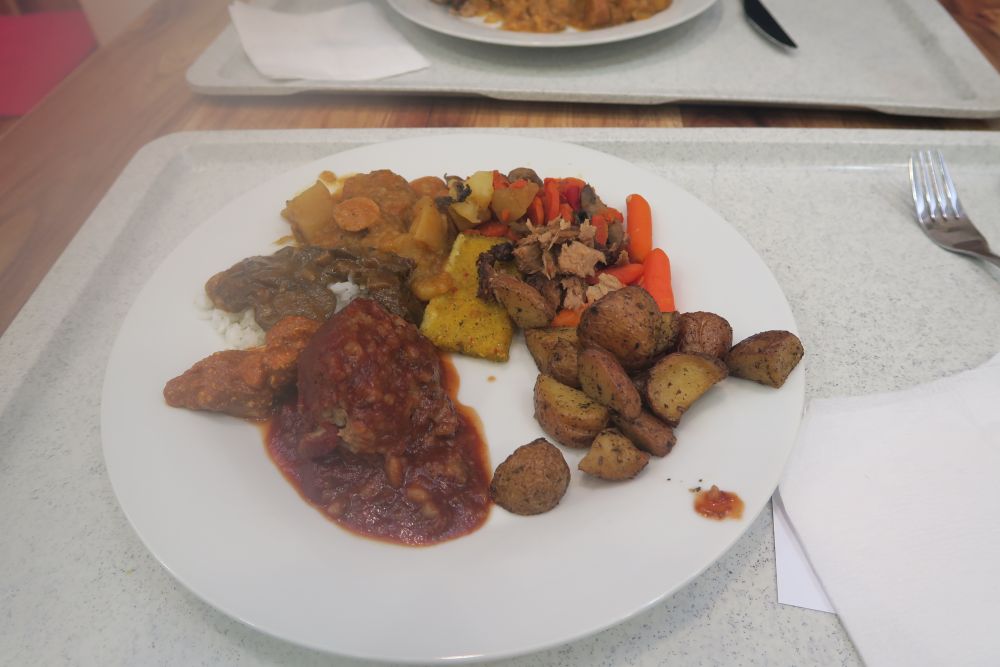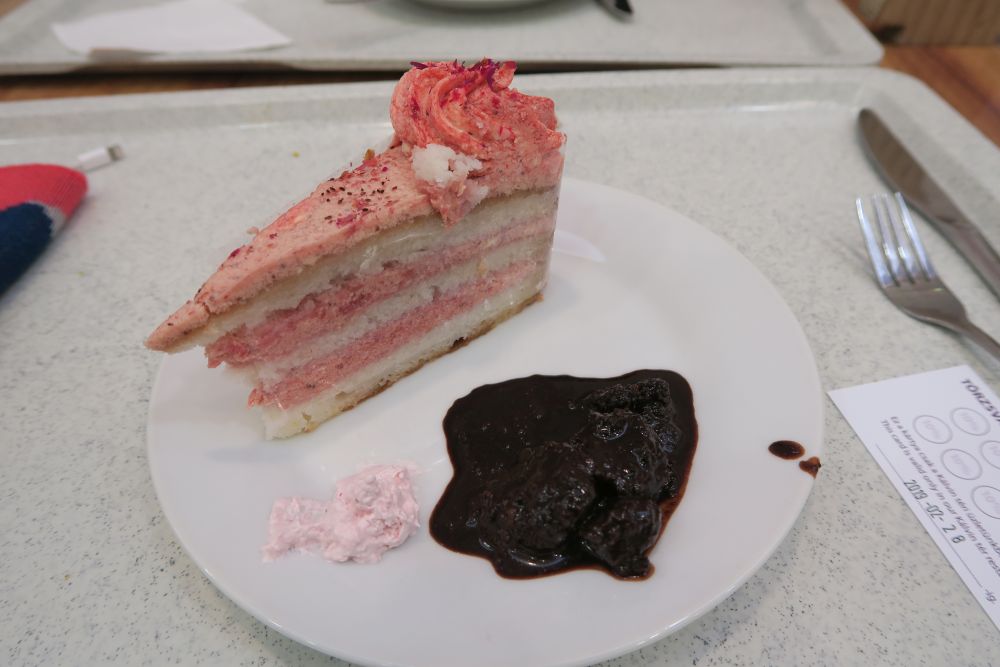 Zero waste activities in Budapest
Sightseeing in Budapest: Budapest has several attractions that are within walking distance to each other. Go on a walk and explore what the capital has to offer. Don't miss the Parliament, Castle District, Chain Bridge and Margaret Island. If you want to learn more about the history of Hungary during the communism I highly recommend the House of Terror Museum.
Hiking in Budapest: Gellért Hill is another must do in Budapest. You will get amazing views from the top to the city centre. There are several other hiking trails in Budapest and the nearby mountains. Hungary has several lookout towers, which makes it great to enjoy the views. A few of them in Budapest include Erzsébet lookout tower on János Hill or Árpád lookout tower, Makovecz Imre lookout tower, Kaán Károly lookout tower and Apáthy Szikla lookout point at Budai Hills.
If you want to go hiking outside Budapest I suggest the Danube Bend Region, which has some great trails such as Remete Cave, Prédikálószék, Rám-szakadék.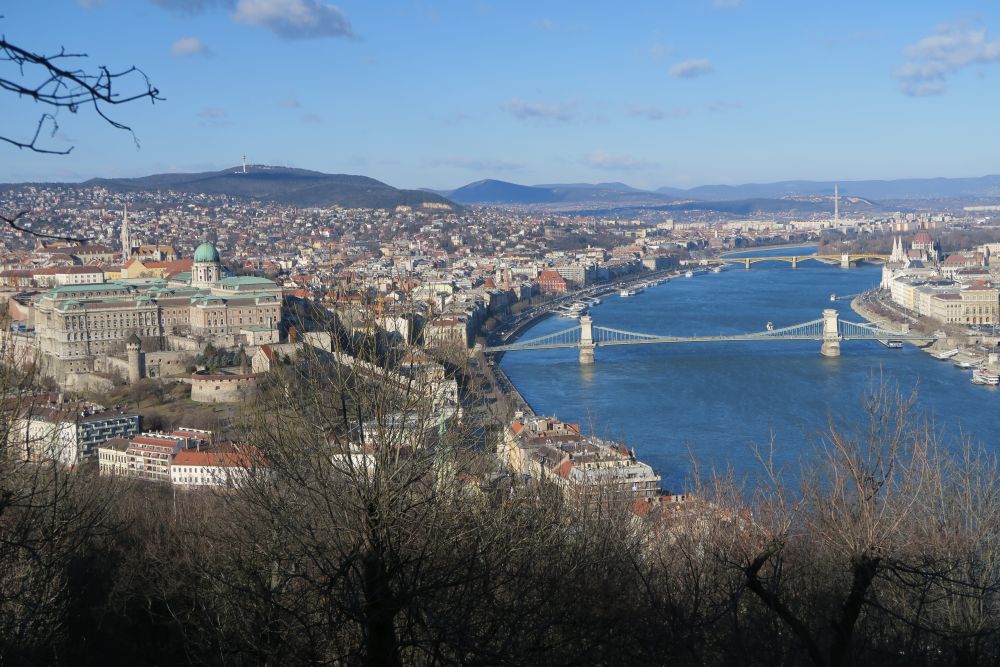 Kayaking in Budapest: Another zero waste way to see the capital is by kayak. I went sightseeing by kayak in London and loved it! I haven't done it in Budapest yet, but I am eager to do it on my next visit there, as I found a great company who organises kayak trips on the Danube.
Watch what you buy for a souvenir! You will probably want to buy a souvenir of your holiday in Budapest. If this is the case don't buy a cheap plastic thing, that you will never use after and most likely will end up at a landfill. Buy a handmade product that will help the locals. Even better if you can use it at home after your trip! A handmade Hungarian lace or embroidery can be perfect as a tablecloth, linen, serving towel, curtain or even garment. The Great Market Hall is a good place to go to find handcrafted designs. Herend porcelain is perfect for tea sets and plates. Hand-decorated porcelain jewellery by ZEMA can be a great addition to any outfit.
Have you ever considered trying to reduce your plastic waste and going zero waste? What have you managed to accomplish and what are your struggles?
Did you like this post? Why not PIN it?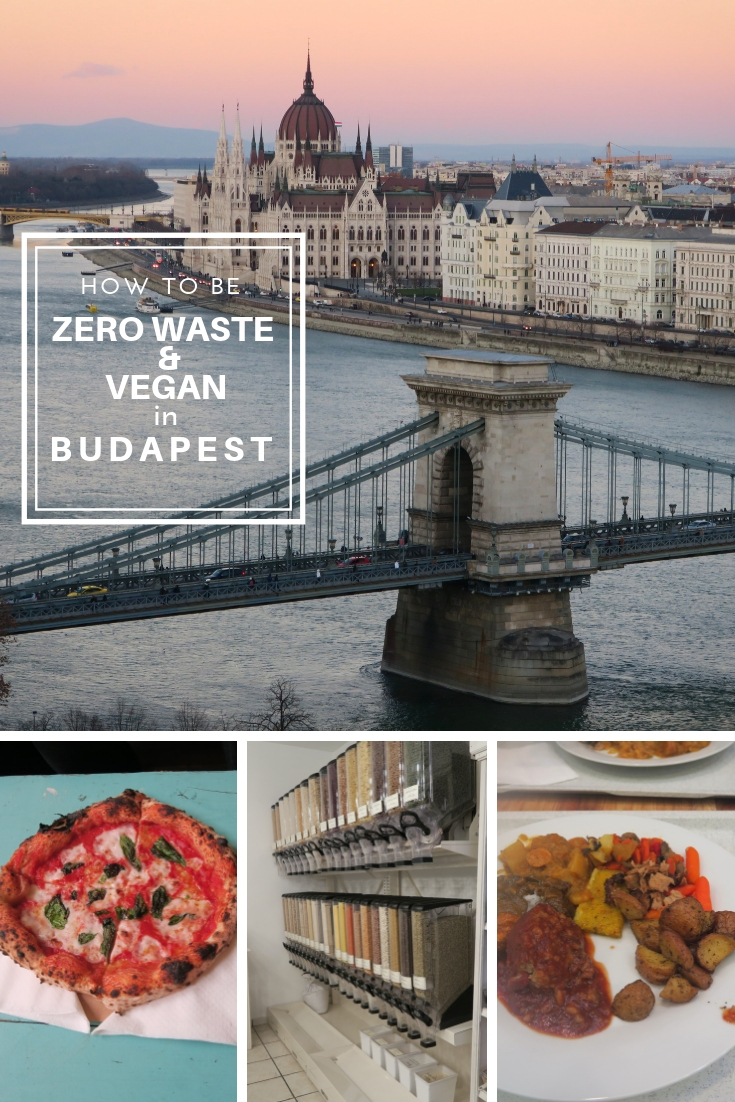 Enikő
Hey, I'm Enikő! I'm currently an au pair and I want to share my experiences with you. I've travelled a lot in the past years. I'm gonna teach you how to settle in to a new country and get free accommodation anywhere in the world. Circle Enikő on Google+!